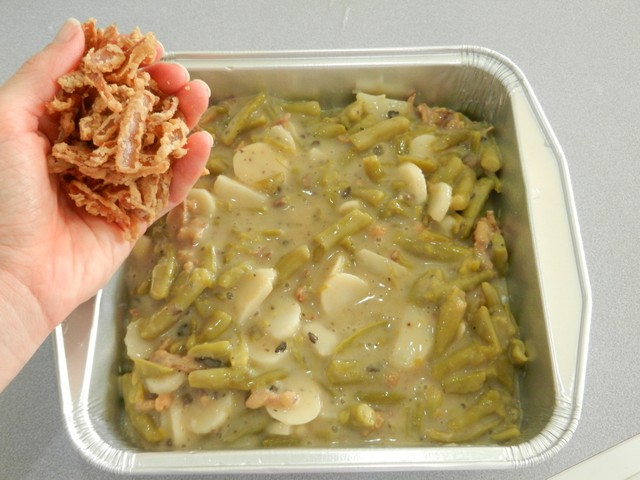 Gluten Free Creamy Green Bean Casserole
Being gluten free during the holidays can be tricky. So many yummy foods to eat, and yet so much that cannot be enjoyed just because of a few tablespoons of wheat here and there, or something as simple as a teaspoon of soy sauce added to a casserole… YES, soy sauce, just like so many foods, has gluten in it! Gluten seems to be everywhere! Personally I do not have to be gluten free, even though I was for a period of time, but I have family members who really do need to stay away from it. I truly feel for them! Making all kinds of changes at home is hard enough, but being served outside of home is just plain sad. Sometimes there is no other choice but to bring your own food from home. It must be so hard to not be able to join in the food experience together with others! That's why, for Thanksgiving this year, I decided to search for gluten free alternatives to my standard two casseroles: green bean casserole, and my much loved sweet potato casserole. It was my hope that this year, everyone, going gluten free or not, would be able to enjoy these wonderful dishes. And they did!
Going into it, I wasn't sure how the casserole recipes I settled for would turn out, and whether I would make them again for future holidays; it all would depend on the outcome, of course. To my delight, all three dishes were delicious! I brought two different gluten free casseroles of green beans, and one gluten free of sweet potatoes (plus one regular.) All were great! My only regret is that in all the craziness of last-minute "must do's" before eating, I forgot to take a picture of the casseroles after baking, so I can't show you what the final result looked like.
My delicious gluten free sweet potato casserol (click this link) was easy to convert to gluten free.
If you do try any of my recipes, I would really appreciate a quick comment with a star rating (option found immediately under each recipe). It helps me out tremendously! Thanks in advance!
As for green bean casserole, I found two recipes on-line that I wanted to try, although I substituted and made a lot of changes to get them the way I wanted them. This is especially true for the second casserole that I will post about shortly. The first one, I will call it "Creamy Green Bean Casserole", is somewhat similar to the Campbell's Cream of Mushroom mix that has become a staple on so many holiday dinner tables, but of course I made it with gluten free substitutes. The dish looks the same, but tastes a bit different as the soup base contains garlic. This is where I found the original recipe to this casserole: Green Bean Casserole
The second recipe, which I will call "Cheesy Green Bean Casserole", is a completely different dish altogether and also a fabulous recipe!
When asking my family members what their thoughts were, most of them loved both casseroles, thought the cheesy casserole was the clear winner of the two. Still, several people had a hard time choosing which one they liked better, because they enjoyed both casseroles very much and would have loved to have both options on the table every time. My husband, on the contrary, really didn't care for the creamy casserole at all, as the garlic flavor in this dish didn't sit well with him.
I tried two different gluten free toppings to substitute for French's French Fried Onions, which of course contains wheat. The gluten free toppings I ended up with, were:
1. Crushed sour cream & onion potato chips; a snap to add to the casserole
2. Real, homemade, crispy onion rings. These were a lot more involved than crushed potato chips, of course, but fabulous tasting and really not that difficult. It's just that you have to make them, you can't pour them out of a can. Here's a link to this wonderful Gluten Free Crisp French Fried Onion Topping recipe
But, without further ado: Here's the recipe to the first casserole I tried:
Gluten Free Creamy Green Bean Casserole:
I started out by mixing together two cans of cut green beans, a carton of Pacific Cream of Mushroom Condensed Soup (which is gluten free), and 1/4 c milk. I also added a teaspoon of gluten free soy sauce.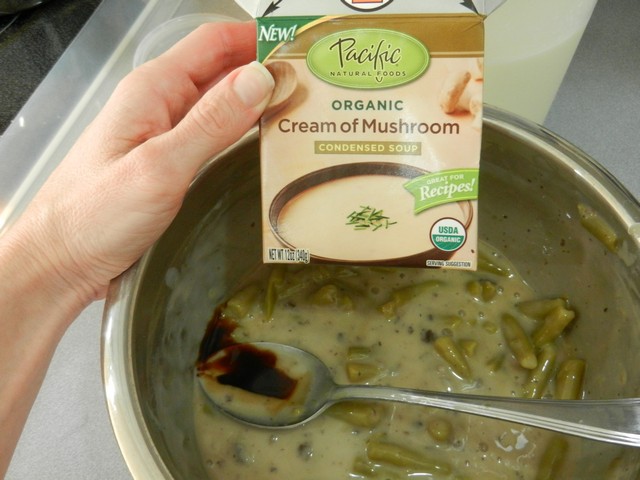 Next, I added a can of drained, sliced water chestnuts. I love the crunch that these add! I also added 3/4 c of my homemade crisp gluten free onions. Yum!!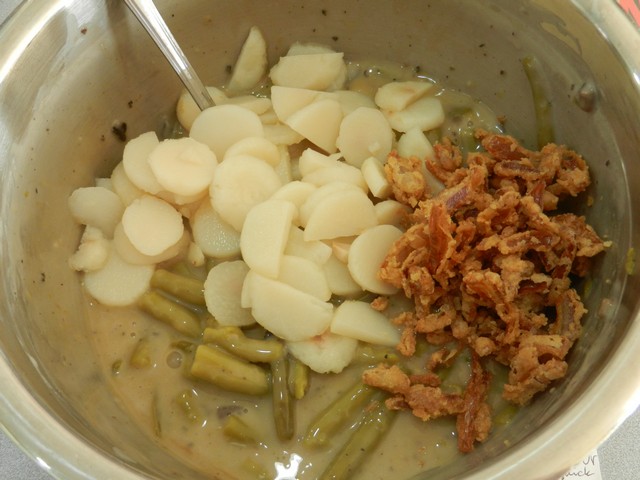 To help with the dishes after the meal, I chose to bake my casserole in a disposable foil pan; this size was perfect! Some foil pans are too shallow, but this pan measures 8×8 and has deep sides, almost by 2 inches. I have used shallower containers before, and the casserole ends up almost all the way to the top, making it difficult to avoid spills. So, to simplify clean-up after the meal, I purchased these disposable pans… only to find that the host of the dinner wanted to keep them, so we ended up washing them! They were simply too pretty and sturdy to put in the trash! Well, why not… Reusing is recycling at its best!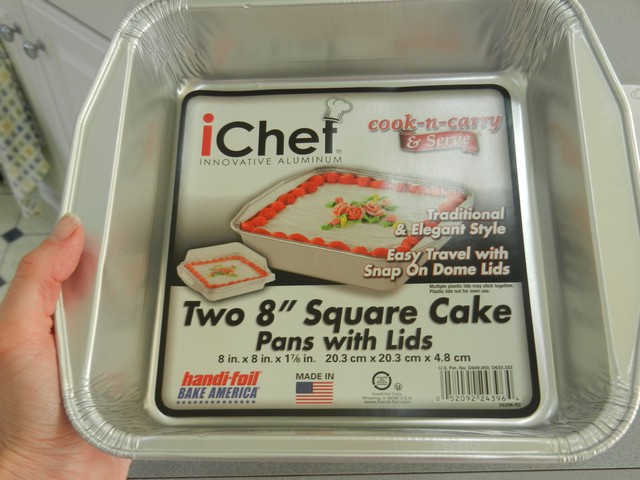 I did grease the pan before pouring the casserole mix into it, and added lots of crisp onions as a topping after the casserole was done baking. The following picture was taken before baking.
Please comment and rate this recipe if you try it; option is found immediately under the recipe. Thank you!!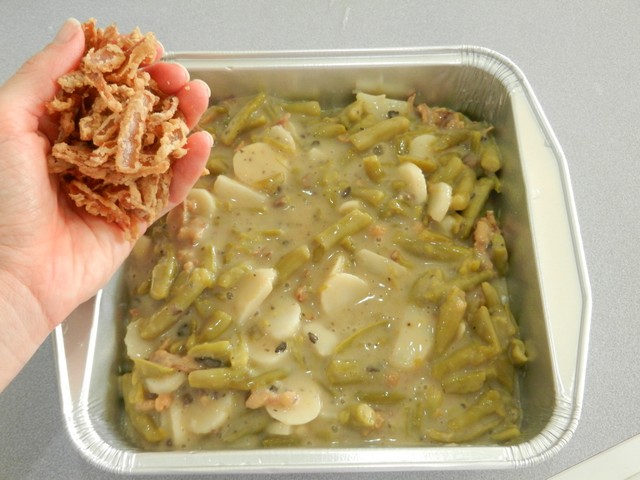 Gluten Free Creamy Green Bean Casserole Recipe
Gluten free, creamy green bean casserole with a little crunch from water chestnuts and crispy, fried onion topping.
Author:
Terese from www.thecountrybasket.com
Ingredients
2 cans cut green beans, drained
1 small carton Pacific Condensed Cream of Mushroom Soup (gluten free)
¼ c milk
1 tsp gluten free soy sauce
1 can sliced water chestnuts, drained
¾ c gluten free crisp fried onions, plus more for topping
Instructions
Mix together beans, soup, and milk until well blended.
Add soy sauce, water chestnuts, and crisp onions. Stir to mix together.
Pour into a greased 8x8 inch (or 2 qt.) oven safe dish with 2 inch sides.
Bake at 350 for 30 minutes.
Add onion topping, or your topping of choice; bake for a couple of minutes more until topping is crisp and slightly browned.