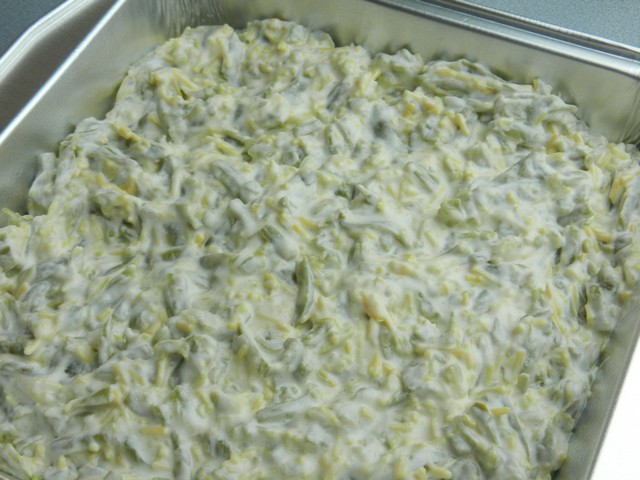 This green bean casserole, which can be made with regular all purpose flour or gluten free flour, is a cheesy and creamy side dish that can pass for comfort food any day.  When I made it for the first time for Thanksgiving this year, using gluten free bread mix in place for wheat flour, my husband's family absolutely loved it! Even one of my brothers-in-law, who considers himself extremely picky, raved about this green bean casserole! I will definitely be making it again, this recipe is a keeper!
If you do try this recipe, I would really appreciate a quick comment with a star rating (option found immediately under each recipe). It helps me out tremendously! Thanks in advance!
As this side dish is different from Campbell's green bean casserole, you really need to keep that in mind when trying it, and not expect it to taste like Campbell's. The only thing it has in common with the ol' cream of mushroom casserole, is that both of them contain green beans. I found the original version of this recipe on Pinterest via allrecipes.com, but I made a lot of changes to reflect reviewers' likes and dislikes. It was my impression from the original recipe that people either loved it or hated it, but with the changes added, everyone at our Thanksgiving table raved about this casserole!
In addition to this Cheesy Green Bean Casserole, I also tried a different casserole for the first time; Gluten Free Creamy Green Bean Casserole. My goal was to find one that would work for everyone, including family members who need to eat gluten free. The latter recipe that I linked to is similar to Cambell's recipe, though the flavor is somewhat different. When asking my family members (those who don't need gluten free as well) what their thoughts were, most of them loved both casseroles, thought the cheesy casserole was the clear winner of the two. Still, several people had a hard time choosing which one was better, because they enjoyed both casseroles very much and would have loved to have both options on the table at every holiday dinner. My husband, on the contrary, really didn't like the Creamy casserole at all; the garlic flavor in this dish didn't sit well with him. The fact that these casseroles were made gluten free didn't seem to affect the flavor or the overall results in any way.
A topping that I also posted that would go well with either recipe, is the excellent homemade Gluten Free Crisp French Fried Onion Topping.
As for the (in our family) winning recipe, Gluten Free Cheesy Green Bean Casserole, this is how I prepared the casserole:
I minced the onions, measured up 1/4 cup,  and fried them in 2 Tbsp butter  for a few minutes until tender. My one brother-in-law who declares himself "very picky", and who cannot stand onions, absolutely loved this dish! He actually asked me not to tell him whether onions were involved or not since hearing of onions would ruin this dish for him! Well, with certain vegetables minced and cooked in butter, this casserole tastes heavenly as-is, whether you're aware of onions or not!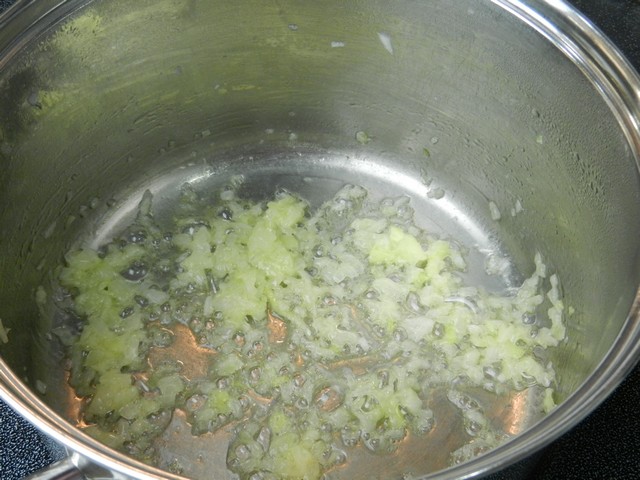 Next, I added a mixture of 1/2 tsp salt, 1 tsp sugar, and 1 Tbsp gluten free flour. I used a gluten free bread flour mix, though you could use rice flour or other thickeners. Of course, if you don't need to cook gluten free, regular all-purpose flour can be used as well. But here's a link to the gluten free bread mix that I used:
If you have other preferences, here's a link to a convenient conversion chart that you might find useful: Gluten Free Conversion Chart.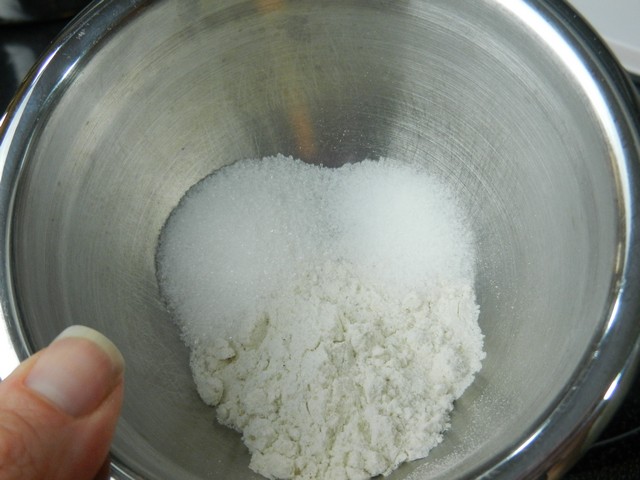 I added this mixture to the onions, and let it cook for 1 minute.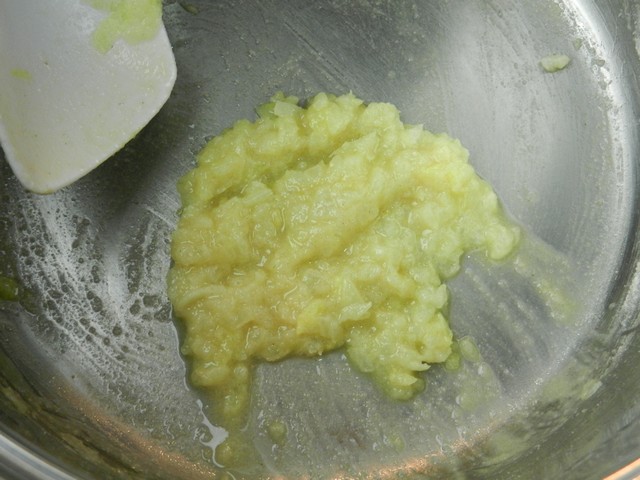 Then I pulled the pot away from the heat, and stirred in 1 cup sour cream. It is very important that sour cream does not cook at all, as it will curdle from the heat.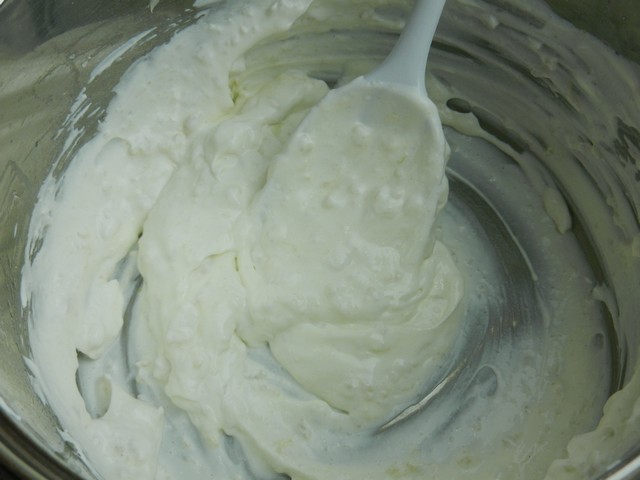 I also stirred in 3 cans of drained French-style green beans, and 1 cup of shredded cheddar cheese. Mild or medium works best for this recipe; sharp is a bit strong in my opinion.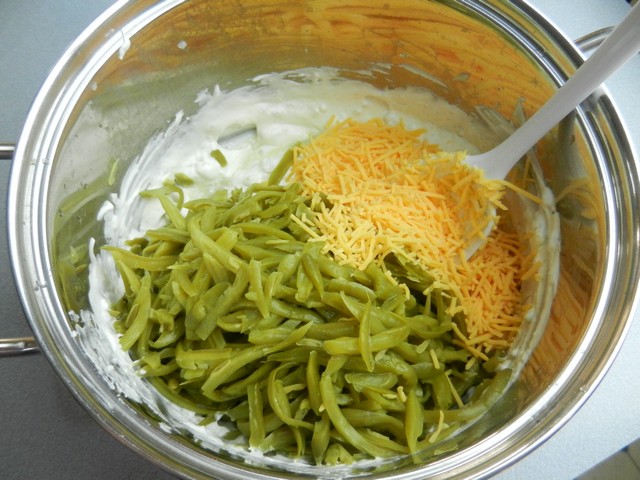 After stirring the ingredients together, the casserole part is done! That's it! Easy, don't you think? And a fabulous green bean casserole, it is!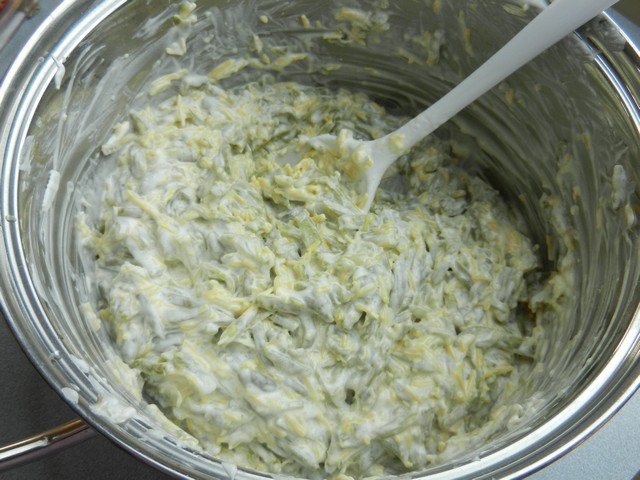 To simplify the topping, and still going gluten free, I crushed up some "sour cream & onion" potato chips. This was a perfect topping for this particular casserole. Although if you prefer a gluten free version of French's French Fried Onions, I highly recommend my delicious recipe that shows you how you can make your own, and still stay gluten free! Just click this link for recipe, directions, and pictures of Gluten Free Crisp French Fried Onion Topping.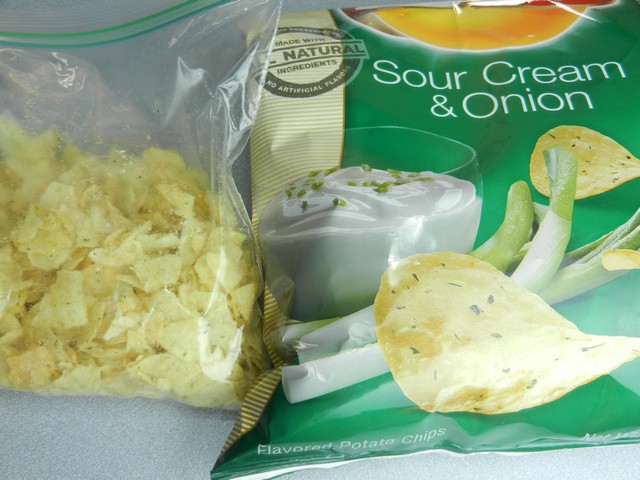 Since it would be convenient for us to use disposable pans for easy clean-up after our busy Thanksgiving dinner, I decided to use this foil pan that I found. It was the perfect size with the taller sides. I have used shallower containers before, and the casseroles end up almost all the way to the top, making it difficult to avoid spills. That was no problem with this pan.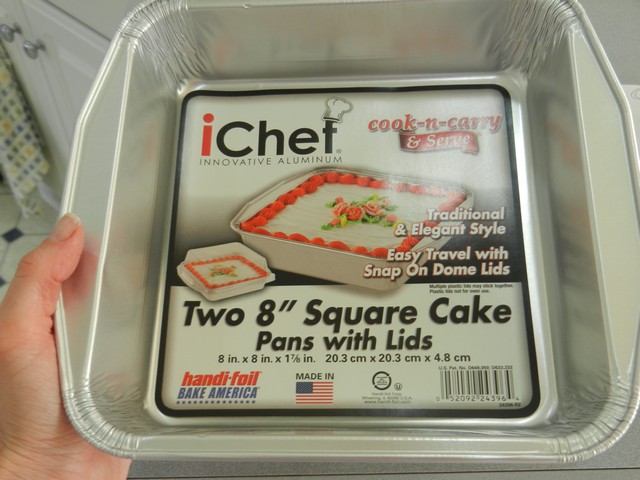 I sprayed the pan with cooking spray, then spooned the casserole into it and refrigerated overnight. I made it one day ahead to save time, which worked very well. I baked it on 350°F for 30 minutes, and sprinkled with crushed onion-flavored potato chips after I took it out of the oven. Our family loved this Gluten Free Cheesy Green Bean Casserole so much that I will be making it again for Christmas as well, and probably for every holiday for years to come! Please comment and rate this recipe if you try it; option is found immediately under the recipe. Thank you!!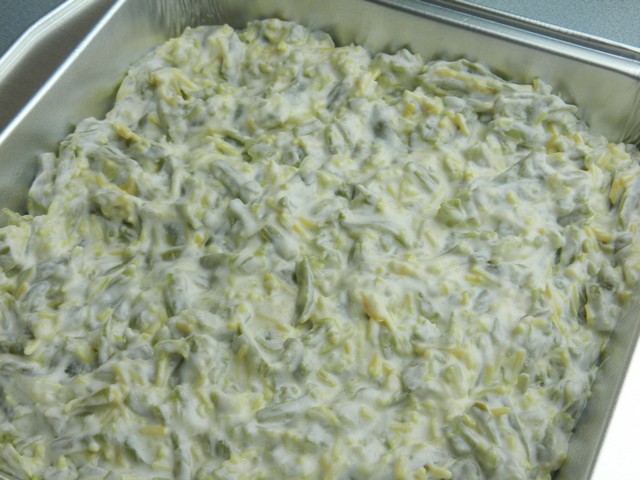 Gluten Free Cheesy Green Bean Casserole Recipe
A cheesy, and creamy green bean casserole, which can be made to be gluten free with a simple substitution. This casserole is a different, but excellent change from Campbell's green bean casserole.
Author:
Terese, from www.thecountrybasket.com
Ingredients
2 Tbsp butter
¼ c minced onions
1 Tbsp gluten free rice flour, or regular all purpose if gluten free is not needed
½ tsp salt
1 tsp sugar
1 c sour cream
3 cans French style green beans, drained
1 c shredded cheddar cheese, mild or medium
Sour cream & onion flavored potato chips, crushed
Instructions
Fry onions in butter until tender.
Mix together flour, salt, and sugar, and add to the onions. Cook for 1 minute.
Pull the pot away from the heat, and stir in sour cream.
Stir in green beans and cheese.
Pour into a greased 2 qt. oven safe dish (or 8x8x2 inches)
Bake at 350°F for 30 minutes.
Remove from oven, sprinkle crushed potato chips on top.