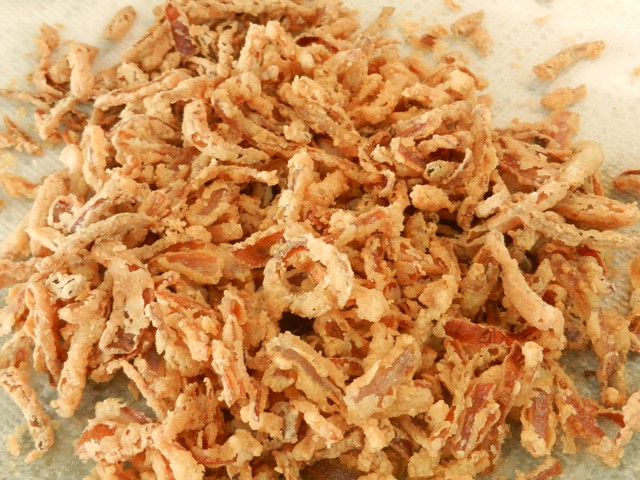 I never even considered that I could make my own French fried crisp onion topping, until I needed some that were gluten free for a green bean casserole. Now I know that these are really easy to make (though somewhat time consuming, but not bad…), and a lot of fun!  I was so proud of myself when I tasted them! "Wow, I MADE those!!" A ton of other people were impressed too, and it was so simple! Just like myself, I think people just don't realize it can be done at home. It's just not something you think about until there is a need for it.
If you do try this recipe, I would really appreciate a quick comment with a star rating (option found immediately under each recipe). It helps me out tremendously! Thanks in advance!
I sliced a large red onion into thin slices, and chopped them just a little bit to be more fitting as a casserole topping.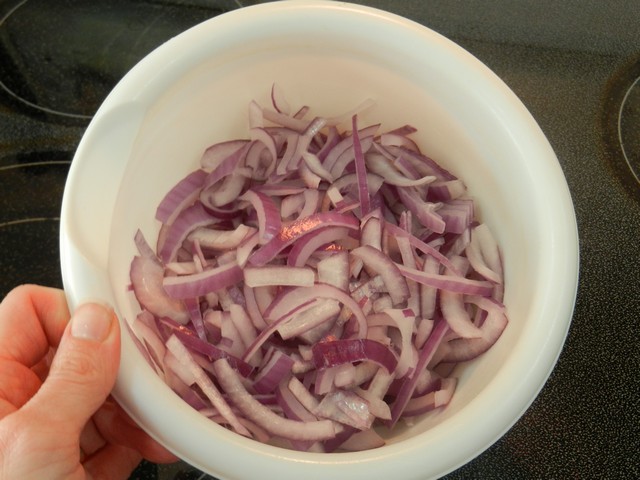 Next, I put them all in a bowl, poured on enough milk to cover, and let them soak for a few minutes. If you need to watch out for dairy in addition to gluten, you could probably use broth instead, or even gluten free beer, as a couple of my readers have since suggested.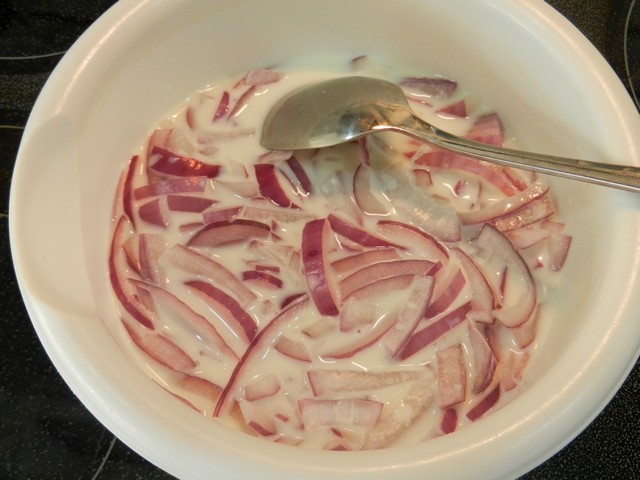 This recipe shows you how to make the onions gluten free. If you don't need to be gluten free, you can use regular white all-purpose flour instead of the gluten free, and if you do, just add a teaspoon sugar and an extra 1/4 tsp salt to it to give it a little bit more flavor.
The original recipe for these onions used a mixture of different gluten free flours: tapioka, rice, and soy flours. Since I don't need to cook gluten free every day, I don't have all these ingredients on hand. So, after checking with my sister-in-law, who eats only gluten free, I decided to go with the gluten free bread mix that she gave to me to use for breading around the onion rings: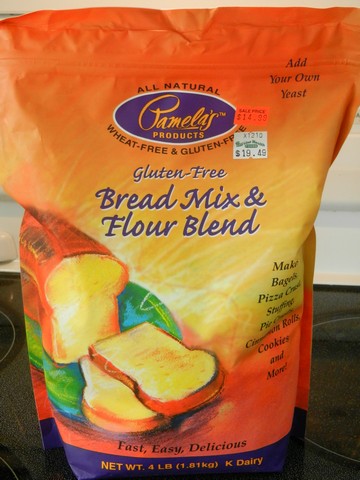 Here's a list of the ingredients from the bread mix: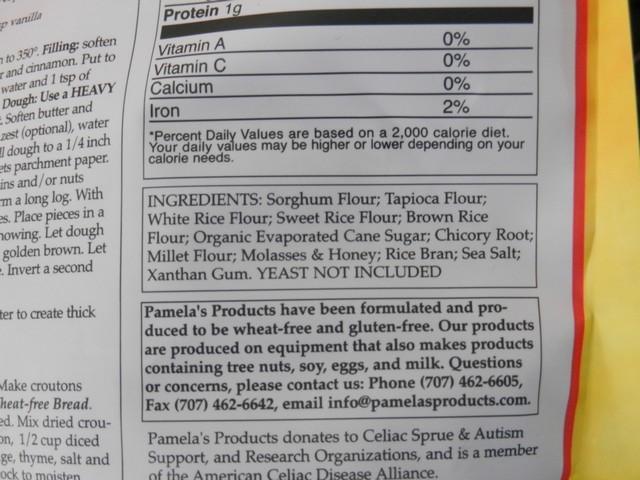 I thought this seemed like the perfect mix, although gluten free Bisquick will work as well. Or if you prefer not to use a mix from the store, you can use whatever you have on hand and make your own mix. If so, add a teaspoon of sugar and an extra 1/4 teaspoon salt in addition to the ingredients in the recipe on the bottom of this post. This will give the onions some flavor.
Using the bread flour mix, I added some extra salt; I started with 1/4 tsp of salt for 1/2 c of bread flour mix, and later decided I should have added a little bit more. This is reflected in the recipe below. I ended up using 3/4 c of flour mix altogether for this one large onion. And I forgot to add pepper… But I did add this as well to the recipe below. So next time I make these fantastic onions, I will include the pepper. I suggest to try just a pinch, but you might have a different preference; I would love for you to leave me a comment on what you ended up with and how you liked it.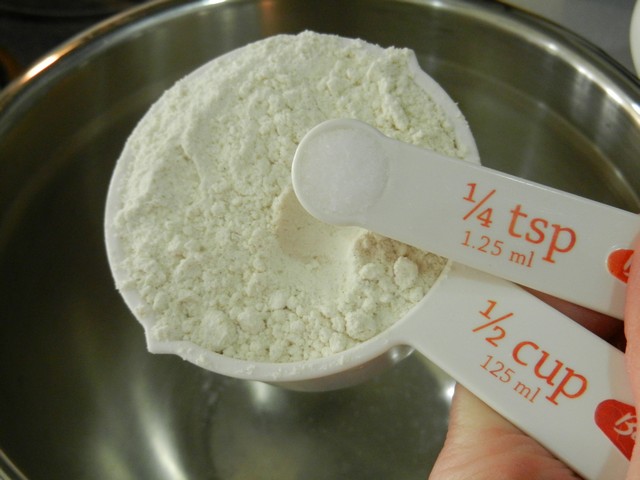 When I had my flour mixture ready, I tossed the onion slices with the flour until well covered, just a handful at a time.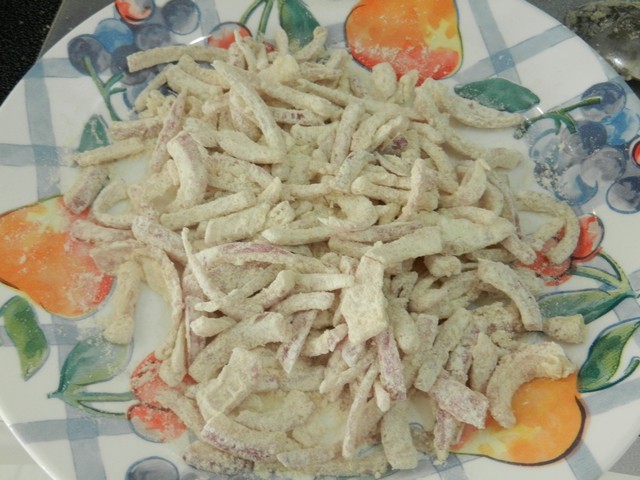 I filled a medium sized pot with about an inch of canola oil, and heated it over medium-high heat. After I suspected the oil was getting hot, I flicked a little droplet of water into the oil now and again, until I saw that it sizzled.
NOTE: A word of caution is needed here: Anytime you deep fry at home, you should be careful to not over heat the oil, and be aware that hot oil can be a fire hazard. I always keep a lid handy for my pot, in the even of a fire. A fire extinguisher nearby is a good idea as well. Here's a link with some helpful safety tips.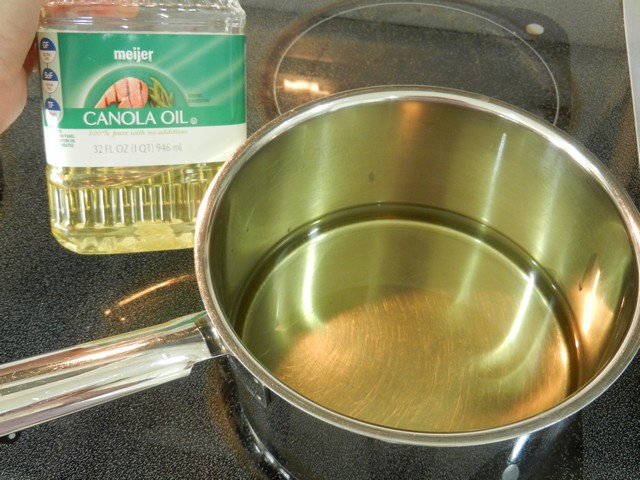 A handful at a time, I gently put the breaded onions into the oil, still on medium/high heat. At first, it sizzled quite dramatically, but quickly settled down and fried more gently for the next few minutes.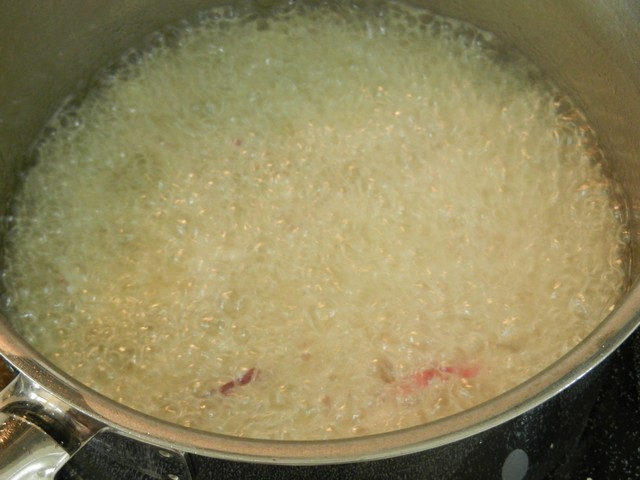 After a few minutes I turned the onions over, and continued to fry a while longer. The cooking time will vary depending on how hot the oil is. I have found that it's easier to get them crispy all the way through if the heat is medium or a little lower, just not too high, so that it takes a little bit longer to cook them. If they cook too fast, the onion inside might not be crisp all the way through.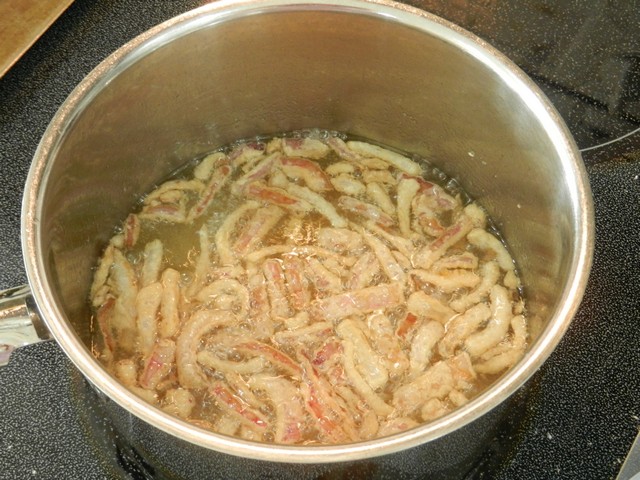 When they were nicely golden brown, I used a slotted spoon to remove the onions from the pot onto a cookie sheet lined with paper towel, to drain and cool. Just be aware that they brown quite quickly toward the end of the cooking time, so pay attention so they don't end up too dark.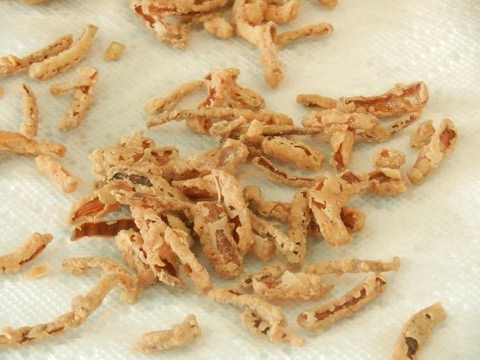 A small batch at a time, and I ended up with a nice little pile of crisp, French onions. They were crispy all the way through, just the way I like them. I was so excited!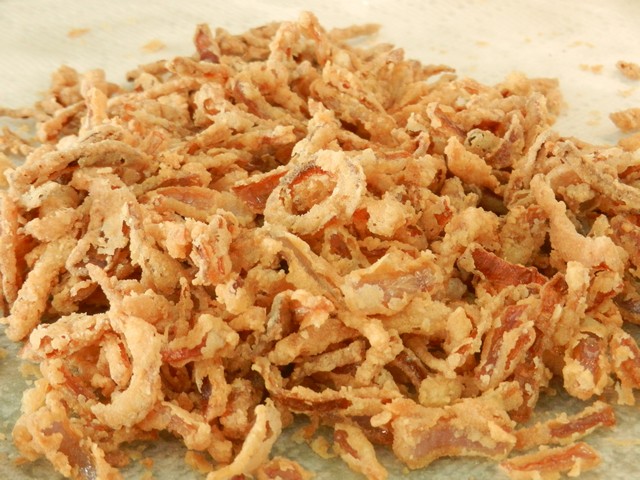 I used these crispy French fried onions for my new Gluten Free Creamy Green Bean Casserole, both inside and on top, and it can also be used for Gluten Free Cheesy Green Bean Casserole. Both are wonderful side dishes! Since I made this casserole one day in advance, I put the extra onions in a bag to save for topping. However, when I was going to use them, I found that they were no longer crispy. So, while the casserole was baking, I put them in an oven safe dish next to the casserole, hoping they would crisp up again. It worked like a charm! Since then I have learned that you can freeze them as well. At any rate, they were delicious, and so was the casserole! I WILL be making these onions again, that's for sure! And if I don't need them to be gluten free, I will use regular all-purpose flour instead of the gluten free mix, that should work just fine as well. But for now, I know that I have a wonderful gluten free alternative to my green bean casserole! Please comment and rate this recipe if you try it; option is found immediately under the recipe. Thank you!!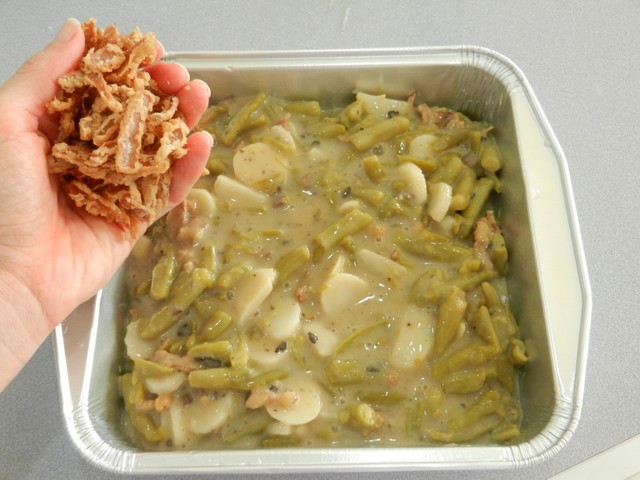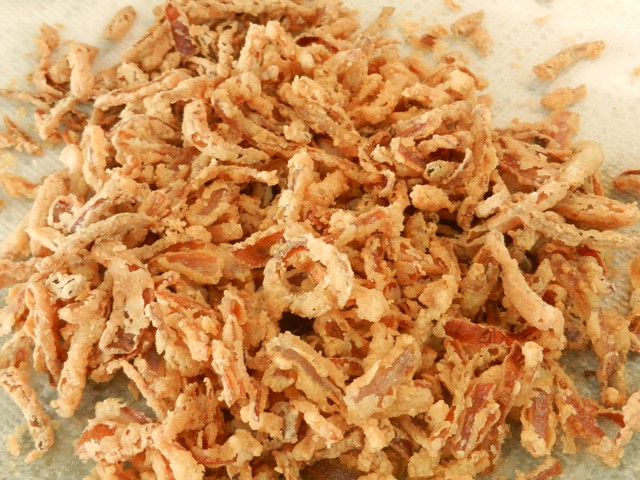 Gluten Free Crisp French Fried Onion Topping, Recipe
These Crispy Fried Onions are a wonderful gluten free alternative to French's French Fried Onions.They make an excellent topping on Green Bean Casserole.
Author:
Terese, from www.thecountrybasket.com
Ingredients
1 large onion, thinly sliced
Milk to cover
¾ c gluten free breadmix or bisquick. Or use a blend of tapioca flour, rice flour, and soy flour (add one tsp of sugar, and an extra ¼ tsp of salt; also add this if you use regular all-purpose flour, for those who do not need to be gluten free.)
½ tsp salt
pinch of pepper
Instructions
Pour onions into a bowl, and add milk to cover. Let soak for a few minutes.
Mix together the flour blend, salt, and pepper.
Remove onions from the milk, and toss onions with the flour mixture, a small batch at a time.
Heat oil over medium / high heat, until a drop of water sizzles.
A small batch at a time, gently put breaded onions into the oil, and fry until golden brown. Flip them over halfway through.
using a slotted spoon, remove from oil and let them drain and cool on paper towel.