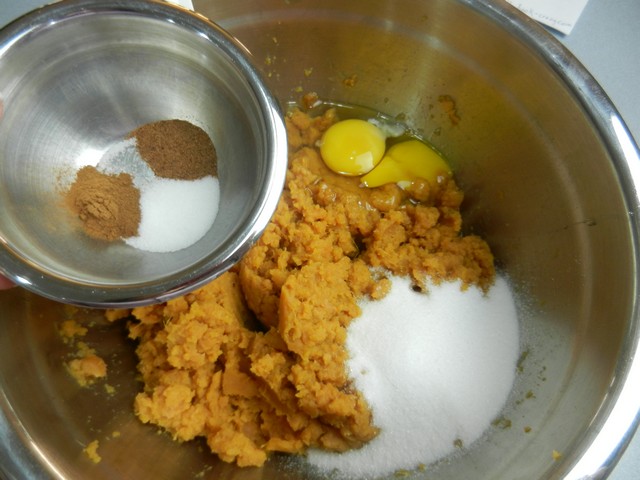 This recipe is for a very special sweet potato casserole, one that was served to us by my husband's late step-grandmother; our beloved Grandma Fountain! It was made and served with love! Although originally not gluten free until I altered it, this casserole is amazing both ways; so creamy and delicious, and a must on our holiday dinner table whether it is Christmas, Thanksgiving, or Easter. The whole family looks forward to this luscious side dish to go with our turkey or ham, and other sides such as green bean casserole!
Two new versions of green bean casserole, served for the first time this past Thanksgiving, are likely to become standard dishes for our holiday family dinners from now on, as we really enjoyed them. Here are the links to my posts on those: Creamy Green Bean Casserole and Cheesy Green Bean Casserole, and also the fabulous Gluten Free Crisp French Fried Onion topping! Both casseroles were made gluten free, as this sweet potato casserole easily can be as well by simply substituting the flour for gluten free flour. We tried it and did not notice any difference. Even though my immediate family does not need to be gluten free, we have other family members who do. You can also make this casserole low fat or low sugar.
If you do try this recipe, I would really appreciate a quick comment with a star rating (option found immediately under each recipe). It helps me out tremendously! Thanks in advance!
As seen in the picture above, the first step is to mash a large can of sweet potatoes, or yams as they also are called. If you prefer to cook your own, you definitely could. I have always used the canned yams, just for the sake of convenience on an otherwise very busy day of preparing for a holiday meal. Just make sure they are nicely tender, and mash very well. I don't mind lumps in regular mashed potatoes, but this casserole I prefer to be as smooth as possible.
To the mashed sweet potatoes, add two eggs, sugar, salt, nutmeg, and cinnamon. We often cut way back on the sugar these days, as we enjoy it more when it's not so sweet. I also sometimes cut the topping in half for the same reason. But, I regress:
Mix together, then, as pictured below, add melted butter and vanilla extract. Butter can be halved or omitted completely, but I have found that if you do, you sacrifice flavor. Also, when I tried to omit butter altogether, I found that the casserole was not as creamy and luscious in texture. I usually make Grandma's sweet potato casserole with all of the butter called for. I also tried to cut back on sugar; the original recipe called for 1/2 cup sugar to be added, but I think it becomes overly sweet and more like a dessert than a side dish. So I decided to change this measurement, and always use 1/4 c sugar as I have found this to be just right. To use no sugar at all, which I also tried, just wasn't the same. So I prefer to add this little bit.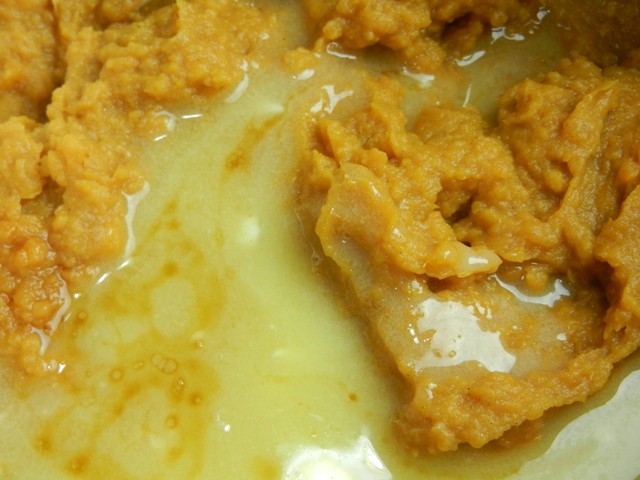 Mix all these ingredients together well, then pour into a greased oven safe 3 qt. dish. 8×8 inches with tall sides should do. I sometime use disposable foil pans during our large, holiday family get-togethers, for the convenience that they offer.
The next step is to prepare the topping; this is where "wheat" versus "gluten free" comes in. As the years go by, we find ourselves enjoying it more when we use less sugar, otherwise it can become overly sweet for us. We now like to use only half of the toppings and that seems more "right" to us. Many people love it very sweet though, so I'll leave that up to you to decide.
First, chop pecans. Well, alright, they say walnuts are fine to use as well, but I really hate dislike them, so I always go for pecans. Walnuts are too bitter for my taste… OK, so I love coffee, as seen in this post on cold-brewed coffee concentrate, but walnuts are a different subject in my book. Yes, indeed. But use whatever you prefer (pecans!), and chop the nuts to your liking. Or do what I do; pour them into a zip-lock bag, and smash with the flat side of a meat tenderizer. That's both faster and easier to do, and far less messy than a knife against a cutting board.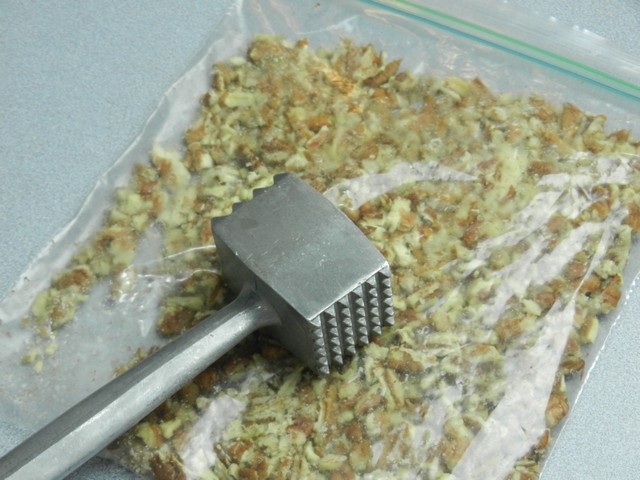 Mix together nuts, brown sugar (light or dark; dark brown gives a stronger molasses flavor), softened butter, and flour; like I said, this can easily be done gluten free by using rice flower or a different option, as seen on the convenient chart in this link. Or a gluten free bread flour mix can be used as well, which I used for various gluten free dishes this past Thanksgiving.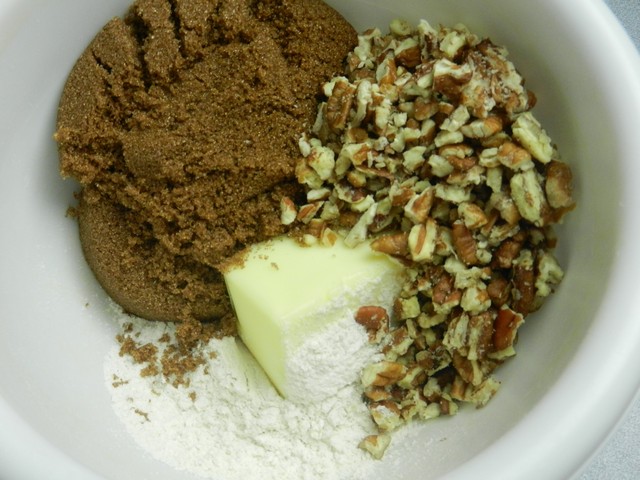 Cut the butter into the flour using a fork or a pastry cutter. I have found the style in this link to Amazon to work better than the skinny wire type.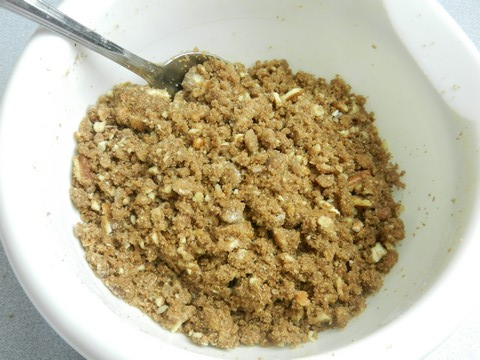 Once these ingredients are crumbled together, spread the topping over the sweet potato casserole. Cover, and leave in the refrigerator overnight or bake right away. In Grandma's original recipe it said to bake it at 350° F for 30 minutes, but I usually find that it takes a full 45 minutes for this casserole to be cooked through. It does help to use a shallow dish to spread it out thinner. If doubling, I try to still keep it in a large but shallow pan rather than a deeper dish.
The following picture shows my creamy gluten free sweet potato casserole before baking. I am so excited to finally share with you this wonderful, special holiday recipe, a side dish much loved by our entire extended family! Please comment and rate this recipe if you try it; option is found immediately under the recipe. Thank you!!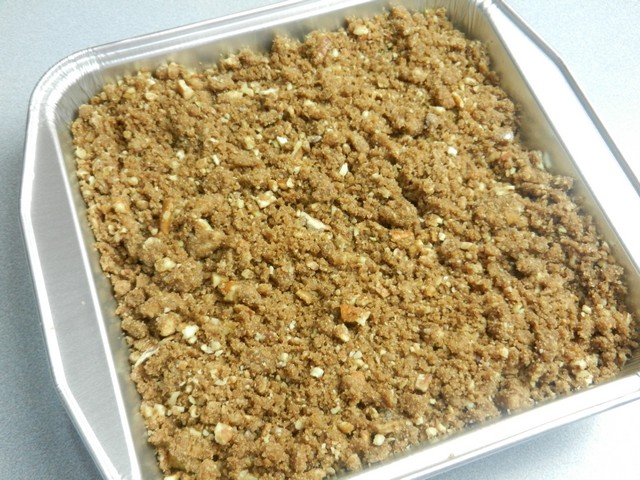 Grandma's Sweet Potato Casserole Recipe, Gluten Free Option
A creamy, sweet, and luscious side dish to go with a big dinner, and especially suitable for holiday dinners.
Author:
Terese at www.thecountrybasket.com
Ingredients
1 large (40 ounce) can sweet potatoes, drained
¼ c sugar (white)
½ tsp salt
¼ tsp nutmeg
¼ tsp cinnamon
2 eggs
¼ c (half stick, 50 grams) butter, melted
1 tsp vanilla extract
Topping:
½ c chopped nuts
¼ c softened butter
¾ c brown sugar
3 Tbsp all-purpose flour, or gluten free flour
Instructions
Mash drained sweet potatoes.
Add sugar, salt, nutmeg, cinnamon, eggs, butter, and vanilla, and mix well.
Pour into a greased 3-qt. oven safe dish, set aside.
For topping, crumble together nuts, butter, brown sugar, and flour.
Spread evenly over casserole.
Bake at 350° F for 45 minutes.