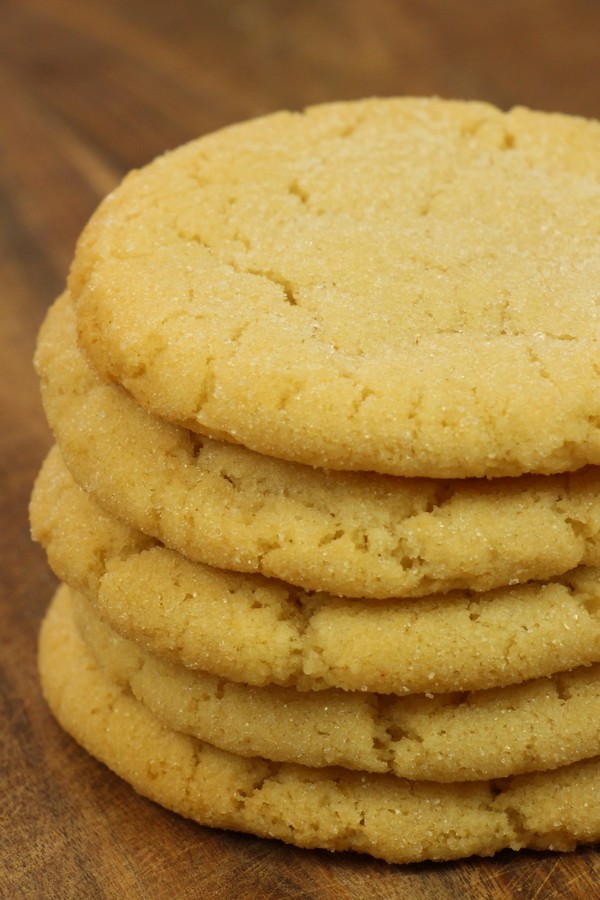 Recently I have been baking sugar cookies, and now I want to share my two favorite recipes! I have tasted many different sugar cookies over the years but I find most of them to be bland and dry. The two recipes I'm sharing with you today, however, are among the best ones out there as far as I'm concerned! Sugar cookies have a simplistic, sweet flavor; they are not bold by any means or they would no longer be a sugar cookie. If you want a real aroma kick you should try my Malted Milk Cookies, which are truly outstanding! Sugar cookies are more plain, but that doesn't mean they have to be bland. Both recipes are tasty and chewy but slightly different from each other: The cookies in my other recipe has great flavor, using lots of real butter and a whole 8-ounce package of cream cheese. And the recipe in this post, while still delicious tasting, also features a wonderful, chewy consistency due to ingredients selected for just that purpose.
Because I like really chewy cookies, I do love this recipe from Cook's Illustrated, although I have made a couple of changes: I have added just a tiny bit of almond or coconut extract, depending on my mood, for extra flavor. I have also changed the order of the ingredients and made this into a one-bowl, or rather, one-pot recipe to simplify, making it a truly quick and easy cookie recipe.
Even though I prefer straight butter in my recipes, the test kitchen of Cook's Country found that replacing some butter with oil improved chewiness. Using only a small amount of cream cheese rather than a whole 8 oz package also helps create a more chewy cookie. Although you have to sacrifice that lovely cream cheese flavor for chewiness, which is OK since they are delicious just like they are! These cookies also come out very crinkly and pretty looking, which is awesome if you want to serve them as-is rather than frosting them.
Making the Chewy, Crinkly Sugar Cookies
To make these yummy sugar cookies, you start out by melting butter in a medium sized pot.
Don't let the butter get too hot, or if it does, just cool it a little bit before adding the other ingredients, otherwise the dough will be very soft and harder to shape nicely. Also, definitely use real butter, not margarine or shortening, as butter adds a lot of flavor and will make your kitchen smell divine when you bake the cookies!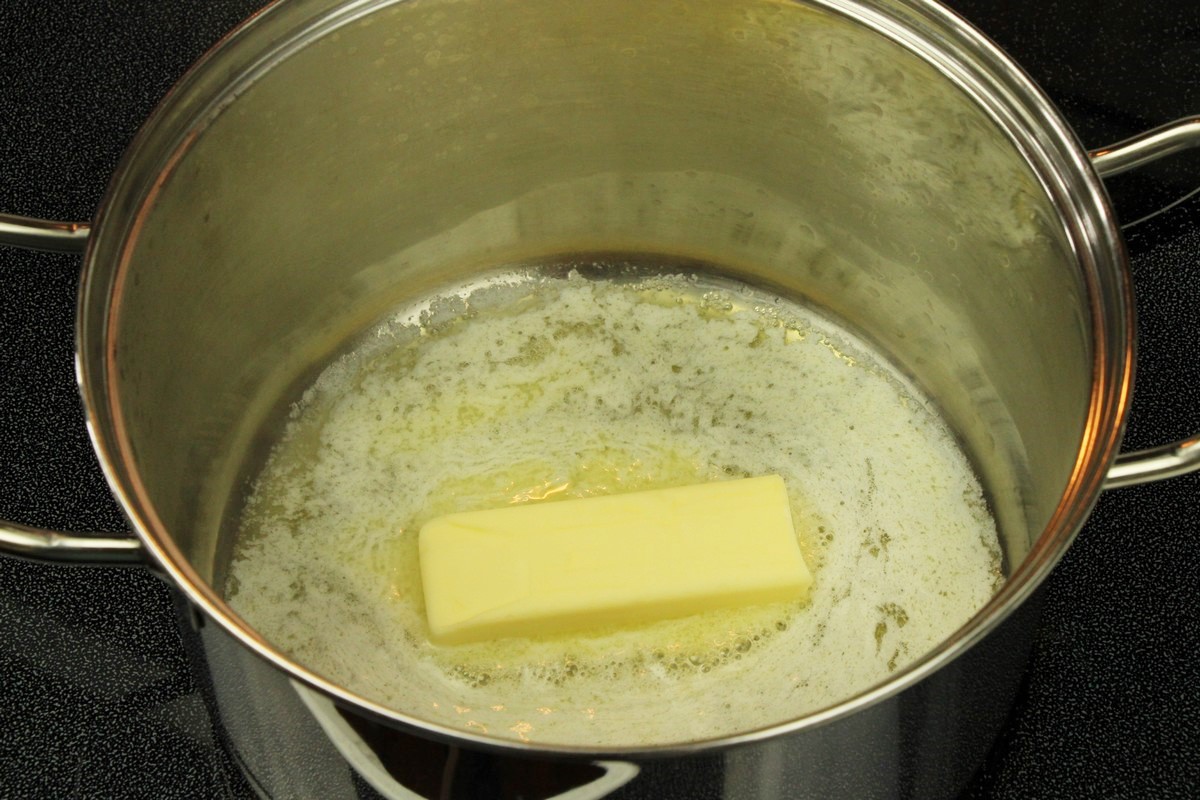 Pull the pot off the heat and add cream cheese and sugar. Whisk together until mostly combined, and don't worry if there are still some bits of cream cheese here and there.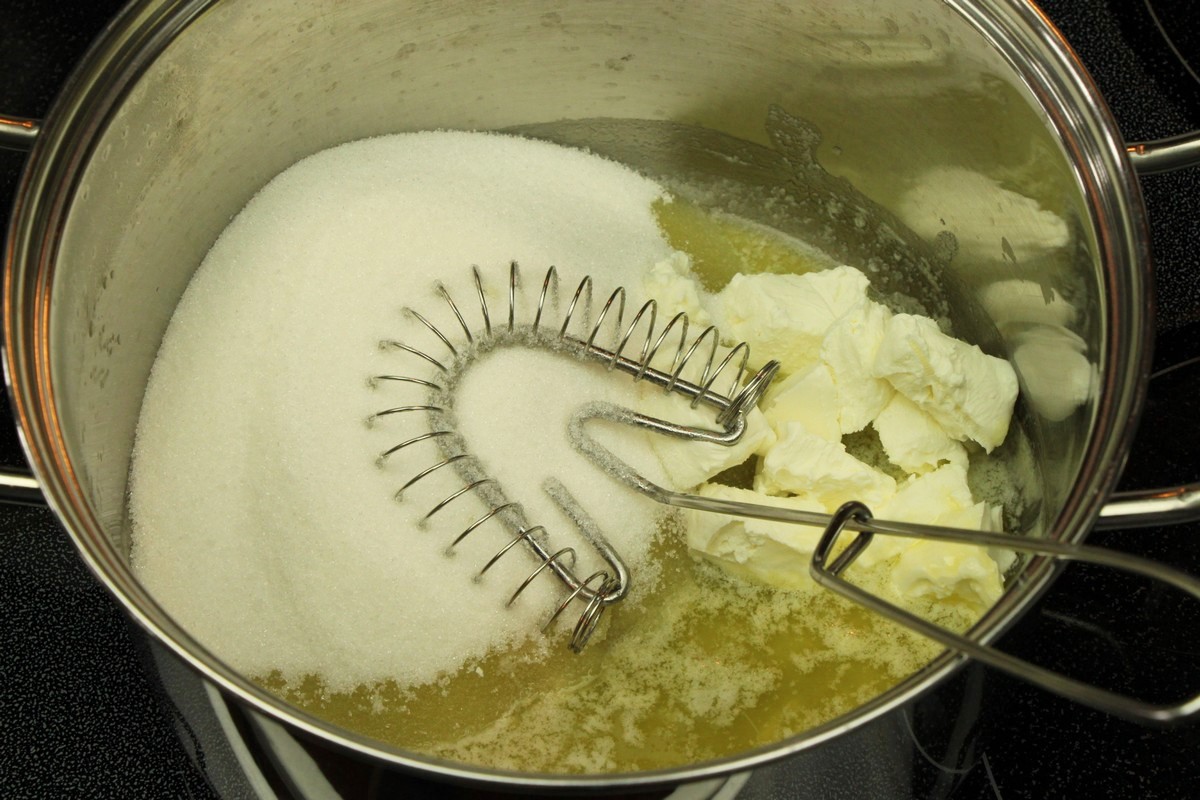 This Scandinavian style whisk is an excellent tool to use in this recipe and is a standard in most Norwegian homes. Being a native Norwegian, my kitchen would be incomplete without this whisk. In fact, I own three of them in different sizes and use them all the time! I was so excited when I found them on Amazon as I don't know of any whisk, fancy or simple, that does a better job!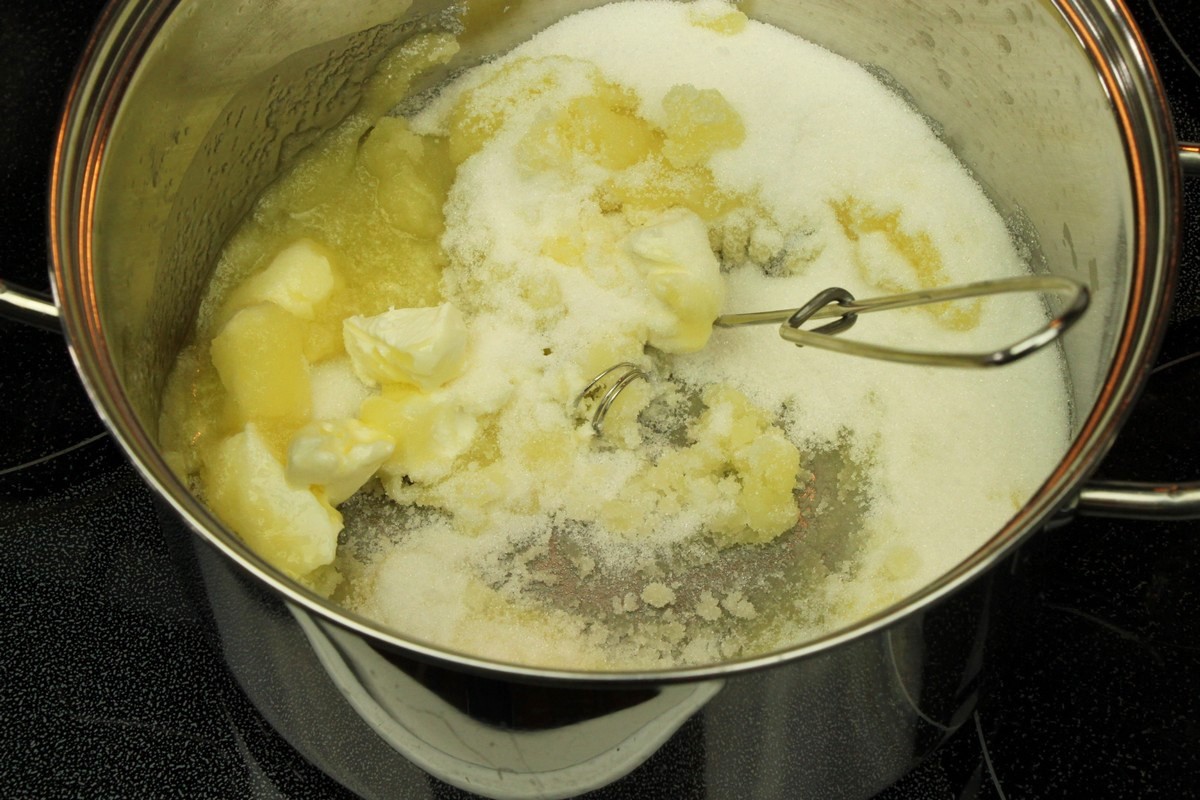 Below you see my favorite measuring cup set from KitchenMade in use, a set of 6 in stainless steel. They are of high quality, very sturdy and will last a lifetime. I was also excited to see that they nest perfectly inside each other, saving space in my drawer. I ordered a second set as I use them so much! Getting rid of more plastic!
But, I digress: Now you add vegetable oil and again you whisk until somewhat combined. You will not be able to fully incorporate the oil just yet, and that's OK.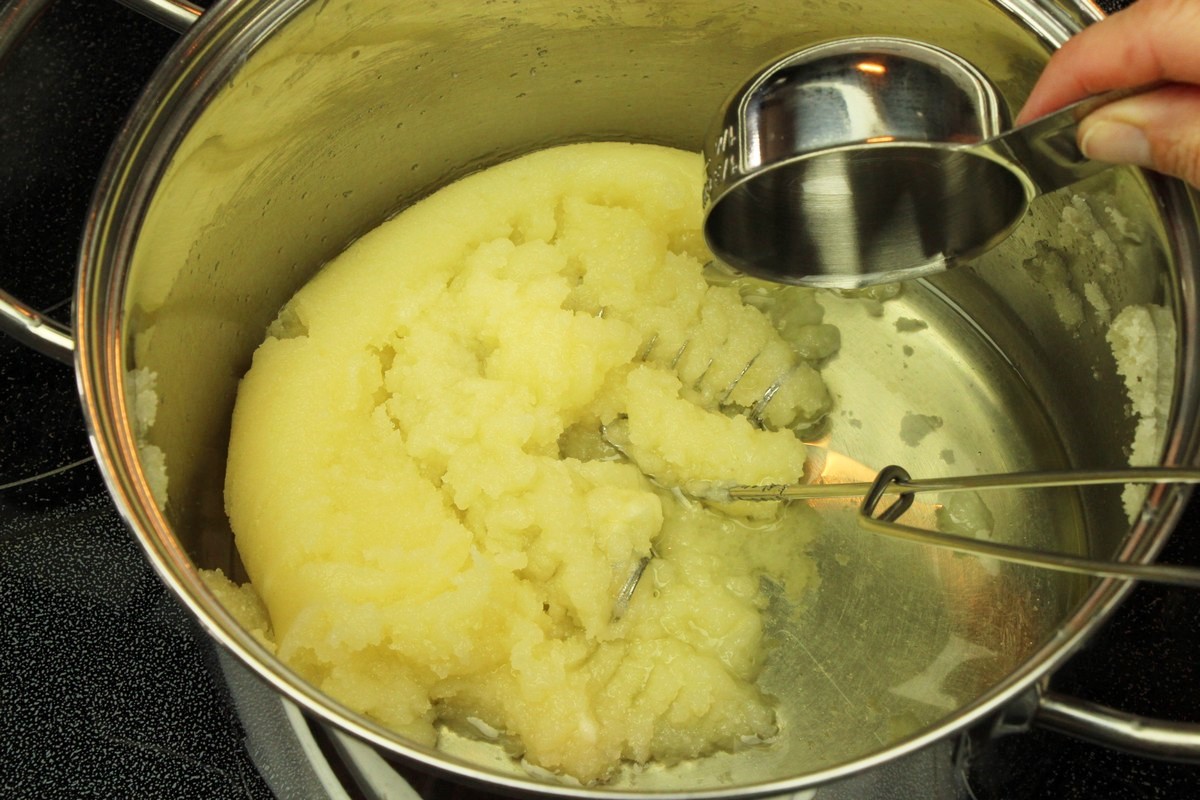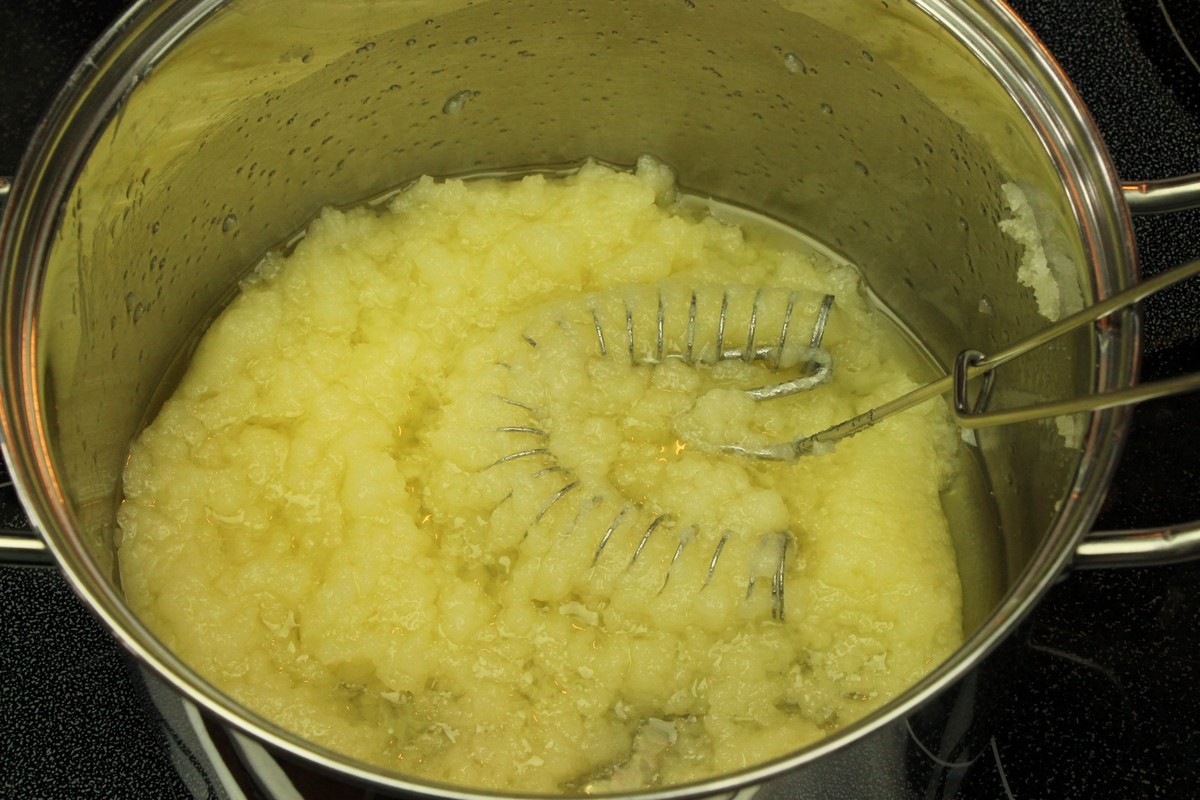 Add egg, milk, vanilla extract, and almond or coconut extract. Now whisk again and see the ingredients come together to an even, smooth batter!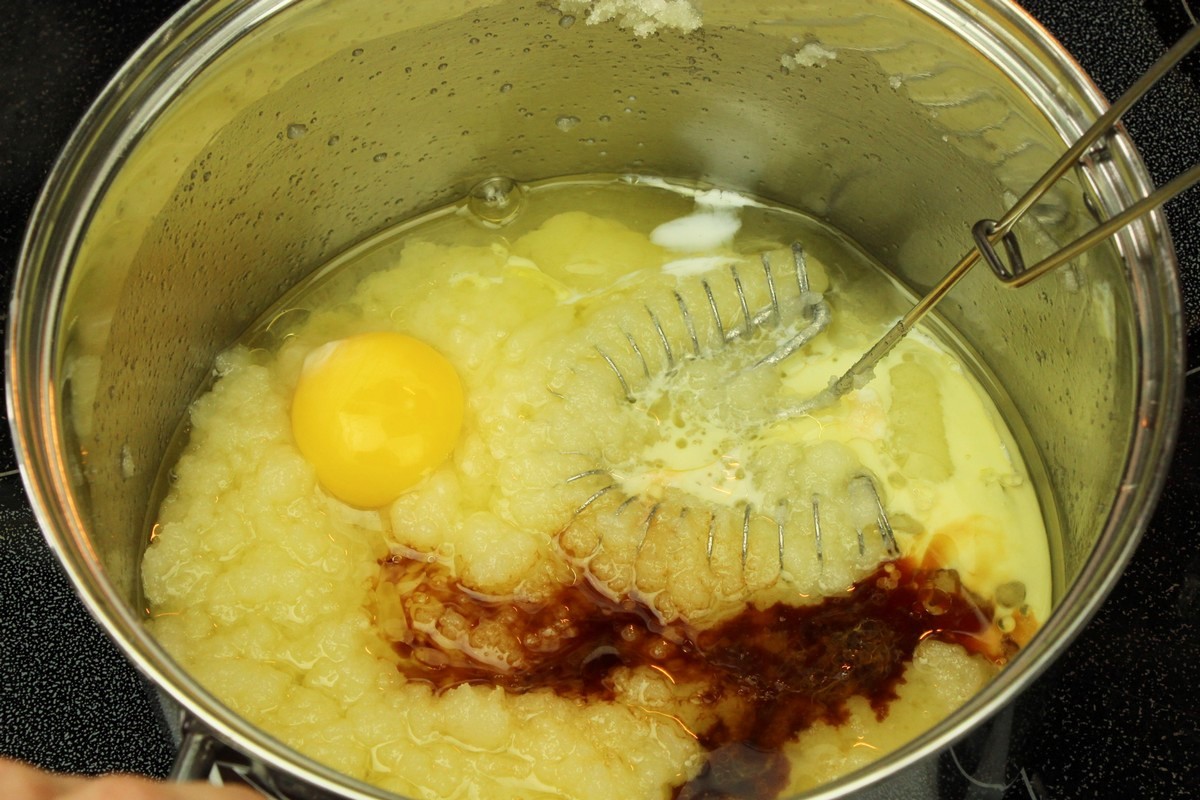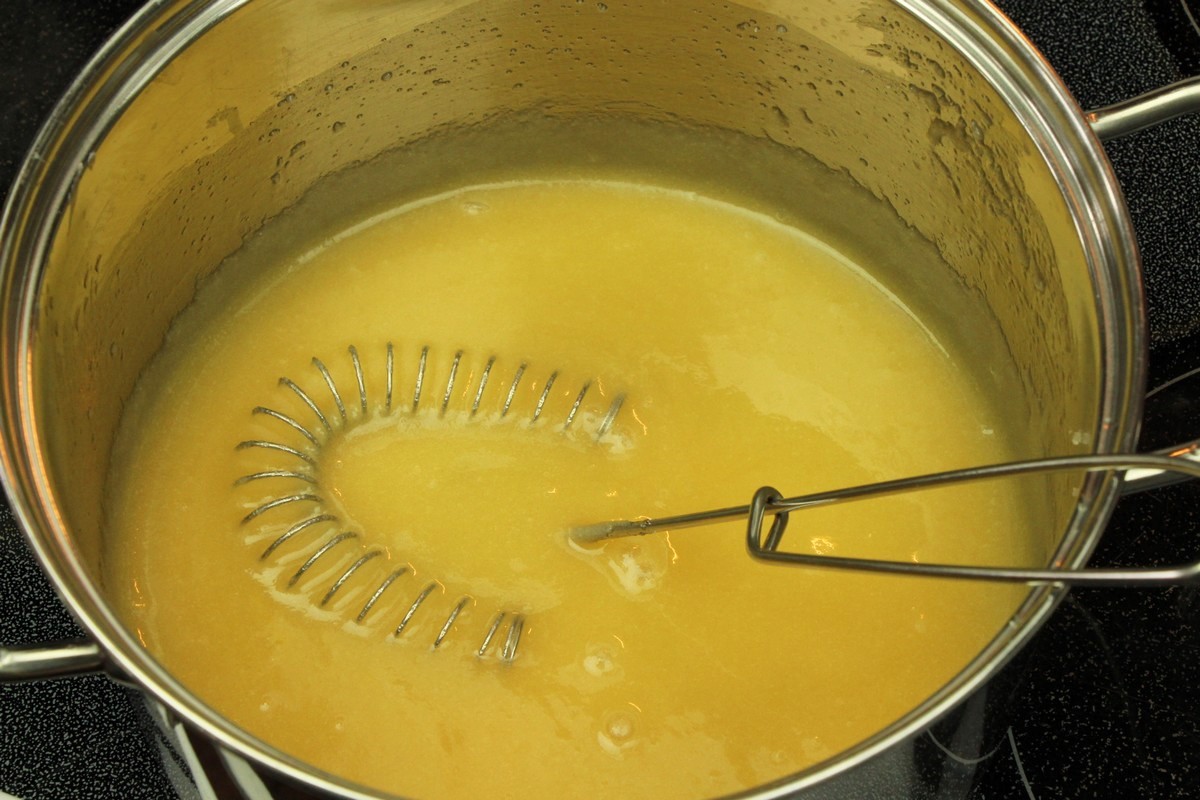 Stir together flour, salt, baking soda, and baking powder. Add this flour mixture to the batter and stir with a rubber spatula until completely combined and a dough has formed.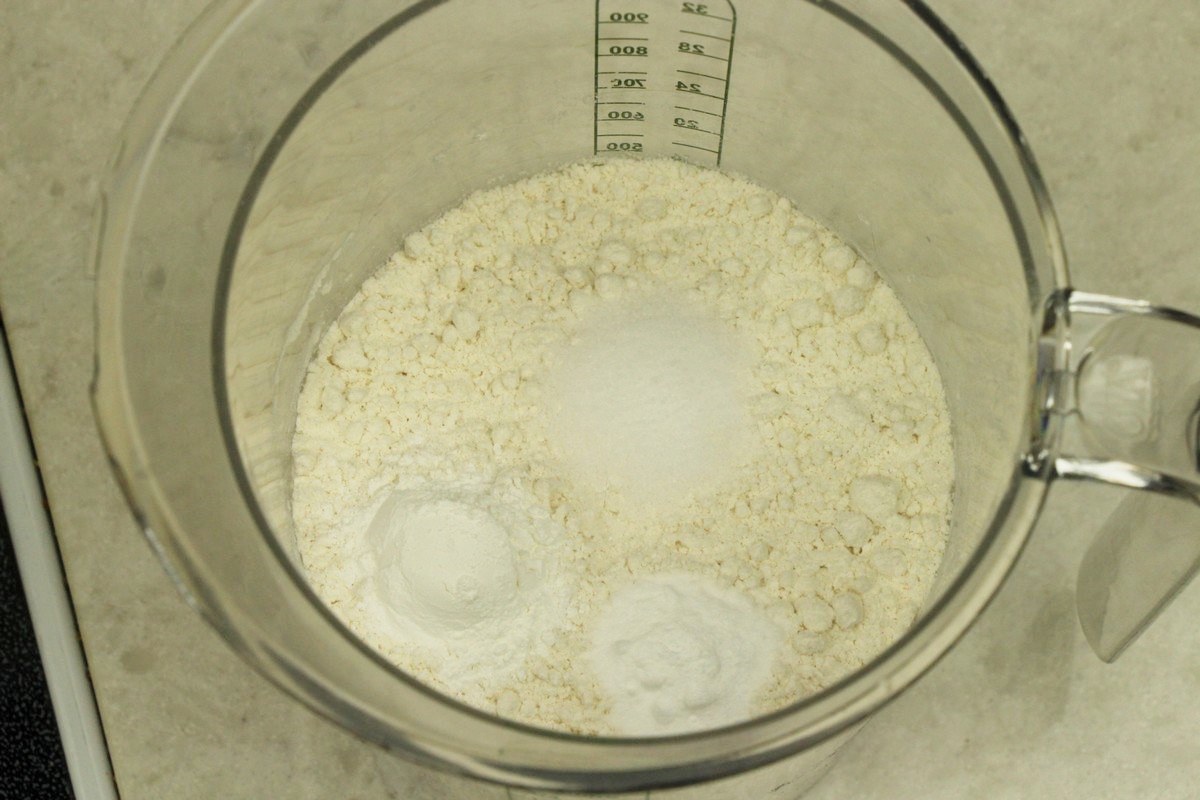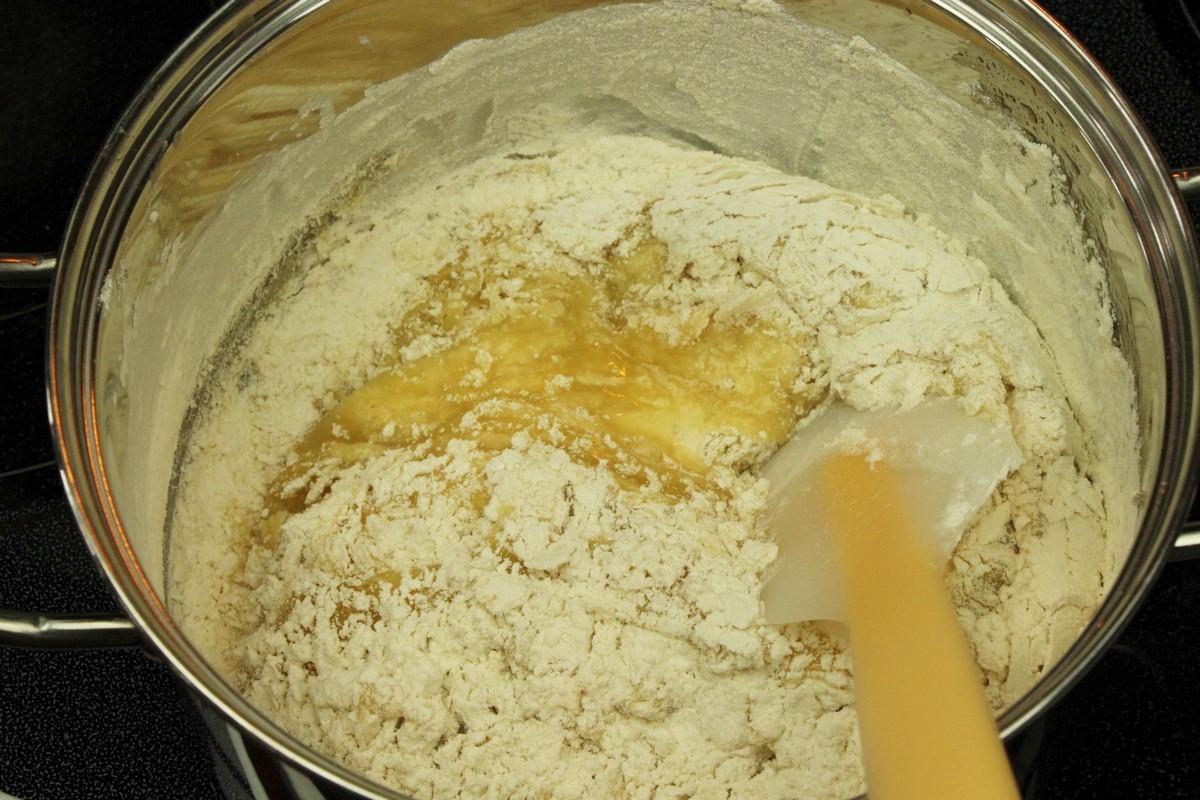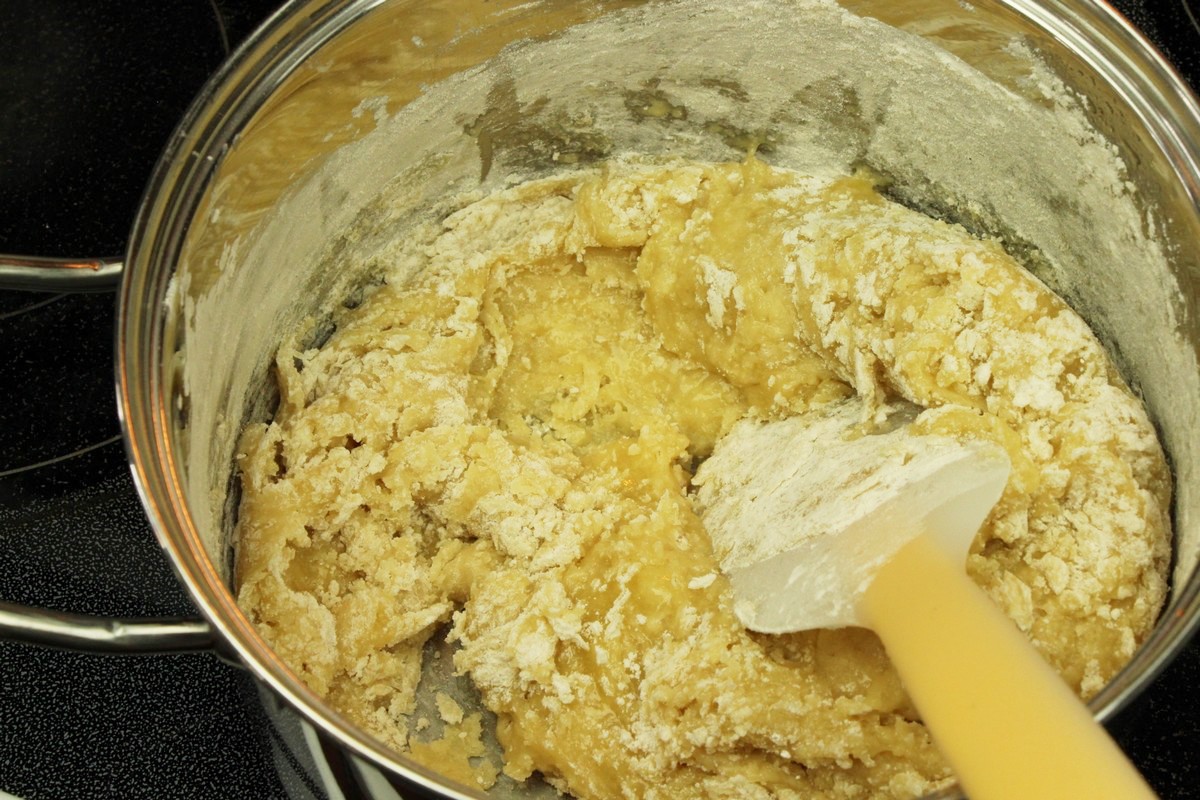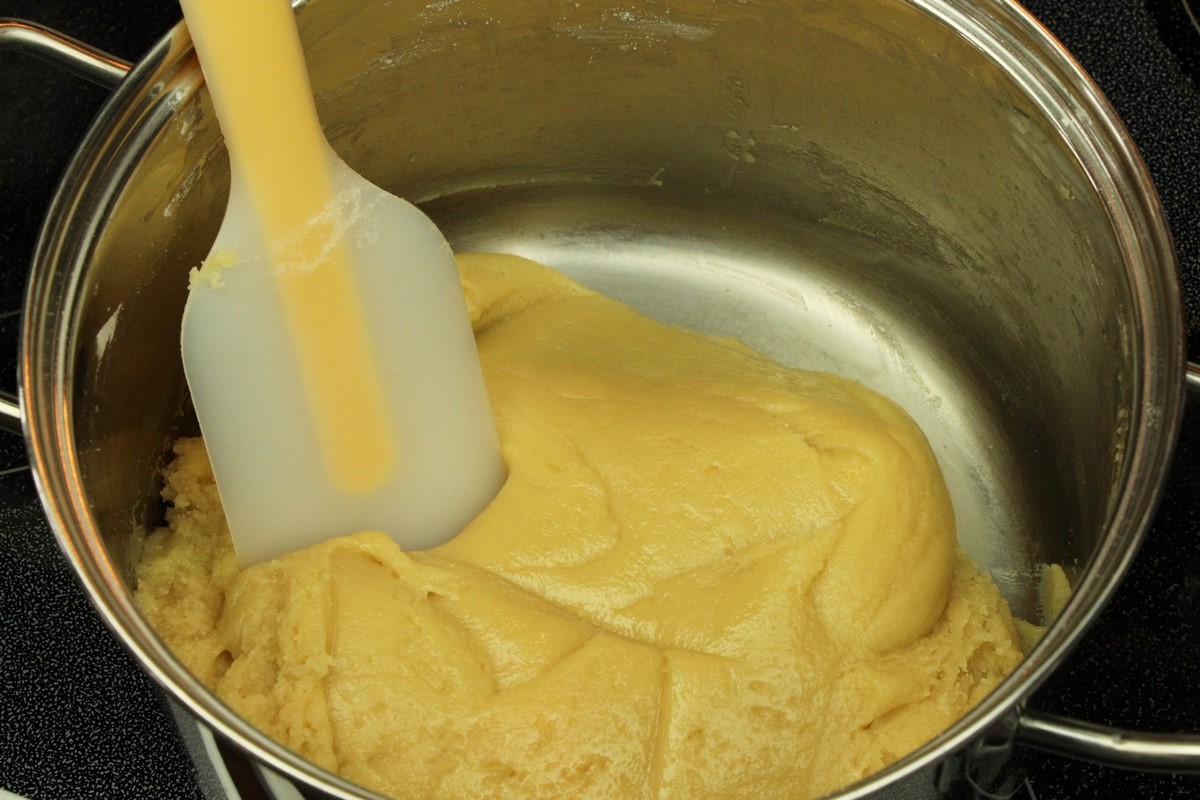 As you can see, this one-bowl recipe is very quick and easy to whip up!
To shape the dough into balls, you could use two spoons, but I like to use my #40 cookie scoop. The cookies turn out very round and even when using the scoop. See this post for ideas on how to bake perfect- and professional looking cookies.
Roll each ball of dough gently in white sugar. Try to keep the round shape as much as possible. Then place them on parchment paper on a cookie sheet.
You can also try adding cinnamon for a snickerdoodle flavor, or roll them in dark brown sugar. I've done both and they add wonderful flavor, although the cookies are also great just as they are, with white sugar.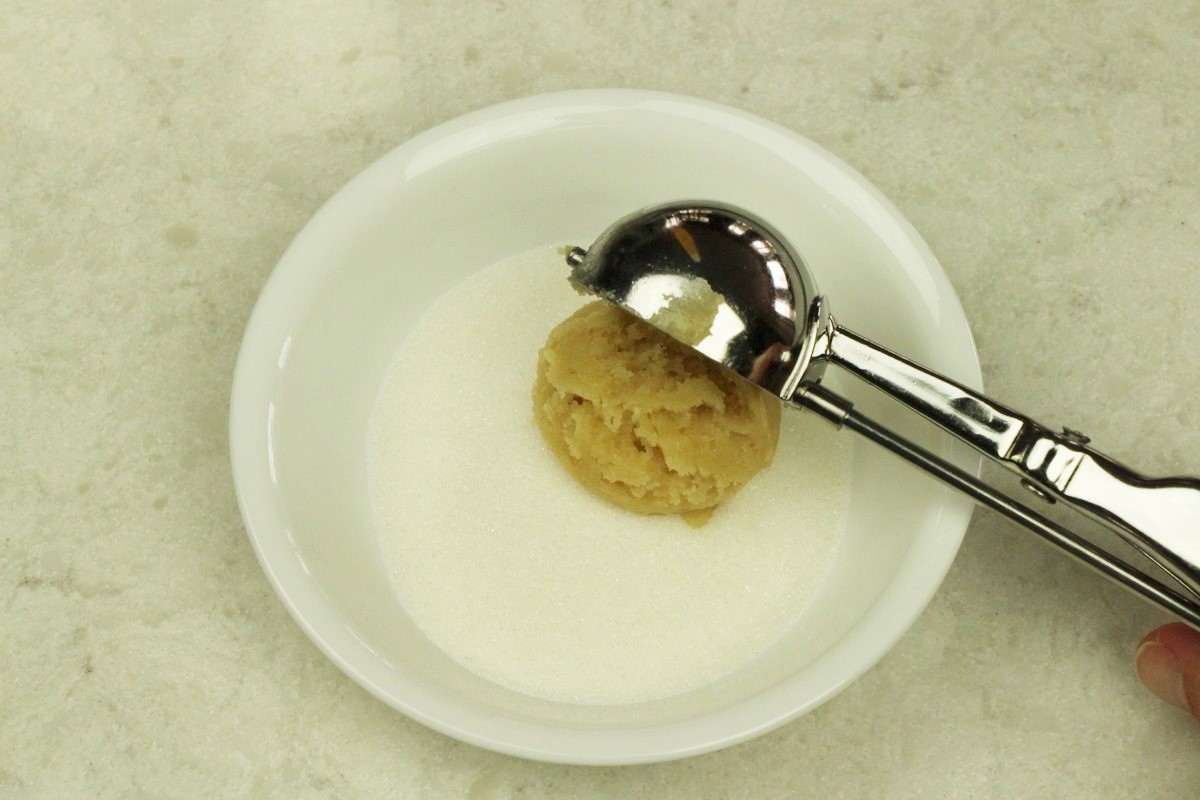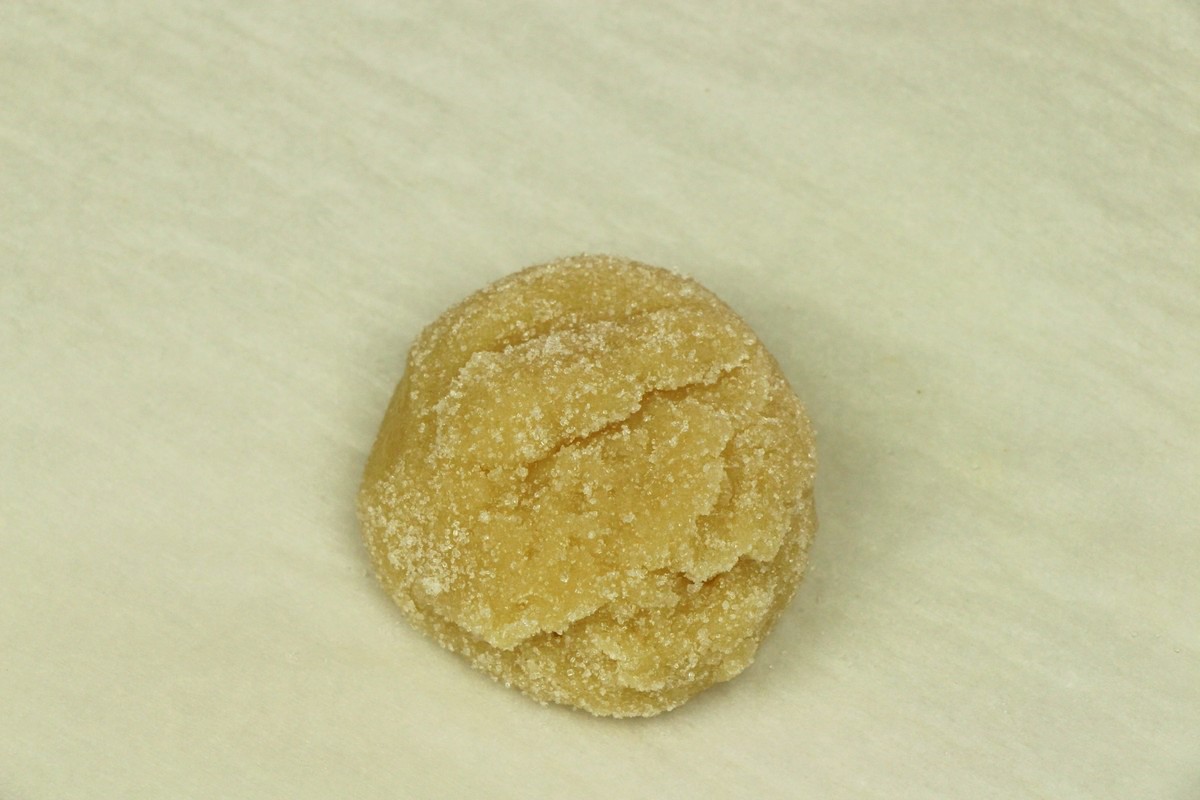 I love my mega sized cookie sheet as it can hold a lot more cookies than my other sheets, which allows me to bake more cookies in one sitting. Not all ovens are large enough for this size, so it always pays to do a quick measure before buying.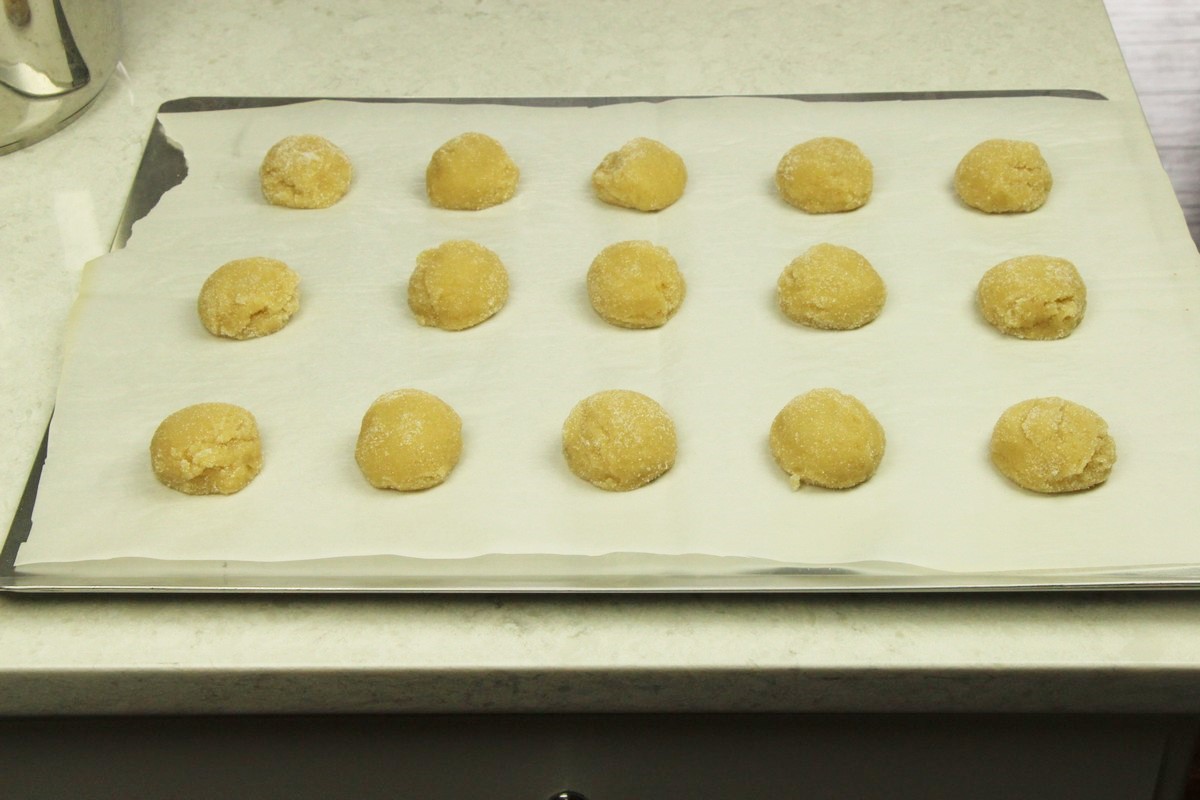 Cover the dough balls with parchment paper or wax paper to prevent sticking, then press down a little bit with a glass or bowl. The flattened cookies should be fairly thick and measure about 2 inches across.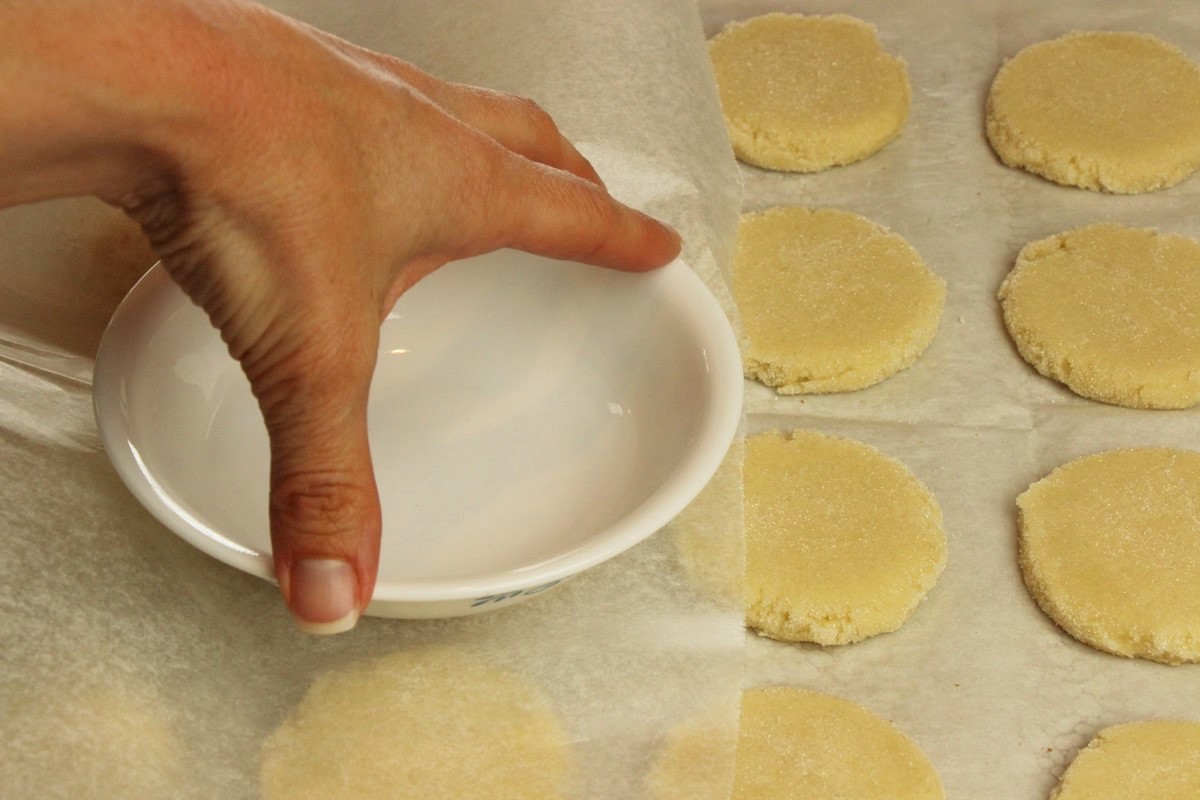 Then sprinkle with more sugar! The sugar added gives the cookies a little crunch on the outside. Delicious!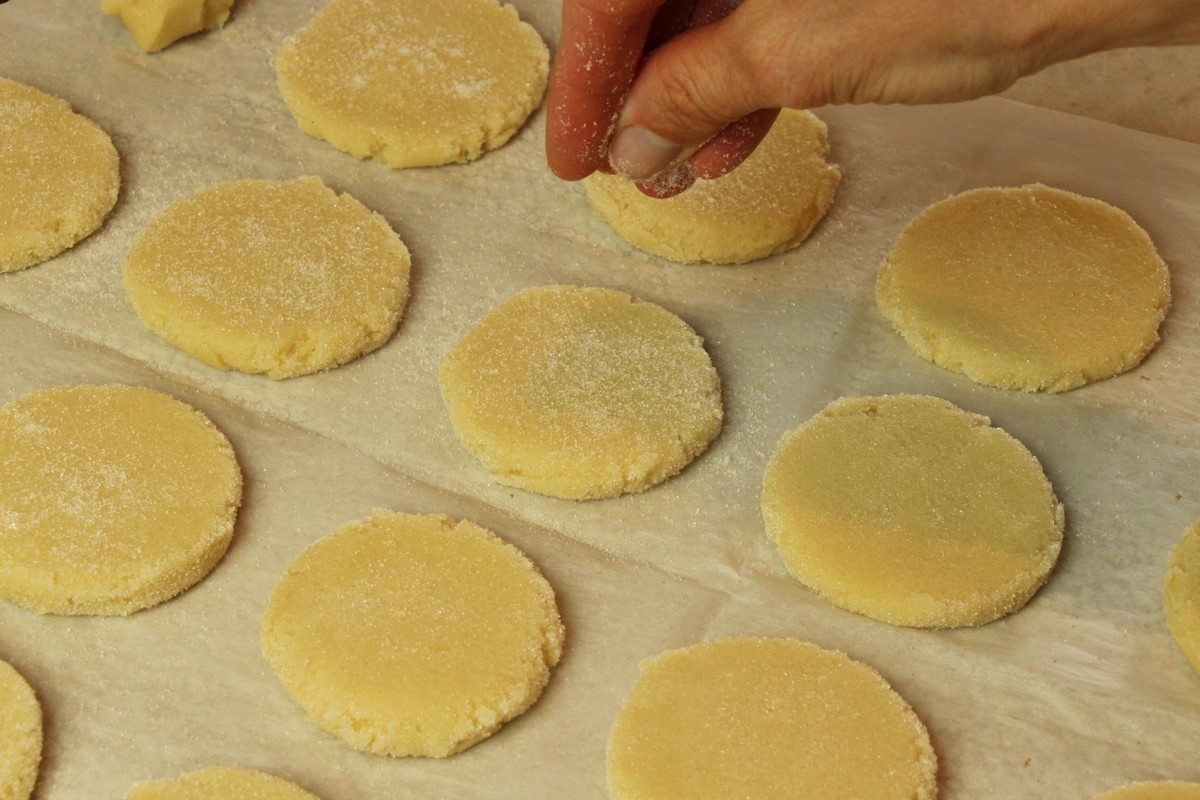 Bake at 350°F for about 10-12 minutes or until just barely golden around the edges. Do not over bake since you want these super yummy cookies to be chewy! Remove from the oven and slide the parchment paper with cookies directly onto the counter top to cool, then remove the cookies once cool.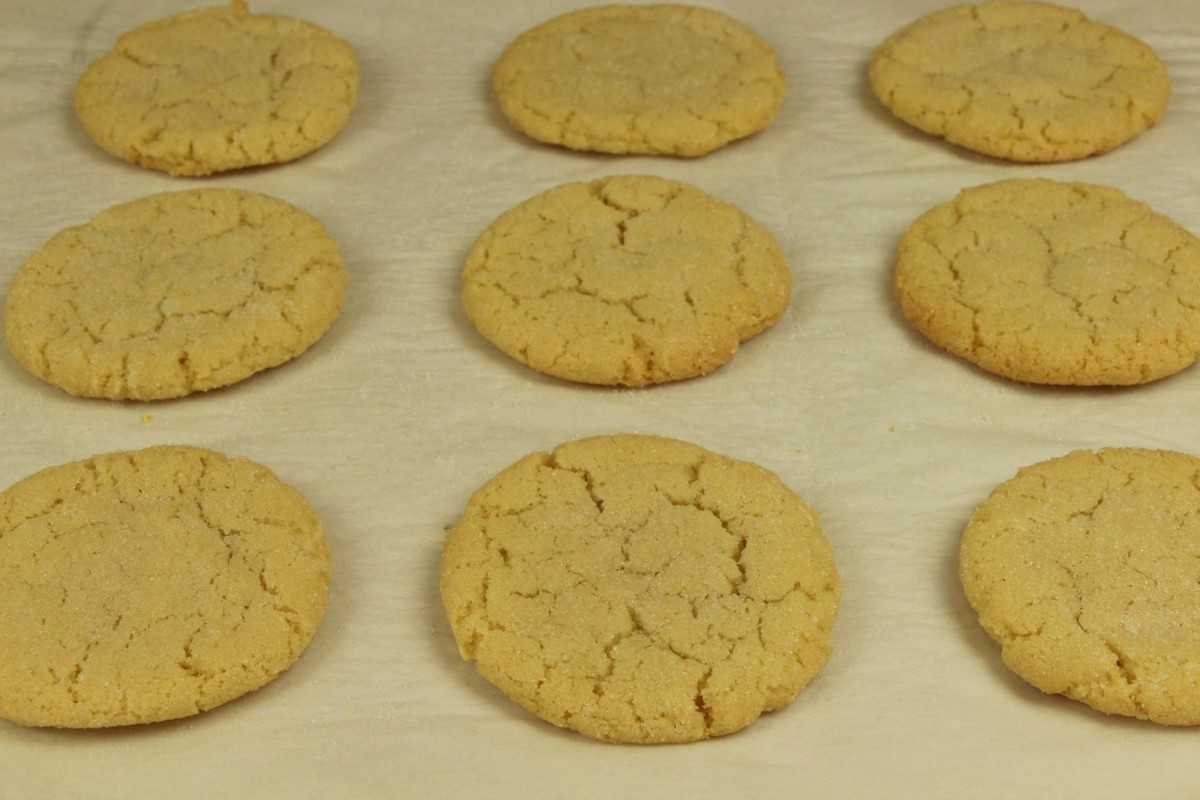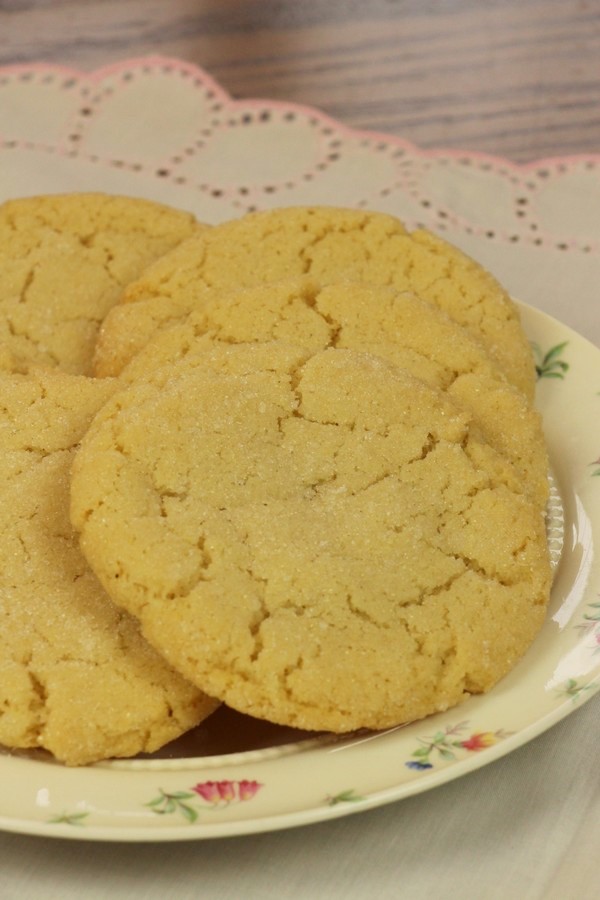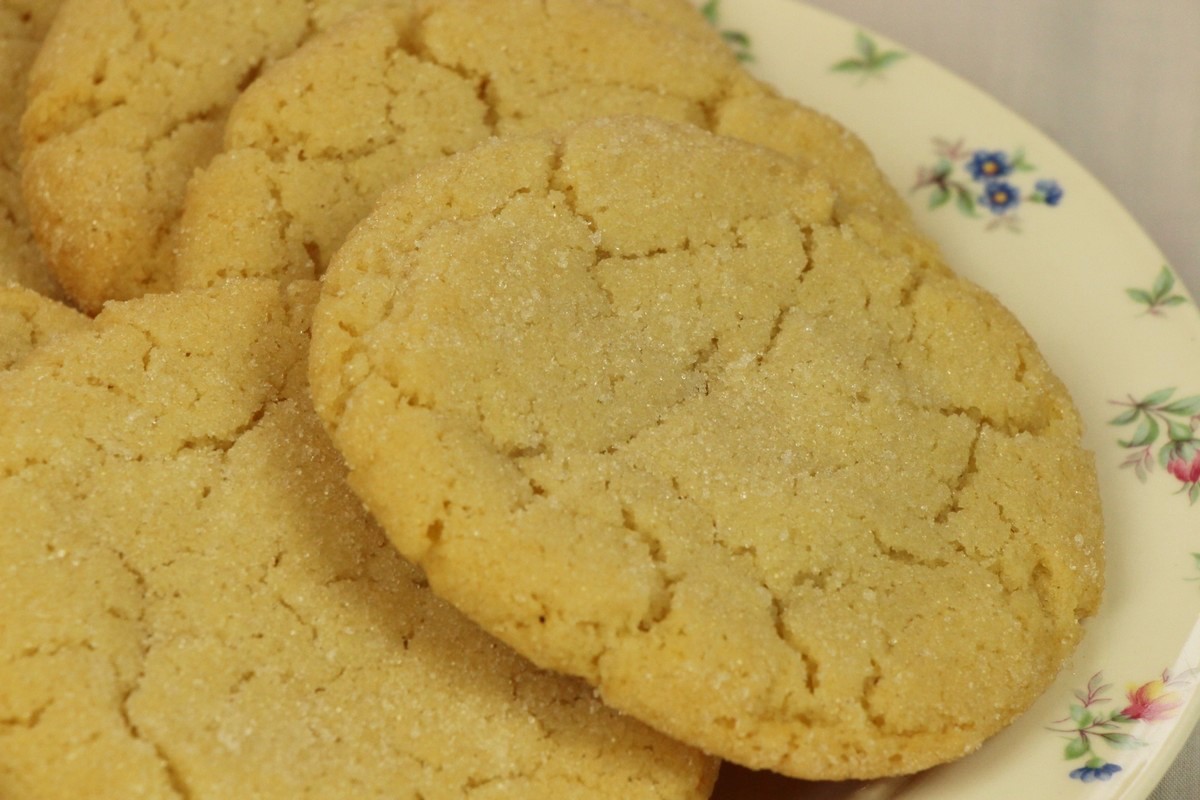 Look how crinkly and beautiful these sugar cookies are! Super chewy too, and quick and easy to make using only one bowl (or pot) to save you dishes! If you decide to try this recipe, I would love it if you left me a comment and star rating as it would help me as a blogger to help all of you, my dear readers! Thanks in advance, and happy baking!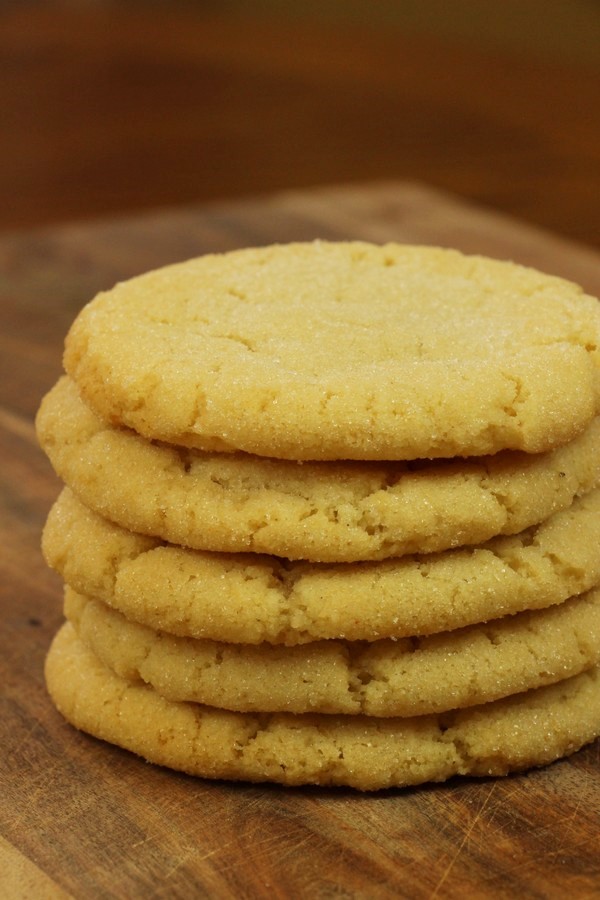 Super Chewy Crinkly Sugar Cookies
Quick & easy to make, yet delicious with a super chewy consistency. Also sugar cookies are also crinkly and pretty.
Author:
Terese, from The Country Basket
Ingredients
6 tablespoons butter
1½ cups sugar plus extra for rolling
2 ounces cream cheese, cut into pieces
⅓ cup vegetable oil
1 egg
1 tablespoon milk
2 teaspoons vanilla extract
¼ teaspoon almond or coconut extract
2¼ cups flour
½ teaspoon salt
½ teaspoon baking soda
1 teaspoon baking powder
Instructions
Preheat oven to 350 degrees F.
In a medium sized pot, melt butter.
Pull pot off the heat, and while butter is still warm, add sugar and pieces of cream cheese. Whisk until mostly combined.
Add oil, stir well until cream cheese is fully incorporated and a bit of the oil is mixed in even if not completely.
Add egg, milk, vanilla, and almond or coconut extract, and whisk until fully incorporated.
Mix together flour, salt, baking soda, and baking powder. Add to the batter and stir, using a rubber spatula, until dough is uniform.
Use a cookie scoop #40 or two spoons, shape balls of dough and gently roll them in sugar.
Place on a cookie sheet and flatten a little bit with a bowl or glass, using wax paper or parchment paper in between to prevent sticking. The cookies should be approximately 2 inches in diameter.
Sprinkle with more sugar.
Bake for 10-12 minutes until some of the edges turn a little bit golden. Do not over bake!
Slide parchment paper with cookies onto the counter top to cool. Then remove.