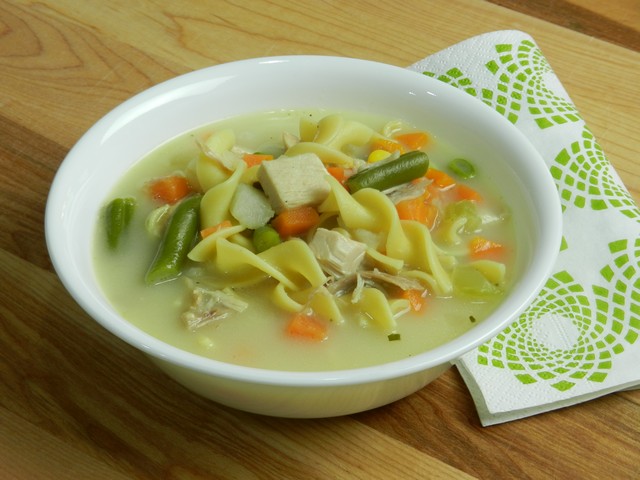 Chicken Noodle Soup is good; of course it is! But Turkey Noodle Soup made from nutritious, homemade stock, on the other hand, is scrumptious! As I started making homemade turkey stock, or bone broth, a few years back, I went on a search for stock based soup recipes. I found a couple of recipes that I adapted into a soup recipe that is quick, easy, but delicious non-the-less, once you have stock and meat leftovers ready made in the freezer.  When cooking up a turkey, I usually cook a much larger bird than we need for our dinner, in order to have lots of leftovers in the freezer for meals like my much-loved soup.
This recipe is adapted mostly from Paula Deen's Chicken Noodle Soup, with a couple of changes. For one thing, I use a bag of frozen soup veggies from the store, to save time. You really can use any vegetables you want, though some vegetables tend to fall apart more easily than others, such as broccoli, so I try to avoid those. Root vegetables often work well. If using potatoes, use white, red-skin or Yukon potatoes as they keep their shape better than baking potatoes. Two important ingredients added toward the very end that I kept in this recipe, as per Paula Deen, are heavy cream and Parmesan cheese. These ingredients make the soup extra luscious. But still, it all starts with rich, homemade turkey stock (here's a link to my post on how to make it.)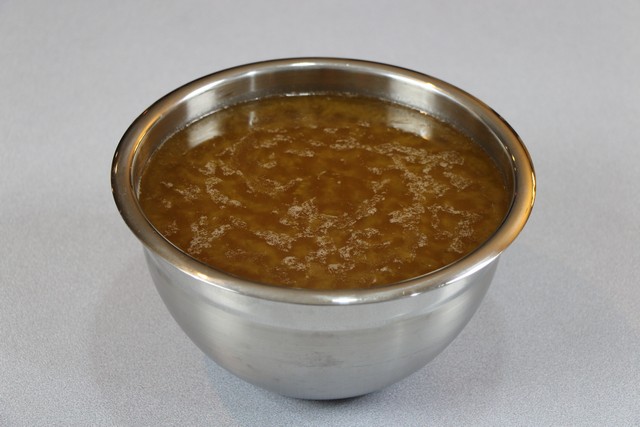 I always freeze the stock in portions of 4 cups each, so that I'll have it ready for when I need it. This is a bag of turkey stock that I pulled from the freezer, thawing in the pot. I like to freeze in plastic bags to save containers and room, but they can sometimes get nicked and leak while thawing, hence the pot. Frozen stock can also thaw quickly right in the pot on a hot burner.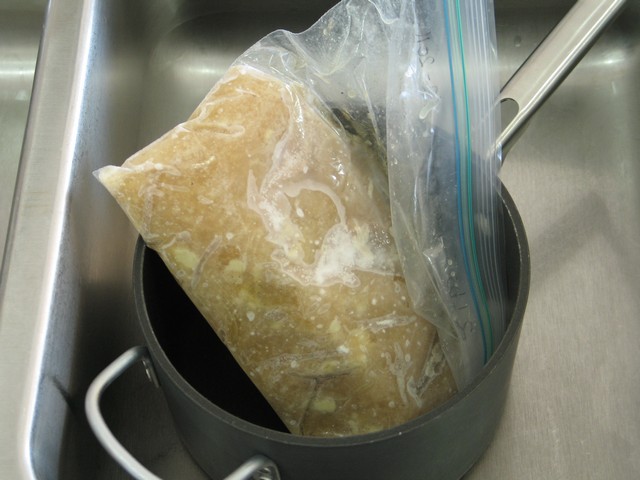 It's now thawed out and emptied into the pot.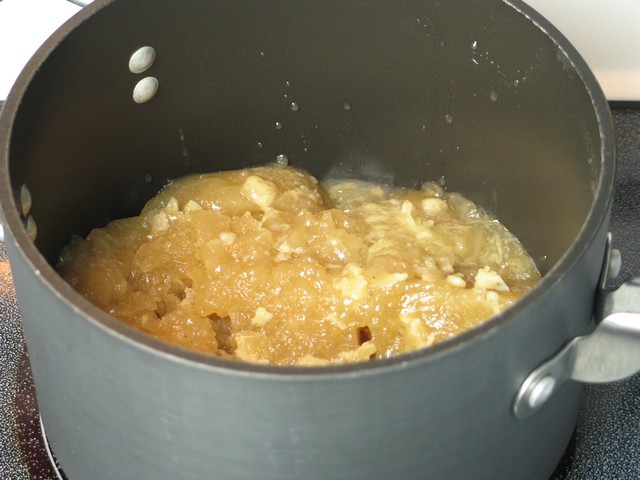 Frozen vegetable broth added, in this case potato water, that I save and freeze when I know I'll be making soup. It melts as it heats up.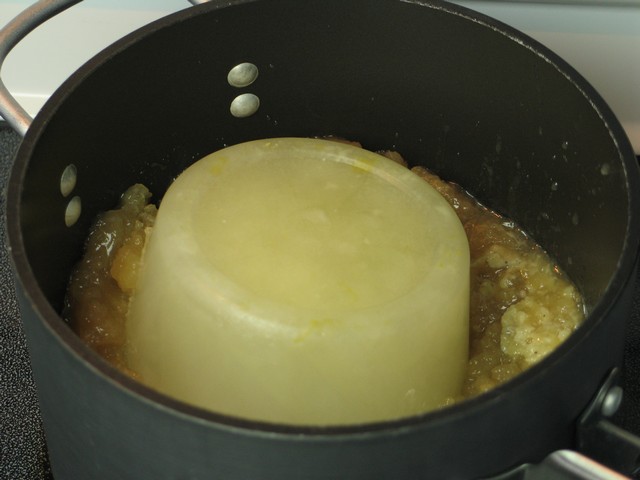 I add a bag of frozen soup vegetables rather than buying fresh, and chopping it all up. I am of course more limited if I purchase ready-cut frozen veggies, but the time saved is worth it for me. At least in my everyday cooking.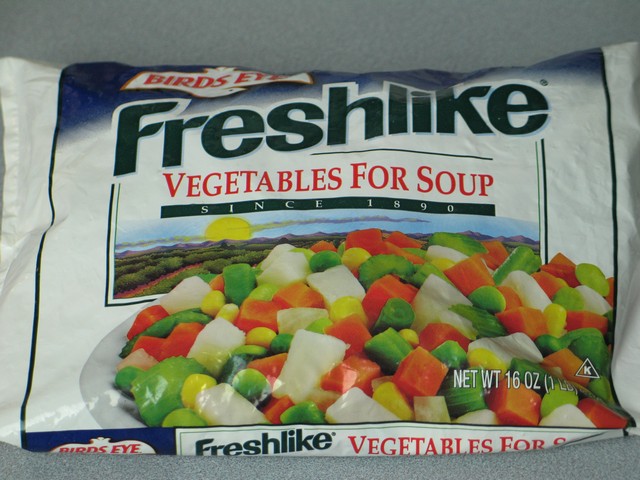 Dump the veggies, still frozen, into the pot. Bring to boil again, and simmer for 10-15 minutes, depending on the size of the cut vegetables. Cook until firm-tender; they will cook another 7 minutes beyond this, so don't cook until fully tender just yet.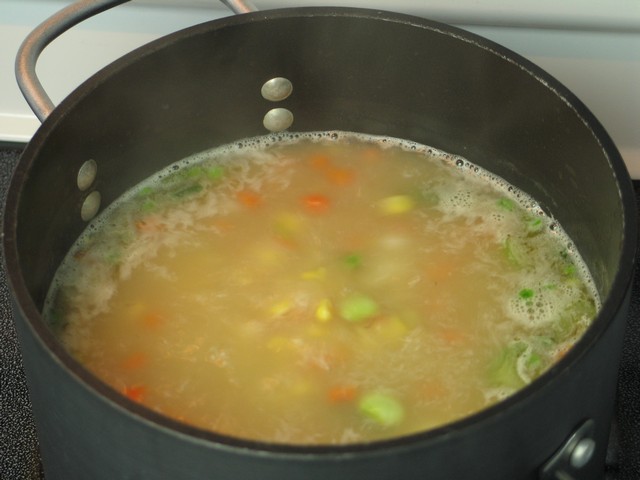 Add noodles.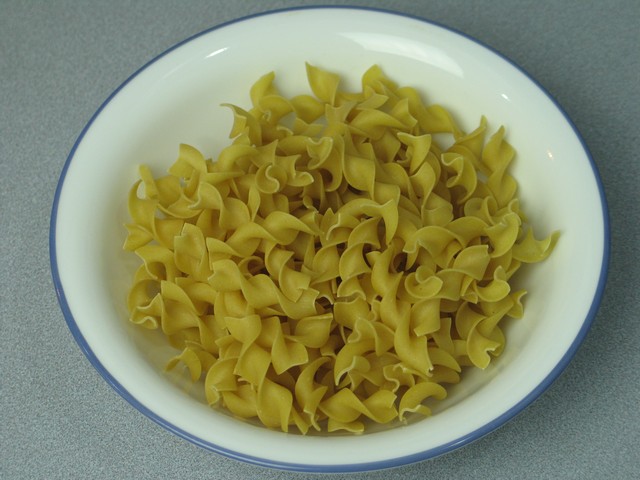 Also add 8 ounces of shredded or cubed turkey meat (you can also use chicken). I pulled a bag of leftover turkey from the freezer; see this post on turkey brining and roasting. It is so convenient to have extras on hand for recipes like this one; it saves time and work. This bag I just smacked on the counter top a couple of times to separate the pieces before dropping into the soup, still frozen. Could it be any easier? I mean, seriously?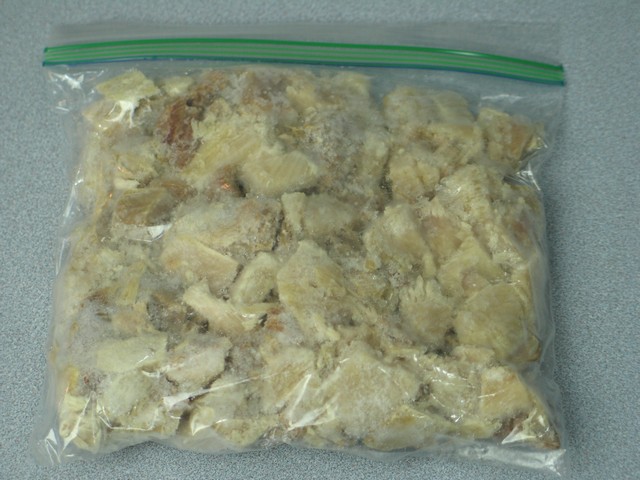 In addition, together with noodles and meat, add parsley, and salt and pepper to taste. Salt brings out the flavors, but amount needed depends on how much salt the original meat contained. Add enough pepper to give it a bit of a kick!
Using fresh parsley rather than dried makes a big difference, though you may use dried if you prefer.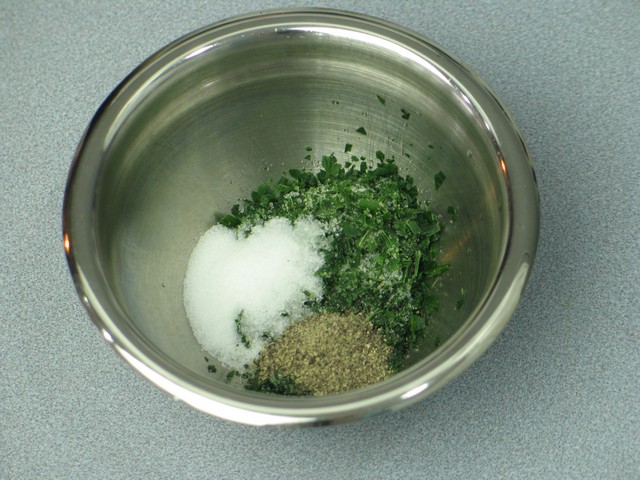 Here's a great tip on chopping parsley: OK, so I'm cheating a little here, using a bunch of already chopped parsley from the freezer, just to show you how (I promise I'll NEVER cheat again… well, maybe I won't exactly promise…)
Instead of cutting with a knife or a special herb chopper or whatever, just put the fresh herbs in cup. Using a pair of scissors, cut away! You'll get the job done in a jiffy, and the herbs don't go anywhere. They stay put while you cut and cut, and before you know it, they're minced! So quick and easy!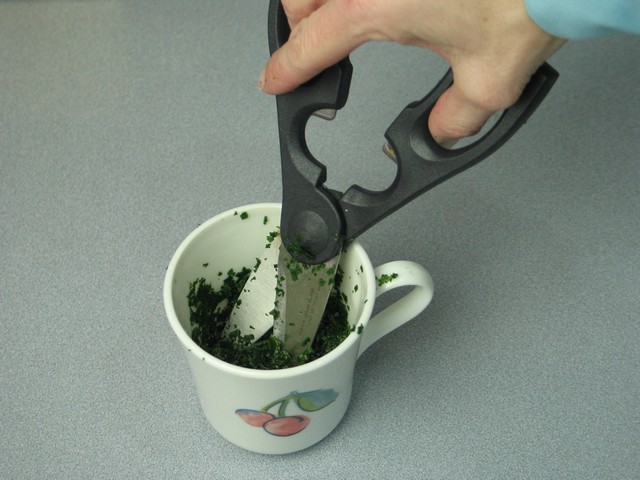 So, like I said, add noodles, meat, parsley, salt and pepper. Simmer 5 minutes.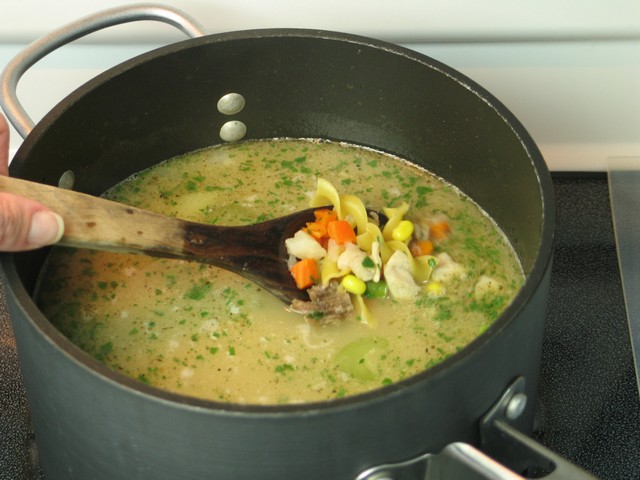 Then, add Parmesan cheese and cream. I like to mix these two together while the soup is cooking; I imagine the cheese blends better with the soup if it has had a few minutes to moisten. You can probably skip this step if you'd like.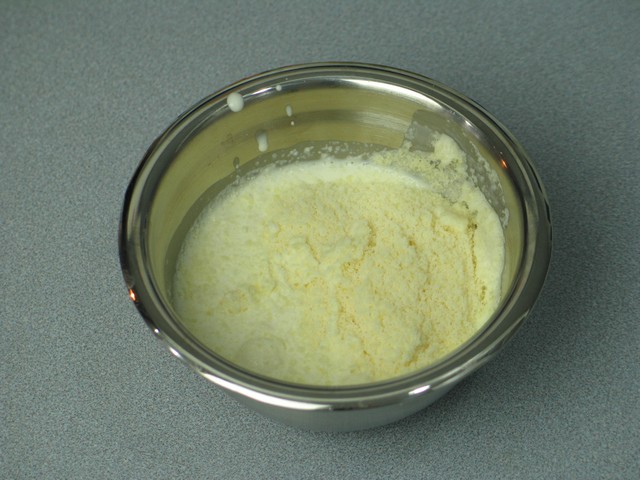 Simmer 2 more minutes, and it's done! Ready to enjoy!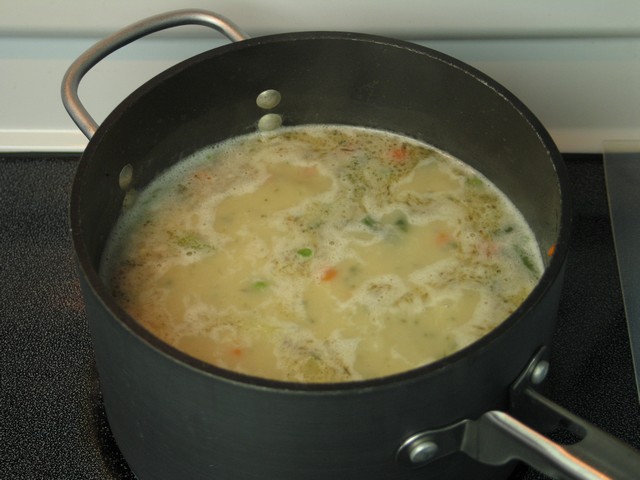 Using homemade bone broth or stock, this turkey noodle soup (or chicken noodle!) is highly nutritious and inexpensive, but also very flavorful and simply delicious!! Also easy to make, it's a win-win recipe all the way around! Please comment and rate this recipe if you try it; option is found immediately under the recipe. Thank you!!
Turkey Noodle Soup
Soup made from homemade stock can not go wrong! Healthy, easy, and delicious! This recipe assumes you already have stock and cooked turkey leftovers on hand.
Ingredients
4 c turkey stock
4 c vegetable broth
1 1-Lb bag of frozen, cut soup vegetables
2 c wide egg noodles
½ Lb (8 oz) cooked, shredded turkey leftovers
2 Tbsp fresh, minced parsley, or 2 tsp dried
1 - 1½ tsp salt
½ - ¾ tsp pepper
¼ c powdered Parmesan cheese
¼ c heavy cream
Instructions
Bring turkey stock, vegetable broth and frozen vegetables to a boil.
Simmer 10-12 minutes, until firm-tender.
Add egg noodles, turkey, parsley, salt and pepper.
Simmer 5 minutes.
Mix together Parmesan cheese and cream, add to soup.
Simmer another 2 minutes.