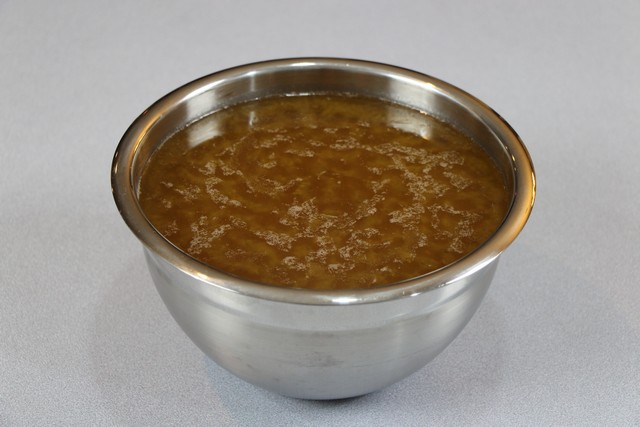 We cook turkeys for Thanksgiving, Christmas, sometimes Easter, or whenever there are no more turkey leftovers in the freezer. We also eat bone-in chicken throughout the year and other meats with bones. I always used to throw away all those precious bones and carcasses, thinking they were worthless now that the meat was eaten. NOT SO!!! I have since learned that not only can you save money by utilizing chicken or turkey bones to make delicious stock or bone broth for soup, and it is also a really nutritious food that will help keep you healthy. Great news for super cheap, tasty food, don't you think? Just a generation or two ago, people did this all the time, while today it's almost a lost art. In this post I will show you how I make turkey stock, or bone broth, from a turkey carcass. You can use the same principles to make broth from chicken or other meat bones as well, even fish!
If you do try this recipe, I would really appreciate a quick comment with a star rating (option found immediately under each recipe). It helps me out tremendously! Thanks in advance!
Did you know there is a lot of nutrition left in the bones of poultry and other meat-bones? For one thing, there is a lot of calcium, which becomes much more available if you add a little vinegar or lemon juice to the water as it cooks; the vinegar helps to draw the calcium out of the bones, and it's left in the liquid for you to eat and be blessed by. I found an article that explains what type of nutrition and health benefits lies within this wonder food, and though there is much more information in this article that I also want to encourage you to read, I will share one paragraph to point out the nutritional benefits:
Article by Sally Fallon; "Broth is Beautiful":

Stock contains minerals in a form the body can absorb easily—not just calcium but also magnesium, phosphorus, silicon, sulphur and trace minerals. It contains the broken down material from cartilage and tendons–stuff like chondroitin sulphates and glucosamine, now sold as expensive supplements for arthritis and joint pain."

I once saw a cooking show on TV (so sorry to not remember which show that was!), where the chef showed us just what can be done with the leftovers that I used to think of as trash. She grabbed all the yucky stuff, everything from the carcass to skin, blubber, even bones off of people's plates after having company over, and boiled it all for hours on end to make soup stock. She pointed out that YES! it's safe and fine to do; it's going to cook "forever," so germs will not survive anyway.
I decided to give it a try, and the stock that I've ended up with has been to die for! It makes soups so unbelievably tasty, especially Turkey Noodle Soup, and aside from some herbs and spices, it's all from stuff I used to throw away. Free food, very nutritious, and simply scrumptious! What could be better than that? I mean, really??? Clean nutrition that tastes like heaven, from trash? What a money saver!
I will use the terms "stock" and "bone broth" interchangeably in this post. The biggest difference is the cooking time; it's generally called stock after just a few hours, while it's called bone broth if it's cooked for around 24 hours or even longer. It's when cooking extensively that you can really utilize the minerals inside the bones. I'll leave the cooking times for you to decide.
The flavor of the finished bone broth will depend much on the bones used (did they come from beef, lamb, chicken, etc.), the spices used in the initial recipe that the bones are left over from, and obviously also what you put into the stock water of spices and vegetables. I typically don't add a lot of spices to my turkeys other than salt, but when cooking chicken, however, I add a lot more spices and there is more variety in flavors. So the stock I get from my chicken leftovers tastes very different from my turkey stock.
In order to make soup stock, I usually save all bones and other leftovers. A turkey leaves a lot of bones, obviously, and I typically start cooking the bones right away as I clean up. Since chickens are much smaller, I save those bones with leftover skin, meat etc. in a gallon size zip lock bag in the freezer until I have enough to fill the entire bag. At that point I make stock or bone broth. In addition, I save vegetable broth as well, which I use to mix into soups along with the turkey stock.
After carving the turkey and removing as much meat as possible, the carcass and bones along with skin, neck, organs, and and all the "yuck" that nobody wants to eat goes back into my electric roaster after cooking the turkey. That way I don't have to soil another pot. A stock pot can be used as well. I add some spices and herbs, then boil on low heat for at least 4-6 hours or all day. I just push the bones in there and make them lie as flat as possible. Since the carcass itself is so large and hollow, I often end up putting it into a plastic grocery bag and stepping on it until it breaks apart and flattens (Yes, I do that). The reason I want it flat is that when I fill the pot with water, I want to fill just enough to cover and no more, and with the bones flat, there won't be any large, hollow areas taking up more water space. I want a stock concentrate, not soup at this point. It all will cook down and shrink a little on its own as it cooks, but it needs to be kept an eye on to add more water if it's getting too low.
In addition to water, I add vinegar, parsley stalks from the freezer (I use the tops for dishes and save the leftover stalks, also nutritious and flavorful, for stock), a large onion w/ peel (there's no need to peel, just rinse and roughly cut into thick slices to open it up a bit.) I also add some garlic (same thing; rinse, don't peel, cut a little, drop it in there), and any other herb leftovers; I just throw a bit of this and that in there of what I have available. In addition, I always add a few bay leaves and thyme. Some spices, salt and pepper is added as well.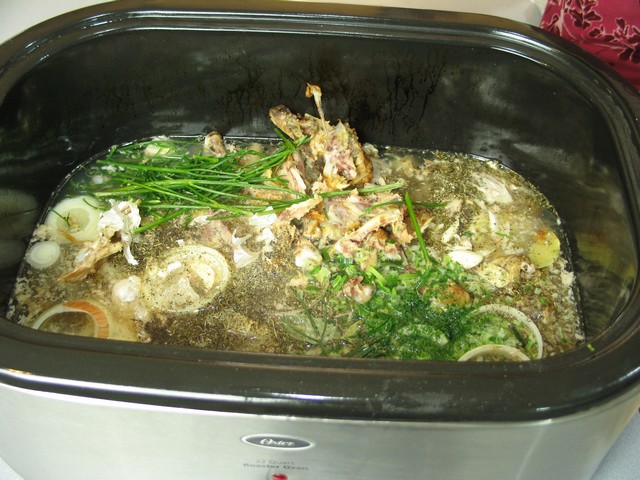 I just stir it in and cook it all on low heat for at least six hours, but usually I try to cook it for a full 24 hours or so to draw out as much nutrition as possible. I stir occasionally while checking that the water level still covers most of the bones. After several hours it will look quite disgusting, like this: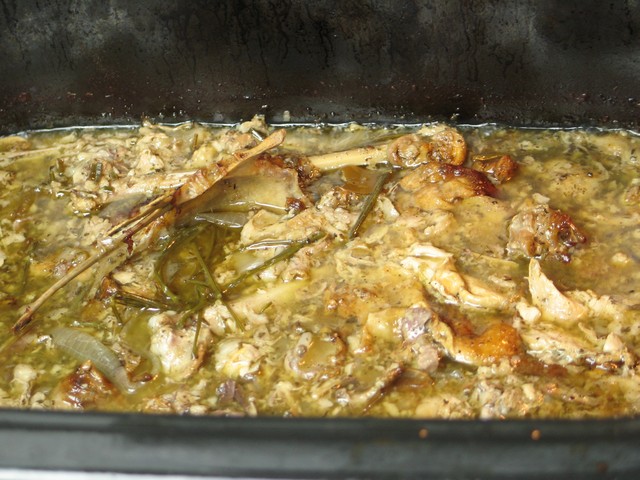 That's when this momma feels mighty happy and proud of herself. The liquid from this horrid looking yuck is simply fantastic!
Then I drain it all. NOT down the sink, obviously! Ha! You may think it strange that I added that, but you wouldn't believe how close I've been to doing just that! Out of old habit I want to keep the solids and drain out the liquids. I'd hate to think of what my reaction would have been had I actually done it… Pouring liquid gold down the drain! It could be that I someday will find out, but hopefully not. So far I've drained it into a large container that tolerates heat, such as a large pot with a strainer over it.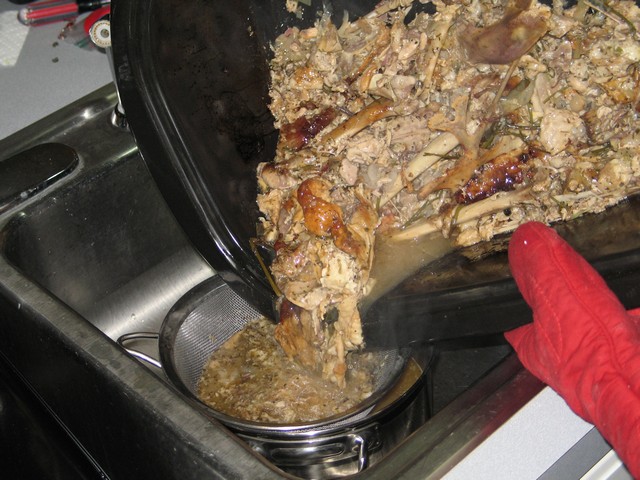 After draining, all the yuck can go in the trash. And the stock is ready to use for soup.
There you have it; liquid gold!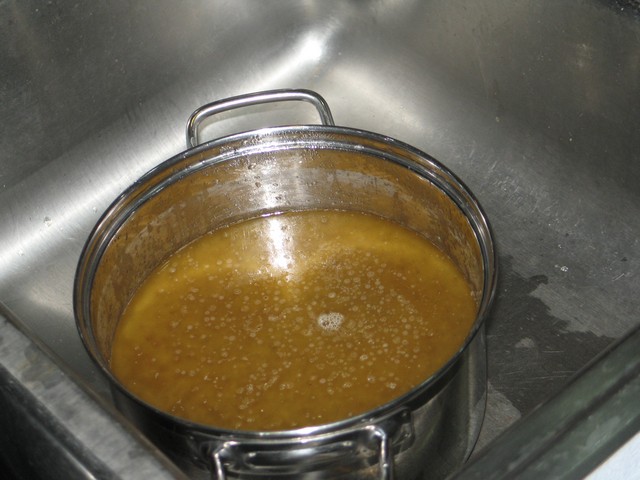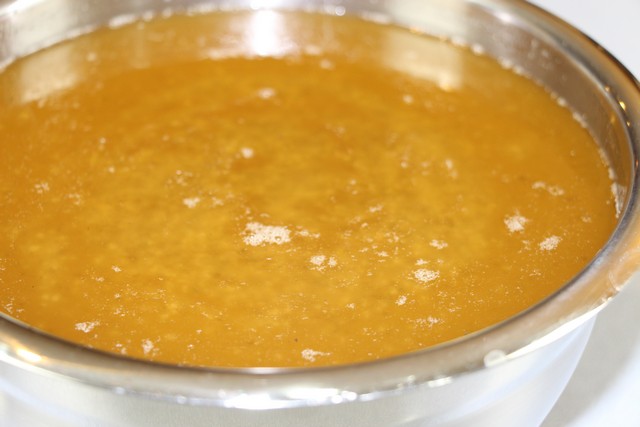 I like to put the stock in the refrigerator overnight to cool and firm up a bit, then I spoon it into zip-lock plastic bags in portions, to label and go into the freezer. When it cools it will look like gel, which shows just how much collagen (main part of gelatin) you get from the bones. Collagen is very helpful in keeping your ligaments and tendons healthy, in addition to giving you beautiful hair and skin.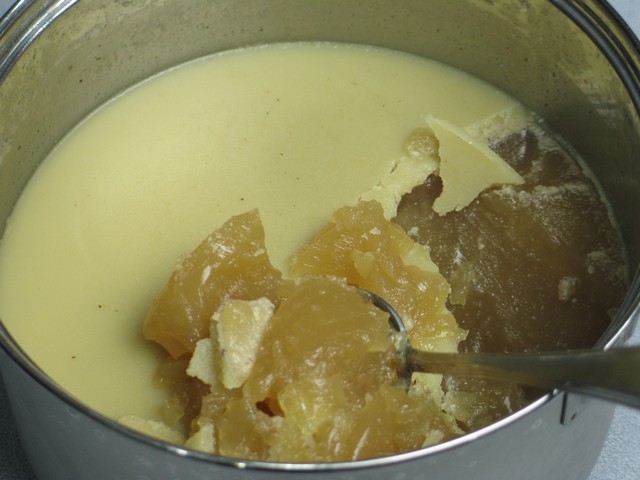 Ready for the freezer: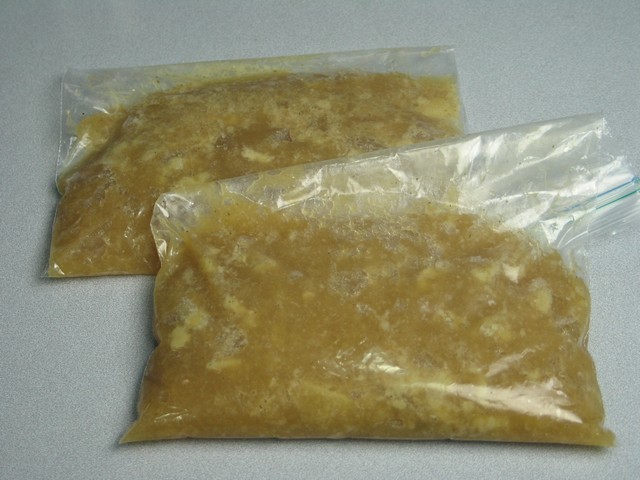 After learning what bone broth can do for you, I would never dream of throwing a turkey carcass or chicken bones away anymore. I've even been known, after celebrating Thanksgiving elsewhere, to take home with me the turkey carcass if the host didn't want to use it. Being such a delicious, tasty money saver with so many health benefits, it's a no-brainer for me! Cheap miracle food, or liquid gold, is what I like to call it! Being the ultimate money saver using scraps and bones from chicken, turkey, or other meats, you really can't find a healthier and more delicious stock as base for your soup. Broth from the grocery store simply cannot compare in flavor or nutrition. Using this stock recipe as a base, you will most definitely be in for a tasty soup! Please comment and rate this recipe if you try it; option is found immediately under the recipe. Thank you!!
Turkey and Chicken Bone Broth Recipe
Making great soup requires quality ingredients. It starts with home made stock from bones, which is inexpensive and adds lots of flavor and nutrition. This recipe shows you how to do it.
Author:
The Country Basket
Ingredients
1 turkey carcass and bones, including skin, giblets and other leftovers
Enough cold water to just cover the bones
1 large onion
2 garlic cloves
2 tsp Italian Seasoning
1 tsp Lemon Pepper Seasoning
2½ tsp dried parsley, ¼ of a bunch fresh, or a handful of leftover stalks
2 tsp thyme
4 bay leaves
3 Tbsp vinegar (or 1 Tbsp per quart of water)
1 tsp salt
½ tsp pepper
Instructions
Break apart the turkey cavity and lay all bones as flat as possible in a large stock pot.
Add just enough cold water to cover the bones, no more.
Don't peel onion or garlic, just rinse and roughly cut up into thick wedges or slices.
Add the rest of the ingredients.
Bring to a boil, cover w/ lid and let simmer on low heat for at least6 hours, preferably 24 hours.
Stir once in a while, and check the water level, making sure water just barely covers the bones. Add more water if necessary.
Drain the stock into a pot, discard bones and solids.
Refrigerate stock overnight.
Spoon into containers or zip-lock bags, portions of 2-4 cups each, then use immediately or freeze.
Notes
If you lack some of these seasonings or herbs, you can easily substitute with other ingredients you may have on hand. This is no rocket science, just use what you have.