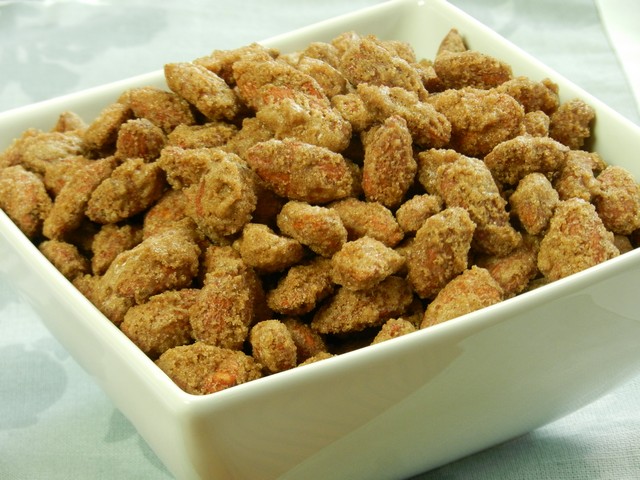 Walking through the mall, smelling those freshly roasted candied almonds, a hint of cinnamon in the air mixed with vanilla sweetness…. Why are those little delectable things so expensive??? The senses are wide awake, there is longing, but the pocketbook tells you to walk on by. Ignore, ignore. If you can. It just doesn't seem fair, does it? Well, long no more! Here it is, the recipe that allows you to enjoy the scent AND the flavor, without breaking your piggy-bank! Better yet, it is so easy to do at home you'll never want to waste your money at the mall ever again! This particular recipe is especially aroma filled, and adding a little extra salt to these gently sweetened almonds helps to bring out various flavors. They contain more vanilla than almonds from many other recipes, as well as extra cinnamon as well, though tastefully so and not over-the-top. Just more of the good stuff, more of what makes roasted, candied almonds so special. Addicting, that they are; be warned!
If you do try this recipe, I would really appreciate a quick comment with a star rating (option found immediately under each recipe). It helps me out tremendously! Thanks in advance!
Here are the steps to take you through it; not that you'll need it, as the recipe itself is quite self explanatory. But, being a visual person myself, I always appreciate pictures whether I need them or not.
You start by measuring and mixing the various ingredients, and setting them aside so that they are ready when needed, without much delay. It is also a good idea to turn on the oven and prepare the cookie sheet at this time. Here goes:
Grease a cookie sheet with edges (I love mine, which is from Nordic Ware); the almonds will need stirring now and again. I like to use coconut oil, as it tolerates heat very well, and I have not found it to cause sticky build-up. Set the cookie sheet aside for now, and turn on the oven to 250° F to preheat.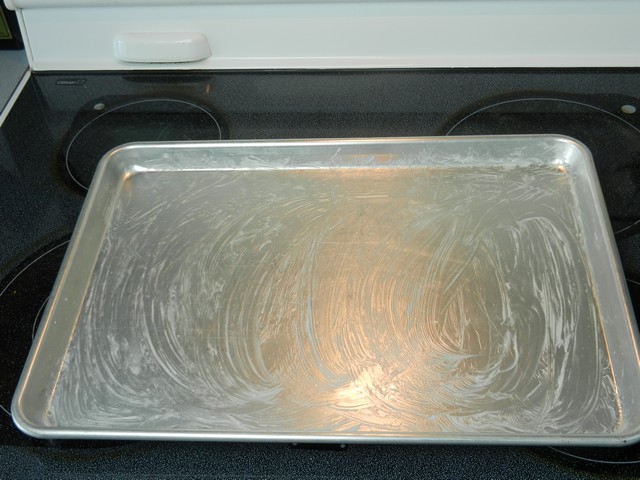 Measure up sugar, brown sugar, salt, and cinnamon; pour it all into a small or medium sized mixing bowl. I doubled the recipe this time, as I needed extras to bring to two different events.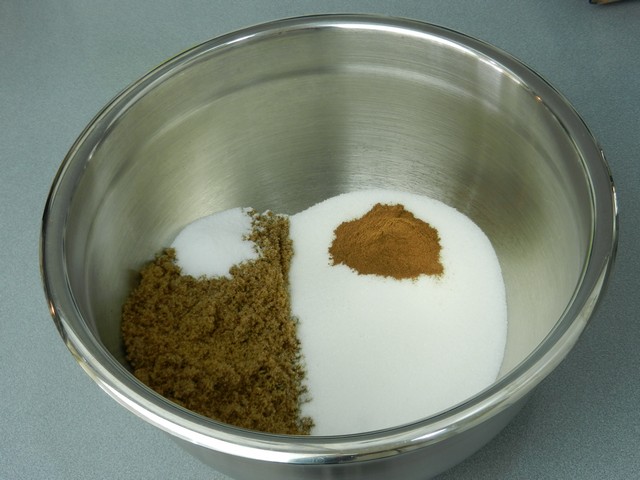 Mix together until well blended. Set aside.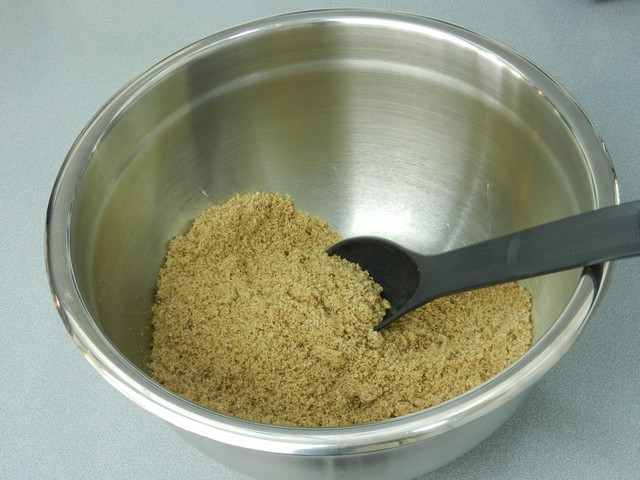 Separate the egg (click this link if you need instructions; scroll down, you'll see how I do it without any gadgets to help.) Using only the egg white, preferably at room temperature (they whip up better when warm), whip until frothy. What is frothy? Well, I just whip until it thickens a little and looks like thin foam. This time I decided to whip the egg white first, then add the vanilla afterward, but I think it works better to add it right from the start and whip the two together. So that's my recommendation. Start whipping, and don't stop quite yet: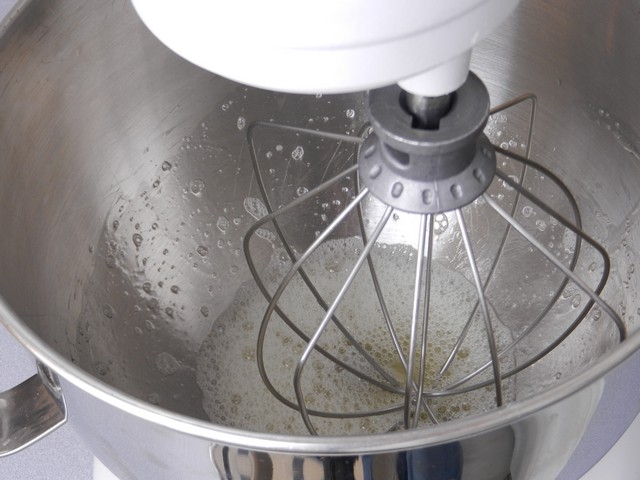 This is more like it; a real good foamy froth.  You can also do this by hand, using a whisk. A hand mixer is helpful, but not necessary. Since I doubled the recipe this time, I decided to use my KitchenAid stand mixer, though this mixer is actually a bit large for such a small amount, as it has a hard time grabbing onto only two egg whites. But, it works and is a great machine otherwise. This is actually my second KichenAid machine; I used to have a smaller version, but really needed the large one for the doubling and tripling of recipes that I often do.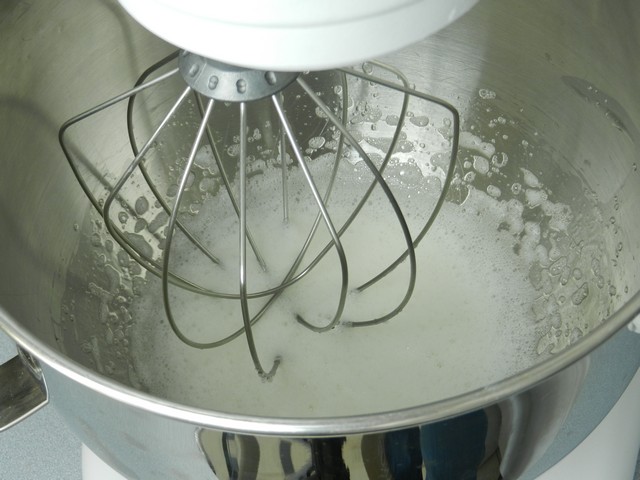 I now added the vanilla, though like I said, you may want to add it right from the start.
(Use real vanilla extract if you can; imitation vanilla is just that. Imitation. If you have a Costco warehouse near you [or maybe Sam's Club?], Costco's Kirkland brand vanilla is very good and very inexpensive. I highly recommend it!)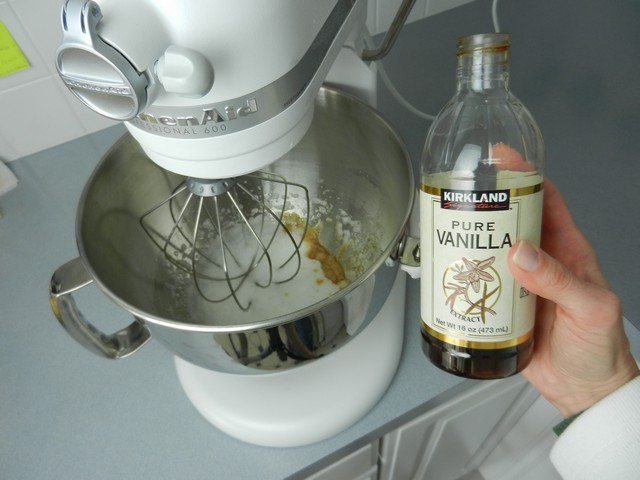 I have found that if I don't whip the egg white enough, it's too thin to hold on to the sugar coating well. The egg white foam works as a glue to hold onto the sugar coating. Whipping it to a soft foam before adding the nuts, the sugar can stick better to the foamy almonds. Pecans aren't quite as tricky, but almonds are very smooth and need all the help they can get. Regardless of when you decide to add vanilla, be aware that this foam doesn't hold air for long. So if you have to take a break, you may need to whip them up again.
At this point, you can add the almonds to the whipped egg white. Pecans or other nuts can be used as well. I just set the mixing bowl directly onto my kitchen scale, and measure up what I need; this time I needed two pounds, since I doubled the recipe.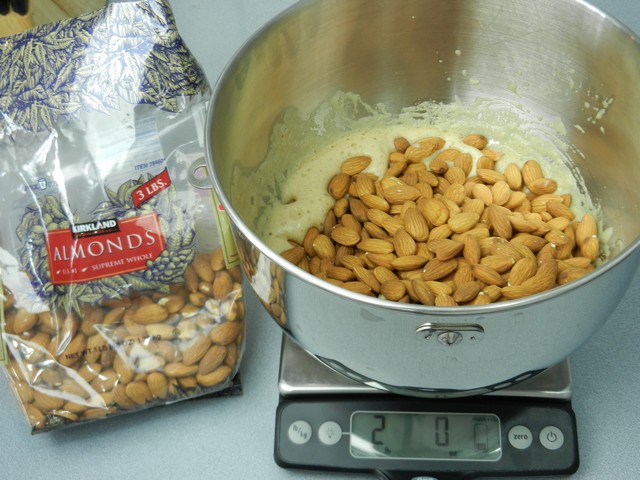 Gently mix the almonds into the egg white until well coated.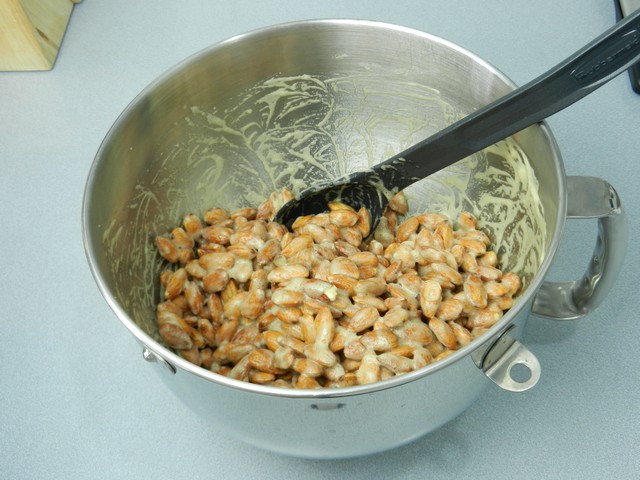 Pour the brown sugar mixture into the moist almonds, and stir gently again until well coated.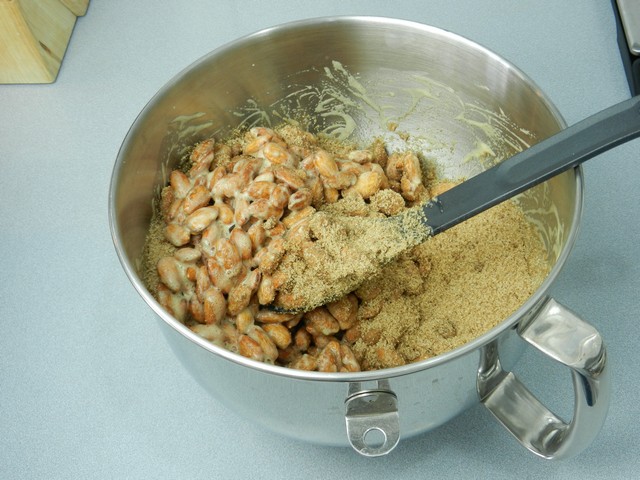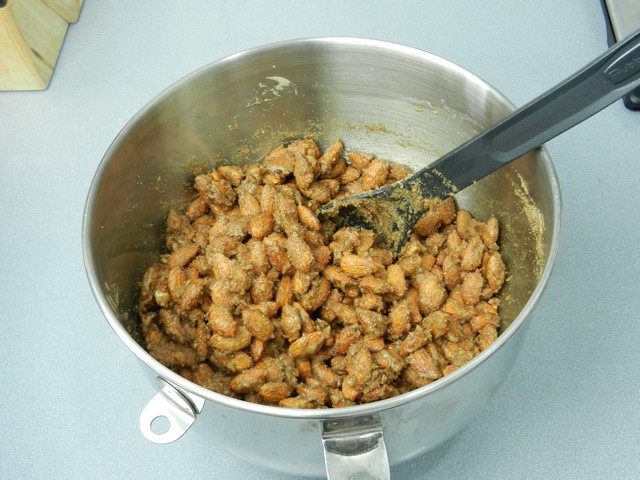 Spread the candied vanilla & cinnamon almonds evenly onto the greased baking sheet, in one layer if possible. With my double recipe, they were very crowded this time. I was curious how that would work out and if they would bake properly, and it ended up being OK with a little extra baking time. On this next picture, they are very wet and gooey.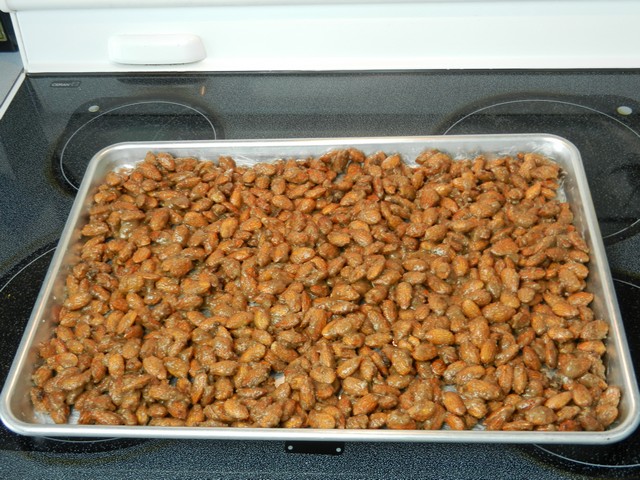 Put in the preheated oven, and bake uncovered for one hour, stirring every 15 minutes. I baked this tray for an additional 30 minutes before fully roasted, since the recipe was doubled and the almonds were so crowded.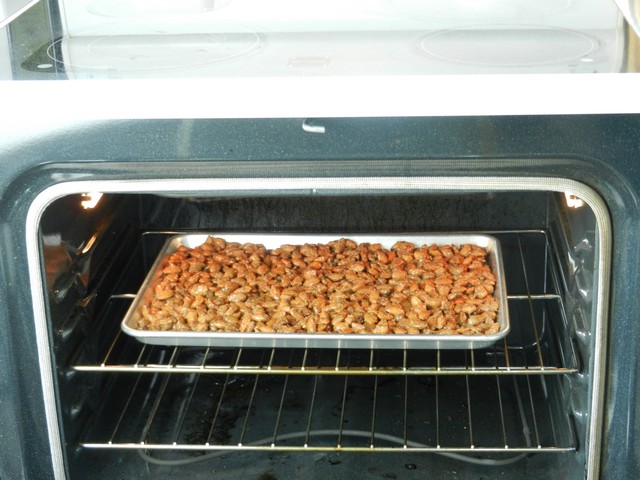 After every 15 minutes, take the tray out and stir/flip the almonds over so they can dry and roast on both sides. They look so hopelessly wet at this point, but trust me; they will dry and crisp up eventually!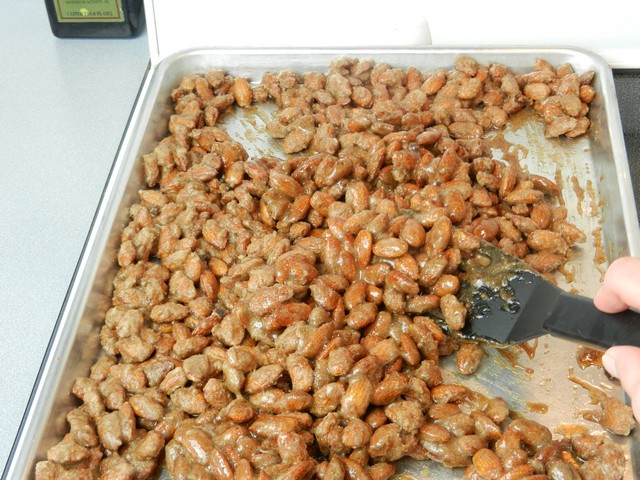 After 15 more minutes, 2nd time of stirring. You can now see that they will come around.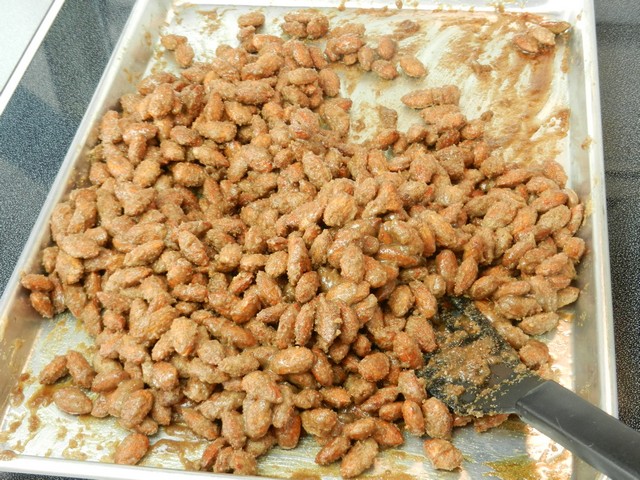 After 45 minutes, third time, they look much better: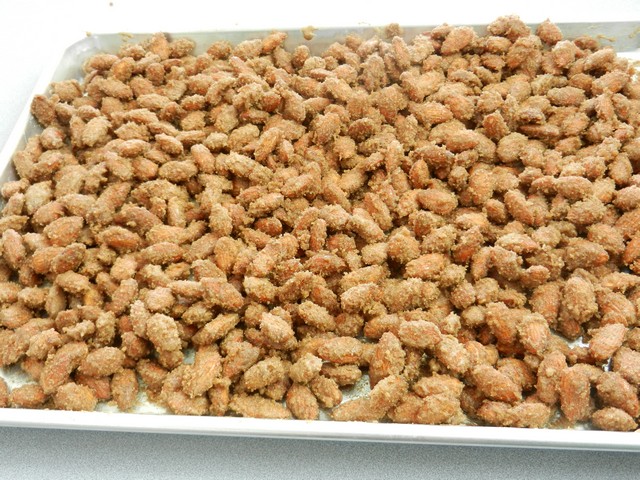 However, they do need a full hour, and in this case, 1 hour and 30 minutes was needed to ensure full crispness.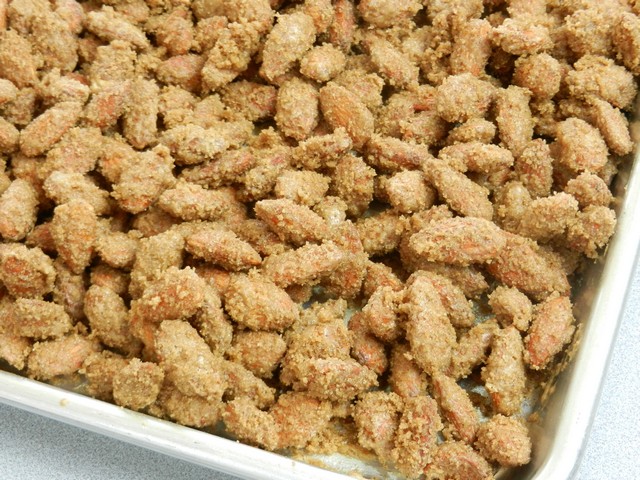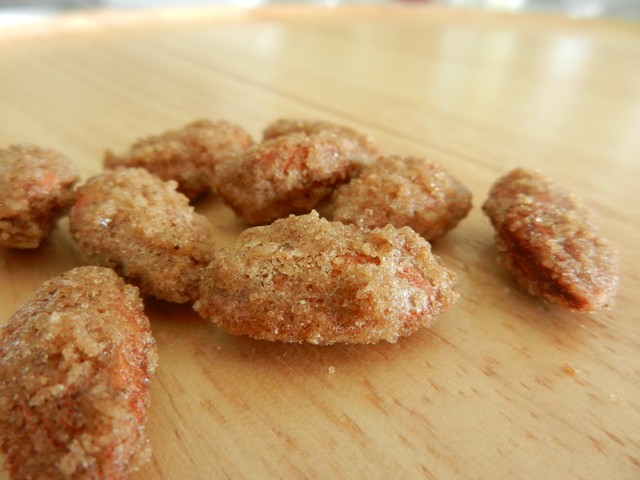 The almonds will be ready to serve as soon as they cool down, or if you like them warm, you can serve them as soon as they are cool enough to be handled. They are obviously extremely hot when you first take them out of the oven. If you let them cool, uncovered, they will crisp up nicely.
These wonderful, candied almonds seem to last a long time; we've had them last several weeks, covered in a bowl on the counter top, munching little by little. If we serve them to company, however, they quickly disappear as they are so filled with aroma from lots of real vanilla, brown sugar, and cinnamon. We have also found them to be a perfect teacher appreciation gift, or anytime we want to give an edible gift to someone, being that they are so easy to roast right at home. Please comment and rate this recipe if you try it; option is found immediately under the recipe. Thank you!!
Vanilla-Cinnamon Roasted Almonds
Crunchy and flavorful, these candied almonds are a great addition to any party, or just to munch on as a snack.
Ingredients
½ c sugar
½ c dark brown sugar
1 tsp salt
1 tsp cinnamon
1 egg white
3 tsp vanilla extract
1 Lb almonds or pecans
Instructions
Preheat oven to 250° F.
Grease a cookie sheet with edges, set aside.
In a small bowl, mix together sugar, brown sugar, salt, and cinnamon. Set aside.
In a medium sized mixing bowl, use a whisk or electric beater, and whisk egg white until frothy, resembling soft foam.
Add vanilla, beat for another few seconds.
Pour almonds into egg white, stir gently until coated.
Pour sugar mixture into moist almonds, stir gently until coated.
Pour sugar coated almonds onto the greased cookie sheet, and spread out to a single layer if possible.
Bake, uncovered, for one hour, stirring and flipping almonds every 15 minutes, until crisp.Cool completely.