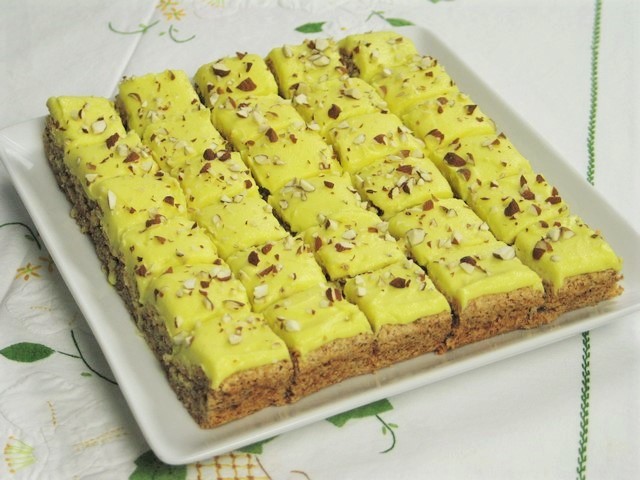 This gourmet Confectionery Cake is made from a traditional Norwegian recipe, and is probably served in Sweden as well since IKEA sells their own version of the same cake. In Norway, this almond cake recipe goes by several different names, though "Suksesskake" (Success Cake) and "Konfektkake" (Confectionery Cake) are the two names I am the most familiar with. It is typically served during Christmas, weddings, on the Norwegian Independence Day (May 17th), or other special occasions. The base, made mostly from ground almonds, is naturally gluten free and is chewy and dense with somewhat of a crunch to it. It is not soft and fluffy like other cakes. Really, it is more like a dessert bar than a cake, but cake is still what Norwegians call this heavenly dessert. This dessert is topped with a delicious butter-egg yolk frosting, which is bright yellow and very flavorful. (Don't let the yellow color trick you; there is no lemon or citrus flavoring added.) If you are looking for something extra, something exclusive, a dessert different from ordinary cakes and desserts, this is it! You won't have to worry about whether someone else brought the same thing to the party when you bring this wonderful cake!
If you do try this recipe, I would really appreciate a quick comment with a star rating (option found immediately under each recipe). It helps me out tremendously! Thanks in advance!
IKEA carries a similar cake in their cafeteria. Last time I was there I decided to try a piece to see how it would measure up to my own homemade cake. Let's just say, it DIDN'T!  Compared to a home baked Confectionery Cake, the IKEA cake was dry and tasted like plastic and preservatives. The frosting lacked the rich flavor I have come to love so much. Of course, the main problems are probably lack of quality ingredients such as real butter, and the addition of necessary storage preservatives. At home you do not need these chemicals, and since we don't mass produce for sale at low prices, you can add the raw, natural, high quality ingredients; the real thing! The difference is astonishing! So if you like IKEA's cake, you'll definitely want to try this superior recipe!
A cellphone picture of the piece of cake I purchased at IKEA, cut from a round cake: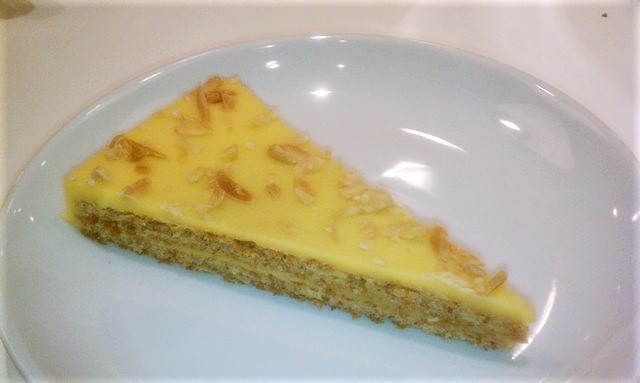 Though this cake is not difficult to make, the ingredients and directions certainly are quite different from traditional cakes. It also is a fragile cake, so it has to be handled fairly gently, though it won't fall apart just by you looking at it either. As long as you know to be careful, you'll be good.
I like to start out by preparing the pan. I use a 13 x 9 inch pan, though my original recipe, before I increased the ingredients by 50%, called for a round, medium sized pan, about 10 inches in diameter. Round is what I always saw growing up, though I like to use the rectangular pans now as I find it more convenient to cut and serve.
It is very helpful to line the pan with parchment paper, and grease with cooking spray or butter, especially if you are planning on removing the cake to serve it on a platter. If you are going to leave it in the pan, you may not need to use parchment paper, though I highly recommend greasing the pan at the very least. I also like to fold the edges of the paper to fit snugly in the pan, to stay as flat and neat as possible. It just makes for a prettier cake when it's done baking.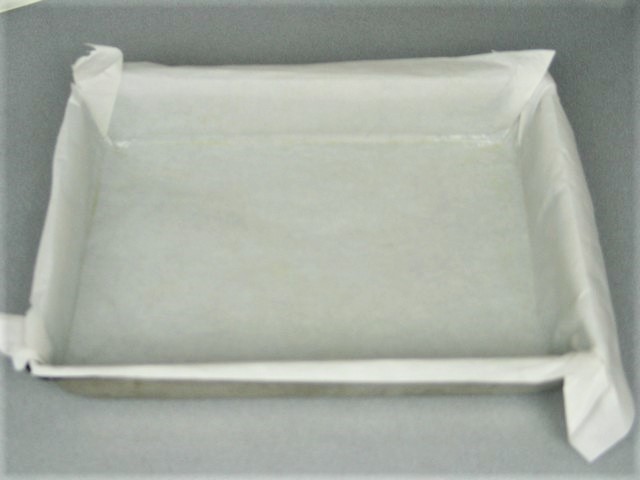 The next step is to separate the eggs. You don't have to do that right now, but I like to, both because it is more convenient to have this taken care of ahead of time, and also because it gives the eggs time to warm up a little. Egg whites expand better during whipping if you bring them to room temperature first.
There are gadgets you can purchase to help you separate the yolks from the eggs, such as this one. But I like to use one of two things that we have readily available already when cracking eggs, that way I don't have to spend money on yet another item that takes up storage space. The first one is the egg shells themselves, obviously. Crack the egg against the edge of a hard bowl, then gently pry open up the egg and let the whites pour out. Keep the yolk first in the one half, then dump it into the other half, pouring off as much as you can while going back and fourth. It does take some practice to do this without breaking the yolk, and it is very important that there are no traces of the yolk in the whites, otherwise the whites won't whip up stiff like they should. If you don't have enough experience to be comfortable with this, but would like to learn how, just practice every time you crack and egg, whether you need to separate them or not. I have had my kids practice when making scrambled eggs and other foods requiring eggs, then they mix it all up at the end. It gives them great practice, and since it is only practice, it doesn't matter if the yolks end up breaking.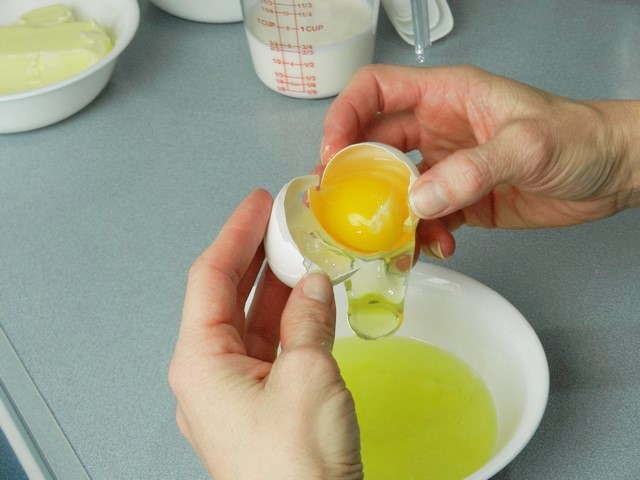 Pour off more and more egg white, then dump the yolk in a separate dish. If you feel unsure, you can crack each egg over an empty cup, one at a time, to avoid spoiling the rest of the egg whites should the yolk break.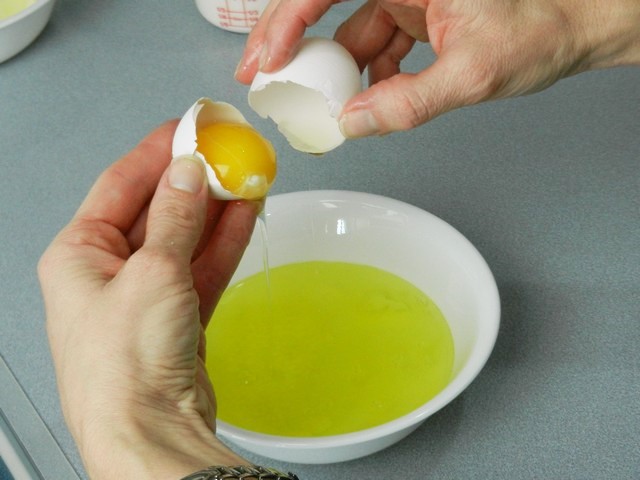 The second "item" you can use, is your own, clean hand. Just dump the egg into your hand, and let the white pour out between your fingers. It is the same principle that egg-separator tools are based on. It's a lot messier to use your hand, so I just use the egg shells.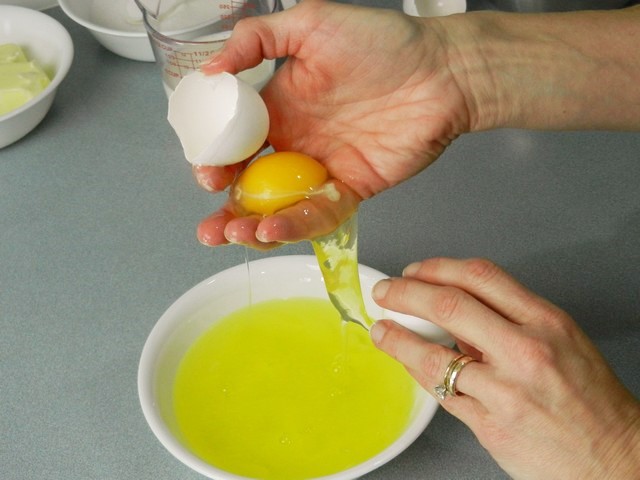 Put the yolks in a pot with a heavy bottom and set aside for now. Don't they look beautiful in there? I love the color of egg yolks!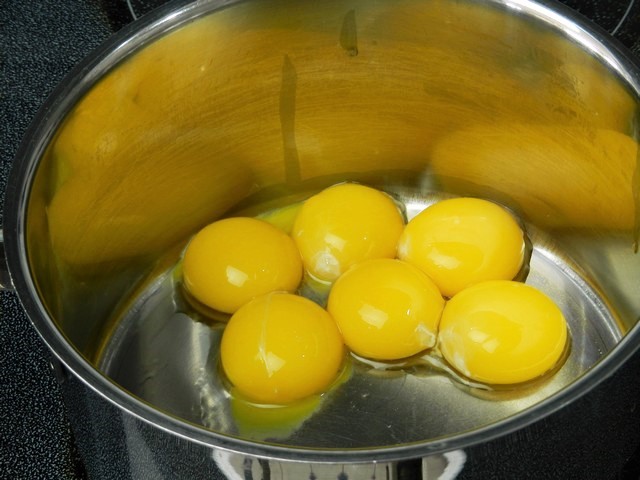 The next step is to grind the almonds to meal. You want it to resemble flour, though it may not end up quite as fine. You definitely want to stop grinding before it turns to almond butter!
Use raw, unsalted, plain almonds. If you purchase the almonds in bulk, measure up one pound, then grab another small handful to use for garnish. If you purchase by the bag, it will probably be fine to just remove a little bit from the bag to set aside for garnish, before grinding. I happened to have another bag, so I used some of that. I used my food processor to grind it up, though blenders work as well.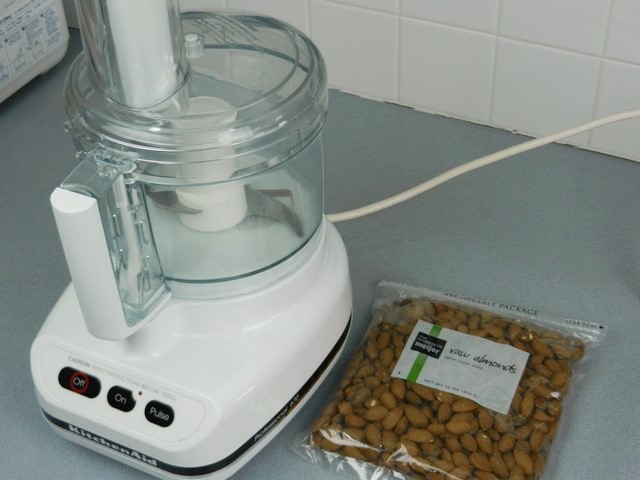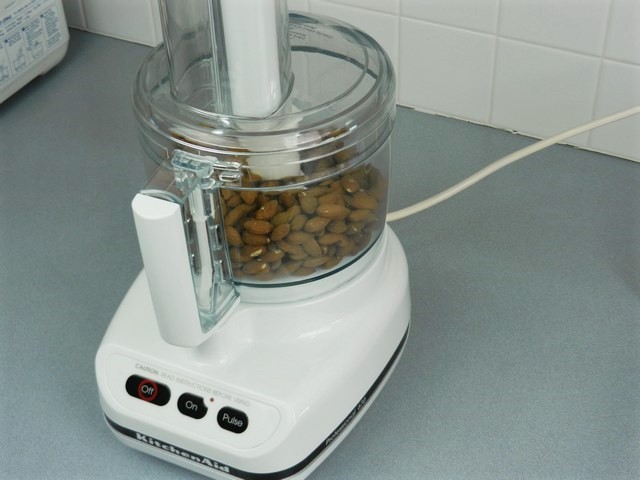 Pulse until the almonds have reached meal or flour consistency.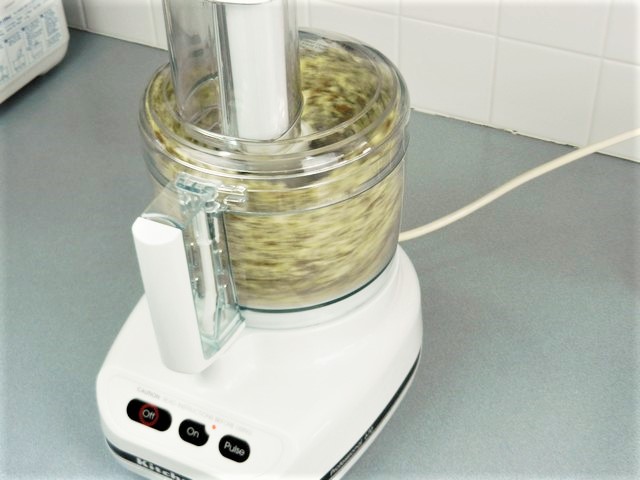 Like this: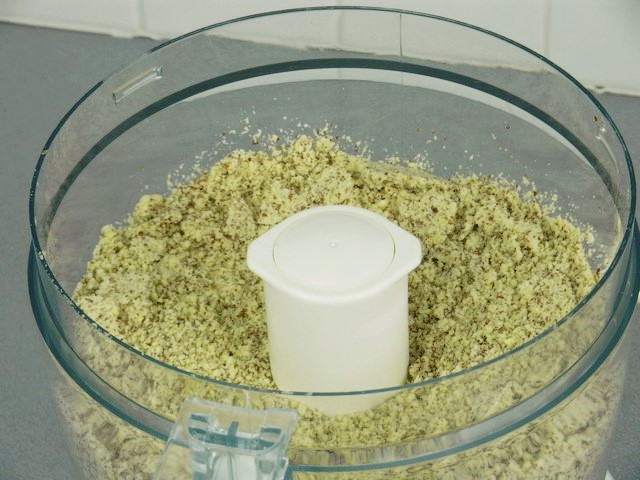 Dump the almond meal in a large bowl, then add powdered sugar, baking powder, and vanilla sugar.
Note: Vanilla sugar can be purchased at certain specialty stores, or international sections of some super markets. Otherwise it can be ordered from Amazon.com as well. Here's a link. If vanilla sugar is hard to get a hold of for you, I would think that you could substitute using vanilla extract, though I have never tried that in this recipe. If I did, I would try to add it to the egg whites (rather than the dry mass) after beating them stiff, then beat some more. They won't be quite as stiff once you add the liquid, but I think it still will work OK. If you use vanilla extract in the frosting, you may want to cut back just a tad on the cream because of the extra liquid that the vanilla extract adds. In addition, please realize that vanilla extract will alter the color by a little bit, making the yellow a little less bright.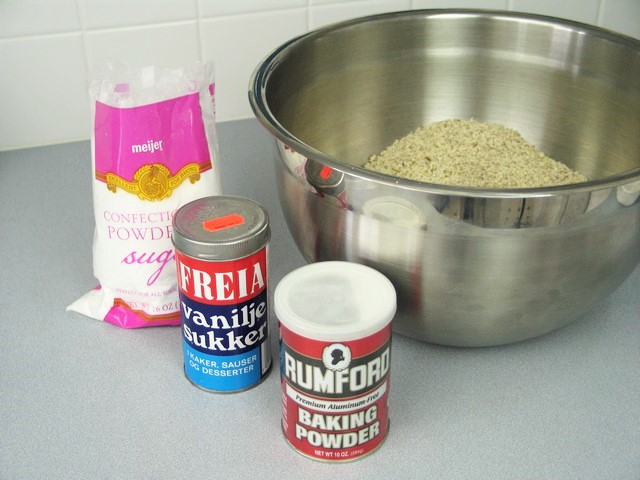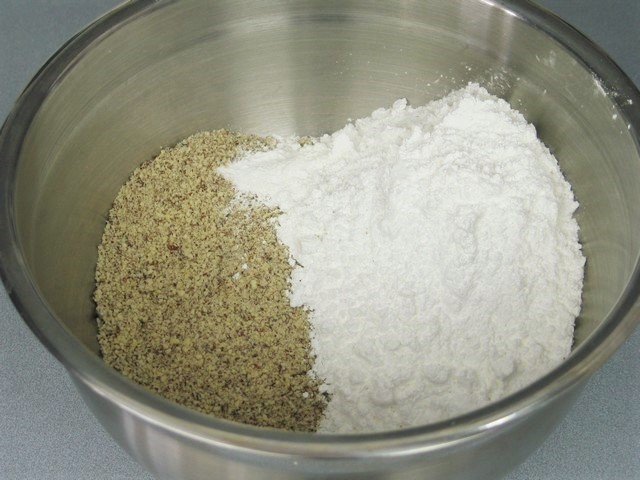 Stir well to mix these dry ingredients together.
Then whip the egg whites. If the egg whites have been allowed to come to room temperature before whipping, they will give you a higher volume. I have a stand mixer, but a hand held mixer will do just fine.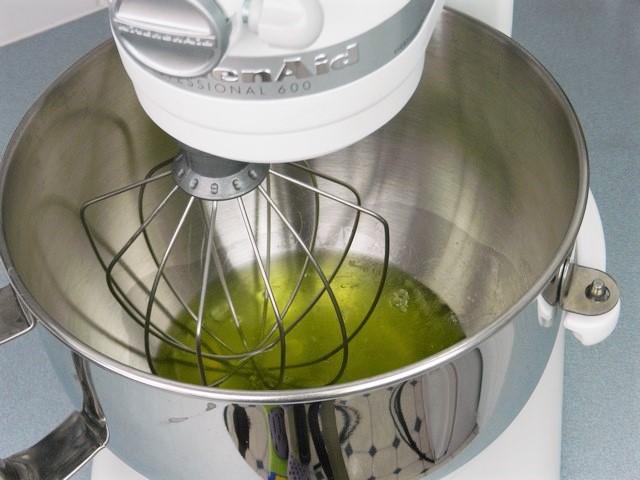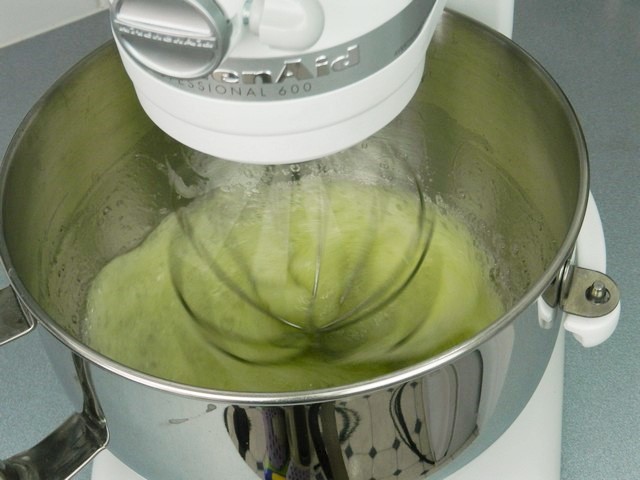 Whip until stiff peaks have formed…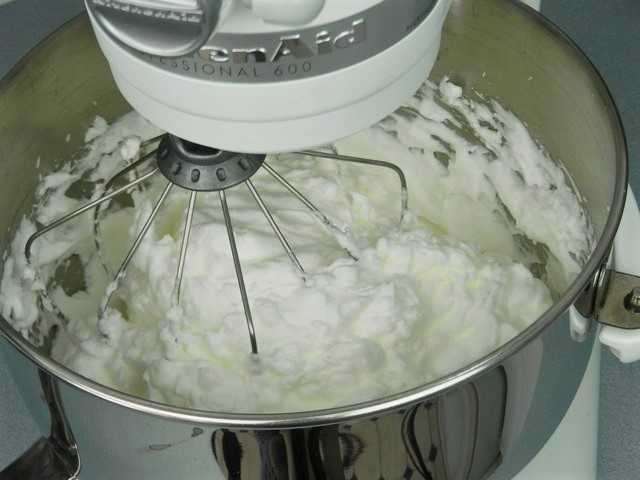 …and the mass won't come out of the bowl when tipped upside down: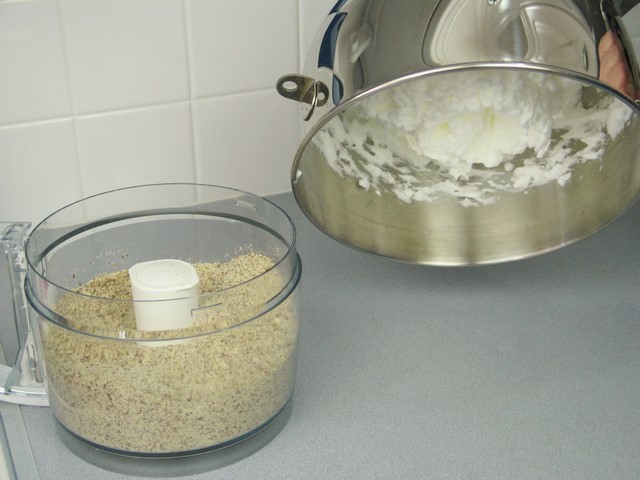 Fold the egg whites gently into the dry almond mixture: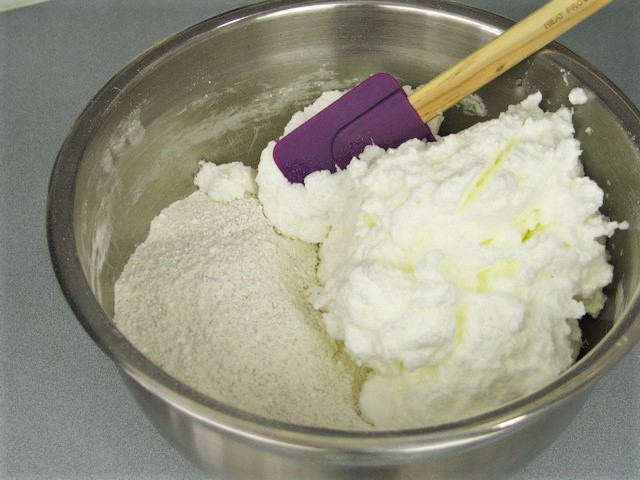 I like to use a rubber spatula, because it is a lot softer and gentler on the egg whites than a spoon would be.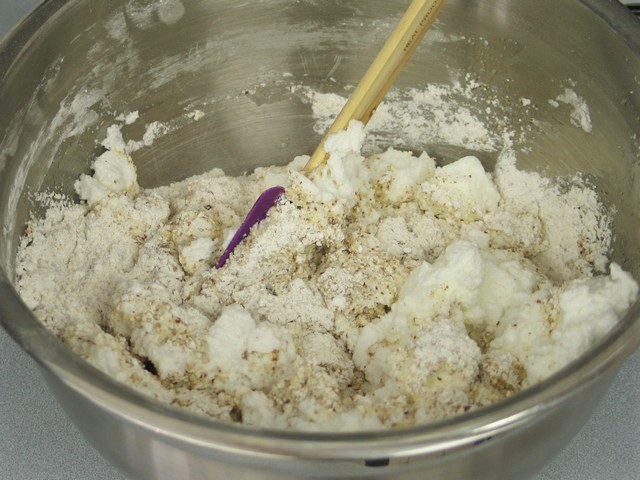 Work slowly, and don't worry about it if there still are some lumps of egg whites not mixed in when you're done. Just make sure nothing is dry.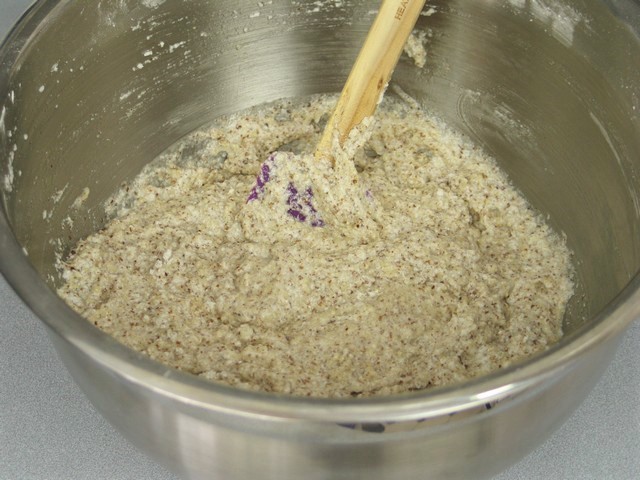 Spread into the prepared, greased pan, and gently smooth the top until it is even. The almond cake will pretty much hold this shape.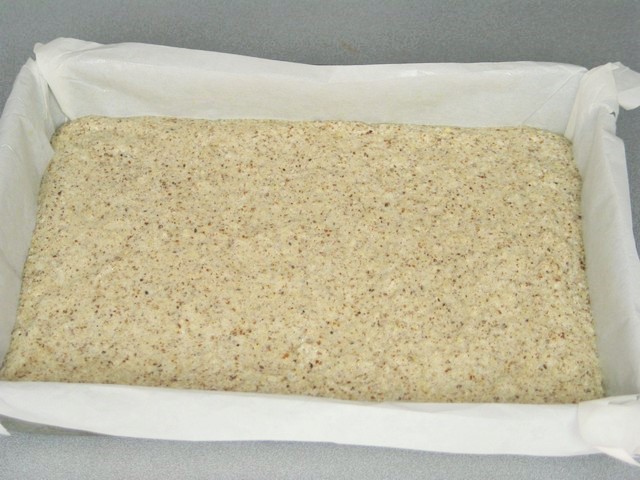 While the cake is baking, gather cream, granulated sugar, and vanilla sugar to prepare to make the buttery frosting. While this recipe calls for confectioners sugar in the cake itself, regular granulated sugar is used in the frosting.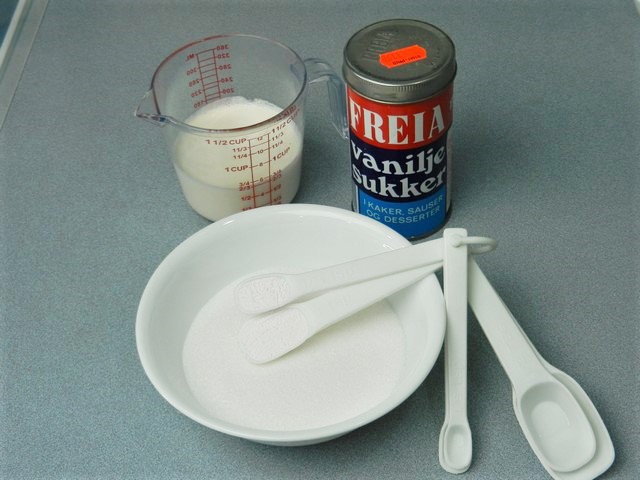 Add these ingredients to the yolks that you set aside.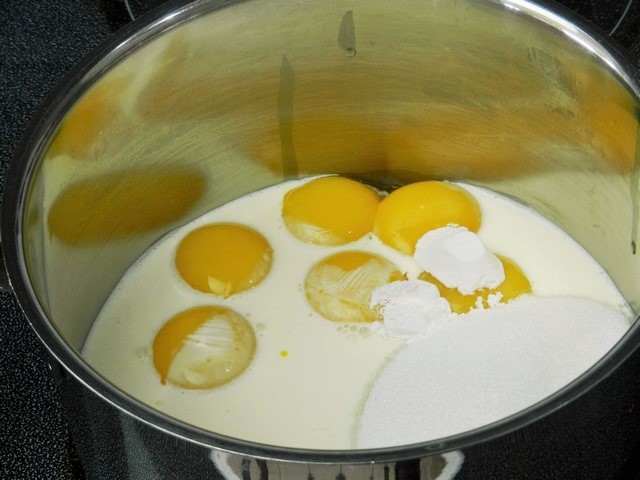 Mix together, then bring to a boil over medium heat while stirring. The mixture will thicken somewhat. Let cool completely. I like to put the pot in a cold water bath in the kitchen sink, while stirring now and again. Look what a pretty yellow color the yolks will give your frosting! You might recognize this frosting from the gluten free almond cake at IKEA. No food coloring needed, as the egg yolks creates an all natural, beautiful color while adding flavor as well! I love this type of whisk, by the way! It's great for this Norwegian recipe as it makes the mixing so much easier, especially when adding the butter a little later. The one in this Amazon link is very similar.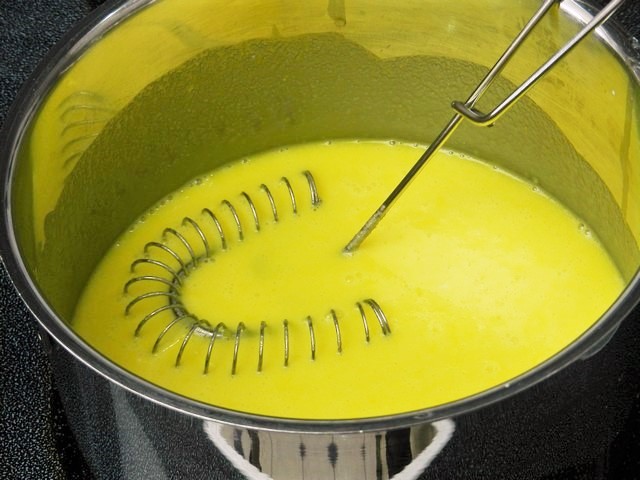 When the cake is done baking, take it out of the oven and let cool in the pan, on a rack. Do not take the cake out of the pan yet as it might break apart if you do. The top of the cake will be stiff and dry to the touch.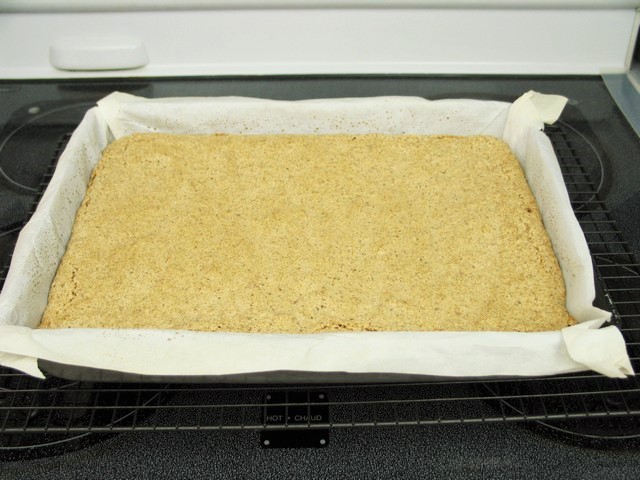 When the cake is completely cool, remove it from the pan, or you may leave it in the pan if you prefer. Just realize that this cake is very fragile, and will fall apart easily. So when you take it out of the pan, I recommend doing it this way:
Put a rack on top of the almond cake…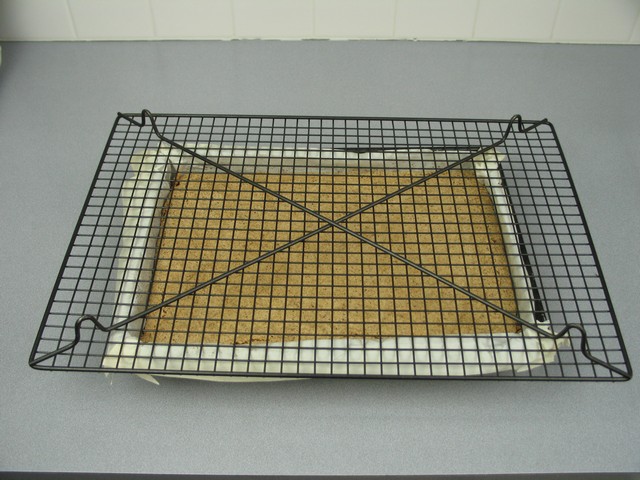 … then gently flip it over.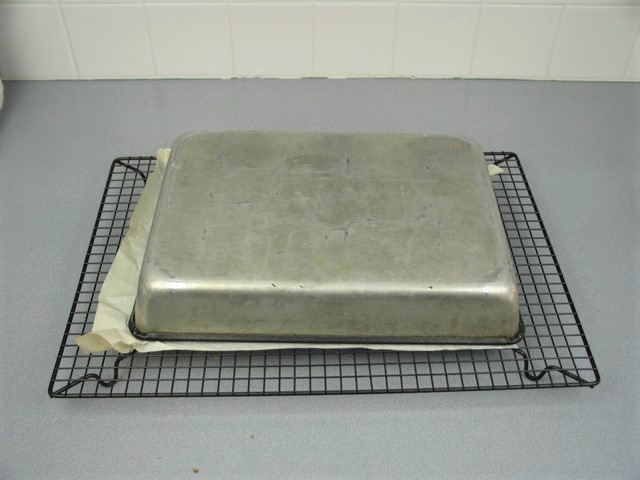 Then remove the pan, and gently peel off the parchment paper.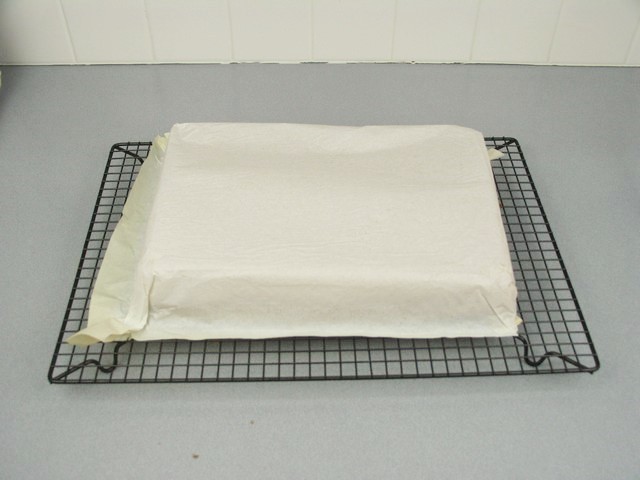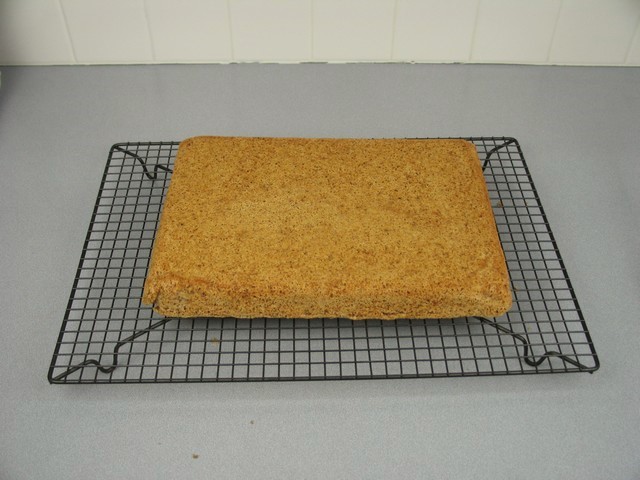 If you want to cut the cake while on the serving platter, place the platter on top at this point and flip. Or if you'd like to cut it on a cutting board, like I did, then put the board on top of the cake. I was afraid my board might be a bit too heavy to leave on the cake without support, so I wasn't able to take a picture of this step as I needed to hold on to the board and the rack at the same time to control the pressure. I gently put the board on, then flipped the whole thing gently but quickly. It looked like this after flipping it: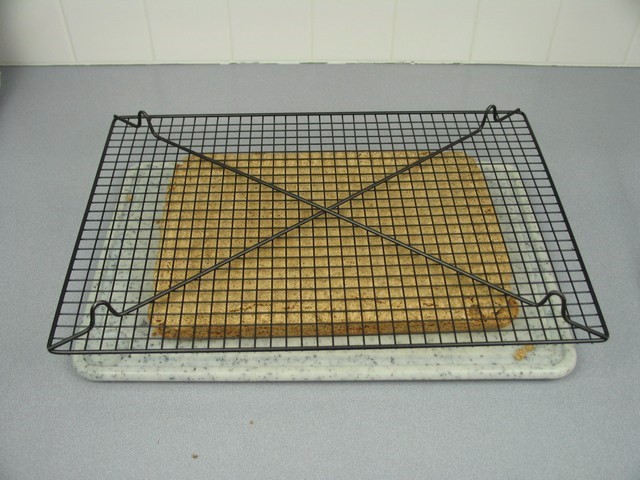 Now the cake is right side up, and can be frosted.
To finish the frosting, making absolutely sure that the base is cold, you simply add softened butter. Do NOT let this mixture heat up, but keep it cold. You do not want the butter to melt.
I have updated the recipe to call for 2 sticks of butter instead of the 10 Tbsp that the next picture shows, as it helps the frosting firm up a bit better plus the flavor is amazing! There may have been a typo in my original recipe, which I wrote down over the phone. 2 sticks works much better.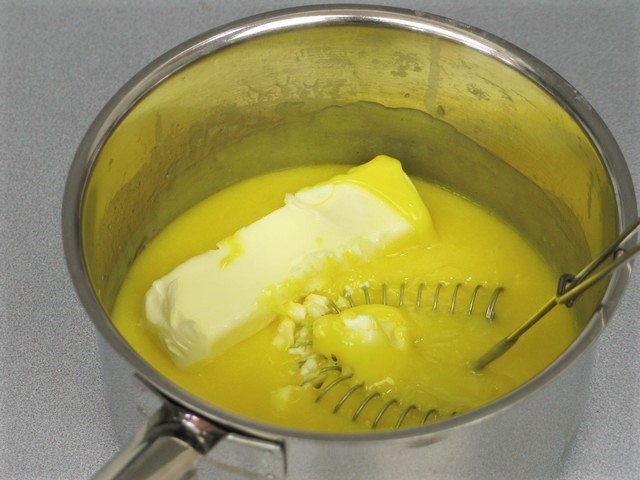 Beat with a wire whisk until completely smooth and no lumps of butter remain. If there are really tiny lumps of butter left, that's OK, just beat as well as you can. Do not heat it, the frosting needs to remain cold from this point on.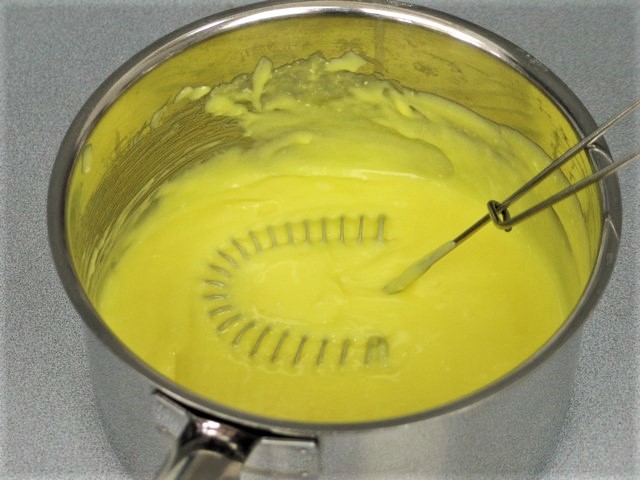 Spread the frosting over the top of the cake.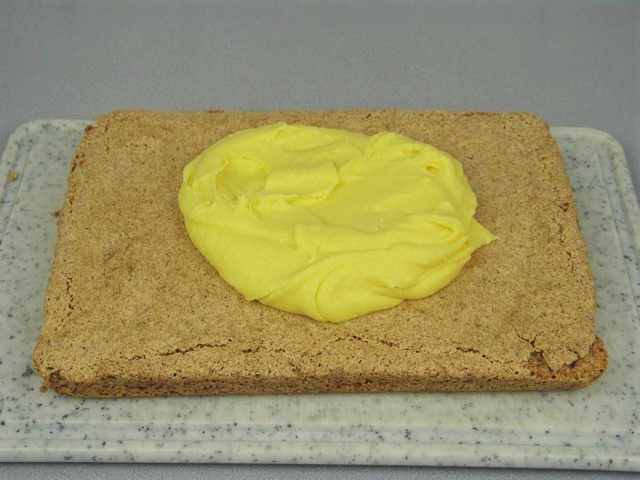 Then top with the extra almonds, chopped, or you can slice the almonds if you prefer.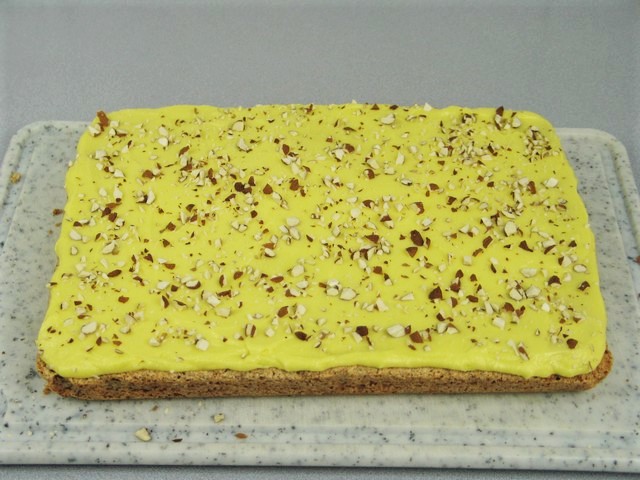 Put the cake in the refrigerator overnight, to let the frosting firm up. Then cut into small squares, and place on a serving platter. It will cut much cleaner and nicer when cold, and it will taste better, too! So, after cutting, put it back in the refrigerated until ready to serve. I think the frosting tastes much better if left a little on the firm side;  it is quite different from other cake frosting. This gluten free almond cake will be very nice and softly chewy when kept cool, similar to a bar.
Ready to serve!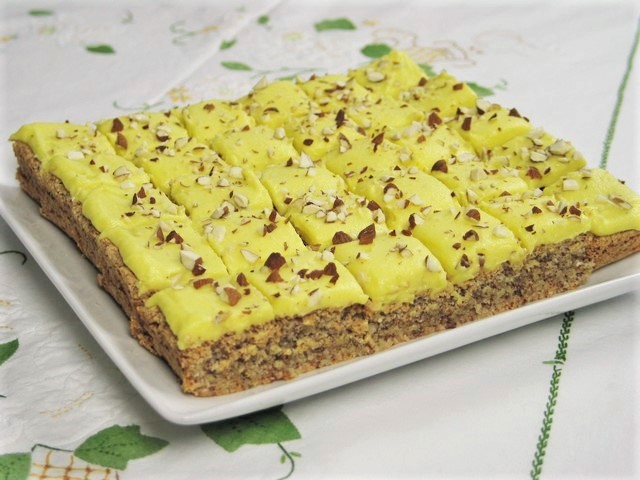 One time I decided to add chocolate to the crust before adding the yellow frosting, and then I also piped some melted chocolate on top as well, after cutting. I can't remember what I did for the chocolate, but I believe I just googled a chocolate ganache recipe and used that on the crust, then added the yellow frosting (the chocolate layer would need to cool and set, hence setting my pan on my cold porch table), and pure melted chocolate for the topping. It gives you an idea at least, of things you can do. Personally I prefer the traditional way, but some folks may like the chocolate added.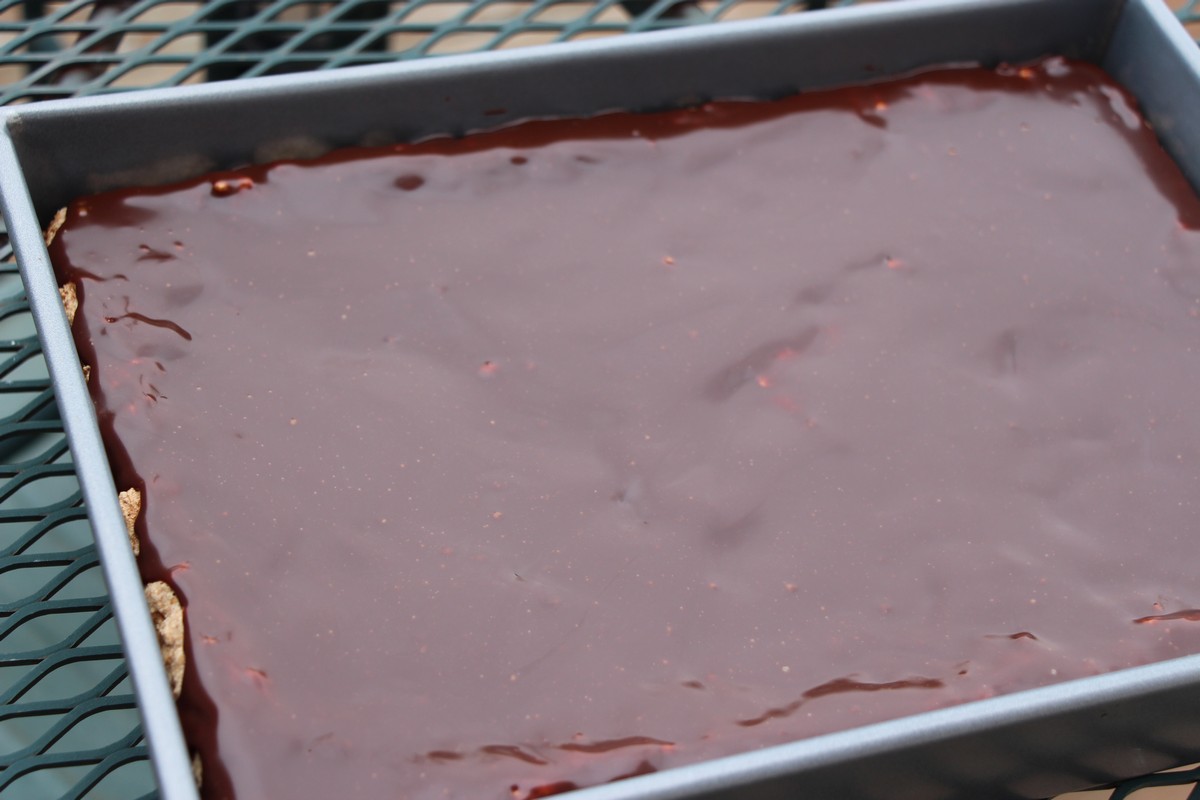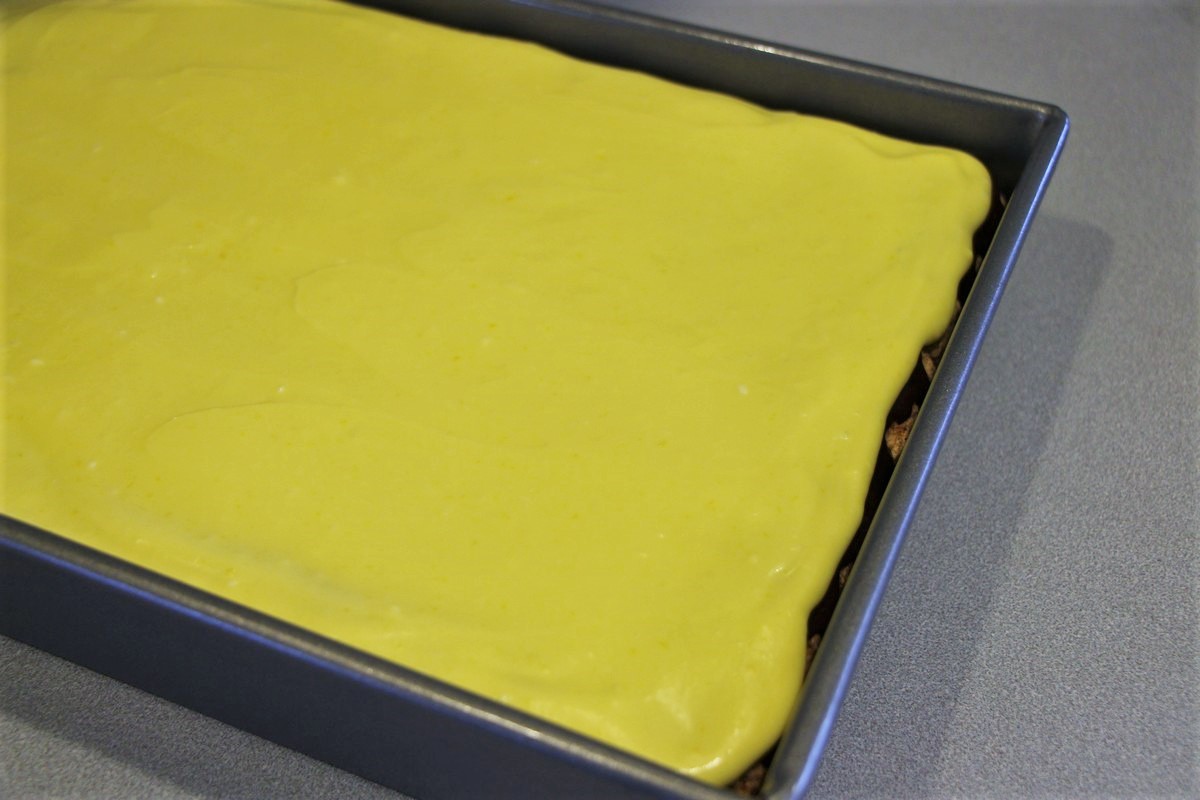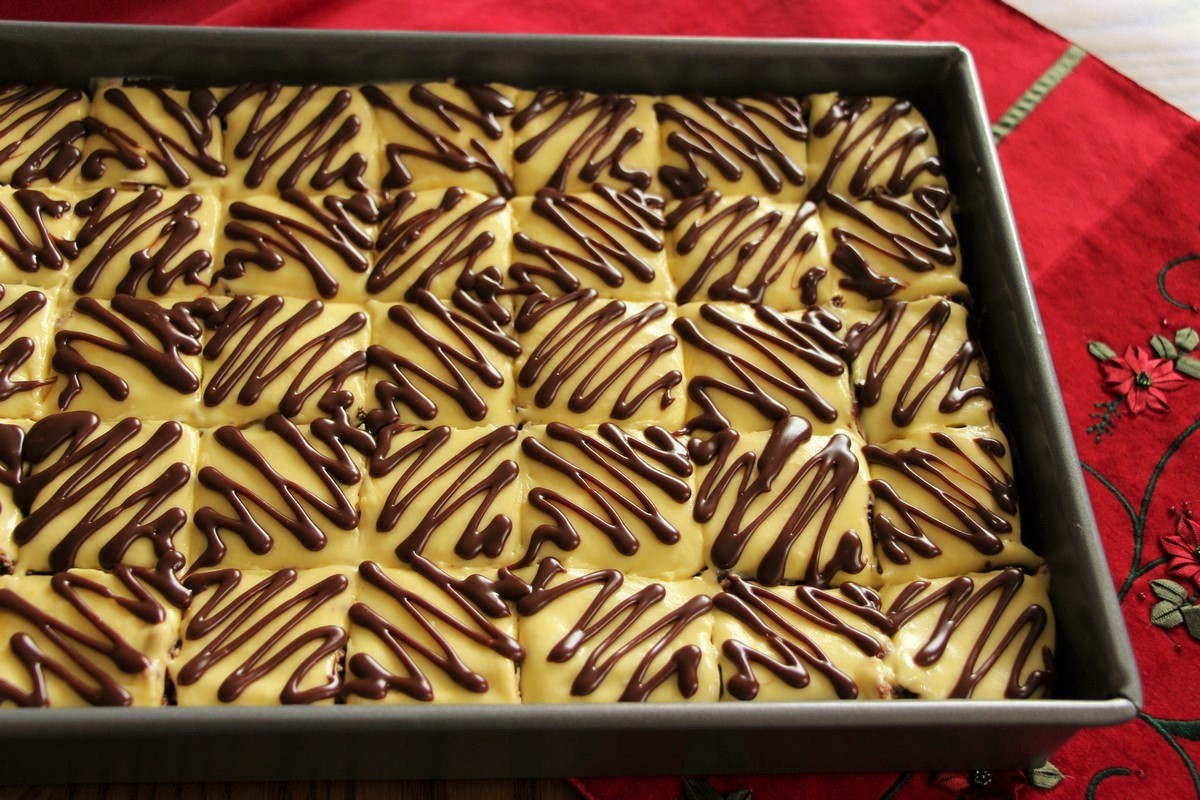 Traditionally served at special occasions in both Norway and other Scandinavian countries, a commercialized version of this confectionery cake recipe can be found in the coolers at IKEA, and in their cafeteria as well. But IKEA's cakes truly could never measure up to the wonderful results of you making this cake from scratch at home! There is nothing like homemade, that's very much true for this almond cake! And it just happens to be gluten free, how cool is that! Please comment and rate this recipe if you try it; option is found immediately under the recipe. Thank you!!
Norwegian Confectionery Cake, Recipe
This almond cake is a traditional Norwegian and Swedish holiday dessert. It is naturally gluten free.
Author:
Terese at www.thecountrybasket.com
Recipe type:
Holiday Dessert
Ingredients
1 Lb raw, plain almonds plus small handful, divided
1 Lb confectioners sugar
¾ tsp baking powder
1½ tsp vanilla sugar
7 egg whites, room temperature is preferred
Frosting:
6 egg yolks
scant ⅔ c heavy cream (9 Tbsp)
⅔ c granulated sugar
1/1/2 tsp vanilla sugar
2 sticks (1 c) softened butter
(the small handful almonds from above)
Instructions
Cake:
Line a 13x9 in. pan with greased parchment paper.
Preheat oven to 350°F (175°C)
Put 1 Lb almonds in food processor or blender, and grind to almond meal consistency.
In a separate, large bowl, mix together confectioners sugar, baking powder and vanilla sugar. Add the ground almonds, mix well.
Whip the egg whites until stiff peaks form and the mass stays in bowl when tipped upside down.
Gently fold into the stiff egg whites into the dry almond mixture, just until blended. Do not over mix!
Spread batter in the parchment paper lined pan.
Bake at 350°F for 45 minutes.
Let cool in the pan, Cake will be very fragile, so handle gently.
Either keep the cake in the pan, or carefully invert onto a cutting board or serving platter to be frosted and cut.
Frosting:
In heavy, medium sauce pan over medium to medium / high heat,, bring to a boil egg yolks, cream, granulated sugar, and vanilla sugar while stirring constantly.
Let cool completely.
Add softened butter and beat until smooth.
Frost the cake once it has cooled down completely.
Chop a small handful of nuts, and sprinkle over the frosting to decorate.
Set in the refrigerator for several hour or overnight, to allow the frosting to firm up, then cut.
Notes
If it is inconvenient to purchase 1 Lb plus a small handful almonds, you can probably remove a little bit of almonds from your 1 Lb portion to use for garnish.