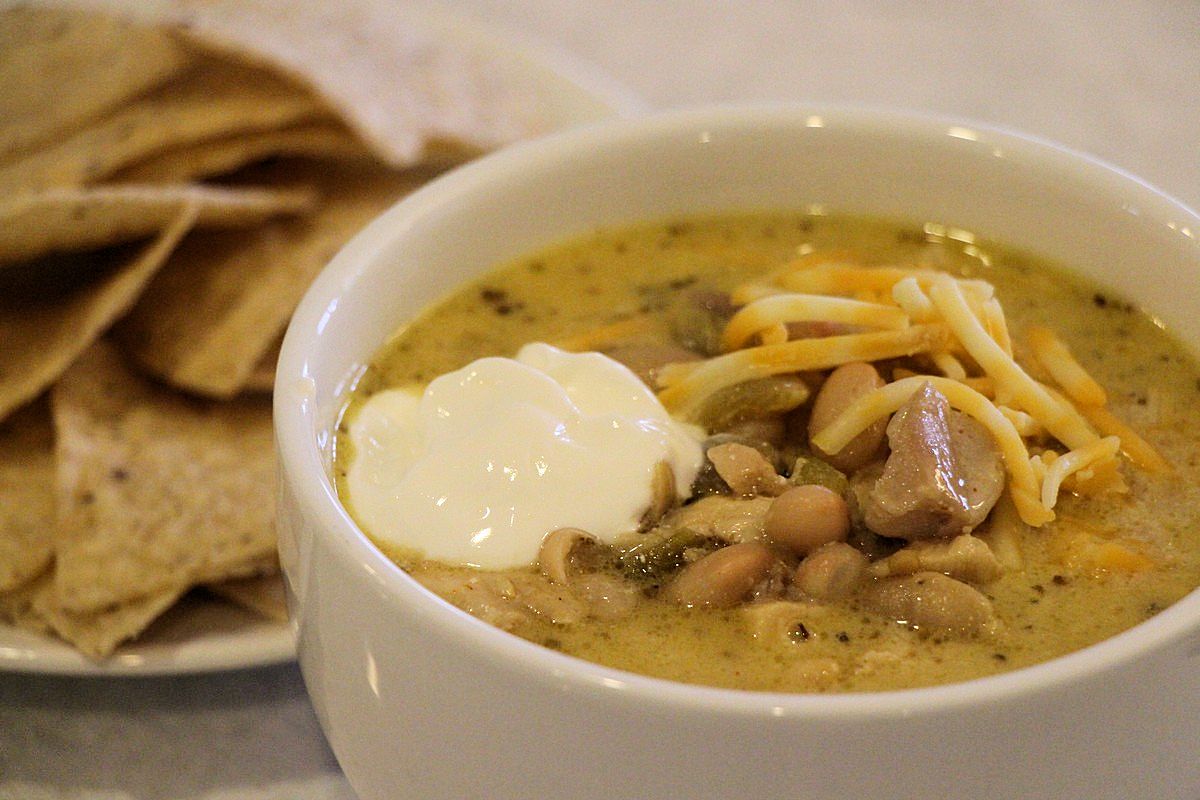 I originally tasted this wonderful chili at an outdoor youth event with our church. This was during the month of October, and where we live it can easily get cold this time of year. This evening was chilly indeed, so chili was the perfect food to keep us warm! There were several pots of chili served, all from different recipes, and though all of them were tasty, this one by Tamie was by far my favorite! When I inquired about the recipe, I was given a link to the Taste of Home website.
That same fall, with a few minor changes to the original recipe, I made a huge crock pot for my husband's workplace as they were having a chili contest, and I gave him a big bag of shredded cheese to serve along with it. The cheese was to be used as a topping, of course. Instead he dumped the entire bag right into the pot, stirred it up, and wouldn't you know, he came home with a trophy! Wow, first place!! This was now an award-winning recipe! I asked how many had entered, thinking maybe there were 40-50 or so, and it turned out there were around 8 other pots… So yeah, we got first place out of 8! Wow, pretty cool, huh? Well, at least people enjoyed it, so I'll take that to heart. And we had a cool trophy to look at for an entire year until the next chili contest, when we had to give it up. By then I was ready to get it out of the house anyway, so that was just fine by me.
As I have started my teenagers on a rotating dinner-making schedule, my daughter did the cooking when I took the following pictures.
If you do try this recipe, I would really appreciate a quick comment with a star rating (option found immediately under each recipe). It helps me out tremendously! Thanks in advance!
And now, the "award-winning" Tasty, Cheesy White Chili Recipe with Chicken:
In this recipe I use chicken that I have cooked up in advance and put into the freezer in portions for a time like this. If you don't have cooked chicken on hand, start by cooking up a pound of chicken until just done, no more. Make sure not to overcook as chicken dries out quickly.
To prepare the chili, drain and rinse three cans worth of Great Northern white beans.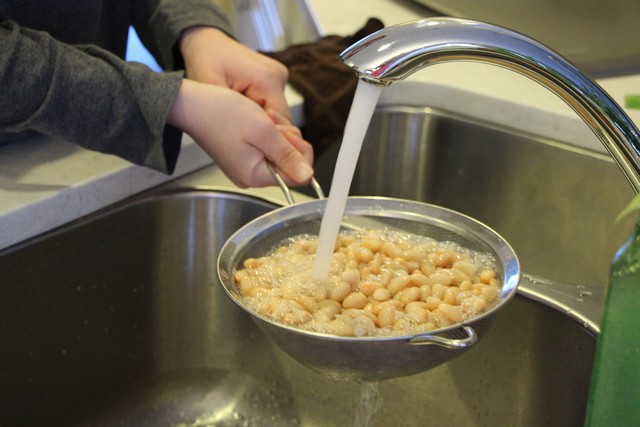 Put the beans in a medium sized pot along with two small cans of chopped green chilies (they're not as hot as you'd think) and chicken broth. You can use any brand of chicken broth from the store, but personally I use my own homemade chicken or turkey stock (click for recipe) because it's delicious, very nutritious, and free (made from poultry bones). I had some in the freezer; that's the chunk you see to the right in the pot, melting as it heats up.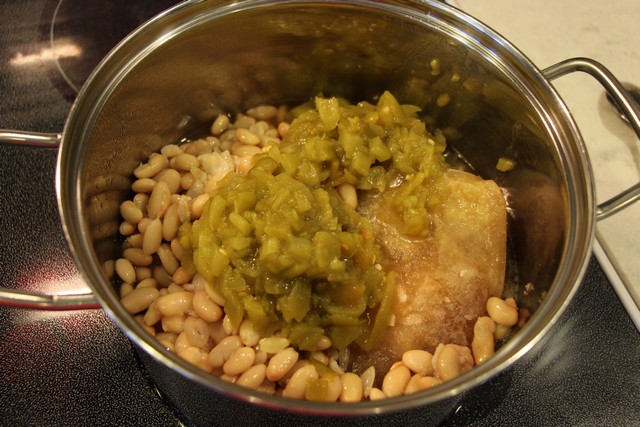 While you wait for the broth and beans to heat up, add spices: cumin, oregano, cayenne pepper, garlic powder, black pepper, and salt. Cayenne, or red pepper as it's also called, is extremely hot; just a little bit extra will go a long way. Add a little at a time until you get it the way you like it.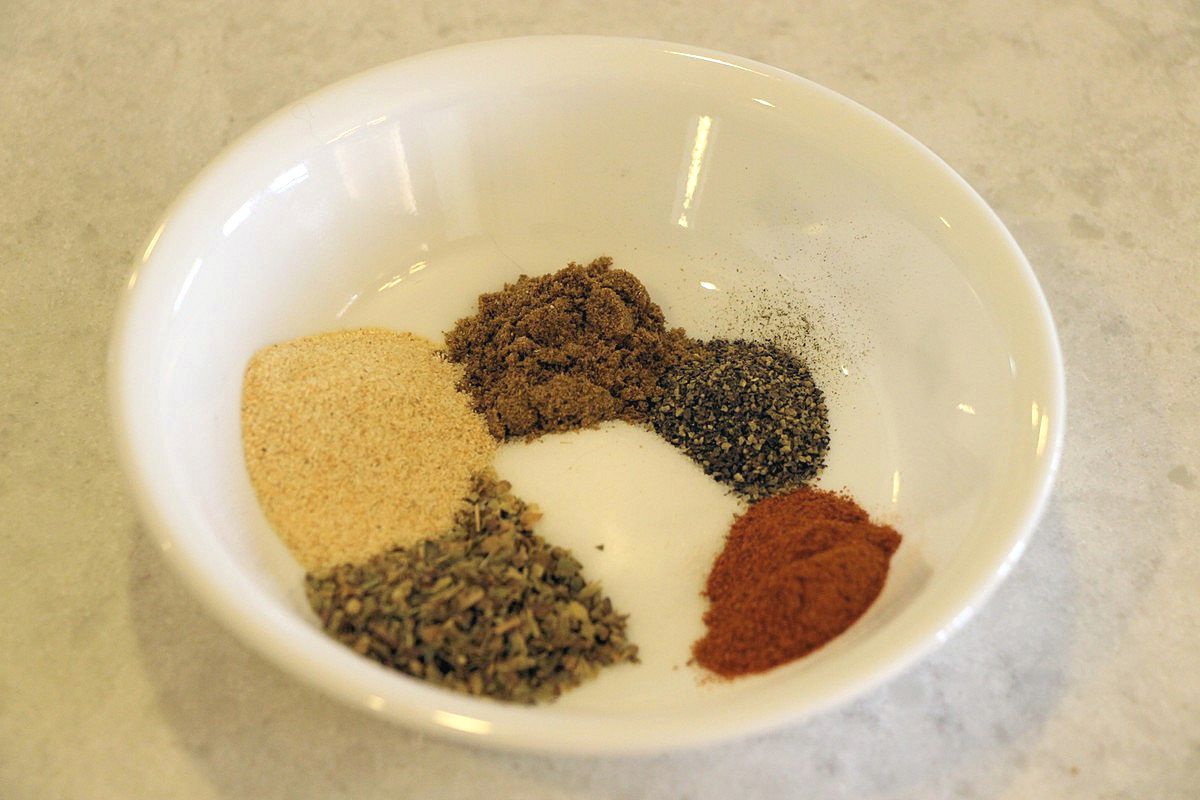 With the spices stirred in, bring it to a boil and simmer for about 30 minutes (or "a good while;" I never actually time it, I just give it a while and call it good.)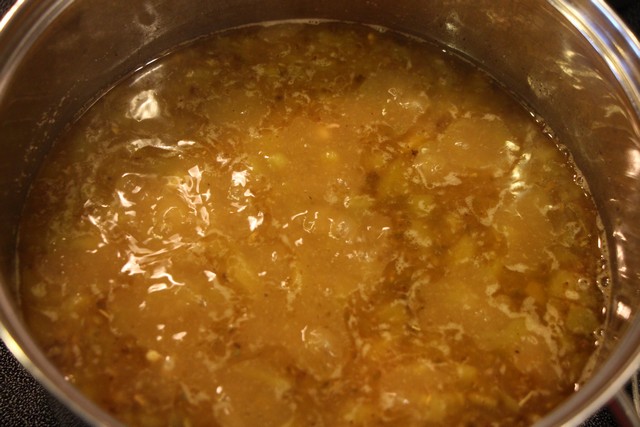 While the beans and broth are simmering, chop up a medium onion and fry in a little bit of oil for a few minutes until tender.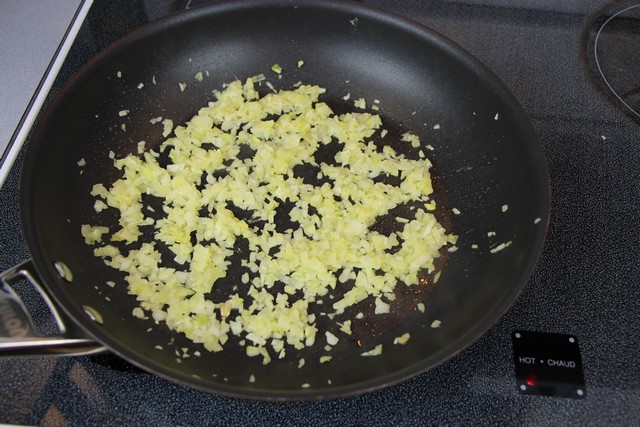 Add the onions to the broth and continue to simmer.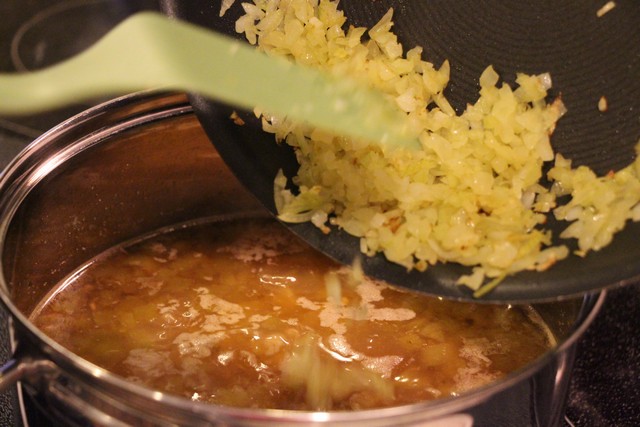 Toward the end of the cooking time, add the chopped up chicken. It is best not to add the chicken until now so it will stay nice and juicy. When added at the beginning of the cooking time, the chicken will get overly cooked and dry. One of the compliments that I've been given regarding this recipe is that the chicken is so tender and juicy. That's because I don't overcook when I cook the first time, and I don't add it until the end when cooking the chili itself.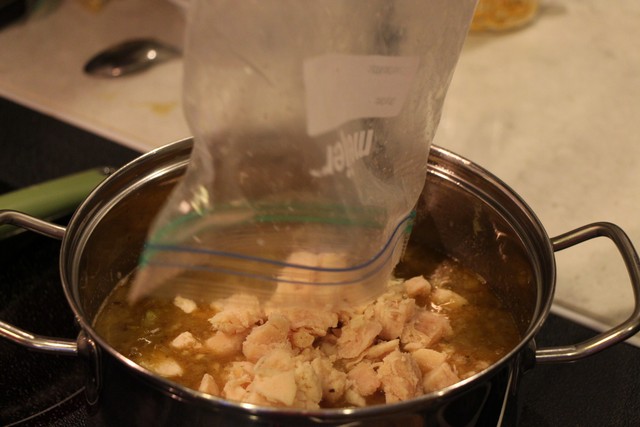 Let the chili heat back up again along with a bunch of shredded cheese, such as colby jack.
Stir well until the cheese is completely melted and incorporated. It's looking more like white chili, now. And it gets better!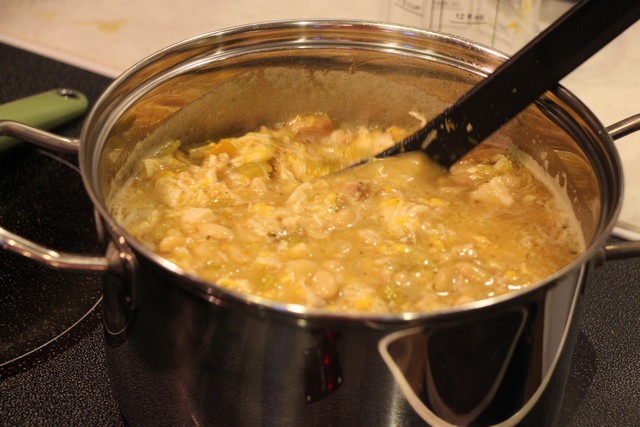 When the chili has reached simmering temperatures again, pull the pot away from the heat and add heavy cream (milk is probably fine as well, if you prefer not to use cream).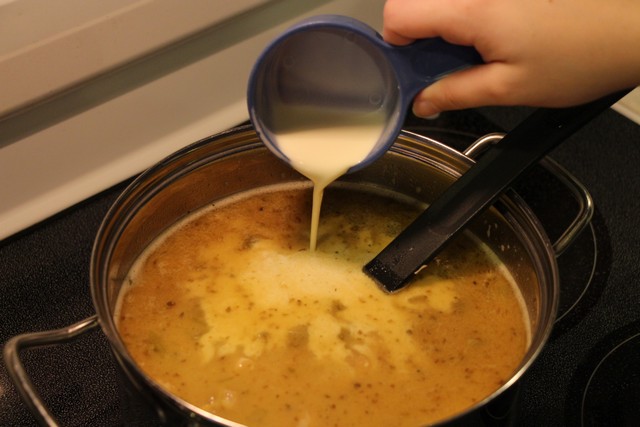 With the pot still away from the heat, add sour cream, making sure not to bring the chili to a boil after sour cream has been added. Sour cream will separate and/or curdle if boiled.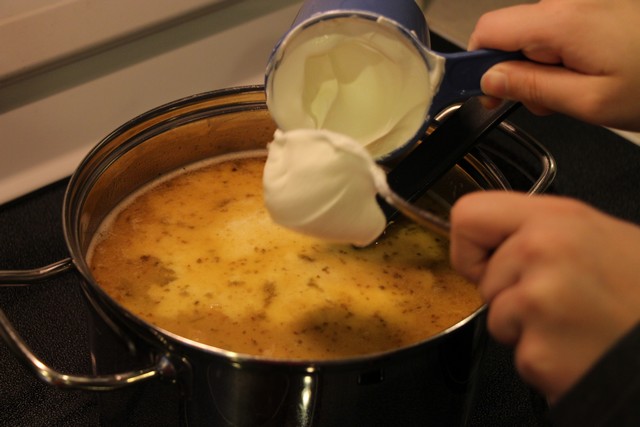 Stir really well until fully blended in. At this point your chili will finally look nice and white, like good, white chicken chili ought to.
Stirring just a tad more, then ready to serve! My daughter did such a nice job!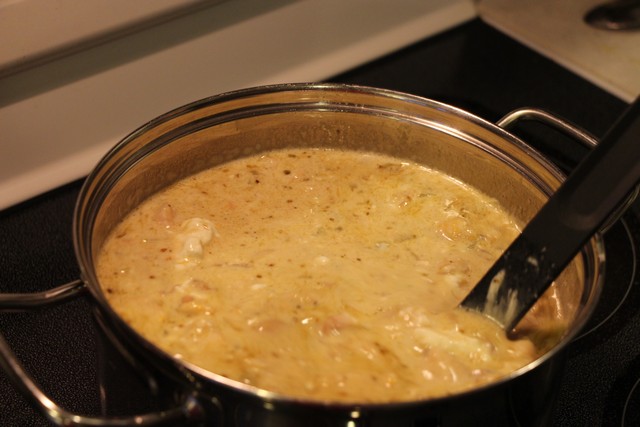 With an extra dab of sour cream, more cheese for the cheese lovers out there (I have a few in my household), along with crunchy tortilla chips, this makes for an absolutely delicious meal! It is so creamy and flavorful, and the heat can be adjusted to your liking by using more or less of the cayenne pepper. As I told my kids that evening, it is really hard not to eat this white chili too fast, especially with the chicken being so tender! Thanks again, Tamie, for sharing this recipe with us! Please comment and rate this recipe if you try it; option is found immediately under the recipe. Thank you!!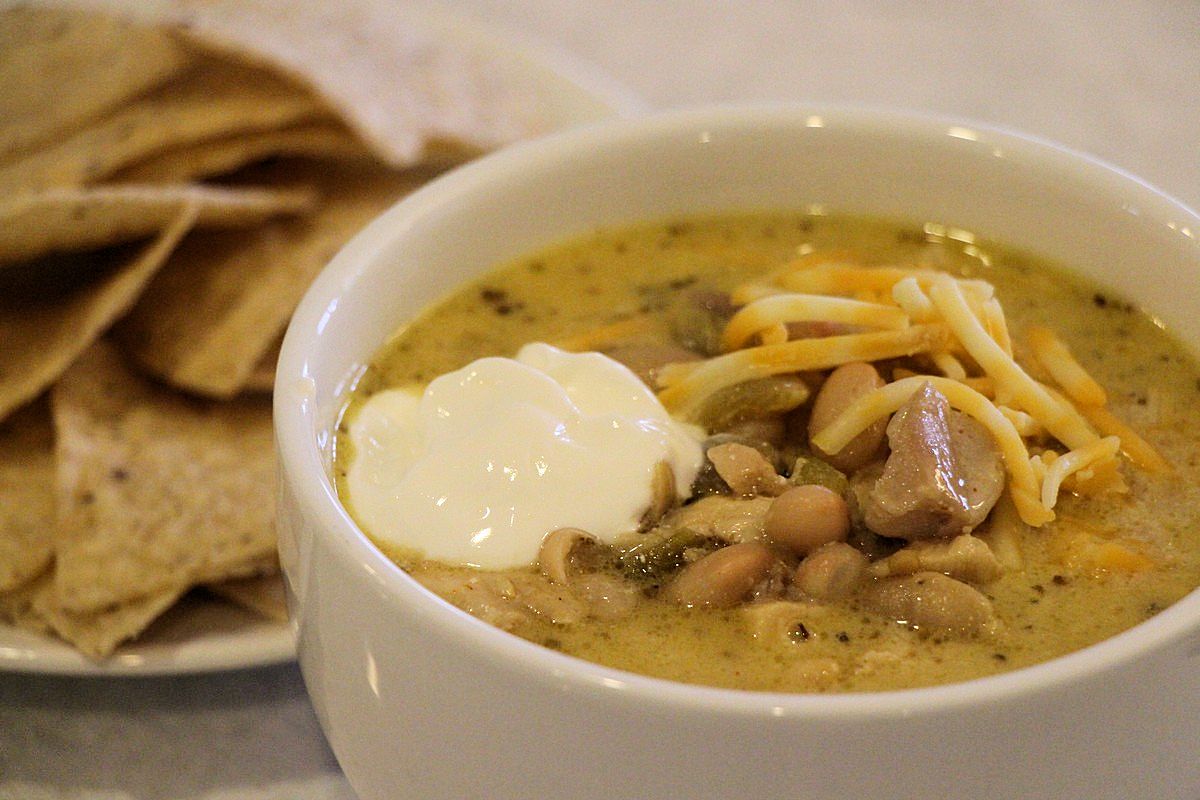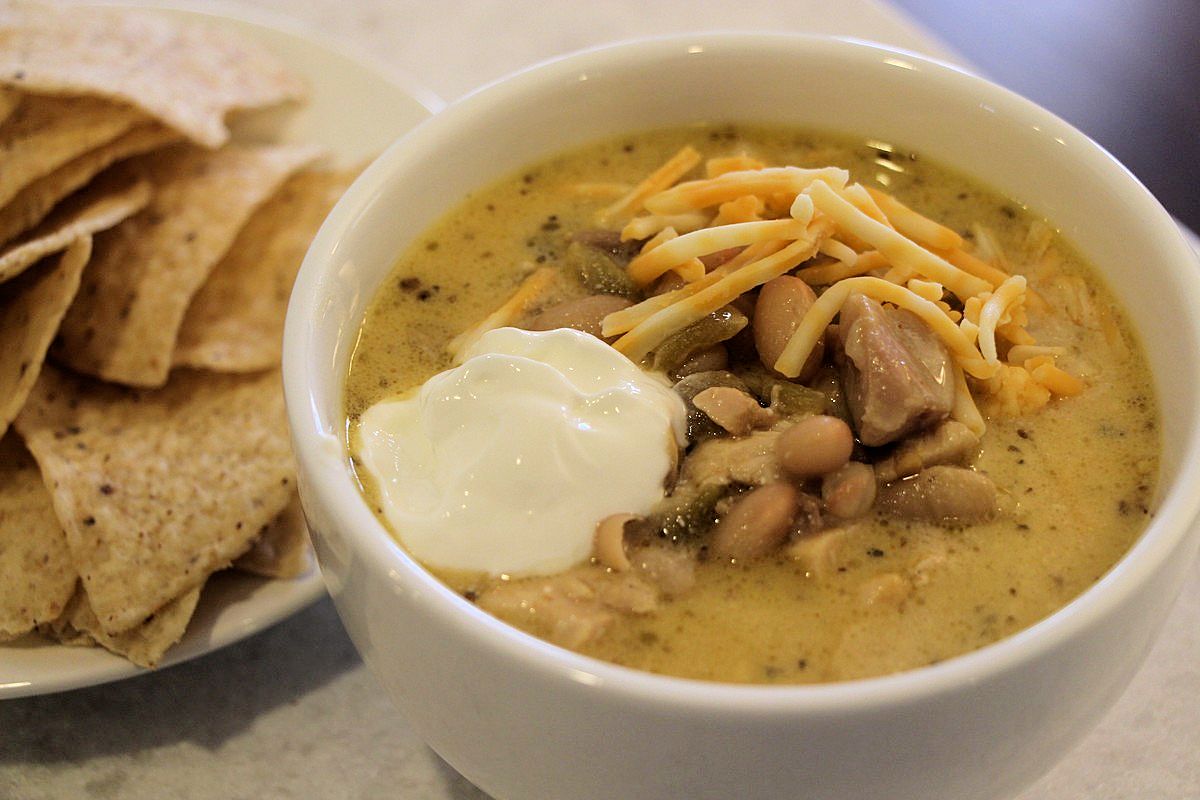 Tasty, Cheesy White Chili Recipe with Chicken
This white chicken chili recipe is very creamy and tasty, made with sour cream and cheese melted into it. With lots of white beans, it is also quite nutritious.
Ingredients
1 Lb chicken, cooked and cubed, set aside
3 cans (15½ oz each) great northern beans
2 small (4 oz each) cans of chopped green chilies
3 cups (1½ - 2 small cans, 14½ oz each) chicken broth or stock
1 tsp salt
1 tsp oregano
1 tsp cumin
1½ tsp garlic powder
½ tsp black pepper
¼ - ½ tsp cayenne (red) pepper
1 medium onion
1 Tbsp olive oil or other cooking oil
1½ cups shredded cheese
½ c heavy whipping cream
1 c sour cream
Instructions
Set chicken aside.
Drain and rinse beans, add to a medium sized pot.
Add green chilies and broth, and bring to a boil.
Add spices, let simmer on low heat for 30 minutes.
While simmering, finely chop the onion, fry in oil for a few minutes until tender, then add to the broth.
Toward the end of the cooking time, add chicken, then cheese, stir to fully melt and incorporate the cheese, then bring back to a boil again.
Pull away from the heat and add heavy cream, then sour cream, and stir until well blended. Do not boil at this point!
Serve with tortilla chips, and extra sour cream and cheese if desired.