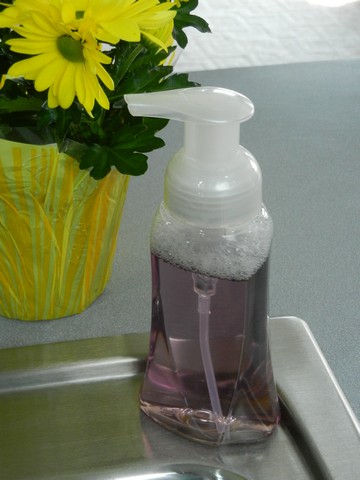 Foam soap dispensers are fun to use, but refills can be pricey; especially if you consider how cheap it is to make your own refills. That's right, not only can you refill the inexpensive plastic bottles from Dial, Soft Soap, and other brands, but you can quickly and easily make your own and save a lot of money. In addition, you can color the refill to match your decor, if you so choose! It doesn't take a crafty, creative, domestic person to do it. It is easier than making pancake batter from a box!
First off, I'll explain what the advantage is to using foam rather than regular liquid hand soap: When you use foam, you use much less soap to get the same job done. Regular dispensers usually give you more soap per pump than you really need, while the foam uses diluted soap to give you fun foam to wash with. This is especially nice for families with young kids, as little hands need very little soap, yet a regular dispenser gives much more than needed, even for adult hands. Using foam saves you money right from the get-go, then in addition, you can save more money by making it yourself. It is also fun to use, also an advantage when you try to instill in kids that they need to wash after bathroom visits.
When making my own foam soap refill, I start by purchasing cheap, liquid soap of some kind. Just make sure you choose something transparent that doesn't contain lotion, such as the one in this link. As far as I understand, lotion-containing soaps, or non-transparent soaps such as the one in this link, clog up the pump faster. You can use regular hand soap, or dish detergent. If you choose dish detergent, you may want to select something for sensitive skin since they generally are designed to break down fats and oils and could be drying for your skin. Or you can do what I do: I buy cheap shampoo. Shampoo works well and there are often a lot of different scents to choose from. I usually try to get something with a lighter color, since I often like to add my own dyes. Sometimes I'll just leave it as is without adding colorants, and the color will then be very faint, though that can look pretty too. Whatever you prefer.
NOTE: Since I wrote this post, I have become aware that many soaps, shampoos, and lotions contain a long list of ingredients that may be bad for you. See this post, Trader Joe's; Better for Your Health?  for more information and to find alternatives that may work very well for making foam soap refills.. Some people use Castile Soap, although just like dish soap, it could be a bit drying for hands.  It is a fabulous cleaner, though, and very pure! 
Making this foam soap refill can be extremely quick and easy by simply filling the foam dispenser  your choice with 1/4 or so of liquid, transparent soap, and the rest with water. Stir it up with the handle of a spoon or whatever you can fit in there, or put put the top on and gently tip the bottle over until mixed, and you're done. If you want to add color, you can drip in a tiny bit of food coloring, but since the color tends to be very concentrated, I prefer to dilute it and play around with colors before adding.
Here's what I do when adding color:
These are the ingredients and supplies I use, plus water: Transparent hand soap or shampoo, medium and small stirring bowls, spoon, food coloring, measuring cup, a foam soap dispenser to reuse (not a regular dispenser; it must be one intended for foam, such as the one in this link or this type), newspaper to protect my work area, and storage container for leftover soap refill (I love this kind from Rubbermaid, and also purchased more for storage of my fabulous Cold-Brewed Coffee Concentrate!! WooHoo!!)
Note: Scented soaps can, and often will, leave a scent residue in plastic containers, and can be difficult or impossible to remove. This won't matter for the soap dispenser, but don't store extras in a container you will later want to use for food.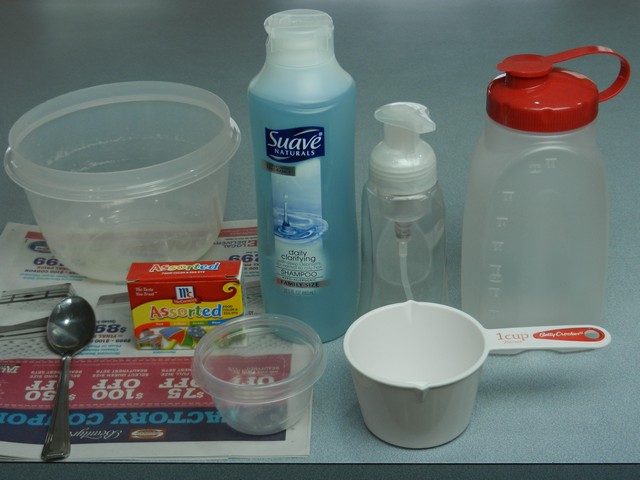 Measure up approximately 1 part soap to 3 parts water, and gently stir until mixed.
I used a 1-cup measuring cup this time (which is also nice to use when pouring the mix into dispenser and storage container), though usually I just wing it. It doesn't matter too much, but approximately 1 part soap to 3 parts water works pretty well and generally gives it the same thickness that you'd get from the store. You can dilute even more if you'd like, especially if you have kids who go overboard with the pump; tiny hands need less soap than big hands, and grown-ups can always take a second pump if they need one. It's another way you can save money. The foam will be a little thinner if you dilute more, but still works.
Soap and water mixed up: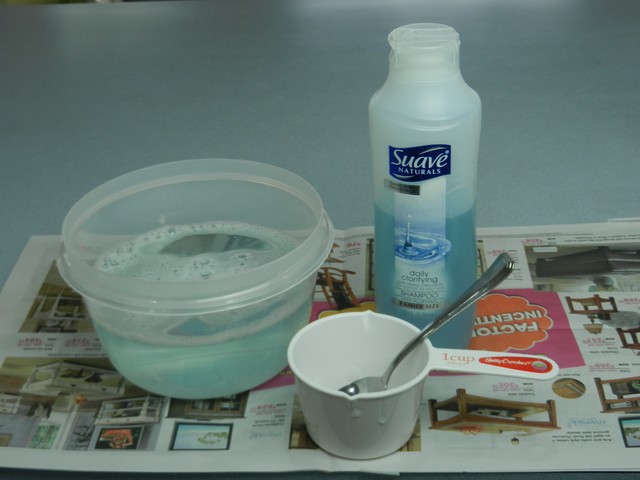 At this point you can either fill up your dispenser, or you can add dye to mix up your own color. This is a time when you should get some newspaper or other material to protect your work area, as dyes can really stain counter tops and other surfaces. Ask me how I know! I'll tell you right now that if you do get a drop of it on a surface you didn't want to stain, wash it off with soapy water immediately!! You may want to keep an old rag nearby just in case, and of course, you'll already have soapy water on hand!
I purchased a box of food coloring from WalMart, but it should be relatively easy to get a hold of at other stores as well, or you can get it at Amazon.com: Food Coloring This box contains red, blue, green, and yellow. You can mix these together to create new colors, such as red and blue to get purple, or red and yellow to get orange. Here's a link to help you mix a few different colors: Making New Colors with Food Coloring
I have only tried the liquid dye, not the gels for this purpose. I don't know how gels would work, but hey, you could always try it and leave me a comment to let us all know.
Anyway, this is where the tiny plastic cup comes in handy. Clear ones allows you to see the color better. I pour some water into the little container, maybe 1/3 c or so. Then I mix in a drop at a time of the dye. The reason I mix it into water first and not directly into the soap refill, is that these colorants are extremely strong. So if you mix up your color in water, you can use a spoon to add a little at a time into your soap refill, until you get the right shade, preventing you from accidentally adding too much.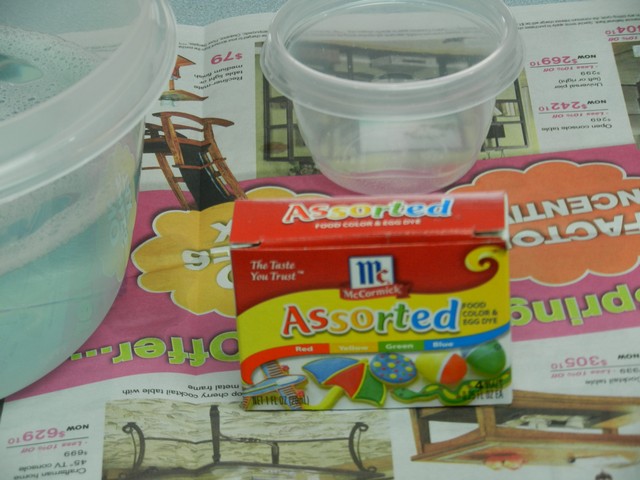 Here's the deep purple color I mixed up in my little cup. It looks almost black in this picture. It took only two drops of red and one drop of blue to get this shade, but of course the original color of your soap will play a role in the final outcome as well.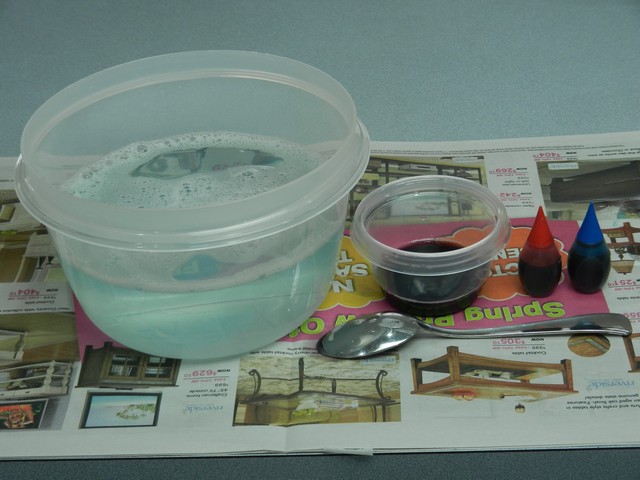 Pour a small spoonful of water-diluted dye at a time into the foam soap refill mixture, until you get the color you want. If the surface that the soap dispenser will be kept on has a deep color, you may want to go light on the soap color, as it tends to look much darker against an already dark surface, and the color may not show up very well.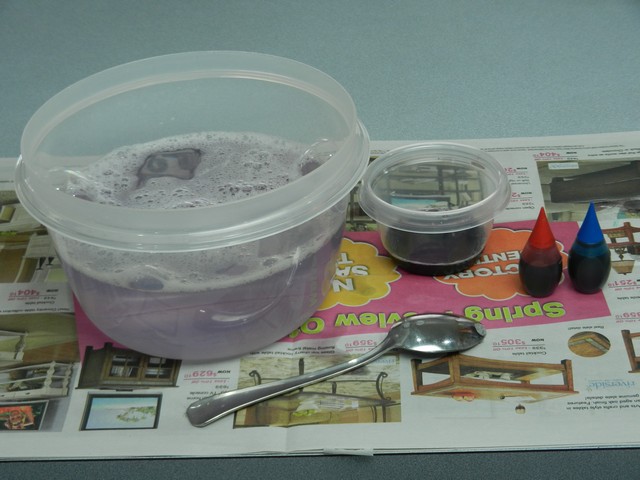 Adding a little more, then testing to see what it will look like in the bottle on the surface it will be sitting on when it's done.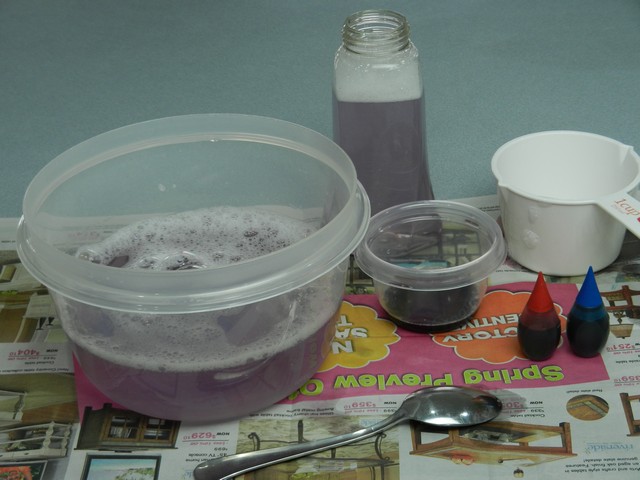 When I'm satisfied with the color, I put on the pump, test it to see that the soap has the thickness I like, then pour the leftovers into a storage container to refill later.
For your information, the pumps will often clog up after several months of refilling, but I experienced the same thing with an expensive bottle that was designed to be reused. TWICE! So I figure I'll stick to the cheap ones, and buy a new one when the old one hits the dust. In the meantime, I've saved money by making my own refills, while having fun with colors and foam.
My dispenser originally had a label on it that I peeled off, then removed glue residue using GooGone.  I just think these bottles look better without the label. A clean look that goes with any decor, with no distracting advertisement. But that's just me. I'm a label peeler…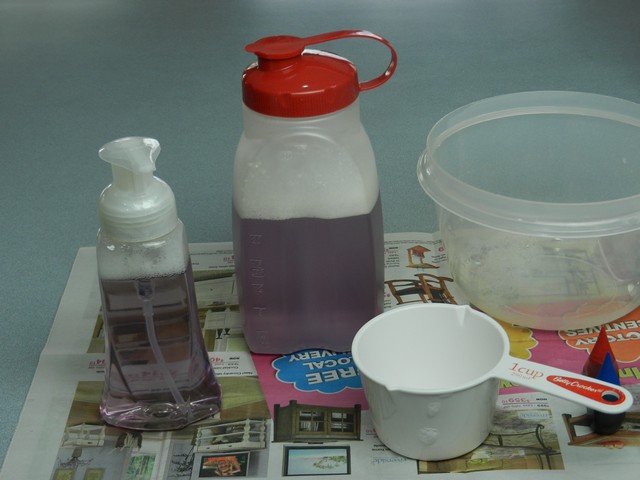 Testing to see that it ended up the way I wanted it, and it did. I now have my own, inexpensive liquid foam soap refill, and I made it myself, quickly and easily! Talk about saving money!