A Christmas tradition in countless Norwegian homes is to prepare Risengrynsgrøt, or rice porridge, for lunch during the day of Christmas Eve. White rice is cooked in milk for nearly an hour until tender and thick, then salt and sometimes sugar and vanilla is added. Often shortened to say simply "risgrøt",  this porridge is traditionally topped with sugar and cinnamon, and a dab of butter in the center. Often times red juice is served to drink with this meal. This rice porridge is also served throughout the year in Norway, often as a warm, comforting Saturday lunch.
One important reason to prepare this porridge during the day of Christmas Eve is that the leftovers are used to make a traditional dessert commonly served after dinner. This desserts is called "Riskrem", or Rice Pudding, in which whipped cream is added to the porridge. The mildly sweetened fluffy dessert is topped with a red berry sauce. A single blanched almond has been hidden inside, and whoever finds it in a mouthful gets a small prize!  Riskrem is soft and light tasting and nicely balanced with the berry sauce on top, and mostly served only for Christmas and New Year's. Here is a link to this delicious dessert!
If you do try any of my recipes, I would really appreciate a quick comment with a star rating (option found immediately under each recipe). It helps me out tremendously! Thanks in advance!
In this post I will give you the the standard, traditional recipe and use pictures to show you how to make risgrøt. Otherwise, if you'd like a more hands-off approach and explore other cooking options, such as using an oven, cooler, slow cooker, or even pressure cooker to prepare risengrynsgrøt, click this link and I'll show you what you need to know.
In the following picture you'll see most of the ingredients needed for risengrynsgrøt: water, rice, whole milk, salt, vanilla sugar, and in addition I usually add some white sugar, which I forgot to add when I took the picture. But you all know what sugar looks like, so I trust you'll be just fine.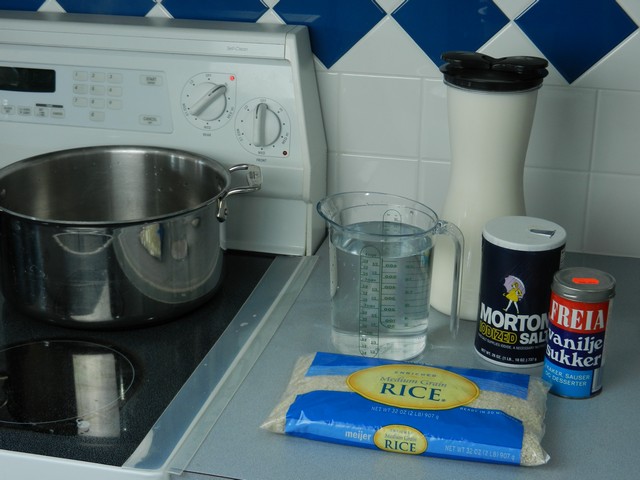 The best rice to use for this recipe is white medium grain rice, not the standard long grain. It is not impossible to use long grain rice, but the result will not be as creamy and nice. In the picture below you can see the difference between these two grains: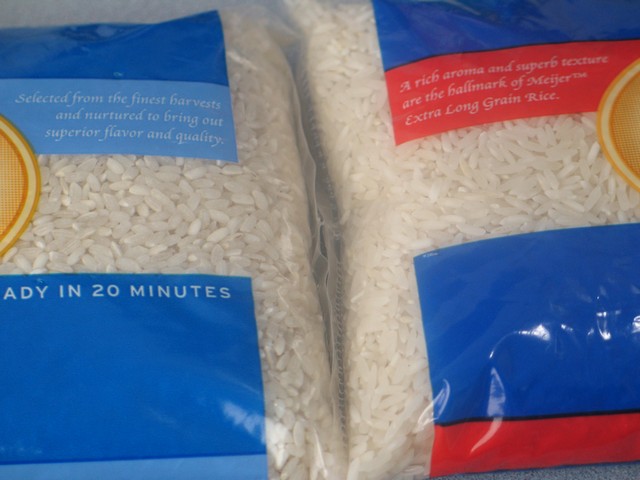 The bag to the left is medium grain, and on the right is regular long grain. Medium grain has a rounder shape and works well in creamy dishes such as risgrøt and risotto, as it tend to be stickier and cling together better. You can also use a short grain rice such as sushi rice or risotto rice, which is even rounder and larger than medium grain and produces an almost luxurious result. But these types can be very expensive. For risgrøt you'll only need an off-brand medium white rice if you can find it, unless it is Christmas and you want to splurge!
Moving right along: 
Using a pot with a heavy bottom is important, as milk tends to burn easily if the bottom is thin. Since this porridge will cook for an hour, a heavy pot is needed. I have found that my Cook's Standard pot works wonderfully for this use and is just as good of a pot as my All-Clad (seen in the picture below), but not nearly as expensive.
Start out by boiling 1 part rice to 2 parts water on medium low heat, uncovered, until most of the water has absorbed. Stir now and again. This will take approximately 10 minutes. I like to stir with a flat turner as I find it easier to scrape the whole bottom of the pot, preventing sticking and burning (especially after milk is added.)
You can use a lid if you want, but leave it on a crack so that some steam can escape. You may need slightly less milk if you use a lid. I seem to remember my mother keeping her wooden spoon inside the pot while cooking, which kept the lid on a crack.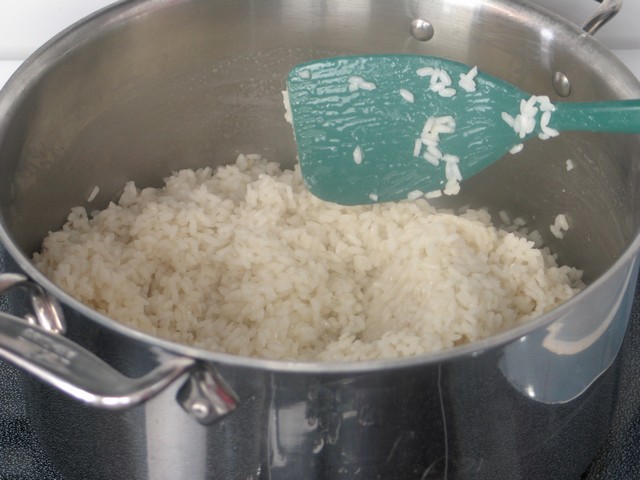 Add milk little by little, about a cup or two at a time. Stir well, then simmer on low heat, uncovered. This is how it's traditionally done; however, I sometimes pour all of the milk into the pot in one sitting and stir while bringing up the temperature again. Then obviously lower the heat once it's back to a simmer. Milk burns easily though, so I have to pay attention and stir a lot when doing it this way.
I doubled the recipe below, as I wanted plenty of leftovers for a good amount of Riskrem dessert. So my pot may seem more filled than yours if you follow the amounts suggested in the recipe.
Definitely use whole milk for this recipe, or at the very least use 2%. Whole milk works better as it leaves the porridge creamier and tastier, but it also helps to keep it from burning. Low fat milk burns more easily.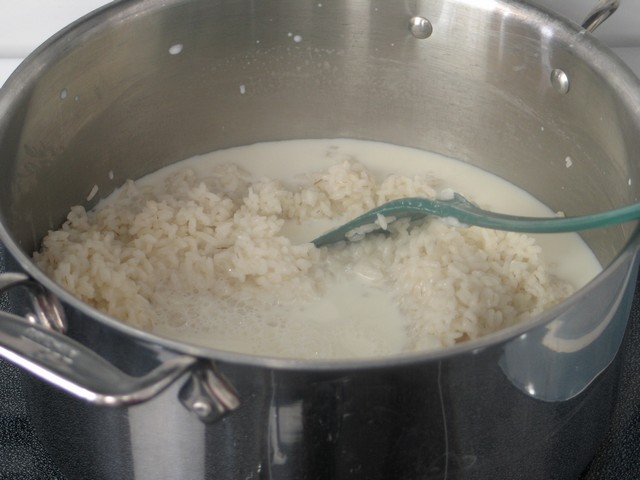 Let simmer over low heat until thickened, stirring well every 5 minutes or so to prevent milk from sticking to the bottom and burning. Every time you see that a lot of the milk has absorbed, keep adding more. The amount you add each time is not too important, unless you add so much that it stops boiling entirely. Then you may have to bump up the heat temporarily while stirring and paying close attention so it doesn't burn. Cook on as low heat as possible while still seeing it bubbling gently as it simmers. Just barely bubbling, no more, to prevent burning. Toward the end, as it really thickens, it will burn more easily, so don't forget to check.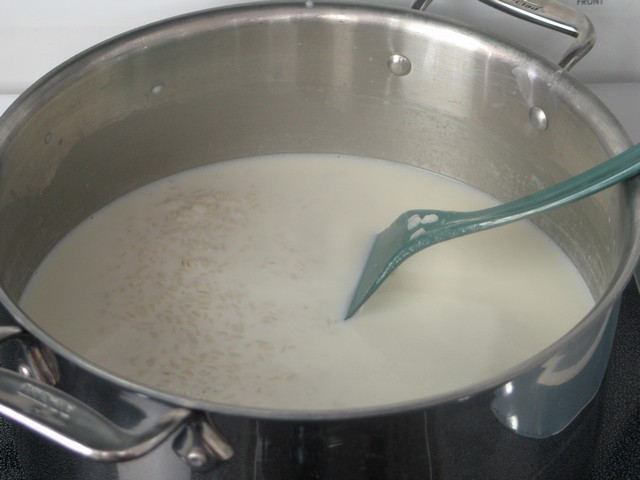 Keep adding milk until rice is tender and the risgrøt is thick and creamy. The amount of milk needed will depend on how thick and tender you want the rice and porridge to be. You may use more or less; like most Norwegians, I actually never even measure the milk, I just keep adding more until it has reached the consistency we like. All in all the cooking time will be around an hour from beginning to end.
It may seem like a daunting task to be waiting a whole hour while stirring so frequently. Personally I set the timer so I won't forget, then I go about cleaning up the kitchen or a different activity close by where I can hear the timer, and the time goes by pretty quickly. It's not a big job: Simmer, add more milk, stir every so often. That's about it.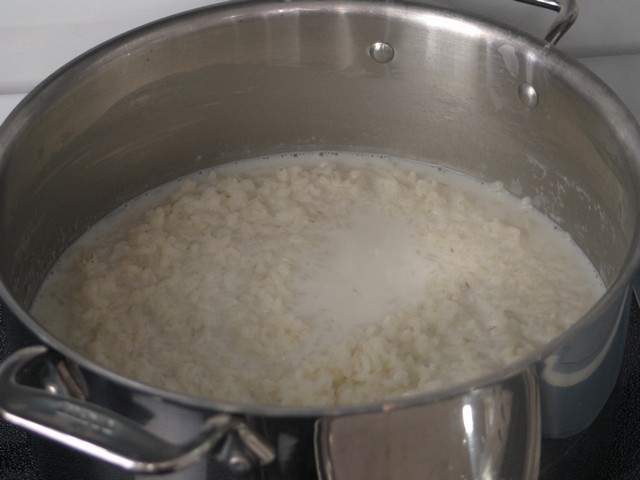 Next picture: Not quite thick enough yet. If the rice is not completely tender, add more milk and continue to simmer.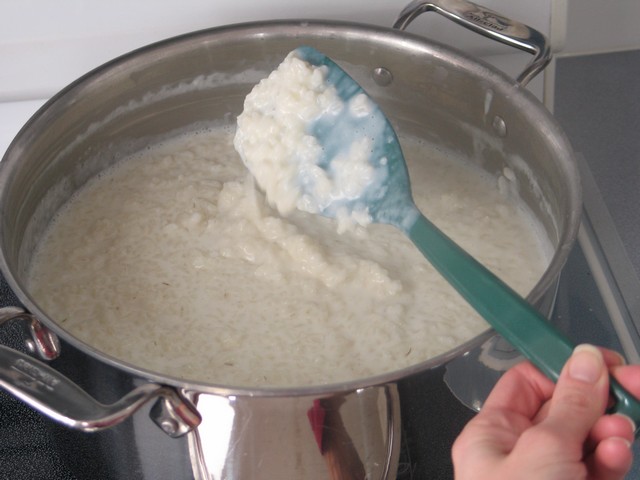 In the following picture, the risengrynsgrøt is thick and the rice nicely tender. It is now done cooking! Add salt, sugar, vanilla powder, stir well and serve immediately while still hot. If it sits for a while after it's finished cooking, the risgrøt will continue to thicken. If so, you can add some more milk before eating to thin it a little.
If you don't have access to vanilla sugar (vanilla powder), vanilla extract may be used instead (but use only 1/3 of the amount since it's much stronger!) Just keep in mind that vanilla extract will add an ivory tint to the porridge, so if you are at all able to get a hold of vanilla sugar it will make for a whiter and prettier porridge. Personally I shop for extras whenever I am in Norway, and other European countries will have it as well. Otherwise I have found it in supermarkets here in the US in the international shelves and in some specialty stores. Even AMAZON carries it! Just check out this link!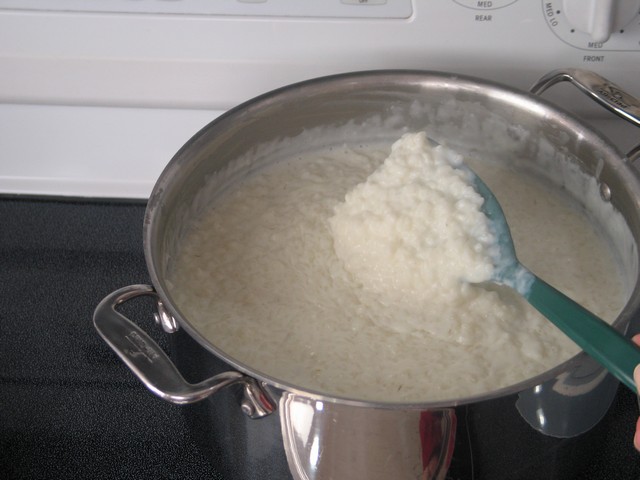 During Christmas, I double the recipe and reserve 4 cups to put in the refrigerator for our traditional Norwegian Riskrem dessert. Otherwise we just eat and finish the leftovers little by little during the next few days.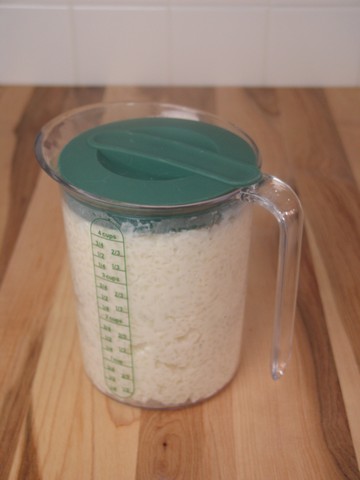 Risengrynsgrøt, or Rice Porridge, is traditionally served in bowls with cinnamon and sugar sprinkled on top, and a dab of butter in the center. Red juice is usually served as well. This authentic Norwegian recipe makes for a perfect Saturday lunch! If you decide to try this recipe, please consider leaving me a comment and star rating below as it is very helpful for me as a blogger. Thank you!!
Traditional Norwegian Risengrøt, Rice Porridge
This white, creamy rice porridge is served throughout Norwegian homes during most of the year. Leftovers can be used for Riskrem, a traditional Norwegian Christmas dessert.
Author:
Terese at TheCountryBasket.com
Recipe type:
Breakfast or Lunch
Ingredients
1½ cups white medium grain rice, or risotto rice
3 cups water
5 cups whole milk
2 tablespoons white granular sugar
1¼ teaspoons salt
2 teaspoons vanilla sugar (preferred), or ¾ teaspoon vanilla extract
Instructions
Let rice and water simmer on medium low heat in a heavy pot, uncovered, until most of the water is absorbed. Stir occasionally. This will take approximately 10 minutes.
Add a bit of milk (approximately ¼ or ⅓ of the total milk needed), continuing to add more over the next 45-50 minutes while simmering on low heat. Stir well every five minutes or so. (An alternative is to add all of the milk right away, then stirring almost constantly as you raise the heat a bit to let it come to a simmer. Then lower the heat again to keep at a simmer.)
Add more milk whenever the porridge thickens as the milk absorbs until rice is nicely tender and porridge is thick and creamy.
Add sugar, salt, and vanilla sugar; stir well and serve while hot. If vanilla sugar is not available, you may use vanilla extract; however, this brown liquid will change the color of the porridge and it will not be as white as it should be.
If the porridge becomes too thick, add more milk to thin it.
Serve in bowls and sprinkle with cinnamon and white sugar, and a dab of butter in the center. Serve red juice to drink with the meal.
Leave leftovers in the refrigerator and thin with milk when reheating.