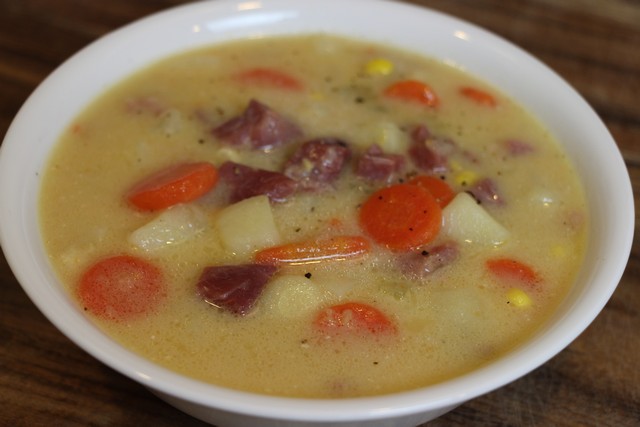 Sour Cream Ham & Potato Soup
One of my favorite soup recipes of all times, Sour Cream Ham & Potato Soup, is incredibly rich in flavors with no skimping on the good stuff! The base of the soup is stock from simmering a ham bone ahead of time, for hours on end. Straining the stock, then adding potatoes, vegetables, and loads of leftover ham, and a bit of heavy cream and sour cream at the very end, you'll find yourself enjoying a soup unlike any other. Many soups use canned broth from the grocery store as a base, which is quite inferior to stock made at home. Homemade stock made by simmering a bone most of the day, is rich in flavors and dense in nutrients such as gelatin, calcium, magnesium, condroitin, glucosamine and more,  as explained so nicely in the article Broth is Beautiful, by Sally Fallon.
When originally searching for ham soup recipes on-line, I found mostly recipes with lots of beans, which did not appeal to me. It just wasn't what I was looking for. I ended up using my own ideas and mixing up ingredients I thought would fit well with the soup, also adding cream and sour cream at the very end as suggested  by Paula Dean in her recipe. I was so happy with the results that I couldn't wait to make it again, wishing I had purchased more than just one bone-in-ham during the holiday super-sale! Well, I've made this soup multiple times since then, making sure to purchase more than one bone-in ham at a time. I now have several bags of stock in the freezer, just like the liquid gold turkey stock that we love so much as well. As the husband of a friend said, after I gave them this soup for a meal during a time of illness in her family: "I don't care for soup, but this is really good!" That comment made my day!
If you do try this recipe, I would really appreciate a quick comment with a star rating (option found immediately under each recipe). It helps me out tremendously! Thanks in advance!
Making the Soup
First thing up when making what I like to call a homestead soup (just sounds so charming, doesn't it? Homestead…), and definitely ahead of time, make stock from a leftover ham bone with cartilage and bits of ham still stuck to it. Just put the bone in a pot that just fits in the width, and pour water over it until it barely covers. Also add a tablespoon or two of vinegar (or lemon juice) to help pull out the wonderful minerals from the bone. This will help make the stock as nutritious and healthful as possible. Keep covered and let it simmer the entire day if you can, or at least 6-8 hours.When done cooking, strain, then refrigerate or freeze the stock in portions until ready to use.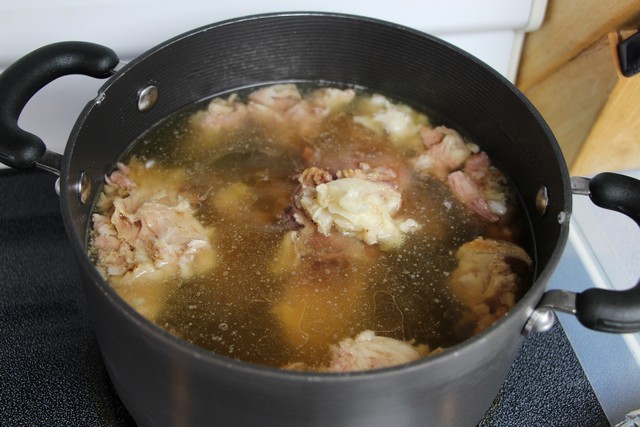 To make the actual soup, chop and slice potatoes, carrots, celery, and onions. Cut the pieces fairly small.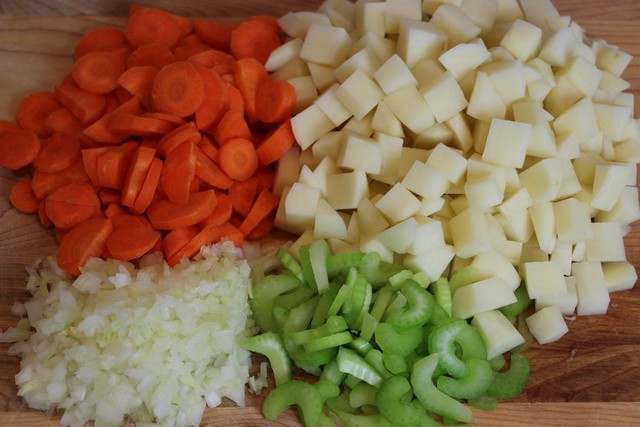 I like to chop the onions under my kitchen fan, to help get rid of some of those fumes that cause my eyes to water. It has always been very helpful for me. My fan does vent to outdoors, so that probably helps as well.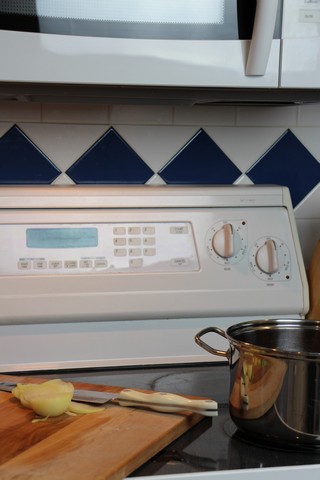 In a medium sized pot, bring the veggies to a boil in the ham stock. I also added some parsnips this time, as I had some on hand that I wanted to use up.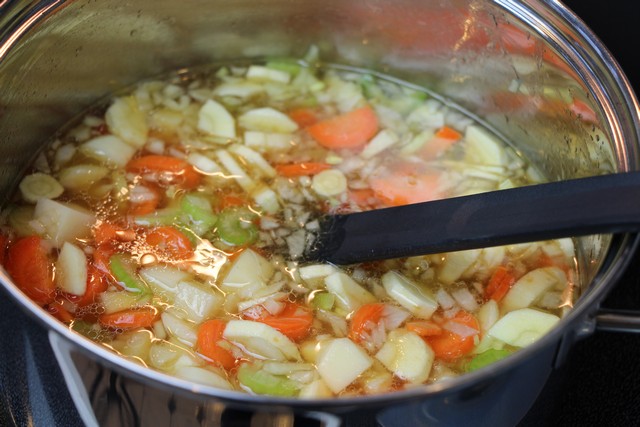 Simmer until vegetables are tender.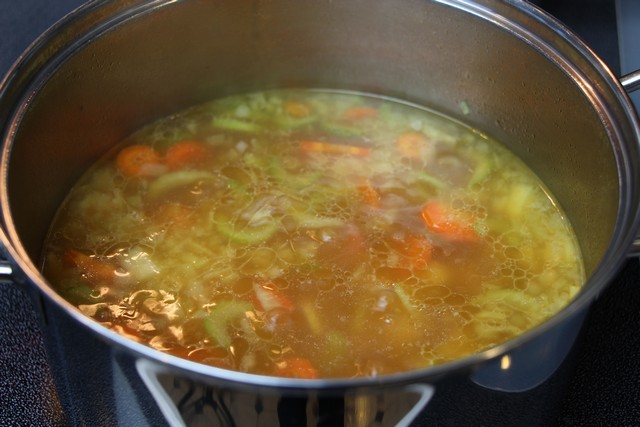 Add ham and corn. I freeze leftover ham in portions, so it's easy and convenient to grab a pack and drop in, while still frozen. I also use frozen corn rather than canned.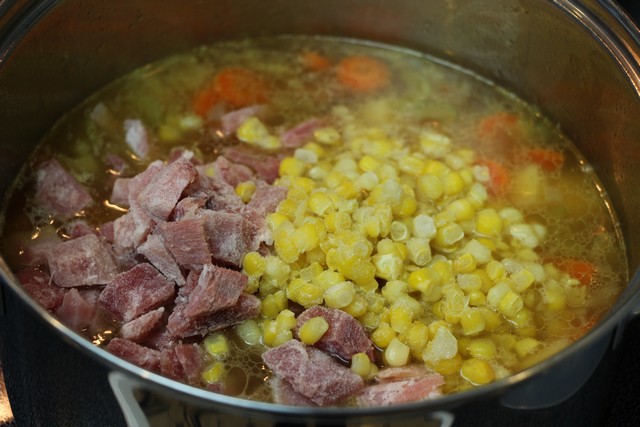 Whisk together flour and water (or vegetable broth) until smooth.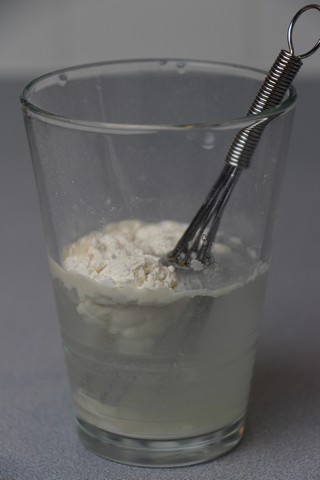 While stirring, pour the flour mixture into soup in a steady stream. Bring to a boil again and simmer for 3 minutes until corn has finished cooking and soup has thickened slightly.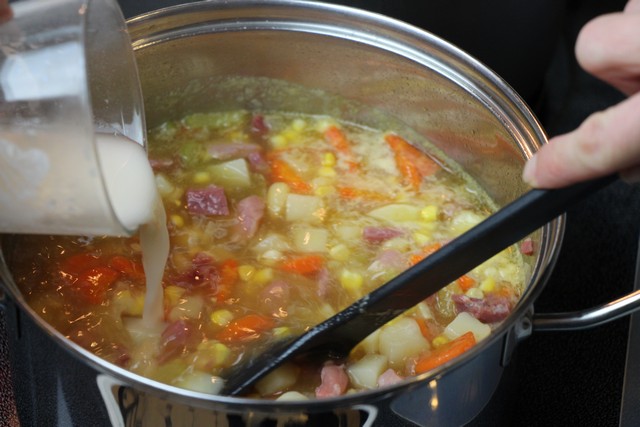 Pull pot away from heat, and let sit for at least two minutes for the temperature to drop slightly. Meanwhile, add salt and pepper to taste. Then stir in heavy cream, and at last, the sour cream, stirring very well to combine. No NOT let the soup boil or simmer after adding sour cream, to avoid curdling or thinning. Sour cream does not tolerate high heat.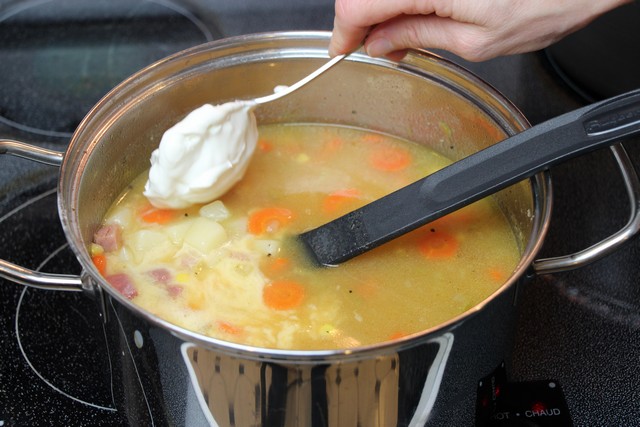 The Rich Homestead Sour Cream Ham & Potato Soup is now done, and ready to serve! The stock adds such tasty, rich flavors, and this soup is the perfect comfort food to warm you up on a cold winter day! Please comment and rate this recipe if you try it; option is found immediately under the recipe. Thank you!!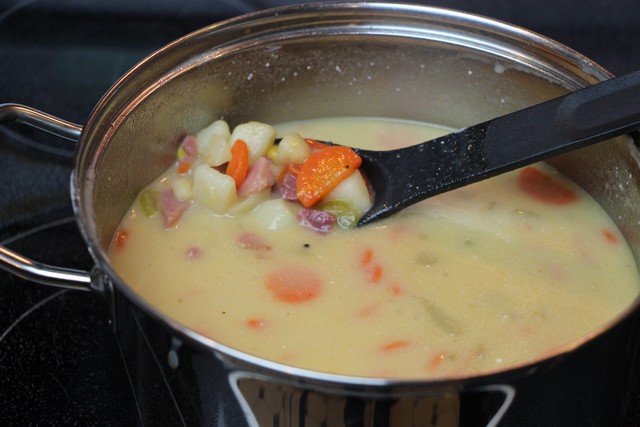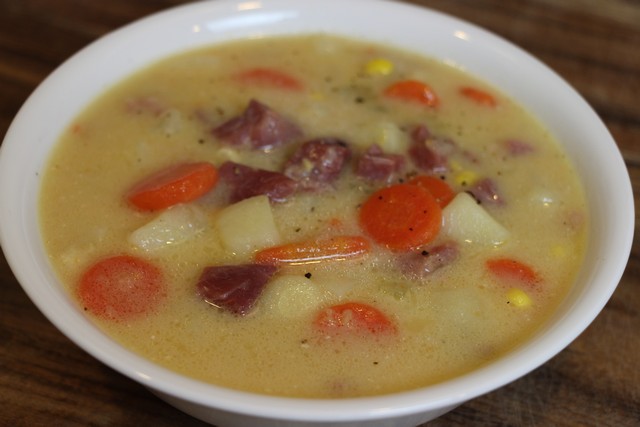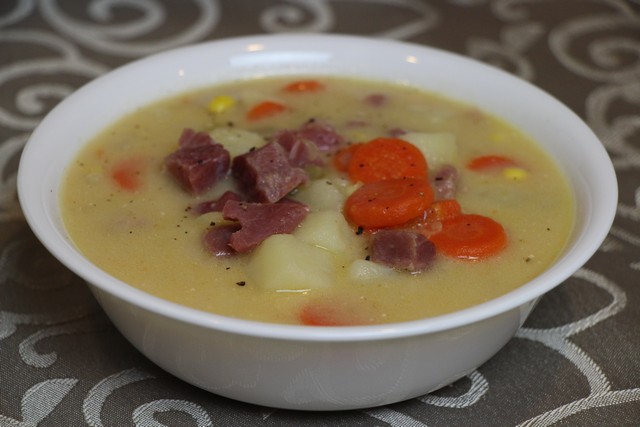 Rich Homestead Sour Cream Ham & Potato Soup
The combination of stock, drippings and loads of ham and goodness makes this soup extremely rich and flavorful.
Author:
Terese at www.thecountrybasket.com
Ingredients
3½ c ham stock
3 medium potatoes, cubed (3 c)
2 medium / large carrots, sliced (1½ - 2 cups)
1 stalk celery, thinly sliced (1/2 c)
¼ c (1 x-small) finely chopped onion
¾ c corn
2½ c (or more) cubed or shredded leftover ham
½ c water or vegetable broth
1½ Tbsp flour
salt / pepper to taste
¼ c sour cream
¼ c heavy cream
Instructions
In a pot, just barely cover the ham bone and pieces of cartilage with water and a tablespoon vinegar or lemon juice. Let simmer for 6-8 hours or longer. All day is fine.
Strain, and discard of the bone and pieces. Refrigerate or freeze the stock until ready to use.
To make the soup, mix together stock, potatoes, carrots, celery, and onion. Let simmer until vegetables are tender.
Add corn and ham.
Whisk together water (or vegetable broth) and flour until smooth.
Pour into soup in a small stream while stirring, to avoid lumps.
Let the soup simmer for 3 more minutes until thickened and corn cooked.
Season to taste with salt and pepper.
Remove pot from the heat and let cool for a couple of minutes.
Add heavy cream, then sour cream, stirring very well to combine. Do not let the soup boil after sour cream is added, to prevent thinning or curdling.