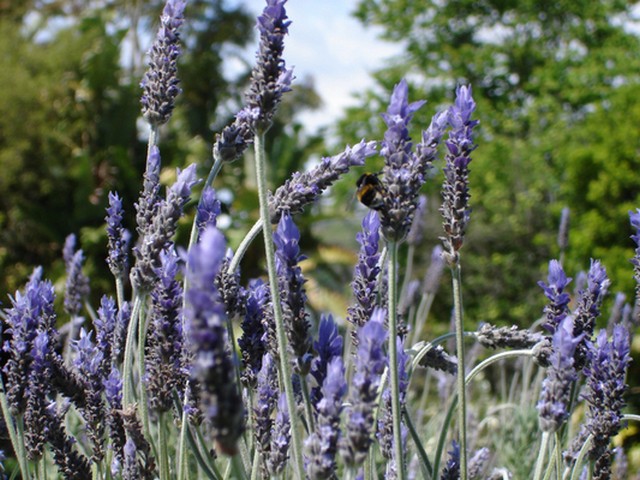 Lavender
This upcoming summer season of 2012, I will be experimenting with planting certain herbs and flowers that are known to repel garden pests, such as tomato hornworms, flies, beetles, and more. This natural form of pest control, adding beauty to our gardens or nutrition to our bodies, sounds so much better than the spraying of chemicals, don't you think? If it works, that is.  Here's an update, written in August 2012: Link to my post Link to Herbs & Flowers for Natural Pest Protection – Update
After reading a variety of articles on the internet and becoming especially interested in a few such plants, I studied each one individually; not extensively, but enough to get a good feel for each plant and its benefits and drawbacks. I found some information that surprised me and helped me make a decision on whether I should plant them or not. In this post I will go through which ones I will or will not plant, and the reasons behind it, though the information below is only meant to give you an idea of what to expect. I am by no means an expert in the field, I don't even have the personal experience as of yet. It is simply information that I have come across while reading, much of it double and triple checked to try to avoid giving you false information. Even so, it is a good idea to do your own, personal research before making a decision on what would benefit your own garden.
One of the things I wanted to find out, was whether the plants are invasive in how they spread. Some herbs can get quite out of control and take over your garden if you don't stay on top of it, and can become more of a bother than what they are worth.
Additional information:
For general information on plants that can be used for pest-, disease-, or critter control, click this link, and this one for more details. If you google "list of companion plants wikipedia", you'll find a very helpful list of plants and information on what they deter, are helped by, thrive next to etc. I prefer not to link to Wiki, but it shouldn't be hard to find.

The plants I was thinking of planting, and the reasons I will, or will not, are: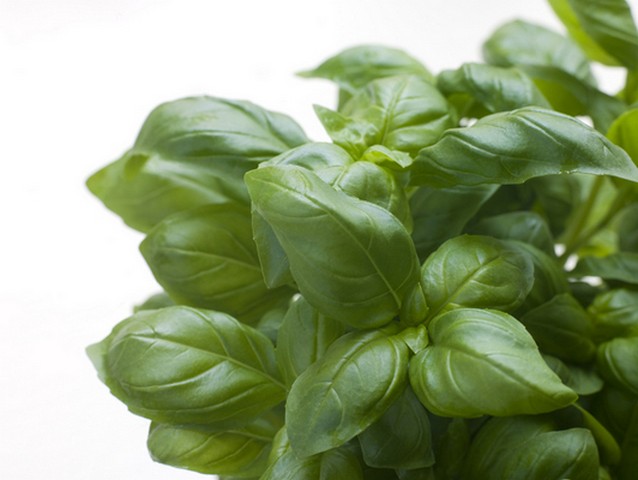 Basil
Basil: Tomatoes are improved if basil is planted by them. Repels: Mosquitoes, aphids, flies, and tomato hornworms. It is somewhat invasive, but seems easy enough to control by snipping off flowers before they wilt and go to seed. This makes sense to do anyway, as the leaves are more flavorful before flowering, and large stalks can be pruned off as a way of stimulating the plant to grow into a bushier plant. The leaves on the stalk can in return be used for pesto, salads, or other dishes, or frozen in ice cubes for storage. Basil is definitely a go for me. I will plant them, probably close to the tomato plants, though not so close that they end up in the shade.
Borage: Repels tomato hornworms and cabbage worms (cabbage worms also love broccoli, just so you know!) Attracts beneficial bees and wasps, for better pollination of other plants. Can add trace minerals to soil. I was definitely going to plant borage, (I even purchased seeds and have already planted them!!!), until I found out that it can be a bit of a nasty plant to deal with. They grow very large (3 feet tall, sometimes 5 feet!!), are full of scratchy, little hairs, and can be hard to work around. The stems can grow very thick and possibly require a hack saw to remove. As if this isn't enough, borage can also spread and become quite invasive if you allow them to go to seed, and they will sometimes sprawl. The flowers, however, are edible, as are the young leaves, and some find the plants attractive. The leaves can be used to make tea. I will not be planting this herb; it sounds like too much to deal with for me. I am planning to get rid of the tray I seeded.
Chives: Helps deter carrot rust flies and Japanese beetles, and produce beautiful, purple flowers. It is said that they can be invasive if you let the flowers go to seed, but I just love putting these edible flowers in a skinny vase in my kitchen, so I don't think mine will ever have the chance to go to seed and spread themselves. I had a plant for a couple of years with no spreading, other than the plant itself growing a bit larger, but had to pull it due to all the grass that was growing in the middle of it. My mother had chives all throughout my childhood and never had a problem with spreading. Chives have a mild onion flavor and are a great addition to many dishes. I will be planting again, probably in corners where they won't be tilled up. They will over winter year after year and slowly grow larger, and can be divided if necessary.
Dill: If planted away from tomato plants, they will attract, and keep hornworms away from tomatoes. They should be planted away from carrots in addition. I am OK with planting dill, though they do spread terribly if you let them go to seed. To prevent this, I did a lot of flower picking when I had dill. We don't use dill enough to want to keep it every year, but this year I will probably plant only a little bit; perhaps one or two by my cucumbers, as dill attracts bees, which help with pollination.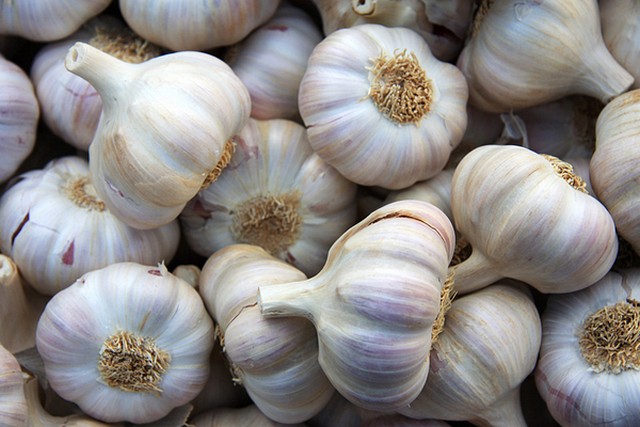 Garlic
Garlic: Planted by carrots, garlic will repel flies, and otherwise they can also repel rabbits, chipmunks, squirrels, and other critters, or mosquitoes and snails. Some people say they also repel vampires… Hmmm… I have never seen any around here, but now that my garlic is in ground anyway, I suppose we are safe! Planted throughout the garden, garlic can keep many pests away, and diseases too! Garlic is not fussy, but it is a heavy feeder, so keep that in mind and fertilize as needed. They should not be planted near beans as it can stunt the growth of these. I already have 18 garlic bulbs growing happily in my garden, so I'm happy to know about all the benefits that come along with planting garlic. I will also stick in some cloves here and there throughout my garden, in addition to planting them around the perimeter of my strawberry patch, to see if I can repel those chipmunks that love to chew off a piece out of each of my berries.
Lavender: Not only are these flowers beautiful, but they also attract beneficial insects to your garden. In addition, they repel fleas and moths, and though they can spread a little bit by creating new plants or just grow larger, they are not invasive. So yes, definitely, I will be planting these, and in fact, they are already seeded in egg cartons. I will be planting them a little here, a little there, for overall attraction, and to help attract insects that will be a benefit to my garden both in the way of pollination, and also by eliminating pests or insects that will damage my plants. Lavender can be used in cooking and recipes.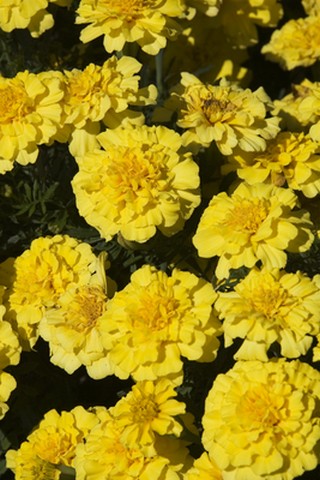 Marigold
Marigold: That's a hard one!! There is a lot of conflicting information around on whether marigolds help your garden or not. People seem to either love them or hate them. The flowers are very attractive looking, and in addition, they often have a strong scent that you may or may not care for. Due to their strong scent, they are supposed to repel a number of insects, pests, and critters, though this information is not proven. It is proven, though, that certain varieties help rid your garden for damaging nematodes, and they do add beauty. Some say marigolds deter rabbits, and others have seen rabbits eating these flowers! The stronger the scent, the better; that's why French or Mexican varieties are the ones recommended for pest control. They do attract beneficial insects such as bees and wasps. However, the reason people don't necessarily want them in their gardens, is that they also tend to attract snails and spider mites. And I'm not sure what to make of that… Altogether, will they be good or bad for my garden? On one message board where this was discussed, it seemed as if people in zones 6 and above were the ones complaining about spider mites. A couple of my friends, here in zone 5, informed me that they always plant marigolds, and never had a problem. Could it be a zone-thing? The warmer the zone, the bigger the problem? On the other hand, if you already have a snail problem, marigolds can be helpful in how snails will eat the flowers rather than your veggies. Do not plant near cabbage or beans, as they can act as herbicides toward these. I think I will take the chance on planting them since it doesn't seem to be a problem around here, but will double check with a plant center to see what they say about it. I was hoping to plant them by my beans to help control the pesky been beetles that I've struggled with, but now that I found out that they cannot be planted with beans, I'll have to think of something else. Perhaps I will look into starting a ladybug garden? That's for another post, another time!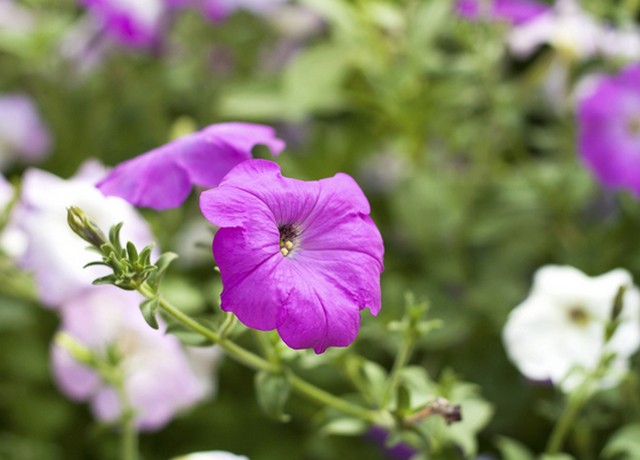 Petunias
Petunias: Aaah, there we go! They repel bean beetles!! And they can be planted near beans! Just what I needed to know! I was already planning on planting these in my garden, and now I am even more sure that I will. They also deter leaf hoppers, asparagus beetles, Japanese beetles, aphids, and a lot of other bugs. Sometimes petunias act as traps by getting pest bugs to eat them in place of the vegetables they otherwise would be attacking. A lot of vegetable plants will thrive when petunias are planted close by, as petunias trap so many bugs and pest insects. I will be planting petunias all over the place, probably, but especially near my tomatoes, broccoli, beans, potatoes, peppers, and basil.
Oregano: Last, but not least, oregano is an herb with great beneficial medicinal properties, and of course it is commonly used in cooking as well. Oregano repels aphids, cabbage worms, and cucumber beetles, and possibly other pests in addition. I will not be planting oregano, because it seems too invasive for me. These plants can be controlled somewhat by putting in pots, even pots in the ground; you can make large holes on the bottom of the containers and stick them right down into the soil to prevent them from creeping or spreading out runners, though you'd have to pull out the pots now and again to make sure they are not rooting themselves out of the pot. In addition, they will seed themselves, and since I don't need oregano that much for food, this plant presents more trouble for me than it's worth. Some herbs can be planted successfully inside, but oregano is not one of them as it can attract nuisance bugs and damaging insects into your home if you do.
So this is my plan for now. I will update later with a link to a new post when all is said and done, to let you know how everything went.
UPDATE: Here is my post to update you on how it went (as of August 2012), the results, and what I thought about it: Link to Herbs & Flowers for Natural Pest Protection – Update
Also, I have to let you know about one more thing that I tried later that really worked well: I discovered that my basil plants had been attacked by small slugs, and I read that sprinkling coffee grounds around the base of the plants would help as it is too scratchy for them to slide over it. So I put a decent amount down, and no more slugs! Awesome!! Here's a picture, and you can see some holes in the leaves and the coffee around the base: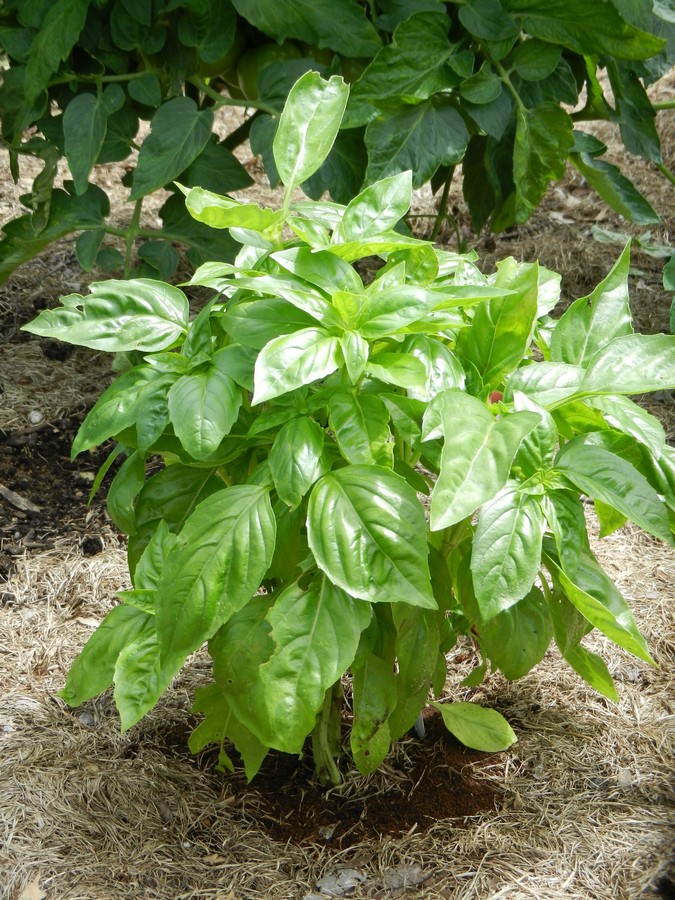 So there you have it, my attempts to use natural pest control in my vegetable garden such as herbs, flowers, attracting beneficial insects, and even using coffee grounds!