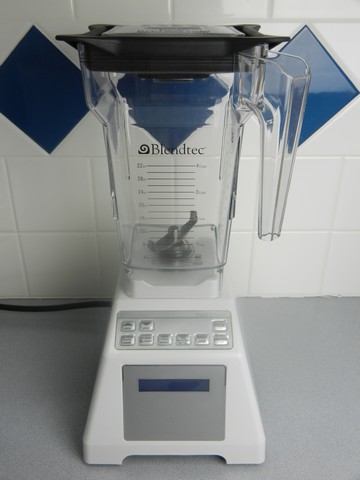 Recently I blogged about using a powerful blender to make whole juices ("Making Whole Juice: Vegetables, Fruits, Berries. Recipes"), and comparing blenders like Blendtec, to the extractor juicers Hamilton Beach and Breville ("Juicing: Comparing Blenders to Extractors.") In my post "Juicers: Comparing Breville to Hamilton Beach," I  do a comparison of these two extractor juicers.
But first I'd like to point out, regarding our decision to purchase a new blender, why Blendtec was the winner for our household. Our old blender could not keep up with crushing ice or other hard items, so we knew we needed something far more powerful. Blendtec and Vitamix seem very similar to me, though Blendtec has a couple of additional features that we love, and has proven itself more than capable of meeting our needs.
Both machines are great options for making whole juices, smoothies, and other foods such as hot soup or ice cream (OK, I don't know for a fact that you can use a Vitamix to make ice cream, but it seems like you could. You can in the Blendtec.) My husband actually purchased our Blendtec as a surprise, and I couldn't be happier with his choice!! (And no, this is NOT meant to be an advertisement, and I don't get as much as a penny for writing this blog entry. I simply love my blender, that's all.)
The best price I have found of the model we own of Blendtec, is at Amazon. Costco carry them as well, but Amazon beat them in price.
Why we prefer Blendtec over Vitamix:
Some benefits to Blendtec that makes it much more attractive to us than Vitamix, are:
It fits on the counter top underneath the cabinets, while Vitamix is too tall. This feature is very important to me, as this is what allows me to keep it on the counter. Keeping the machine on the counter makes it a lot more convenient to use for me, instead of having to drag it out of a cabinet or storage somewhere, causing me to think twice before hauling it out to use it.When I purchased my food processor, I decided I didn't want it on the counter top, and "conveniently" stored it in a cabinet close by. Well, it wasn't convenient enough, and I very rarely ended up using it. Now, both machines are right there where I need them, and are now frequently used, especially the blender.
I thought it was interesting that the blades in the Blendtec, to the contrary of Vitamix, are not sharp, like you'd expect. They are, in fact, completely dull, and you can touch them without getting cut. That means there is no risk of turning sharp blades dull when adding ice or other hard ingredients, since they are supposed to be dull anyway. So they're already dull, and that's great! They chop like champions! This sure is a powerful machine!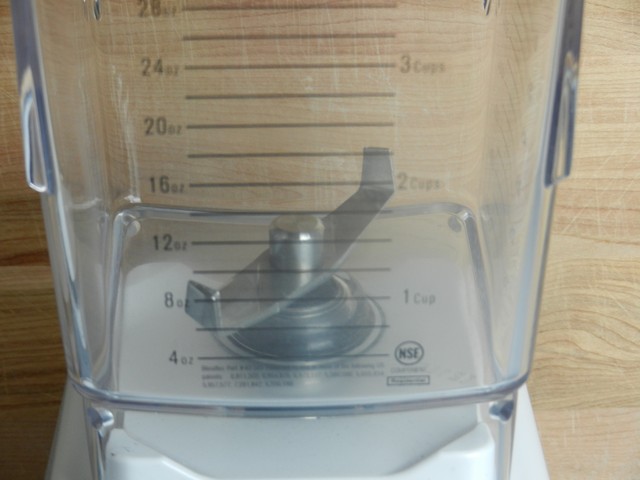 I also like the programs that the Blendtec blender offers; you choose the one you want, click it, and the machine does the job and stops when finished, while you go about other activities.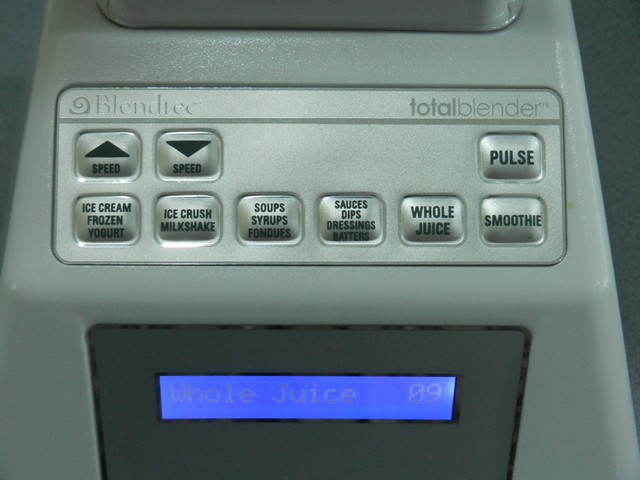 Have you heard of the show "Will it Blend?" Take a look at these fun little videos and watch the craziness!