Fårikål, or Lamb & Cabbage, is an old, traditional Norwegian dish loved by young and old in Norway. It is often on the menu in the fall when lamb is in season and very inexpensive. Lamb meat is a favorite among many Norwegians, and simmering with cabbage is one of the most popular ways to prepare it. This authentic recipe is very easy to make, and even cheap, tough cuts become tender and juicy when fixed this way.
Traditionally, this dish is served with boiled potatoes and plenty of lamb broth ladled overtop. Fårikål recipes throughout the country are usually very much the same, using only five ingredients: lamb, cabbage, salt, pepper, and water. Some people add a little bit of flour to thicken the broth just a tad. A simple combination, yet so very tasty! Norwegians abroad will sometimes make changes to traditional recipes, but in this post I will show you how to make the original, authentic Norwegian Fårikål.
Directly translated, fårikål (får-i-kål) means "lamb in cabbage". Får is another word for lamb or sheep, and kål simply means cabbage.
We Norwegians are very proud of the quality of lamb meat produced in our country; sheep and their lambs usually graze in the mountains all summer long where they enjoy fresh air, lots of space to roam, clean mountain water, and an all-you-can-eat buffet of natural feed. Drivers must always keep an eye out when up in the mountains and be ready to stop at a moment's notice by herds of sheep or goats in the middle of the road!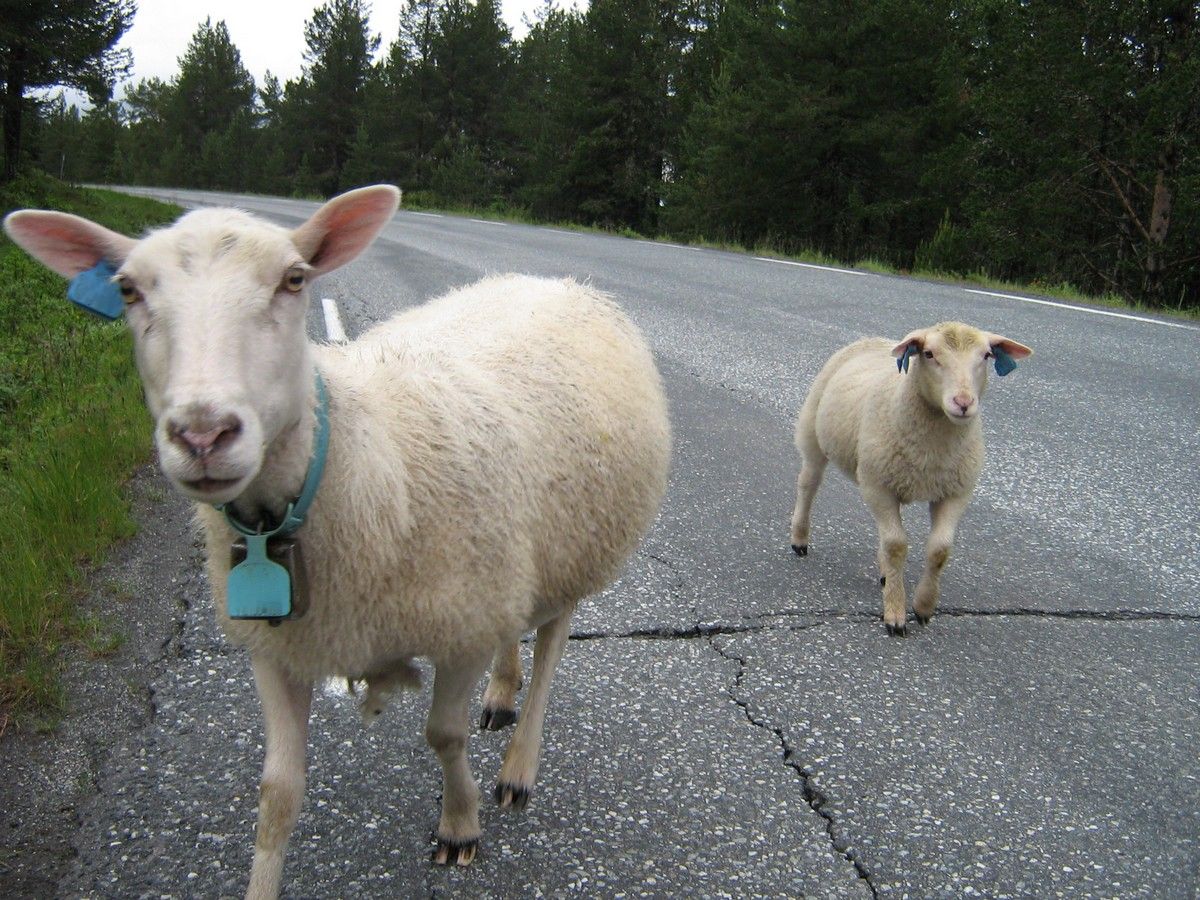 Preparing Fårikål / Lamb & Cabbage:
To prepare lamb and cabbage, start out by cutting up a medium to large head of cabbage. Although it may seem like too much to use an entire head, the cabbage will shrink and soften considerably after cooking for two hours with the meat, so you'll need more than you think. I like to cut it into large wedges to keep the pieces a little bit more substantial in the end. Put some of the cabbage on the bottom of a large pot. Set the rest aside for now to layer with the meat.
Below, my daughter is helping me cut up the meat, removing the netting first. We use leg of lamb, which is a very expensive and fine cut and actually a bit wasteful for this use. Cheaper cuts will work just as well, if not even better! But, being that we live in the US now and don't have access to cheaper cuts, this is the least expensive way to go for us. You can use meat with or without bone.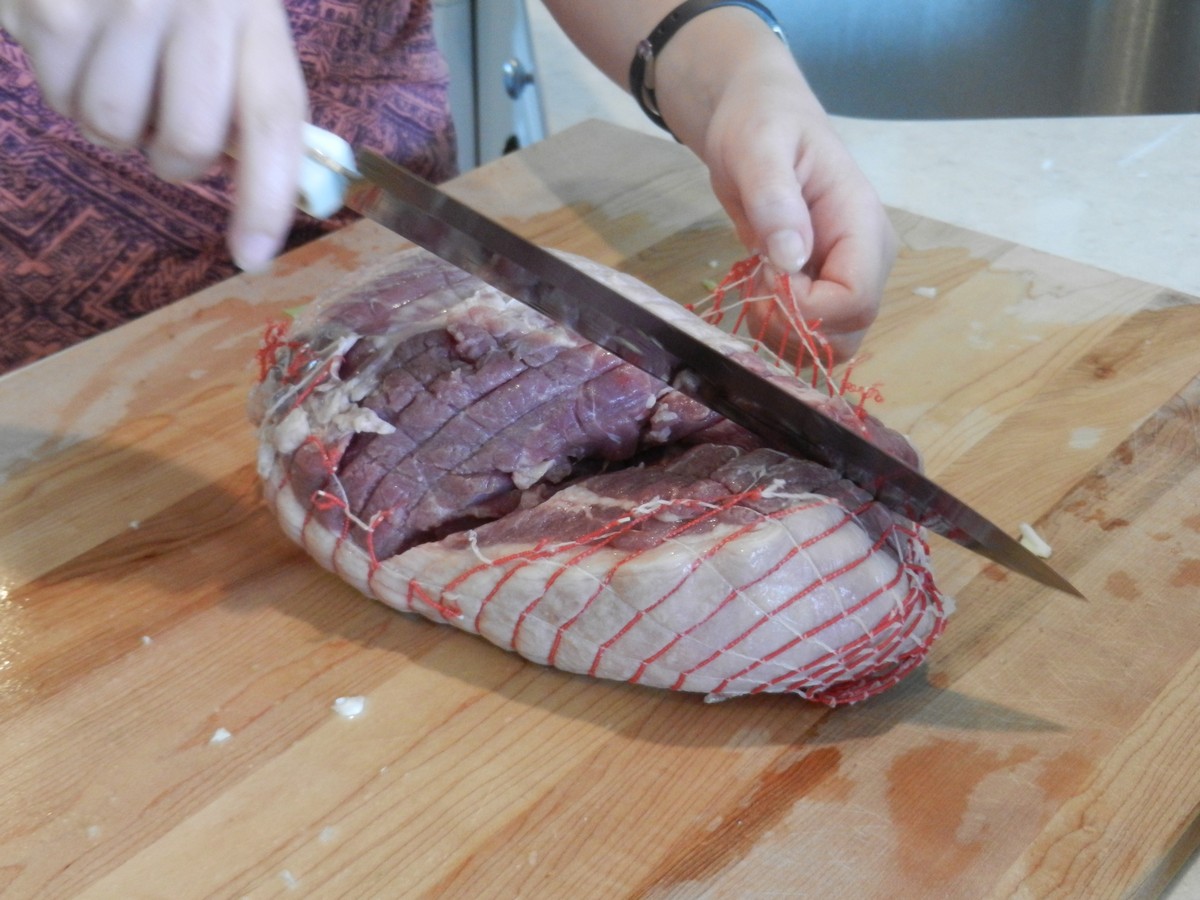 Cut the meat into pieces of around 3 x 3 inches or so, then layer them in the pot on top of the cabbage. Sprinkle generously with salt, then put the rest of the cabbage on top. You can do more layers if you want to with some salt in between, but start and finish with cabbage. You can also sear the pieces before cooking if you'd like, although Norwegians normally cook the pieces as they are without searing.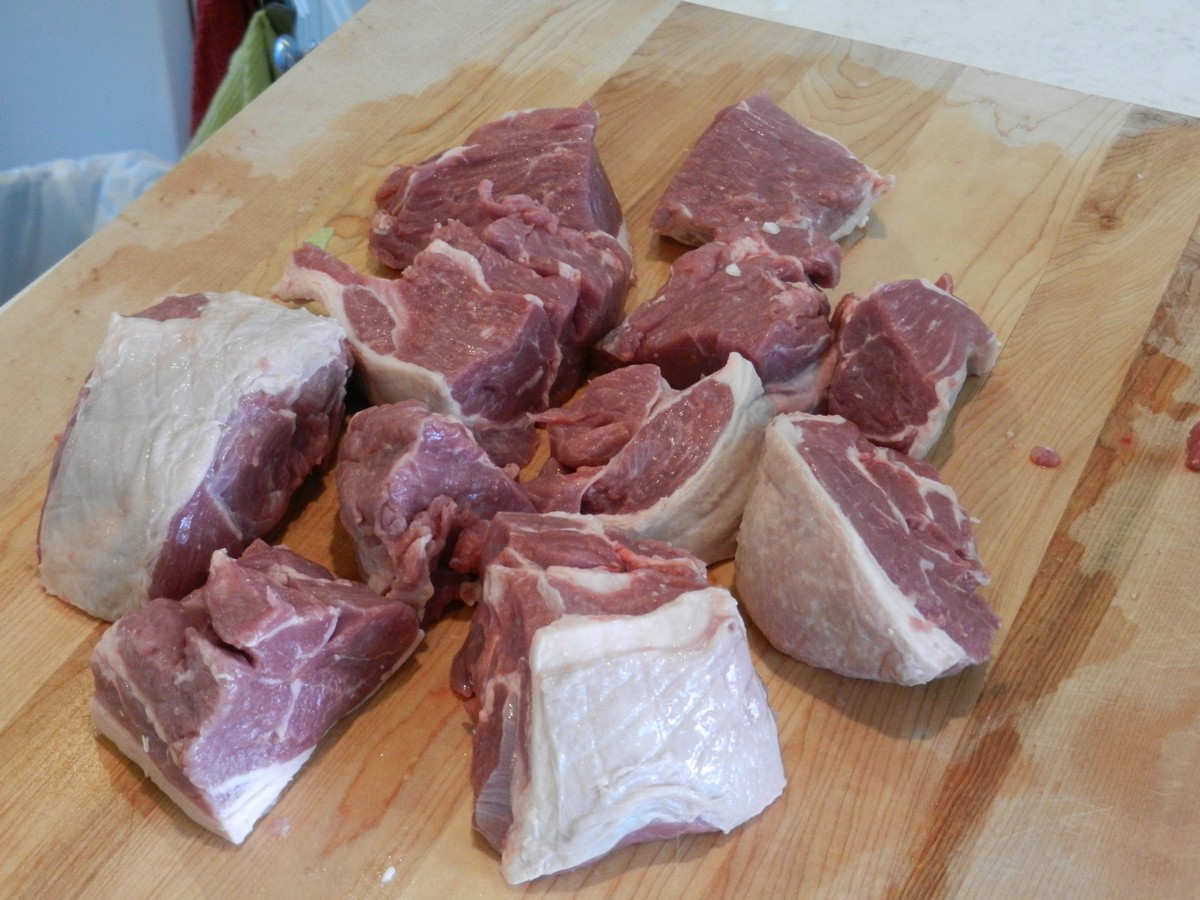 My big pot is an All-Clad, which is a fabulous pot. In later years I have discovered Cook's Standard, a brand I have found to be just as good as All-Clad but much more reasonable! I do have a smaller Cook's Standard pot and it is absolutely wonderful!
Add a bit of water to the pot. How much water to use depends on who you ask! Some people fill the pot all the way up, some cover the meat half way, and still others will use only a little bit of water on the bottom of the pot. During cooking the cabbage will shrink and add juice, as will the meat, so you'll get a lot of wonderful broth in the end regardless. However, when using a small amount of water, keep an eye on it and refill if needed to keep the pot from drying out.
Also add a tea strainer or something similar (even a tied up coffee filter will work), filled with whole, black pepper and place it in the pot with the meat and cabbage.
In the picture below, the tea strainer has been pushed down into the water. Cover the pot, bring to a boil, and let simmer on low heat for 2 – 2 1/2 hours. The water should be boiling gently, but watch it so it doesn't stop boiling entirely.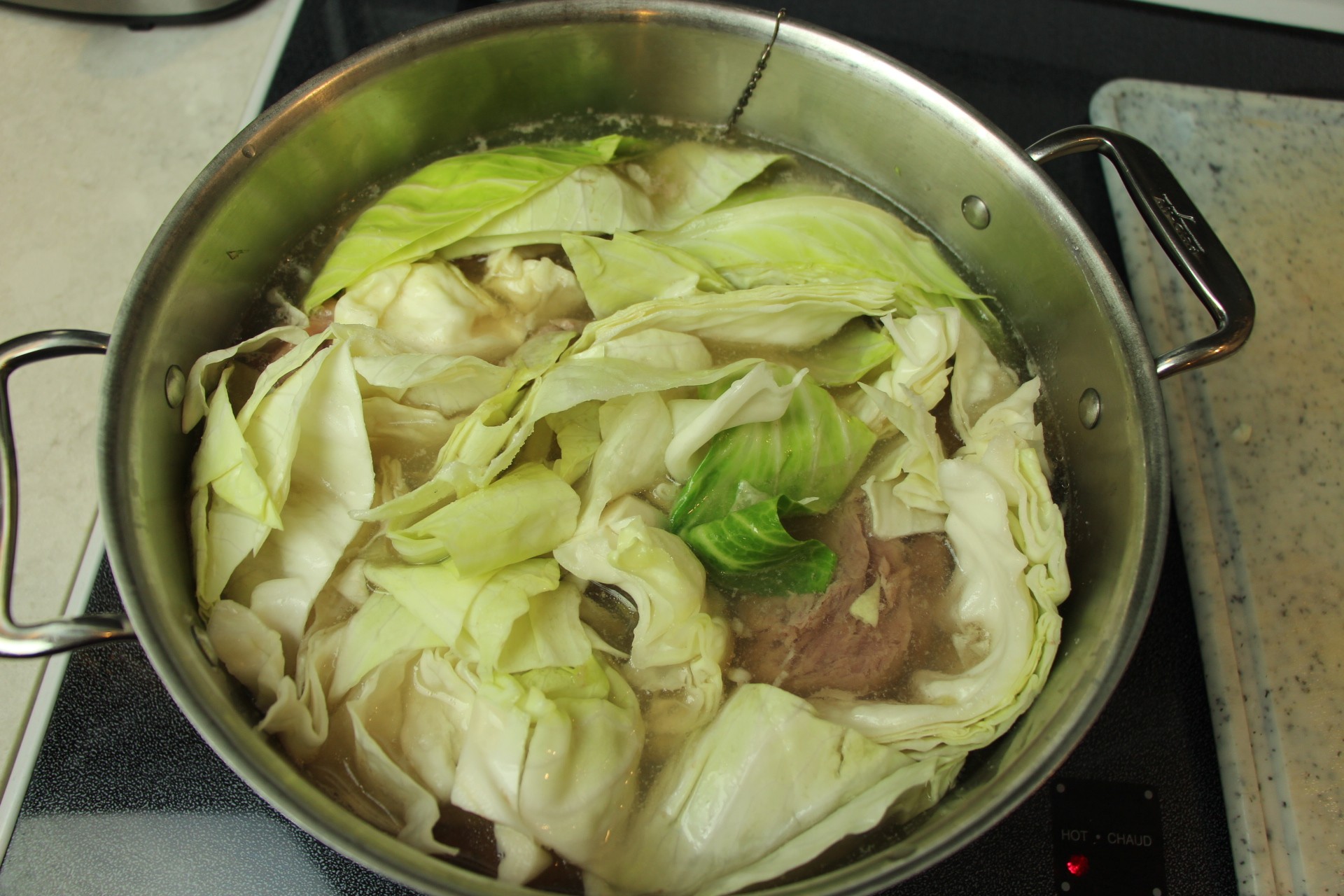 Traditionally, fårikål is served with boiled potatoes, which should be prepared while the meat is cooking. Peel them, cut them in half, and cover completely with cold water until ready to cook. Set them aside for now. They will take a half hour to boil plus the time it takes the water to heat up. Make sure to add some salt to the water before boiling the potatoes.
The meat in the next picture is almost done, so it's time to get the potato pot on the burner. The cabbage is turning more and more brown, saturated with lamb broth. This is a good thing! Yum! The meat is done when it's fork tender and easy to pull apart.
Look at that wonderful, tasty broth!
The fårikål is finished, and we can't wait to dig in! When the potatoes are tender, drain the water and serve with the meat and cabbage. On your plate, cut the potatoes into bite-size pieces and completely drench everything with the lamb stock! Also keep salt and pepper shakers at the table to sprinkle on more as needed.
I hope you will enjoy this recipe! If do you try it, I would love it if you would leave a comment and star rating below!
This authentic Norwegian Lamb & Cabbage dinner is truly special to Norwegians, and nothing can quite beat it! It's easy to prepare, and being that lamb is inexpensive during the fall in Norway, it only makes sense for us to make it often! Since this is a traditional dish and part of Norwegian heritage, it makes it all the more special to us as a recipe worth passing on to future generations! Happy Cooking!
Norwegian Fårikål, Lamb & Cabbage
Ingredients
1 medium to large head of cabbage
1 leg of lamb or 4-5 pounds of other cuts of lamb, with or without bone
2 cups water
salt
4 teaspoons whole, black pepper
Instructions
Rinse and cut the cabbage into large wedges.
Cut the leg of lamb into several large pieces.
Pour the water into a large pot or dutch oven.
Layer the cabbage and lamb in the pot along with salt between layers, starting and ending with cabbage.
Put whole pepper inside a tea strainer or other enclosure to keep it contained, and place into pot along with the meat and cabbage.
Cover the pot, bring to a boil, then lower the temperature to a very gentle boil.
Be careful not to let the pot go dry. Add more water if needed.
Let cook for 2 - 2½ hours until the meat is fork tender and easy to pull apart.
Serve the lamb & cabbage with potatoes boiled in lightly salted water, and pour plenty of the lamb stock over potatoes and meat. Also keep salt and pepper shakers at the table to add more as needed.