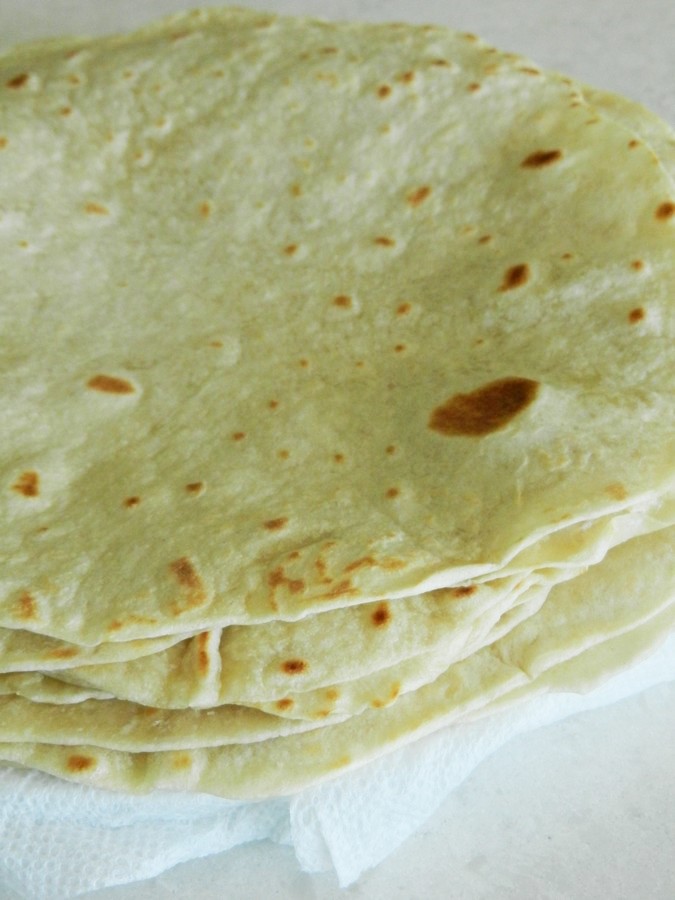 Have you noticed the soft and tasty flour tortillas at nice restaurants? When compared to the mass-produced packaged ones from the supermarket, there's a huge difference! Here's how you can make tender, flavorful, soft flour tortillas right at home! Using butter rather than flavorless oil plus enough salt to bring out flavors, these tortillas are silky and absolutely delicious! This recipe is not hard to make, it just takes a little bit of time. It can be nice to grab a bag at the store for convenience at times, but once you've tasted your own homemade tortillas you know what you're missing when you go back to store brands!
If you decide to try this recipe, I would love it if you leave me a star rating and a comment at the bottom of this post as it really helps me out. Thanks in advance!
Note that in the following pictures I have doubled the recipe, so it looks like a lot more than you'll get by following the recipe as is.
To Make the Dough:
Start out by cutting cold butter or lard (pork fat) into flour, salt, and baking powder until only small lumps of butter remain. Butter adds a lot of flavor! I use a pastry cutter to get the job done easily.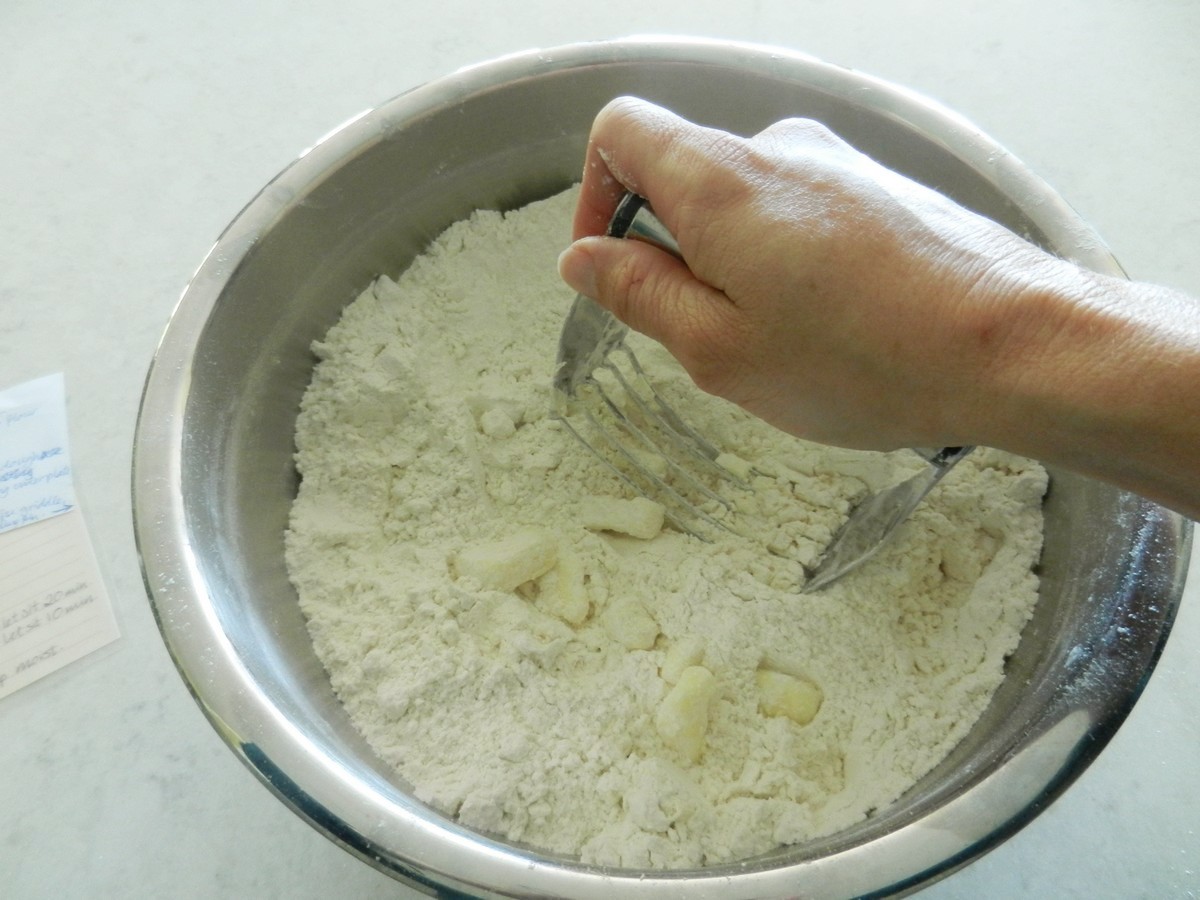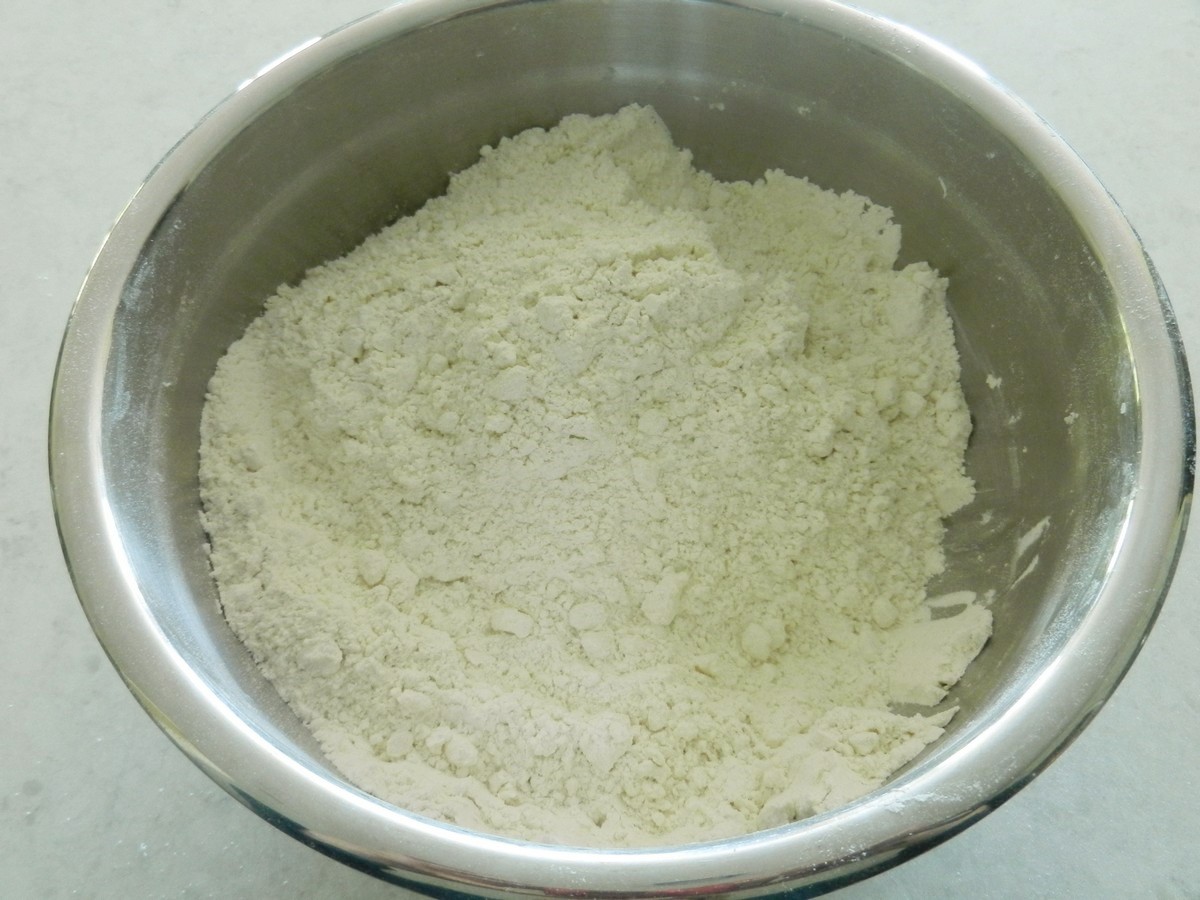 Add hot water or milk.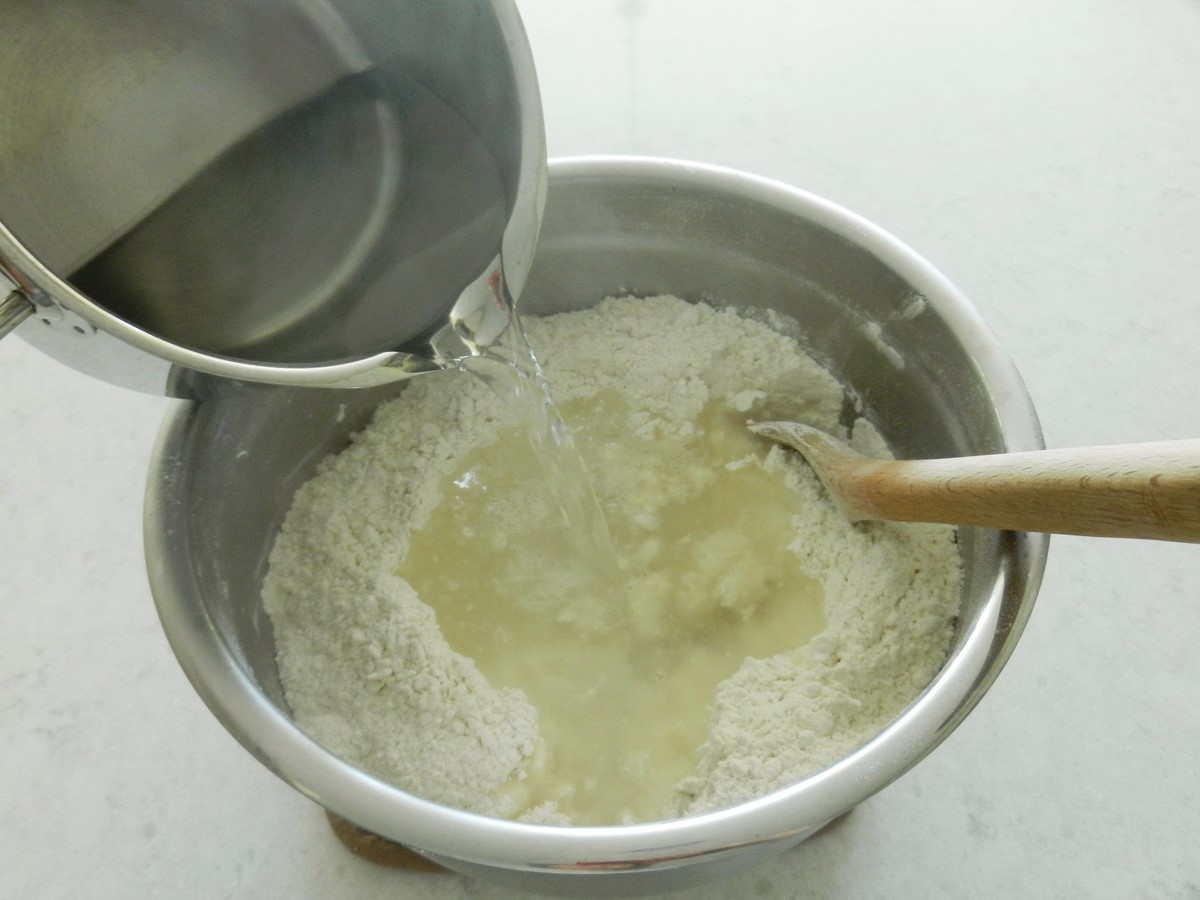 Stir until completely combined and a dough has formed.
Adjust the flour or liquid if needed. You want a fairly soft dough that can still be picked up and handled without leaving your hands sticky. Do not add more liquid until most of the flour has been worked in, as dough often seems too dry in the beginning. Flour has different degrees of moisture, so it is important that you use your own judgment and adjust if needed.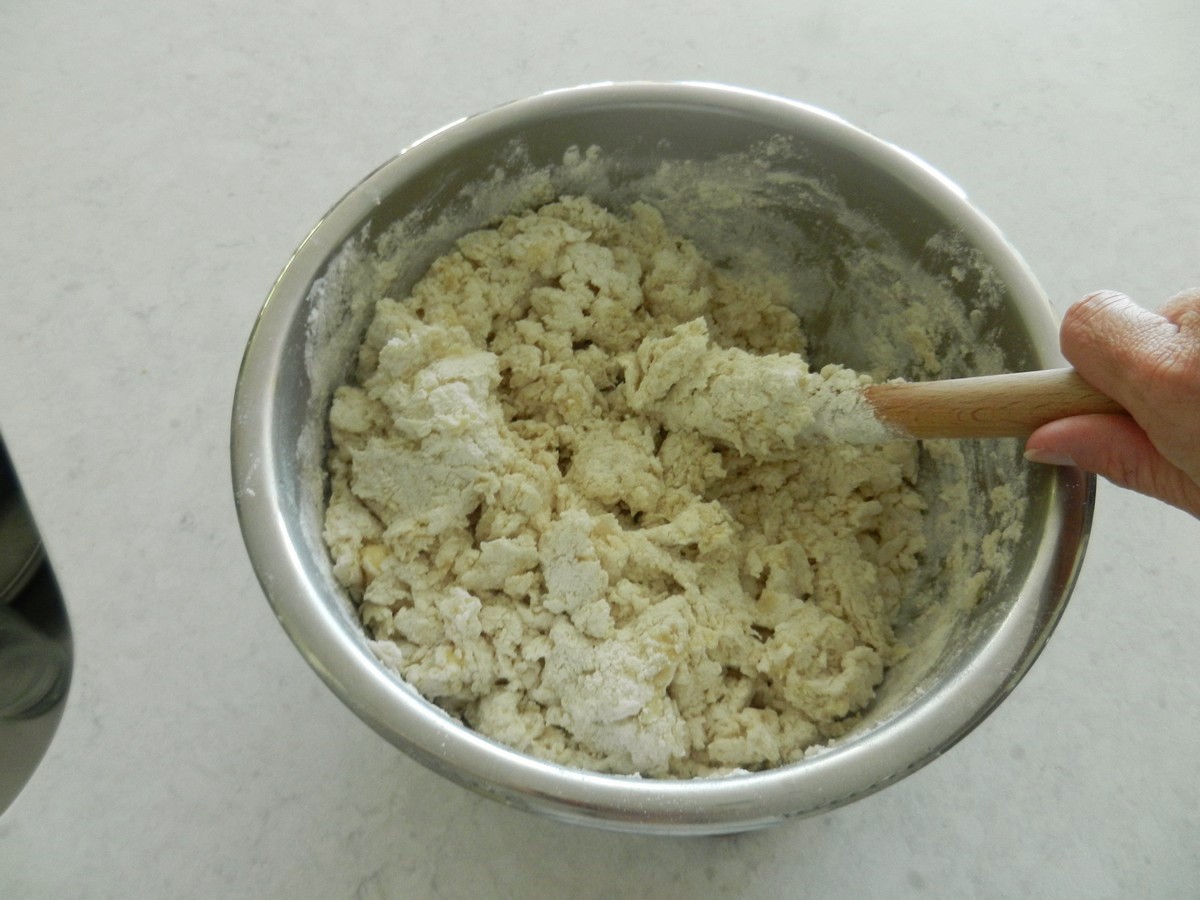 Beat this dough with a large, sturdy spoon until nice and smooth, or turn it onto the counter and knead with your hands for a couple of minutes. Even with the hot water used, the dough will not be too hot to handle. It's amazing how fast it cools down, actually! I prefer to knead the dough by hand on the counter as seen below.
When kneading by hand, use the palms of your hands to push the dough down and away, quite firmly. Then fold part of the dough over, turn the dough a quarter turn or so and push down and away again. You repeat this motion over and over until the dough gets a nice, smooth consistency.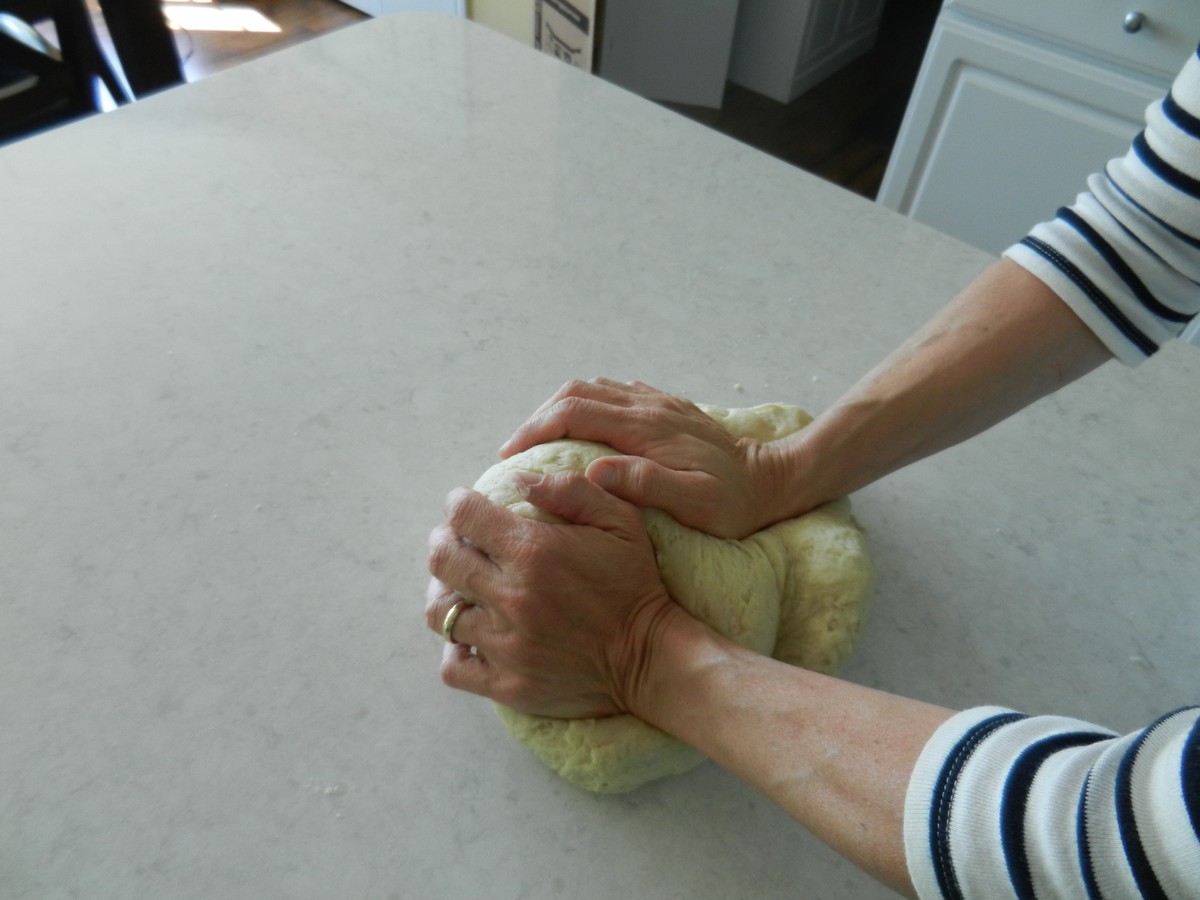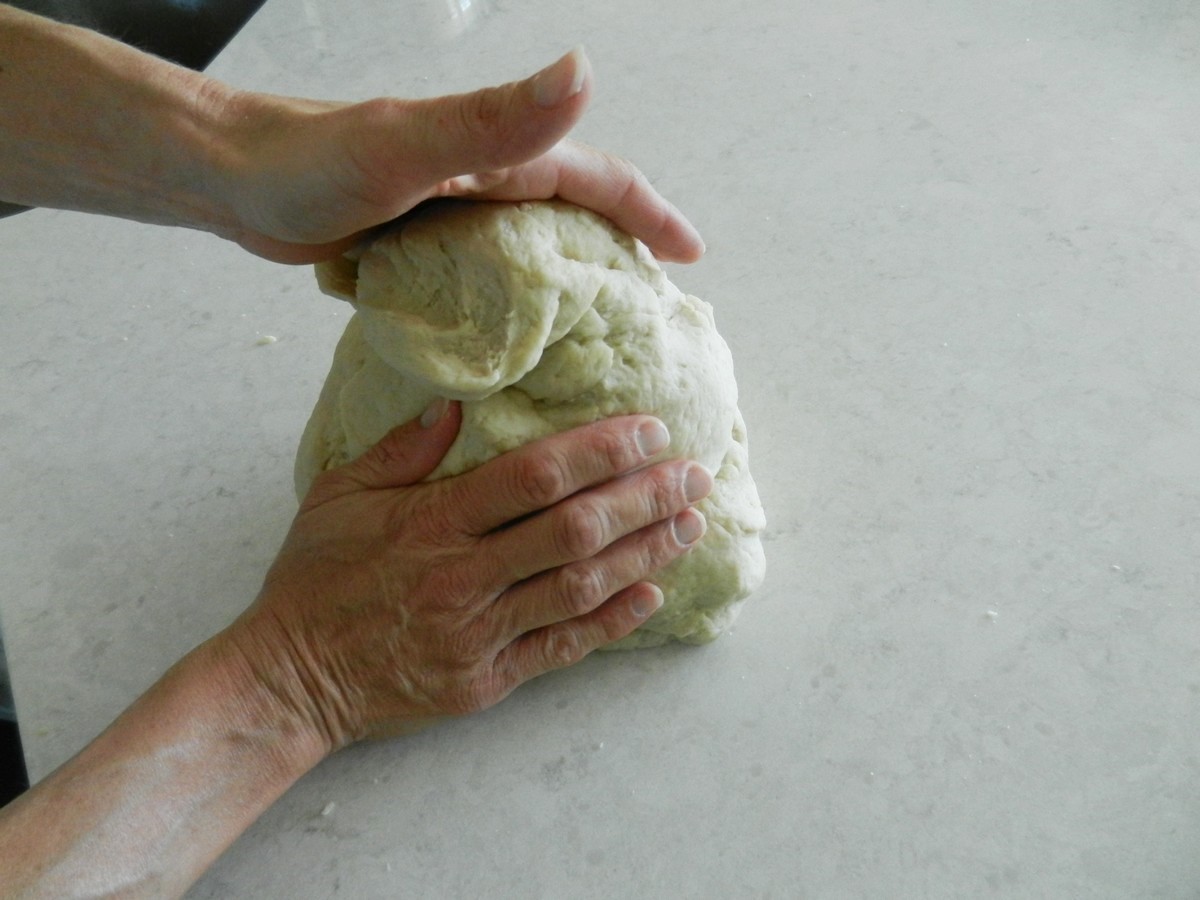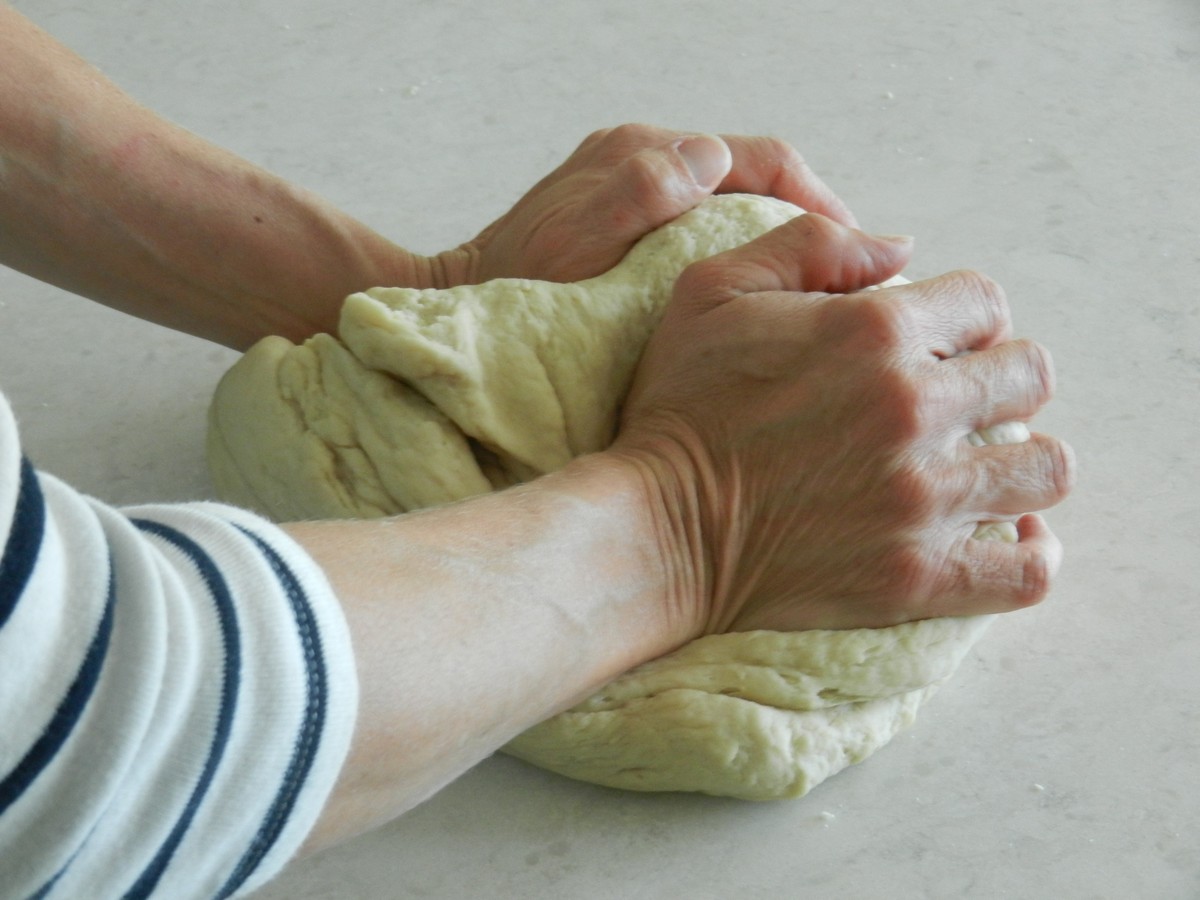 Put the dough back into the bowl, cover with plastic or a lid so it doesn't dry out, and let it rest for 20-30 minutes. Unlike yeast dough, this dough will not rise.  It just needs to rest to be easier to roll.
The wooden spoon in the picture below is the medium sized spoon from a 3-piece OXO set. I purchased two sets in an attempt to clear out as much plastic as possible from my cooking utensils, for healthier cooking. I love them and use them all the time, especially the medium and small ones! They are very sturdy and can handle dense dough just fine.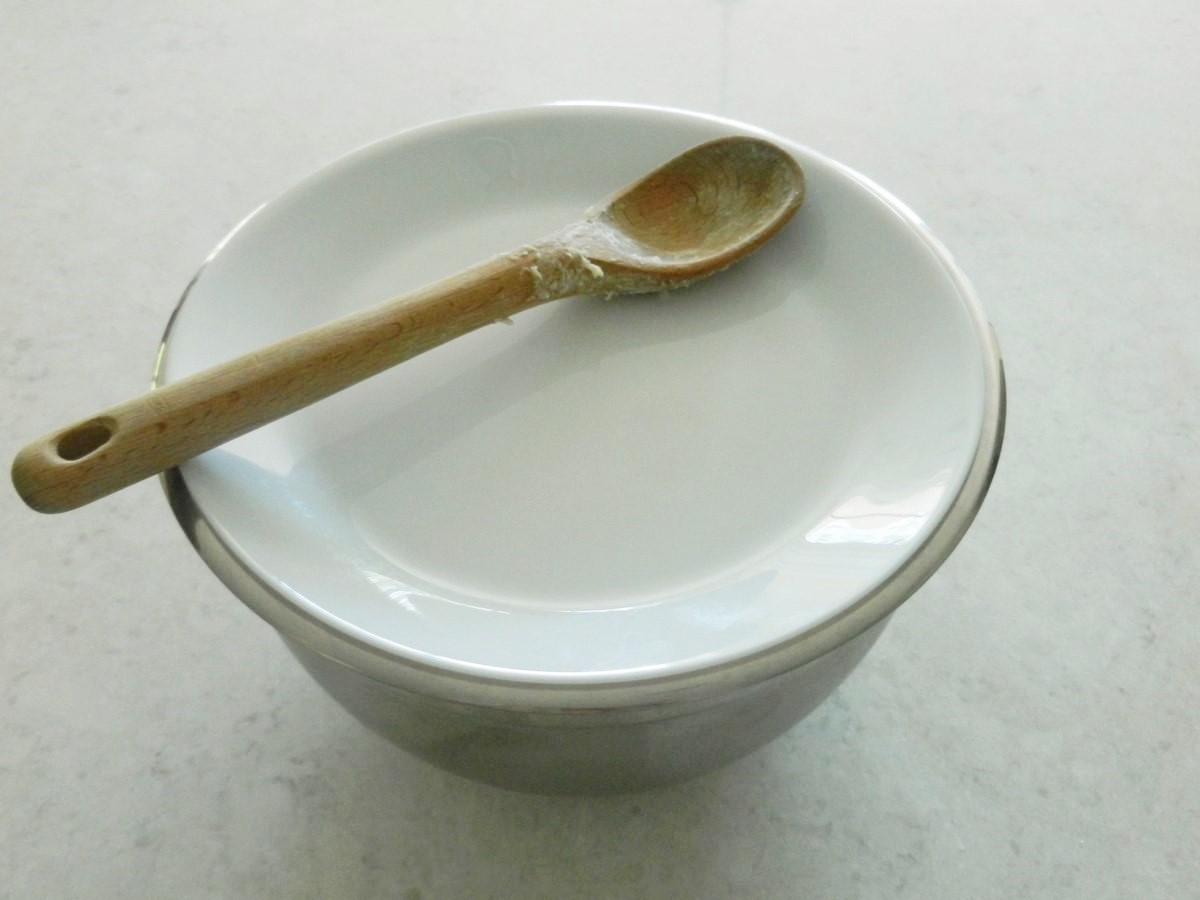 After resting, divide the dough into 8 equal balls. Just cut the dough into quarters, then cut the quarters in half, which makes 8. Use plastic to cover the balls of dough again and let rest for another 20-30 minutes while you gather the equipment needed for rolling and baking.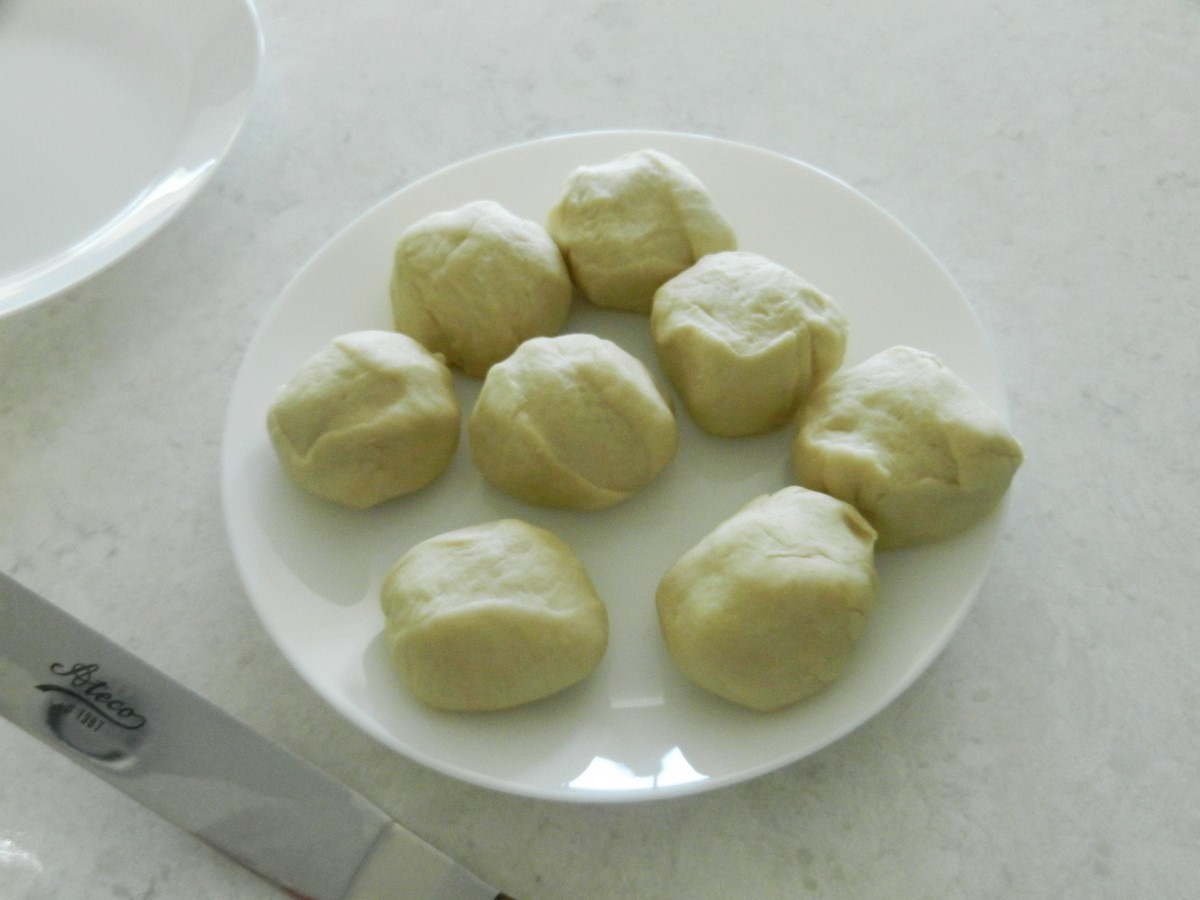 As mentioned at the beginning of this post, I doubled (and then some) the recipe this time, so the picture below shows more than 8 balls of dough.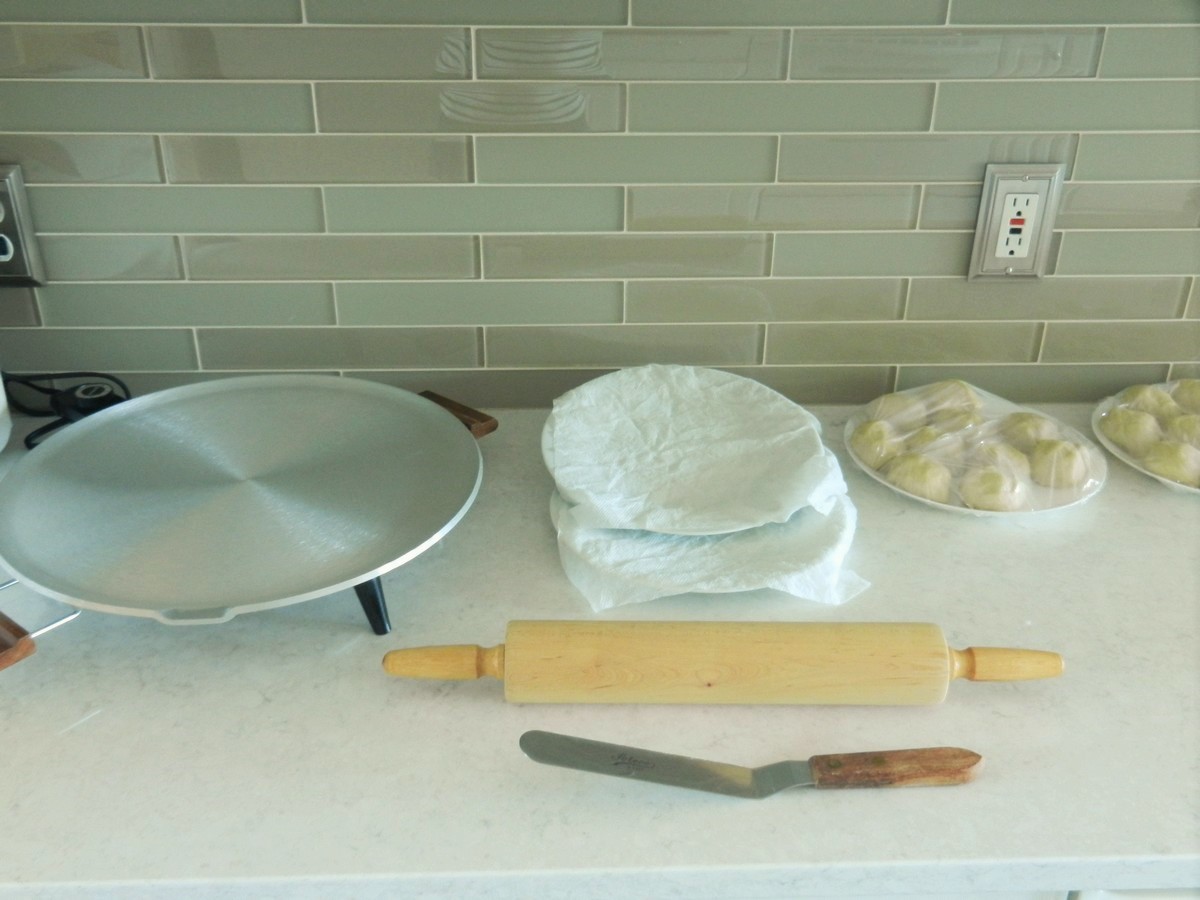 You will need a rolling pin, two plates covered with damp paper towel or kitchen towels, a griddle or large frying pan plus a tool for flipping. I like to flip tortillas using my cake frosting spatula, similar to the medium one in this set from Amazon. The griddle I use is actually a Norwegian lefse griddle that I invested in, which is very large and perfect to fry any size tortilla!
Preheat the griddle to 500° F if possible, and if using a frying pan it should be set at a medium-high heat. Some frying pans will warp if the heat is too high, so use your judgement. Do not grease the griddle or pan but keep it dry and fry the tortillas on this hot, dry surface. They will not stick. The high heat indicated is not a typo; the tortillas will fry quickly at 500°, even less than a minute per side. If you lower the heat, they will take longer to cook and you risk drying them out.
Rolling Tortillas:
Roll each ball of dough into a large 10 inch tortilla, or even larger if you are able to and it will fit it on your griddle or frying pan. Roll them as thin as you possibly can without tearing them! If you need smaller tortillas, use smaller balls of dough in order to keep them thin. Since they thicken a little bit while frying, they need to start out skinny since thin tortillas are more delicate, soft, and pleasant to eat than thick ones. Let each rolled out disk rest a minute before frying.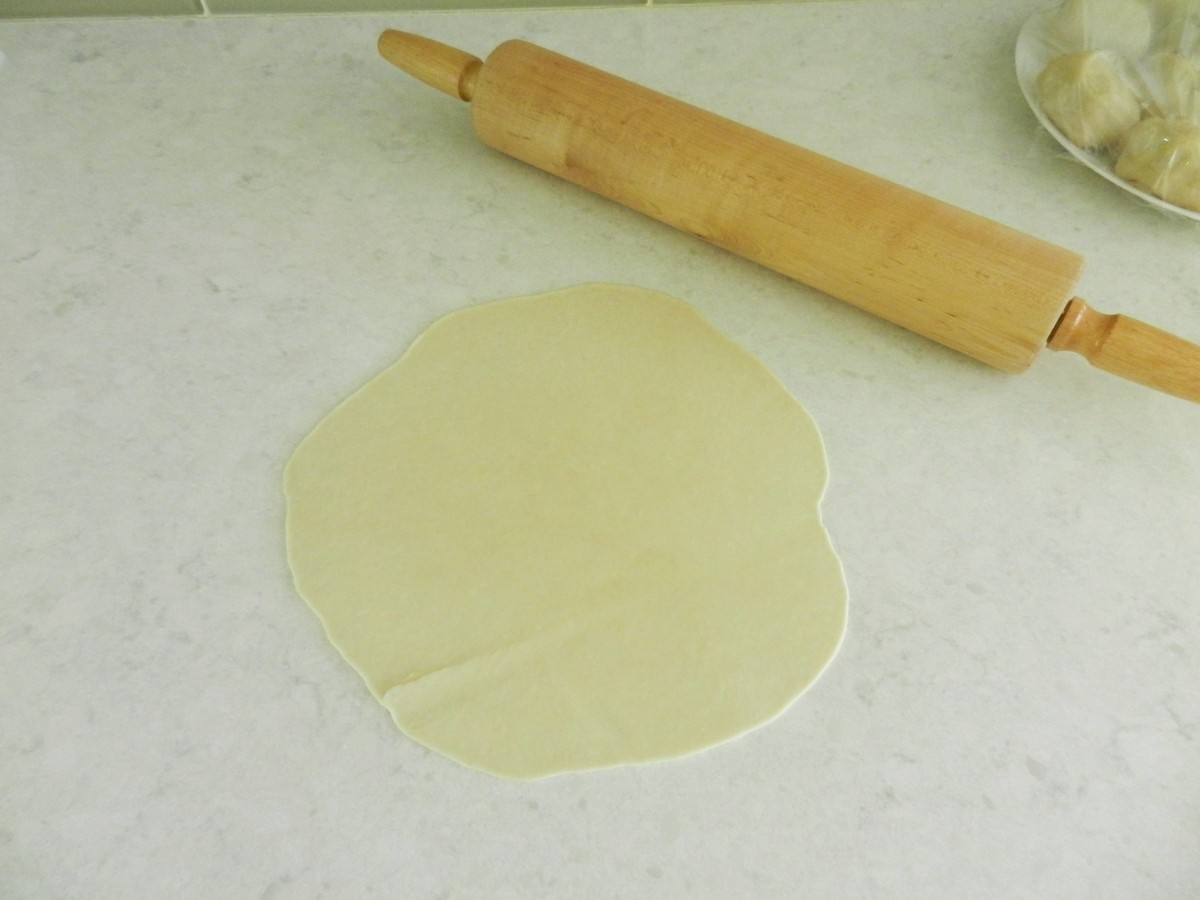 If you have trouble rolling them round, flip the dough while rolling, stretch a little bit and continue to roll as round as you can. You should not need much, if any, flour while rolling as the amount of fat in the dough helps it not to stick much. Avoid extra flour to keep them soft and silky!
When one tortilla is finished rolling, just leave it there and immediately roll the next one. Now the first tortilla is ready to be lifted onto the hot, dry griddle to bake while you roll the third one. Working this way allows each tortilla to rest a little bit to be easier to transfer to the griddle, and it lets you work constantly instead of wasting time waiting in between.
While rolling, I find a rolling pin with handles to be a lot easier to use than one without. Holding on to handles lets you lift and roll long strokes without blinking an eye! It just goes a lot faster when you don't have to pick up the pin itself, especially since the pin itself spins freely while you hold on to the handles.
An alternative to using a rolling pin is to use a tortilla press such as this one from Amazon. If you will be making tortillas frequently, it might make sense to own one. I am contemplating buying one for myself.
Frying Tortillas: 
After the dough has rested a minute and the griddle is hot, loosen the edge a little bit with a knife or other skinny tool; again, I like use my cake frosting spatula. Then pick it up gently, spreading out your hands and fingers as much as possible to hold it stretched out in it's round shape. Then carefully transfer to the hot, dry griddle. Do not use grease on the griddle!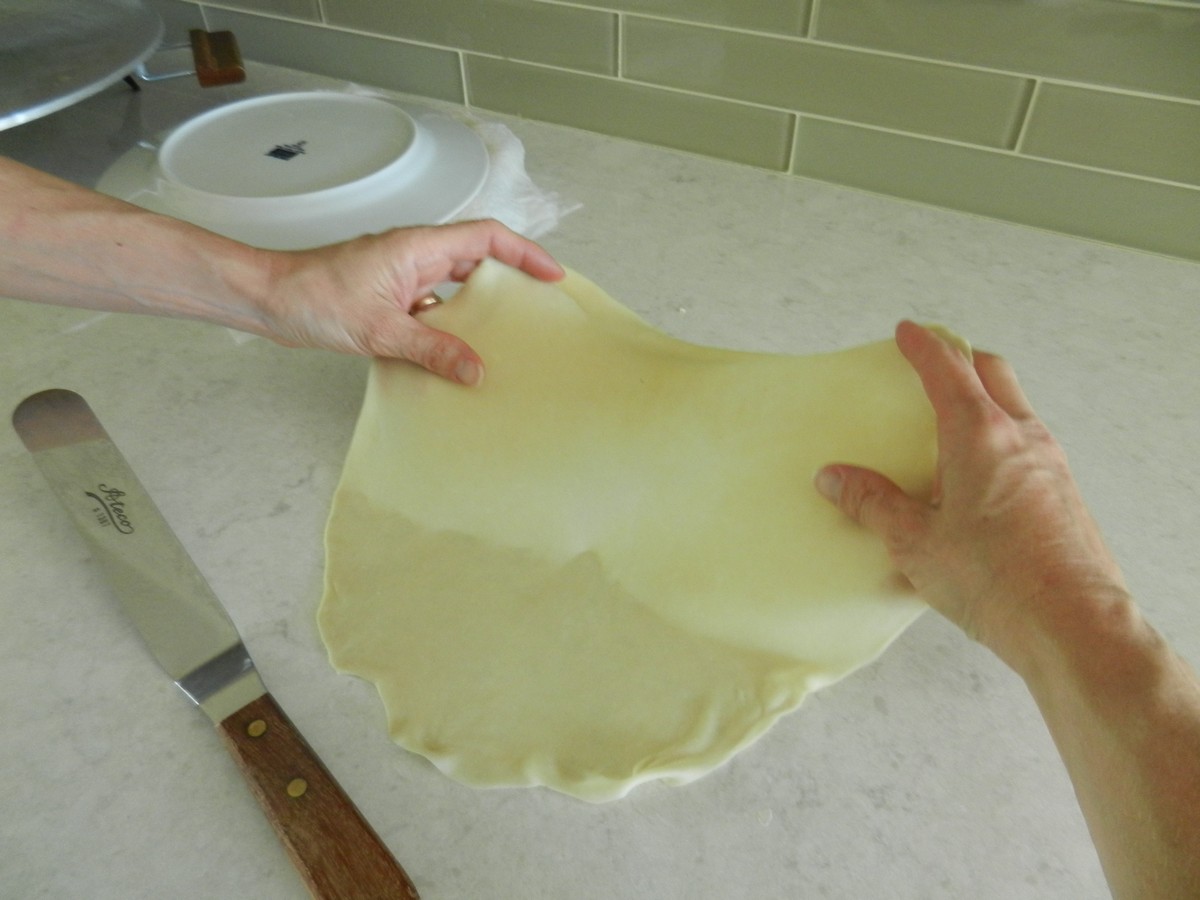 Stretch stretch the tortilla out onto the griddle, keeping it as round as possible.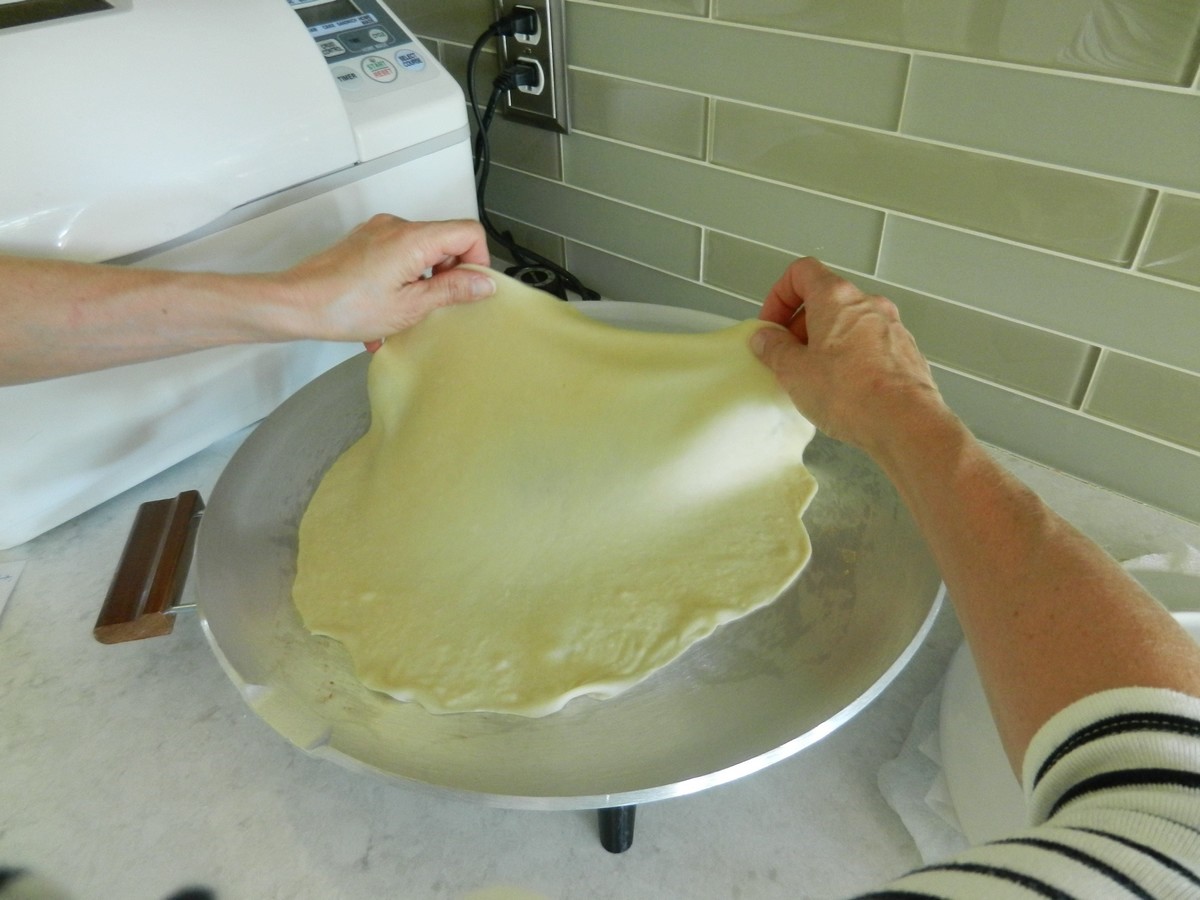 Then very quickly adjust the edges if needed to keep it flat and even.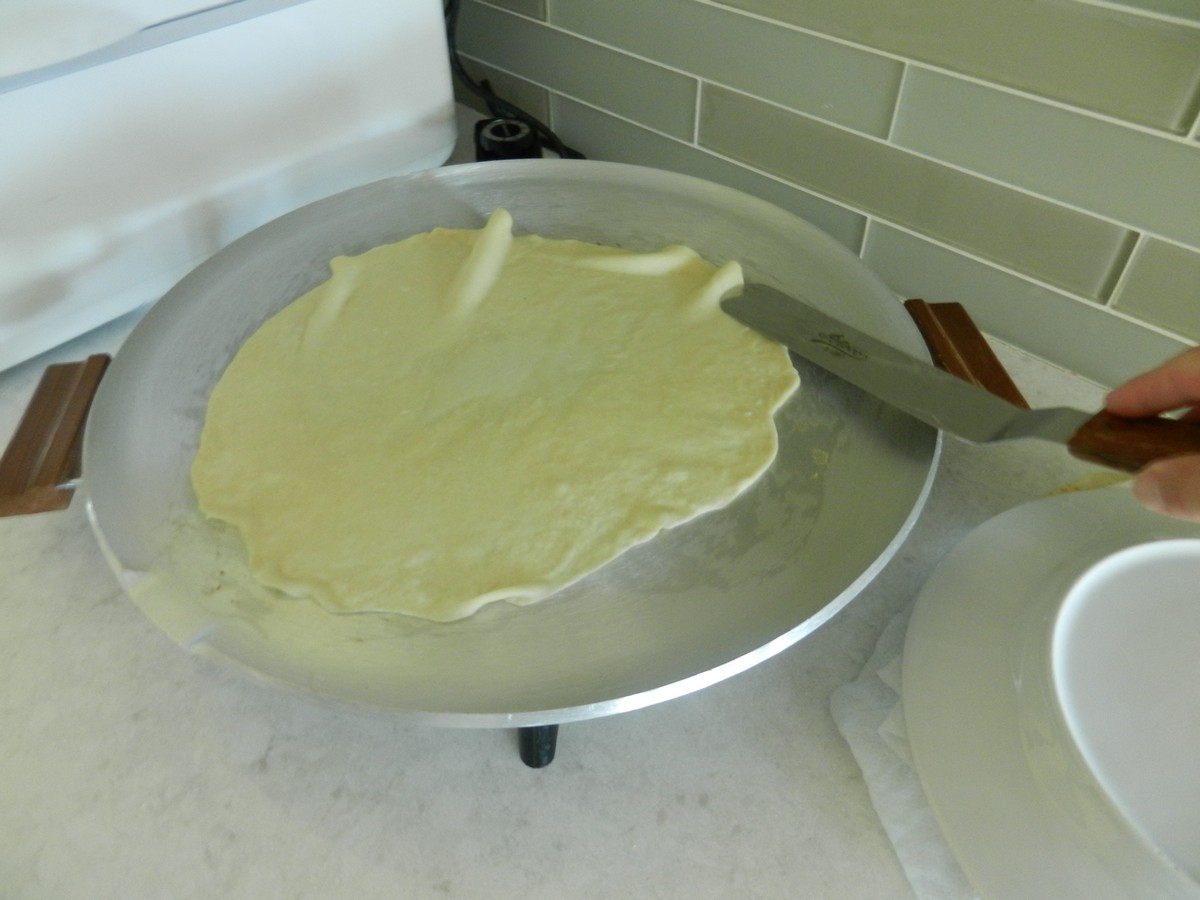 Bake for 30-45 seconds or so, depending on the heat used. When the tortilla starts to bubble on top, it is time to flip. It should have a few brown spots underneath. If baking takes longer than a minute, bump up the heat a little bit.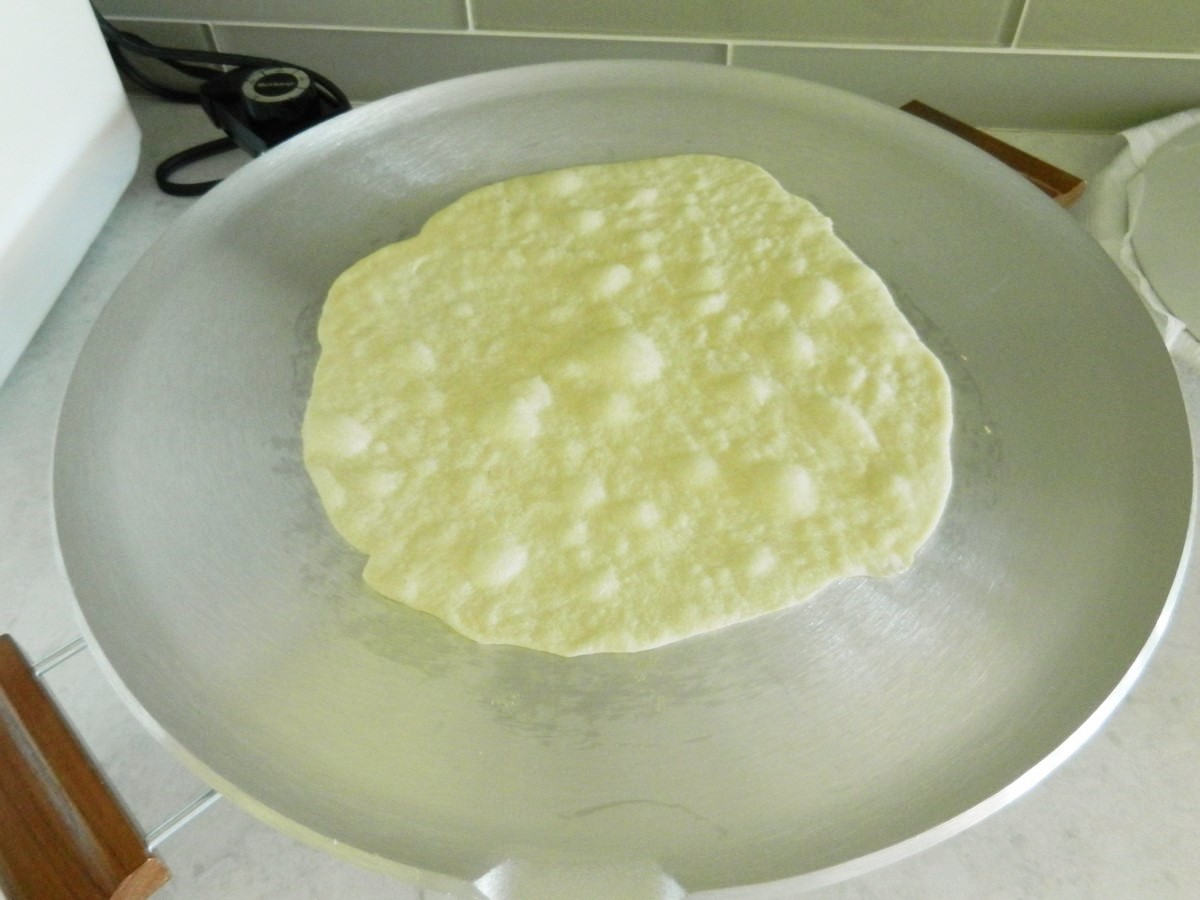 Flip, bake on the other side until a couple of brown spots appear, then transfer to the moist towel-covered plate.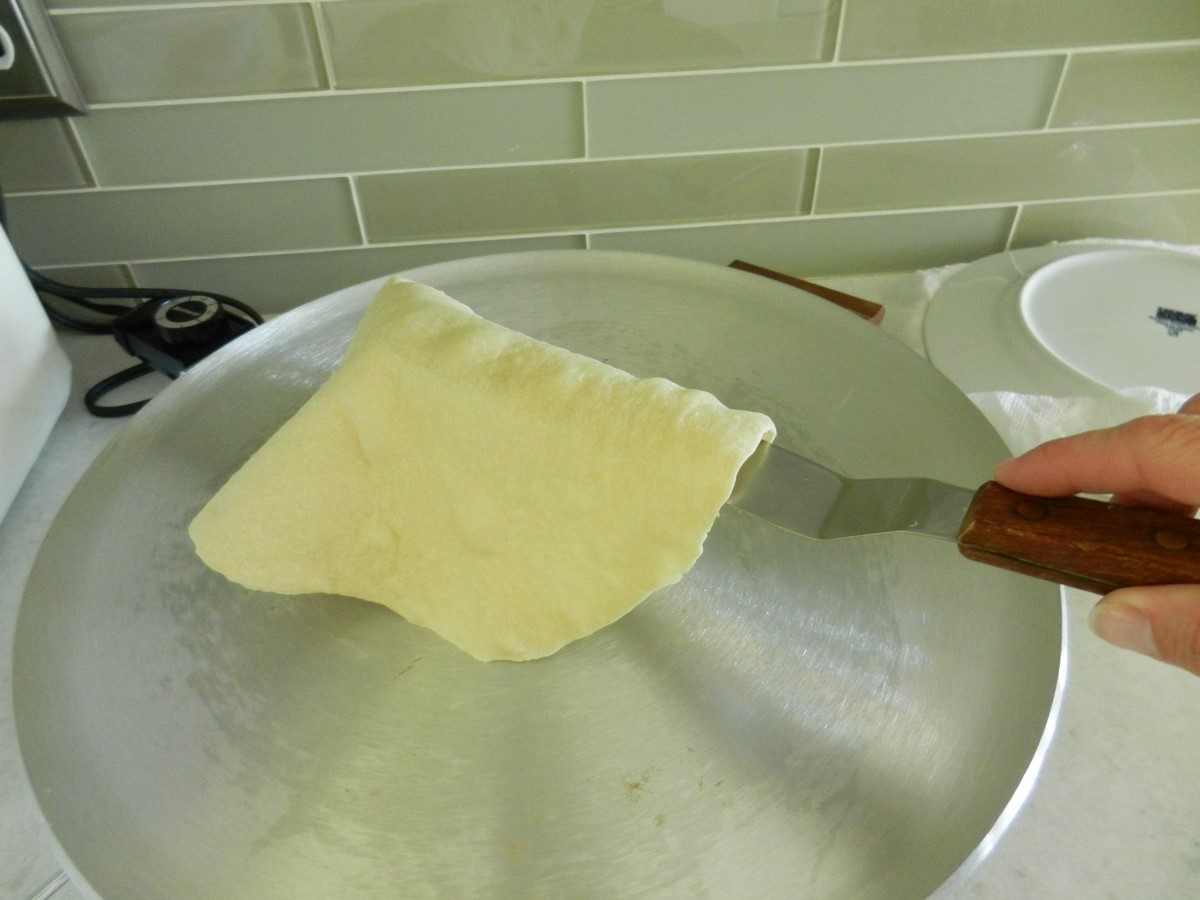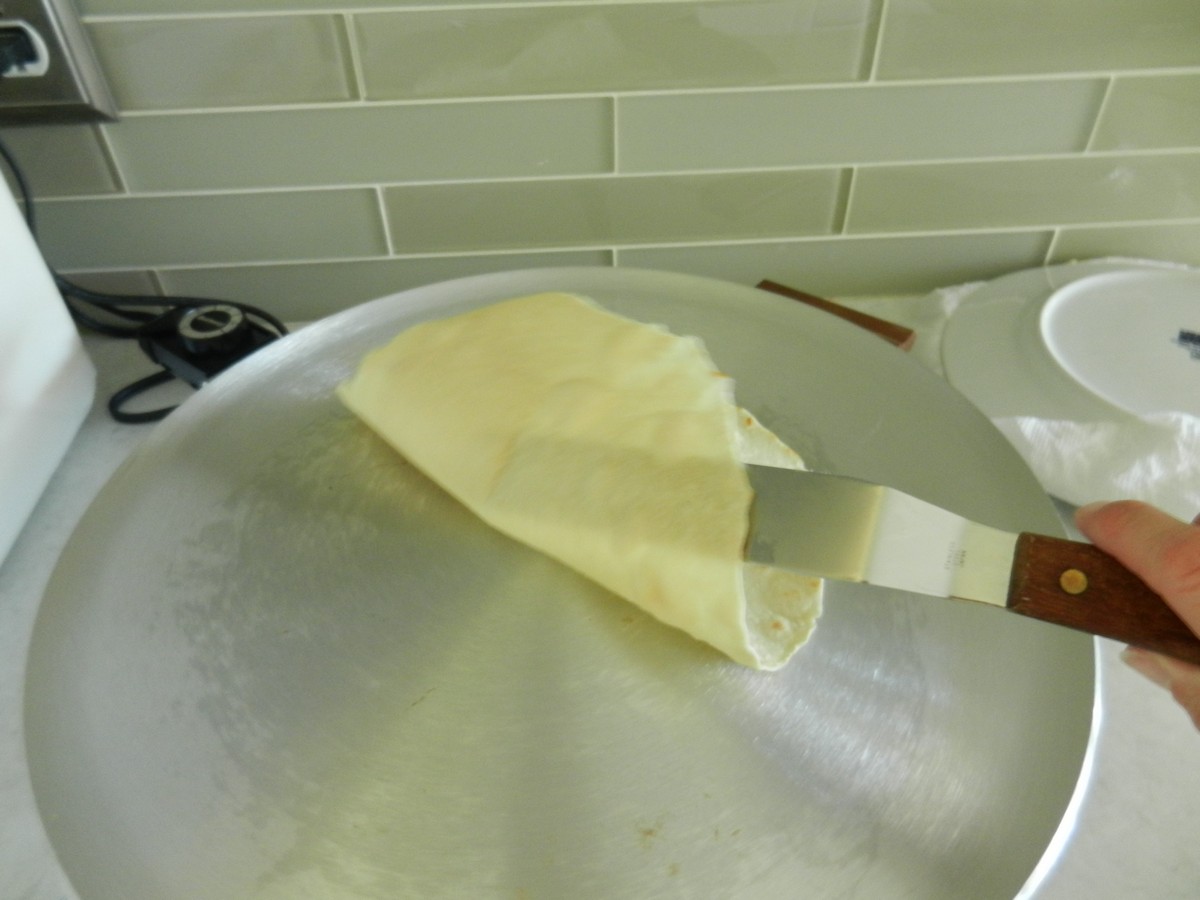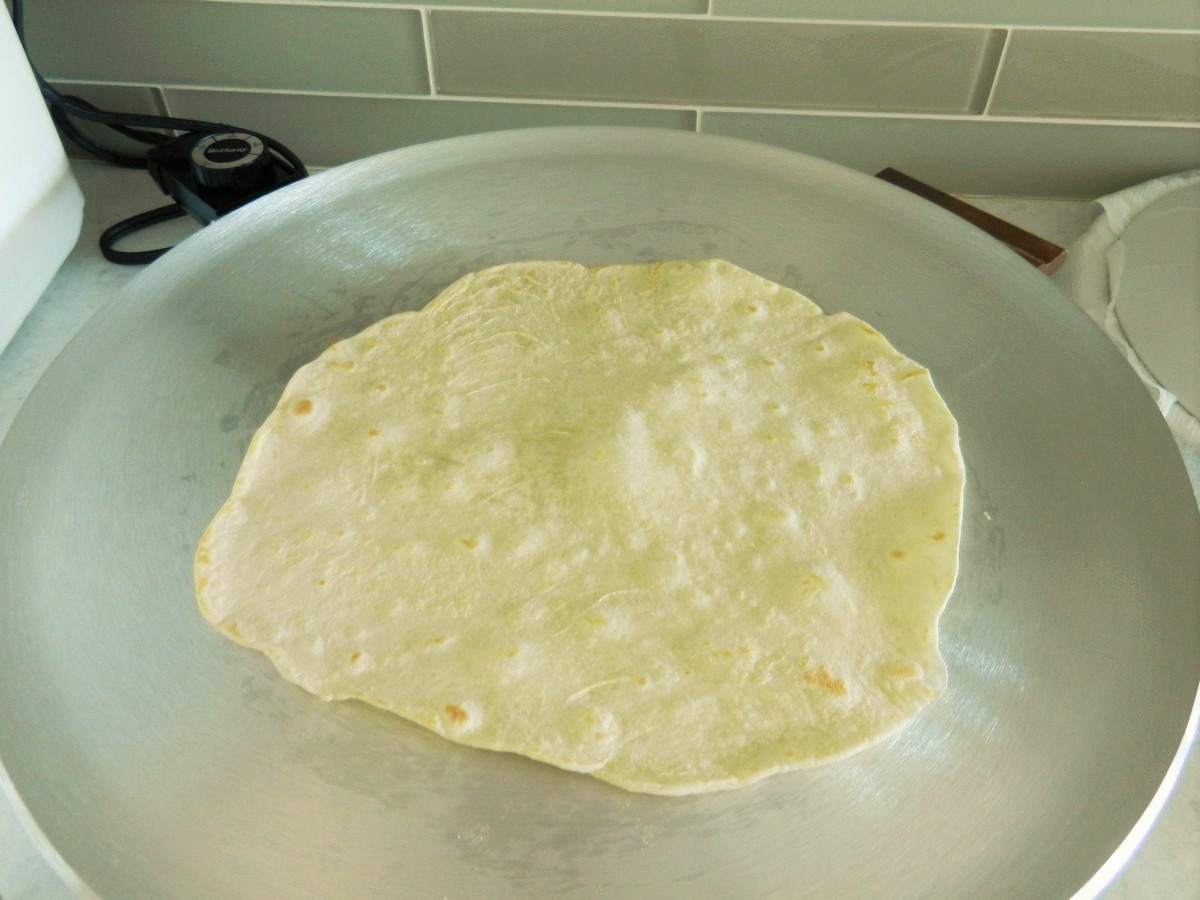 As seen above, cover with the second moist towel and plate to keep the homemade flour tortillas soft, hot, and tasty! As the tortillas bake, stack them on top of each other and keep covered. Alternatively, you can also store them in a basket of some sort, or in a tortilla warmer, but plates work for me and don't take up extra space. There are cloth ones too, which should be easier to store.
Sometimes huge bubbles will form while frying, which is OK. Just leave them alone, don't pop them. They will deflate again as soon as you take the tortilla off the griddle or even before.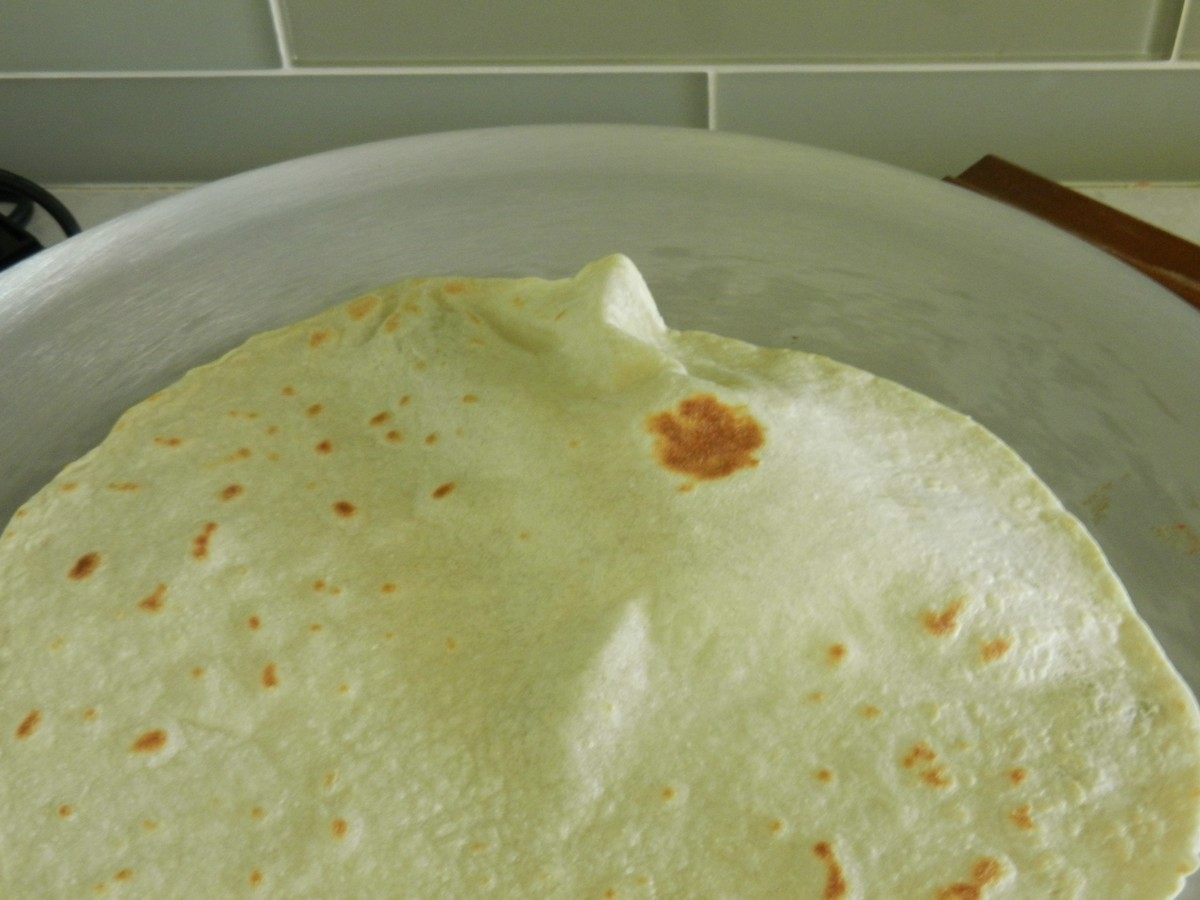 The flour tortillas are now ready to be used for your favorite recipe, such as burritos or tacos.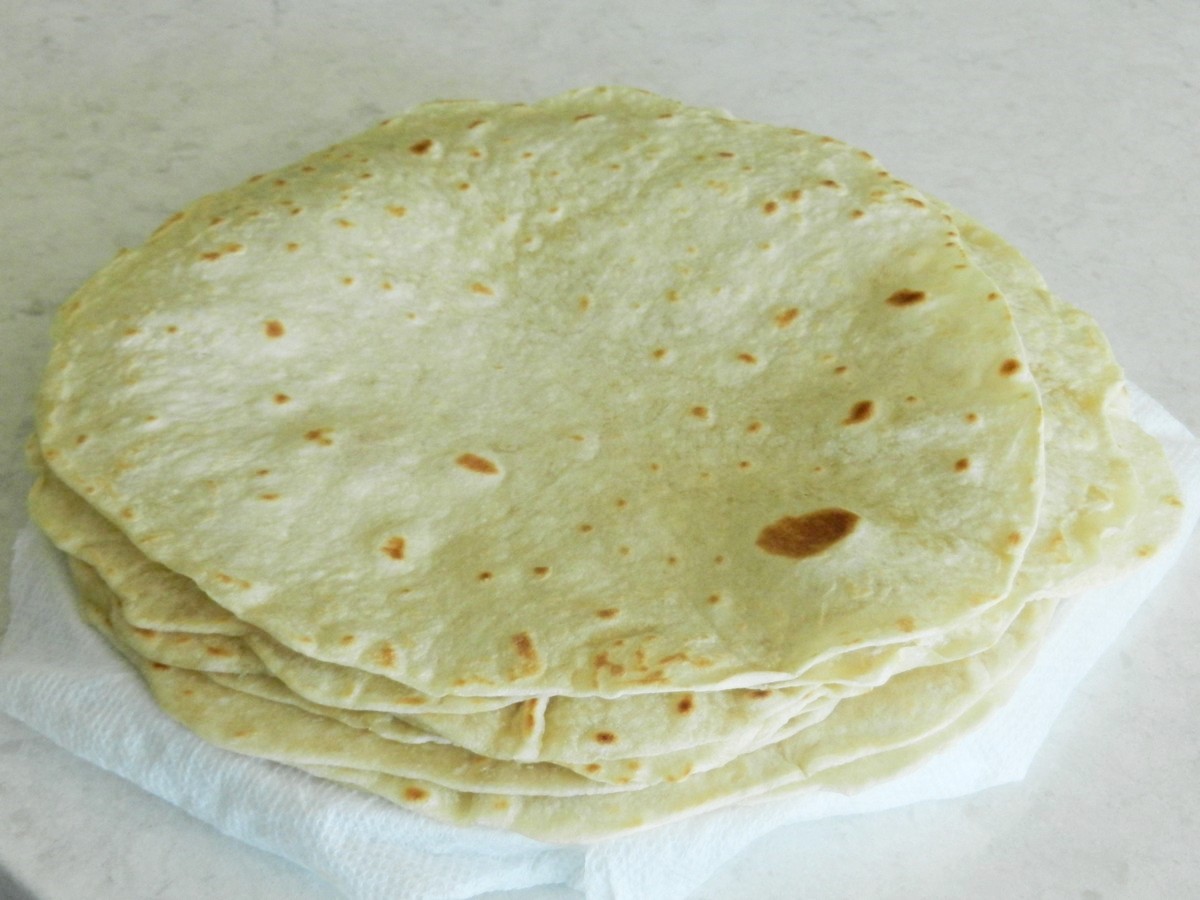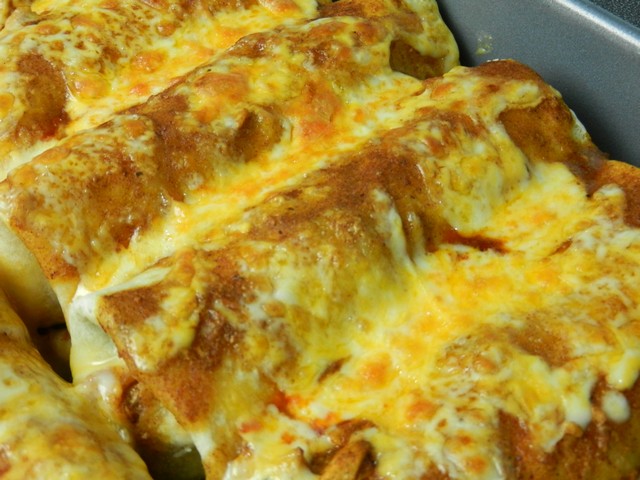 Flour tortillas are fairly easy to make, and these homemade ones are so much softer and silkier than mass produced store brand tortillas! Using butter or lard in the recipe and also a fair amount of salt makes them full of flavor, too. I hope you found these pictures helpful! If you decide to try this recipe, please consider leaving a comment and a star rating below as it is very helpful for me! Thanks in advance, and happy baking!
Soft Homemade Flour Tortillas
These tortillas are soft and tasty, and very easy to make.
Ingredients
3 c flour
1 teaspoon salt
1 teaspoon baking powder
6 tablespoons cold butter or lard
1⅛ cup hot water or milk
Instructions
Combine dry ingredients.
Cut in butter or lard until only small lumps remain.
Add hot water or milk, adjusting amount as needed until you are able to form a dough, soft but still firm enough to be handled.
Let rest, covered, for 20 min.
Divide the dough into 8 equal pieces.
Cover the balls of dough with plastic and let rest for 10 minutes.
Preheat griddle to 400 degrees F or frying pan to medium-high heat. Gather the remaining equipment needed.
Roll into large, thin flour tortillas of about 10 inch diameter, flipping a couple of times while you roll.
Let each tortilla rest for 1 minute.
Fry on dry griddle or frying pan for about 45 seconds until surface is bubbly and a couple of light brown spots have formed underneath.
Flip and fry on the other side as well.
Transfer to a plate covered with moist paper towel or kitchen towel, and top with another moist towel and plate to keep tortillas soft and hot.
Transfer each finished tortilla to the plate to form a stack.