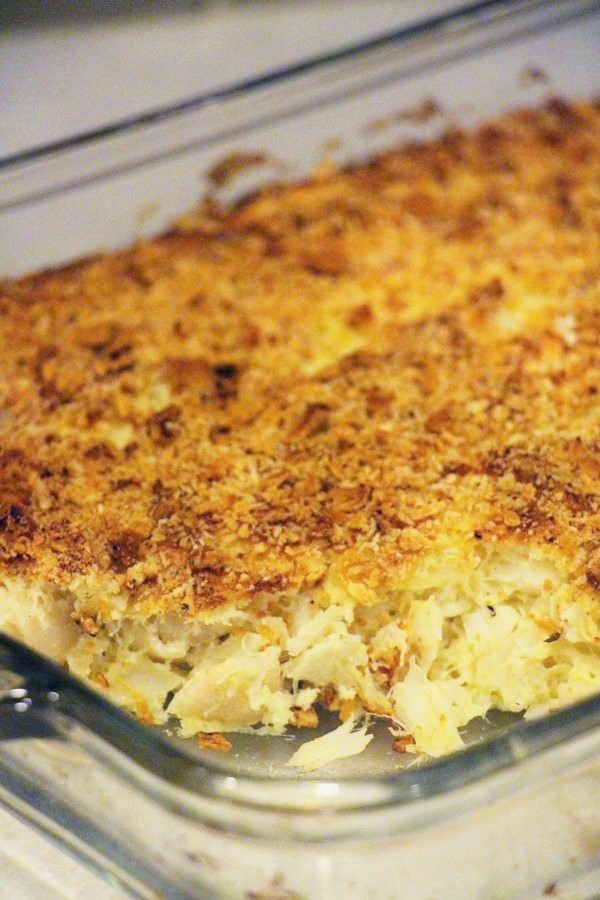 Fiskegrateng is a very popular and much loved fish casserole among kids and adults in Norway.  It is an excellent way to use up fish leftovers, especially if you have cod, pollock, or other white fish on hand. Being that Norway has such a long coast line, fish is widely available and served often, in a variety of ways. So, naturally, there will be leftovers. Translated to English, some fitting names for this dish might be Fish Au Gratin or simply Fish 'n Macaroni Casserole.
As I grew up in Norway, my mother would either make this dish from scratch (she didn't use a recipe) or she would buy it frozen from the grocery store. It came with or without macaroni, and we all loved this meal, even those who normally didn't like fish! It was a yummy, mild comfort-food served with boiled potatoes, cooked vegetables, and melted butter. My husband and kids all love this casserole as well. In fact, it's one of my husband's favorite meals of all!
The Recipe
In this post I will use pictures to show you how to make fiskegrateng. But first I have to give you a heads-up: although this dish isn't exactly difficult, it is not one of those quick and easy meals to make either. But if you want to WOW your family or friends with a wonderful, old-fashioned, authentic Norwegian fish dish, then this is IT! The skill level is probably medium, and it does dirty out a fair amount of dishes and takes a bit of time altogether. But it is well worth it in the end!
In short, you cook fish, macaroni, a roux sauce, beat egg whites, and crush some crackers or dried bread for topping. So it really is doable.
For the amount of dishes dirtied, it is also a good size casserole that serves at least 8 people, or you can put away a portion in the freezer for a different time. Two meals in one! If you prefer, you can cut the ingredients in half and bake in a smaller dish, and if so, use two eggs instead of three (don't bother measuring to 1 1/2.)
If you decide to try this recipe, I would love it if you come back to comment and add a star rating, as it really helps me out! Thanks in advance! Here goes:
How it's Done
Cook macaroni or other small pasta in a large pot (you'll reuse the same pot later) according to the package directions, although leave them a little bit on the firm side since they will continue to cook somewhat in the oven later. I used shell pasta this time, two different types since that's what I had on hand. No biggie. Drain, set aside in a bowl, and keep the empty pot to reuse.
While the pasta is cooking, look ahead in the recipe and prepare now what you can: Grease a 9 x 13 baking dish, crush some crackers, separate eggs, measure ingredients, that sort'a thing. You'll also want to preheat the oven to 375 or 400°F , although it's probably a little early for that yet.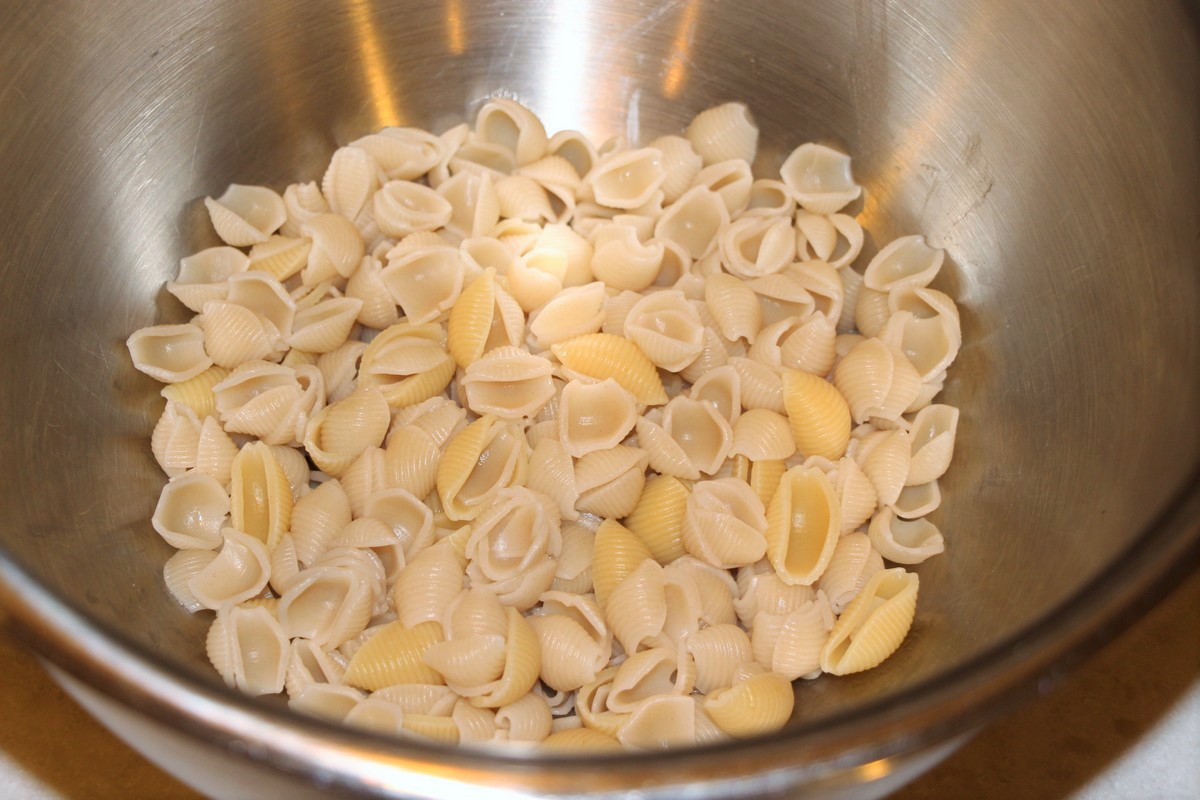 In the same pot that you used for pasta, gently simmer the fish in lightly salted water until flaky, about 5-10 min. or so, depending on the thickness of the pieces. Don't let the fish boil much, just barely a simmer, or you can pull it off the heat entirely and cover with a lid until done. The fish is done when it flakes easily, just test with a fork or two.
Cod or pollock are the most commonly used fish for this casserole, and personally I prefer pollock since it has a bit more flavor. Although flounder (halibut, sole) or any other white fish will do as well. This time I used cod. I would not use tuna for fish au gratin.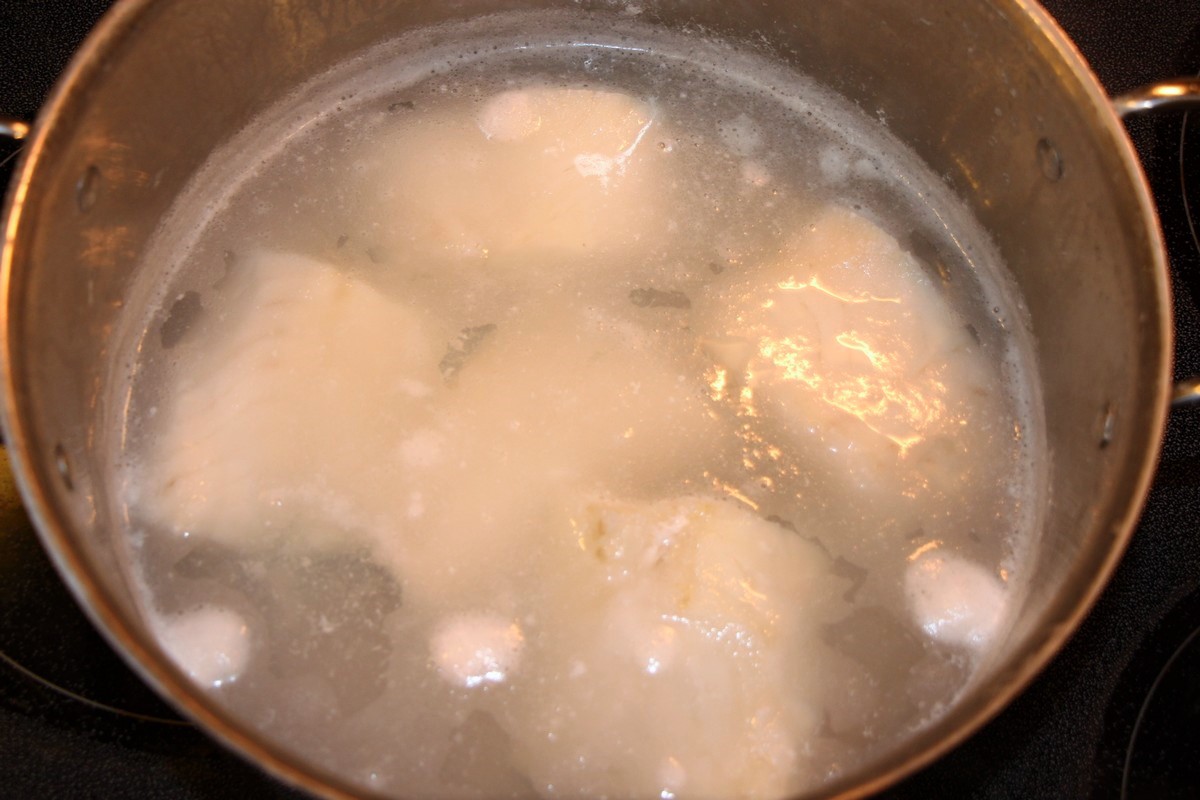 If the fish seems a little bit tough even though it's flaky, you could simmer it just a wee bit longer, otherwise it will also finish cooking in the oven.
Drain away the water, unless you have to stay away from dairy. If so, you can use this broth instead of milk when making the sauce that this recipe calls for. At any rate, remove the water when the fish is done, but leave the fish in the pot.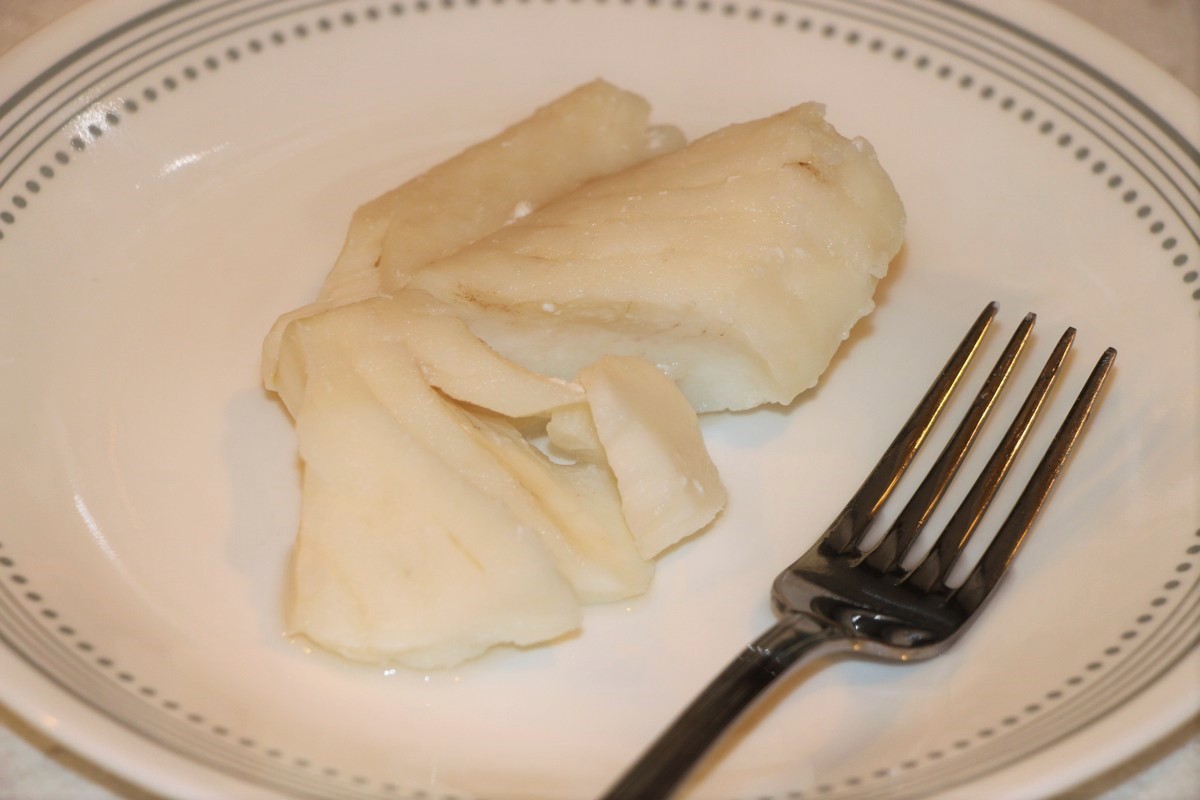 Cut or shred the fish into pieces, using two forks. It is nice to use boneless, skinless fillets since it makes for a very quick job to shred the fish when you don't have to clean away skin and bones.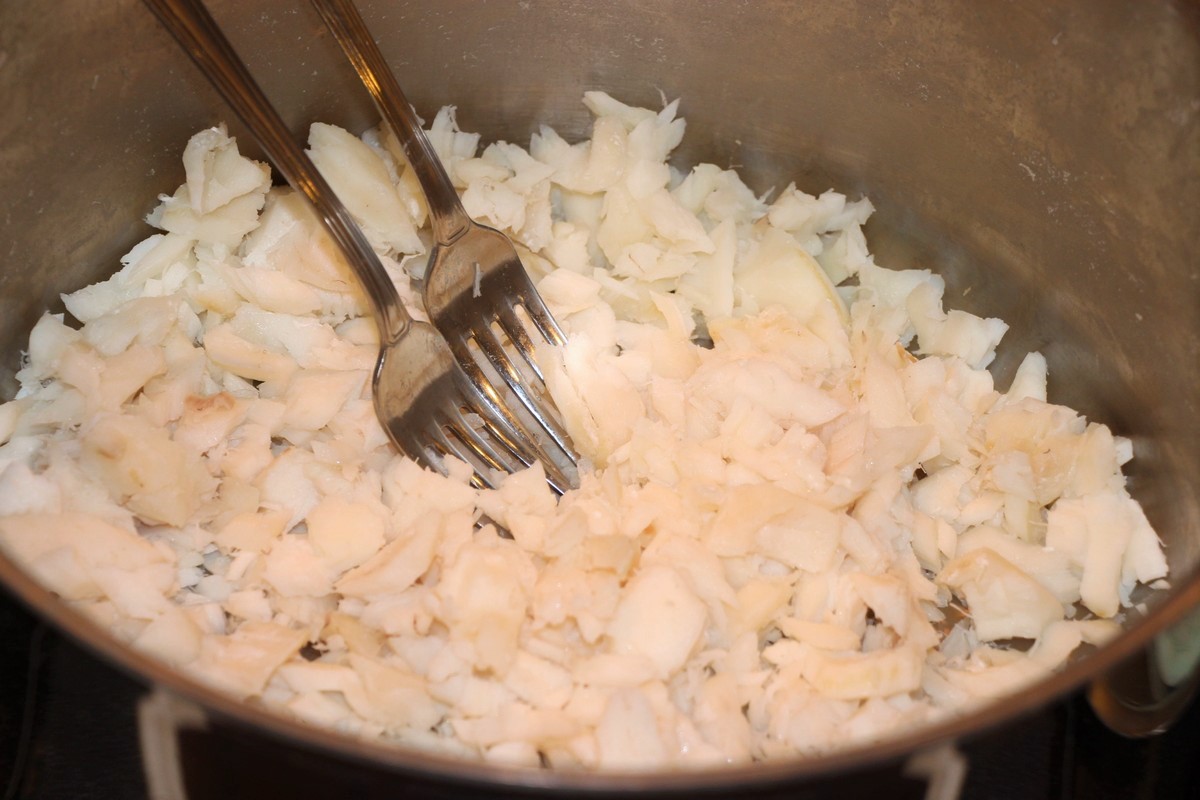 Separate the eggs, pouring the egg whites into a medium mixing bowl, and set both aside. Leave them on the counter to let them come to room temperature (not necessary, but the egg whites will whip better.)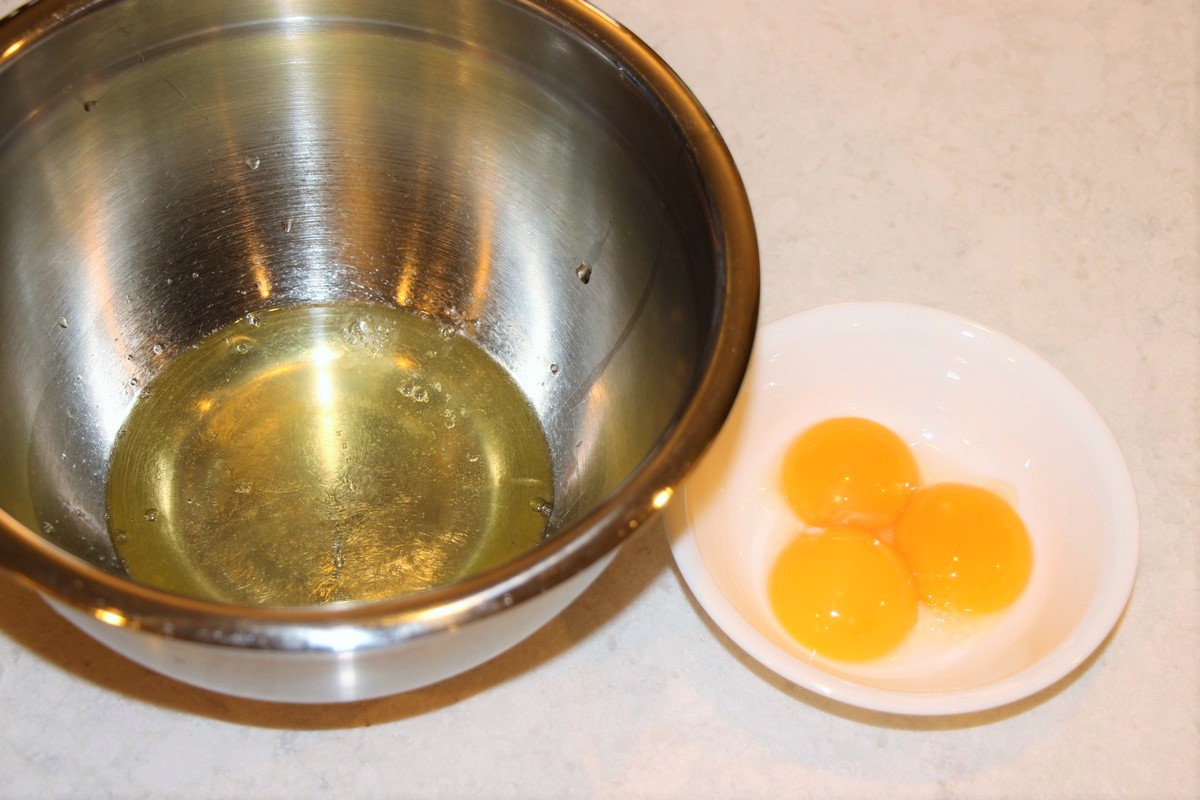 Now, using a medium sized, heavy sauce pan, you'll be making a roux sauce. Part of the finished sauce will go into the fiskegrateng before baking, and the rest will be used as gravy when you serve the meal.
Melt the butter and whisk in flour until smooth, then cook for a couple of minutes. The type of flat whisk in the following picture works very well and is a pretty standard kitchen tool in Norwegian kitchens. You can beat out lumps very easily when using this type of whisk, and it reaches the edges of the pan very well.  I have three of these myself.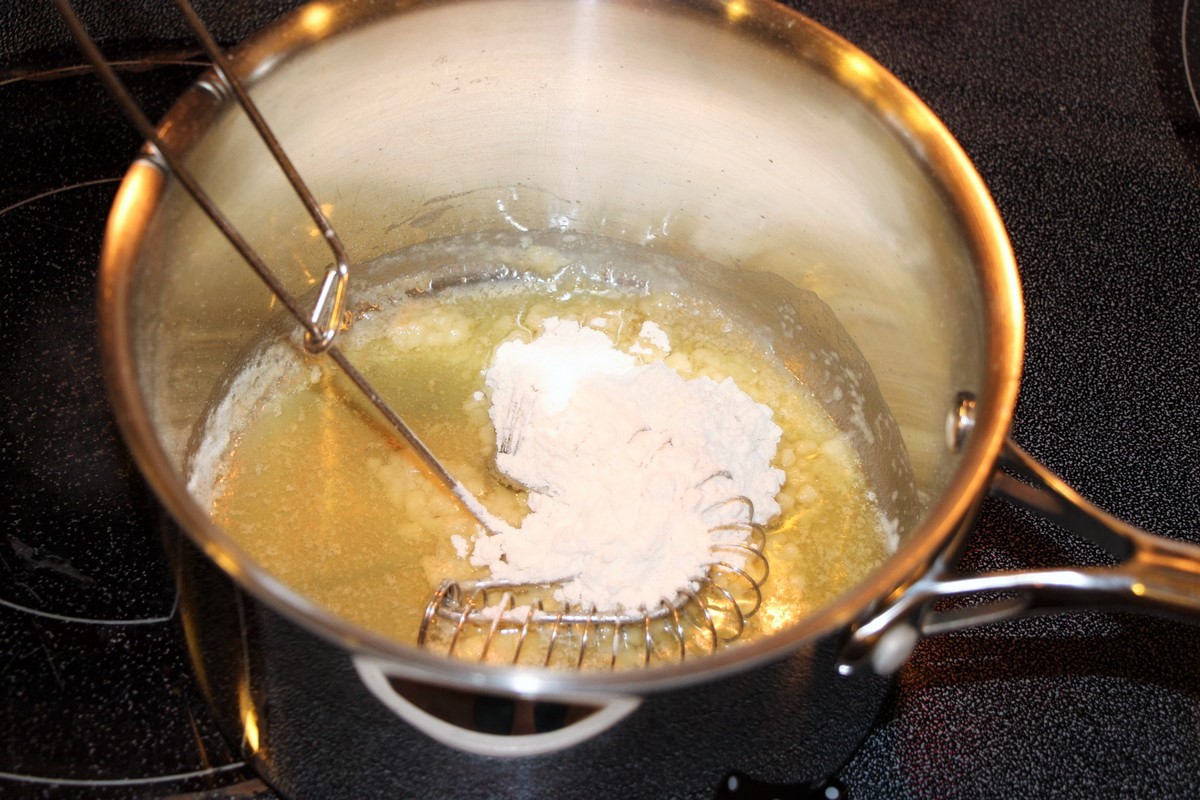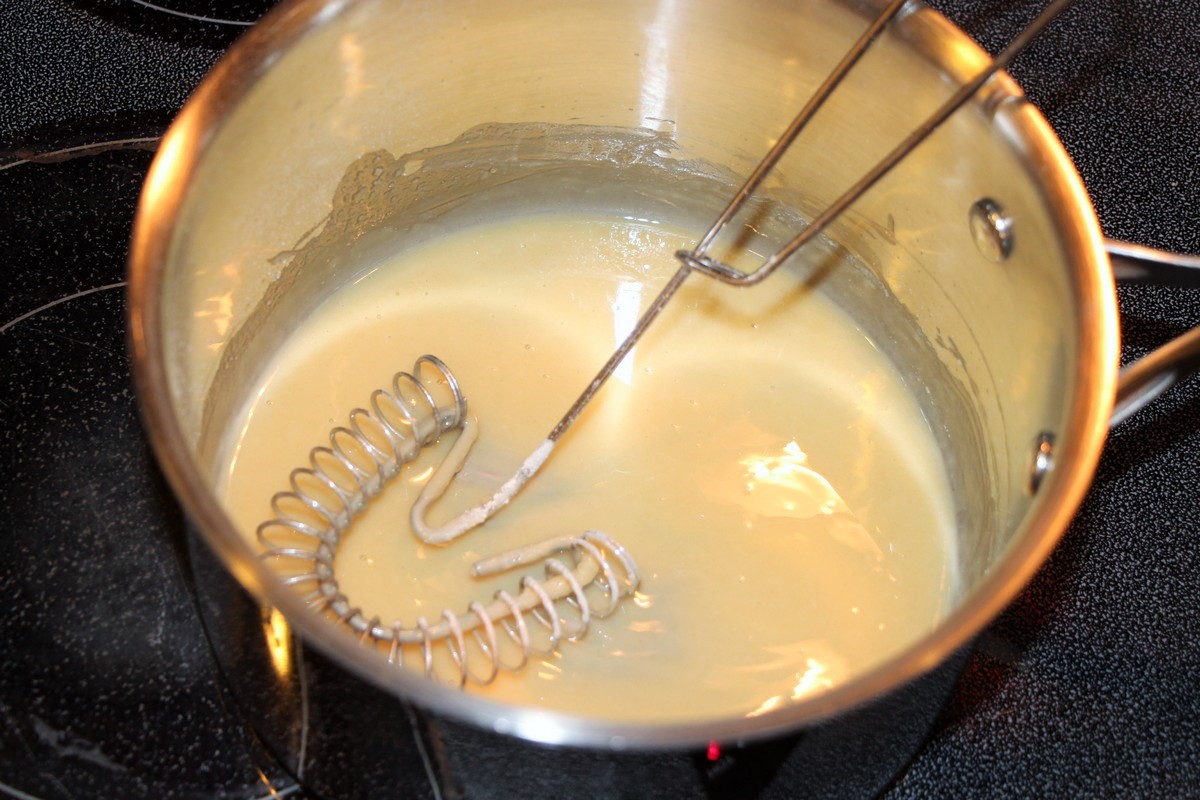 Then temporarily pull the pot off the heat and add milk and egg yolks. Beat well until smooth.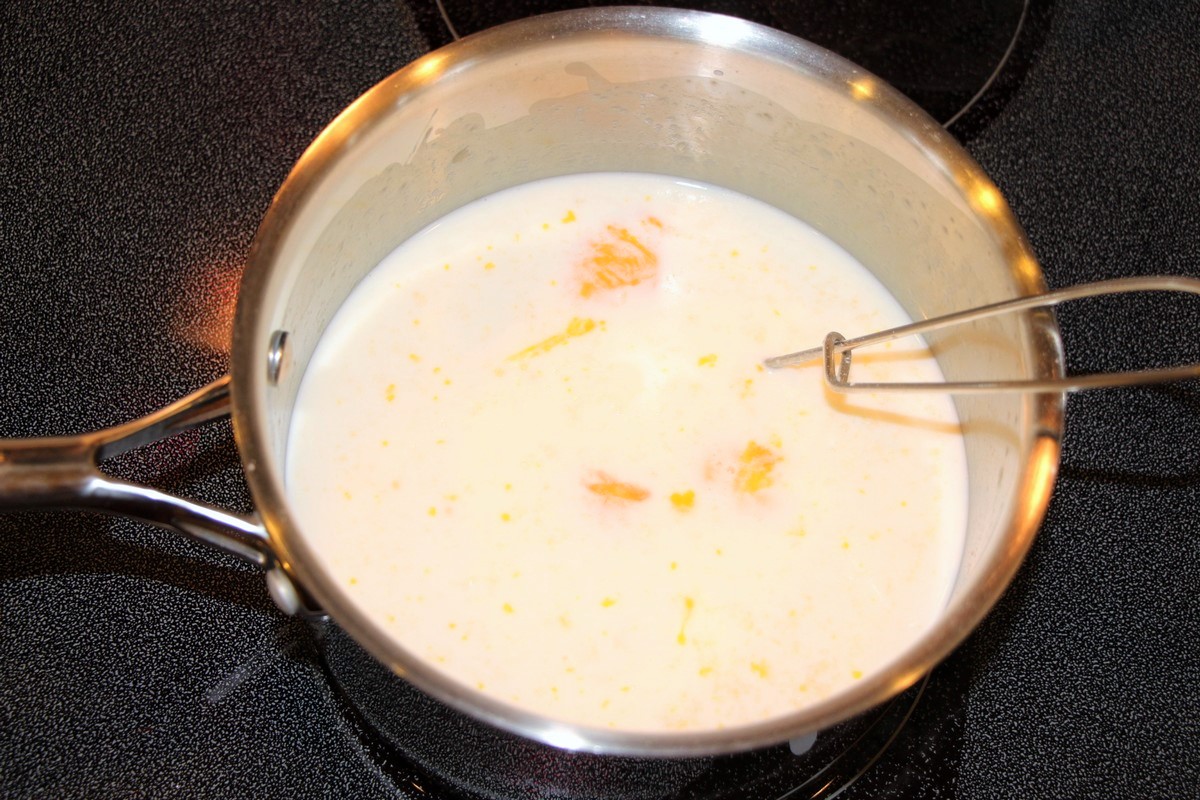 Put back on the burner over medium heat, and let come to a simmer while whisking constantly to keep from burning or forming lumps. The sauce will thicken as it heats up. I often use medium-high heat to speed things up since my pot (the one in this link, which is a fantastic pot, comparable to all-clad minus the price!) has a very heavy bottom to keep the milk from burning. If your pot has a lighter bottom, you'll have to be more careful as milk burns easily. Additionally, low fat milk burns more easily than whole milk.
Also add the spices; salt, pepper, and nutmeg. When sauce has come to a boil, pull away from the heat and set aside.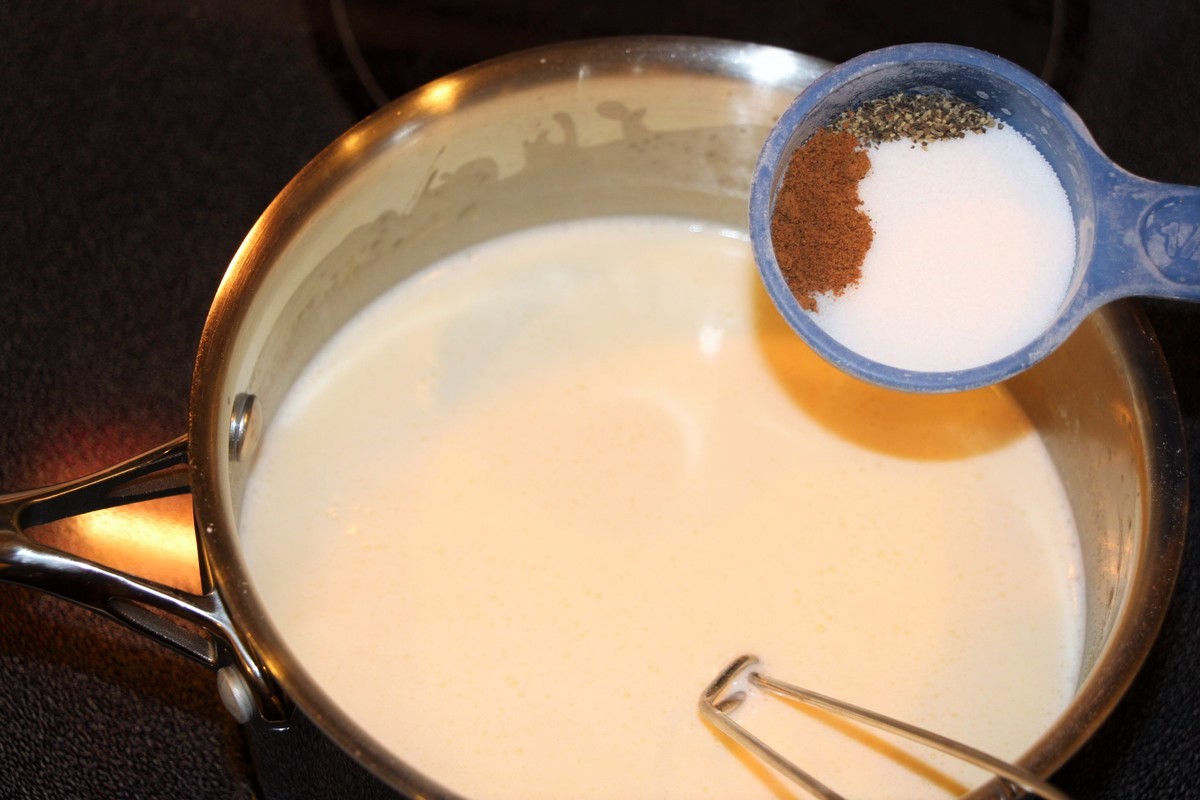 When checking out some of today's internet recipes of fish au gratin, I was surprised to see that some people will add cheese to the sauce or to the crumb topping. I can't remember to have seen that done in Norway, but who knows? People do like to change things up. Nothing wrong with that! However, I will stick to the tradition I know when it comes to this recipe, as it is great just the way it is.
Now, crush up some crackers or set aside bread crumbs or similar. I just use whatever I happen to have on hand at the time, 1/4 or 1/3 cup or so. This will be the topping, and it's good to have this done now so it will be ready when needed. So just set it aside with the rest.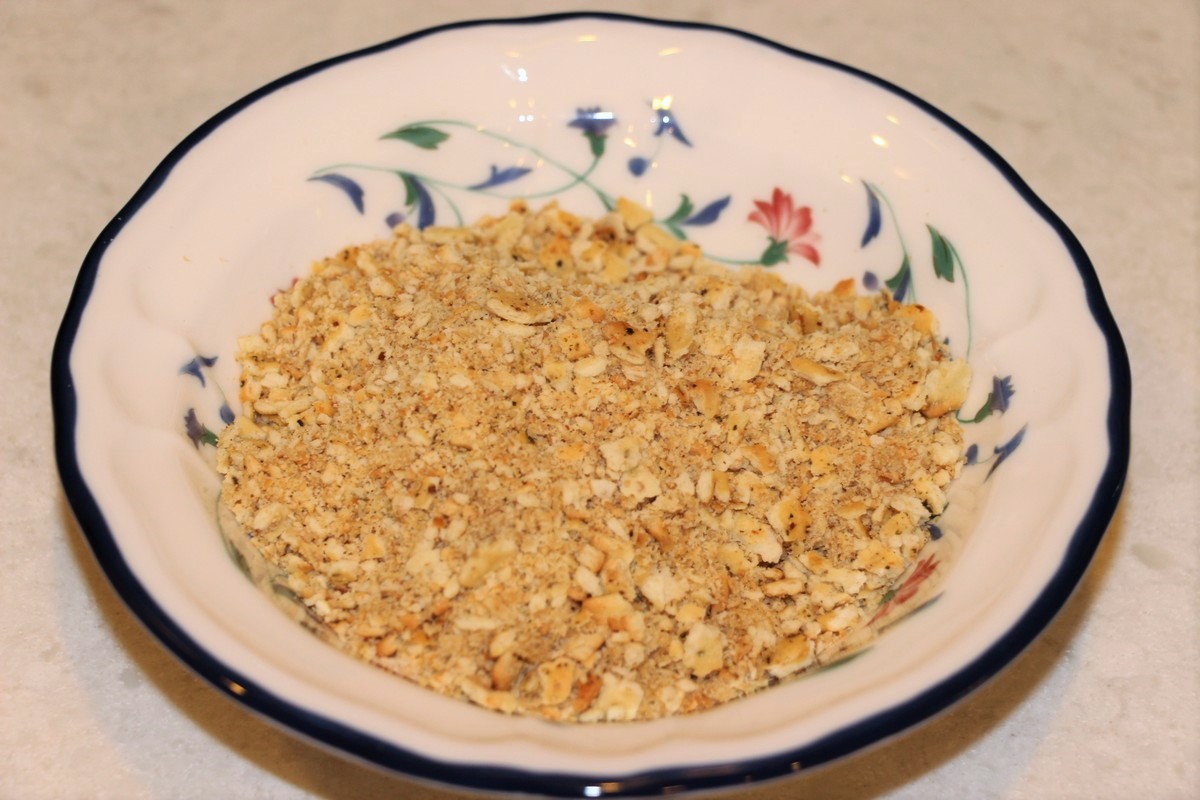 Now that you're just about ready to mix all the ingredients together, it's time to whip the egg whites. Whip them with an electric mixer until stiff peaks form. They will whip to a larger amount if they are brought to room temperature before whipping. They should be so stiff that you could tip the bowl upside down without them falling out. Whip the egg whites as the last step before assembling the casserole.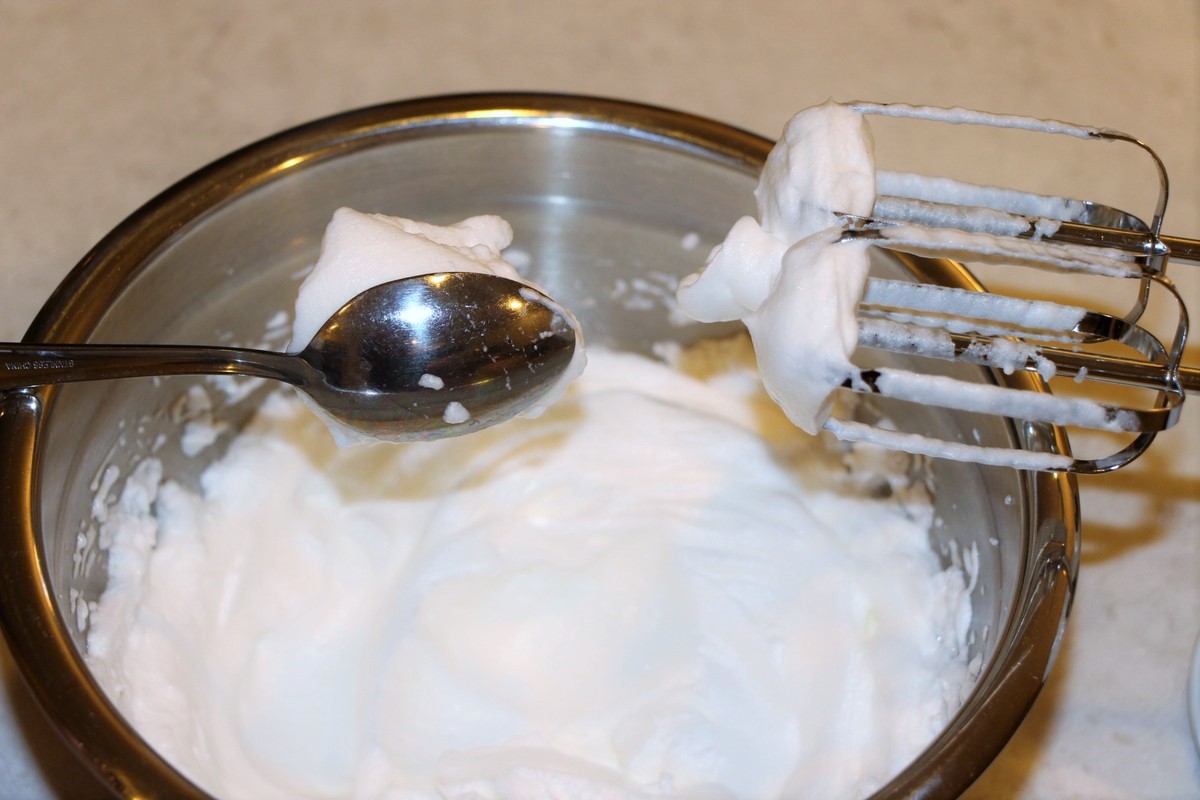 And this is the fun part now, assembling the Norwegian fiskegrateng, or Fish Au Gratin, fish souffle, scalloped fish… Whatever fancy name you choose to call it.
Add the macaroni and 3 cups of the sauce to the fish; do not use all of the sauce! Set the rest of the sauce aside to serve with the casserole later. And you can be smarter than me and reuse the large pot that you used for cooking the fish, in order to cut back on dishes instead of using yet another bowl like I did here. Duh! At any rate, combine these three ingredients. Don't stir a lot, just combine. You don't want the fish to break apart too much.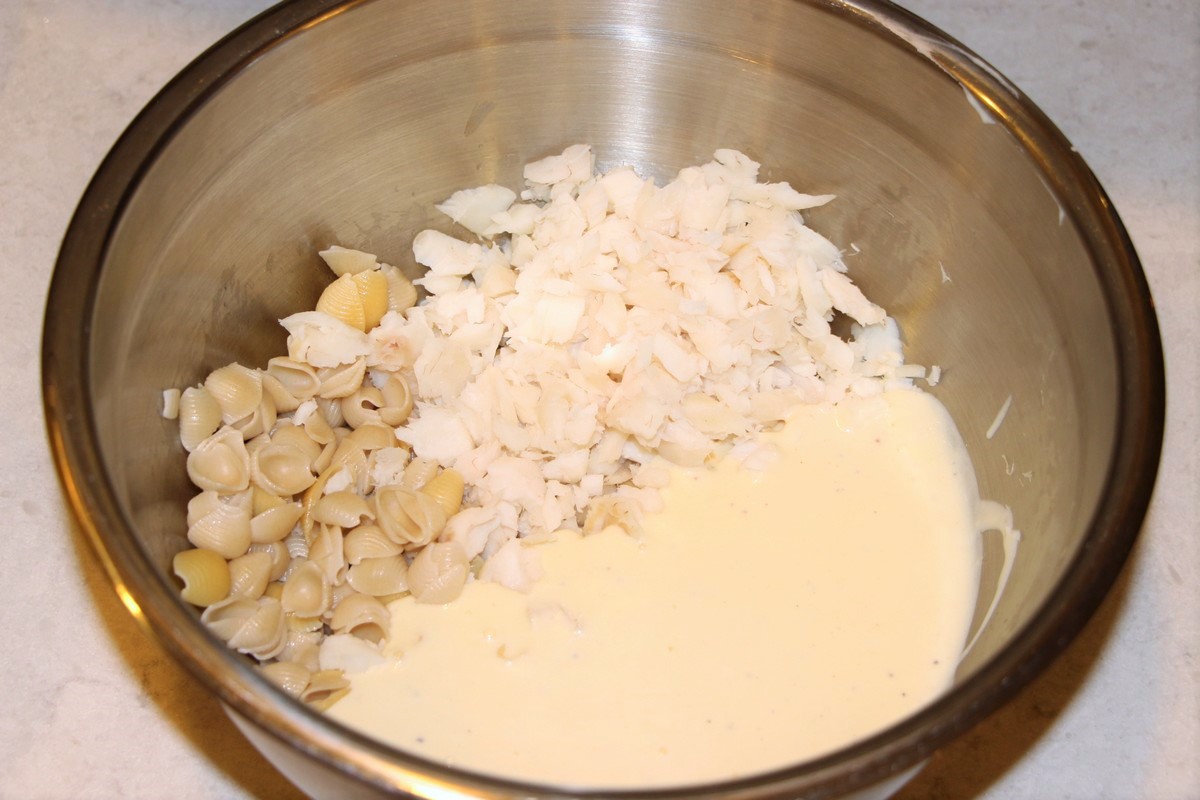 Then you pour the stiff egg whites into the mix, and fold them in very gently with a rubber spatula. The important part here is to not beat the air out of the egg whites, so you just fold them in very carefully until mostly mixed, but not all the way. Little bits of unmixed egg whites is just fine, and actually preferable. This step will add some air to the casserole for a little bit more tender and fluffy result. Not all recipes will ask you to do it this way, some will have you stir the whole eggs into the sauce; either way is fine, but I like the lighter texture from the stiff egg whites.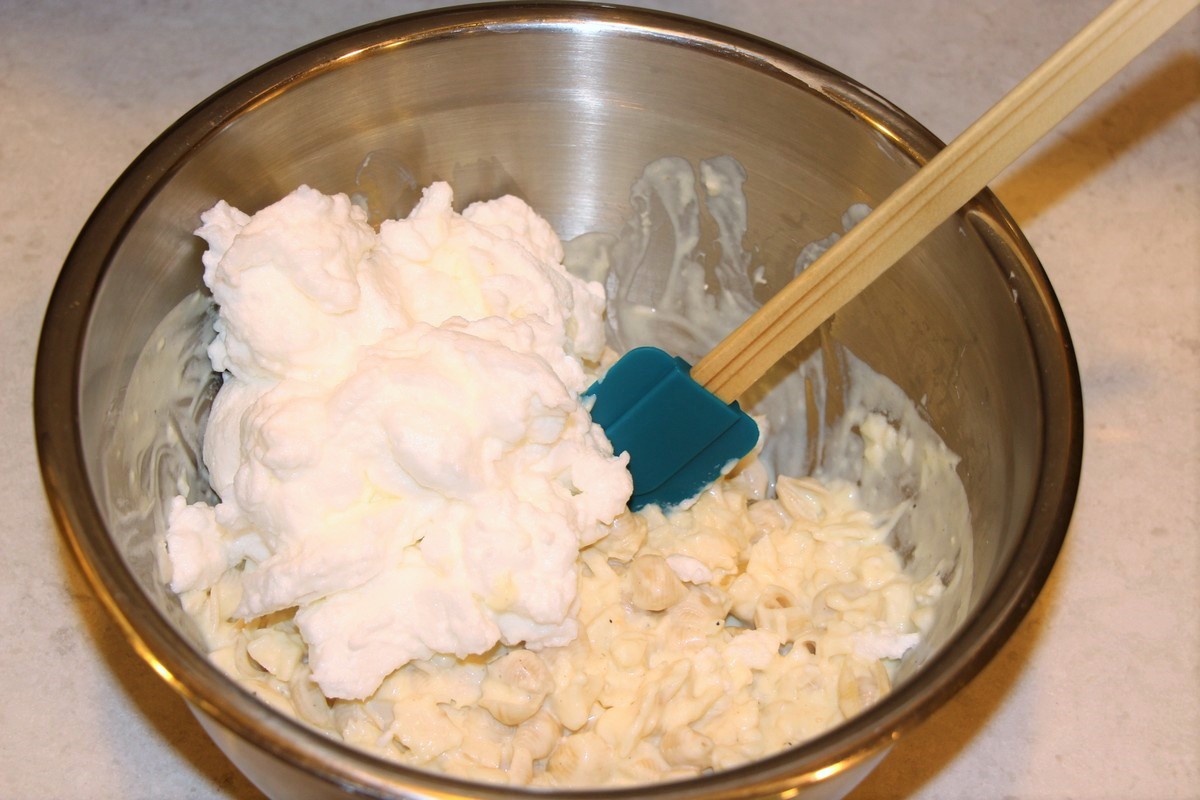 This is what it should look like when you're done mixing; a little egg white here and there can be seen. Just leave it like that: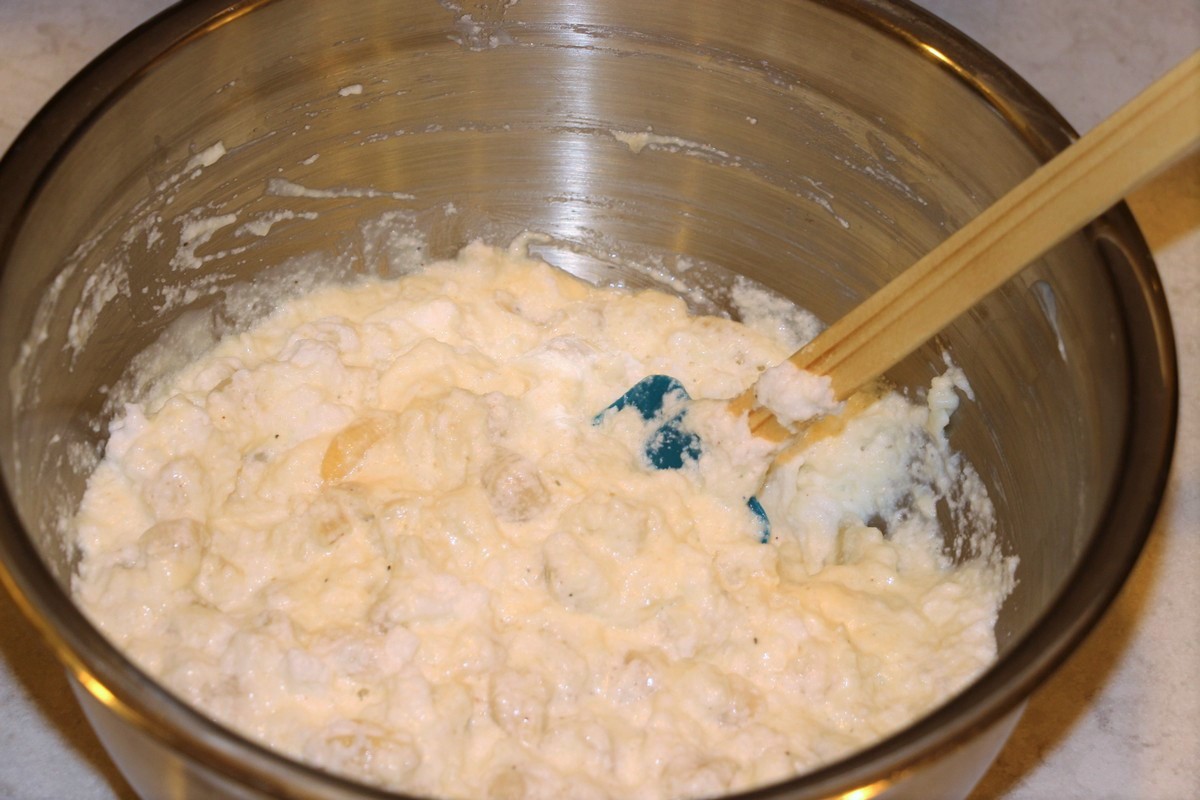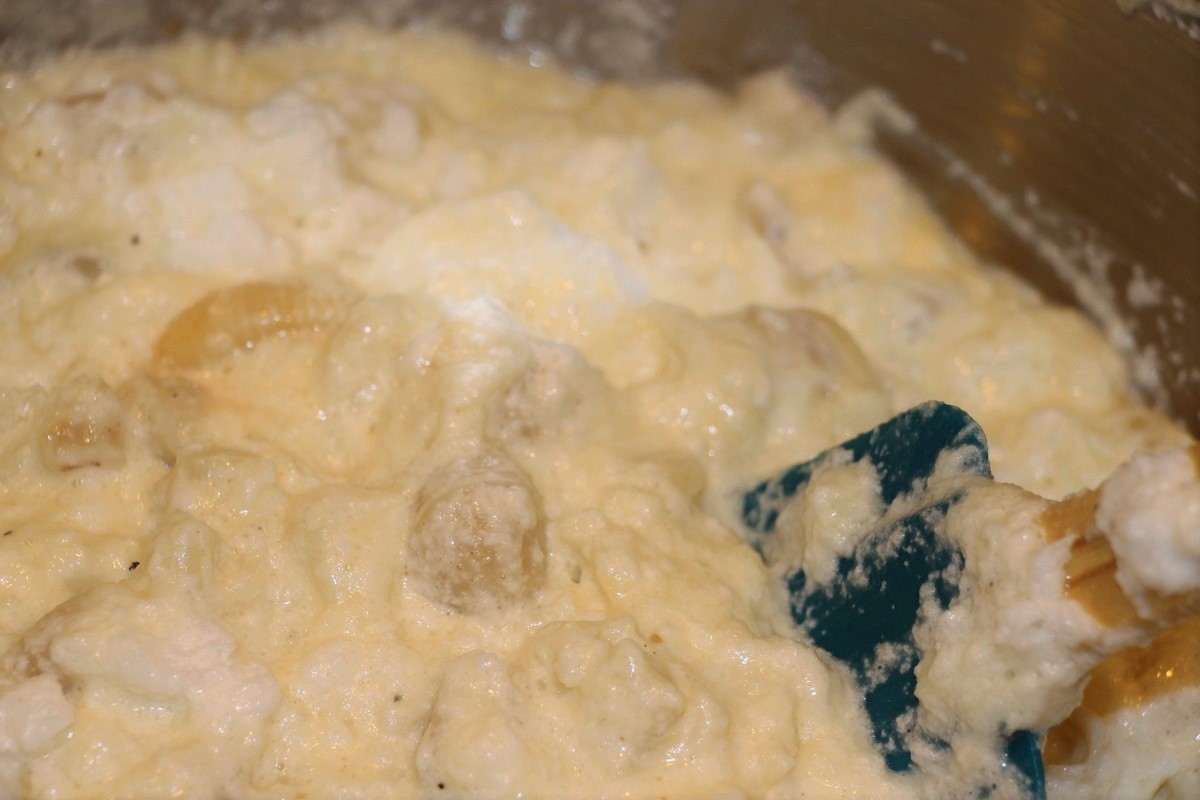 Pour the mixture into a greased 9 x 13 baking dish, and sprinkle the cracker- or bread crumbs on top. Bake, uncovered, at 400° F for about 40 minutes until set. (I also had to sneak my sweet little angels into this picture since they were nearby anyway.)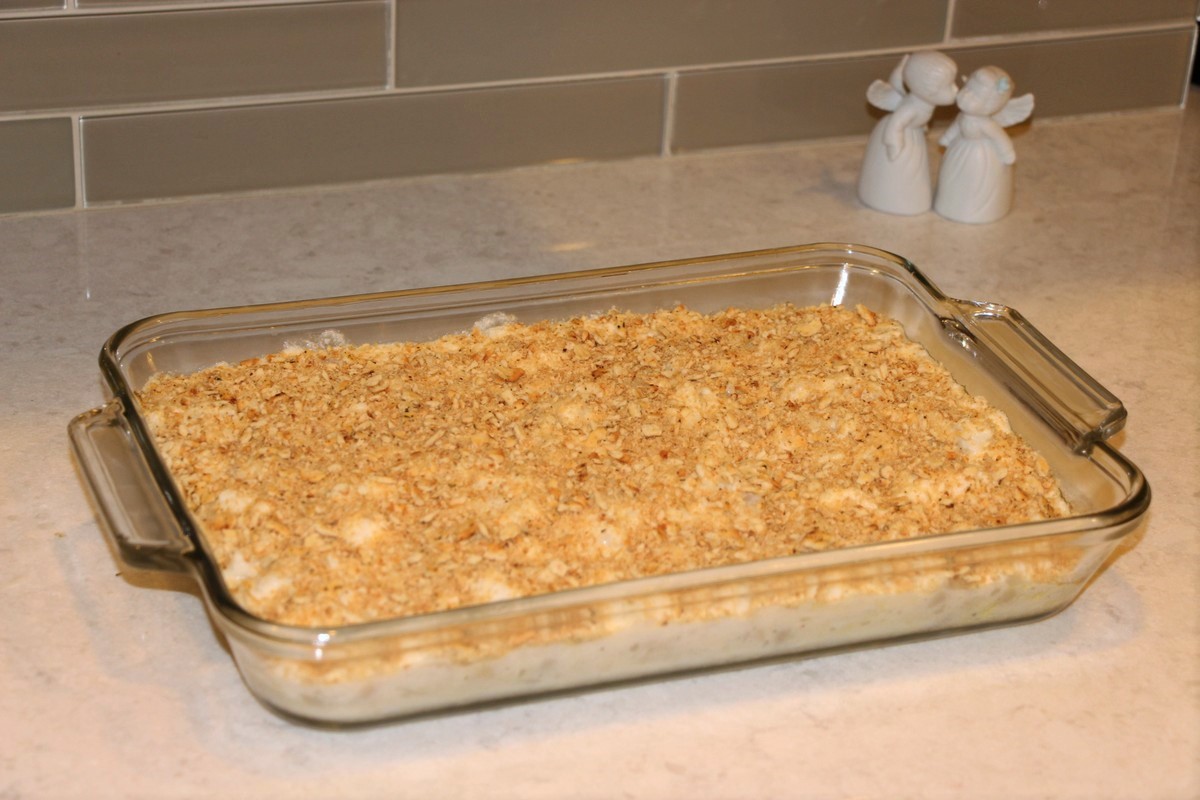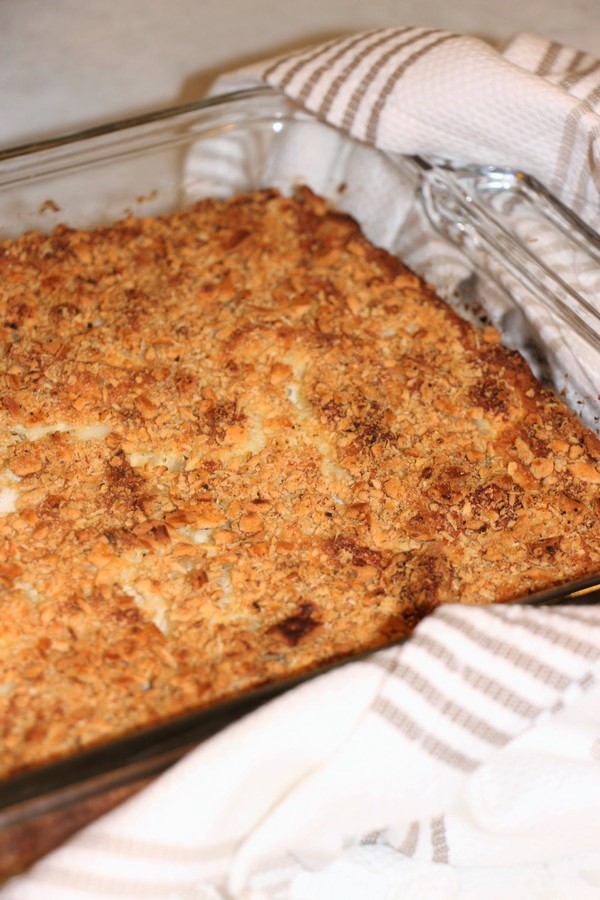 Ready to Serve!
This Norwegian fiskegrateng is a great way to introduce fish to someone who may not be very used to fish, or does not care for the taste. With macaroni or other pasta mixed into it, it is mild and soft, yet flavorful too, with a bit of crunch on top. Serve fish au gratin with boiled or baked potatoes, the rest of the gravy (heat it up again when ready to serve), a vegetable of your choice (carrots are great), and lots of melted butter poured over everything! It is a great, traditional every-day type of meal in Norway, and still fancy enough for company as well. Leftovers store well in the fridge, or you can freeze in portions for later. Please do come back to comment and give a star rating if you try this authentic Norwegian recipe; it would be very helpful! Thank you! God appetitt!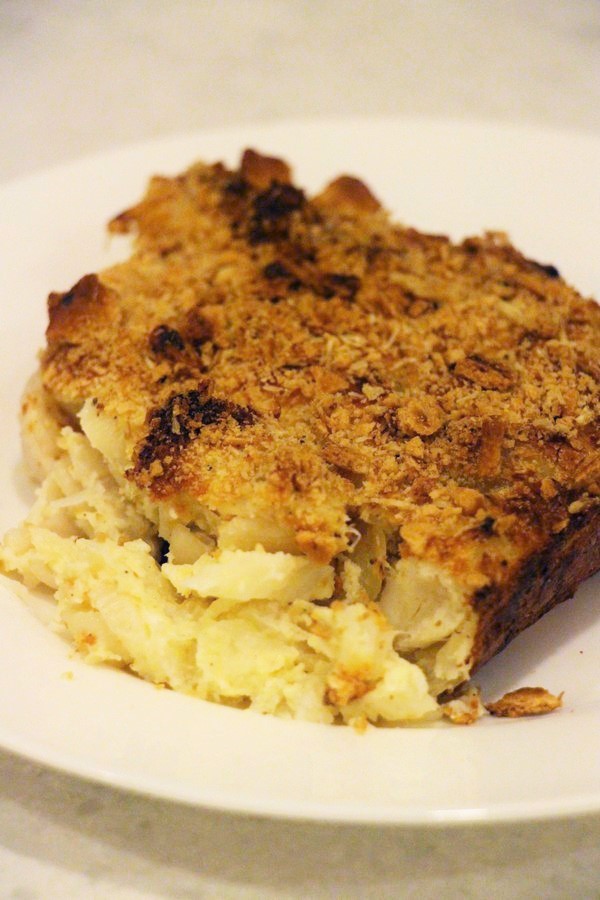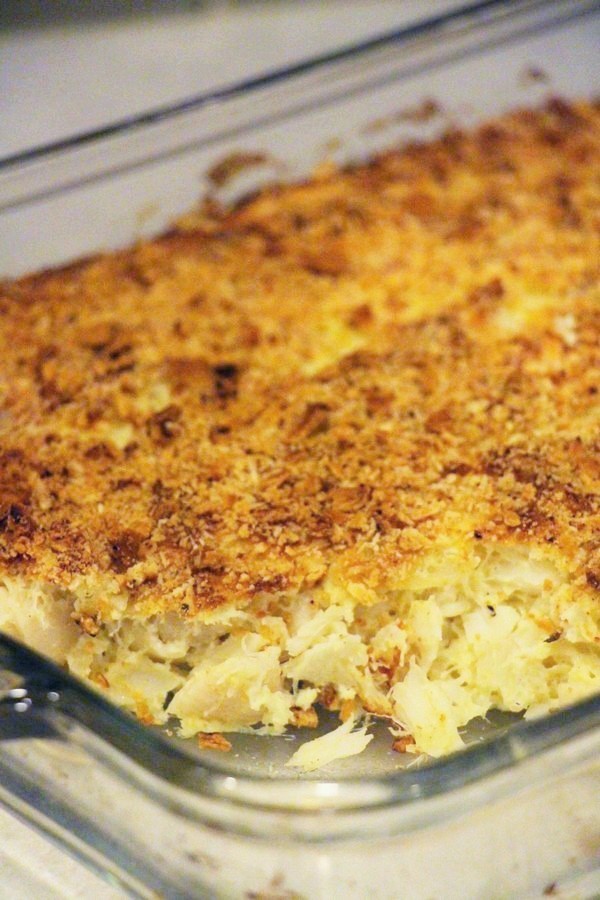 Norwegian Fiskegrateng; Fish 'n Macaroni Au Gratin Recipe
A mild tasting fish and macaroni casserole in a roux sauce, old Norwegian recipe loved by kids and adults.
Author:
Terese @ TheCountryBasket.com
Ingredients
1½ cups uncooked macaroni
2 Lbs cod or pollock fillets, or other white fish
3 eggs
4 Tbsp butter
¼ cup all-purpose flour
5 cups milk
2½ tsp salt
⅛ tsp pepper
¼ tsp ground nutmeg
⅓ cup bread crumbs or crushed crackers
Instructions
Grease a 9 x 13 baking dish. Preheat oven to 400°F.
In a large pot, cook macaroni according to the package, or slightly less to keep the pasta a little bit on the firm side. Drain, pour into a bowl and set aside.
Rinse fish. In the same pot, gently simmer fish in lightly salted water for 5-10 min. until flaky. Drain, keep the fish in the pot and break into bite sized pieces with a fork. Set aside.
Separate the eggs, set aside and allow to come to room temperature.
Melt butter in a medium sized heavy sauce pan. Add flour, whisk until smooth, and cook for a couple of minutes.
Pull away from heat, add milk, egg yolks, and spices, and whisk well until smooth. Bring to a boil over medium heat until thickened, stirring often with a whisk to keep lumps from forming. Set aside.
Whip egg whites with an electric mixer until very stiff peaks form. Set aside.
To assemble the casserole, combine macaroni and 3 cups of the sauce together with the fish in the large pot. Save the rest of the sauce for serving with the casserole later.
Very gently fold the egg whites into the fish mixture with a rubber spatula until mostly mixed but not entirely. Some little bits of egg white should still be seen.
Pour the mixture into the greased baking dish, and top with the crumbs or crushed crackers.
Bake at 400° F for 40 min. until golden brown and set.