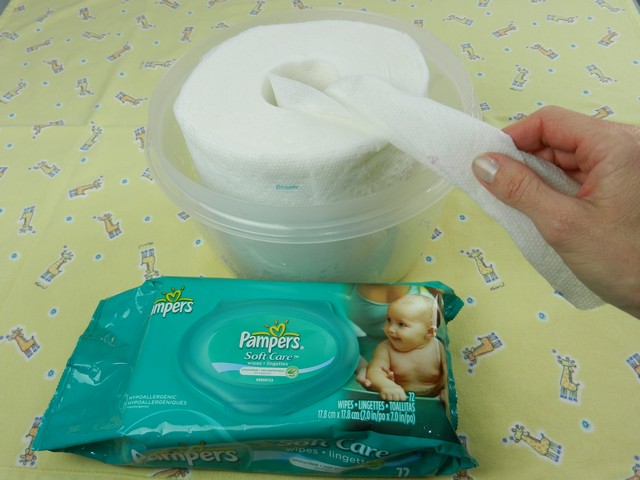 Babies are cute and cuddly, so very sweet! They do, however, need a good clean-up now and again, and baby wipes can come in very handy. Purchasing ready-made baby wipes can really add to the price of having a baby, so when had my first baby and heard about making homemade baby wipes, I jumped right to the idea. I tried them, and never looked back. I was sold! It is now several years ago since the youngest of my three kids was in diapers, but I decided to make a batch again to show you how, then donated them to a friend who has a little one. Baby wipes can be used by the whole family, whether you have a child in diapers or not, for freshening up or keep in the car for a quick clean-up when out and about.
Some benefits to making your own, is of course the money you save, for starters; your highest cost will be the paper towel roll, which will (depending on the size and brand) give you 200-300 wipes per big roll. The ingredients you add cost very little. I will explain in a little bit. First, I would like to point out that with this recipe, you can pick and choose which ingredients you want to use, so that you can adapt the recipe to fit your individual baby's needs. Some infants are very sensitive to fragrances, and some mothers prefer to use very specific products. This recipe allows you to adjust to fit your needs.
If you do try this recipe, I would really appreciate a quick comment with a star rating (option found immediately under each recipe). It helps me out tremendously! Thanks in advance!
Here's what you need, and what you do:
Ingredients needed, plus measuring spoon or regular eating utensil spoon for measuring, and a whisk to mix the ingredients together:
Big paper towel roll (Bounty, select-a-size works well), baby lotion, baby wash, baby oil or mineral oil, large Tupperware container, measuring cup, cutting board, large straight-edge knife, and a knife sharpener (optional).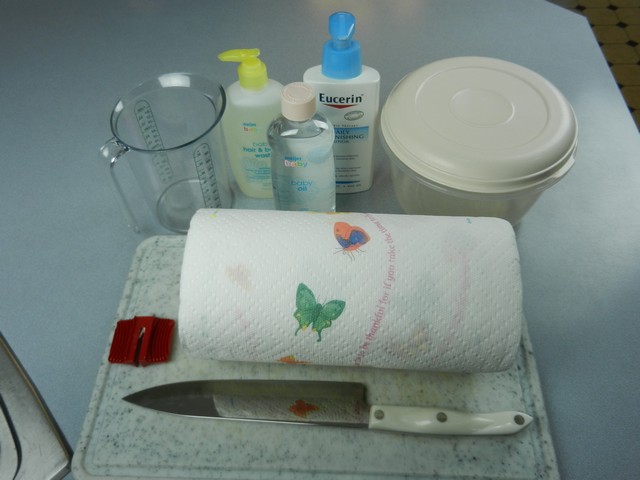 Regarding the paper towel roll, I personally always preferred to use Bounty, because the paper is softer and stronger than a lot of other papers; in addition, they have available what they call "select-a-size". These sheets of paper towel are cut much smaller, so you pretty much get twice as many. Of course, the wipes will be only half size as well, but I found that I often only needed a tiny bit; a regular sized wipe was often not necessary, but the commercial wipes are hard to rip in two. With the small paper towel wipes, you only use what you need, and you can always take another one if needed.
Cut the roll in half, using a large knife with a straight edge. If you use a serrated knife (jagged edge), you will find that it is much harder to cut with, and you'll be shredding the edges of the roll as you cut. A straight edge knife works much better. You should know that the knife will become dull quite quickly from cutting the paper. Purchasing a knife sharpener will come in very handy. I have one similar to the one in THIS LINK, and used it just about every time as it made a big difference in how well the knife would cut.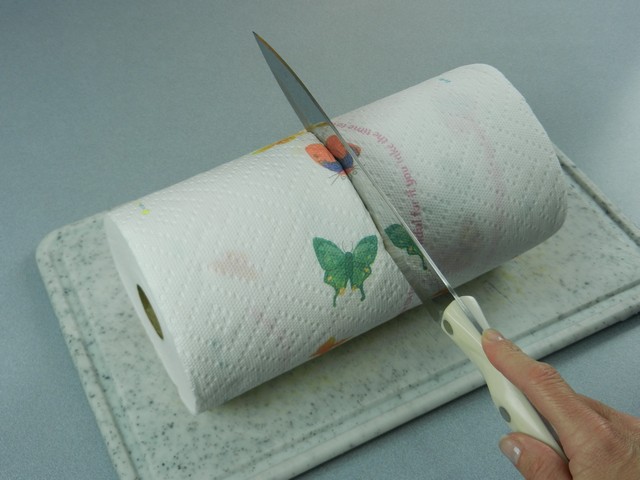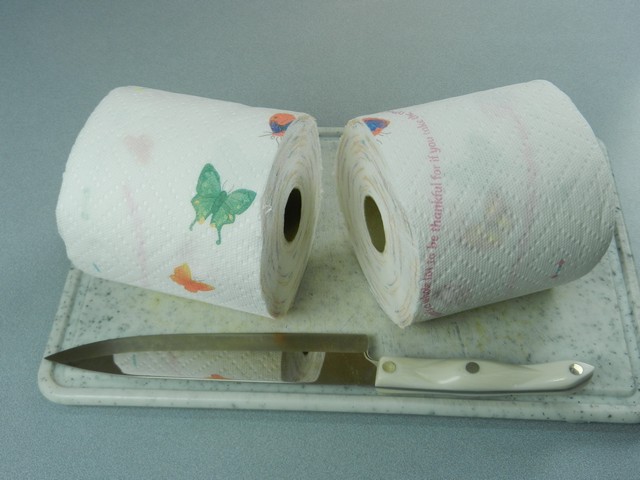 Put one roll in the Tupperware container, and store the other one for next time.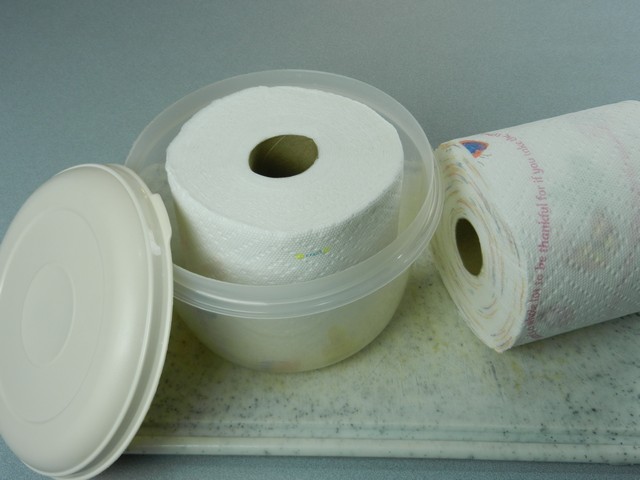 As far as the solution to soak the wipes with, you start by filling a measuring cup with 2 1/4 cups of hot tap water (more or less, depending on how wet you like them); make it as hot as you can get it, otherwise you can also heat the water on the stove top if you wish. I once tried to skip this step by using cold tap water, and after a few days or a week or so, the wipes started to smell musty, which never happened when I used hot water. So, using hot water does make a difference.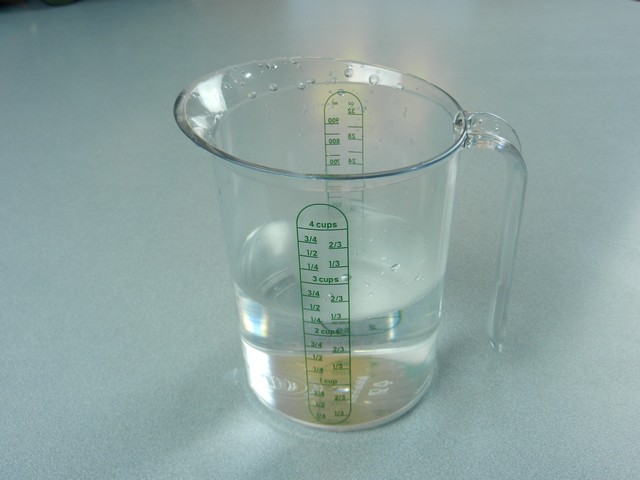 To the water, you add a tablespoon each of baby oil, lotion, and baby wash of some kind, and whisk it into the water until well blended.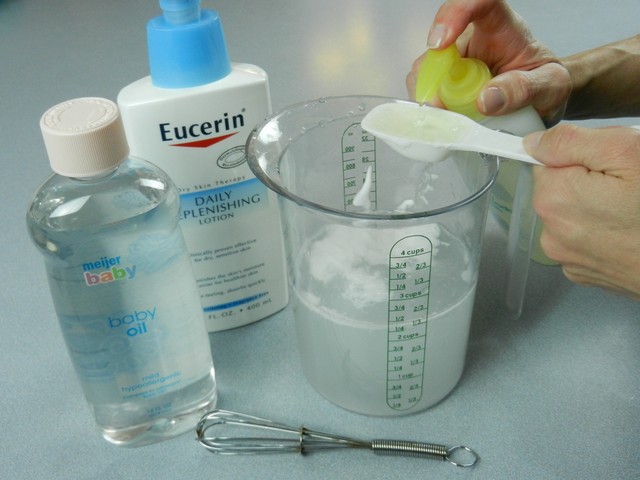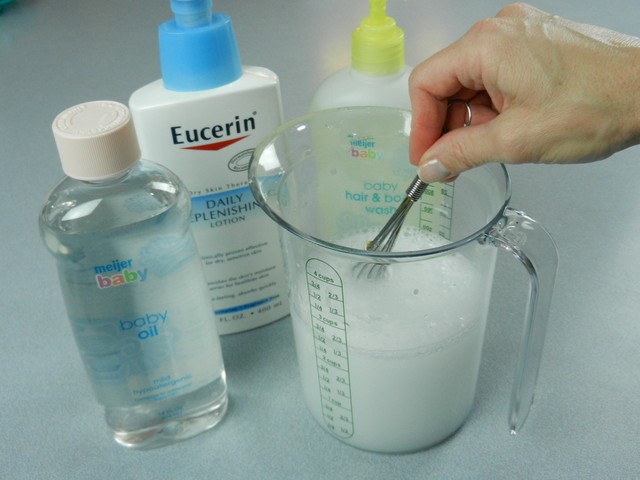 My babies tolerated all of these products well, even my one baby who had relatively sensitive skin. If you are uncomfortable with using baby wash, you can use any mild cleanser that you wish, as long as you can get it to mix into the water. The whole point of this solution is to make the wipes somewhat slippery, so that whatever needs to be cleaned up slides right off without much rubbing. After a while of making the wipes, I didn't measure anymore; I would just give each bottle a good squirt, and call it good. It worked very well, and I found that exact amounts were not important.
Pour the solution evenly over the top of the paper towel roll. All of it, all the way around.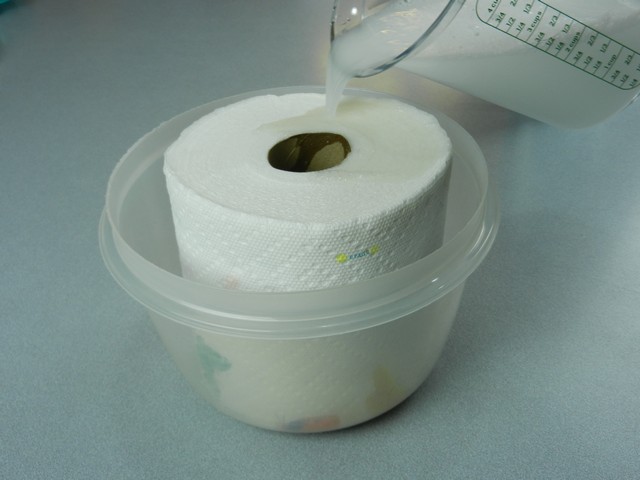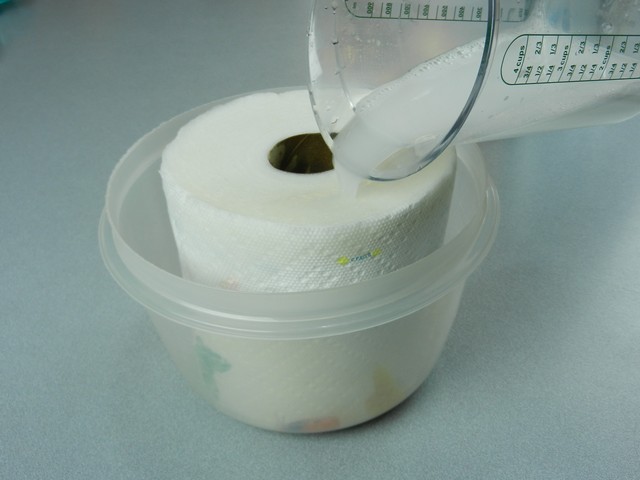 Put the lid on, and let soak for a few minutes.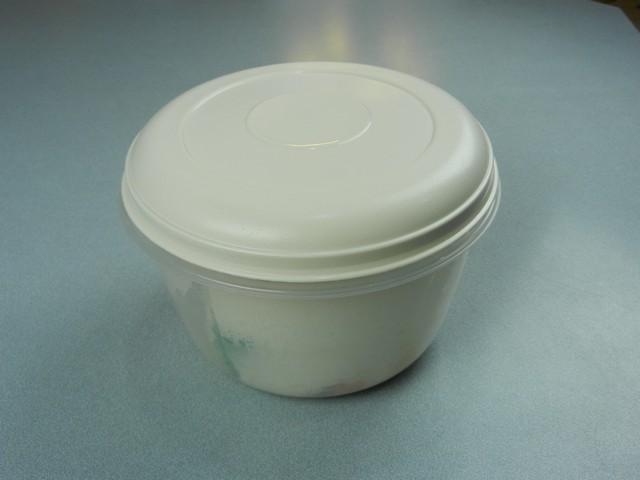 Then you remove the cardboard from the inside of the roll. Once soaked through, it comes out easily. If it starts ripping and doesn't seem wet all the way through, let soak a little longer, then try again.
I like to remove the first wipe, as the rolls sometimes contain glue. It seems Bounty doesn't use glue anymore, but I'm not sure… It doesn't cost me much to remove the first one just in case.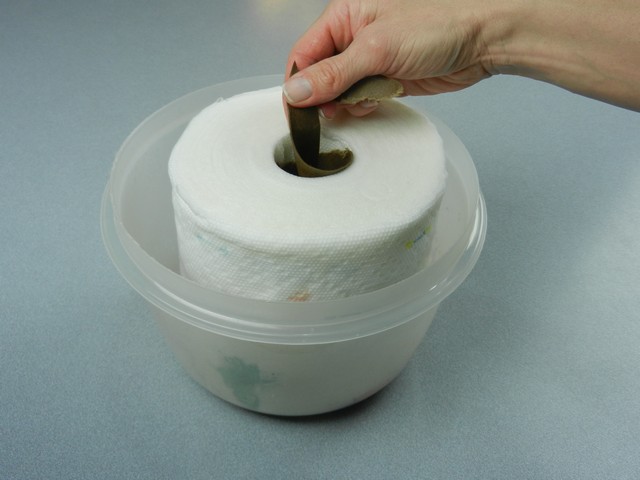 Then you can start using the wipes. I always liked to pull them out from the middle, and kept the roll in the container. However, if you prefer, you can rip them all apart at once, and store them in a container of your choice, and also maybe put some into a small traveling case for the diaper bag.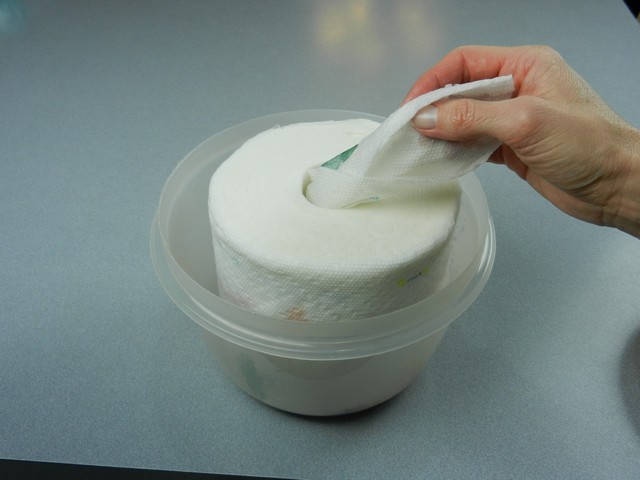 As you can see, you need very little product to make a big batch of baby wipes, so you can save a lot of money by making your own. The roll of paper towel will no doubt be the higher cost item, and I would think that lotion would be next on the list, though you can make a whole lot of batches on one bottle of lotion!
When it comes to lotion, a lot of different types of lotions will mix into the solution when you use a whisk. However, there are some lotions that will not mix with water, and it seems to be the oilier types that I've struggled with. You can easily test this by adding a little bit of the lotion in question to a small cup of water, then see if it will mix when using a little whisk. If it doesn't mix well, then you know not to use this lotion for the wipes, and you'll just try a different one.
I hope you'll enjoy this project of making homemade baby wipes to be fun and easy, and that it will save you some money as well! Please comment and rate this recipe if you try it; option is found immediately under the recipe. Thank you!!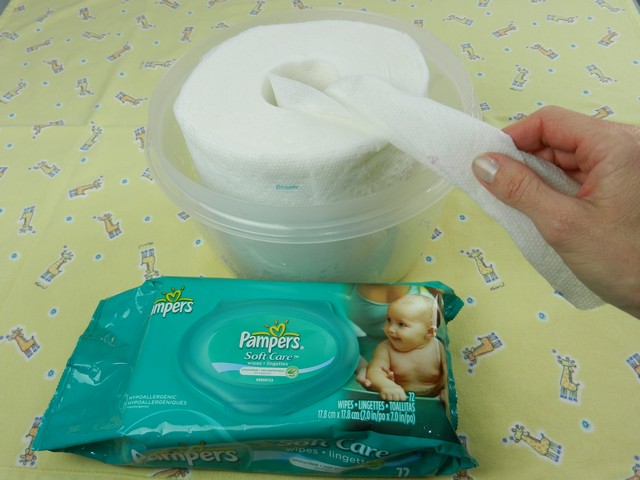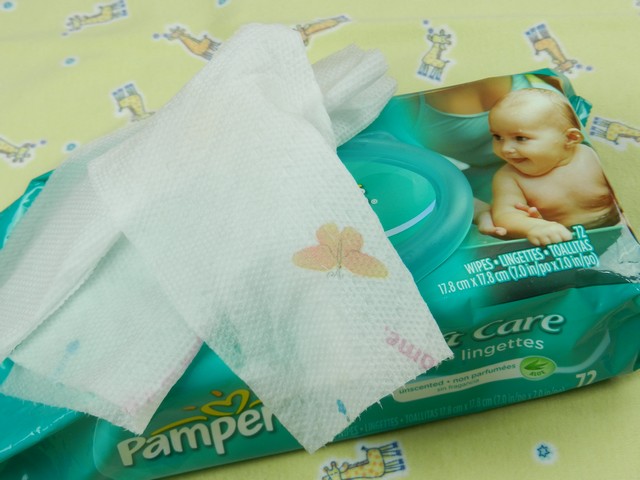 These homemade baby wipes can be fit to meet your baby's needs, by choosing the products you prefer.
Ingredients
1 big Bounty select-a-size paper towel roll
2¼ c hot tap water
1 Tbsp baby oil
1 Tbsp baby lotion
1 Tbsp baby wash
Instructions
Cut the paper towel roll in half, over the middle.
Put one half roll into a large Tupperware container.
Mix together the water, oil, lotion, and soap, until well blended.
Pour solution evenly over the top of the half paper towel roll, and let sit a few minutes until it has soaked through.
Pull out the cardboard from the middle of the roll, and pull out and discard the first wipe.
Pull the wipes from the middle of the roll as needed.