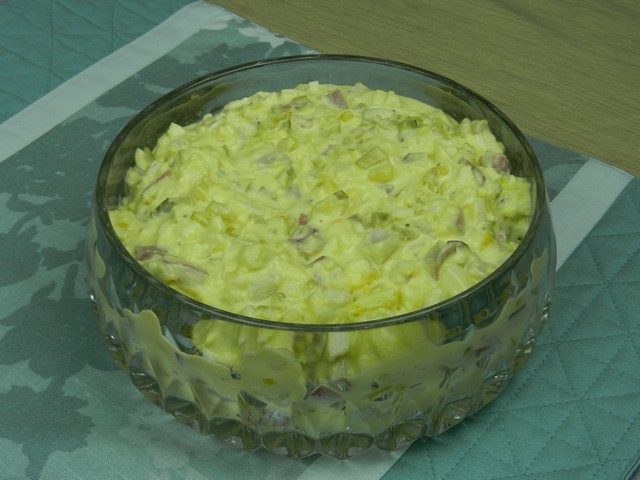 Potato salad is a great addition to almost any lunch or dinner meal. Purchasing potato salad from the deli can be very convenient, but making it at home can be oh, so worth it! The main problem I have with potato salad purchased at the grocery store is that the potato cubes usually are far too firm. Sometimes they are downright crunchy! Who enjoys eating crunchy potato salad? Well, not I, I can tell you that much! Perhaps the potatoes are kept firm to keep them from losing their shape and turn to mush rather than salad, which I can understand and appreciate. Personally, I still think that flavor and tender potatoes is more important than shape, though I too, try to avoid making mush out of my salads. My potatoes do loose their shape a little bit when stirred, but not enough to cause a problem. Instead, we often find ourselves taking second helpings of this potato salad, because it tastes so good and the texture is right. It is creamy and moist, a great addition to the meal served.
If you do try this recipe, I would really appreciate a quick comment with a star rating (option found immediately under each recipe). It helps me out tremendously! Thanks in advance!
I adapted this potato salad recipe from the recipe that my mother-in-law used for her family during my husband's childhood, and still uses today. I have made a couple of minor changes, but the credit otherwise goes to my dear mother-in-law for this deliciously mild, but tasty, potato salad. It contains eggs and sweet & tangy pickles, I also like to use skin-on red skin potatoes, and the salad is otherwise quite moist and creamy.
Because the red color from red skin potatoes adds to the beauty of this salad, in addition to a lot of nutrition, I like to leave the skin on. Eating it, you can hardly tell the difference, so the benefits are well worth it. Most of the vitamins, minerals, and fiber is in the skin and in the very thin layer immediately underneath, so peeling does remove a lot of nutrition. I don't think peeling is necessary or beneficial at all, in this recipe.
Note: This time I made 1 1/2 times the recipe, because I needed a little more for the company I was serving. So the amounts of ingredients on the pictures deviates from those of the recipe itself.
Here goes:
I scrub the potatoes clean under running water, using a stiff vegetable brush. The peel is thin and some might come off as you scrub. That's OK.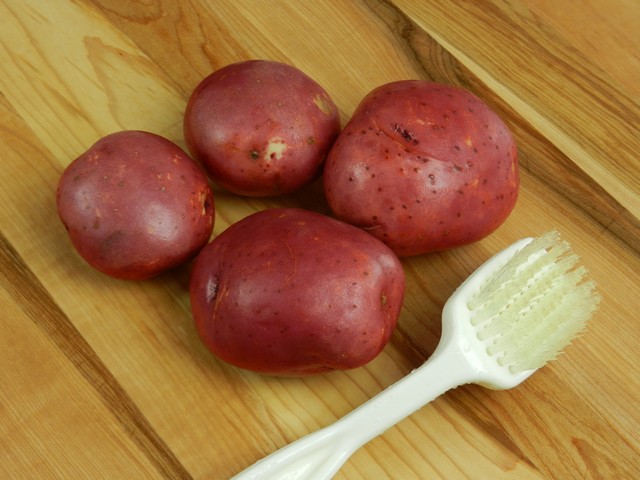 Then I cut the potatoes into small cubes. I've noticed that potato salads often contain larger cubes, but personally I prefer to do what my father suggests (he's quite the cook, by the way!), and cut them into small cubes. The salad texture seems creamier without large, plain pieces to chew, and it all blends together better. The same goes for soups and stews.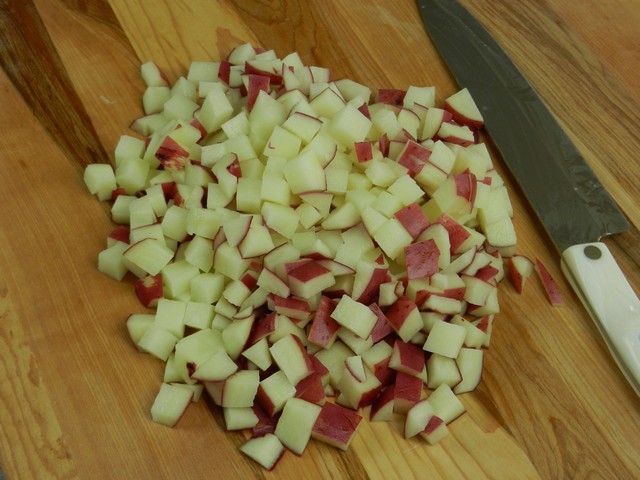 After cutting, put the potatoes into a pot. Immediately rinse off the still-wet knife and board as the potato starch will come right off, so you won't have to wash them. Just rinse, and you're good to go. If you wait until they dry, you'll have to wash them. No big deal, but less washing is always nice.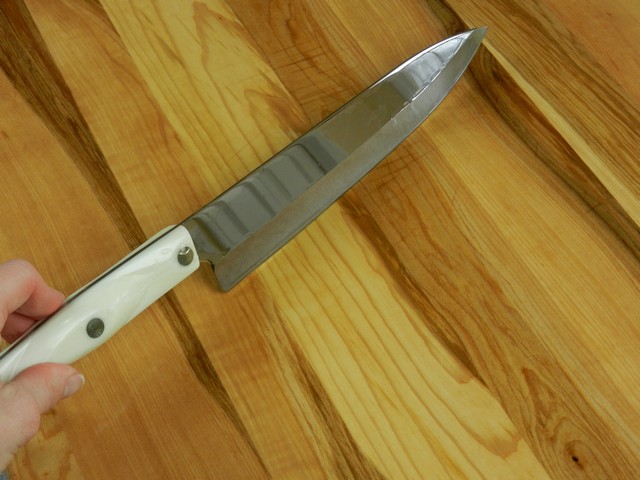 Pour enough water in the pot to cover the potatoes, then add a little salt to give the potatoes some flavor. I wing it and just sprinkle in a little bit from the big container, maybe a couple of teaspoons' worth. If you're unsure, taste the water; it should taste slightly salty.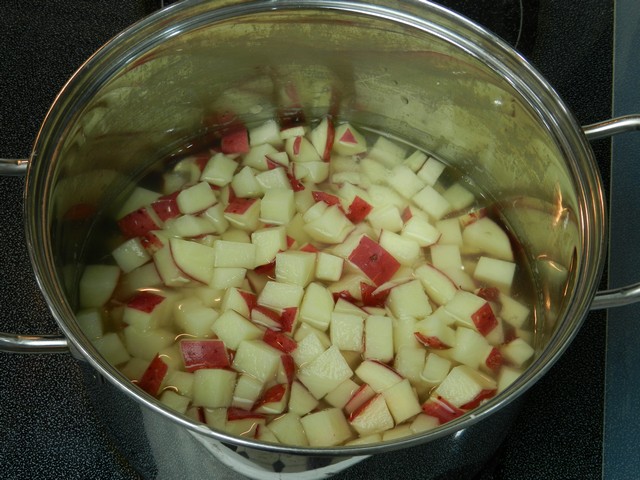 Bring to a boil, cover, and let simmer until tender. This could take anywhere from 10-20 minutes, depending on how large the pieces are. I like to check with a paring knife. This next picture was taken right after it started boiling; bring down the temperature a little more until it is bubbling gently (simmering.) When the potatoes are tender, drain off the water, reserving up to a half cup for use later (this is optional.) Then let the potato cubes cool down completely. You can put the pot in a cold water bath in your kitchen sink, or spread them out on a cutting board or large plate, refrigerate, whatever you prefer. Just make sure they do cool down before mixing into the salad.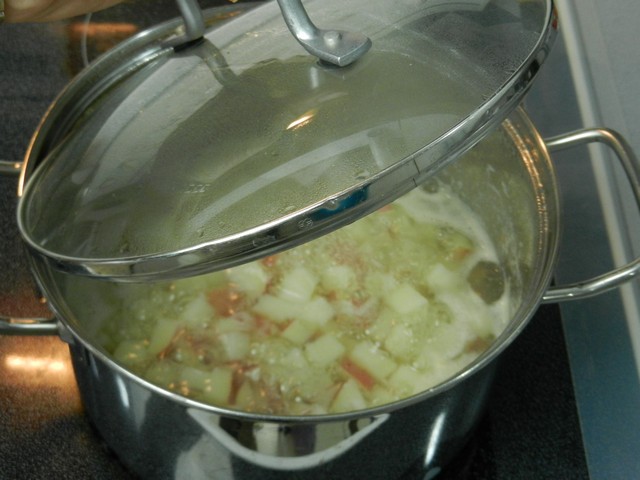 Once I get the potatoes going, I move on to the eggs. I poke a hole in the wide end of each egg (using a needle, or a gadget like this), and boil them until hard boiled; usually around 12 minutes if the eggs were lowered (using a spoon) into already boiling water. The time depends on the cooking method used. As soon as the eggs are done, I put the pot in the sink, drain off most of the hot water, then turn on the faucet and fill with cold water until the water in the pot stays cold, and let the eggs cool down completely for several minutes. Check the water after a bit, refilling as necessary to keep it cold.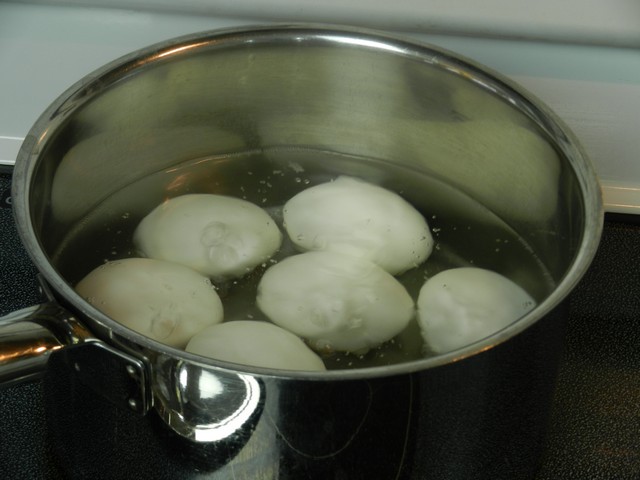 While the potatoes and eggs are boiling, I prepare the rest of the ingredients. I grab some pickles out of the jar…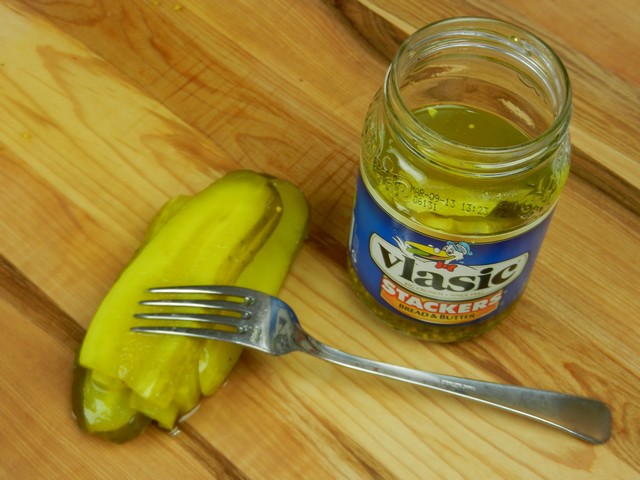 …then chop into little pieces until I have what I need. Then I rinse the knife and board again, washing the board a little bit just to be sure.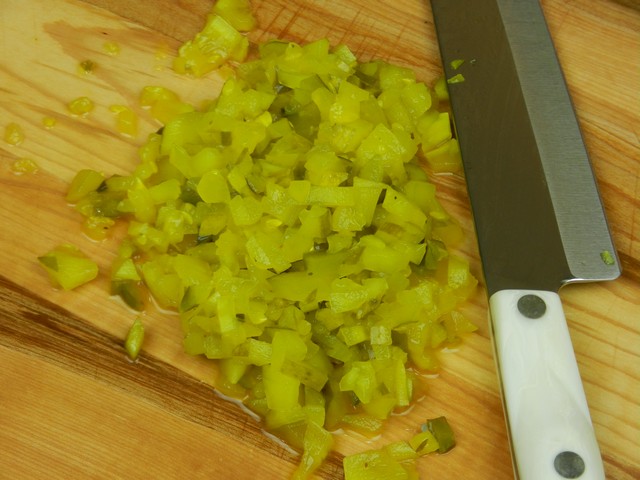 I measure up mayonnaise, salt, and also some of the juice from the pickle jar or a little bit of potato broth. You can use either pickle juice or broth, or a mix of the two. The idea is to add some liquid to make the salad more moist and creamy without adding extra mayo, to cut back on oil and calories. Pickle juice will add more flavor, though some people may prefer to stick to potato broth instead of this extra pickle flavor.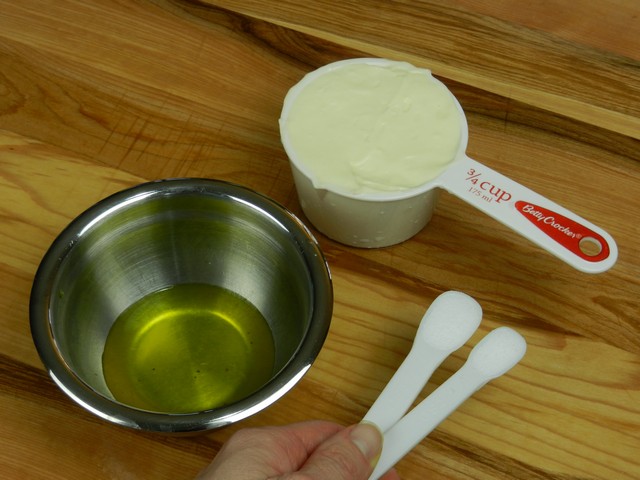 The chopped pickles are transferred to a bowl along with mayo, salt, juice or broth. Mix together well before adding the eggs and potatoes. This will help the flavors to blend without stirring up the tender potatoes any more than necessary, to prevent them from breaking apart.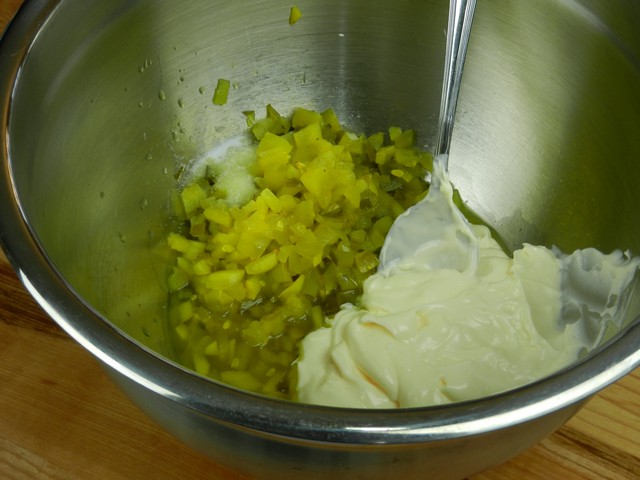 After the eggs have cooled down completely, peel them, and rinse the eggs in cold water if necessary, to remove tiny leftover pieces of egg shell. Very fresh eggs can of course be hard to peel. One of my eggs this time was stubborn and would not easily let go of the shell, as you can see on the one side already peeled. When this happens, I find it easiest to use a spoon, since spoons are gently curved just like an egg. I sneak it under the shell and work it around the egg until I get the shell off. If it is especially tricky, you could even try to spray the spoon on both sides with a little cooking spray to help it slide around…. Hmmm… I just though of that. I've never tried it, but I will next time I have that problem! I am really curious now! If you try it before I've had a chance, leave a comment to let me know how it went. There are lots of methods out there for how do deal with hard-to-peel eggs; using a spoon works for me.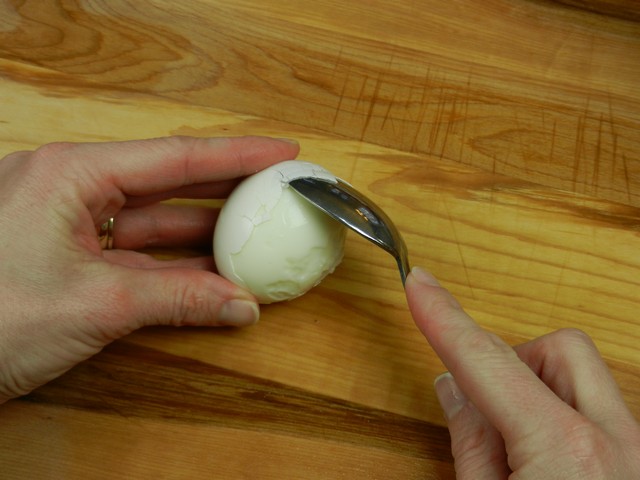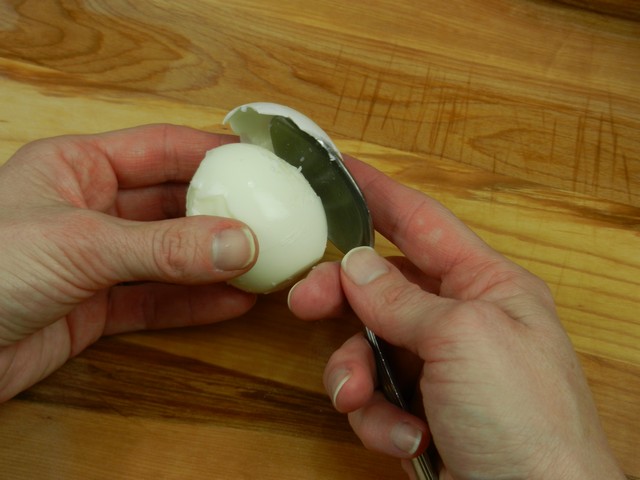 I used to chop the eggs on a cutting board, using a large knife. However, lately I've done what you see in these pictures, and cut them up in a bowl using a pastry cutter. It's quick and easy, and leaves much less mess to clean up.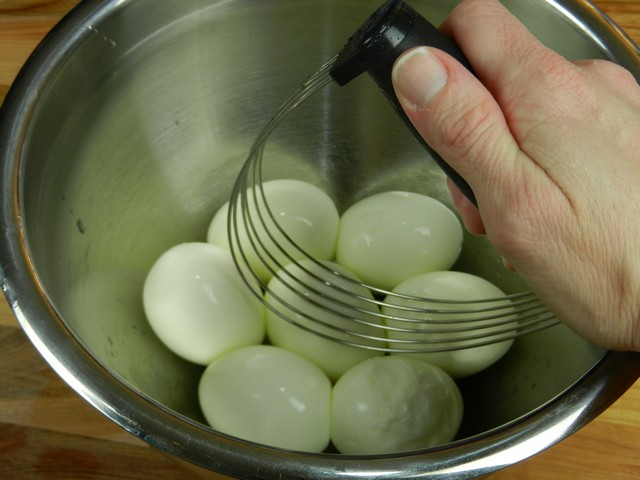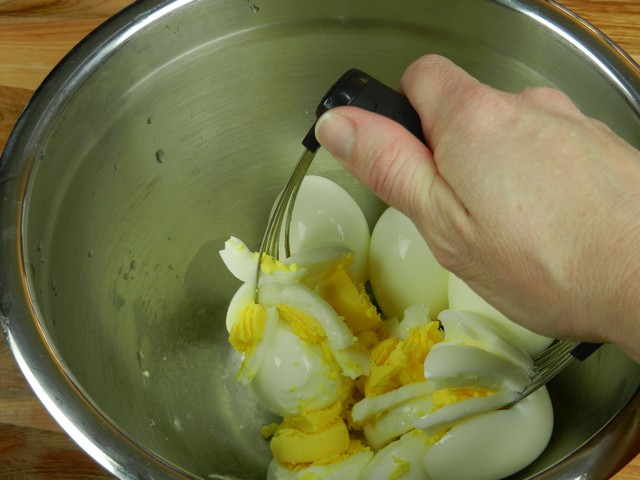 Cut into small pieces; not tiny, but small. The yolks tend to fall apart during the cutting process, and that's OK.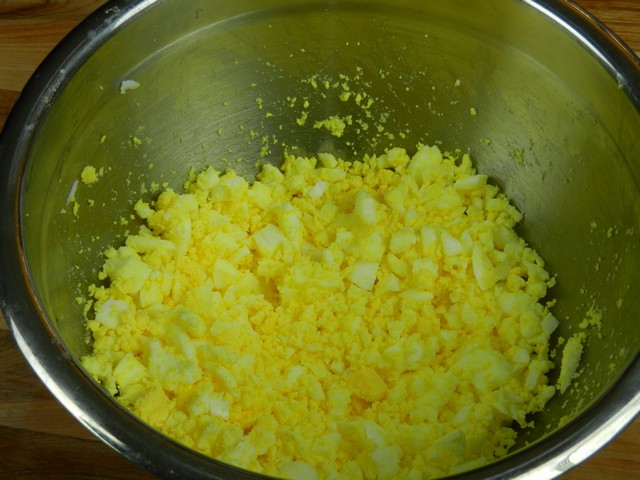 Once the potatoes are cold, add them along with the chopped eggs to the bowl of creamy mayonnaise mixture.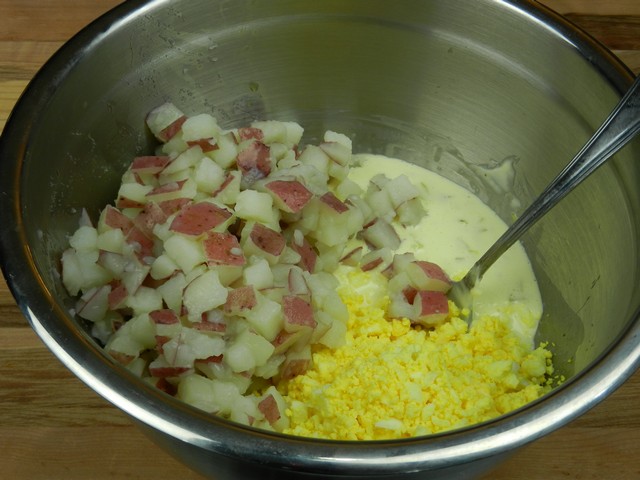 Gently stir until blended. As you can see on the picture above, the potatoes are already starting to fall apart a little bit here and there, so you'll want to go easy on them so you don't end up with a mash rather than a salad.
Look at the beautiful color you get from adding eggs, not to talk about great flavor!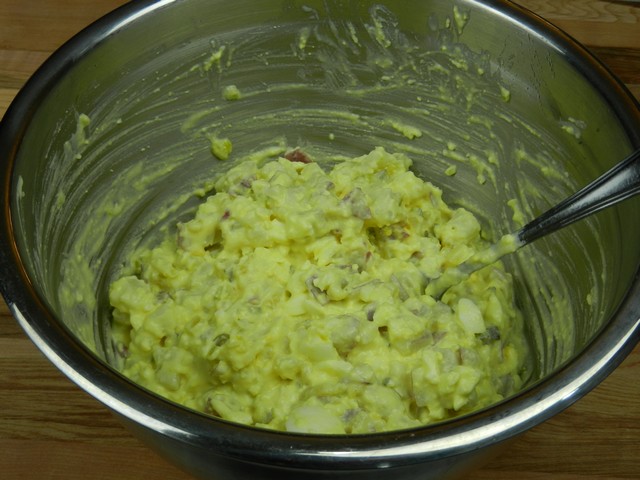 Promptly put the potato salad in the refrigerator until ready to serve.
This potato salad is tender and creamy, with eggs and tangy bits of bread & butter pickles. I hope you'll love this recipe as much as we do! Please comment and rate this recipe if you try it; option is found immediately under the recipe. Thank you!!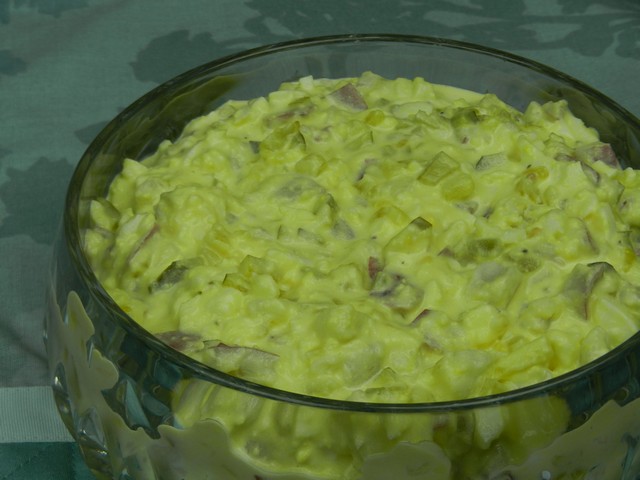 Mild & Tangy Potato Salad with Eggs
This potato salad is beautiful and tasty with eggs, sweet pickles, and red skin potatoes.
Author:
Terese @ thecountrybasket.com
Ingredients
1 Lb (3 c) washed, cubed red skin potatoes, skin on
5 eggs
¾ c chopped Bread & Butter pickles
½ mayonnaise
2 Tbsp pickle juice or potato broth
½ tsp salt
Instructions
Boil the potatoes in lightly salted water until just tender. Drain, cool completely.
Boil eggs until hard boiled, drain, let cool completely, peel and chop.
In a medium sized bowl, mix together chopped pickles, mayonnaise, salt, and pickle juice or potato broth, until well blended.
Add cold potato cubes and chopped eggs, stir gently until mixed together.