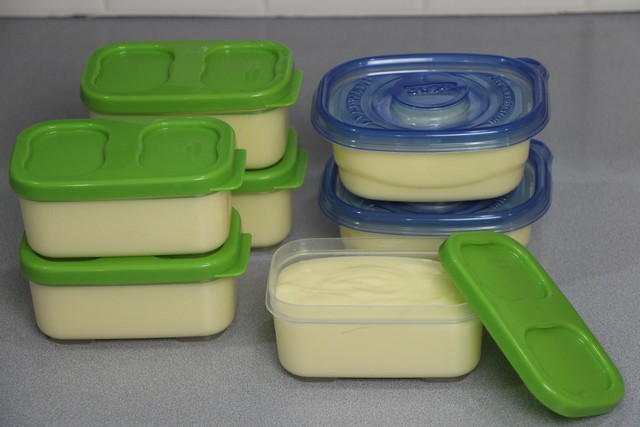 For several years we have made our own soft spreadable butter to use on our sandwiches in place for margarine. Even though we keep it in our refrigerator, it stays soft, unlike regular hard butter. It is ready for use at any time. This homemade "margarine" is very convenient to use, and has also saved us money by stretching our butter to last twice as long.
If you do try this recipe, I would really appreciate a quick comment with a star rating (option found immediately under each recipe). It helps me out tremendously! Thanks in advance!
I grew up using margarine to spread on my sandwiches. It was nice and convenient to be able to grab the tub of soft spread right from the fridge and use it without crumbling my slice of bread. It was also believed that margarine was better for us than real butter. After I grew up, I have come to believe that it's the opposite way, butter being the healthier alternative as it is a natural product, unlike the heavily processed margarine. That doesn't mean every natural product is good for you, but being that margarine ingredients after processing are altered, and in my opinion not natural in any way, I can't see how margarine can possibly be better for the body than butter, or equal to it.
When we first started using butter for our sandwiches in place for margarine, we would keep some on the counter top in order to keep it soft. Hard butter could be such a frustration, as the bread would crumble in the effort of spreading. We then found that we could easily make our own homemade soft-to-spread butter to keep in the refrigerator. It really is quite simple; we use equal amounts of butter and vegetable oil, and add a little salt to it. So, first I'll show you how to make the homemade margarine alternative, then I'll also show you a way to keep pure butter soft, clean, and fresh right on the counter.
How to Make Soft, Spreadable Butter Quickly and Easily:
I like to make a fairly large amount of this great tasting butter for our family, so I double the recipe and use 4 cups of butter, and leave that to soften in a bowl for several hours or overnight. I add an equal amount of canola oil or light tasting olive oil. I have found regular olive oil to flavor the butter too much, so we prefer to use light tasting oil. I also add 1 1/2 tsp of salt, preferably kosher. Since kosher salt can be very different from one brand to the next, it is a good idea to try a little bit at a time until you have found what works for you.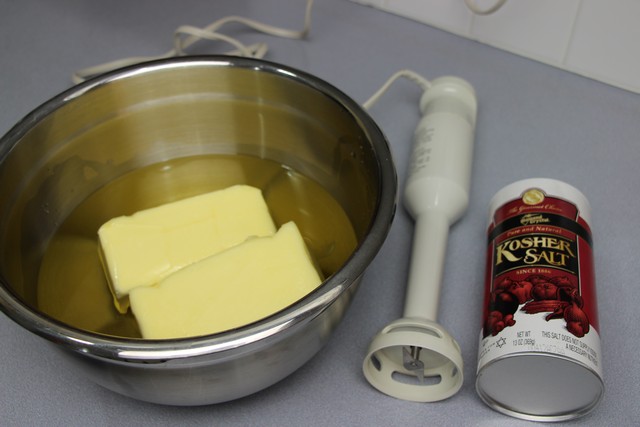 When the butter is completely soft, I whip these ingredients together, using a stick blender, until completely smooth.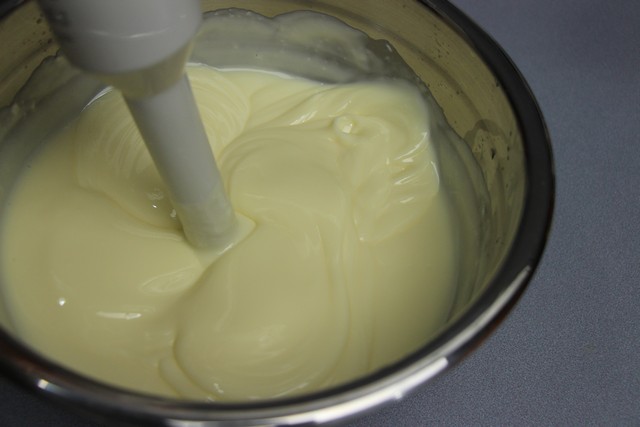 Our stick blender (also called immersion or hand blender) is a Braun, but is many years old. If it should die on me, I'll probably get the one in this link, as it has much better reviews than the Braun on Amazon that is the most similar to mine. If you don't own a stick blender, you might be able to use a regular blender as well, or possibly even a hand mixer.
After mixing, I simply pour the butter blend into containers and refrigerate. I love these Rubbermaid Lunchbox Containers from Amazon for this purpose; they are nicely stackable and look pretty, too.
This butter will firm up when refrigerated, but is quite soft when you cut into it. It spreads easily, especially if left in room temperature for a minute or two. It will continue to soften until runny, but firms up again once you place it back into the refrigerator. This recipe is quick and easy, and allows you to make homemade spreadable butter similar to margarine, but using more natural ingredients in the process.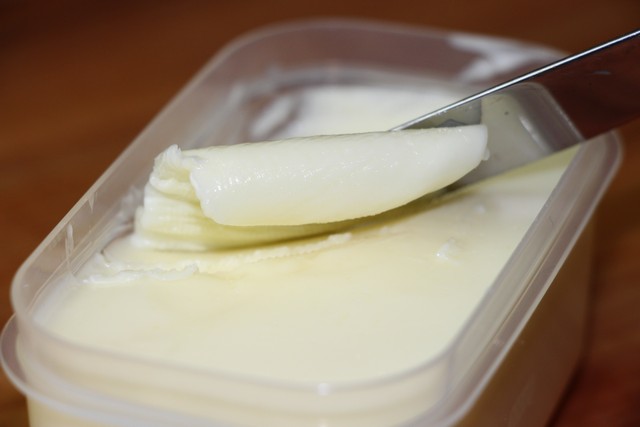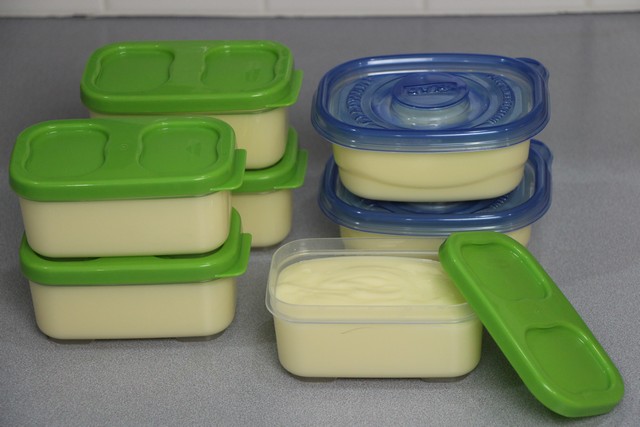 A Butter Crock Alternative
Even though the rest of my family prefers my homemade, spreadable butter, I still prefer to use it pure and unmixed. As a solution for keeping my pure butter soft, I have purchased a beautiful butter crock that allows me to keep it soft and fresh on the counter top for a week or more, as the crock uses a water-seal to protect it. Softened butter is scooped into the crock itself, which is inverted into the outer bowl, which holds a small amount of water. The water creates a seal around the outside of the butter crock without touching the butter itself, keeping it fresh. I use mine all the time, and I'm very happy with this particular crock as it holds almost 2 sticks of butter, unlike the majority of other butter crocks which only hold one. It also looks beautiful and comes in several different colors. Here's another very pretty one
.
All in all, keeping butter soft and spreadable while still in the refrigerator is easy when you mix it with oil and a little salt, and it can be a great money saver as well. Please comment and rate this recipe if you try it; option is found immediately under the recipe. Thank you!!
Making Homemade Soft, Spreadable Butter. Recipe
This butter spread stays soft even when refrigerated, and can be used in place for margarine.
Author:
Terese at www.thecountrybasket.com
Ingredients
2 c butter
2 c canola oil or other light tasting oil
1½ tsp salt
Instructions
Leave butter to soften for several hours or overnight.
Blend together butter, oil, and salt.
Pour into containers and refrigerate.