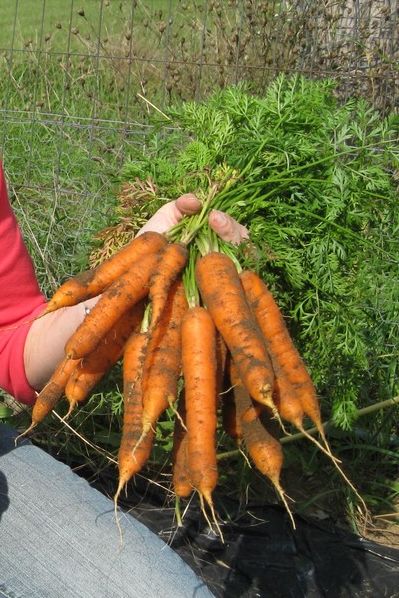 Homegrown carrots are known for their sweet and flavorful taste. They also have a bit of a reputation for being hard to grow, but I have found that carrots are fairly easy if they have the right growing conditions. A little bit of information and preparation goes a long way. Being a hobby gardener only, and not a professional, I have personally grown carrots successfully for several years. I'll show you what I do and give you some how-to tips that can make a big difference in getting them to germinate and grow properly. First some information to help you understand what carrots need in order to thrive in the home garden, then some practical pictures to show you exactly what to do: How to seed, germinate, grow, and harvest homegrown carrots.
Important factors to be aware of
Soil conditions
Carrots like sandy, well drained soil. They do not do well in clay, compact, rocky, or water logged soil. They like moisture, but not wet soil that will not drain. If your natural soil is not optimum for carrots, you could try a raised garden bed and prepare it with soil that will work better. Otherwise, gypsum may help improve clay based soil.
Before you sow, till or work the soil deep and well, down to a couple of inches below the debt of fully grown carrots. Remove rocks, twigs, roots etc. Carrots like loose soil with little / no debris hindering them. You may not be able to get rid of every little bit, so just get the worst of it. Then dig down some fertilizer (see more info below).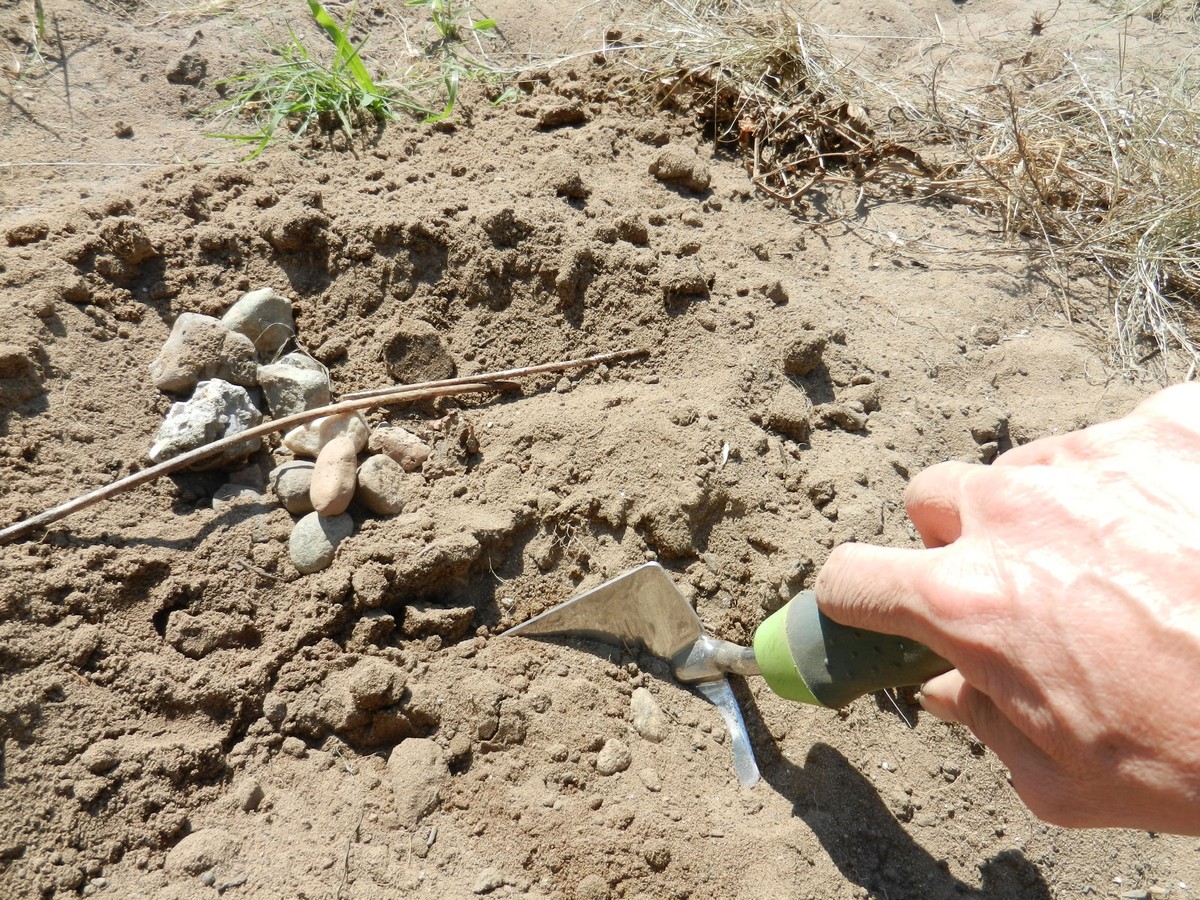 Fertilizers
Contrary to a lot of other vegetables, carrots do NOT like a lot of fertilizer! They actually do better in somewhat poor soils, so when it comes to fertilizers, less is more. They do like some nutrition for sure, so don't avoid fertilizers, but use only half of the amount recommended on fertilizer packages. The best way to know how to fertilize your soil is by doing a soil analyzes at a garden center to figure out the nutrition status of your soil, and go by their recommendations. They cost around $15; bring a bag of about 2 cups worth of your soil, and it may take a week or two to get the result.
In general though, on fertilizer packages you'll see three numbers in a row that stand for (consecutively) nitrogen-phosphorus-potassium. When I first seed, I often add a little bit of a general, balanced fertilizer such as 10-10-10. But if possible, go very low on nitrogen and more of the other two so you'll have less green and more carrot. Example: 0-10-10 or 5-15-15. High nitrogen causes a lot of foliage and little to no root growth, which is fine for lettuces but not for root vegetables.
A good way to think about these numbers and and which part of the plant will be focused on, is "Up-Down-All Around". So for carrots, you want Down and All-around, not so much Up. As a natural supplement every month or so you can add some fish emulsion or sea weed if you'd like (the one linked to has both), which they love! Bone meal is also great, and if adding some potash along with it, you have both phosphorus and potassium covered. Natural fertilizers often add a lot of beneficial trace nutrients as well.
Moisture
Carrot seeds need to stay moist in order to germinate; if they dry out, they will die pretty easily. Carrot seeds are supposedly hard to sprout, and I used to think they were just fussy in general. But for me it has always come down to watering. If I have not been able to keep them moist and they don't sprout within two weeks, I just try again, no big deal. So far I've never had a season without a good carrot crop in the end.
I always succession seed (spacing out two or more sets a few weeks apart) in order keep the goodies coming all summer. When seeding during hot weather, I water at least twice a day, three times if possible. There are times when I delay seeding because I know I'll be too busy to stay on top of it and there's no use in even trying.
After sprouting I keep watering frequently but gently for another week or so, depending on weather and temperature, then once or twice a day until they start to really establish and grow. I have also been known to put out a sprinkler with a timer on it mid summer, which frees me up.
Throughout the growing season carrots should be watered regularly just like other crops. But since they grow deep into the ground, they prefer a small trickle over time so it can seep down deep rather than a big downpour that spreads out and evaporates. While also watering other crops, it has also worked well for me to go back and forth between them, allowing water to absorb before adding more.
Seeding Carrots
Before seeding I dig through the soil with a hand rake to get rid of any rocks, twigs, and other debris, and also to fluff up the soil. Afterwards I gently smooth out the top without packing it down, and mark the area to make sure nobody steps where they shouldn't.
Then I mark lines for rows and make skinny grooves (1/4 inch or so) with my finger or my trusty weeding tool (similar to this one). Seed packets say to space rows a foot apart, but that's not really necessary unless you have a ton of rows and plan to use machinery to harvest. I usually only have four rows close together at any given time to allow room for weeding and care, so for me five or six inches in between works really well.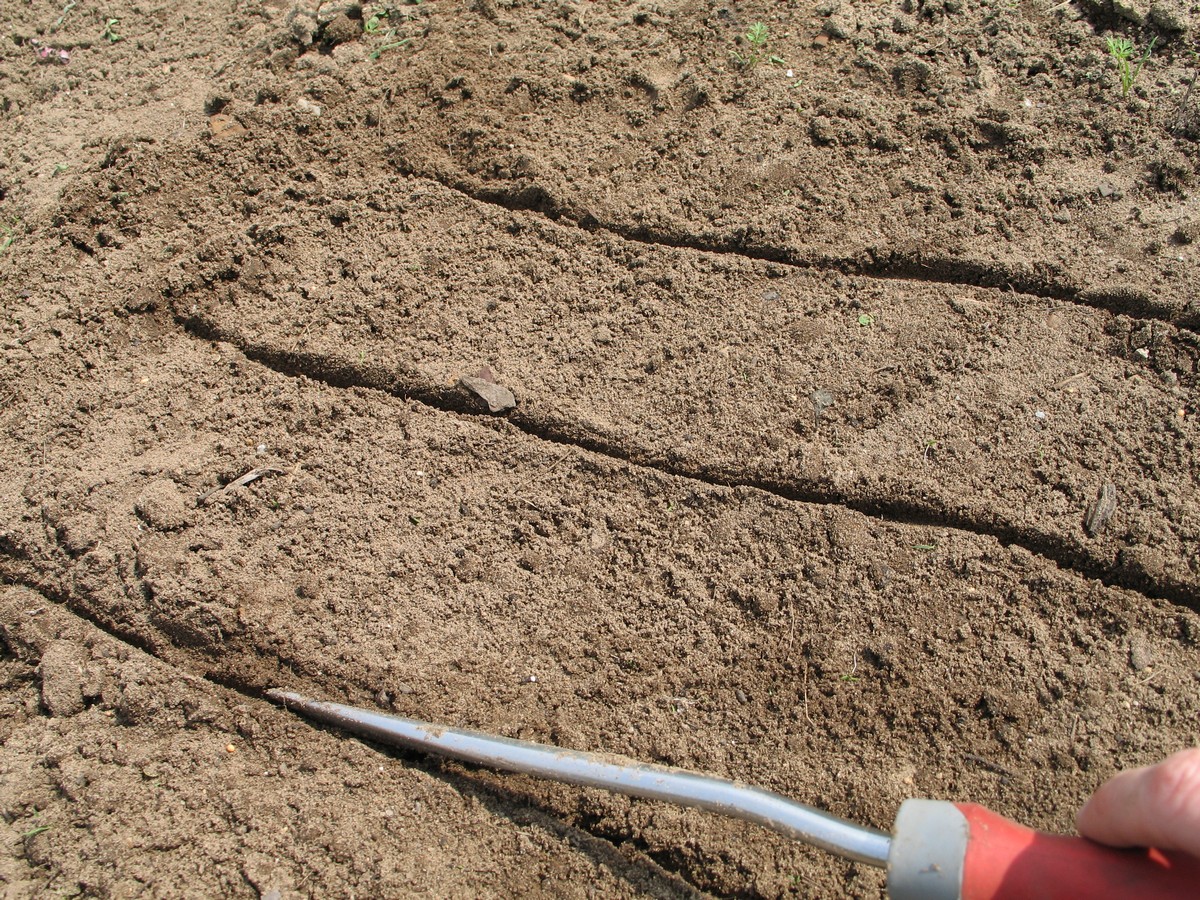 The seeds are really tiny, so I pour some into the palm of my hand and pinch a few at a time with my fingertips, rubbing them together and sprinkle into each groove. I move my hand along the row so that they fall fairly evenly into the groove. It's a good idea to seed them close together, even if they land on top of each other here and there. You'll space them later. It just helps to ensure that you'll have enough seedlings growing where you want them, in case some don't sprout.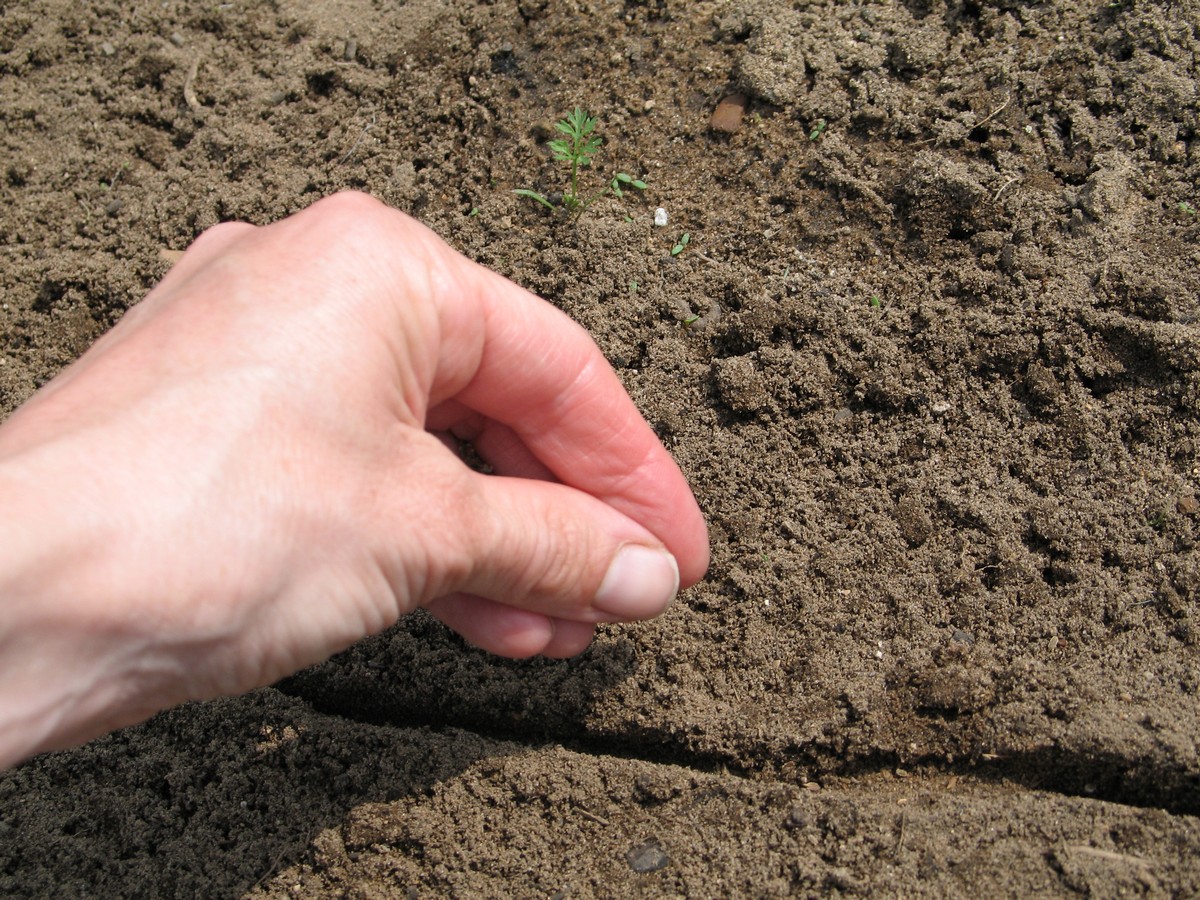 After my rows are seeded, I close up the space by pinching a little bit of dirt from either side of the groove, like in the next picture.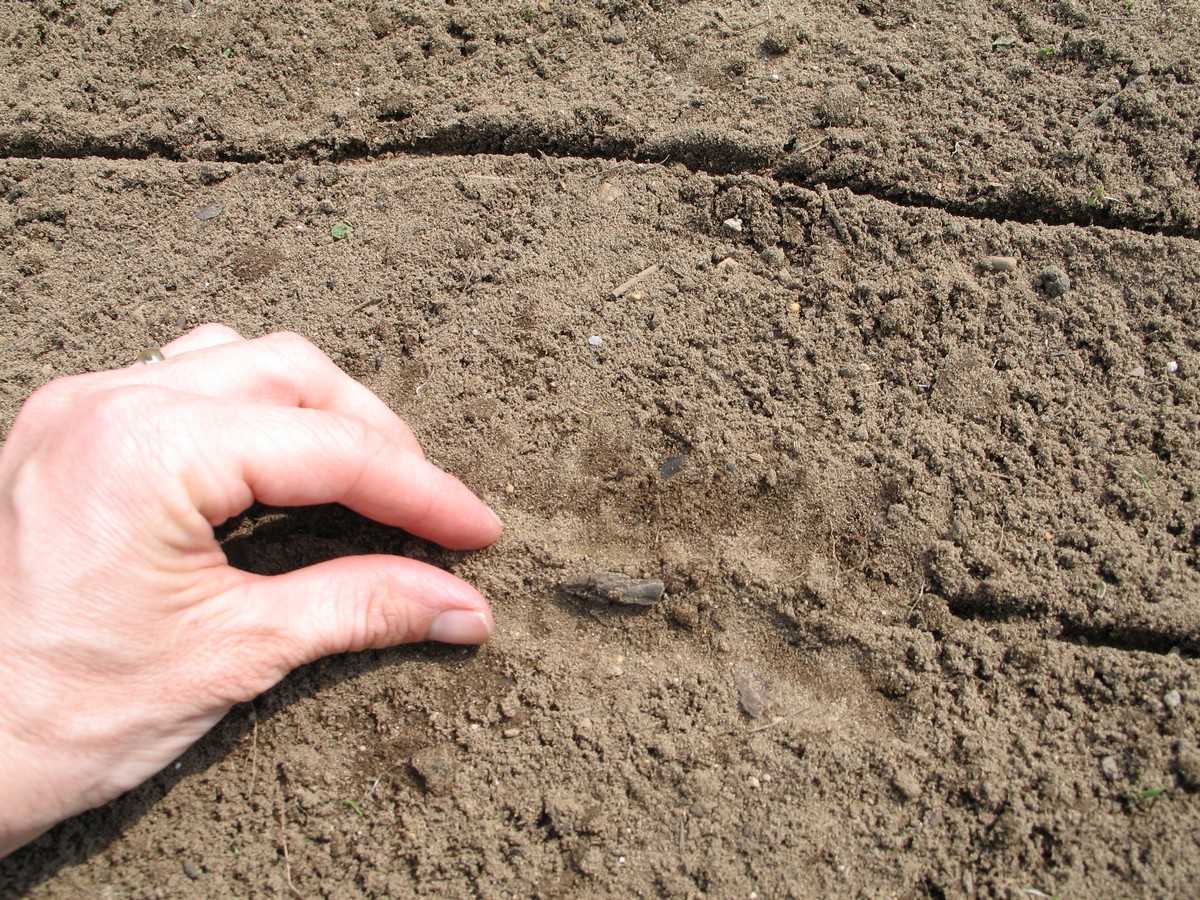 Or, if I get impatient, I'll just sweep my hand over the rows to cover them. In the picture above and below you can also see seedlings from a different planting; some have developed second sets of leaves, while others have just sprouted and still have only two skinny grass-like leaves per plant. (There are also some tiny weeds here and there.) I had decided I didn't plant enough the first time, so I was at it again.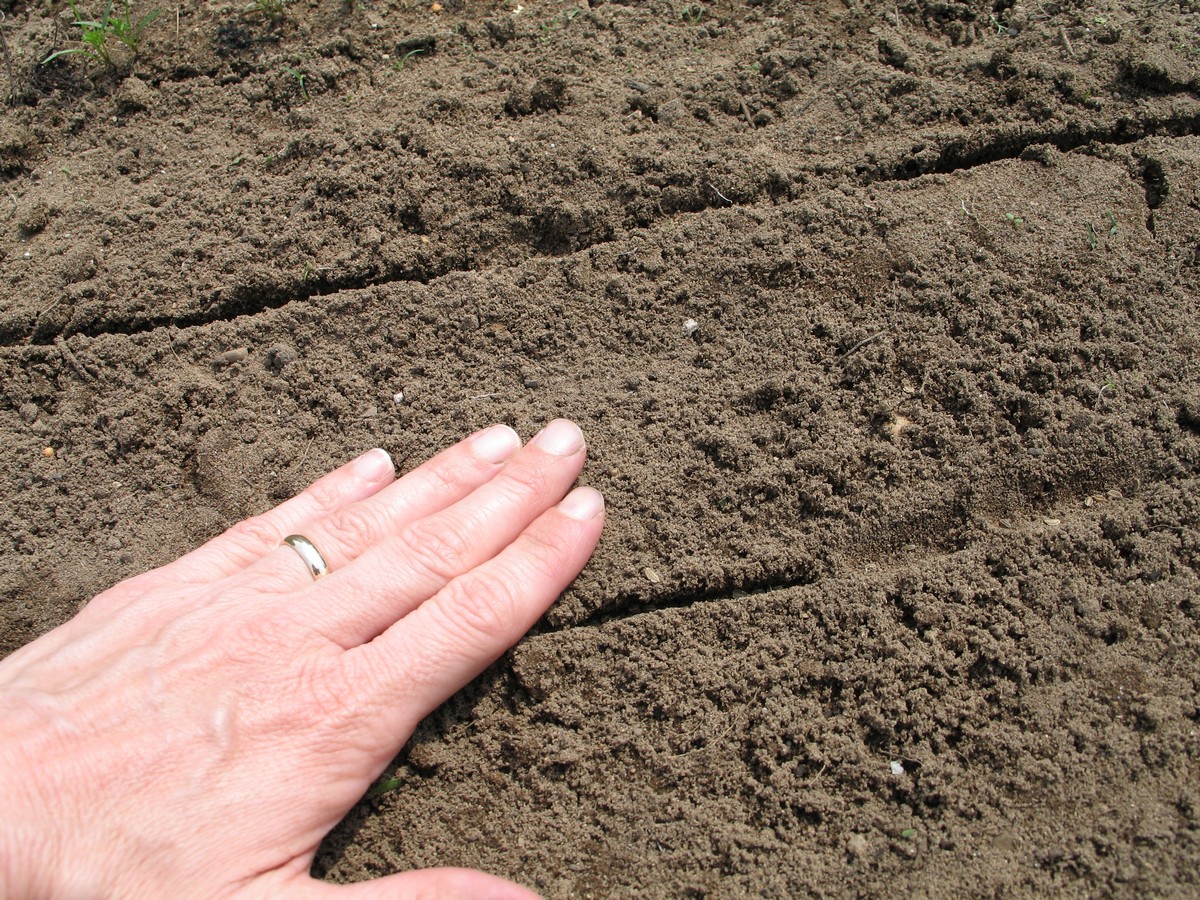 Then I water; a gentle shower works well. I never squirt with only the hose, I always use some type of sprayer to help distribute the water gently and evenly. It is important to not disturb the seeds or disrupt the tiny little plants as they emerge.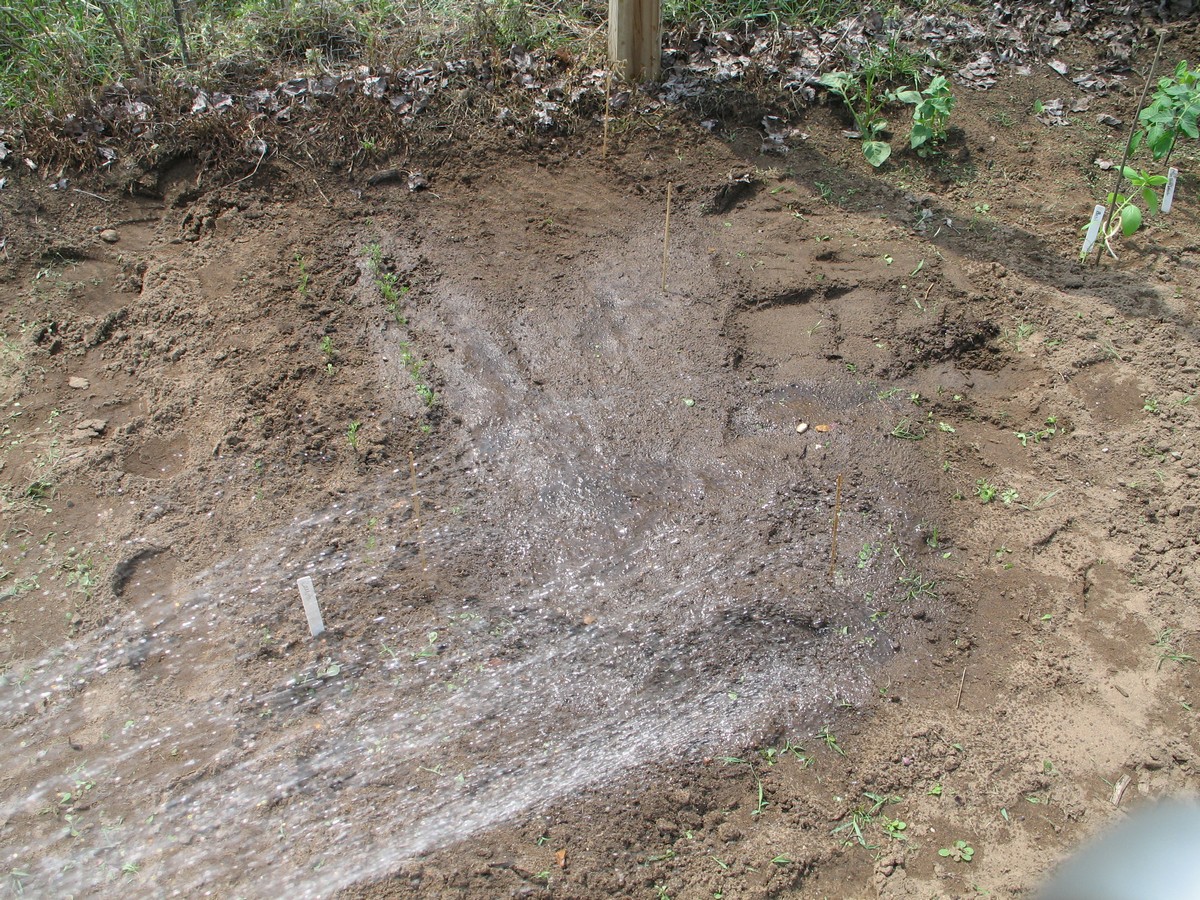 In the next picture you can see more seedlings alongside little sticks, added to make them easier for you to see. This is what they look like in the very beginning. Some of the weeds look similar as well.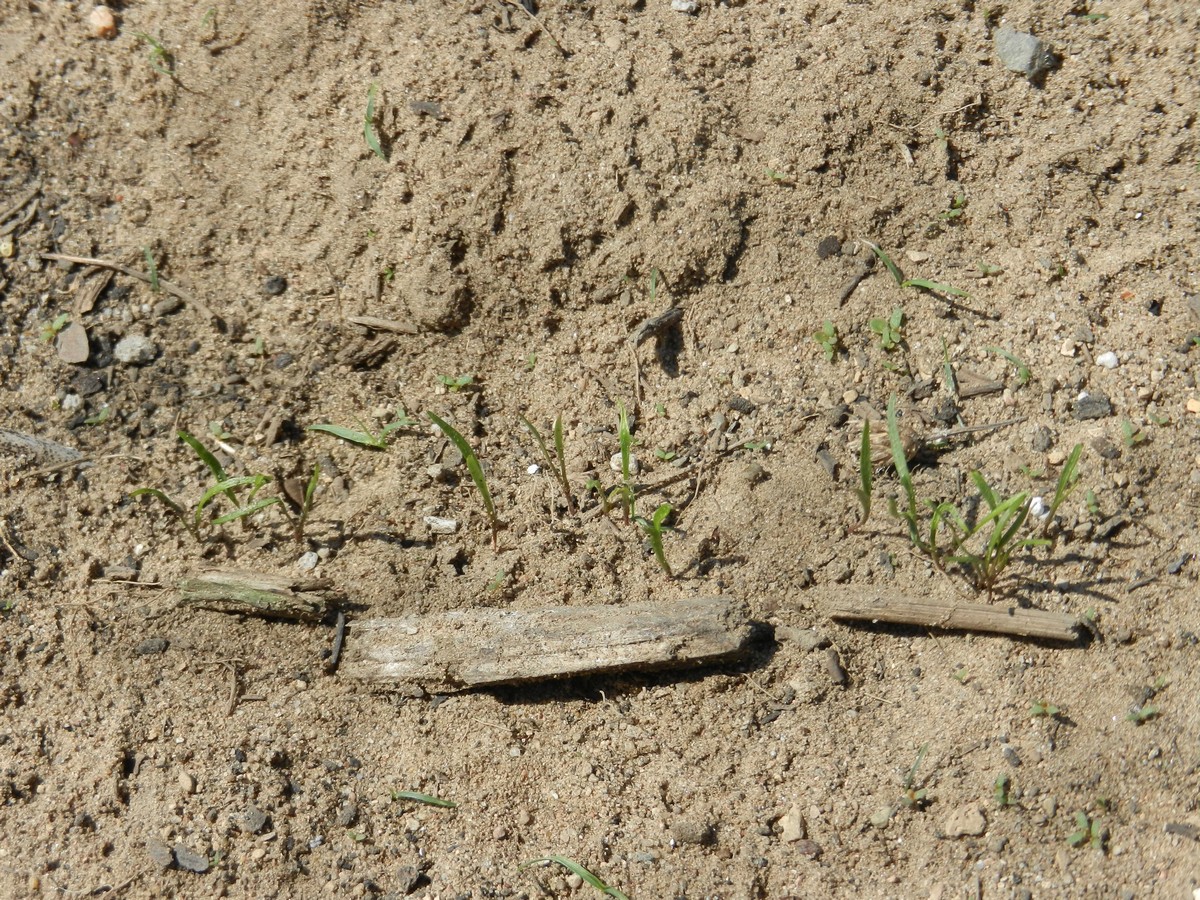 Spacing and Care

As you can see in the picture above, some are growing very close together. They can be thinned to about an inch apart as soon as they have emerged or within the first week or two thereafter. You'll thin more later to give them room as they grow. I'll get back to that.
To thin, be very careful not to disturb the surrounding carrot roots. So do NOT just pull them out at this stage or you'll be disrupting the other roots close by and they won't grow well. Instead, simply snip the unwanted stems off with your finger nails or use a small pair of scissors. Leave the remaining roots alone, they'll be gone in no-time.
The next picture shows them developing their first true leaves (the second set, not what first comes up), which look much more irregular and like real carrot leaves. Even this early, if you snip one off a bit low down and crush the little root with your finger nail, you'll notice it already smells like a carrot! Amazing, isn't it? This test can help you determine whether a seedling is a carrot or a weed, if you're unsure.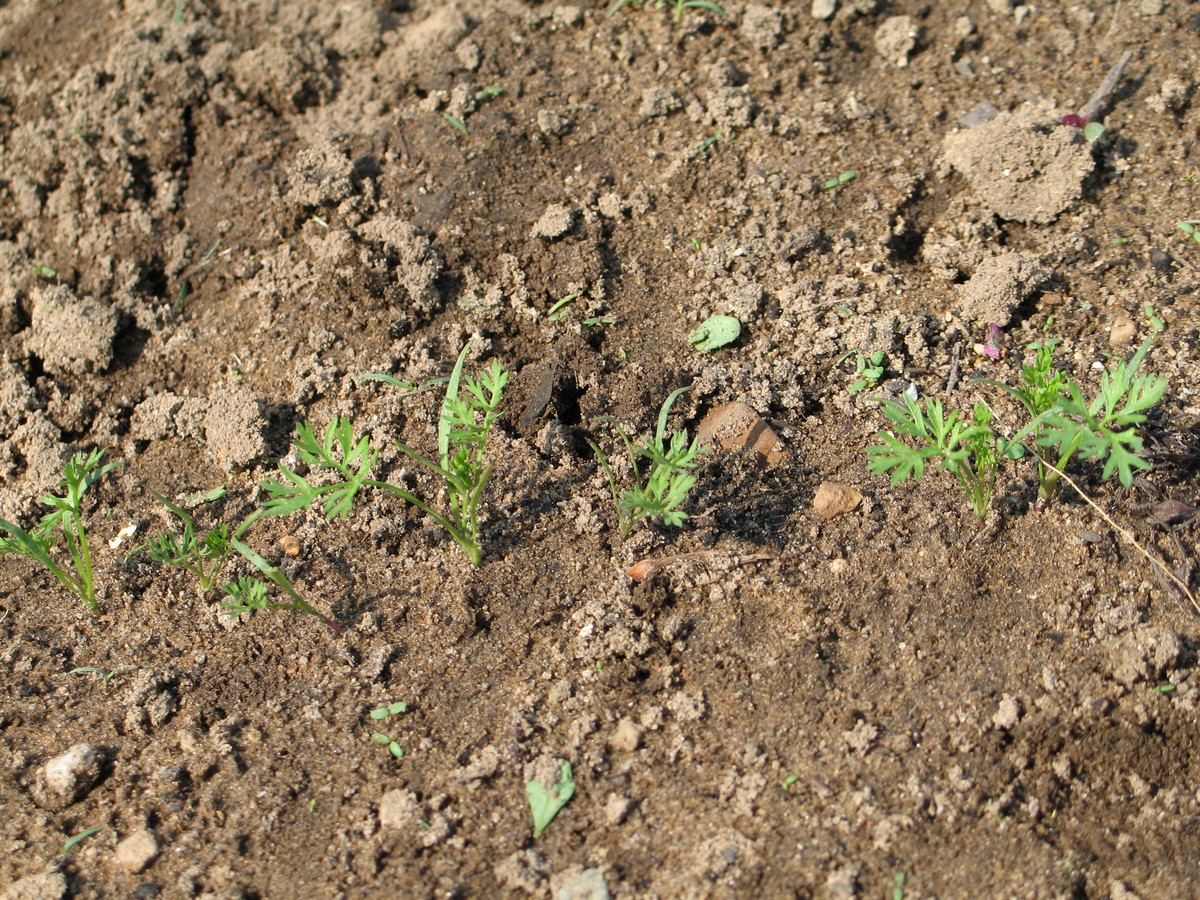 Still only about 2 inches tall. Keep up on weeding so they don't get crowded out. Be careful to not disturb the carrot roots while weeding.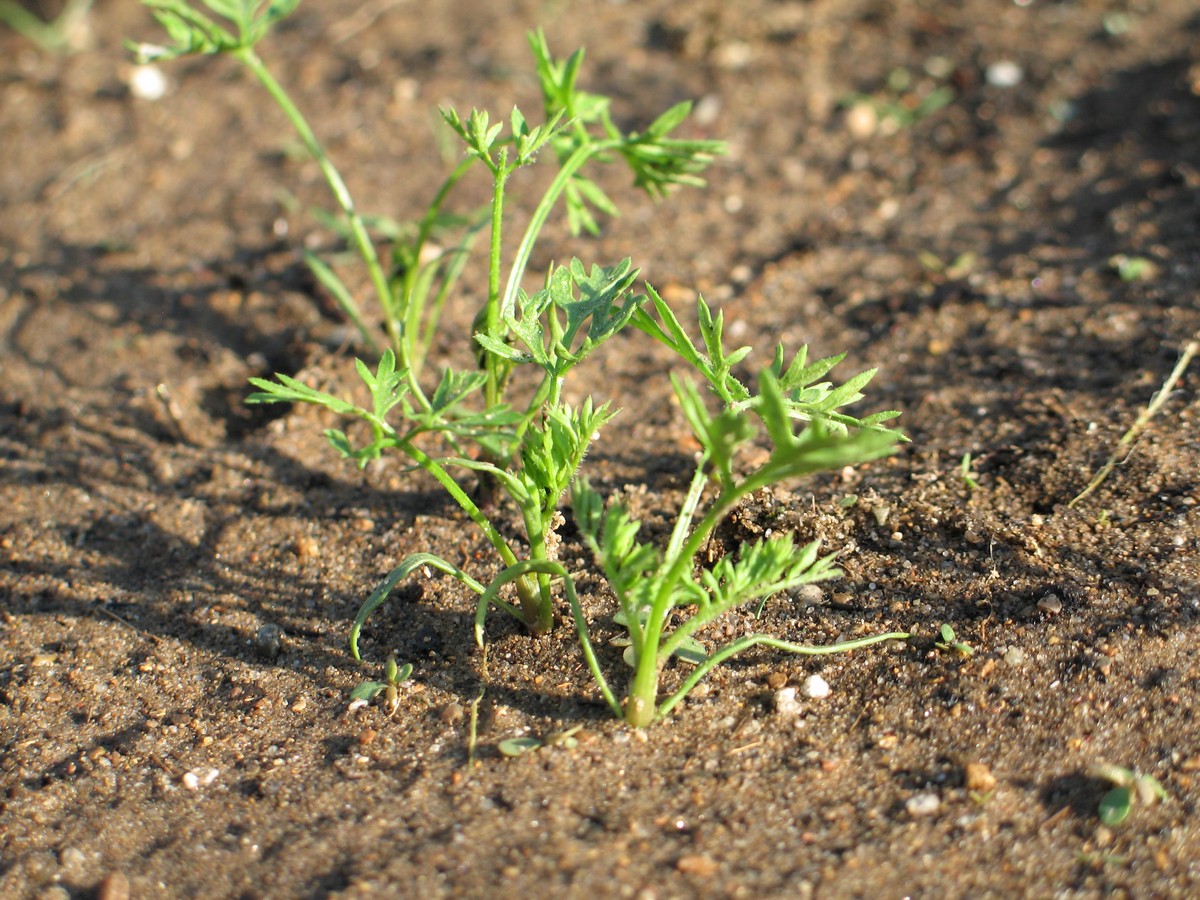 When the seedlings are around 3 inches tall I go over them to make sure they are about 1 inch apart or a bit more, depending on how the rows look and how the seeds sprouted. At this point they are usually able to handle a little bit more since they are already somewhat spaced. So now I often gently pull them out instead of snipping them, unless some are very close together, in which case I still snip. I thin yet again when they grow big enough to develop some flavor and sweetness, so that we can actually eat the "thinnings". So I thin and harvest at the same time by pulling from where they're the closest together, generally trying to space them to be three inches apart.
I'll pull these two, and about every other in this row: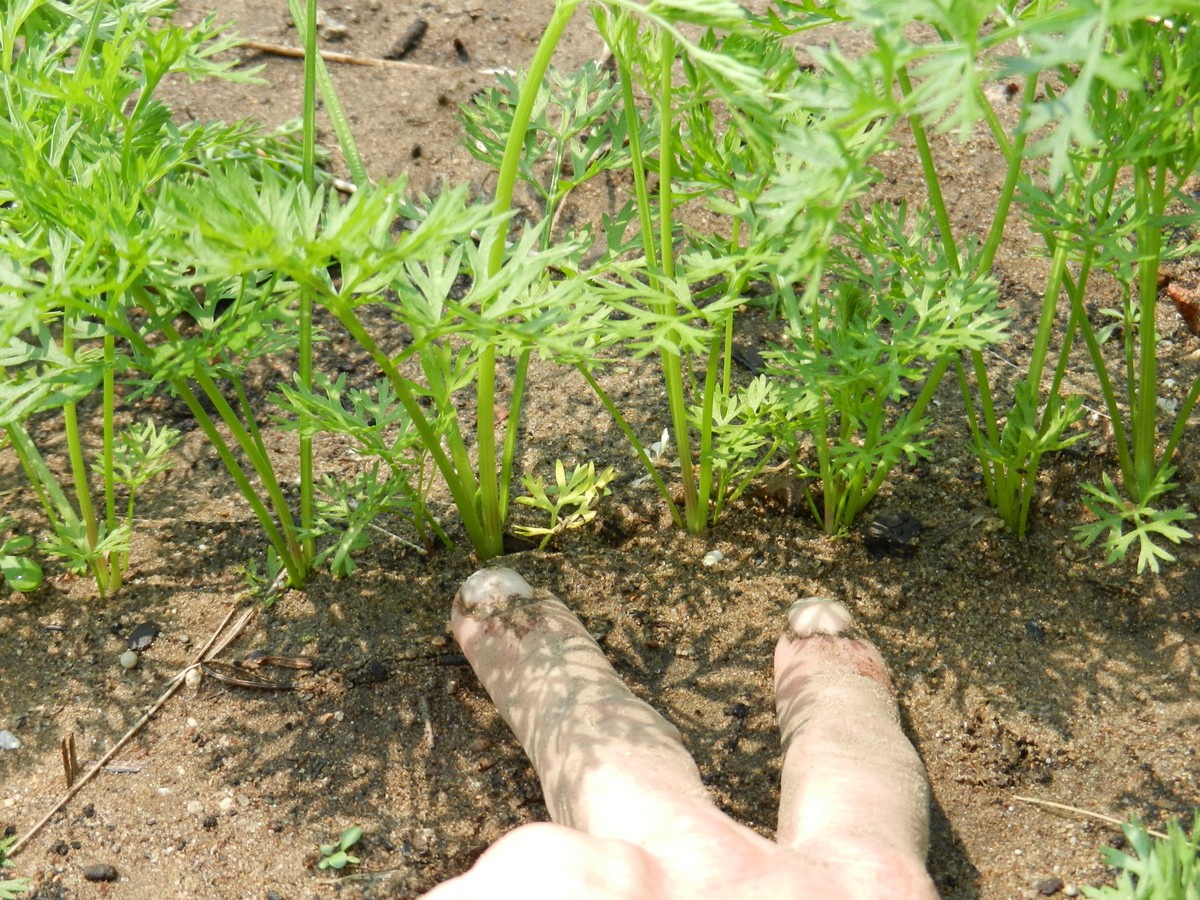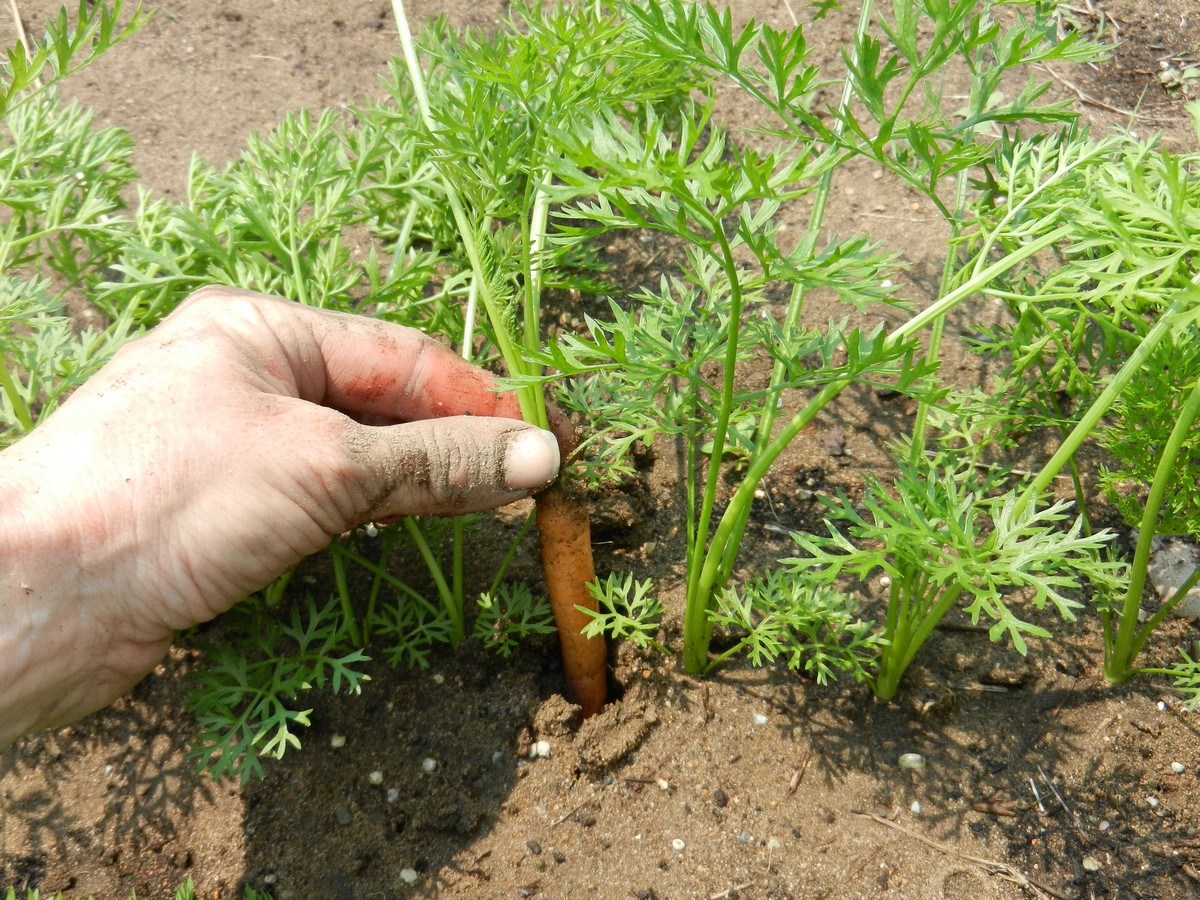 A small bunch of sweetness!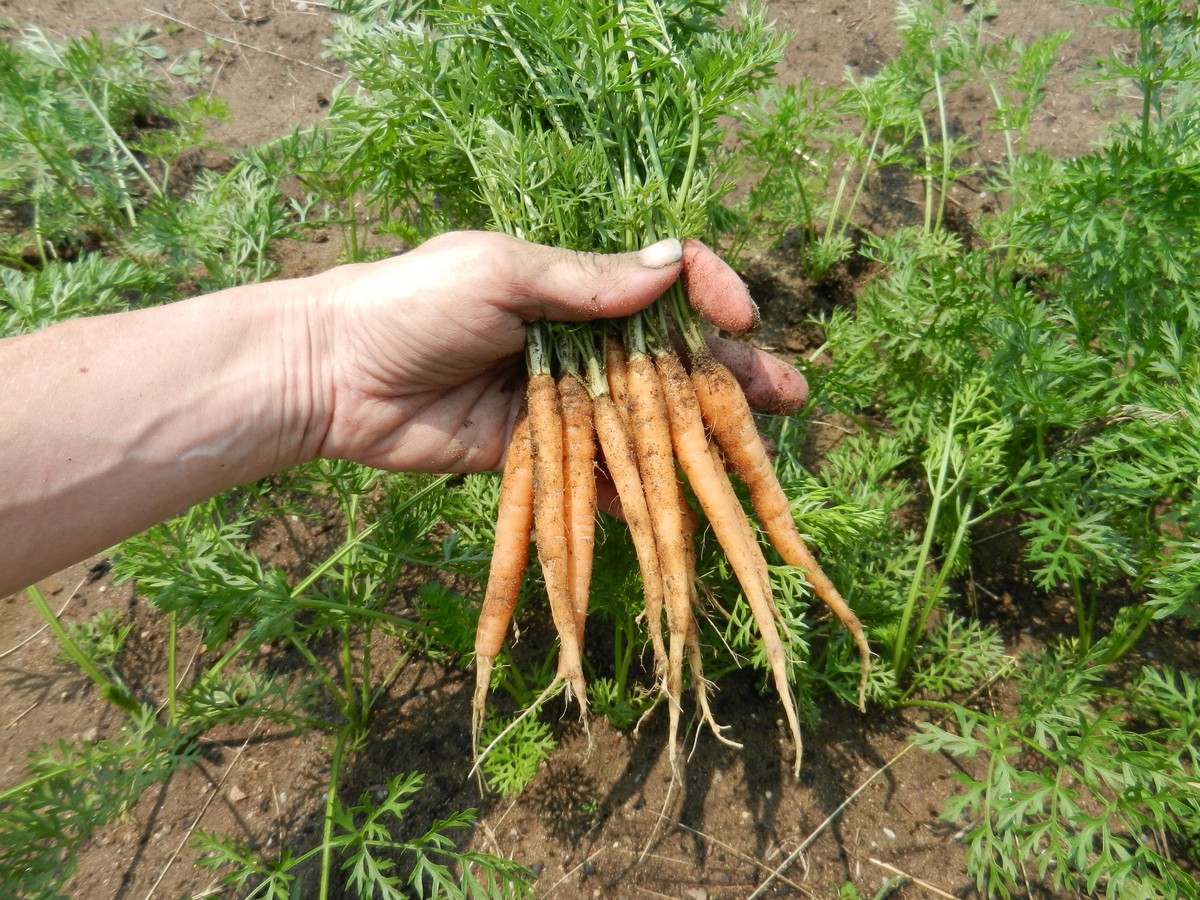 Eventually, when the carrots are spaced sufficiently to about three inches apart and growing larger, I choose the biggest ones to harvest so the others can continue to grow.
The next two pictures show rows from two different years and using different types of mulch; I definitely prefer grass clippings over black plastic, but it was worth the experiment.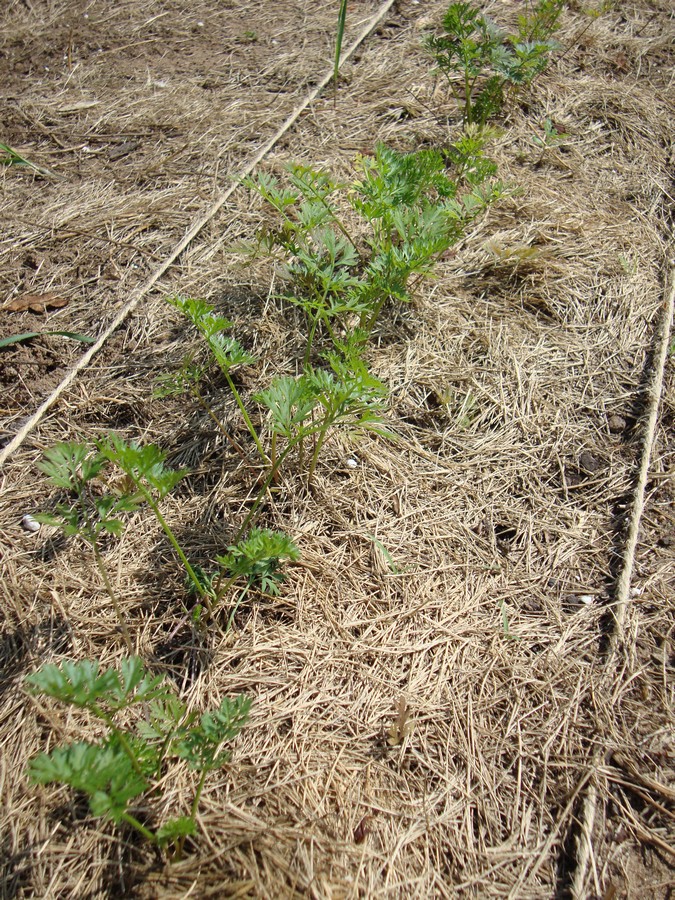 In the picture below you can see two succession plantings of probably a good month apart; the first two rows to the left, which look like one row, and a second double row to the right that's barely visible. Mulch is helpful to lock in moisture and keep weeds at bay, but I have since learned not to use black plastic around cold weather crops such as carrots or broccoli as it heats the soil too much.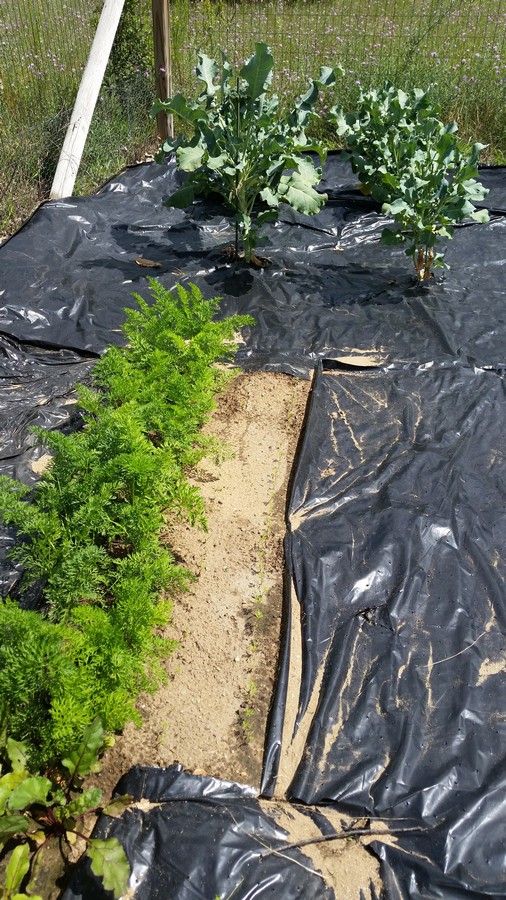 As the carrots grow, you'll start seeing some of the tops grow up and out of the soil just a little bit.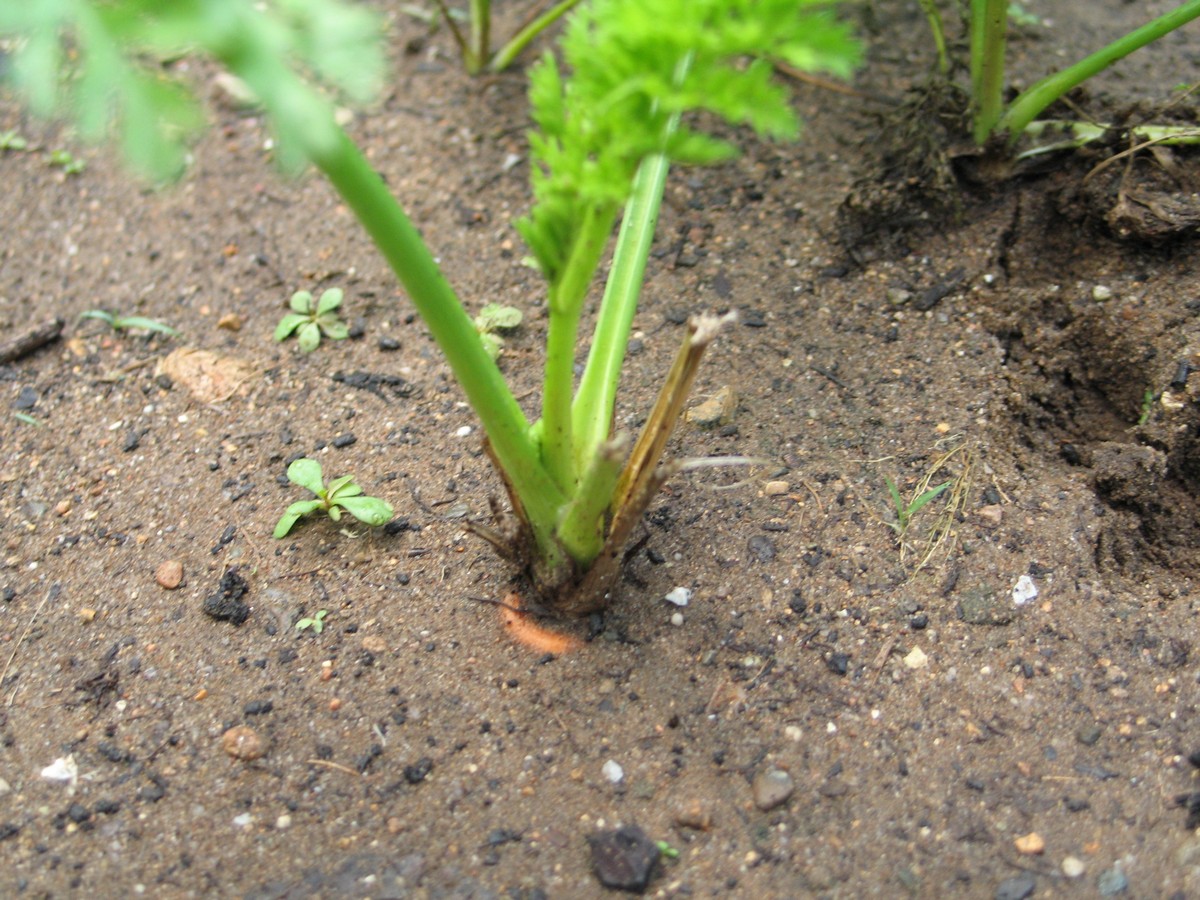 Make sure to push some dirt up around the tops and cover them well, as the uncovered areas tend to turn green and bitter when exposed to the sun.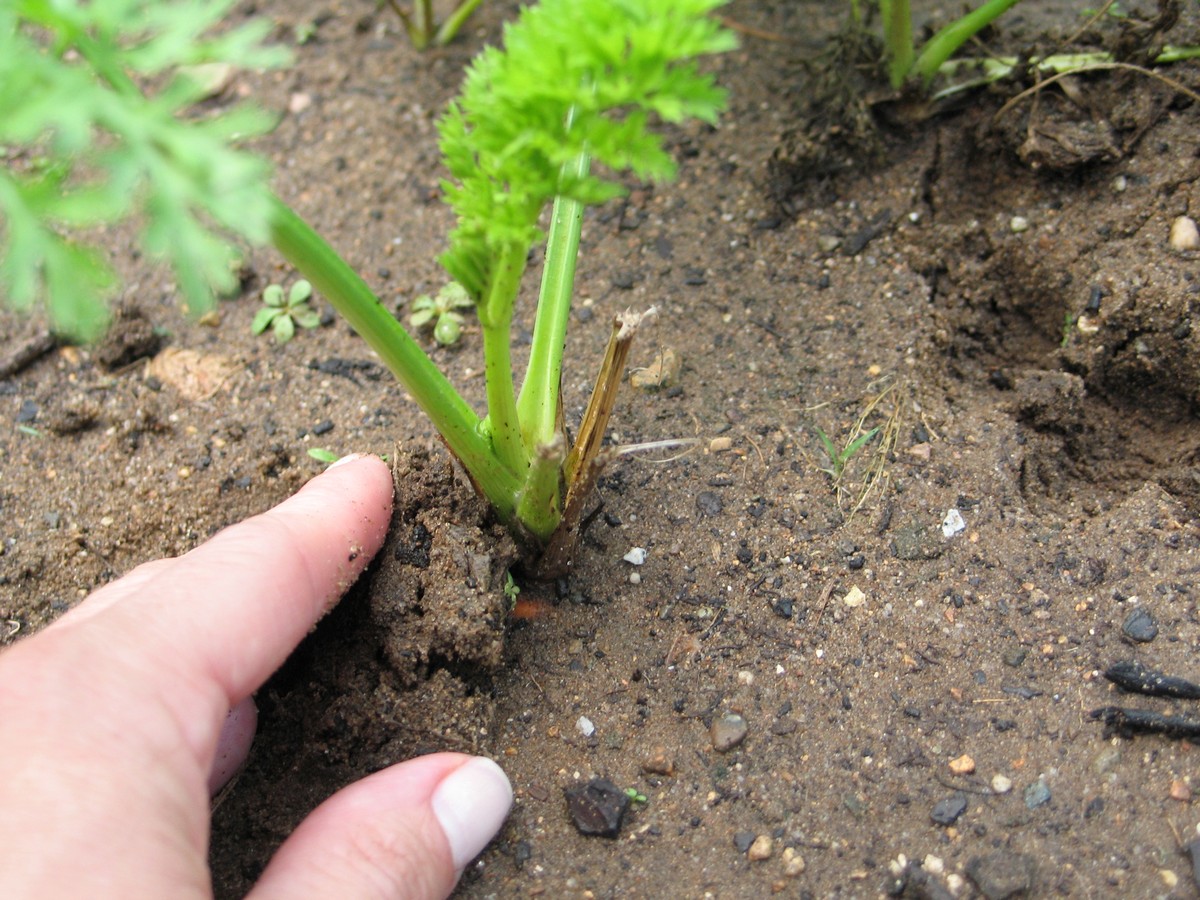 It's a fun stage when you can start to eat the thinnings! The carrot below is not full size yet, but big enough to pull for a tasty treat! As you can see in the picture, I feel the circumference of the top of the carrot to determine its size.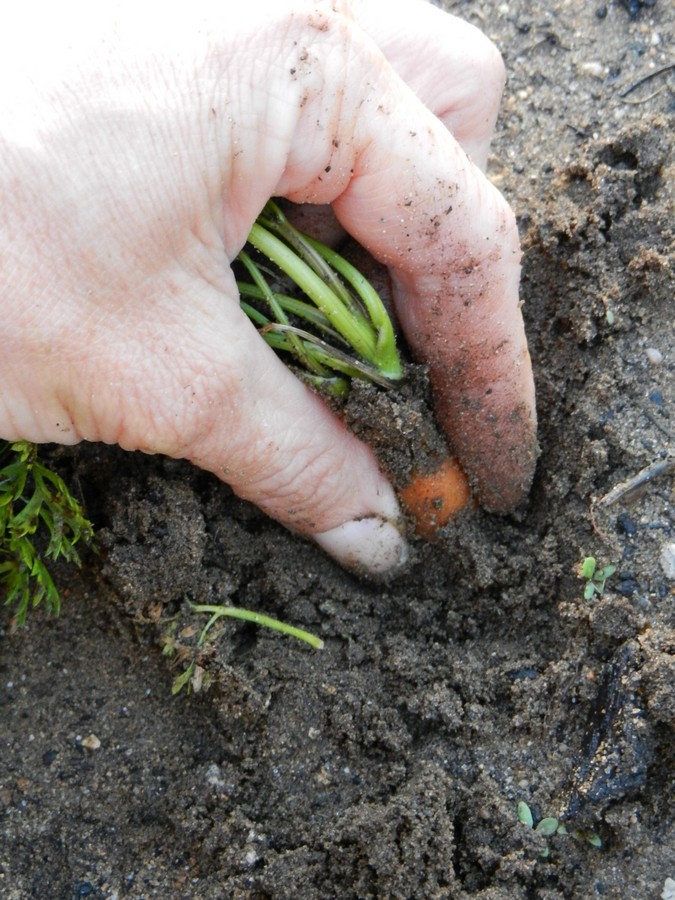 If I want to leave it to grow some more, I just push soil up against it again, making sure the top is completely covered.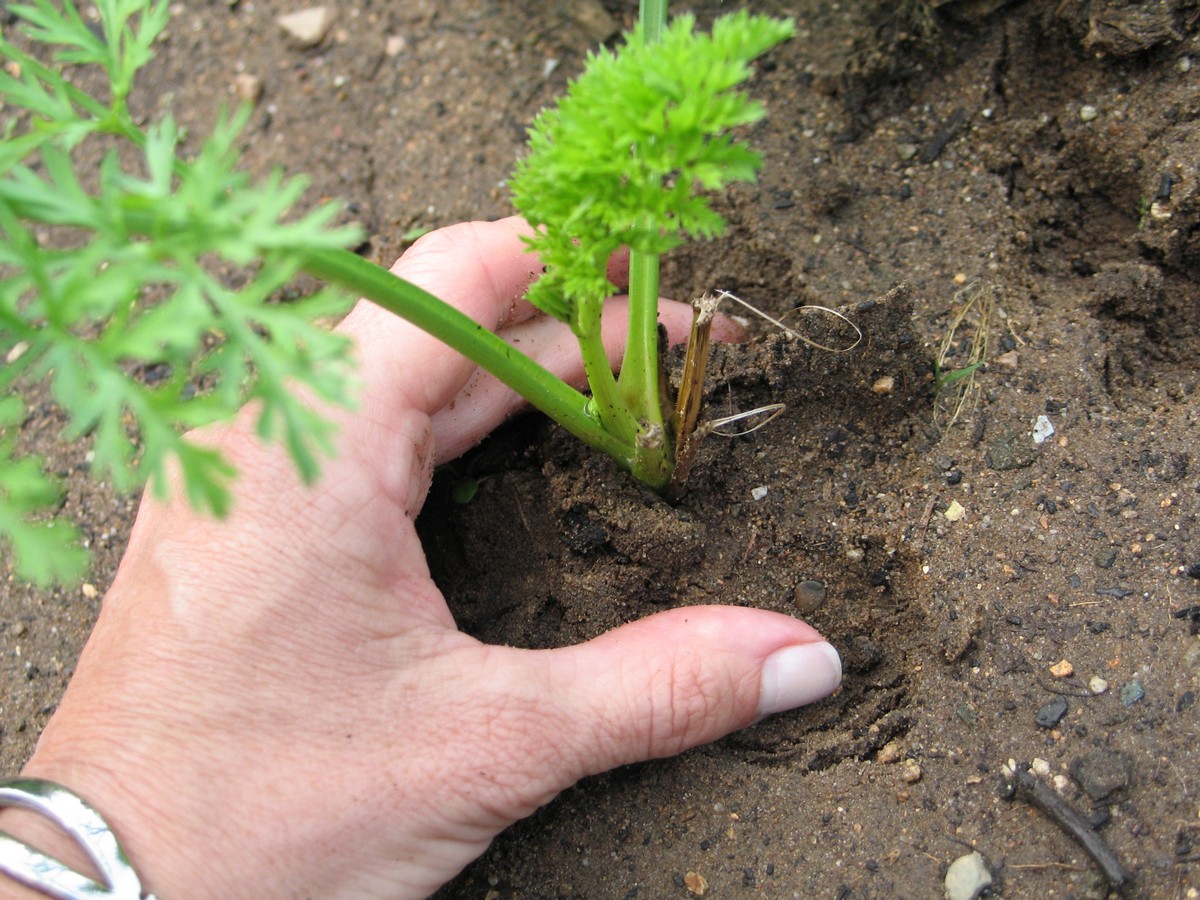 Harvesting
You can harvest carrots anytime you like, but they will need some time to develop flavor and sweetness. I like them when they are close to full size. Don't let them grow too large and thick around or they become very woody and tough. For sweetest flavor and better storage, try to harvest in the morning before the soil heats up too much.
When pulling full sized carrots, take a firm grip at the base of the leaves and the top of the carrot to keep the leaves from breaking off, then wiggle firmly side to side while pulling up: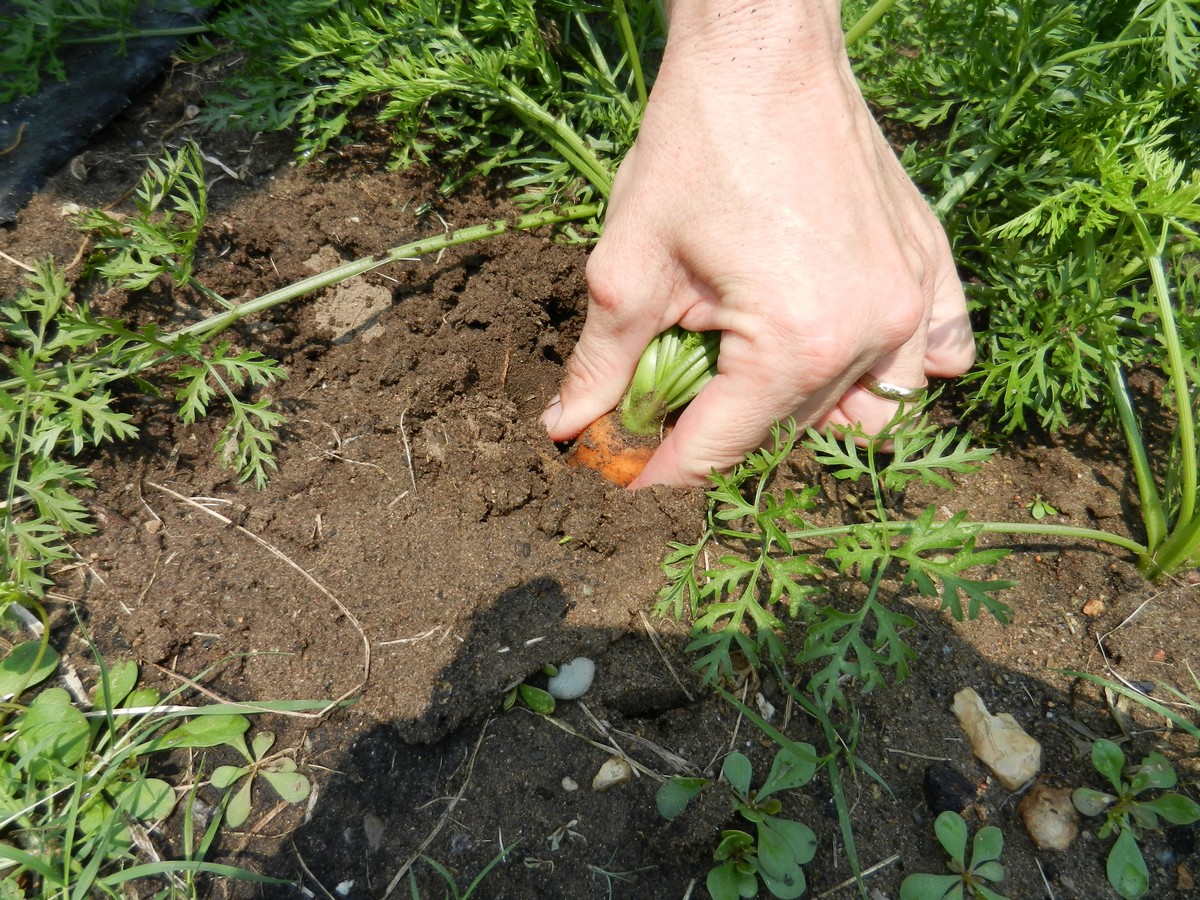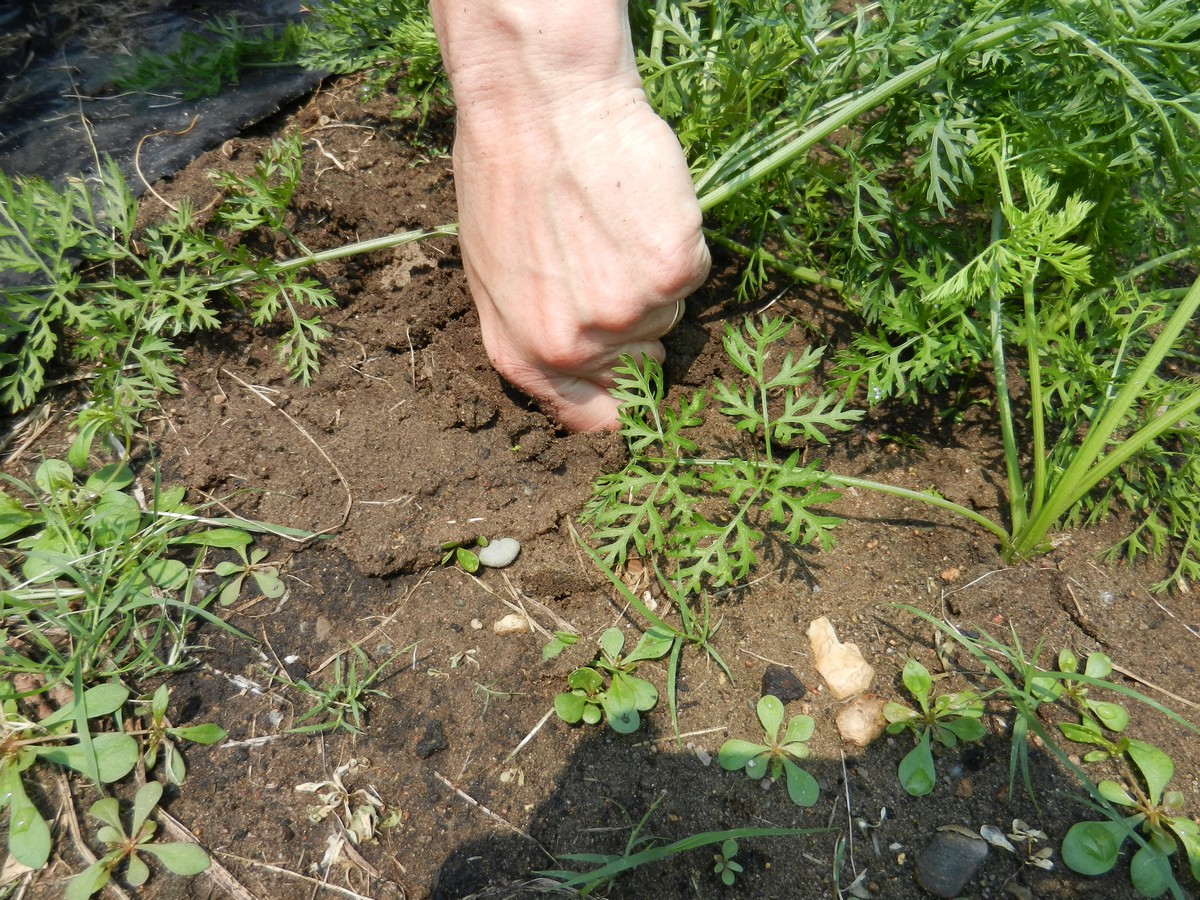 Otherwise I often like to use my weeding tool again for harvesting, both to loosen the soil around the carrots and to give them a lift before I pull them. It makes the job of pulling large or long carrots much easier and helps prevent them from breaking when you pull. They're such a pain to get out when they break in the middle! I stick the tool down under the carrot on a slight slant, then push the tool down to lift the carrot.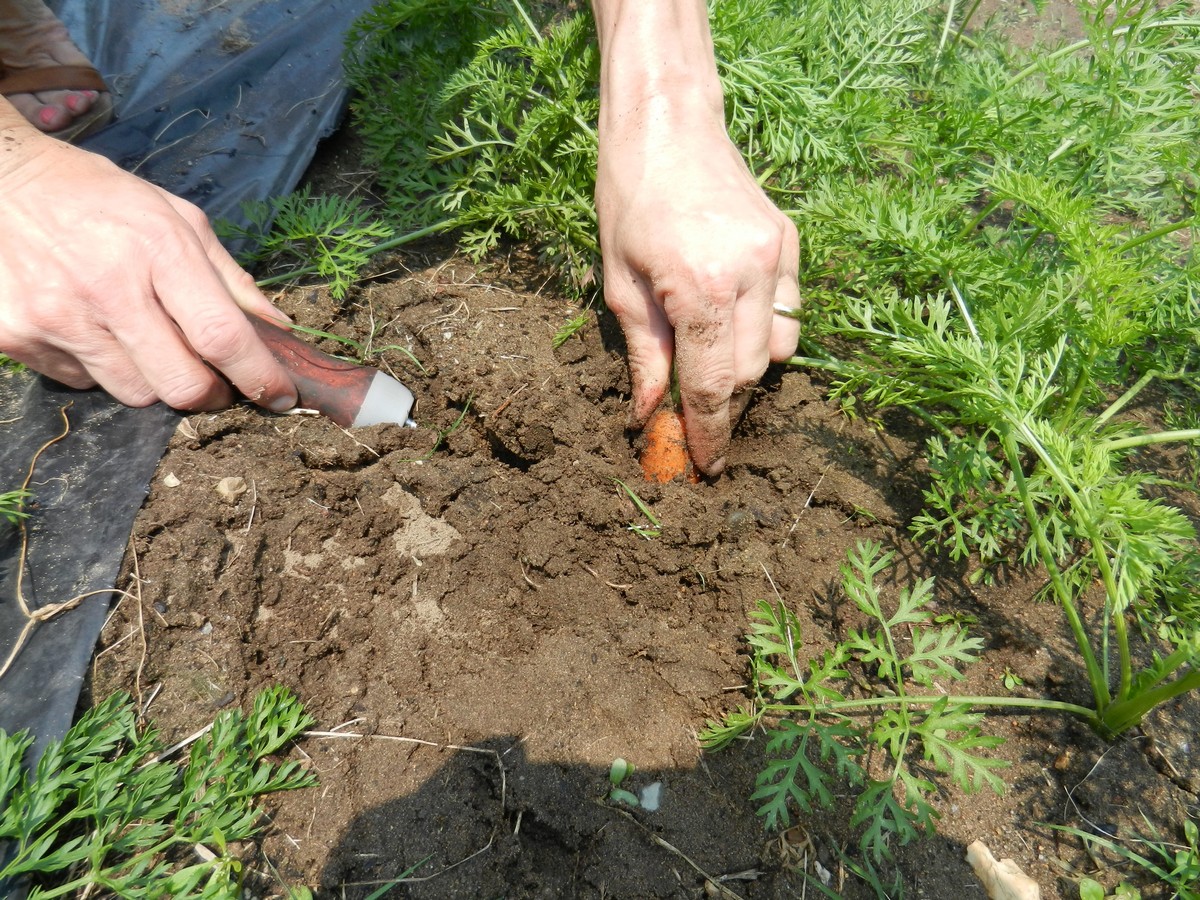 A hand held garden fork or any small hand shovel can also be useful, otherwise a pitchfork is great for those who have a lot to dig all at once. You would dig down a little bit away from the row to avoid stabbing into the carrots themselves. You just want to break up the soil a bit so you can pull them without effort.
Should I start the carrot seeds inside to get them a head start, then transplant?
NO, you should not!!!  It does not work, just look at the pictures below!
Carrots should ALWAYS be seeded directly into their growing area, and here's the reason: Right after sprouting, the seedlings will send down one really skinny, loooong tap root that will later grow into a carrot. If this tap root is disturbed in any way, such as meeting the bottom of a shallow container, or if it is simply bent or moved a little bit as you try to transplant it, it will grow in very funky ways and often want to shoot out new arms and legs from here and there, and they will end up looking like the ones on the following picture. This can also happen when carrots grow in very junky, debris filled soil. The carrots below were from my very first set of seeds that I had started inside and transplanted, because I didn't realize at that point that this shouldn't be done: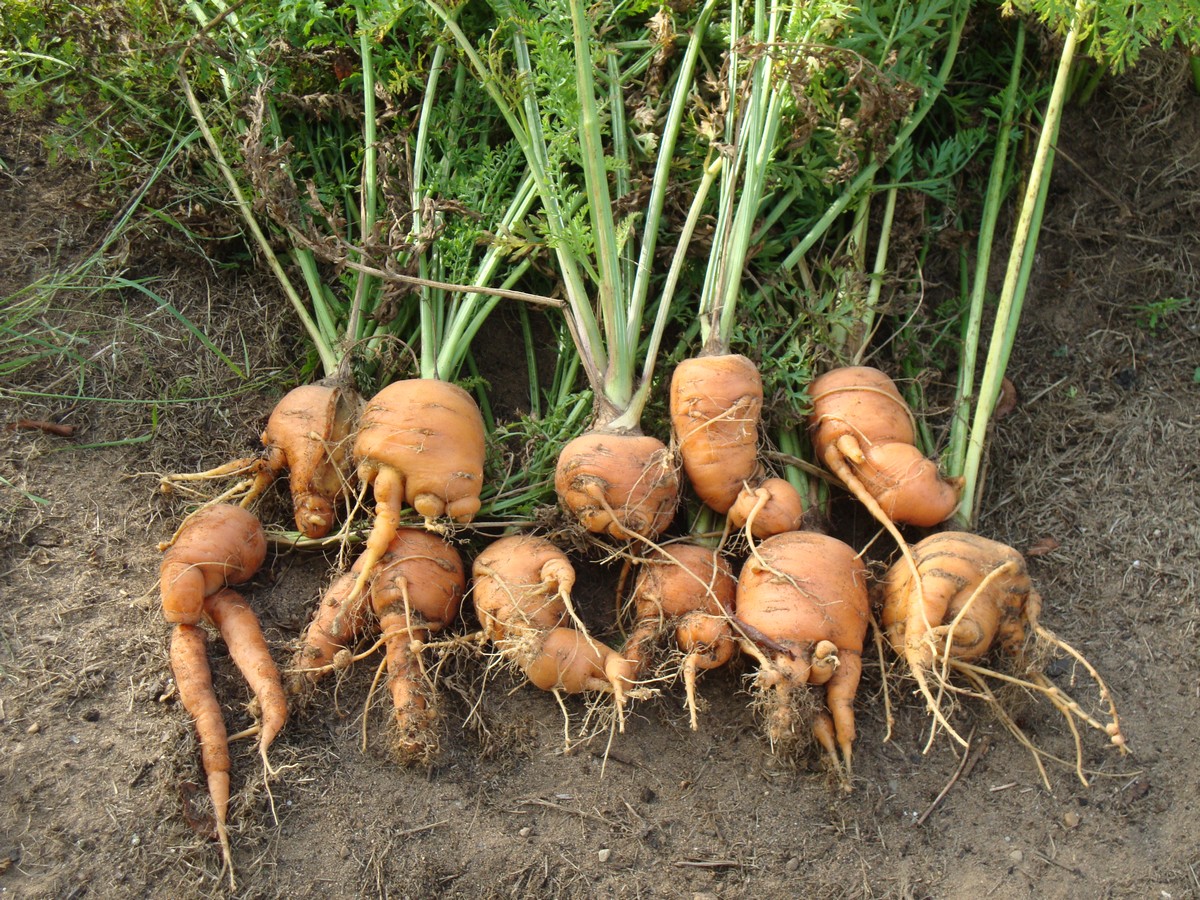 So, yeah, not too cool! Some were pretty funny looking though, like the one below, so we did get a few laughs at least!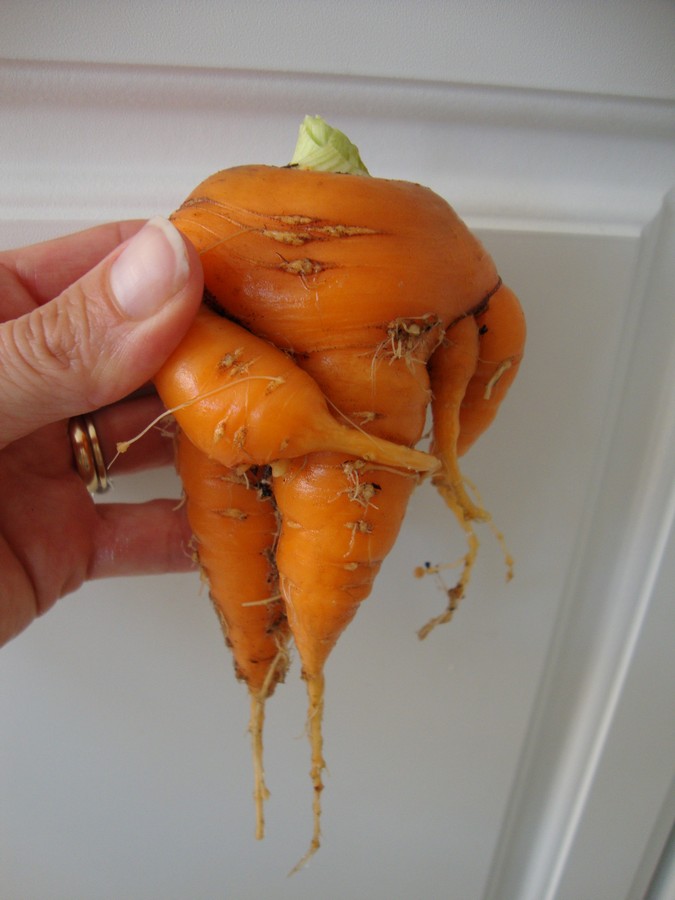 And though they are definitely edible, they are a royal pain to clean! You just can't get to all the crevices to brush the soil off!
I started a new row of carrot seeds a few weeks later that same summer, and those carrots (below) ended up looking much better. Same seed variety, same soil and conditions, but these were direct seeded and never transplanted. The difference was remarkable!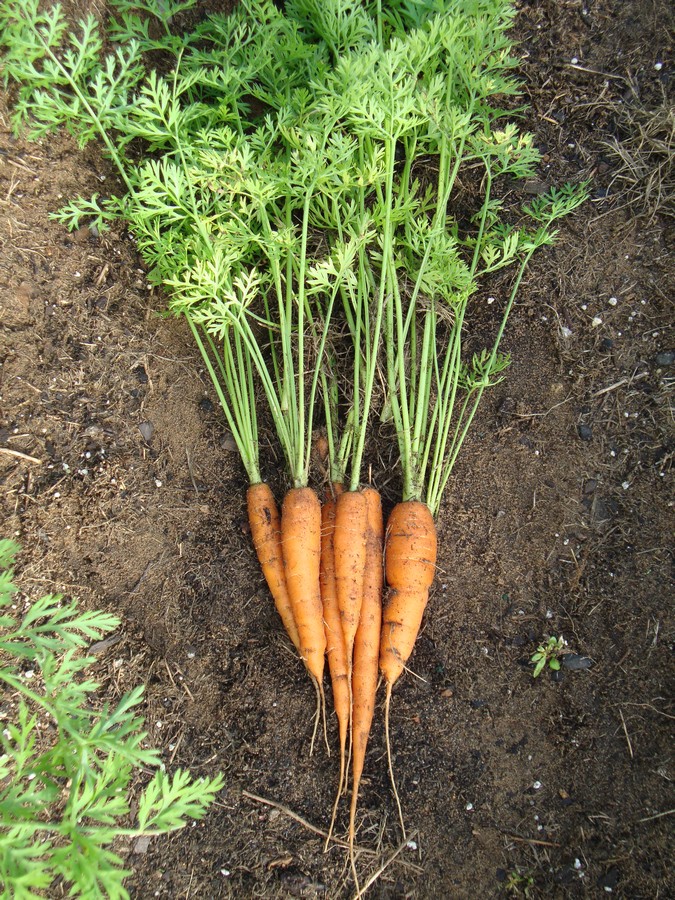 After harvesting, instead of leaving the green tops on, like you see at the farmer's market (it's what people like to see), cut the greens off ASAP as the leaves will absorb sweetness and moisture from the roots just like other plants do. So I always cut them off immediately before bringing the carrots inside. It's best to do the cutting a bit away from the garden, as the scent can attract pest insects.
Storage
To store, I gently rub off most off the soil in the grass before I take them in, then I place them in a plastic bag and store in a very cold spare refrigerator. My carrots typically last me all winter this way and stay sweet and crisp. Storage temperatures should be just above freezing, and the carrots should be kept moist. If they dry out, they'll go limp and soft very quickly and will not last long. I have had some that developed a little bit of ice on the outside but not frozen through, and they kept very well. But do not let them freeze solid!
I hope this post has helped you know what to do in order to grow carrots successfully! If you can get them to germinate and live past the first week or so after sprouting, you should be all set as long as they get watered regularly. It isn't that difficult, and it feels so good to be able to harvest your own, tasty, home grown carrots!