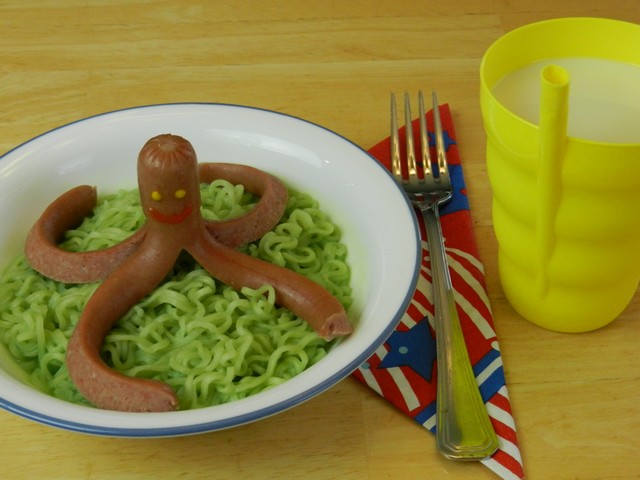 Hotdog Octopus with Seaweeds were a favorite of my kids when they were younger. This meal was usually served on special occasions only, which made it extra yummy and fun when I did serve it. As an amusing part of a children's birthday party, or for any occasion with children involved, you are likely to get smiles and giggles from excited kids. The green noodles and the hotdog resemble a happy octopus sitting on top of seaweed.
If you do try this recipe, I would really appreciate a quick comment with a star rating (option found immediately under each recipe). It helps me out tremendously! Thanks in advance!
I originally found this recipe in Taste of Home years ago when my kids were much younger. I have made some minor changes to this recipe, but either way will work just fine.
This recipe is very easy to make; in short, you prepare Ramen Noodles, adding green food coloring to make them resemble seaweeds, and slit a hotdogs to look like an octopus.
I prefer to start with the hotdogs, because they take longer than the noodles. This time I made only one portion, mainly just to show you what I do. My kids split that portion between them when I was done taking pictures. Though they are getting "too old" for these types of meals now, they still find it fun and will eat happily.
I cut a slit down the length of a hotdog, leaving the top inch or so intact. This part will make the head, so don't cut the full length of the hotdog.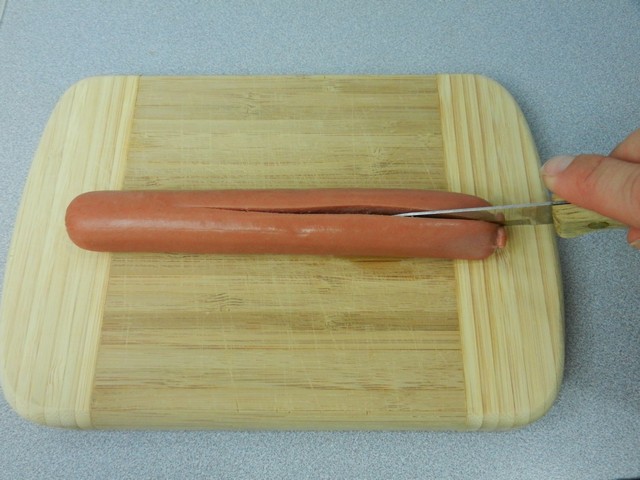 Turn the hotdog and cut another slit all the way through, which will leave you with a head and four legs.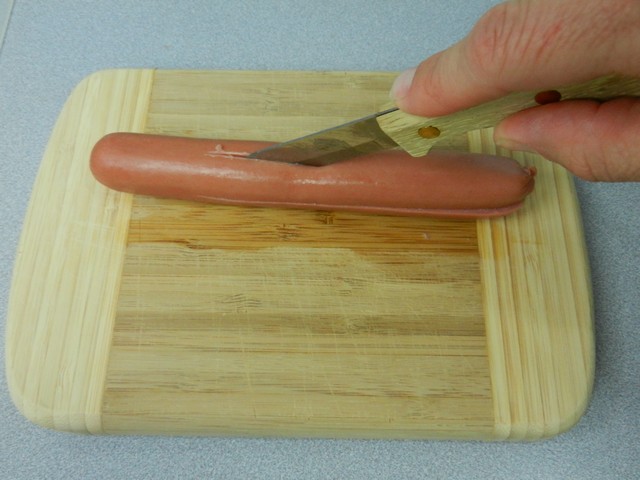 You could cut more tentacles to make it look more realistic, but I found additional cuts to be more difficult, rather time consuming, and otherwise unnecessary. Most kids probably won't care whether their octopus has all of its eight tentacles anyway, so I usually left it to four. You could try it though, and see what you prefer to do. I also find it easier to cut them before cooking, simply because they are hot to touch after cooking, and they will cool down too much while you work if you have a lot of hotdogs to prepare. The downside is that they do take more room in the pot when cut beforehand. I've done it both ways.
Put the hotdogs in a pot and cook according to the package. As you can see, the arms start to split apart more and more…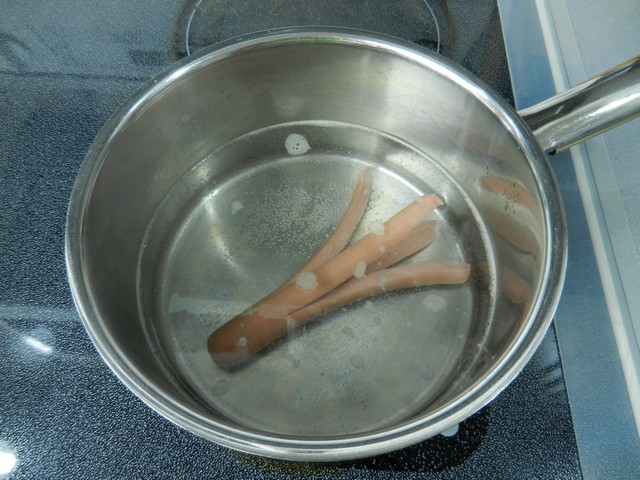 …and will curl up quite a bit, but they will relax somewhat as they cool down when taken out of the water.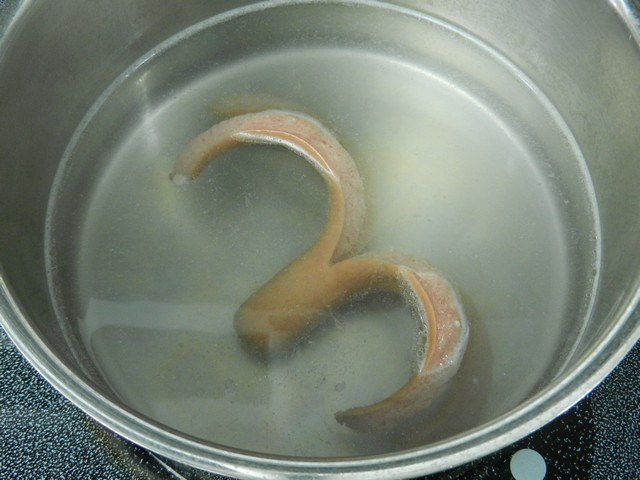 While you wait for the hotdogs to cook, prepare the noodles according to the directions to the package.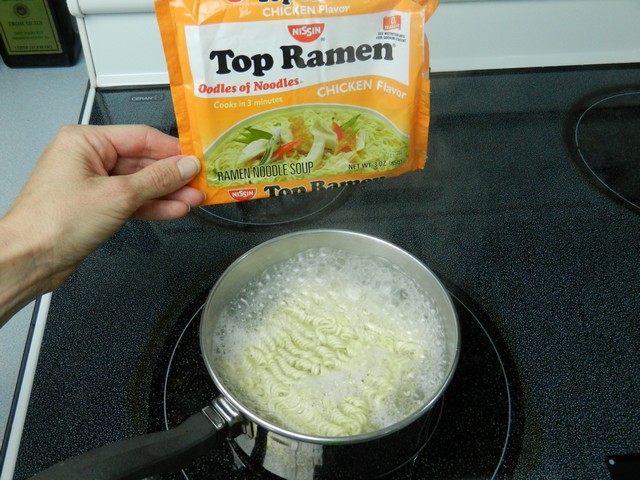 You can add food coloring before they are done cooking, or wait until afterwards. This time I dripped some of it directly onto the noodles, which stained that part somewhat, so I added the rest on the side and into the water itself. For this one package I used three drops, though I'm sure two would have been enough. The noodles with food coloring tend to look quite pale while still in the pot, but once they are in the bowl you'll see more of the color come through. If you prefer, you can skip the coloring altogether; less is better when it comes to additives like these, and some kids are quite sensitive to artificial food colorings. You can also look for healthy alternatives in the hot dog isle, and add your own spices in place of the Ramen noodle seasoning packet.
When I do add coloring, I use either one of these bottles, although I prefer the tiny one from the set of four. It is much easier to control the amount when using the small bottle, as you can drip individual drops, contrary to the larger bottle.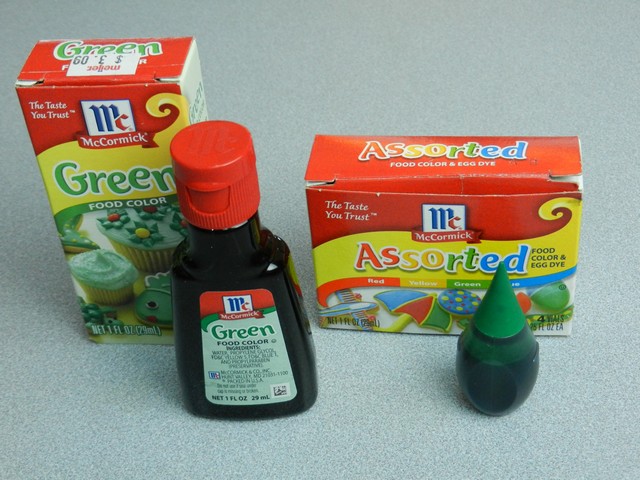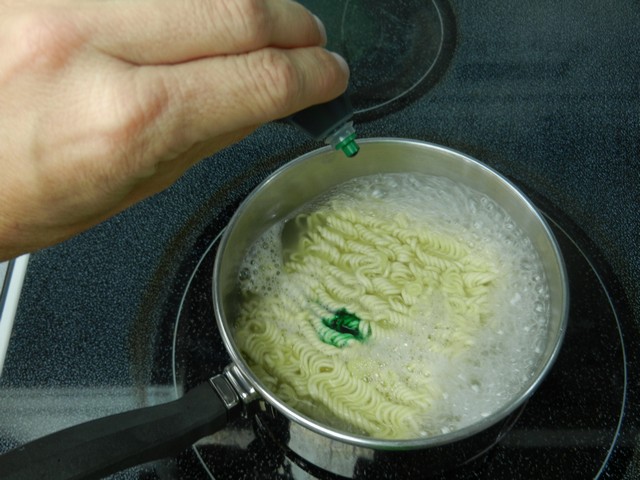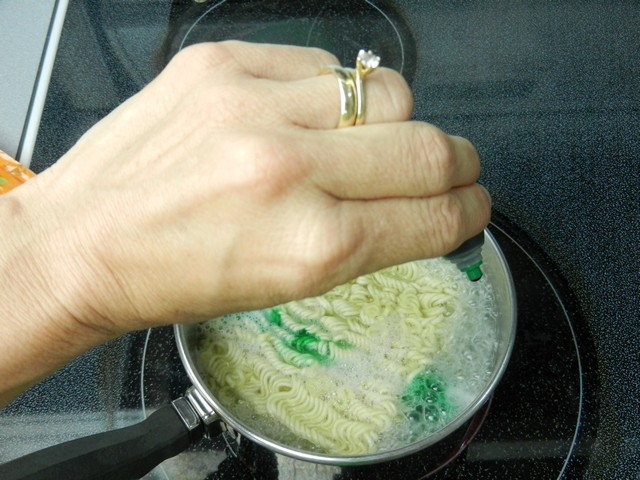 Also add the seasoning packet that comes with the noodles, and stir well.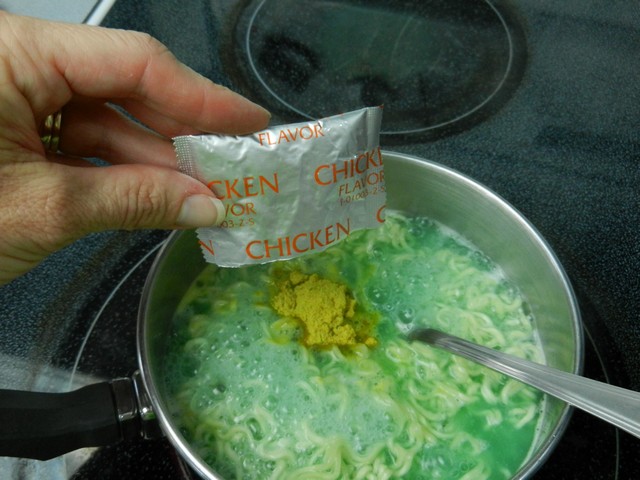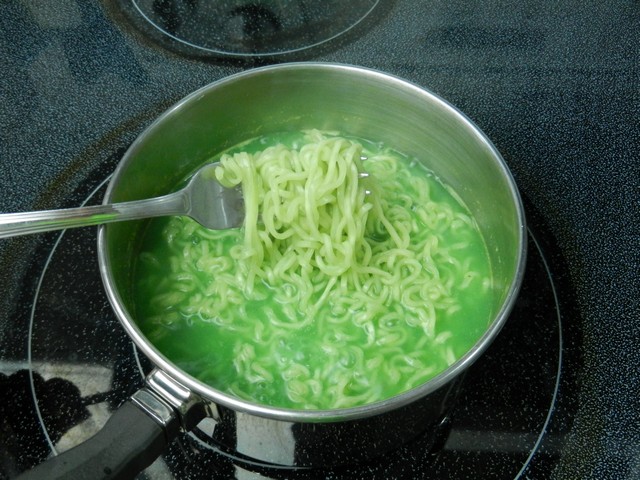 Pour the cooked noodles into a bowl or a plate. Gently lift a hotdog out of the pot and place on top of the noodles. They rip apart rather easily, so be careful.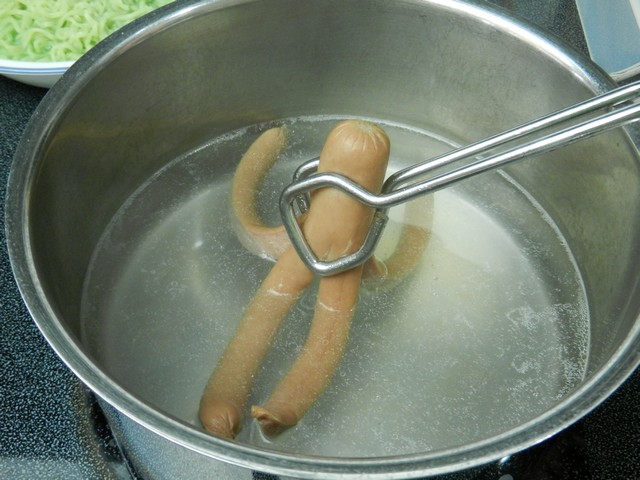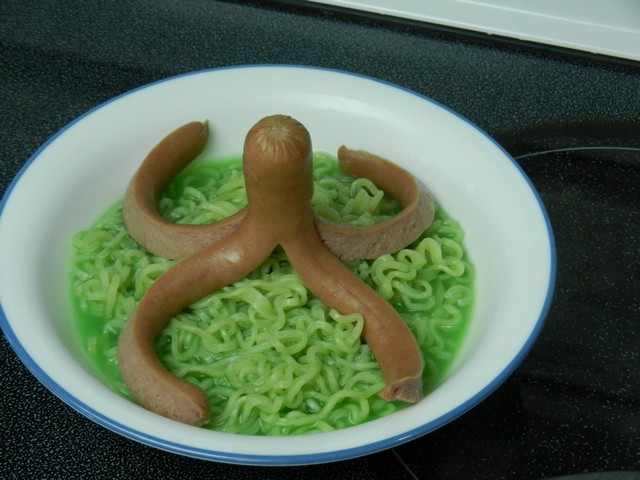 Add a smiley face using a toothpick dipped in ketchup and mustard, and serve.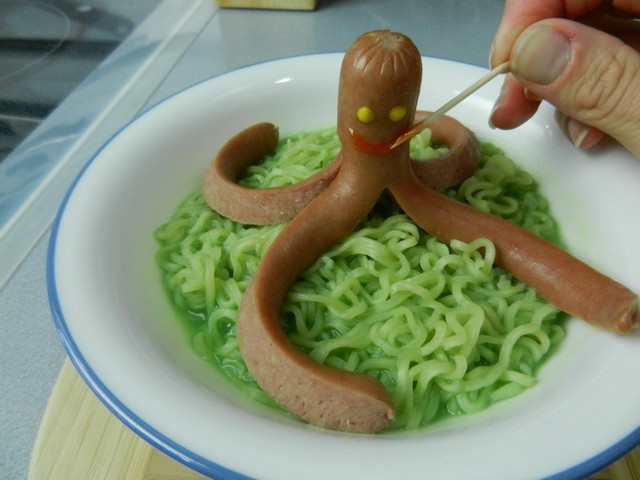 This is a fun looking and tasty meal to serve at kids birthday parties or other children's events; it's easy and quick to prepare, and bring smiles to their faces as they eat food they love! Please comment and rate this recipe if you try it; option is found immediately under the recipe. Thank you!!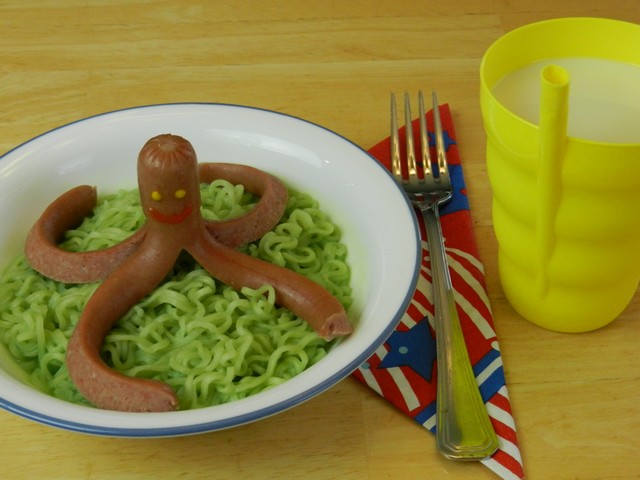 Hot Dog Octopus & Seaweed
Adding green food coloring to Ramen Noodles, and slitting a hotdog lengthwise, makes this "kids' favorite" look like an octopus sitting on top of seaweed.
Author:
Terese; adapted from Taste of Home
Ingredients
4 hotdogs
3-4 packages Ramen Noodles
Green food coloring (optional)
Ketchup, mustard (optional)
Instructions
Starting one inch from one tip of a hotdog, slit the hotdog lengthwise two times all the way through to the other end, until it has a head portion and four long legs. Cut more legs if desired.
Cook hotdogs according to the package.
Meanwhile, cook noodles according to the package, adding the seasoning packet and food coloring toward the end of the cooking time. Add the food coloring one drop at a time until the water is a medium green color, stirring well. The noodles will look pale while in the pot, but picks up enough color that it will show once they are served.
Pour noodles in serving bowls with a small amount of broth if desired.
Gently remove hotdogs from the boiling water, place on top of noodles, spreading out the "legs".
Add a smiley face to the hotdogs using a tooth pick dipped in ketchup or mustard.