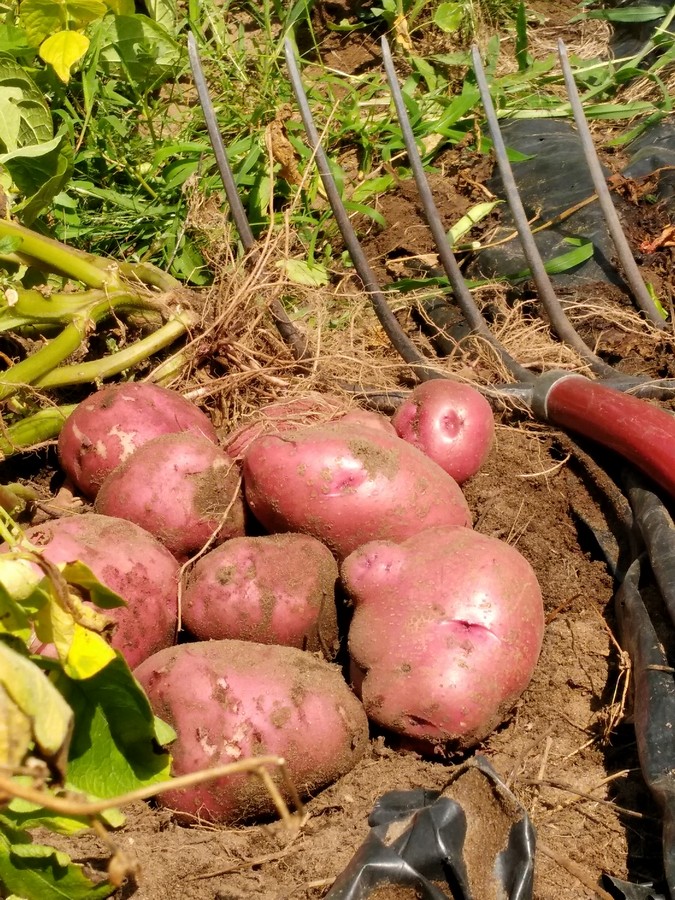 In this post I will go over some details on when and how to harvest potatoes, as well as what I have learned about storage. Also see my other posts in this same series: Part 1, Getting Started; Part 2, Choosing Seed Potatoes, Preparation; and Part 3, Planting and Growing Potatoes.
After a couple of months of preparing, planting, watering, and tending to my plants, all along wondering what's happening under ground, I find myself getting giddy in the anticipation for a well deserved, tasty reward. The work load has definitely been tolerable, so much so that each year I have found myself wishing to expand my designated garden area to allow for more potato rows. It really is quite simple; when all is said and done, it seemed I did little more than stick the seed potatoes in the ground, cover with dirt, cover some more, water, and wait. Then comes time to dig and eat! I just love sticking my pitch fork in the dirt to discover what might be hiding underneath! What will happen when I turn the soil over? There could be nothing but balls of packed soil and little rocks. But most of the time, out roll firm spuds of different sizes and colors; sometimes yellow, sometimes red, or just plain gray or brown; it all depends on the variety I planted, of course. My kids yell, "There's one! Wait, there's more!" What fun, what a miracle! Food, yummy and healthy, right down there in the dirt! I get a kick out of that every time!
Time frame from planting to harvest; when are they ready?
Depending on the variety planted, you are generally looking at anywhere from 2-4 months from planting to harvest. If you wish, you can harvest baby potatoes as soon as 2-3 weeks after flowering has finished, perfect as a delectable side dish for a delicious dinner. These tiny new potatoes are sweet and tender as the sugar has not yet been converted into starch. Gently sneak your hands into the dirt to search for the larger ones, leaving the small ones to grow for a while longer. Or leave the whole crop to finish growing before you harvest.
When to harvest, and what does "dying back" mean?
The potatoes are done growing when you see the plants starting to "die back." If you are planning to use them right away, they can be dug at any time when this process starts, or even before if size is not important. If you wish to store them, they should stay in the ground a while longer, as described below under "Hardening off."
But first, what exactly does "dying back" mean? Well, when the tubers are done growing, the potato plants will start to yellow, then become more and more brown and withered until they completely die back. As scary as it looks when you don't expect it, it is actually a much anticipated sign I look for to know that the potatoes have finished growing! This process can easily be confused with disease, and the first year I grew potatoes I thought something was terribly wrong, and sought advice on how to heal my plants to no avail. The foliage was dying, and there was nothing I could do to hinder it, nor was there any need to stop the process! I have since learned not to fret about this normal and wonderful stage!
To help you know what to expect during this natural process, I have included a few pictures of what my plants looked like when they started dying back. There are a lot of weeds around in these pictures, but the potato plants in the first picture are the two light green stems in the middle with some brown leaves, sprawling on the ground: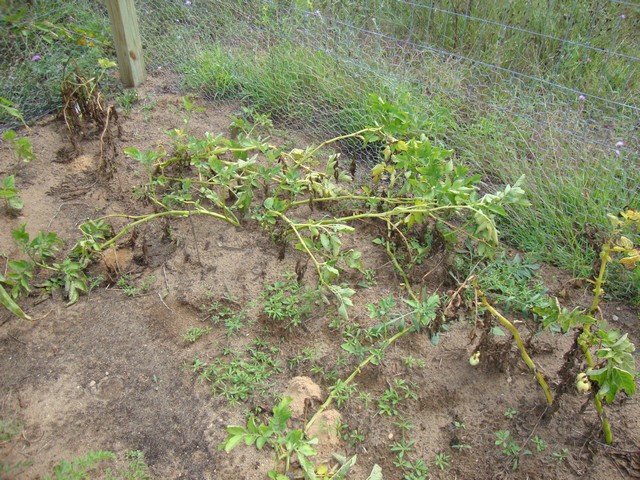 On occasion, potato plants will produce fruits during the later flowering stage. These fruits look like green cherry tomatoes but will eventually turn white. This is the true potato fruit, which contains seeds. The fruit is toxic and not edible! The seeds can potentially be used to grow new potato plants, although this is not normally done as potatoes from these plants will not be true to the original tubers. In the following pictures as the plants continue to die back, you can see these fruits still hanging on the plants, now white in color.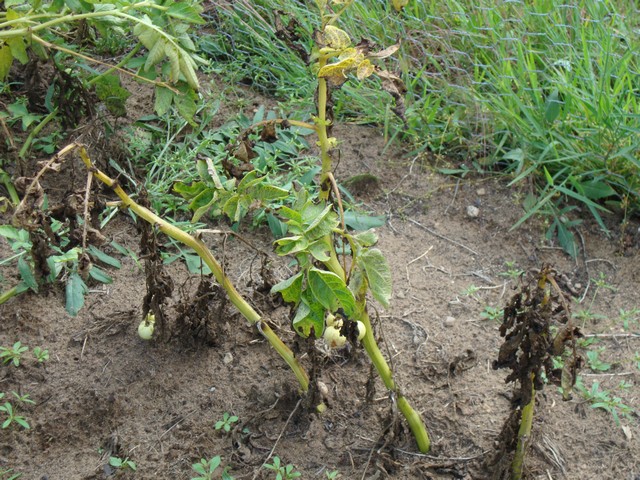 Yikes! Pretty horrific looking for someone who doesn't expect this to happen!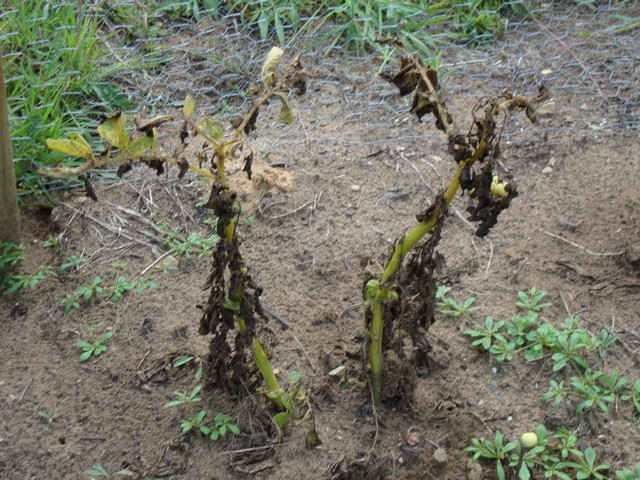 The plants are now dead as can be, an excellent sign!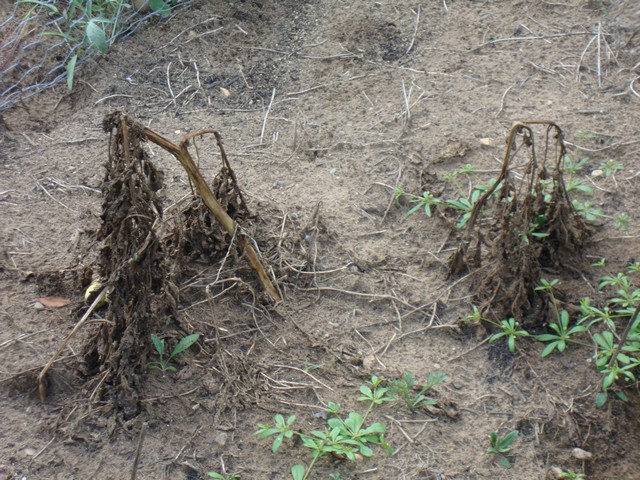 When the potatoes are done growing, I like to leave mine in-ground and harvest as needed rather than dig the entire crop right away. This should not be done if it rains a lot or if the dirt drains poorly because of the risk of rot or sprouting. My potatoes have kept very well in-ground, but I do harvest them within a few weeks of maturing and certainly well before winter sets in since I can expect the ground in my zone to freeze. In milder climates, where the soil is workable all year, some people keep them in-ground all winter.
Hardening off:
If you prefer to store your taters, you should wait 2-4 weeks after the plants have died back to harvest to toughen them up a bit. When you see that the plants have mostly died back, stop watering altogether to prevent rot or re-sprouting your crop. Since the potatoes are now finished growing there is no longer any need for water. Leaving them in-ground for a couple of weeks extra allows the tubers to develop a thicker, stronger skin, which is needed for safe storage to protect them from rot or disease. If you have a very late crop, you can kick-start the process to harden them off before the plants die back by cutting down the stems and foliage and stop watering.
How to harvest:
I prefer to use a pitch fork to harvest my potatoes. After trying a shovel and a cultivating tool first, seemingly slicing and piercing more potatoes than not, I ended up settling on my good ol' pitch fork. I found that as long as I started a ways away from the plants and worked myself closer, I was able to dig them easily and safely, and piercing some only on occasion. Damaged spuds can still be used, but they won't store well. I dig a foot or so away from the plant, and being that the pitch fork is a curved tool, I try to dig straight down and not on an angle. Then I push the handle down to lift and turn the soil, moving closer and closer until I have dug up the entire plant, taking care to harvest every last little one to prevent re-sprouting the next spring.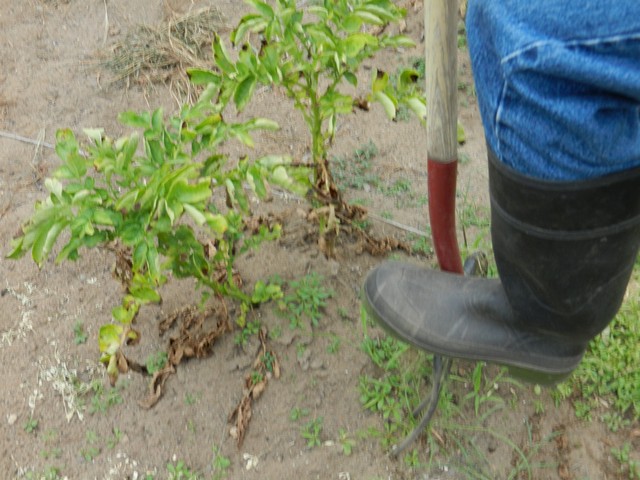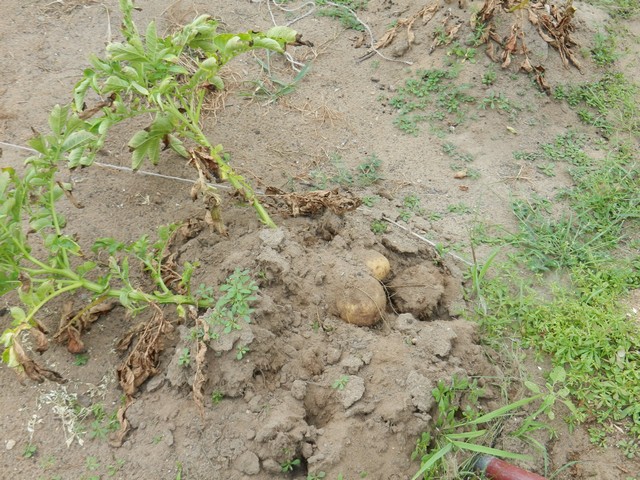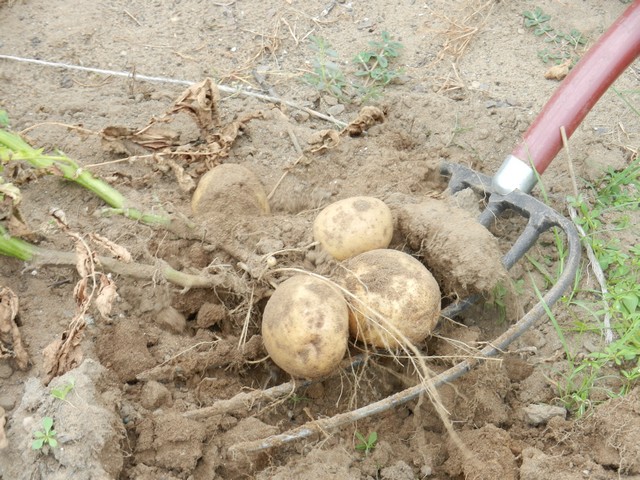 See how the potatoes are connected to the plant in the root area? They are very easy to tear off, and often come loose by themselves when you dig around them.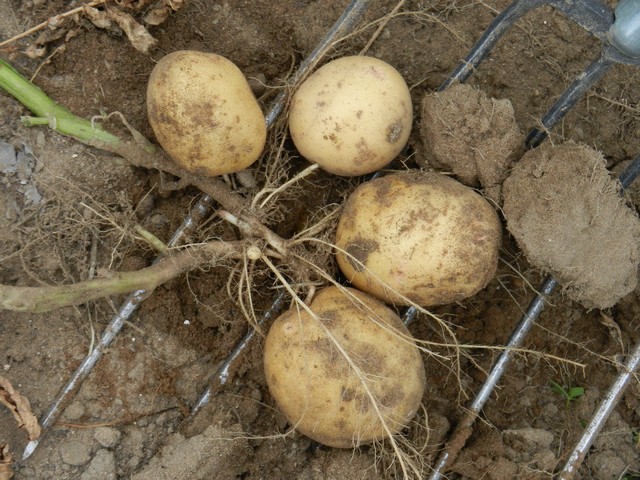 Sometimes you might be able to pull the plant out of the ground with the potatoes still attached.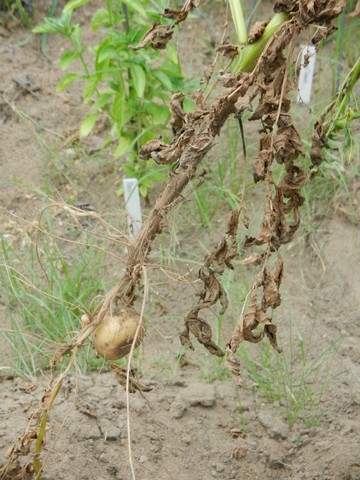 After digging, if you are going to use them within a couple of days, just brush off the worst of the soil and let them dry a bit. If you live in a hot climate, do not leave them in the sun as excessive heat could cause them to cook. I typically dig only what's needed for dinner, just brush off the excess soil, and bring them right inside to prepare. It is so much fun!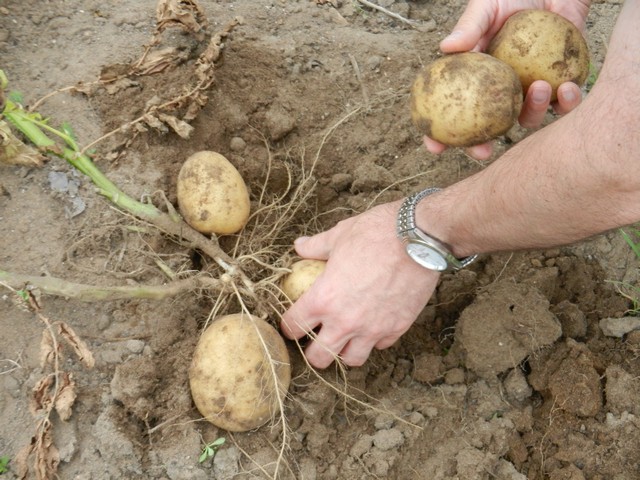 Pick the ones you find, then continue to dig around in the soil and search for more. Pick every last one, even the tiny ones; otherwise they will grow into new plants (and that might not fit with your plans for next season). This plant actually did come from a stray potato that had accidentally been left after harvesting last year, and produced quite nicely. Nice accident!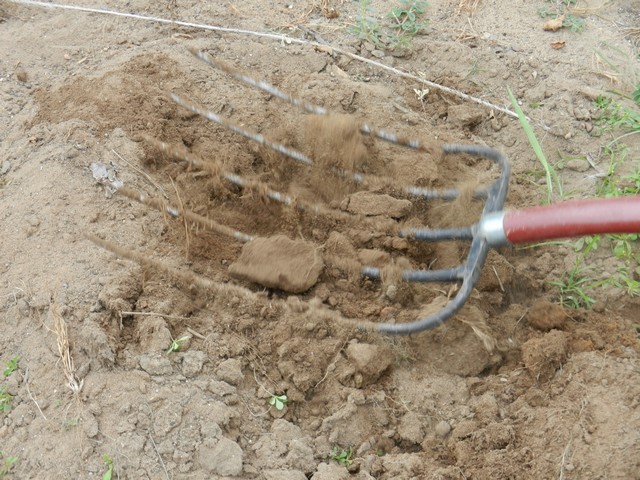 Preparations for Storage:
So far I have always dug and used my potatoes as needed, and long-term storage is not something I have personally tried yet. However, in studying and researching this process, this is what I have found out about it:
If you want to store your potatoes, harden them off in-ground first, as described above. After digging, let them cure for several days to two weeks by letting them dry on newspaper or dry ground in a dark space, such as the garage, basement, etc. This hardens the skin further for better storage. Make sure to keep the spuds away from sunlight, and do not allow rain or any water to reach them. Do NOT wash them if they are to be stored. Excess soil can be gently brushed or rubbed off, but make sure not to damage or rub off any of the skin. Damaged potatoes should not be stored, but used within a few days, although minor cuts and bruises will heal during the curing period.
Here are some of the beautiful red skin potatoes that I harvested.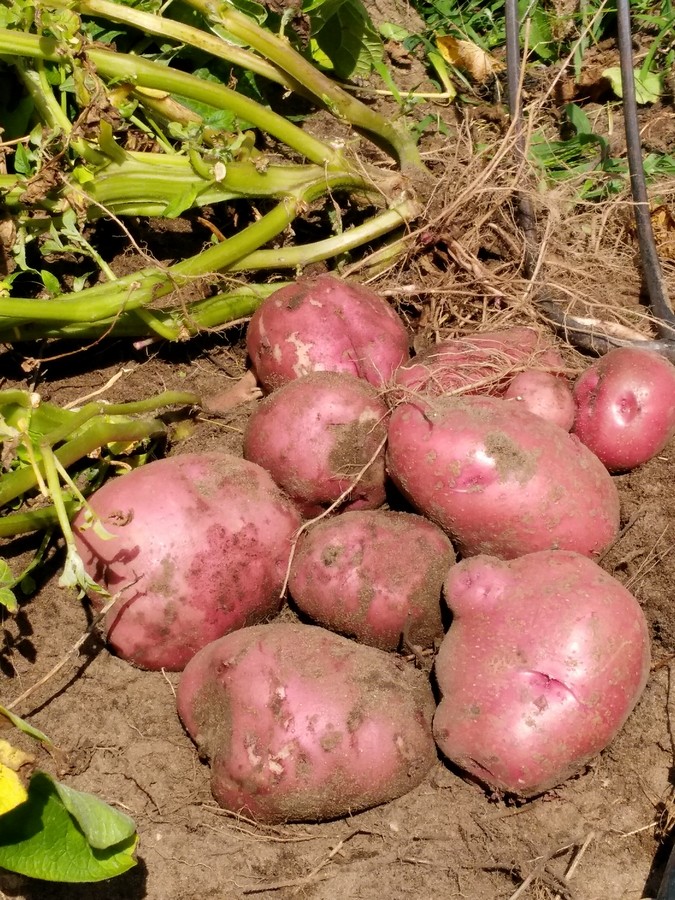 Some were a bit damaged in the process, but I always use those within a few days, so that's not a problem.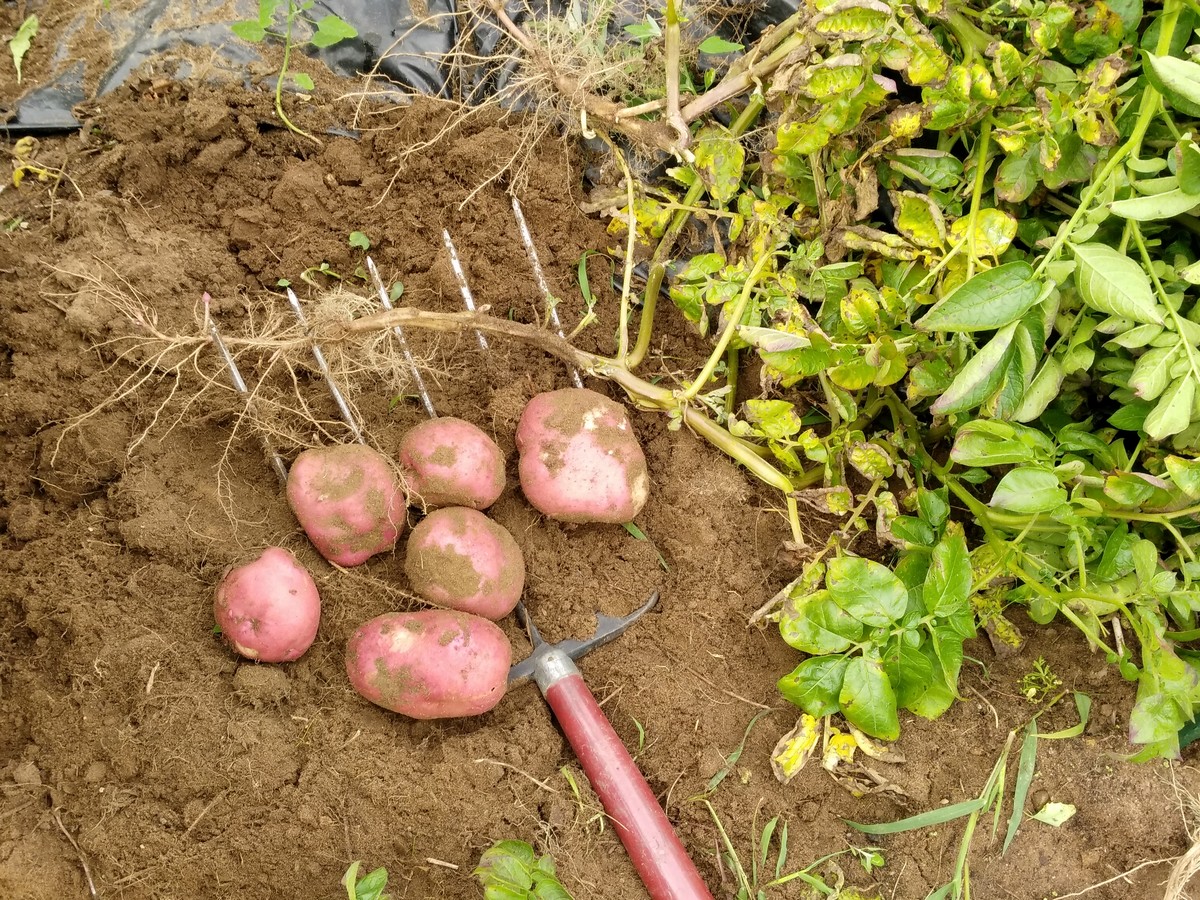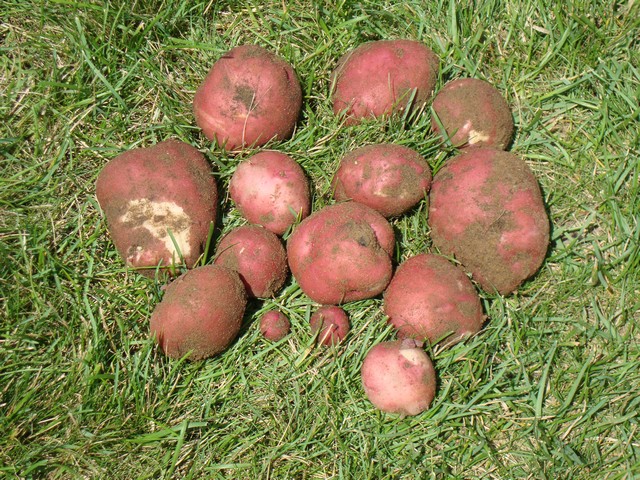 In this picture, the last little bit of my potatoes have been harvested, and my garden is now ready for tilling before winter.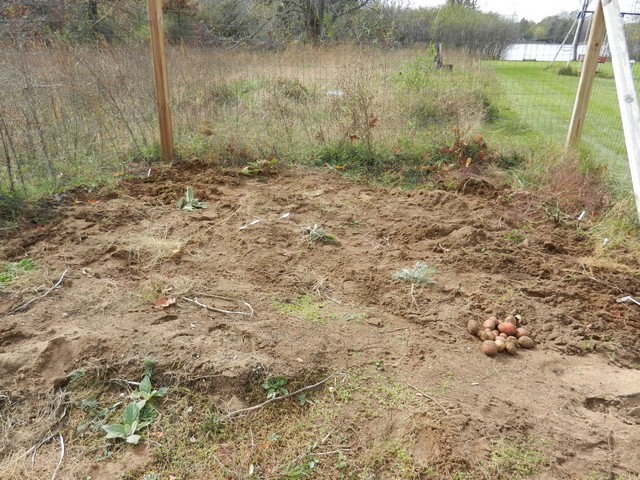 How to store potatoes:
Potatoes should be stored in a cool, but not cold, dry, dark environment, ideally around 45-50 degrees F  (7-10 degrees C). Do not refrigerate them as they will turn sweet and change consistency, though this can be reverted by bringing them into warmer temperatures for a day or two. Potatoes do not tolerate frost.
Potatoes can be stored in bins, baskets, cardboard boxes, etc., or even in paper sacks or mesh bags. They do need good ventilation, so the container should be well perforated. Never store in air-tight containers. It is best not to pack them too tight, but keep some air flow around them to prevent rotting. Make sure they are kept in a very dark area, or cover the bins with newspaper or cardboard to keep all light out, to prevent them from turning green. Don't store potatoes together with onions as each vegetable produces gasses that will cause both of them to spoil. Potatoes in optimum conditions will store for several months, even up to half a year or more.
I remember the potato cellar in my grandmother's old house; I was never actually inside the cellar itself, but I remember the black, scary hole in the kitchen floor when the hatch was opened, and the tiny ladder the grown-ups would climb to get potatoes when needed. I remember my grandmother warily climbing down into the cellar with a shiver, hurrying back up again and sometimes telling of the giant spiders living there, apparently waiting for their next victim. I'm glad I only had to experience it second-hand! Hopefully all of you have pretty, happy places to store your taters!
If you have any tips or comments, please leave a comment below!