Growing up in Norway, front loading washing machines were extremely common. In fact, to my knowledge, they were the only machines available in our area at the time, and I believe them to be the norm in several other European countries even today. These front loaders would usually take an hour or more to complete a cycle, and the water was heated by electricity. You could heat the water as high as 90 degrees C (194 F), which is 10 degrees C away from boiling (212 F). When I moved to the United States, I was surprised to find that not only could the water not be heated as high, but the cycles were typically done in a half hour. For me, that just doesn't cut it for certain loads, like bedding or underwear.
When my husband and I moved to a new house and had to purchase a new washer, we decided to get a front loader. The reasons behind this decision was past experience, and information we found through research.
The pros we found with front loaders, were:
Front loaders often have the option of much longer cycles than top loaders, which can help significantly in getting a load clean.
They clean better as a result of the position and design of the drum. The drum sits in a vertical position rather than horizontal, so clothing spins and drops down into the water as they reach the top of the drum. The drop into the water causes friction, which helps clean the fabric.
The friction from the clothing falling into the water seems to be more gentle on fabrics  than the harsh rubbing caused by the agitator in the drum of a top loader.
A front loading machine uses far less water than a top loader. The small amount of water does not affect its ability to clean.
With reduced water volume, far less detergent is needed. Less water and detergent saves our environment, and money too. (Granted, front loaders are generally more expensive initially, to purchase.)
Less water also means less energy needed to pump and heat the water, also saving money and the environment.
Capacity wise, you can generally fit more clothing in a front loading machine than a top loader, since the machine uses gravity and small paddles on the drum to move the clothing around rather than an agitator. Better capacity is a huge plus for families who go through a lot of laundry. More room means fewer loads, which saves you personal time and energy in addition to money you save on running the machine.
Front loaders tend to run more quietly, both in washing and spinning cycles. Proper leveling is needed to ensure a stable, and quiet machine.
The spin cycle in front loaders extract more water, cutting back on drying time on a line, or energy when using a dryer.
Front loading machine and dryer can be stacked on top of each other, to save room in smaller spaces.
Since there is no lid on top of the washer, you can use this extra space for folding or storage. So you get some extra counter space! Always a plus if you ask me.
Front loaders help protect and save the environment in several ways with so many areas of cutting back on energy, water, and detergent.
In all fairness, though I clearly prefer front loading machines, there are some cons to take into consideration as well, when making a decision between a front or a top loading washer.
Here are some of the issues I consider cons:
Front loaders are more expensive to purchase, so even if you may save money in the long run, the money up front needs to come from somewhere. If it isn't there, it isn't there, and that's the end of it for a lot of people.
As already mentioned, with a front loader you will save money on energy, water, detergent etc., but with the price being so much higher initially, it would certainly take several years to make up for it, if you ever get there. I don't know that any manufacturer makes truly good quality appliances anymore (though I could be mistaken), so machines are likely to quit on you much earlier than they did 30-40 years ago. That means you have less time to make up the difference. (Quite frankly, I don't think machines these days last much longer than maybe 10 years or so… But that's a completely uneducated guess. Please do leave a comment if you are able to provide more accurate information, as I think we all would like to know!)
You have to lean over or kneel down in order to load and unload the machine, which can be hard for some people. It is possible though, to purchase a pedestal to place the machine on, to raise it to a higher level.
The door to the washer needs to be left slightly open when not in use in order to dry out properly, to avoid the growth of mold (and odors!) Leaving the door ajar between cycles is not a big deal for me personally, though it may not look quite as nice and neat if you are concerned about appearance. More importantly, some may need the door closed in order to prevent pets or young kids to get into the machine.
It is harder to add an extra item after the cycle has started, since the door on a front loader locks during the cycle to prevent leaks. It surely can be done though, and I do it myself on occasion. It's just a little harder since you have to stop the machine and wait for the water to drain to the bottom of the drum before opening the door. It takes a little bit more time, that's all. On some machines the program will continue to run from where it was once you start it again, to avoid having to start the cycle from the beginning.
A front loader should be properly leveled, to avoid excessive shaking and movement. We have had both a Maytag and an LG front loader that were shook during spinning cycles, probably as a result of not being leveled. In addition to the whole house vibrating due to the LG shaking, with the loud noise that resulted, this machine ended up giving us nothing but trouble, requiring several repairs that fixed nothing. The LG was smelly as well, even though we tried everything under the sun to fix it. We believe the shaking was due to improper leveling, which in turn possibly caused parts to fail over time. Regardless, when we replaced our LG with a Samsung, we wanted to ensure that everything was done correctly from the beginning. We specifically asked the installers whether they had leveled this new machine, which they said that they had. When my husband checked things over after they left, he found it to not be level after all, and had to finish the job himself. So far, this front loader has been wonderful in every respect. It is quiet, even during spinning, washes well, and there is no unpleasant smell. Leveling is important when installing a front loader, and it seems like it would also be the in the best interest of the extended warranty company to make sure that the machines are installed in a manner that would make them last longer. So it is amazing to us that this part is not necessarily handled correctly.
While still looking for a new washer, my husband did some research and found that odors is a relatively common problem with LG front loaders. Not so with Samsung, according to his research, and after 2 1/2 years with our Samsung, we have had no problems at all. I wonder if improper leveling could have caused the smell in the former LG machine; perhaps the water could not drain properly, and caused moldy build-up? That's just a thought, but it's only natural to wonder where the smell came from, what might have caused it. We had done everything right, as far as we knew. My guess is that leveling and drainage problems could have had something to do with it.
I always leave the door on my machine open when not in use, to allow the machine to dry out properly thereby preventing mold and smell. This is recommended with all front loaders since these doors close very tightly to prevent leaks.  To keep the door open, I put a dry rag in the opening, or I leave the door wide open.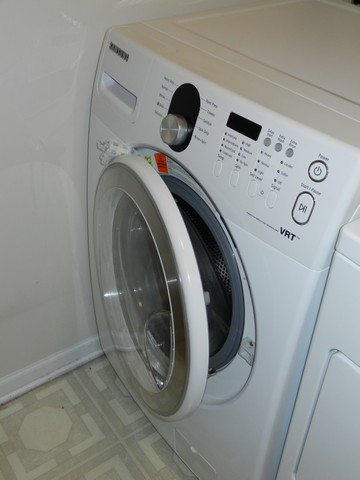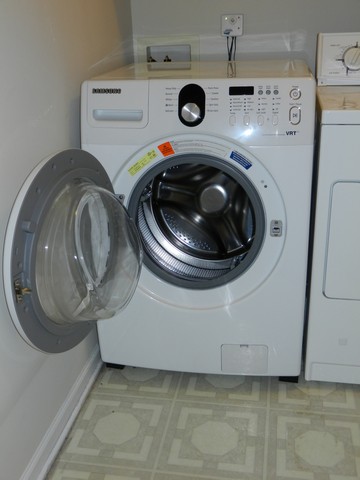 This is what the paddles in the drum look like: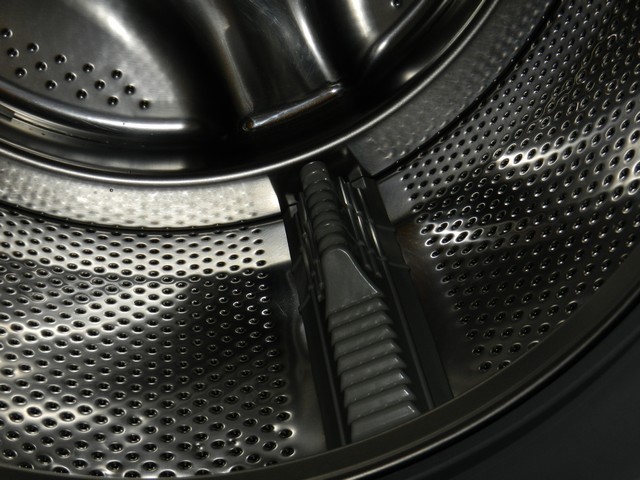 My husband and I will never purchase another washer without an extended warranty. It was because of the 5-year extended warranty we had purchased for our LG (which we had to utilize multiple times due to problems) that we were finally, after 4 1/2 years, able to get this troublesome machine replaced. The lemon clause in the extended warranty covered the replacement. There are many different functions on a washing machine; fill / drain water, wash cycles, spinning, bells & whistles etc. A lot of things that can go wrong, and though we rarely purchase extended warranties, we have found that for us, it pays to do so for a washer! So far so good with our Samsung though! We love our new machine, and our laundry room smells nice and clean, like it should after the laundry is done.
All in all, we do love front loading machines, even though they can have their own set of issues. Getting our laundry cleaned so well, without the damaging rubbing of the agitator in a top loader, makes it worth it for us, along with the environmental benefits of cutting back on water use as well as energy and chemicals.