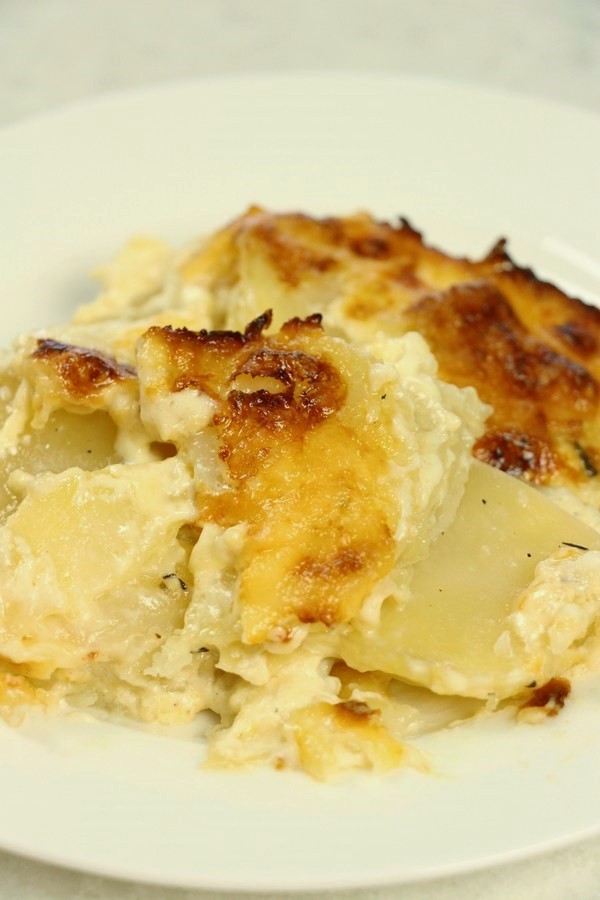 Today I will post a fantastic recipe for the ultimate of scalloped potatoes! This dish was a huge hit when I served it as a side during our large family Christmas celebration. I am tempted to call it Grown-Up Scalloped Potatoes because the flavors are more complex than some of the other, more standard recipes. I love scalloped potatoes, but this recipe has definitely been kicked up a notch and is a must-keep for my recipe box. And they also just happen to be gluten free! How awesome is that? With the upcoming holidays in mind, I originally found it at Great Party Recipes .com, (Easy Cheesy Scalloped Potatoes) while searching for a recipe that would work for a large group of people. After making a couple of changes and trying it on small-scale first, I decided there was no reason to look further! This was it! And it was a success!
Below, I have posted a lot of pictures along with the directions and recipes, and I hope it will be helpful to you. If you decide to try these scalloped potatoes, I would love it if you came back to comment and add a star rating as it really helps me out! Thanks in advance!
How Much Will You Need if Serving a Crowd? 
On the bottom of this post you will find a smaller and a larger size recipe for your convenience; the smaller one for 6 servings first, then the larger one for 12 servings follows. When figuring how much you'll need to make, remember that you will need less per person if there are a lot of other dishes served, such as at a gathering where several people help bring sides. But let's say it's just the potatoes and a vegetable as the only sides, then you'll need more per person.

25 people: The recipe that will serve 12 people can be doubled for around 25 people, using 2- 13″ x 9″ pans.
50 people: If slicing by hand, quadruple the 12-serving recipe by making a double recipe two times to prevent too much browning. If slicing by machine, you can quadruple the recipe right away. Either way you'll need 4- 13″ x 9″ pans.
Figure out ahead of time whether you can fit the number of pans needed into your oven (you may be surprised!), making other arrangements if needed.
Adjusting Baking Time for Larger Dishes
It takes longer to bake large or deep dishes or if the oven is really filled up. When I made two 13″ x 9″ dishes, I let them cook for two hours altogether, covering with aluminum foil after I saw that they were hot, bubbly, and browning somewhat on top. After two hours, checking now and again during the process, the potatoes were tender but still with a little bite to them. Perfect!
How to Prepare
Start by mixing together salt, pepper, rosemary, and thyme in a small bowl; just swirl them together a bit.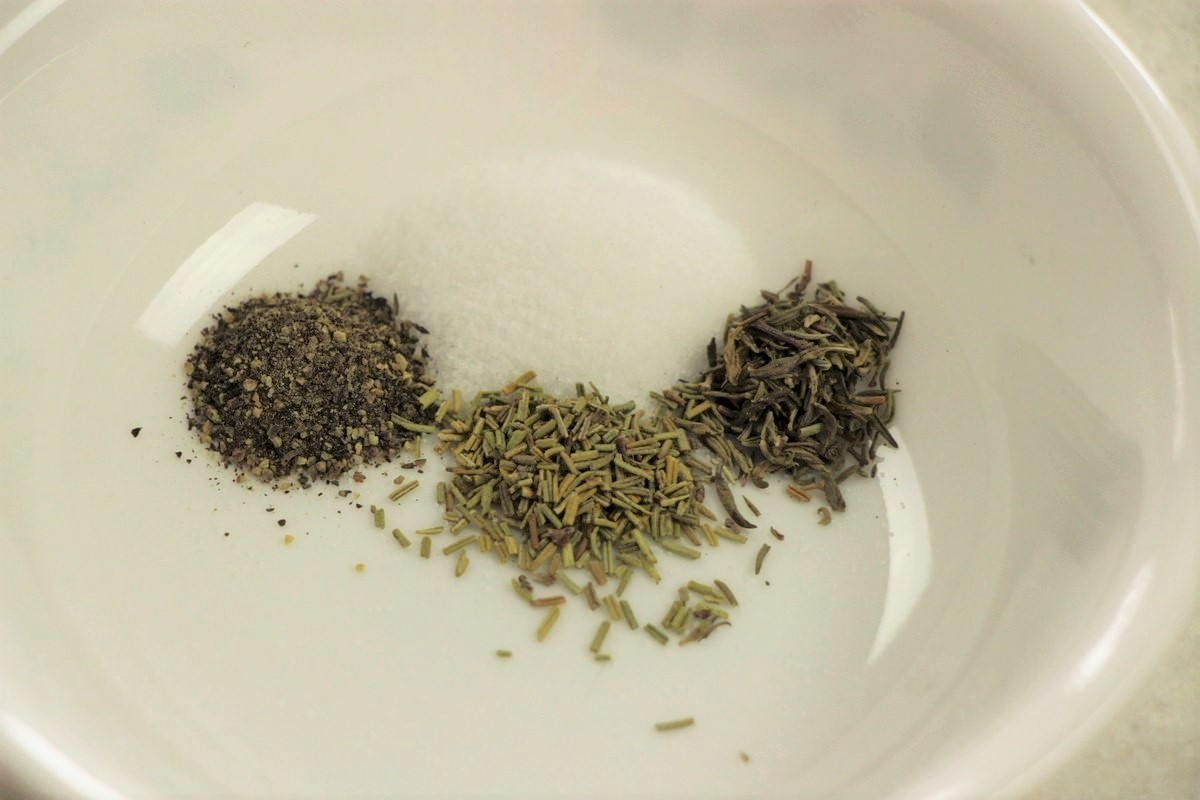 Then peel and slice russet potatoes, also called Idaho or baking potatoes. These are very starchy and work better in scalloped potatoes than the watery white or red-skin potatoes. Yukon will also work well. They are a bit in-between, but fairly starchy, sweet, and tasty! Size wise, choose potatoes that are not so big around; slimmer and longer is better than huge, round ones. The big ones are harder to slice and you'll have such large pieces in the finished dish. Smaller is better.
Also slice them very thin, around 1/8 inch or so. Thinly sliced makes delectable scalloped potatoes! Personally I cut by hand since my food processor cuts too thick. Otherwise I would have loved to run them through a machine, especially when I made two large portions for the 30 people at our Christmas party! And it took a while, but it actually went better than I had thought!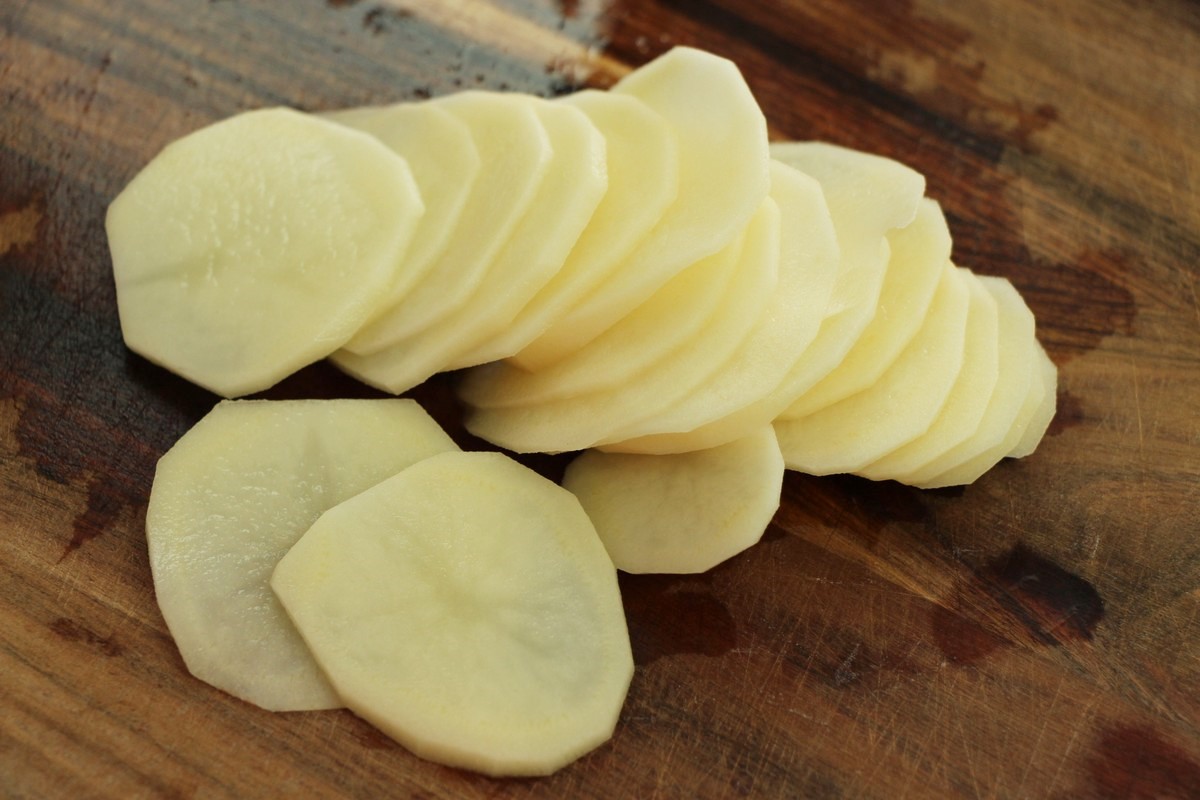 Throw the slices in a bowl as you go; try to work at a decent pace. When done, right away sprinkle the salt and herb mix over the potatoes and stir them very well. The first slices you cut may have started to brown a little bit already, so that's why you don't want to drag things out too much. The slices will want to stick to each other, so stir and slide them apart until every piece is covered,as the salt will keep them from turning brown. If you are making a lot, consider doing the slicing and stirring with herb mix in steps.
The salt will pull out liquid from the potatoes, which is what you want, so let them sit while you prepare other ingredients.
Now for the deluxe part: a delicious cream mixture and white cheeses! And regarding the cheese, not just boring mozzarella! In addition to using some Parmesan cheese, also choose a white cheese that is more flavorful than mozzarella, such as Montery Jack, Swiss, Gouda, Jarlsberg, Gruyere, provolone, white cheddar, etc. The original recipe called for provolone, but in the ingredient list I use Montery Jack as the main cheese since this cheese also works very well and is cheaper and easier to come by. But you can use your own blend by replacing part of the Montery Jack listed, with some of the other cheeses suggested above. If so, try replacing 1/4 cup, or even up to 1/2 cup. This time I used some farmer's Gouda, which is soft and melts well. It is best to not use large amounts of very hard cheeses as they do not melt as well and are more gritty. They tend to be more flavorful though, as they often are aged and sharp. It's a balancing act.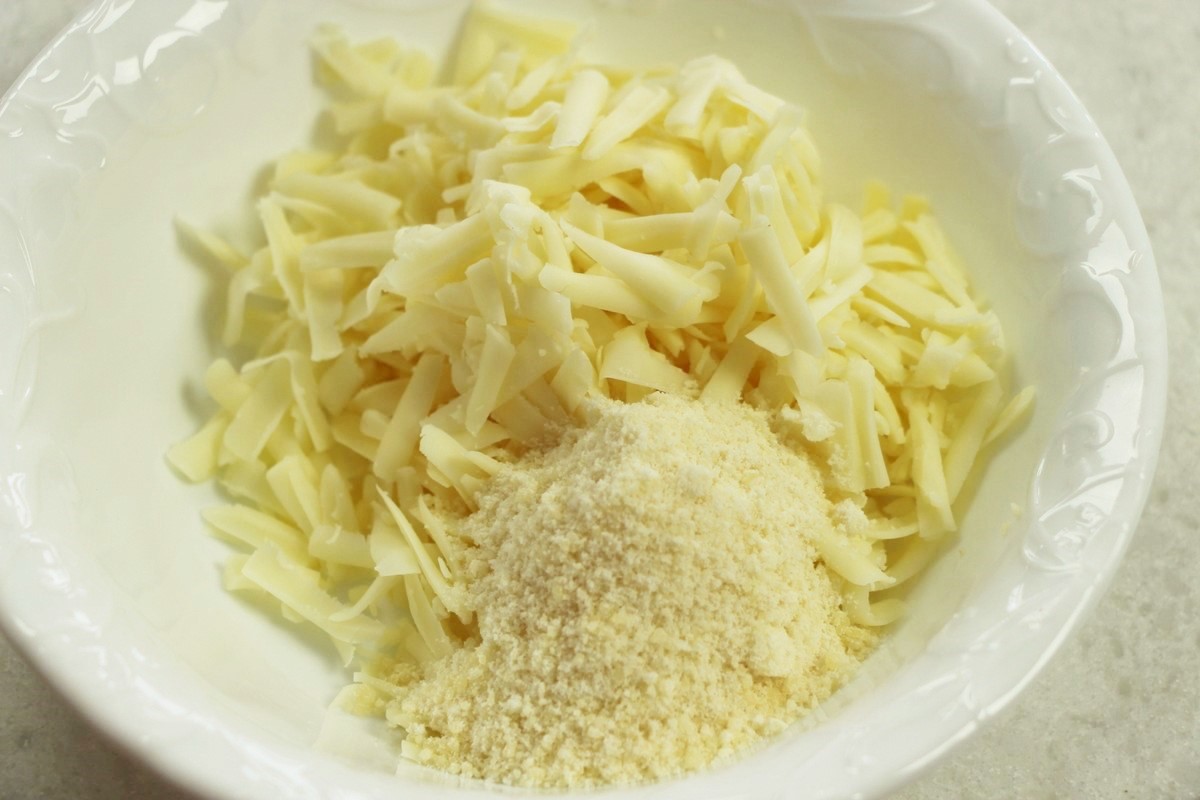 Mix the cheeses together and set aside.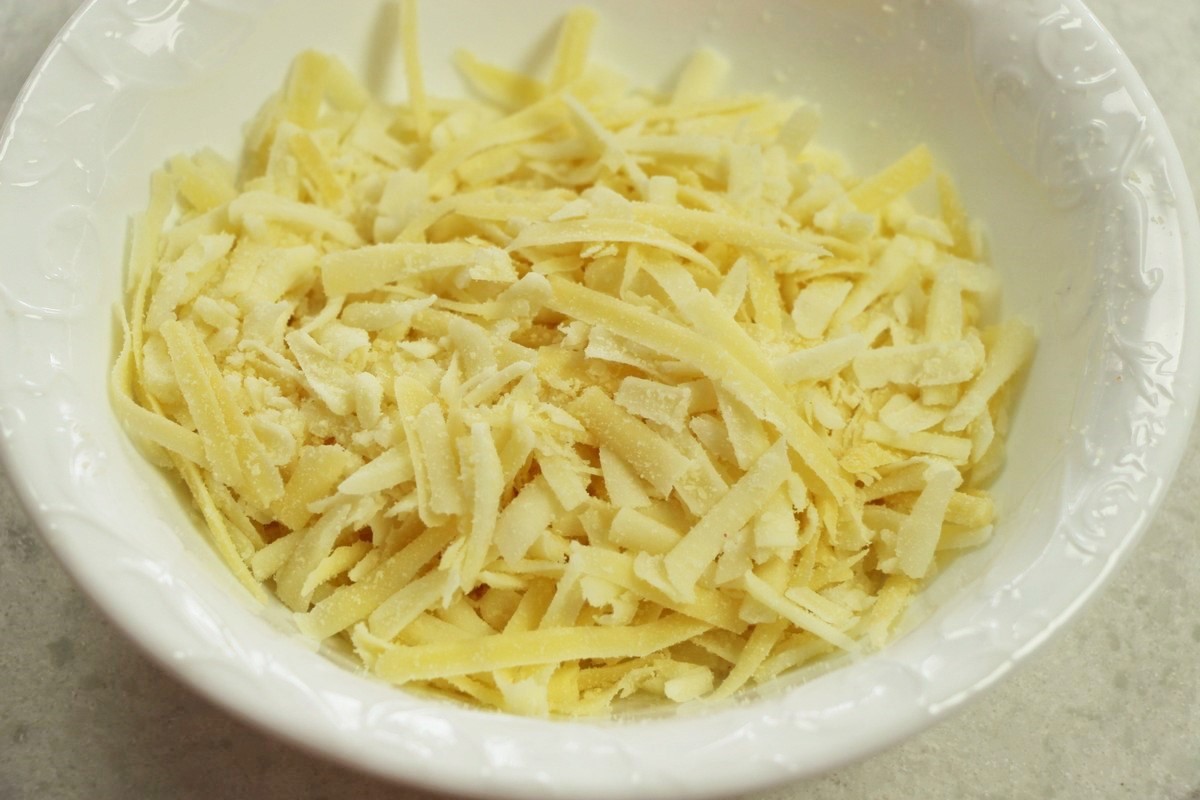 Next, mix together heavy cream, sour cream, and salt, then set it aside for now. This creamy sauce will add a lot of flavor to these fantastic, ultimate scalloped potatoes! They wouldn't be scalloped without the sauce, and the sour cream adds complexity to the flavors.
If you want a milder taste, let's say for the sake of young kids who often like their food more bland, you could cut back a little bit on the sour cream and replace it with more of the heavy cream. But adults and teens love it, even if they think they don't like sour cream!
At any rate, make sure that the sour cream is of good quality, both for health and for flavor. Daisy is a great brand, widely available, good price, and very pure with cultured cream as the only ingredient (unlike many other brands). Light or non-fat sour cream is full of additives and very processed, and the result is not the same.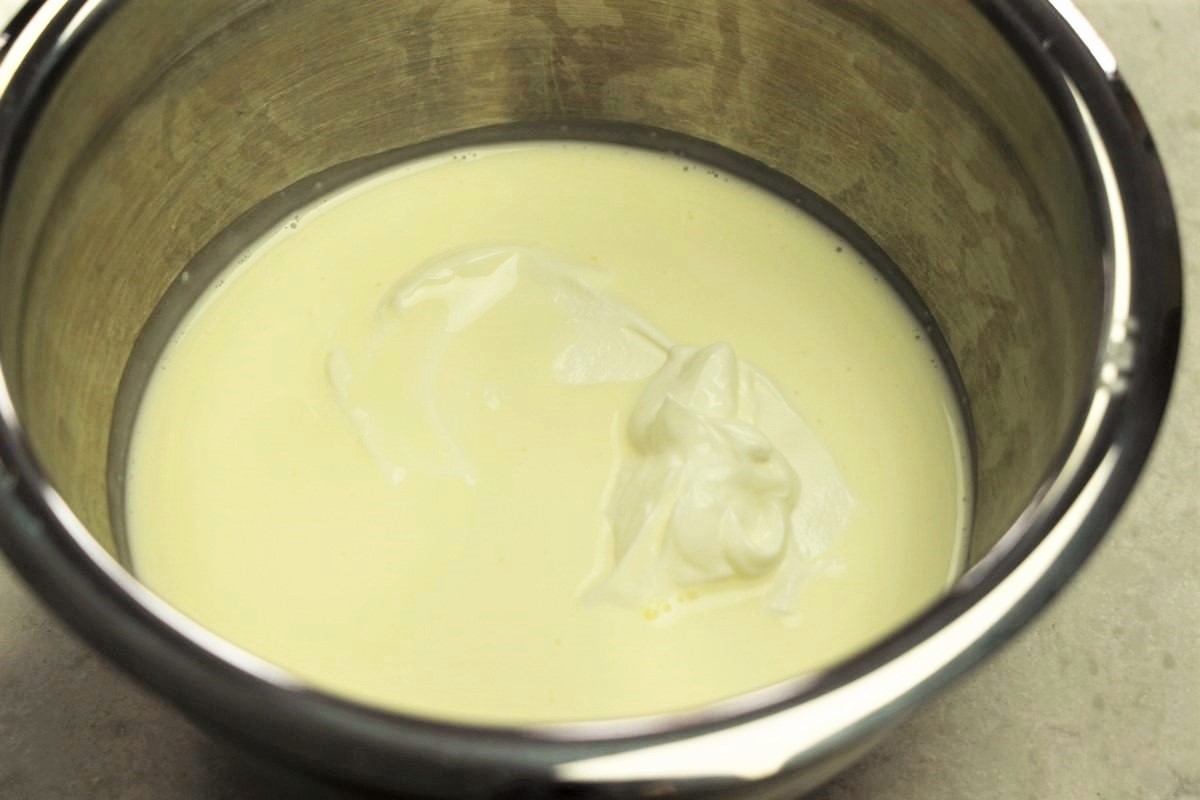 I love the flat style whisks common in Norway, where I grew up; you can easily get to the edges of the bowl and they beat out lumps very nicely. The one below was purchased at IKEA and is a little bit smaller, but the standard size can also be found on AMAZON. I have several flat whisks and use them all the time. They work so well!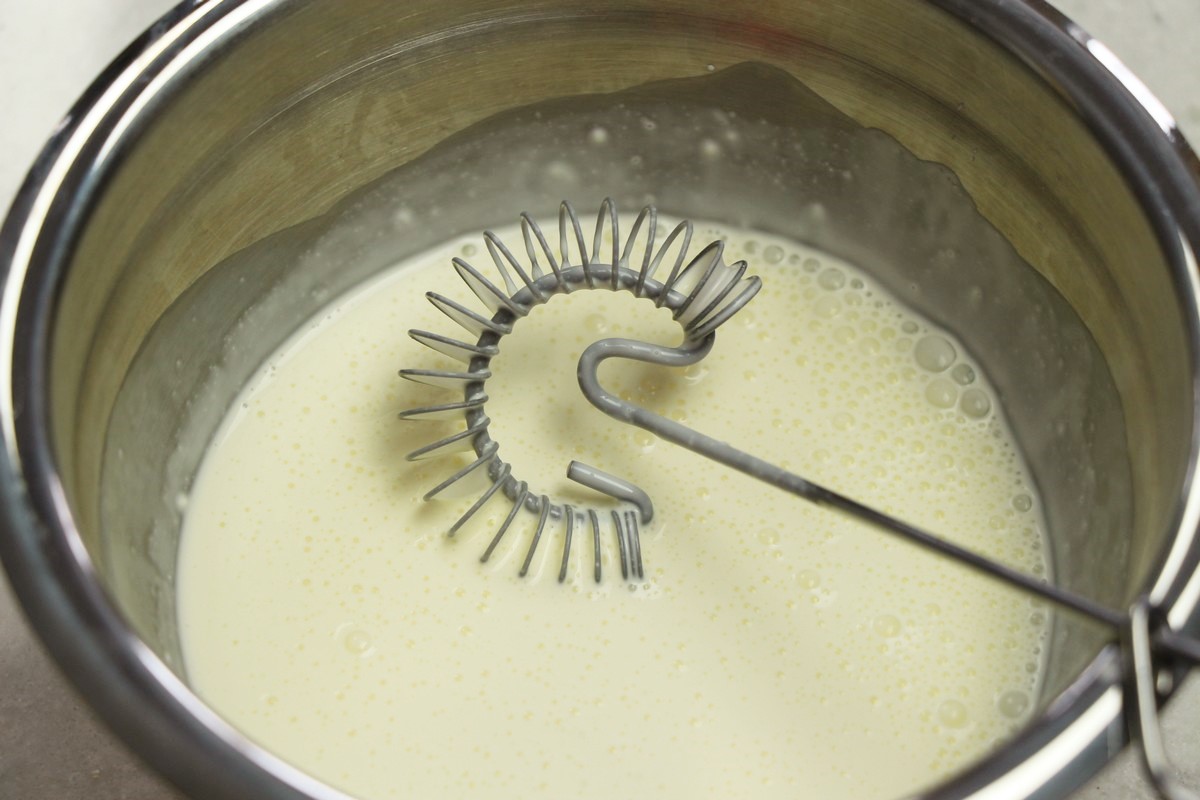 See how liquid has dripped to the bottom of the bowl?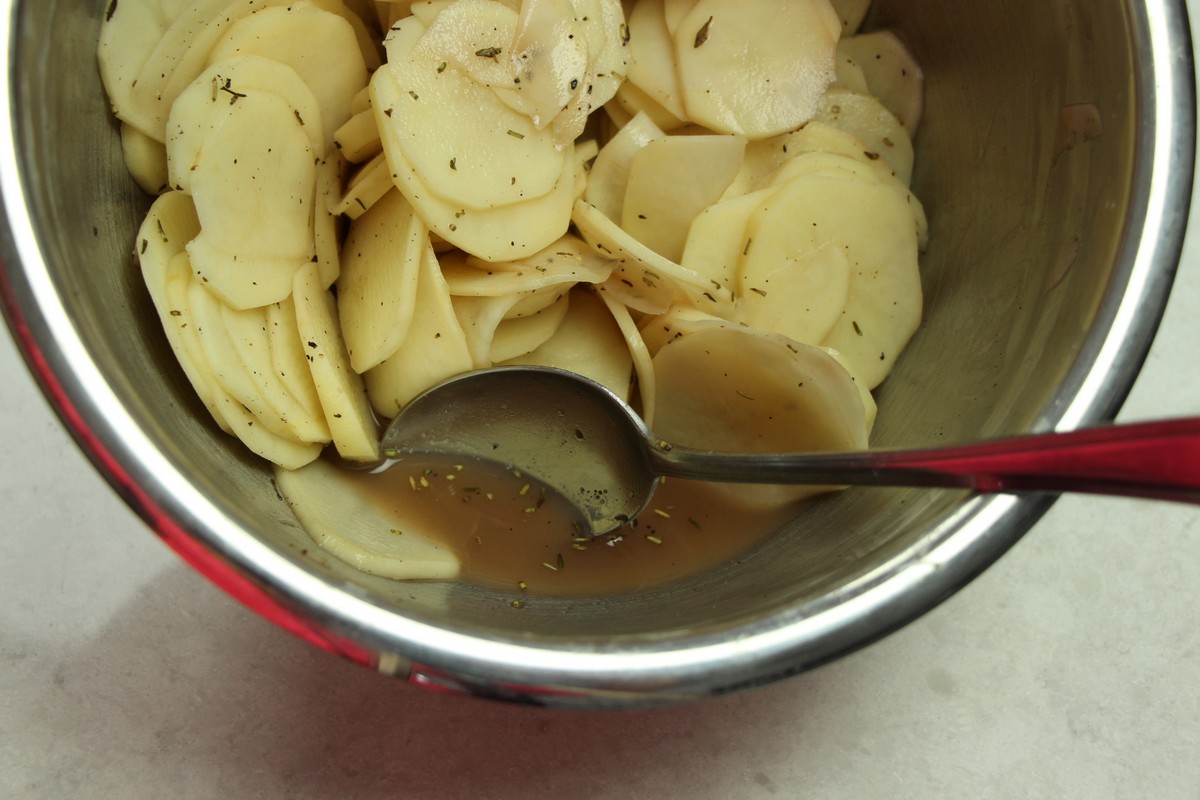 Drain this liquid off when ready to layer the scalloped potatoes.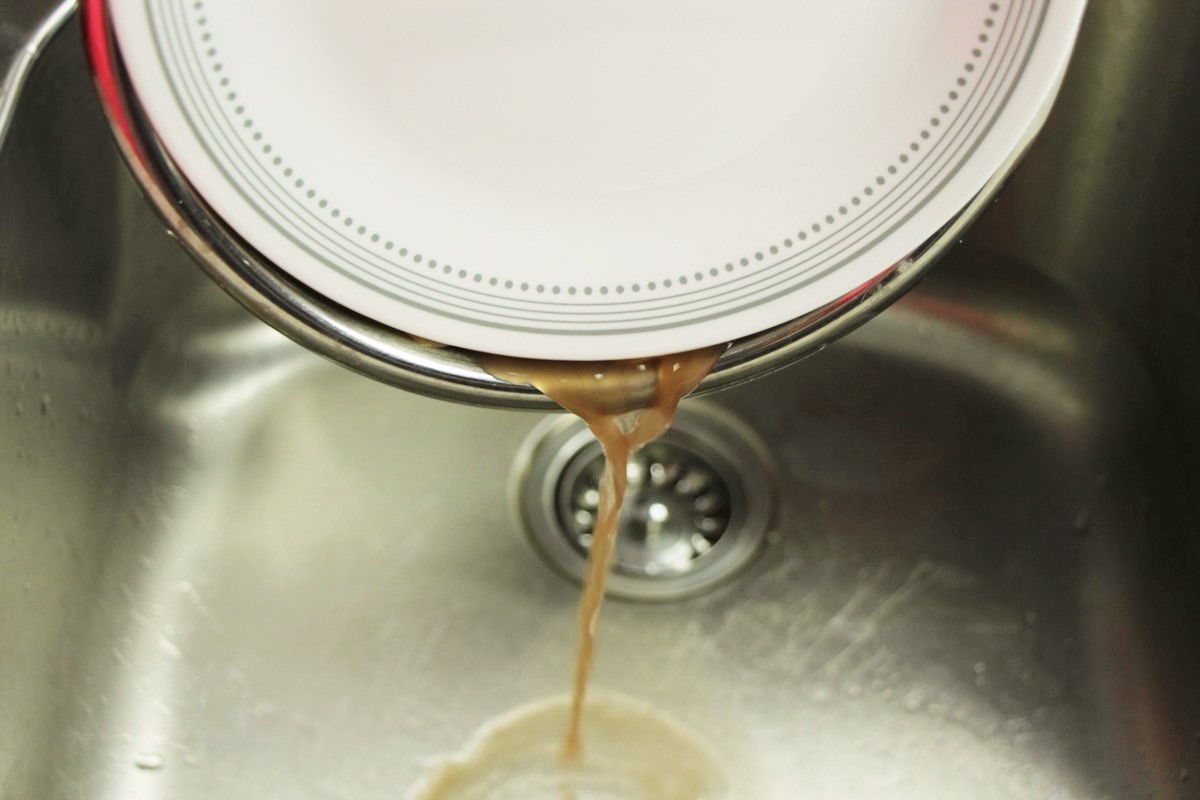 Now, grease a baking dish and start layering.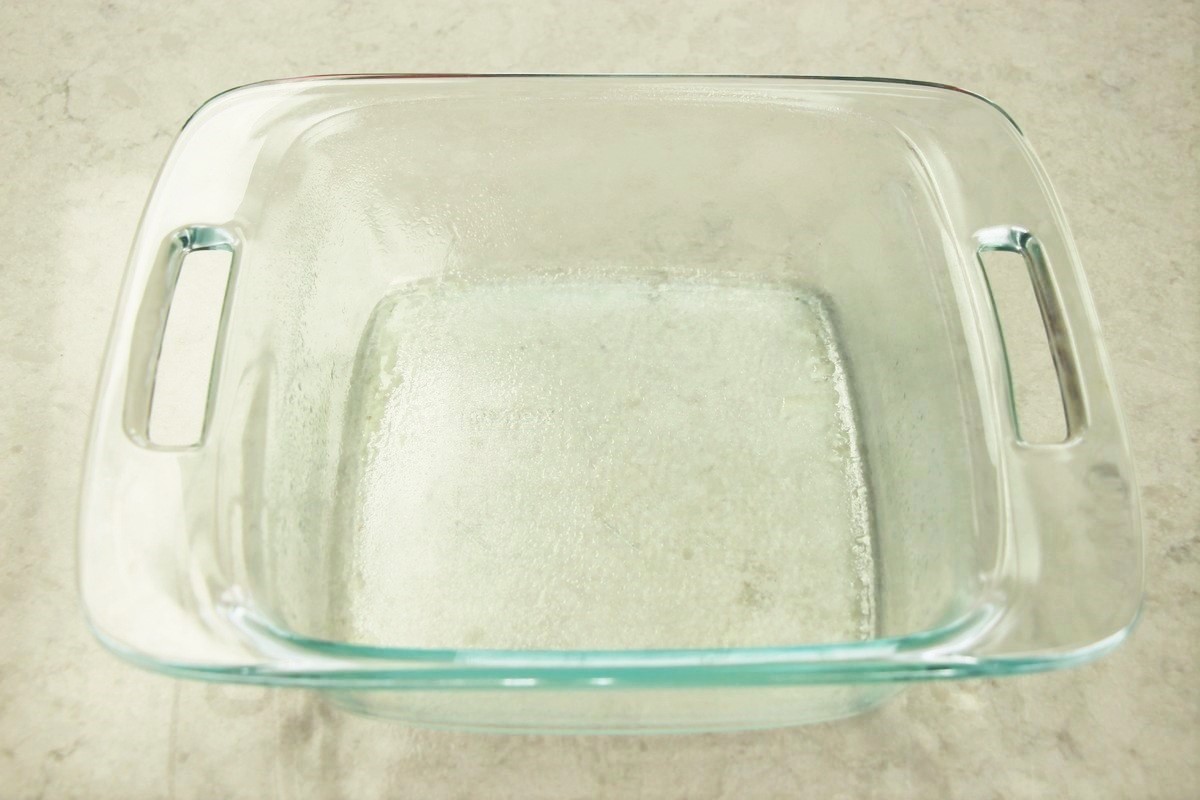 First, layer half of the potatoes. Make sure they lie flat and even.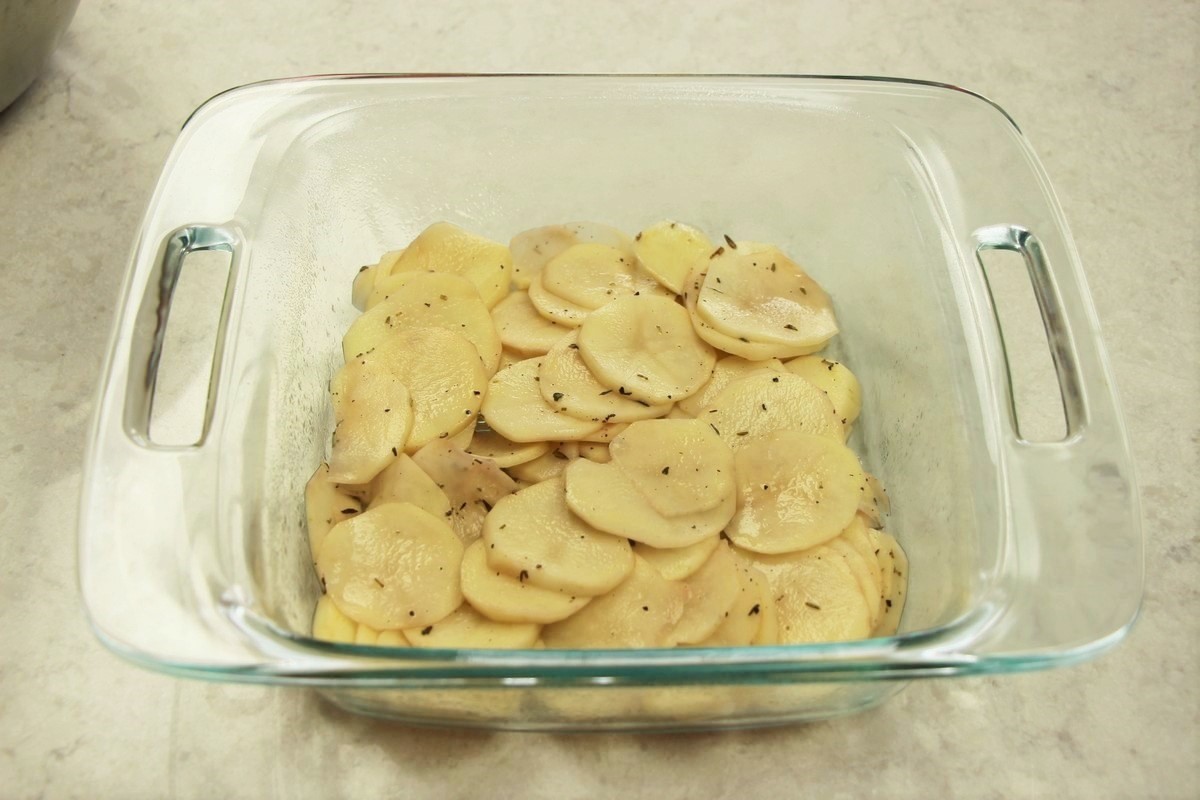 Then sprinkle with half of the cheese mixture.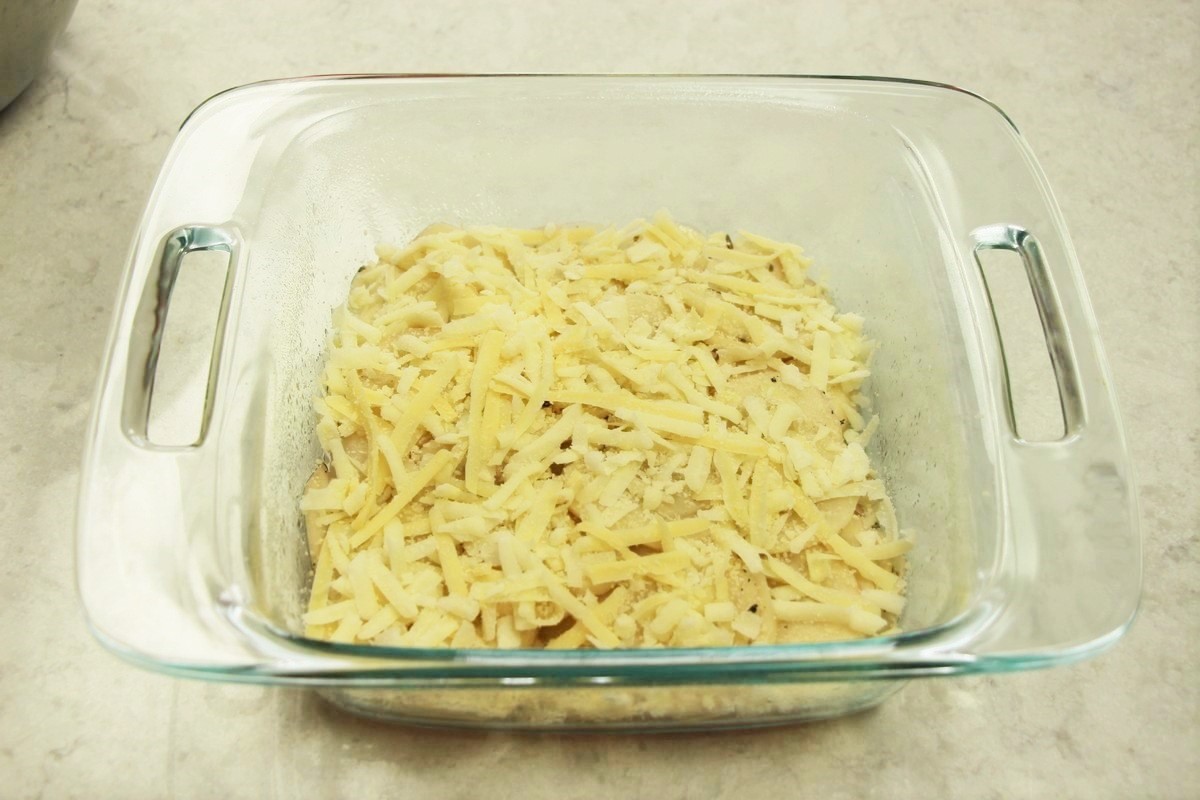 Then goes the rest of the potatoes.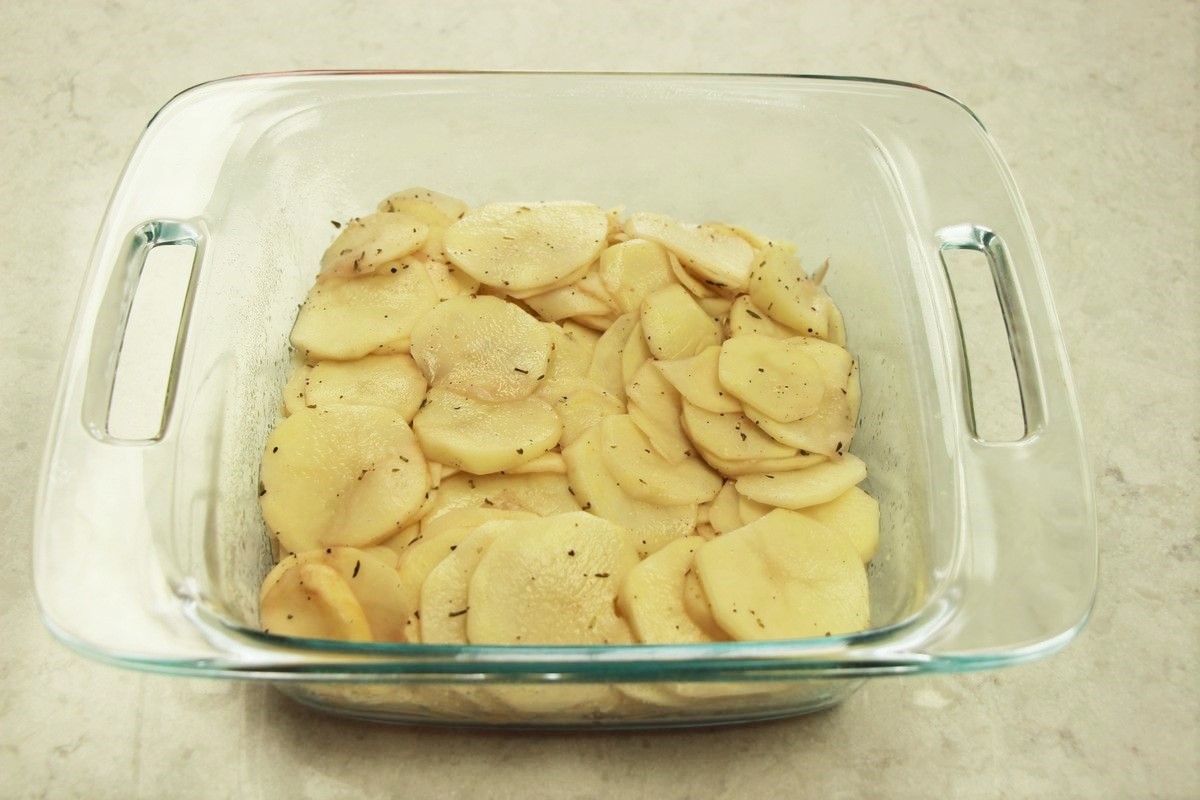 After that, pour on the cream sauce and shake it a little bit to make sure it gets down into the potato layers.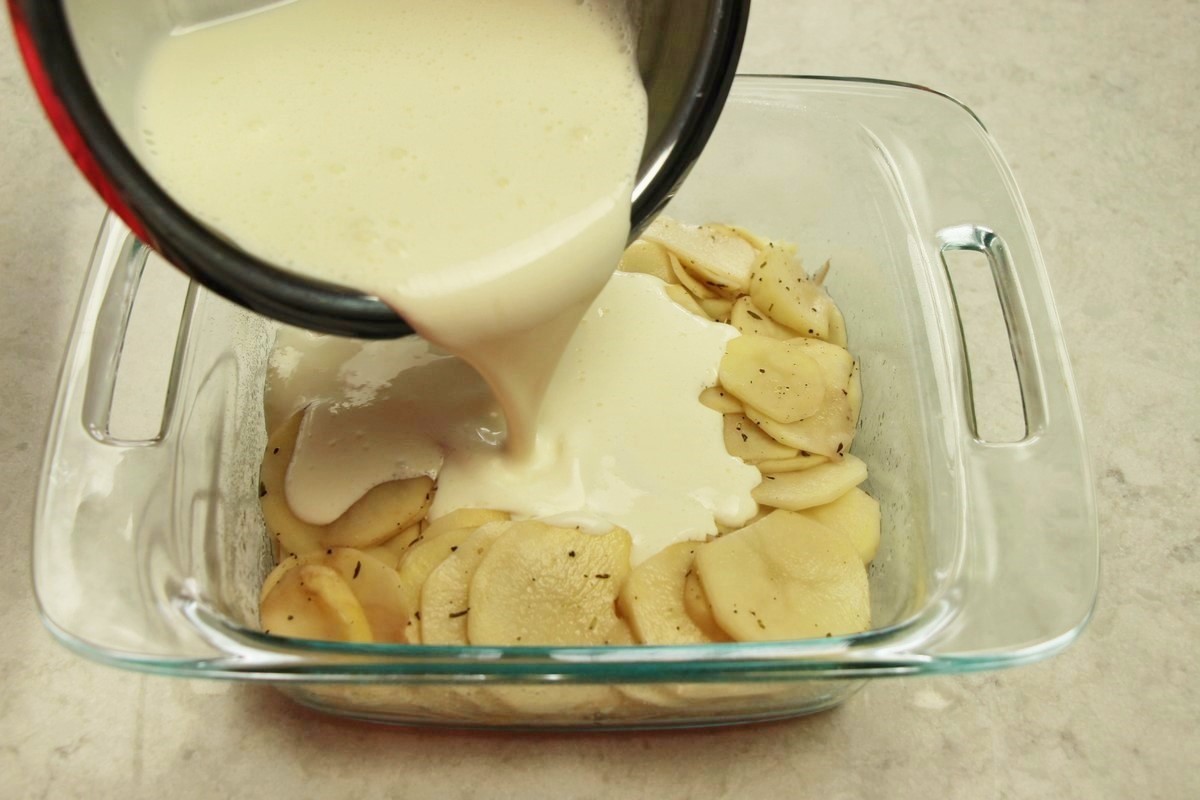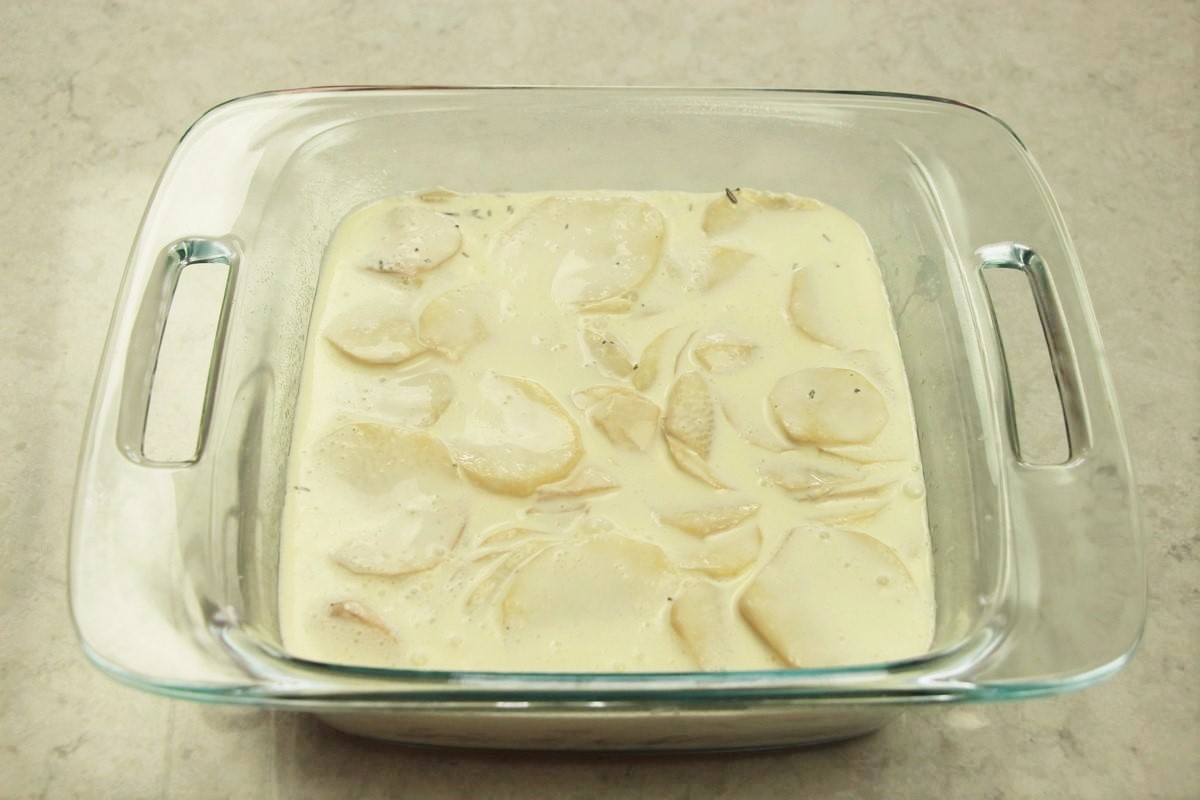 Then the rest of the cheese, and that's it.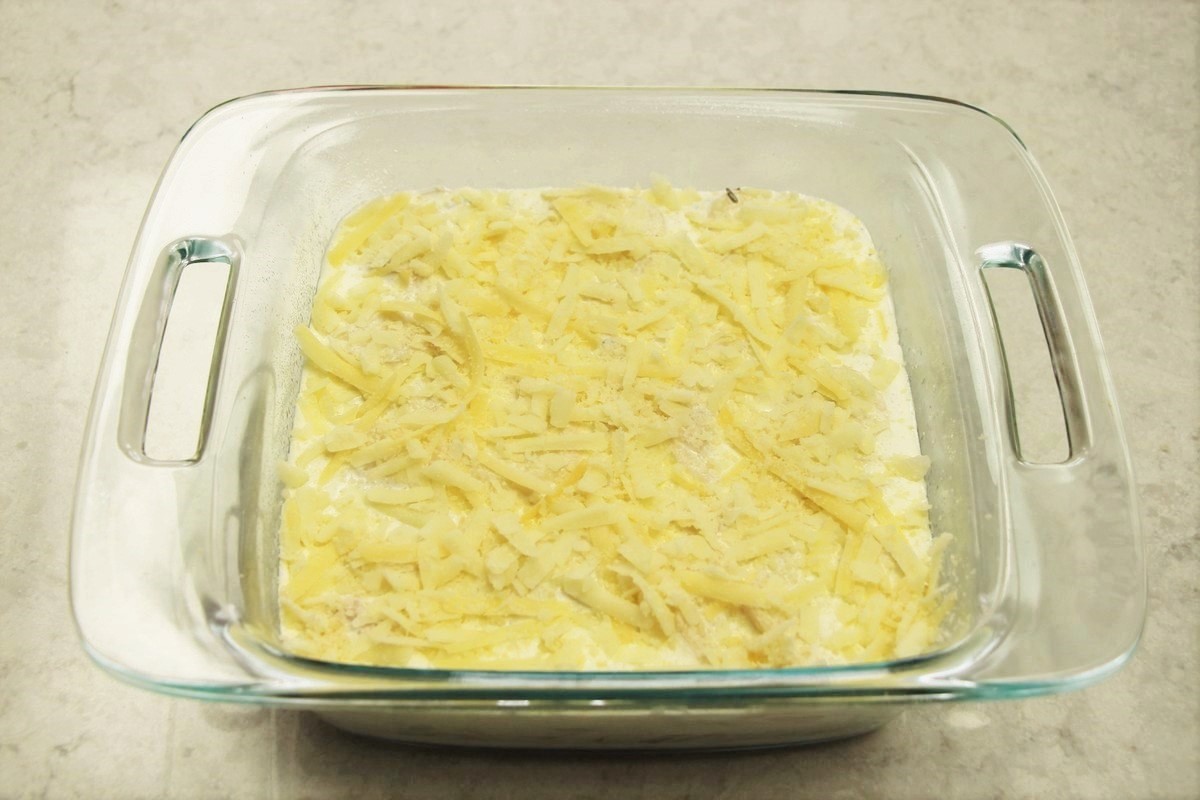 Bake at 350°, uncovered, for about 45-50 minutes (I do 50) until the dish has heated up nicely and developed some color. Then cover with aluminum foil to bake for an additional 30-35 minutes. You don't want to cover right away as the foil will hinder the heat from reaching the food and it will take "forever" for the potatoes to come up to temperature and cook through. So I think it's better to let the dish heat up properly first and get some of the cooking done, then cover to prevent the cheese from burning as it continues to cook, around 1 hour and 20 minutes altogether.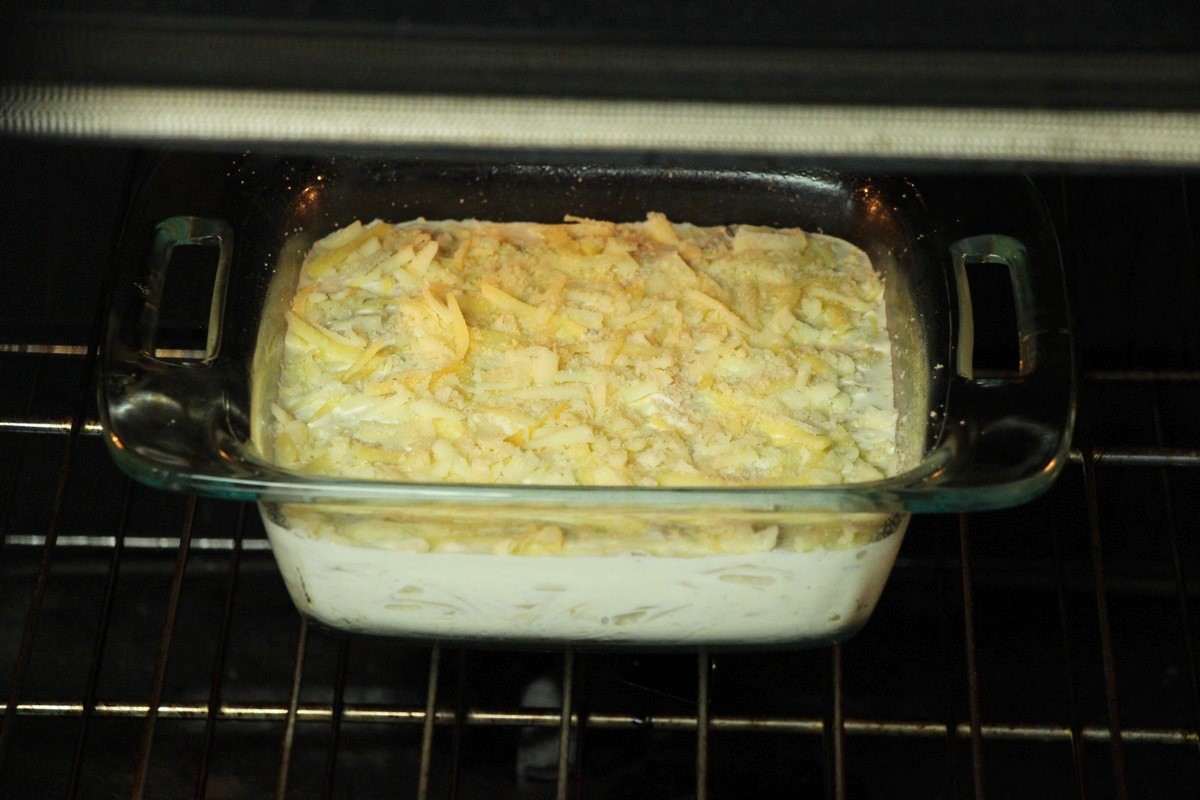 Time to cover and finish baking.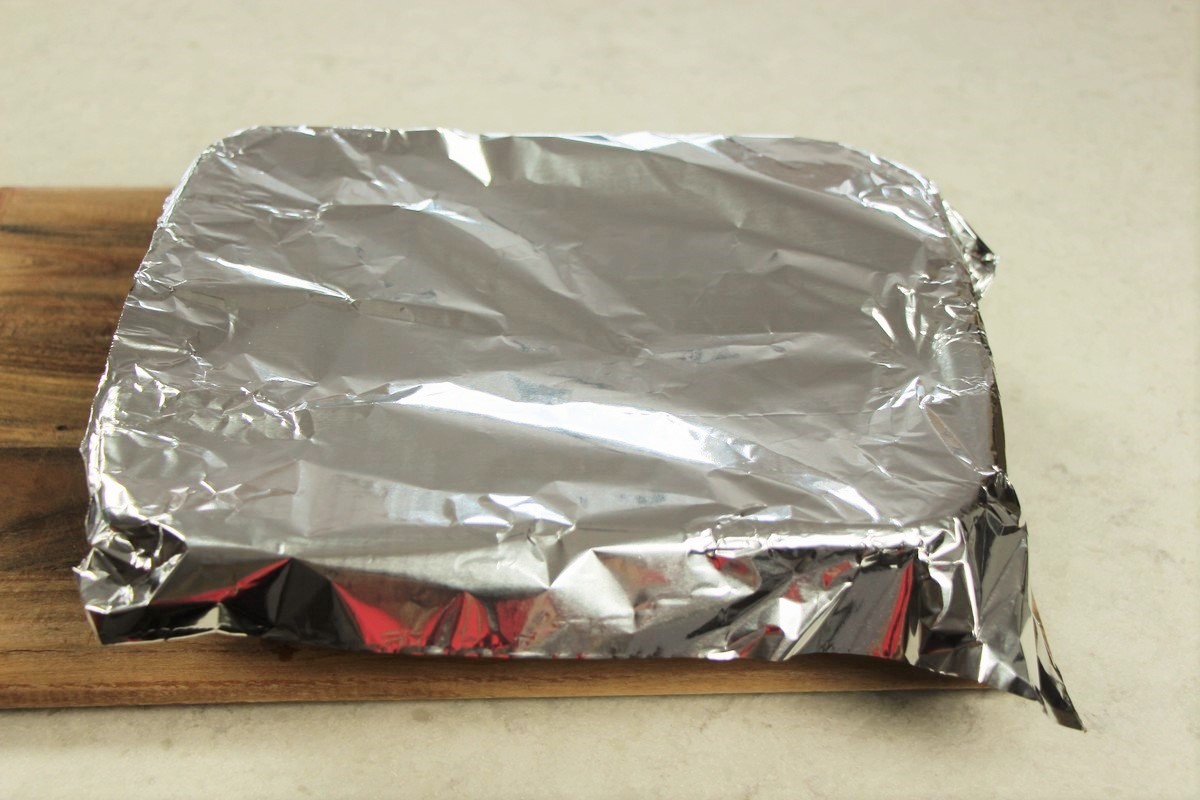 Check after a bit when you think the potatoes are getting close to done; stick a sharp knife into the potatoes a couple of different places to make sure they are tender. If they are a tiny bit on the firm side, I have found this to be completely OK and it gives the potatoes a nice little al dente bite. But they should be tender at the same time.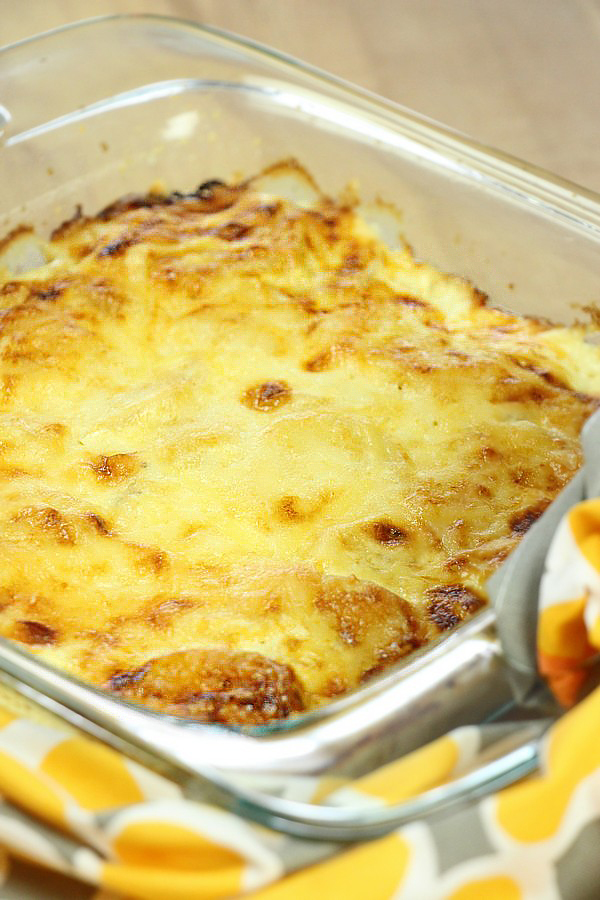 The Deluxe Scalloped Potatoes are finished baking and smell wonderful! Please rate this recipe if you try it; I hope you'll love it as much as we do! It's perfect for company on holidays or when you want to serve something special! It also works great for serving a crowd of people; just take a peek at the two recipe sizes below. Enjoy!!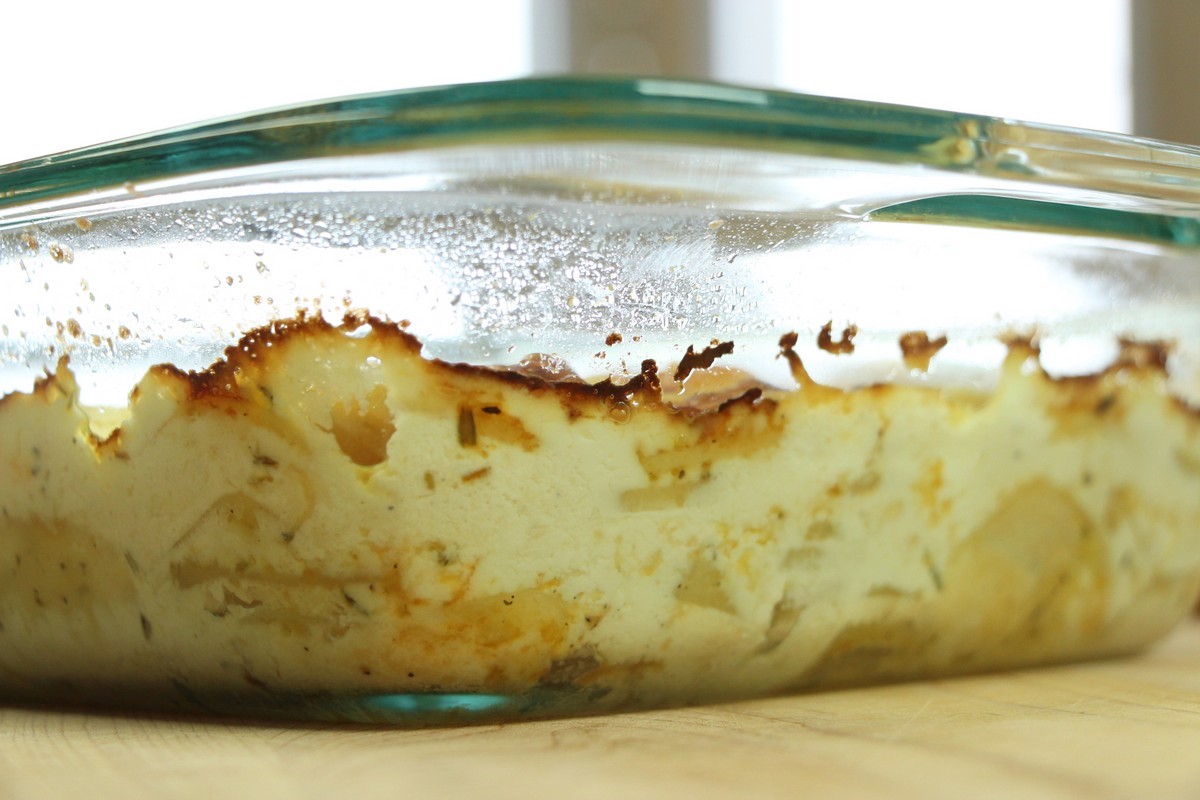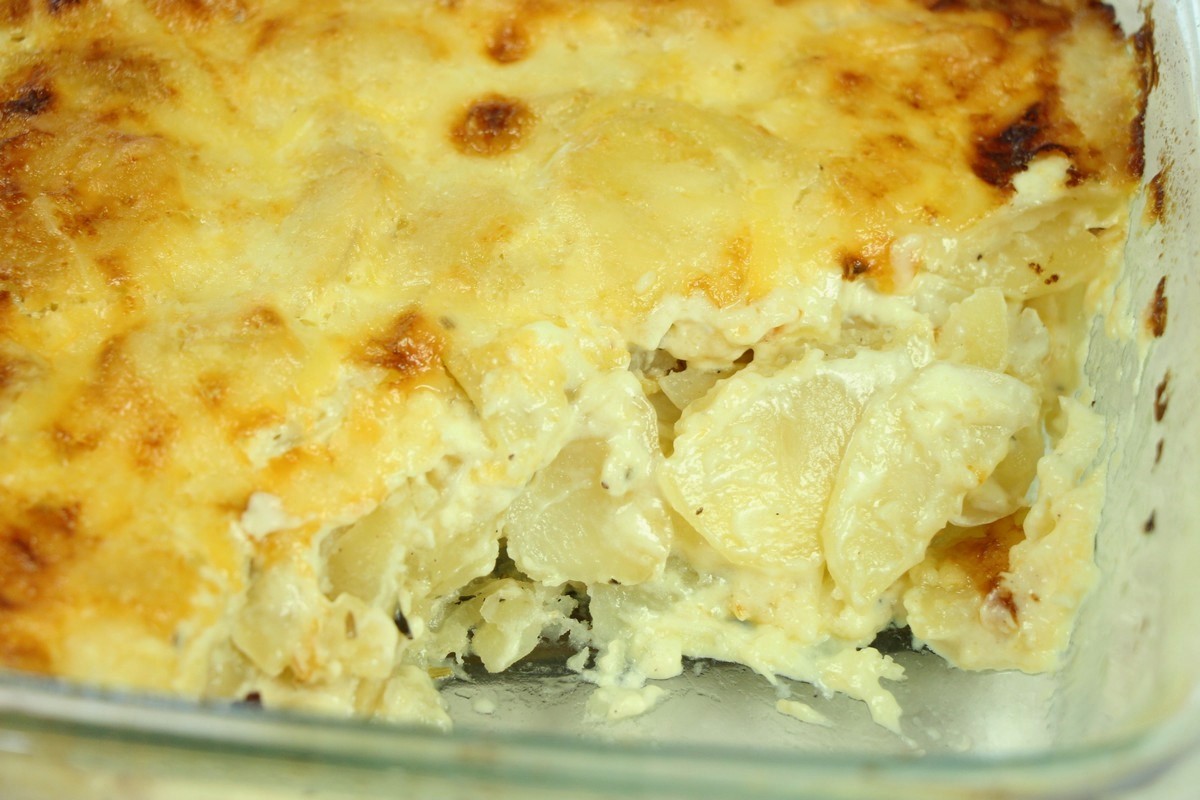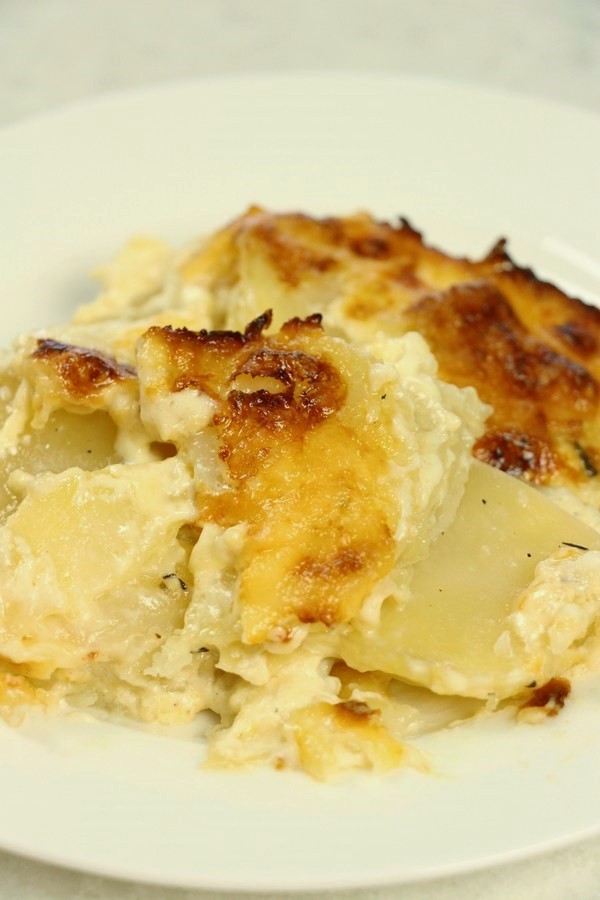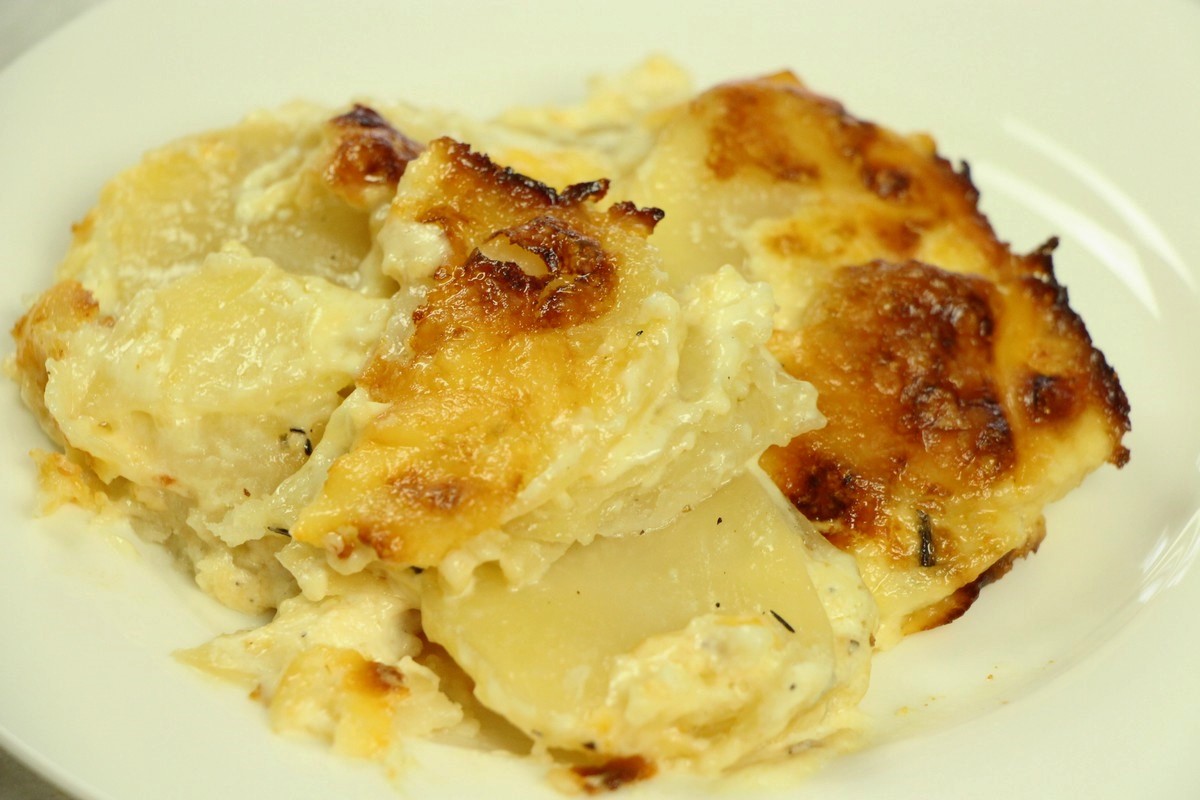 Deluxe Scalloped Potatoes
Sour cream and flavorful cheeses give these scalloped potatoes a rich, scrumptious flavor. Perfect for company!
Ingredients
2 Lbs Russet / baking potatoes
¾ teaspoon salt
¼ teaspoon black pepper
¼ teaspoon dried rosemary
¼ teaspoon dried thyme
¾ cup shredded Montery Jack or other flavorful white cheese
2½ tablespoons grated Parmesan cheese
½ cup sour cream
1 cup heavy whipping cream
½ teaspoon salt
Instructions
Grease a 9" x 9" baking dish.
Mix together salt, pepper, rosemary, and thyme.
Peel and slice the potatoes, about ⅛ inch thick, and place in a bowl.
Sprinkle salt and herb mix over potato slices and stir well until all of the slices are covered on both sides. Set aside. Liquid will be dripping from the potatoes to the bottom of the bowl.
Mix together the cheeses and set aside.
Whisk together sour cream, heavy cream, and salt until smooth. Set aside.
Drain away the liquid from the potatoes.
Layer half of the potatoes in the pan.
Sprinkle half of the cheese over the potatoes.
Layer the rest of the potatoes.
Pour the cream sauce on top, spread it out evenly and shake the pan a little bit to allow the sauce to drip down between layers.
Sprinkle the rest of the cheese evenly on top of the cream sauce.
Bake at 350 degrees, uncovered for 45-50 minutes until hot, bubbly, and has started to brown somewhat.
Cover with aluminum foil and bake an additional 30-35 minutes until potatoes are tender. Check with a sharp knife now and again toward the end.
Deluxe Scalloped Potatoes
Sour cream and flavorful cheeses give these scalloped potatoes a rich, scrumptious flavor. Perfect for company!
Ingredients
4 Lbs Russet / baking potatoes
1½ teaspoons salt
½ teaspoon black pepper
½ teaspoon dried rosemary
½ teaspoon dried thyme
1⅓ cup shredded Montery Jack or other flavorful white cheese
⅓ cup grated Parmesan cheese
1 cup sour cream
2 cups heavy whipping cream
1 teaspoon salt
Instructions
Grease a 13" x 9" baking dish.
Mix together salt, pepper, rosemary, and thyme.
Peel and slice the potatoes, about ⅛ inch thick, and place in a bowl.
Sprinkle salt and herb mix over potato slices and stir well until all of the slices are covered on both sides. Set aside. Liquid will be dripping from the potatoes to the bottom of the bowl.
Mix together the cheeses and set aside.
Whisk together sour cream, heavy cream, and salt until smooth. Set aside.
Drain away the liquid from the potatoes.
Layer half of the potatoes in the pan.
Sprinkle half of the cheese over the potatoes.
Layer the rest of the potatoes.
Pour the cream sauce on top, spread it out evenly and shake the pan a little bit to allow the sauce to drip down between layers.
Sprinkle the rest of the cheese evenly on top of the cream sauce.
Bake at 350 degrees, uncovered for 45-50 minutes until hot, bubbly, and has started to brown somewhat.
Cover with aluminum foil and bake an additional 30-35 minutes until potatoes are tender. Check with a sharp knife now and again toward the end