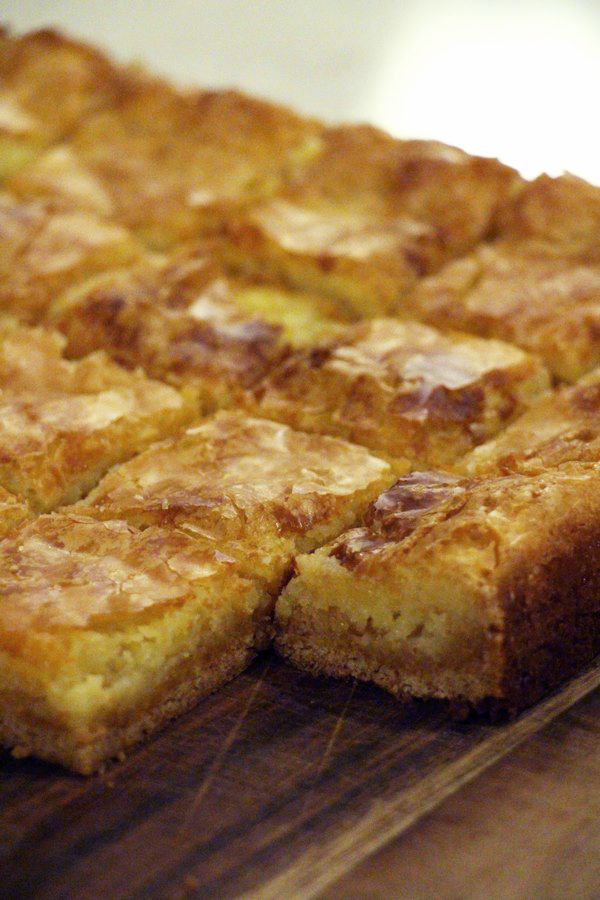 These cream cheese bars are an absolutely delicious dessert! They are super sticky and gooey but can still be eaten without a fork if served cold. While very sweet and rich, it is hard to stop at only one! With this picture tutorial you can see that this is an easy recipe to put together, using a yellow cake crust on the bottom and covered by a sticky, dense cream cheese filling. They look a bit like lemon bars but the taste is very different. Kids and teens will sometimes be reluctant to try them due to the cream cheese that they contain, but once they sample them they quickly realize that they're not biting into cream cheese, but a delectable, sweet dessert!
If you decide to try this recipe, please consider leaving me a star rating and a comment below; it is very helpful for me and I appreciate it very much! Thanks in advance!
When my son brought some of these bars to school with him, one of his 8th grade friends loved it and went home to search my blog for the recipe, to no avail; I simply hadn't put together a post on it yet. Since my own kids will also definitely want this recipe once they're out on their own, it was time! Caden, this blog post is for you! 🙂 I hope you'll have fun baking!
The How-To's:
Start out by setting the cream cheese on the counter top to soften a little bit.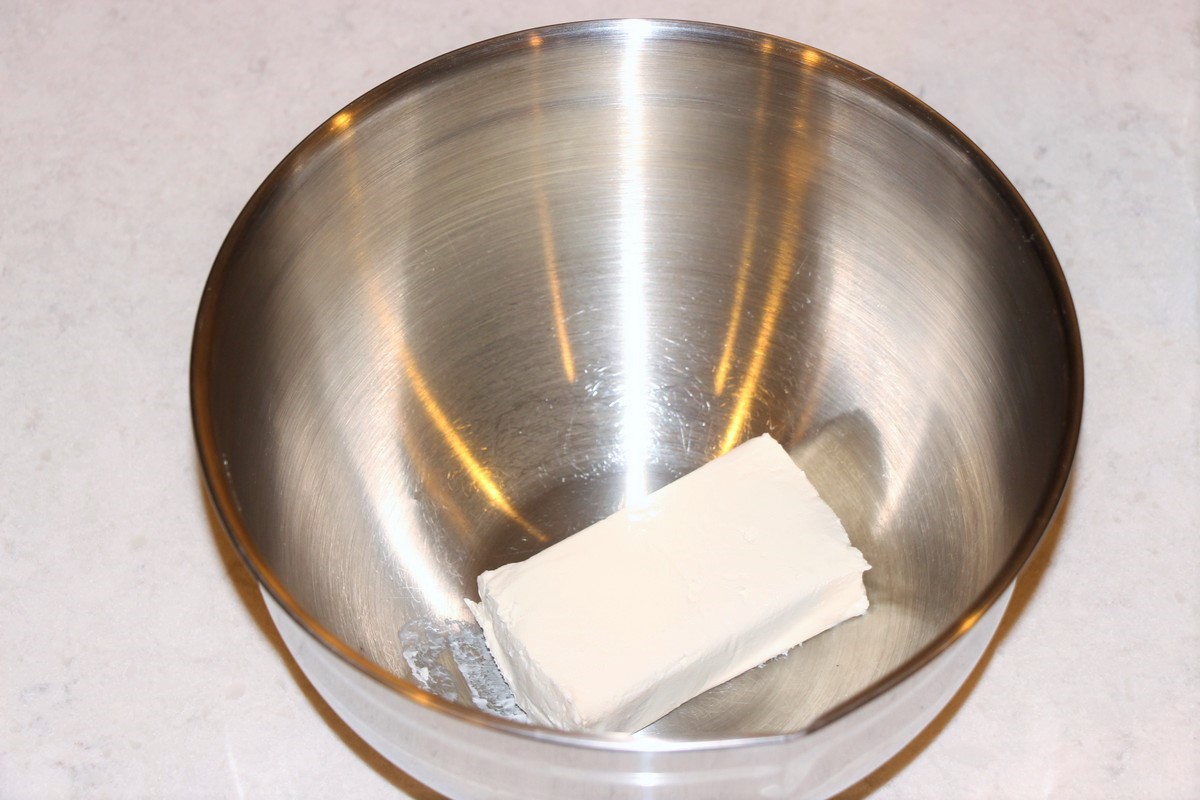 Line a 13 x 9 baking pan with aluminum foil or parchment paper and spray it well with cooking spray. These bars tend to stick to the pan something fierce, so lining and then greasing will make it much easier to remove from the pan later. Look at the pictures further down to see how I do it.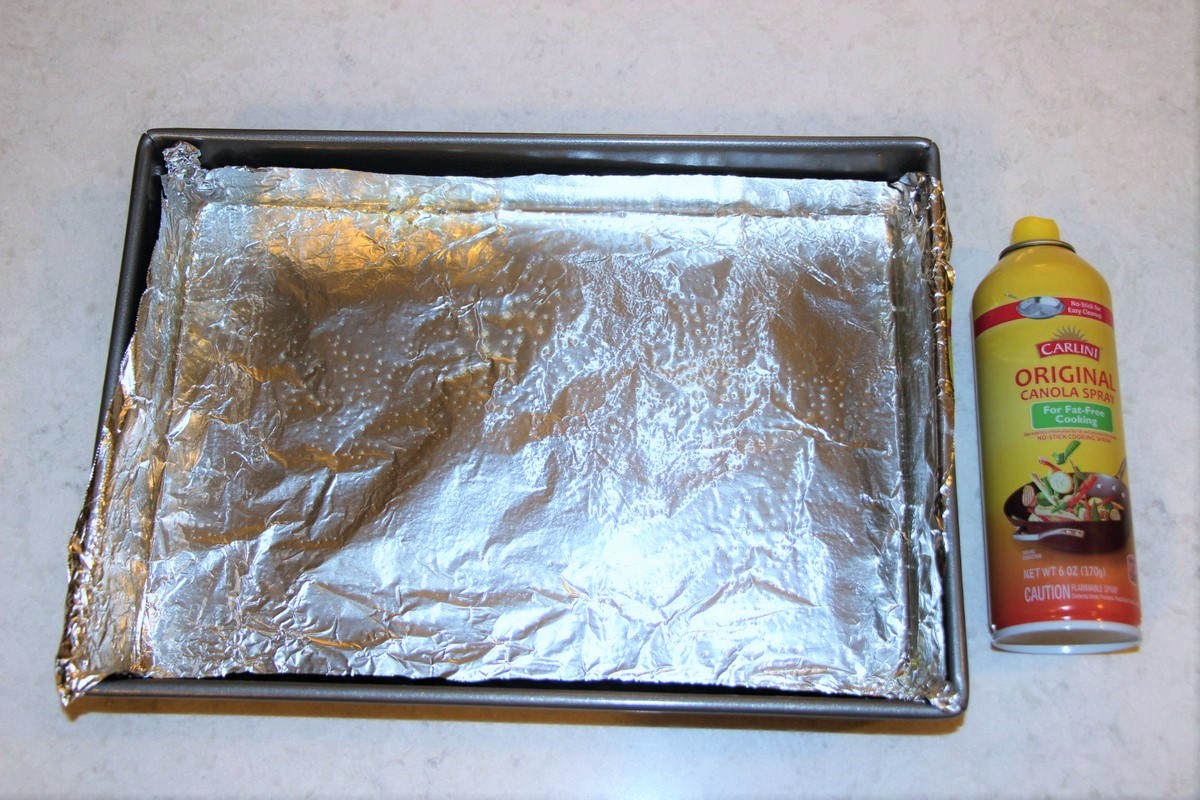 Then make the crust:
In a medium mixing bowl, use a spoon to combine one pouch of yellow cake mix, melted butter, and an egg until it forms a soft dough.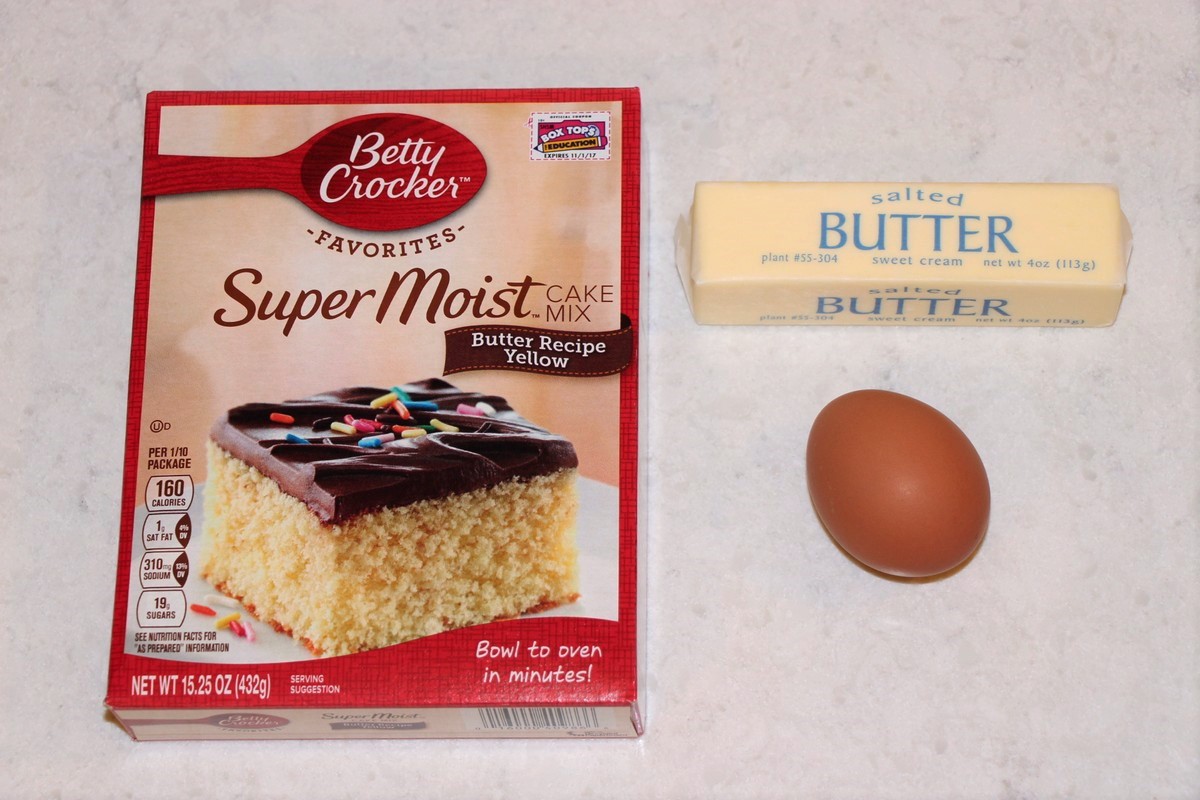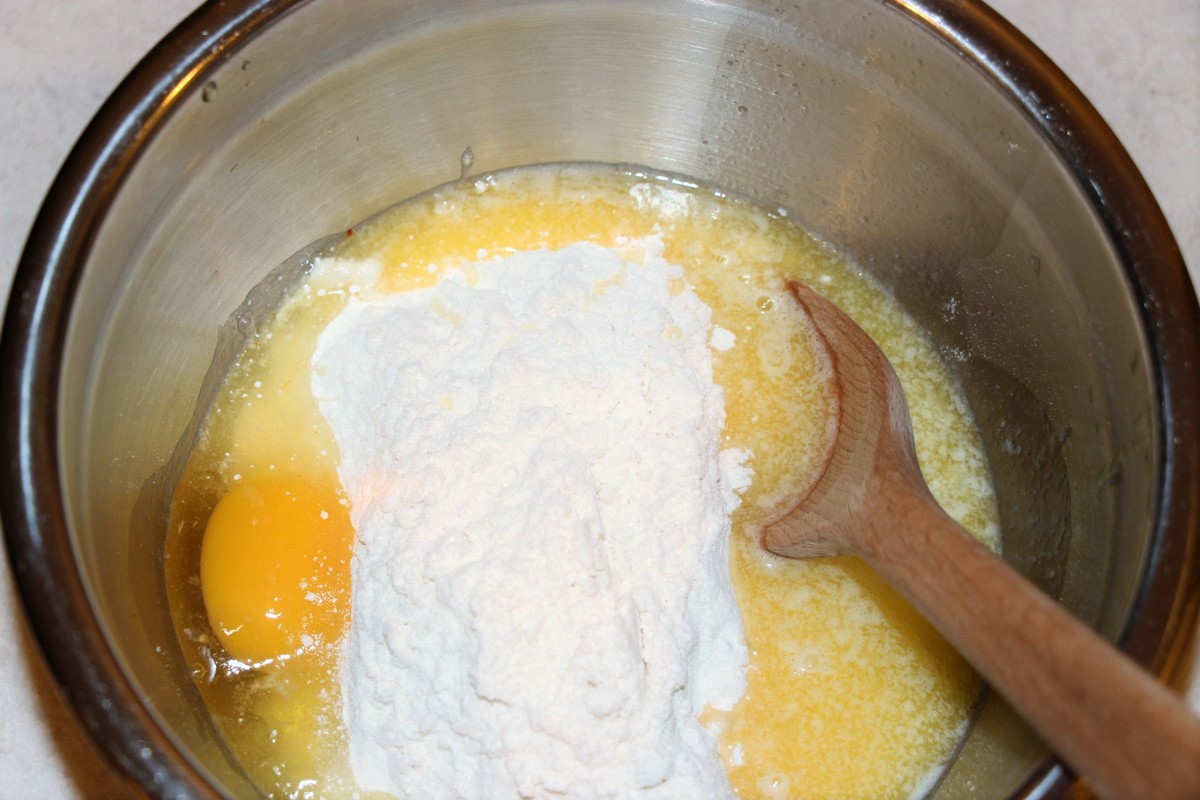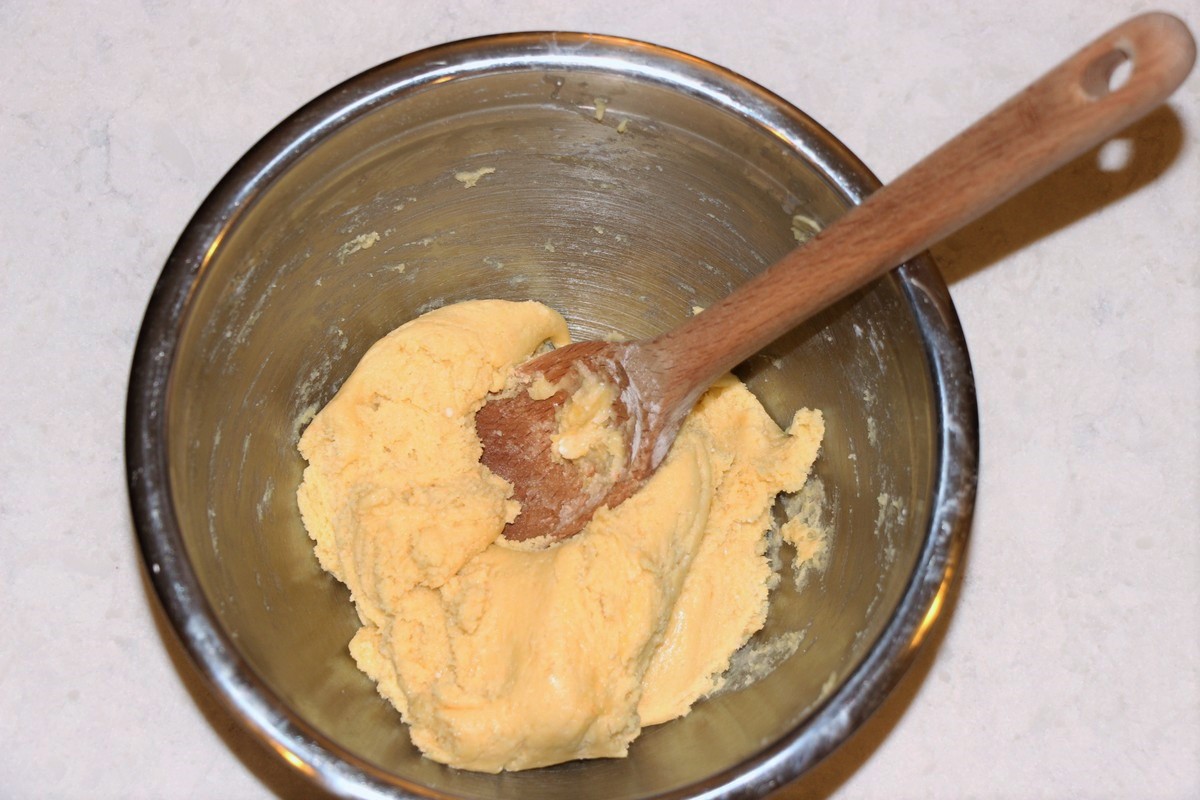 Press this dough evenly onto the bottom of the lined pan, all the way to the sides and corners. I usually use my clean hands to do this. Set aside.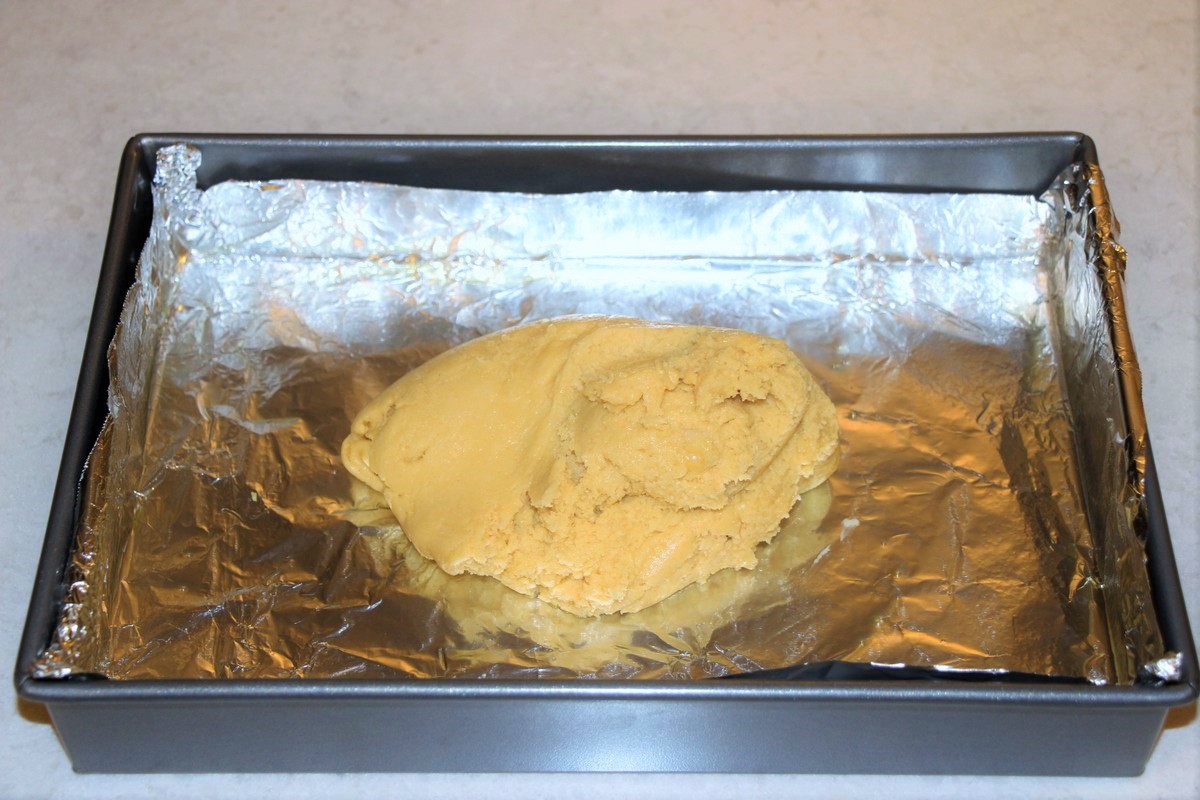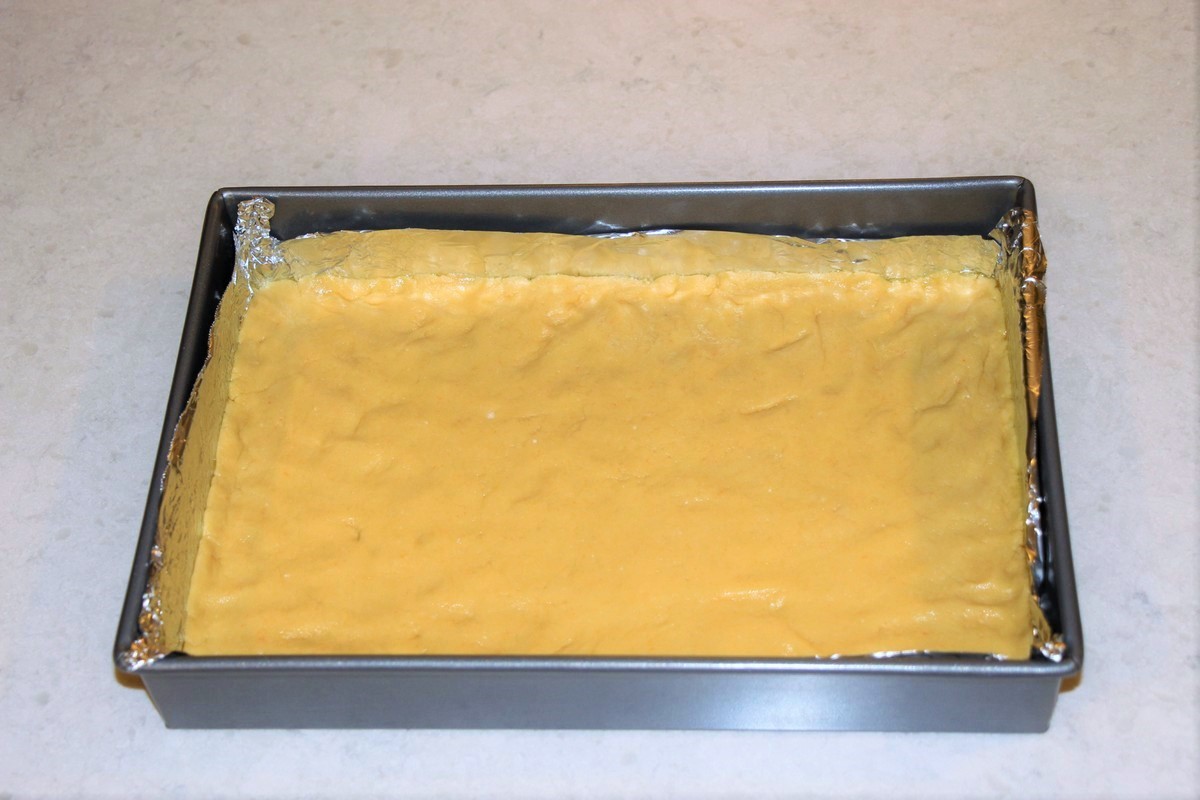 Now make the filling:
In a different medium or large mixing bowl, use an electric mixer on low speed to mix together powdered sugar, the softened cream cheese, eggs, and flavorings until smooth. Be very careful in the beginning so you don't make a powdered-sugar-cloud in your kitchen! You don't need to mix a lot; the goal is just to get it smooth, not to try to mix in air for fluffiness. Fluff won't happen and it's not needed.
If the cream cheese is a bit on the firm side the gooey filling might start to creep up the beaters and into the machine. Shake it down every few seconds if that starts to happen. Softer cream cheese cooperates better.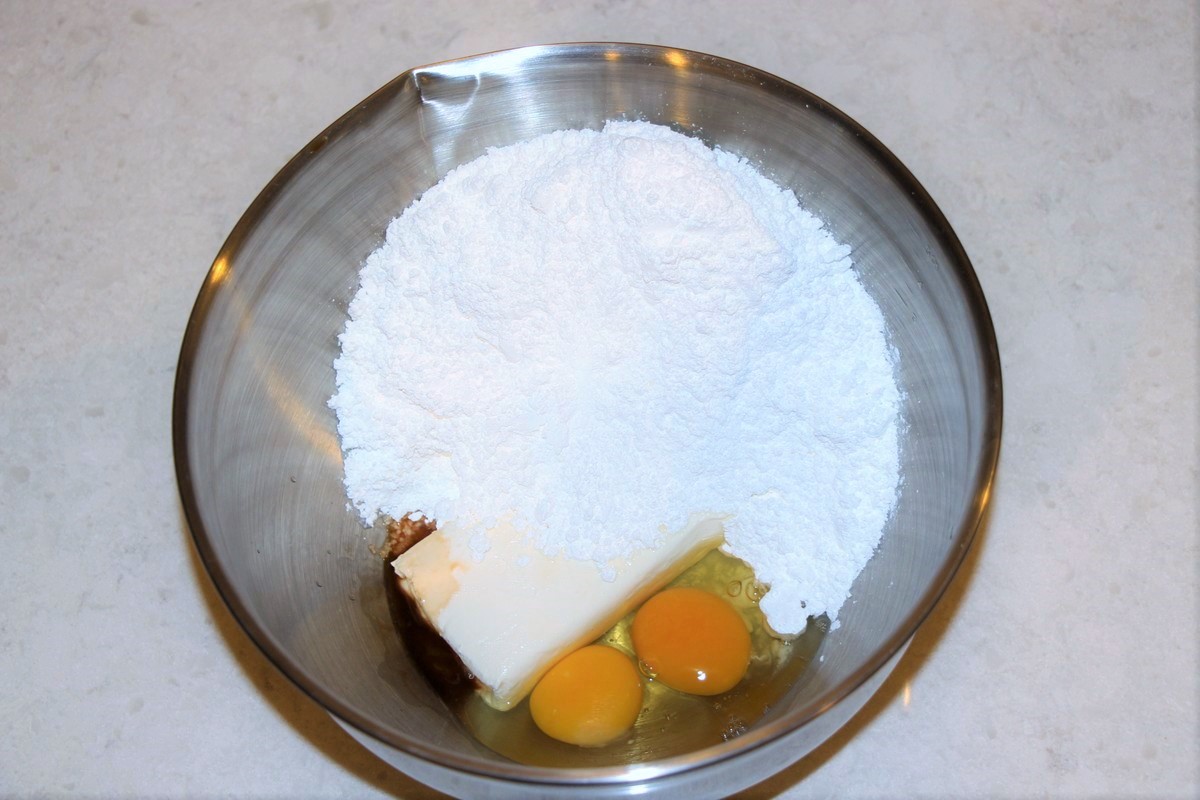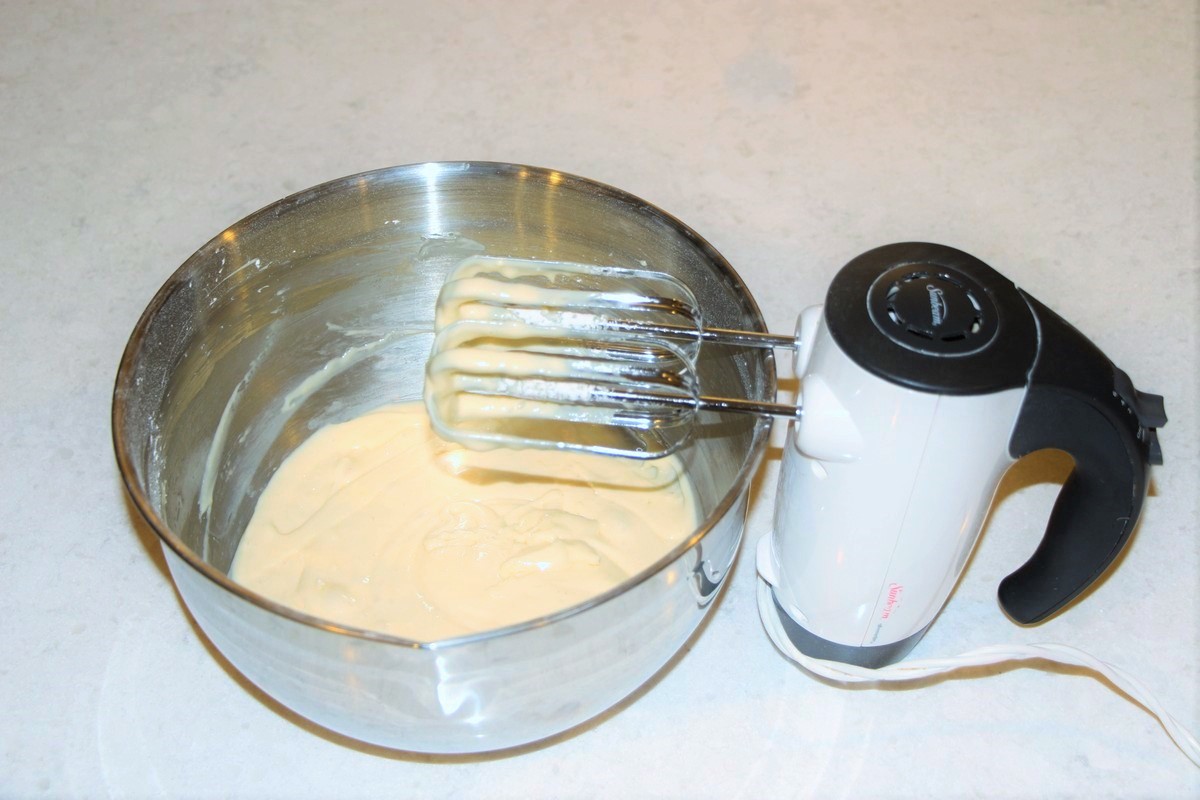 I like this simple Sunbeam hand mixer for small jobs; hand mixers can often be found very cheaply during black Friday sales, and since they all seem to only last a few years regardless of price tag, I don't like to spend much money on them. This mixer conveniently lets you set it on it's end.
For flavorings, always add vanilla, and I like to add 1/4 tsp coconut extract in addition. It won't be very noticeable; it just adds a subtle hint of flavor. If you don't have coconut extract you can omit it, or you can use a different flavor such as almond. Those who are fans of chocolate cheesecake might even enjoy using chocolate cake mix for the crust along with a little cocoa in the filling.
Pour the filling onto the crust, spread it into the corners and let it settle evenly in the pan, shaking it a little bit if needed.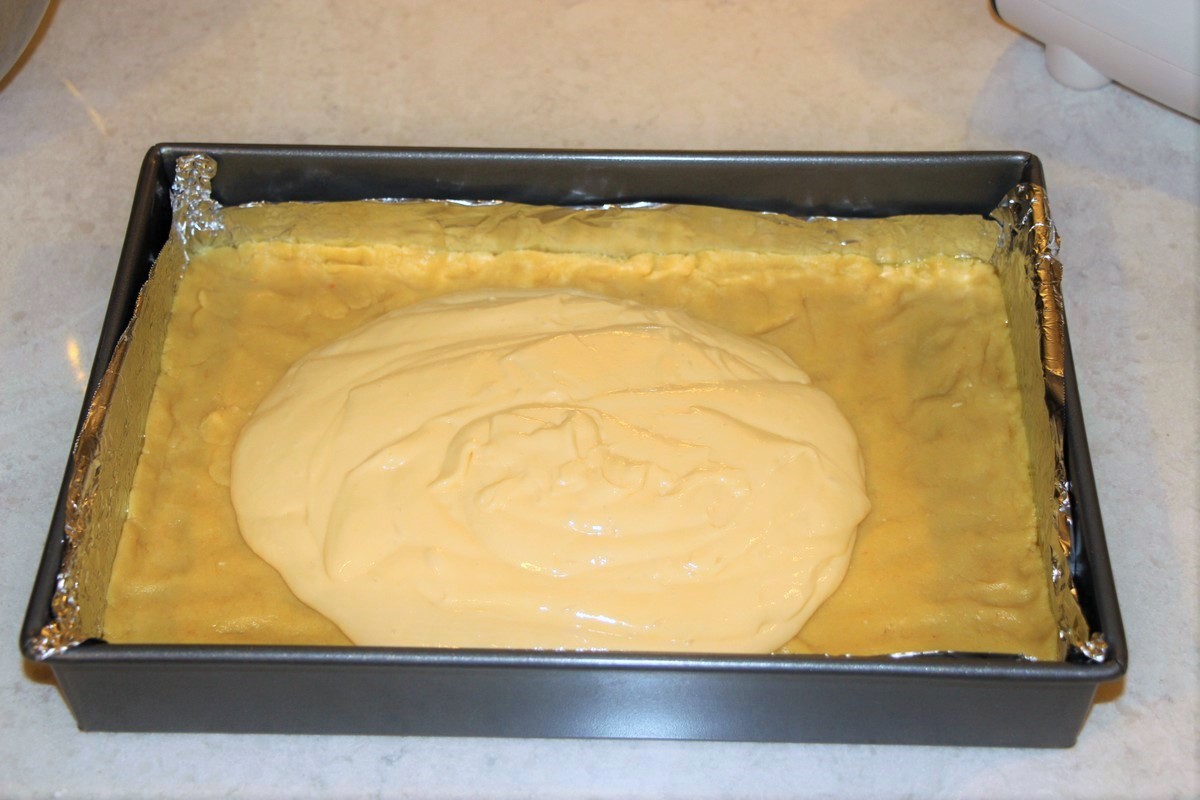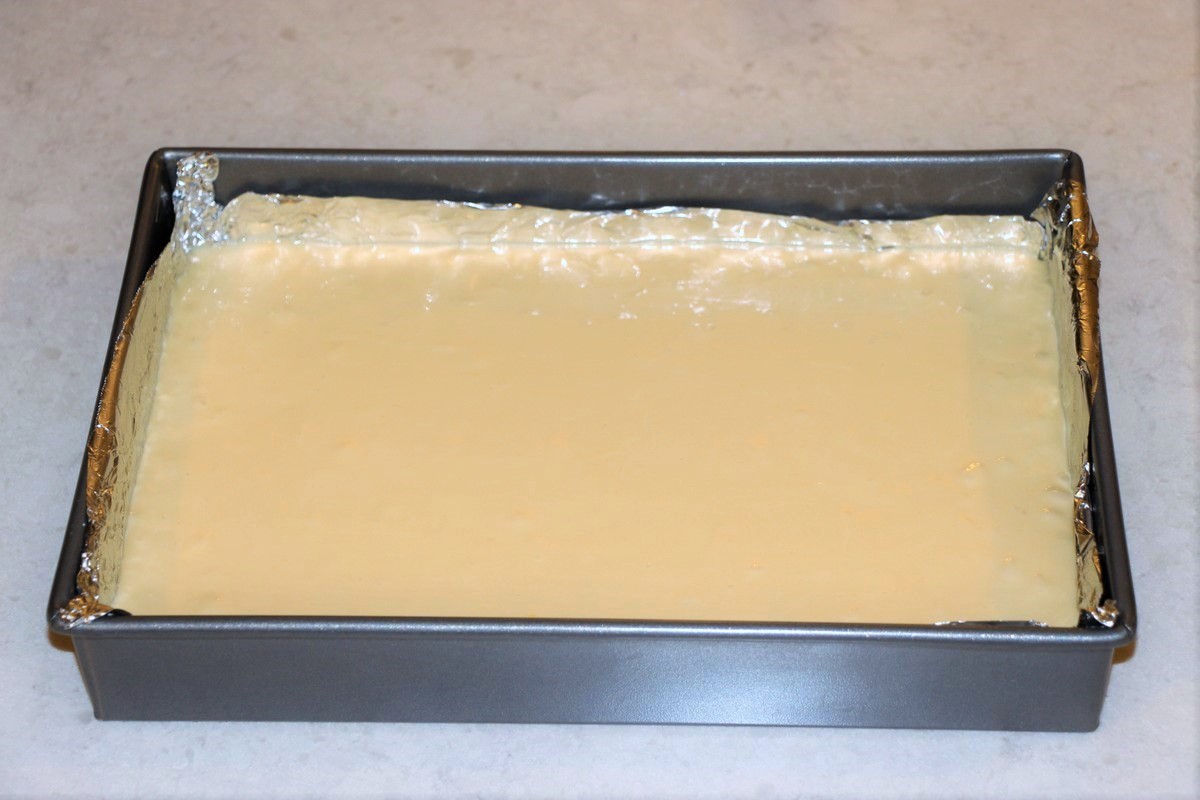 The soon-to-be Cream Cheese Sticky Squares are now ready to go into the oven.
Bake at 350 degrees until the middle is risen and evenly browned, 35-40 minutes. The top should look dry and may have some cracks in it. I like to bake them for a full 40 minutes as it leaves them just a little bit firmer, but each oven is different so you'll have to use your judgement.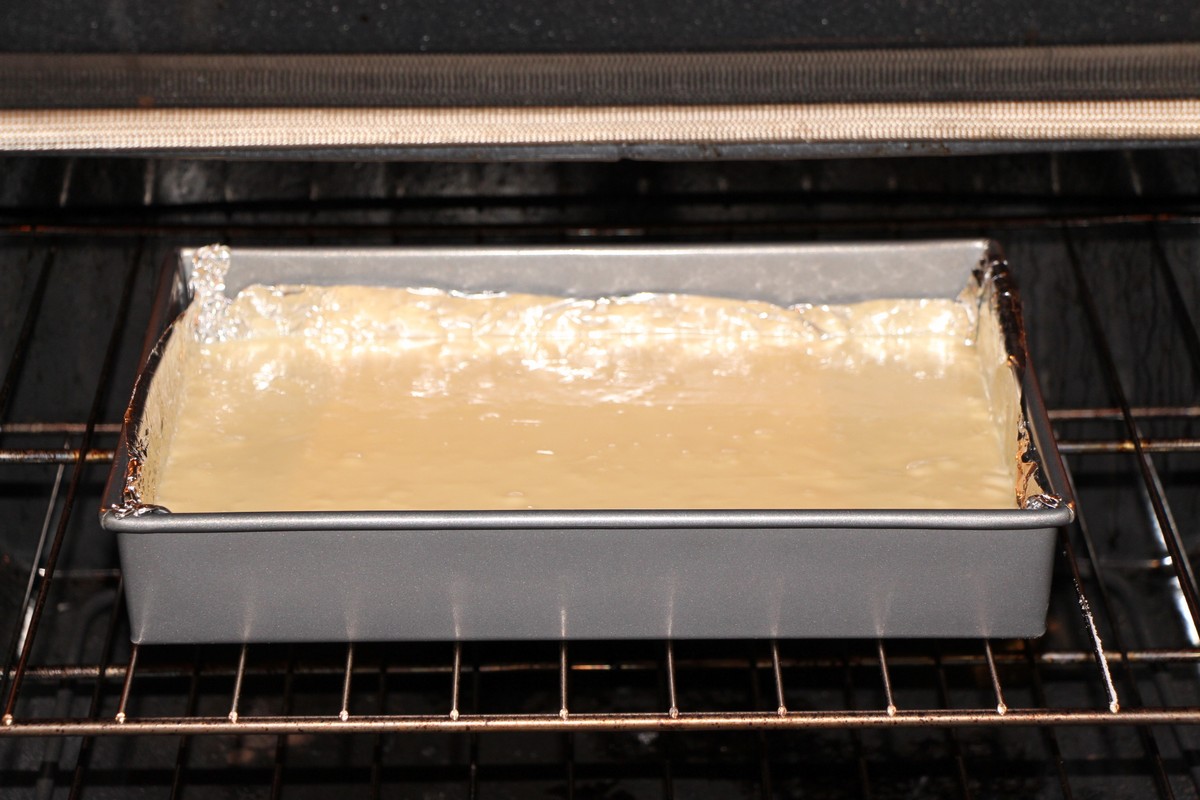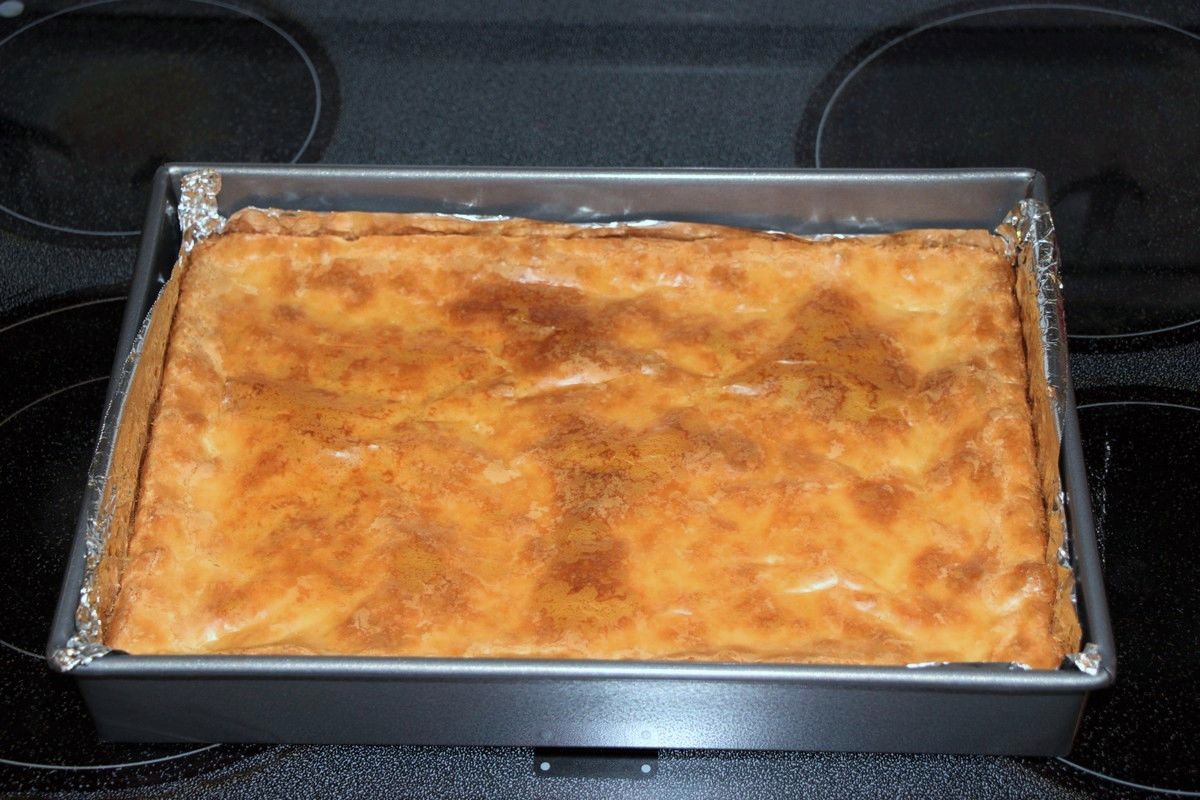 Cool on a rack. It will sink somewhat in the middle and the top might crack a bit here and there.
Mmmmm… The kitchen smells just heavenly!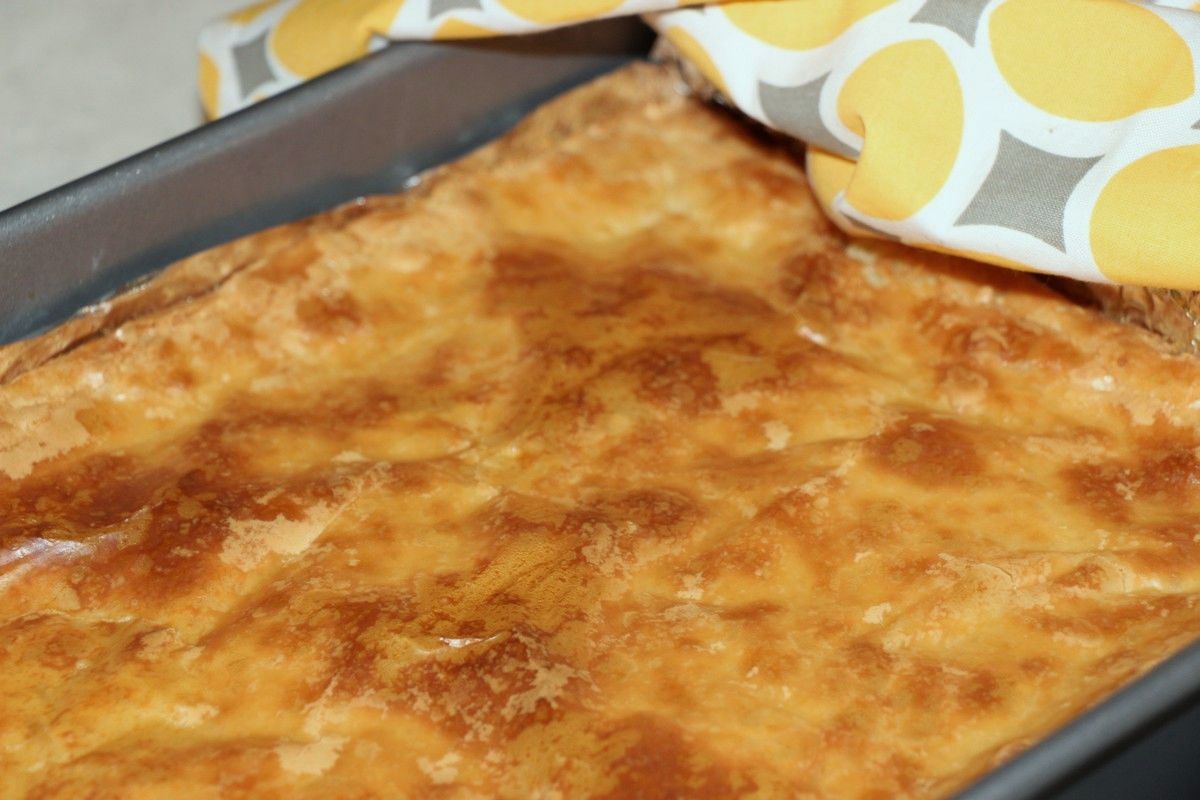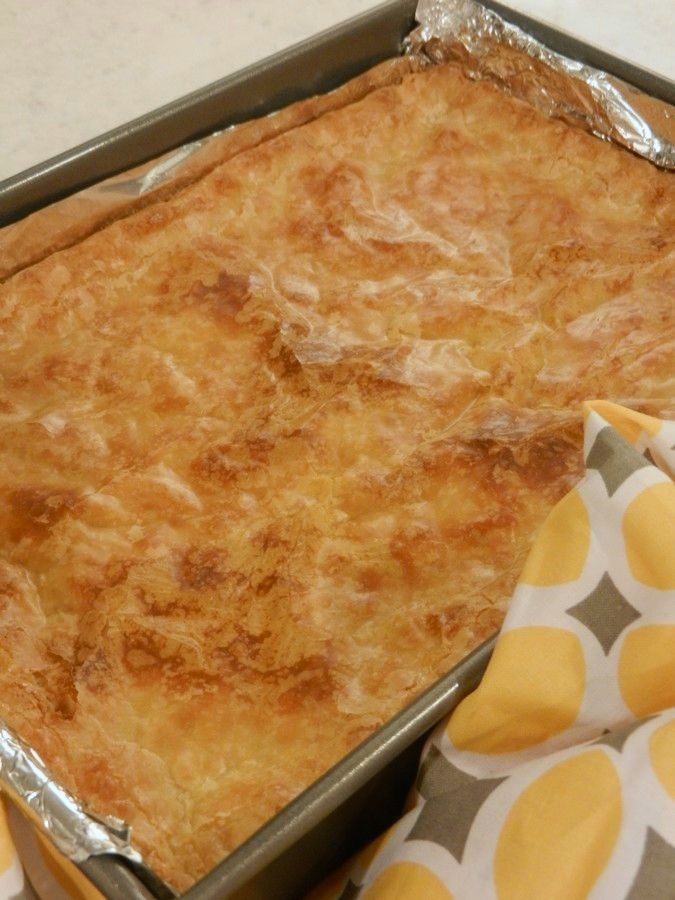 When the bars have cooled somewhat, refrigerate overnight or until completely cold and firm. This way they will be much easier to cut and also nicer to eat. If simply left on the counter top, they will be far too soft and quite impossible to cut nicely. It just makes a mess.
Once cold and firm, remove from the refrigerator and flip onto a cutting board. Now you can easily peel off the liner. It is better to do it this way rather than trying to cut while in the pan. It is also much easier to get them out of the pan in the first place! If you don't use a liner, they are almost certain to stick and will be hard to get out even if you greased the pan.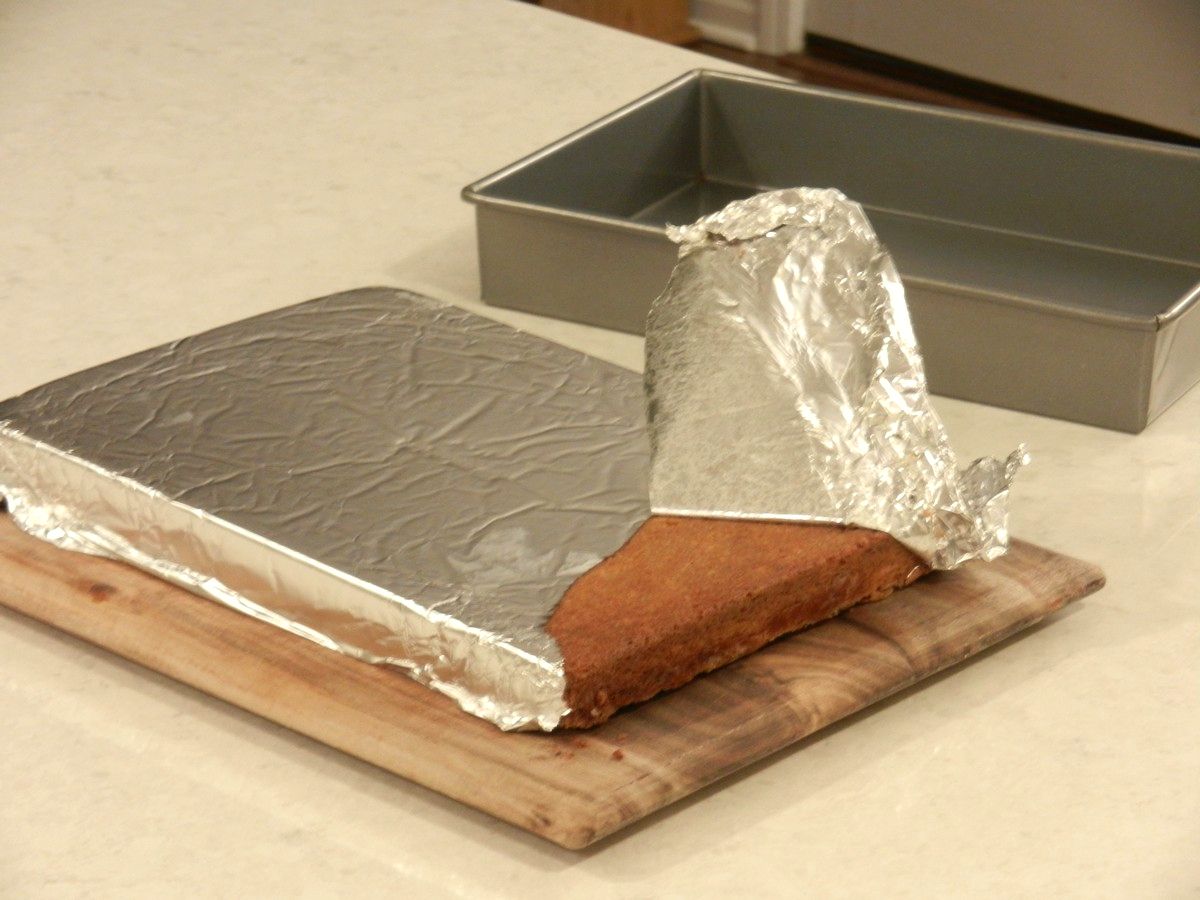 With the use of a sharp knife it should now be easy to cut. Since these dessert bars are so sweet and rich, I like to cut them into small squares rather than large ones.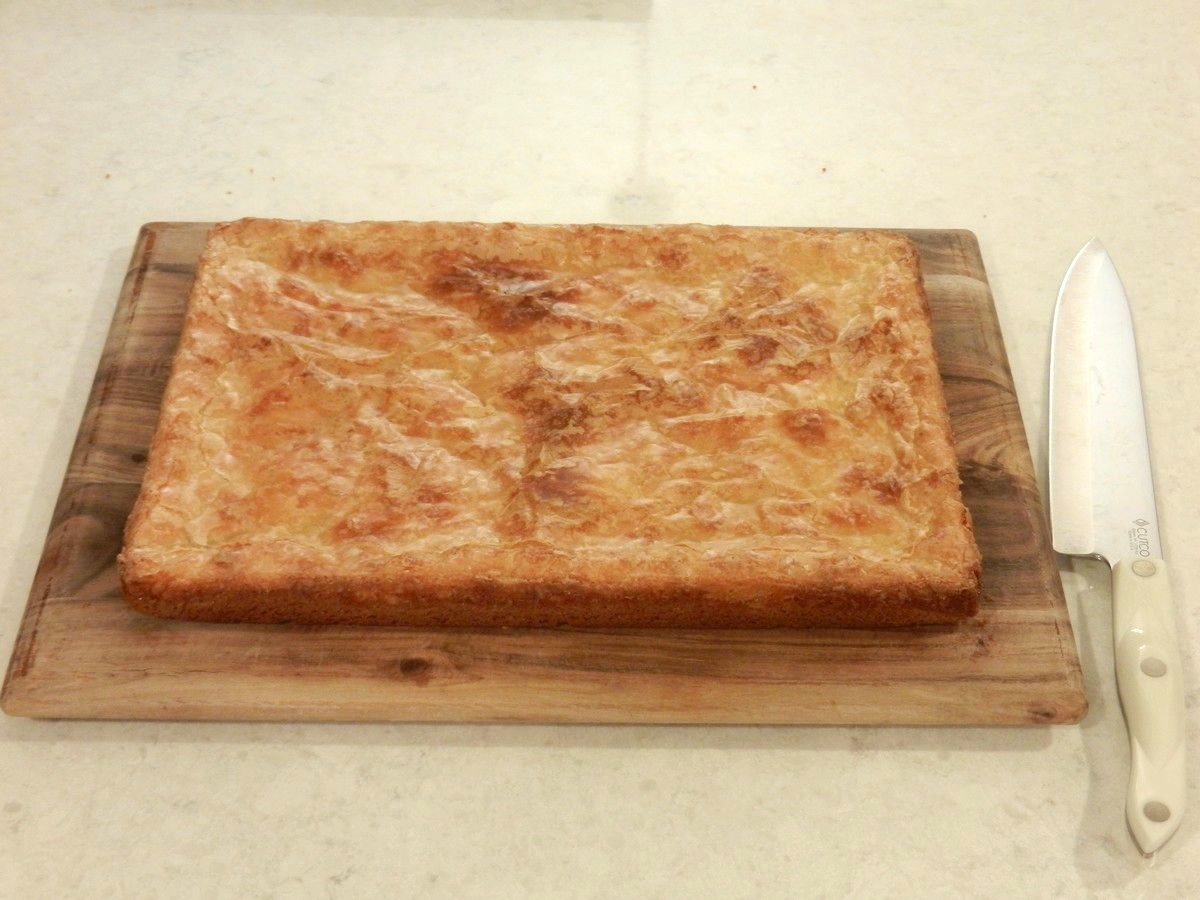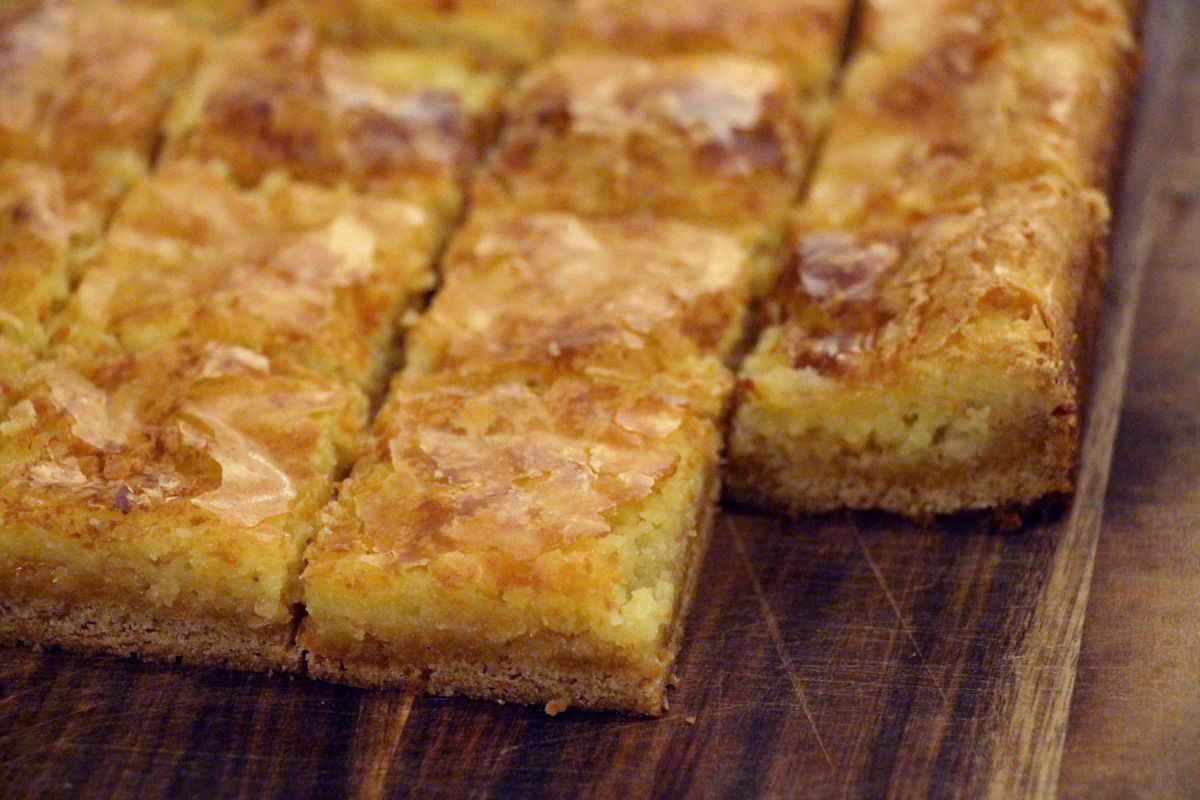 If you decide to try this recipe, I would love a star rating and a comment below as it really helps me out! Thanks in advance!
Even though these cream cheese squares are very sweet and rich, you may very well find yourself grabbing a second bar, or even a third! They are so chewy and tasty with the hint of coconut! They also store well and will remain sticky and gooey for several days in the refrigerator. Just cover them well with plastic. The bars can also go in the freezer and is the perfect, easy make-ahead dessert recipe for busy holidays!  I hope you found this picture tutorial helpful! Enjoy!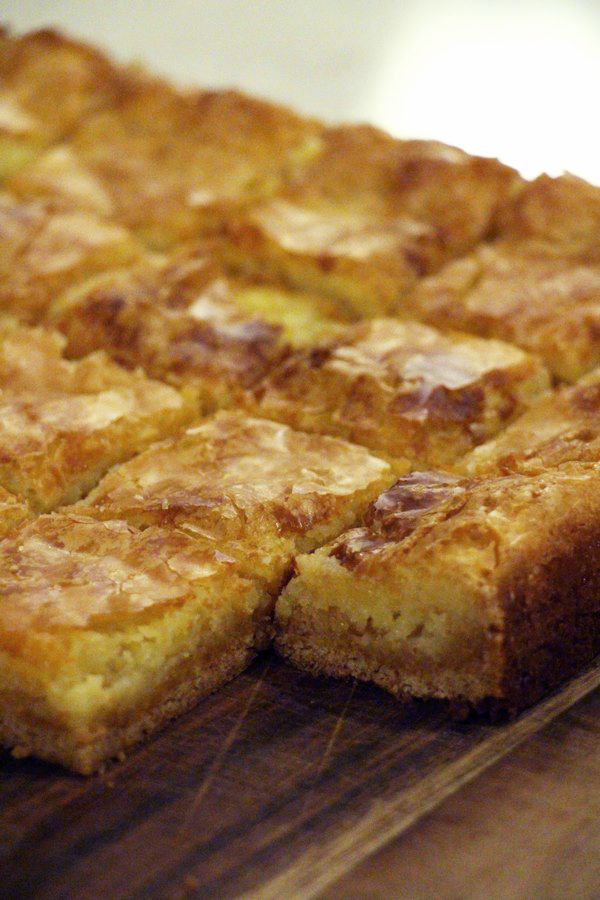 Cream Cheese Squares
Sticky, gooey bars, just a hint of coconut or flavor of your choice. Easy, decadent dessert!
Author:
Terese, The Country Basket
Ingredients
Crust:
1 box yellow cake mix
1 stick butter, melted
1 egg
Filling:
1 Lb powdered (confectioner's) sugar
1 8-oz package cream cheese, somewhat softened
2 eggs
1 tsp vanilla extract
¼ tsp coconut extract
Instructions
Preheat the oven to 350 degrees.
Line a 13 x 9 baking pan with aluminum foil or parchment paper, spray well with cooking spray.
Crust:
In a medium mixing bowl stir the cake mix, butter, and egg together into a smooth, soft dough.
Press evenly onto the bottom of the pan. Set aside.
Filling:
In a medium mixing bowl, using an electric mixer on lowest setting, mix together powdered sugar, cream cheese, eggs, vanilla, and coconut extract until smooth.
Pour onto the crust and spread out evenly with a spoon.
Bake for about 40 minutes until risen and evenly browned on top.
Cool on a rack. It will sink together a bit and the top might crack in some places.
Refrigerate until very cold and firm, preferably overnight.
Flip upside down onto a cutting board and peel off the liner.
Cut into small squares.