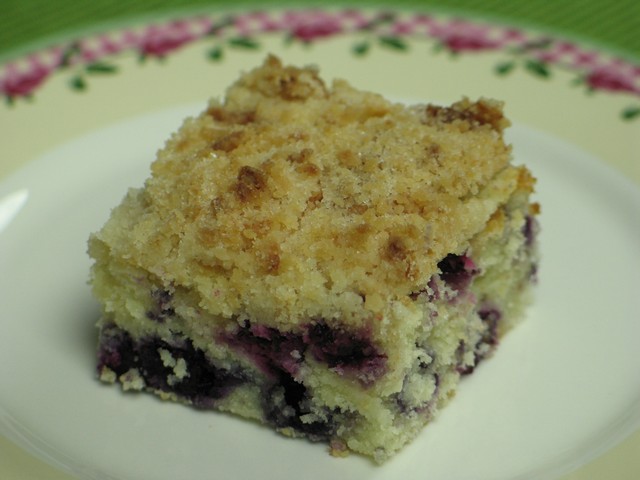 Soft, moist, and delicate, this cake goes great with a cup of black coffee. Hence the name Coffee Cake. My dear friend Kelly shared this recipe with me, and I'm always excited when I serve it. With a subtle crunch from the streusel topping, it has a clean taste of the fine ingredients added. There is no vanilla; "Whaaat??? No vanilla?" you may ask. Vanilla is heavenly tasting. I'm one of the biggest fans of it, and usually more is better in my opinion. However, if vanilla is added to just about every single dessert you make, it sort of loses its charm a little bit, don't you think? Or maybe not, but it's a thought worth considering, at least. I'll continue on that trail just a little bit: What I have found is that certain recipes are better without vanilla, because it allows you to focus more on the other flavorful ingredients, such as butter and cream cheese. If you have to have your vanilla kick, then by all means add some! But I will make this cake without.
So the recipe calls for blueberries; does that mean it has to be blueberries only? Not as far as I have found. I tried raspberries, and it was great! I can only imagine that other berries or fruits will work wonderfully as well.
If you do try this recipe, I would really appreciate a quick comment with a star rating (option found immediately under each recipe). It helps me out tremendously! Thanks in advance!
Here's how you do it:
Mix together softened, real butter, and sugar. The butter on this picture is actually a little bit too soft, making it harder to beat air into it. It was still OK, but I usually try not to soften it quite this much. Using an electric mixer, beat until creamed; the color is lighter, and it will be slightly fluffy.
When the mixture is creamed, add eggs; beat again until well mixed.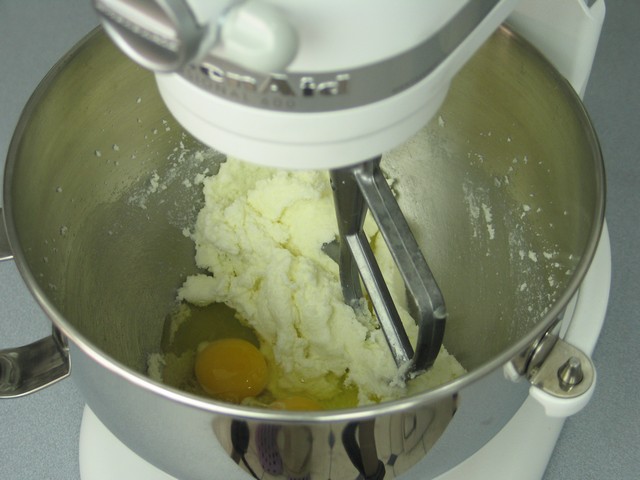 Setting aside 1/4 c of flour for the blueberries, mix together the remaining flour, baking powder, and salt.
Alternately add flour and milk, a little at a time, mixing well in between.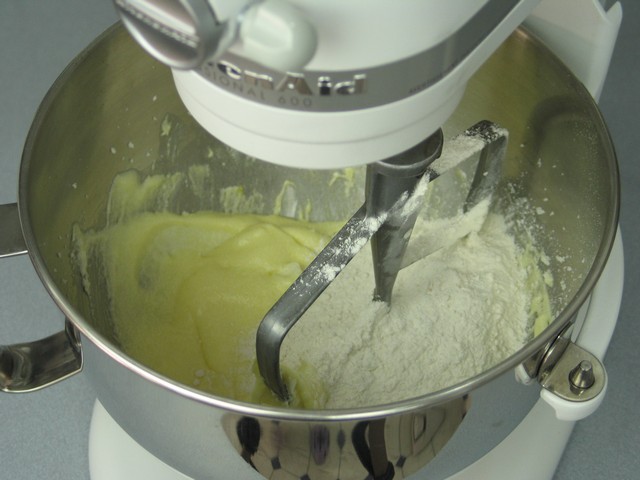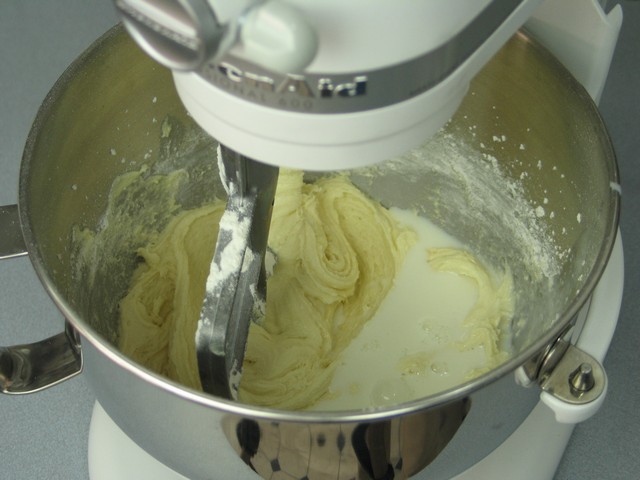 If blueberries are frozen, do not thaw, but keep frozen until ready to mix into the batter. This helps to keep them from bleeding and discoloring the batter. When ready to use, mix 1/4 c flour into the blueberries. This step also helps to keep them from bleeding, because the flour soaks up a bit of the juice that leaks out during baking.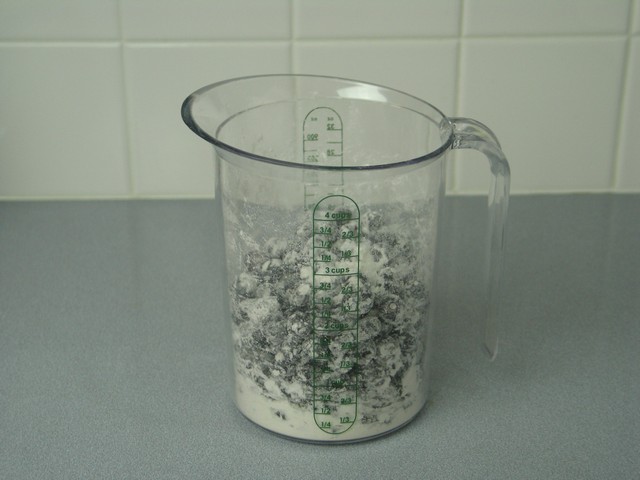 Gently fold berries into the batter. I like to use a rubber spatula when folding, as it is much softer and gentler than a spoon would be.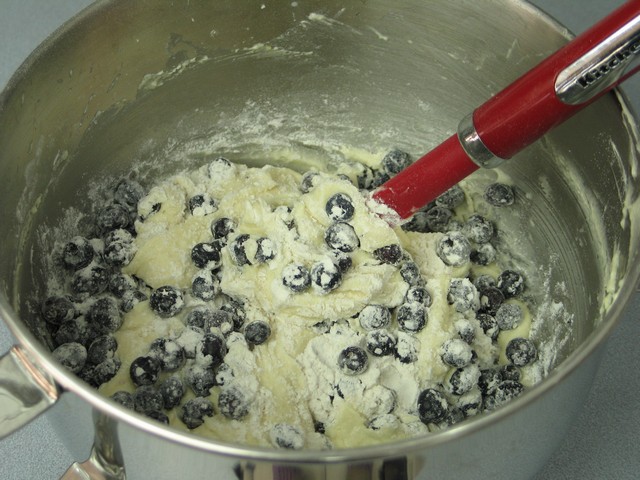 Also fold in cream cheese cut into small cubes; do not over mix. Fresh cream cheese works the best. Frozen can be used as well, like I did this time, though after freezing the cheese changes consistency. It crumbles when you try to cut it, even when thawed out, instead of forming nice, smooth cubes. It still works just fine in recipes, so I stock up when they go on sale and freeze. Crumbled cheese blends a bit more into the batter, so be careful not to mix too much. Gently does it.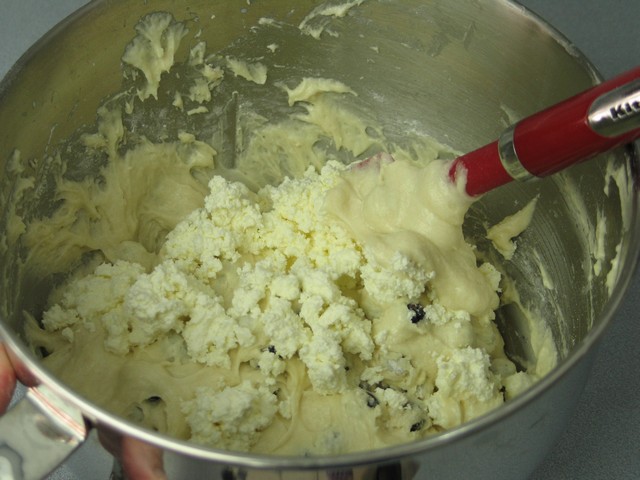 Spread into a greased 13 x 9 baking pan.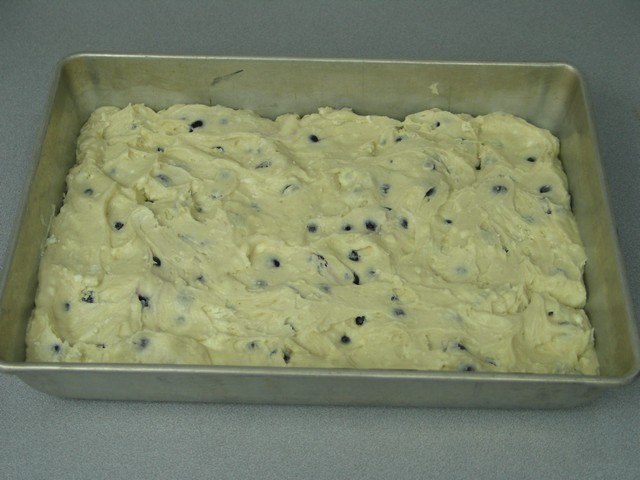 Now make the streusel mix to use as a topping.
Put sugar, flour, a small amount of salt, and cold butter in a bowl.  I like to add a little salt to give it an extra kick. You may omit the salt if you wish, it will still be delicious!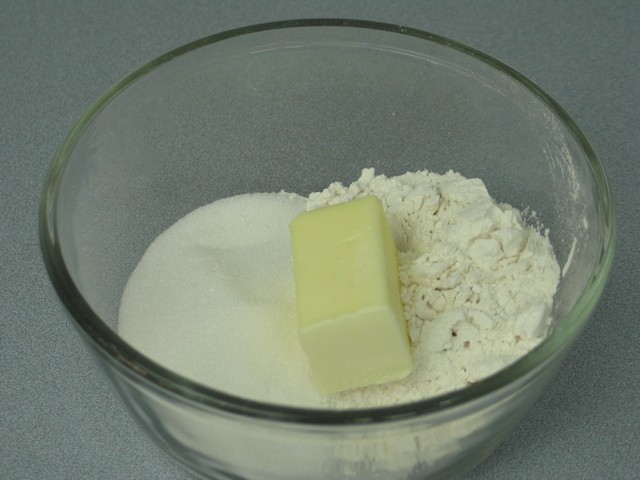 Cut the butter into the flour mixture until it is coarse but well blended together. A pastry blender works well for this, though you can use a fork or two if you don't have one.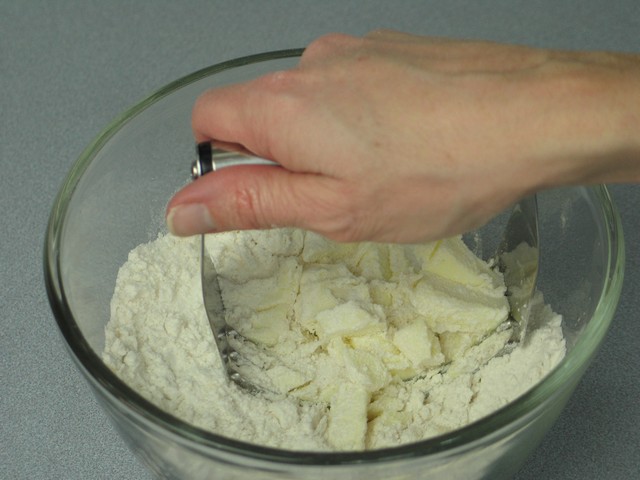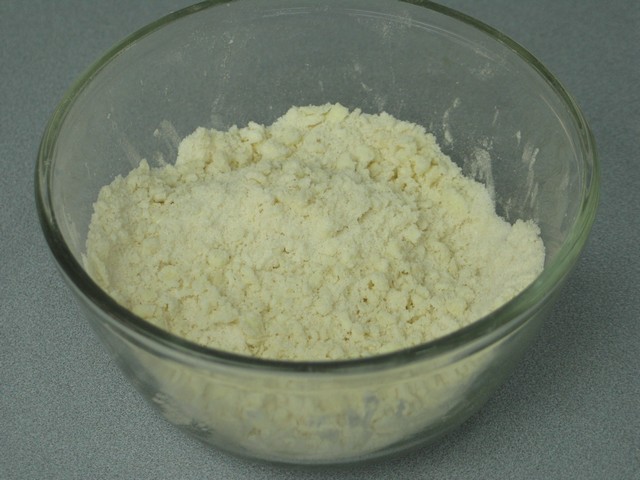 Spread the mixture evenly over the top of the cake.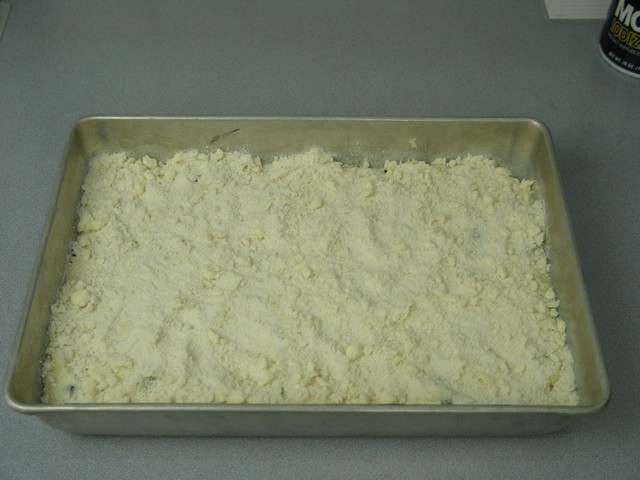 Bake at 375°F for 50-60 minutes. Check several places with toothpicks, a new one each time, avoiding poking the berries if at all possible (the juice masks the result.) Make sure there is no batter on the toothpick.
With regular cakes, I have found that if there still is a little crumb or two stuck to the tooth pick (though no raw cake batter), it makes for a moist, nice cake. With this cake, however, it has happened that the cake was slightly under-done at that point, which was not very appealing, obviously. Making sure that the toothpick is completely clean (other than juice or sugar from the topping), helps ensure that the cake is, in fact, completely done, yet still very moist. I have found my cakes take about 50-55 minutes in the oven, though every oven is different. I poke it all over the place until I feel I got it checked sufficiently, poking many berries in the process.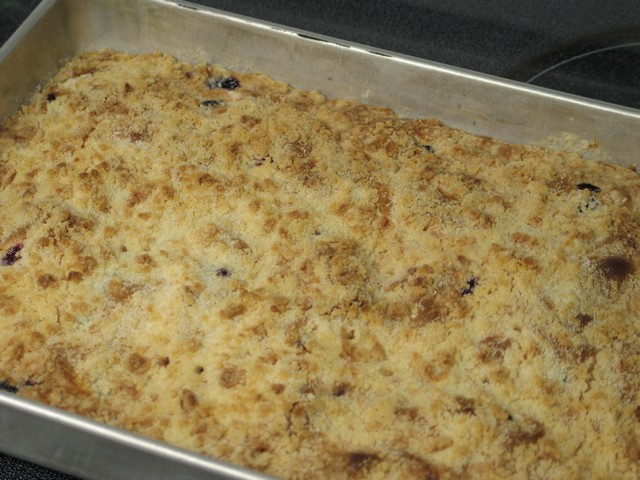 Do not cover the cake before serving it, to keep the topping nice and crunchy. Now, all we need is a cup of black coffee to go with it! Moist and tender, with flavors of butter, cream cheese and delicious, sweet tart blueberries, this coffee cake is always a hit whenever I serve it! Please comment and rate this recipe if you try it; option is found immediately under the recipe. Thank you!!
Blueberry Cream Cheese Coffee Cake
Blueberries or raspberries both work well in this moist coffee cake.
Ingredients
½ c softened butter
1⅓ c sugar
2 eggs
2¼ c four, divided
1 tsp baking powder
¾ tsp salt
1 c milk
2 cups blueberries; If frozen, do not thaw!
6-8 oz cream cheese, cubed
TOPPING:
½ c flour
½ c sugar
¼ c cold butter
½ tsp salt (you may omit salt)
Instructions
Preheat oven to 375°F.
Grease a 13 x 9 inch pan.
Cream butter and sugar, using an electric mixer.
Add 2 eggs, mix well.
Mix together 2 c flour, baking powder, and salt.
Mix into batter alternately with milk, a little at a time until well blended.
Mix ¼ c flour into the berries.
Gently fold berries and cream cheese into batter.
Spread into the pan.
Make topping by cutting the butter into the flour, sugar, and salt from the "TOPPING" ingredients list.Cut until coarse.
Sprinkle over the cake batter.
Bake for 55-60 minutes or until toothpick comes out clean. Test several places to make sure cake is completely done.