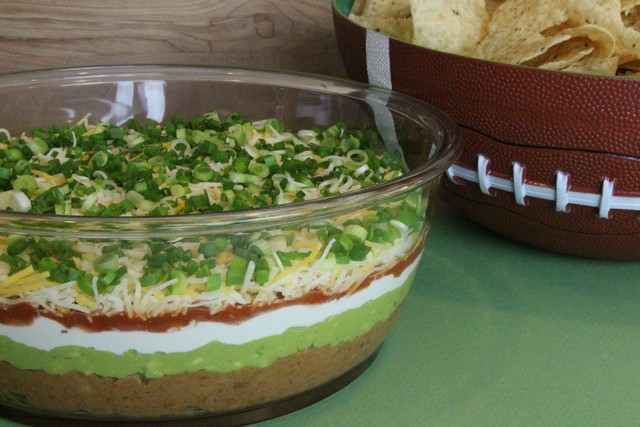 Six Layer Mexican Guacamole Dip
With Super Bowl coming up, I thought I would share this awesome six layer Mexican dip, which not only looks great but is very tasty as well! Served with tortilla chips, it is a perfect appetizer for any gathering, whether it's for a party, game night, or for a bigger event such as Super Bowl. With taco seasoning mixed into the refried beans on the bottom layer, then guacamole, sour cream, salsa, and cheese topped with green onions, this dip delivers mixed flavors that complement each other.
One recipe will often serve a crowd of 20 people or more during an event when several other dishes are offered as well. If you are expecting as many as 40-50 people, I would double to make two bowls.
If you do try this recipe, I would really appreciate a quick comment with a star rating (option found immediately under each recipe). It helps me out tremendously! Thanks in advance!
In addition to some spices and lemon juice for the guacamole, these are the ingredients needed: Taco seasoning mix, avocados, sour cream, salsa, refried beans, cheese, and scallions (which is the same as green onions.) This recipe can easily be made gluten free by choosing certified gluten free ingredients. However, the ingredients needed for this recipe are often free from gluten naturally, though they can sometimes contain traces if not certified gluten free.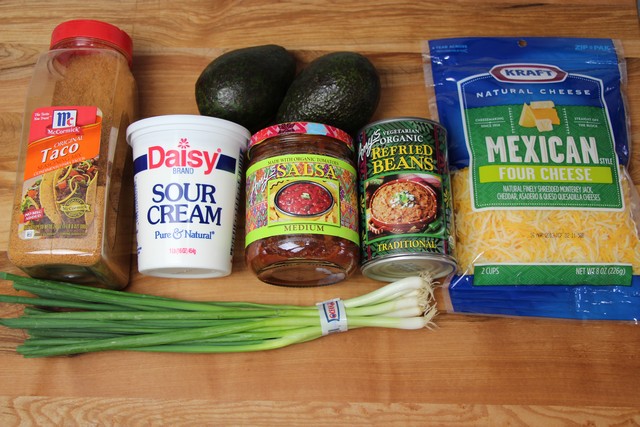 The Layers:
I like to serve this dip in a clear glass bowl to show off the different layers; this really makes a significant difference visually. It just looks so cool! The bowl I'm using in the pictures is a 3-quart that measures 9″ across on the top and 7 1/2″ on the bottom on the inside. If you happen to own a trifle bowl, that would probably be perfect!  Otherwise try using a 2-quart bowl such as a 8″ x 8″ or a 10″ x 7″. These might be a bit tight but should still work I would think. Dividing the recipe between two smaller bowls is another option. I would love to hear what you end up using and if it worked out well!
Layer 1
The first, or bottom layer, consists of a can of refried beans mixed with not one (as some recipes suggest), but two tablespoons of taco seasoning mix. This layer adds a lot of flavor.
Layer 2
On top of the refried beans, I like to add guacamole. Many six- or seven-layer dips do not include guacamole, but personally I think it is a very nice addition and worth the little bit of extra work that it is to mix it together. People always seem to love this layer! Guacamole is, of course, a great stand-alone party dip as well, usually served with corn chips, but makes this dip extra special.
Avocados for guacamole are supposed to have a subtle softness to them, so that they "give" a little when you press against it. Not firm, or they will be very difficult or impossible to mash. But not very soft either, or they are more likely to be over-ripe with black stripes throughout the flesh. It took me a while to figure out exactly how soft they needed to be for the perfect texture when making guacamole. But I am getting better at it. Also, make sure to scrape everything out from the skins; the flesh closest to the skin is the part that will give you that beautiful, intensely green color. Different ingredients can be used to make guacamole, and you certainly can make it however you like. Personally, for the two avocados in this dip, I like to add 1 1/2 tsp lemon juice, 1/2 tsp garlic powder, 1/2 tsp onion salt, and 1/4 tsp salt. I usually like to add some salsa or bits of tomato to my salsa, but not for this recipe since there is another, separate salsa layer. So I keep it green and pure for the beauty that these fruits add.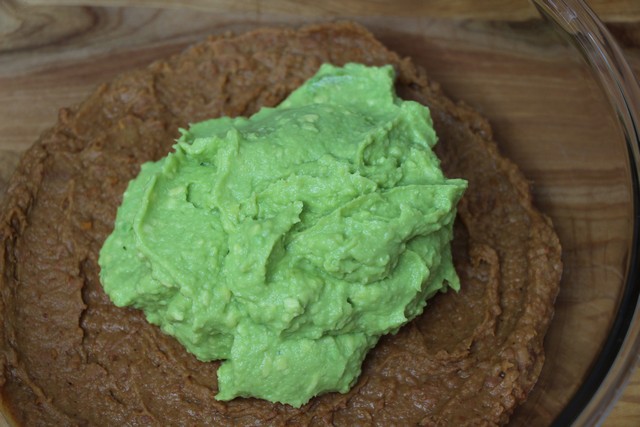 Layer 3
After spreading guacamole on top of the refried beans, the next layer is sour cream.
I prefer to buy Daisy brand, because this is a very pure product. The only ingredient in the regular, or whole Daisy sour cream, is cultured cream. That's it! And that really is what sour cream is supposed to be: intentionally soured, or cultured, heavy cream. In the "light" or "fat free" versions, you'll find a lot more ingredients and additives (and how can fat free be called sour CREAM, anyway? Cream is fat, that's what it is!! If it's not fat, it's not cream; I don't dare think of what chemicals are added to replaced the real thing! OK, I'll get off my soap box now.) Breakstone is another good one, otherwise I find that most other brands contain all kinds of additional ingredients that really do not need to be there. So Daisy is "it" for me. But I digress.
Layer 4
After the sour CREAM layer (ahem…), comes a layer of salsa, which adds to the Mexican taco flavors. With salsa and guacamole, could this appetizer be any more perfect for Super Bowl?
Note: The salsa juices can make the dip a bit soggy and not looking so nice, so it's a good idea to drain off a bit of this extra liquid. I just pour the salsa into a colander and let it drip for a bit. I also look for a thicker salsa from begin with, so that there is less to drain away. In this next picture, I forgot to drain it and just poured it right on there, so I had to soak up the excess liquid with paper towel placed on top. That worked quite well, but my colander works better when I remember to drain it.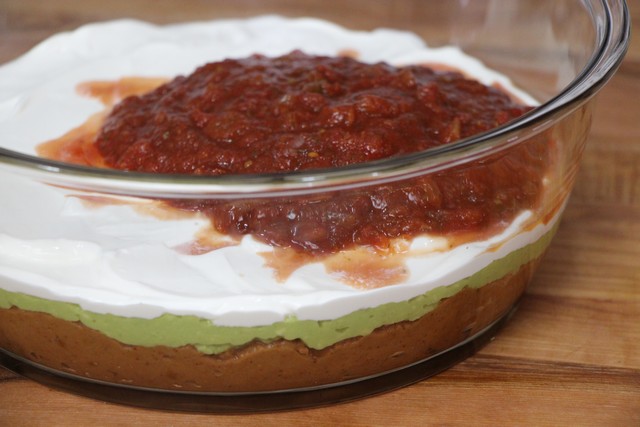 Layer 5 and 6
On top of the salsa come the last two layers; cheese and thinly sliced scallions. I like a four-cheese Mexican blend for this dip, though a lot of different cheeses will work. Personally I would stay clear of mozzarella, and instead choose something more flavorful. Cheddar will work, taco, or even Colby-Jack. There is definitely room for variation here. Last goes the sliced scallions that you sprinkle on top. Done!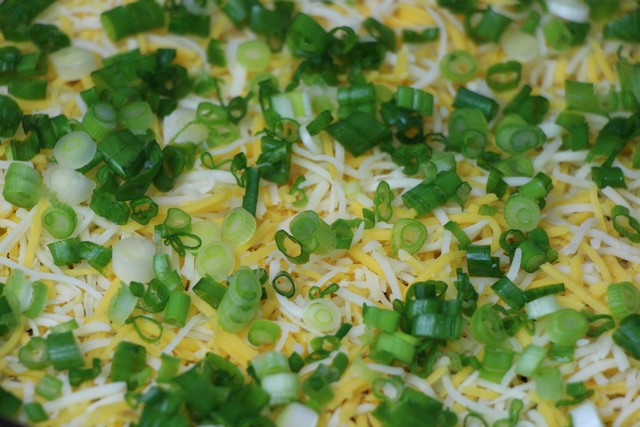 And that's it, that's all there's to it! The Six Layer Guacamole Dip is ready to go, and will serve a crowd at any party. And with tortilla chips in the football shaped "super bowl" in the next picture, which I found at the store the other day, this will be a perfect appetizer for Super Bowl! Please comment and rate this recipe if you try it; option is found immediately under the recipe. Thank you!!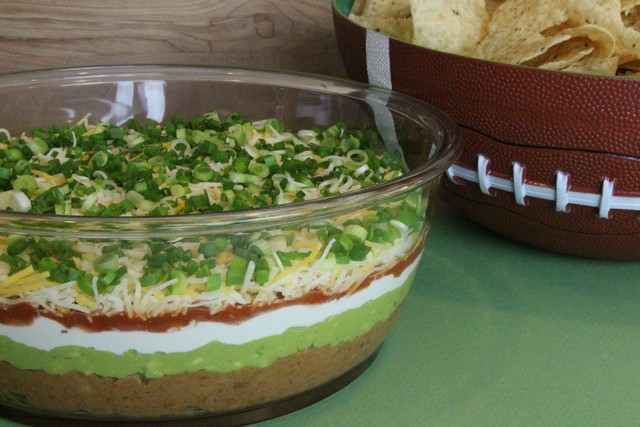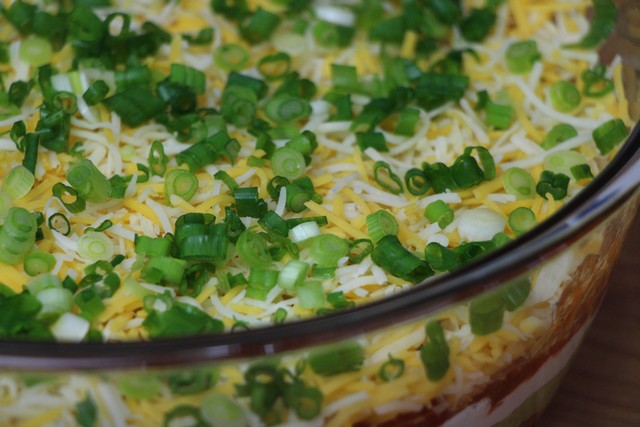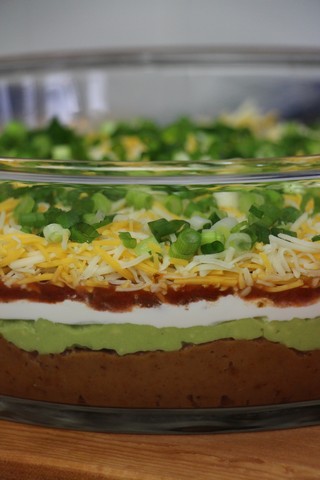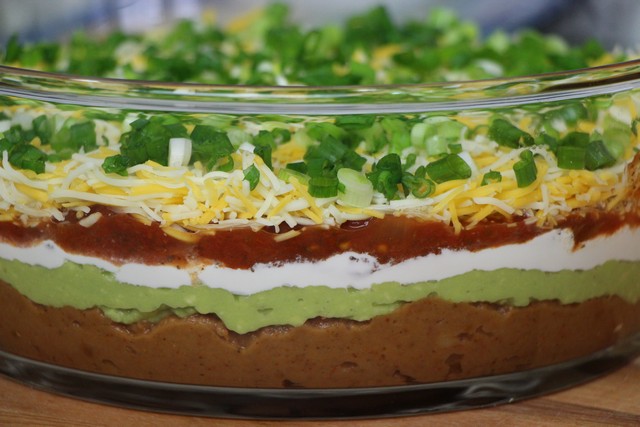 Six Layer Mexican Guacamole Dip
This six-layer taco guacamole dip is perfect with tortilla chips, and serves a crowd. It is tasty, beautiful, and full of flavors.
Author:
Terese at www.thecountrybasket.com
Recipe type:
Appetizer / Snack
Ingredients
1 can refried beans
2 Tablespoons taco seasoning mix
2 ripe avocados
1½ teaspoons lemon juice
½ teaspoon garlic powder
½ teaspoon onion salt
¼ teaspoon salt
1 cup sour cream
1 jar (or 1½ cups) salsa, drained
1½ - 2 cups 4-cheese Mexican blend or similar
4 scallions (green onions), thinly sliced
Instructions
Mix refried beans with taco seasoning.
Layer on the bottom of a serving dish, preferably clear glass.
Make guacamole by scraping out the flesh from two avocados, mashing well and adding lemon juice, garlic powder, onion salt, and salt. Mix well.
Layer guacamole on top of the refried beans.
On top of guacamole, add a layer sour cream.
Drain most of the juice from one jar of salsa, discard juice, then spread salsa on top of sour cream.
Sprinkle cheese on top of salsa, then top with sliced scallions.