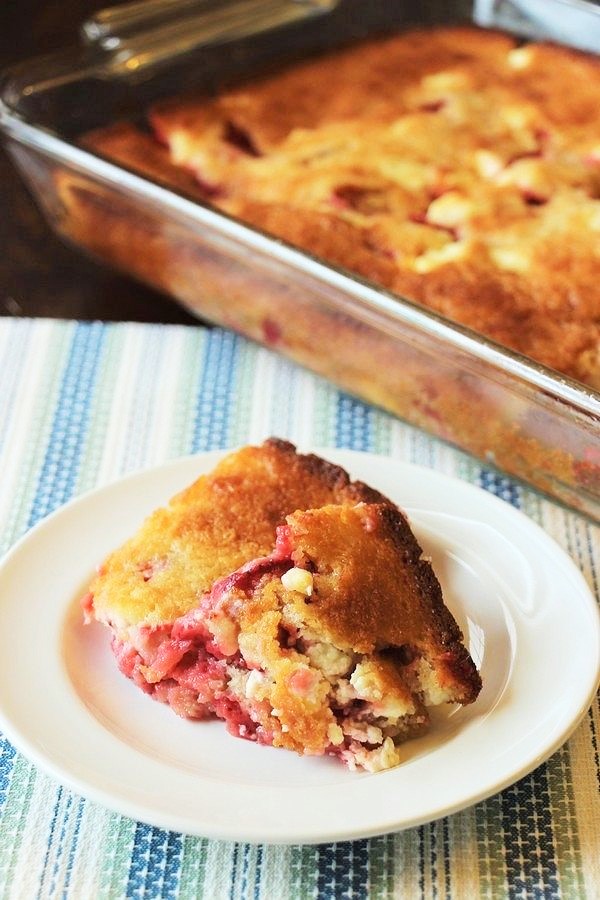 This post features a picture guide on how to make a delicious Strawberry Cream Cheese Cobbler, a perfect early summer dessert! When searching for recipes, I was hoping to find a picture guide to help me get a quick idea on how to make a cobbler. The visuals are so helpful for me, but I could not find one.  So I will provide a picture tutorial in this post. The recipe I used contains pieces of cream cheese, an added bonus. Other types of berries or fruits can be used in place of strawberries, or you can use a mix. I made a couple of smaller changes to the original recipe as I wanted it to be a little bit more flavorful, but it also was very good just like it was.
If you try this recipe, I would love it if you leave a star rating and a comment below, as it really helps me out! I really appreciate it!
This is how you do it:
Wash, dry, and hull 1-2 quarts of strawberries. I used one quart here, but it depends on how much you want of berries versus crust. I will probably use a little bit more next time. Cut them into large pieces. If the berries are small you can use them whole; otherwise cut them in half or quarter them, depending on the size of each berry.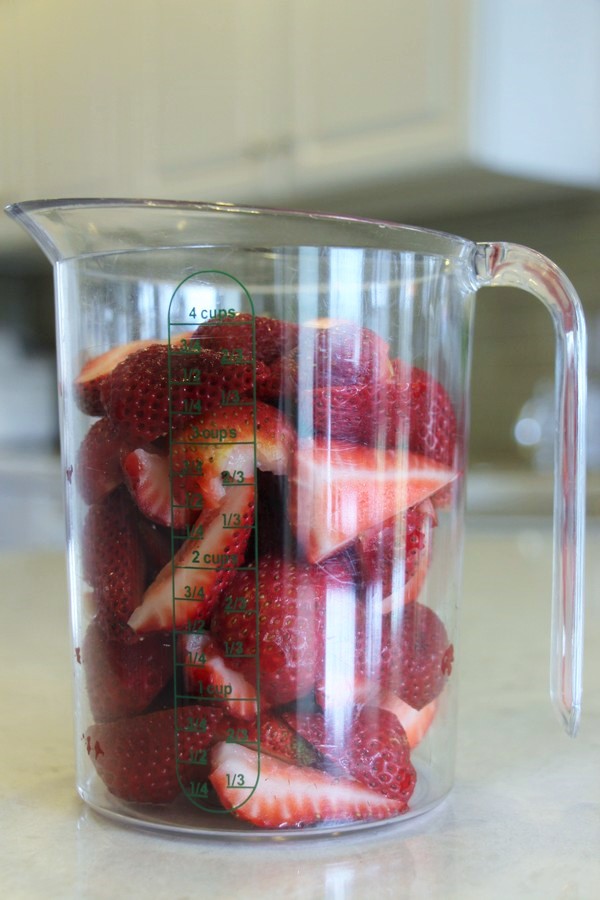 Place the butter into a 13 x 9 baking dish and put it in the oven. Turn the oven on to preheat to 350 degrees, allowing the butter to melt as it heats up.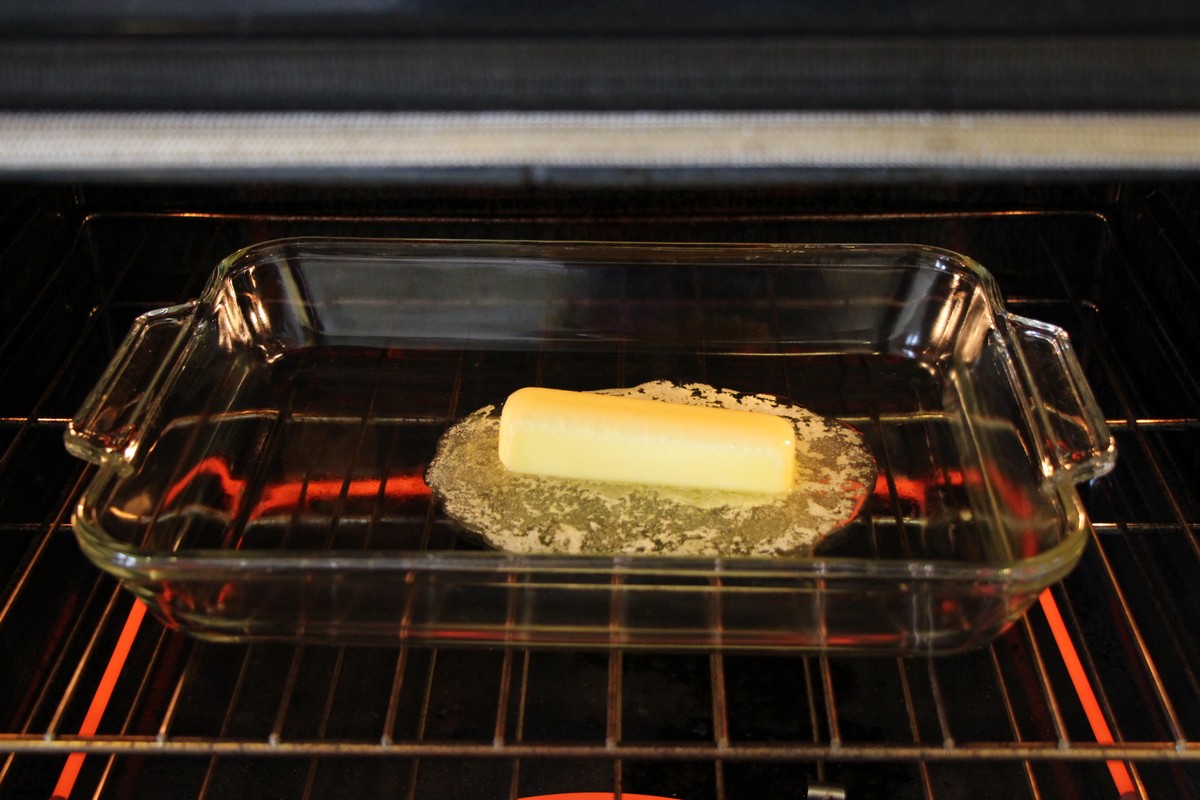 While the butter is melting mix together flour, sugar, salt, and baking powder. In a small bowl, lightly beat the egg and also measure 1 cup of milk. Whole milk will work best as it adds a lot more flavor than light milk, but light will work as well.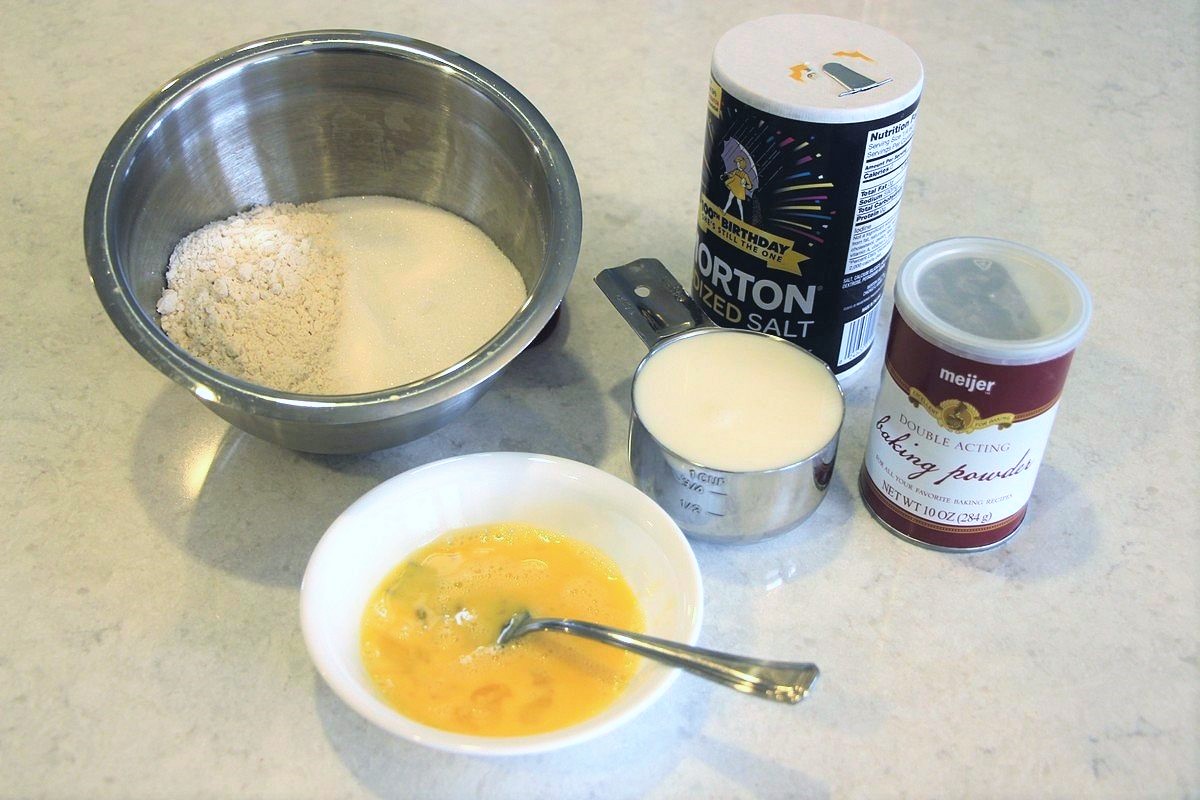 Using a whisk, gently beat the wet and dry ingredients together until fairly smooth, although some small lumps may remain. Some recipes even say some lumps are preferable. Don't overdo it, in other words.
The type of whisk below is very commonly used in Europe and works very well. They can be found at Amazon and sometimes in specialty kitchen supply stores. I own three in different sizes and I use them all the time. Also, the measuring cup filled with milk, above, is the best set of measuring cups I've ever owned! I just ordered one more set for myself. They will last a life time, very sturdy and nest together so nicely!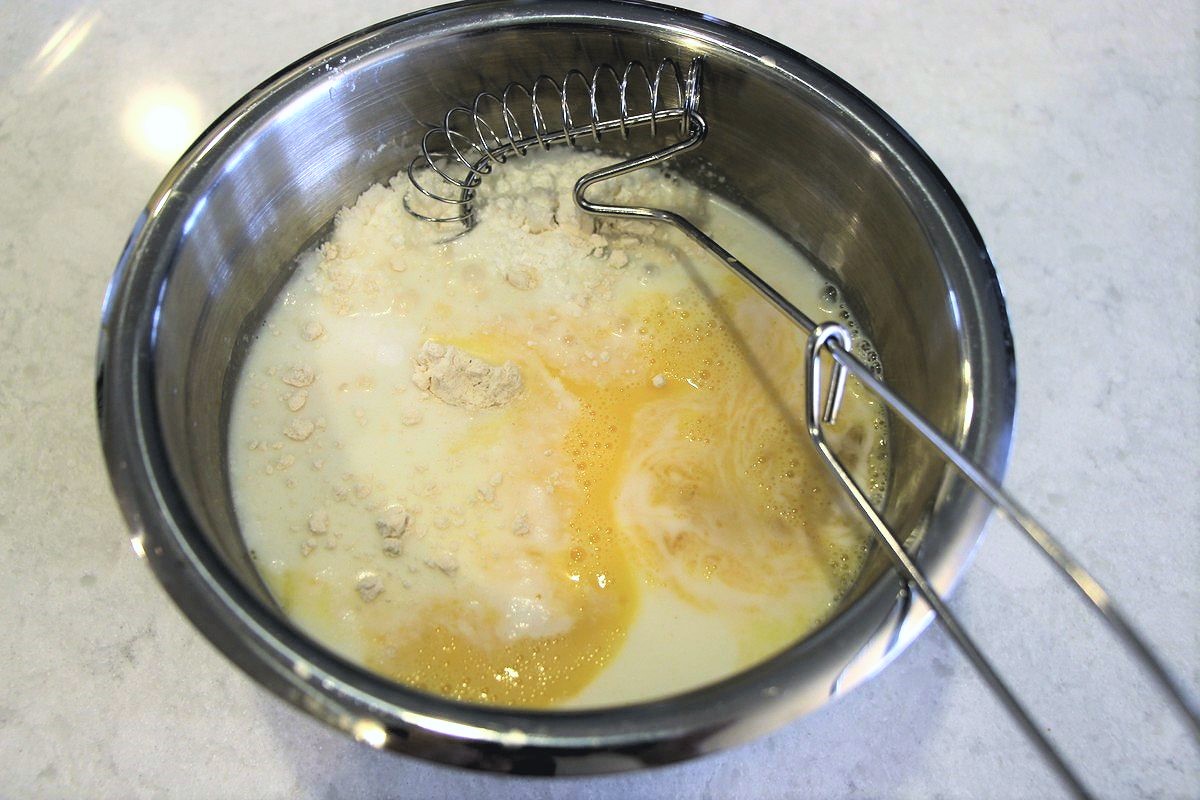 Also add a teaspoon of vanilla; the original recipe didn't call for vanilla, so it isn't pictured here, but I will add it next time. Just add it to the batter along with the rest.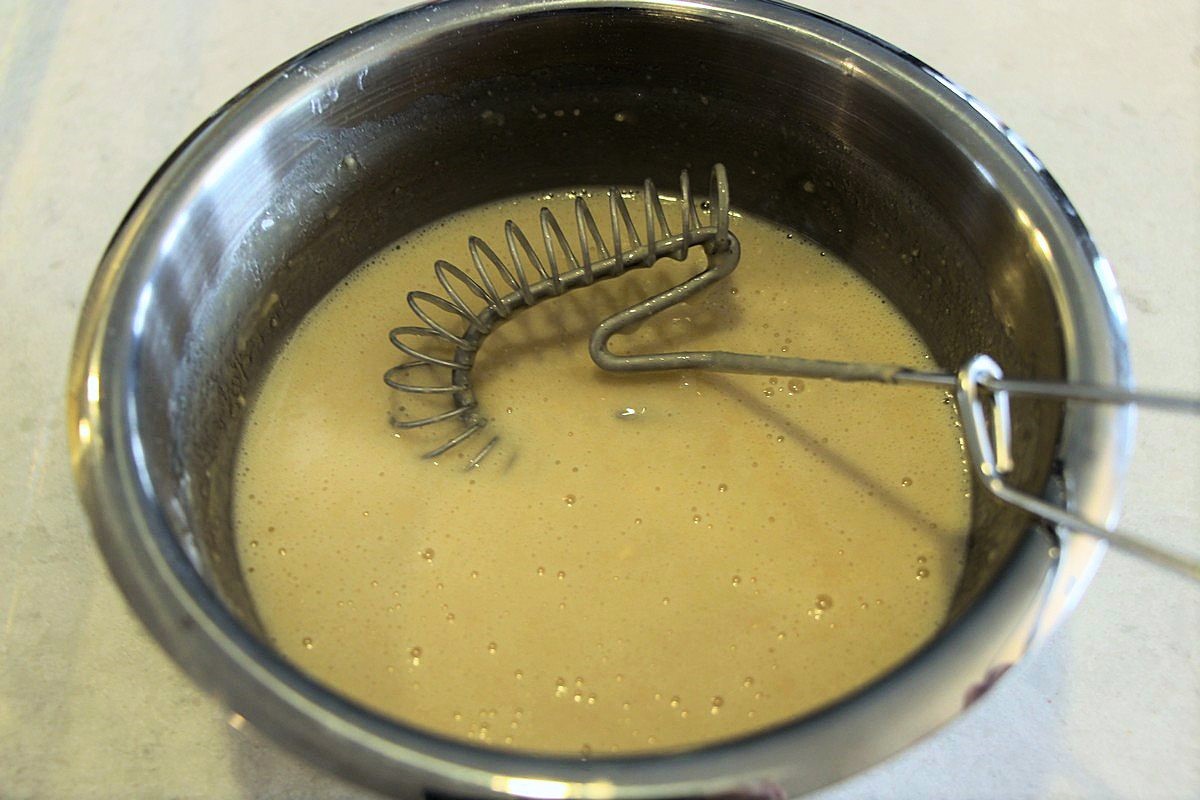 Cut up cold cream cheese, about 4-6 ounces. Cutting soft cream cheese is a very sticky job, so the colder the better. Do not, however, put cream cheese in the freezer, unless it's just for a little while, otherwise it will crumble and fall apart when it thaws out.
While cutting the cream cheese shown on the picture below, I started day dreaming and before I knew it I had cut up the entire thing! That's probably a bit too much. I ended up using about 6 ounces.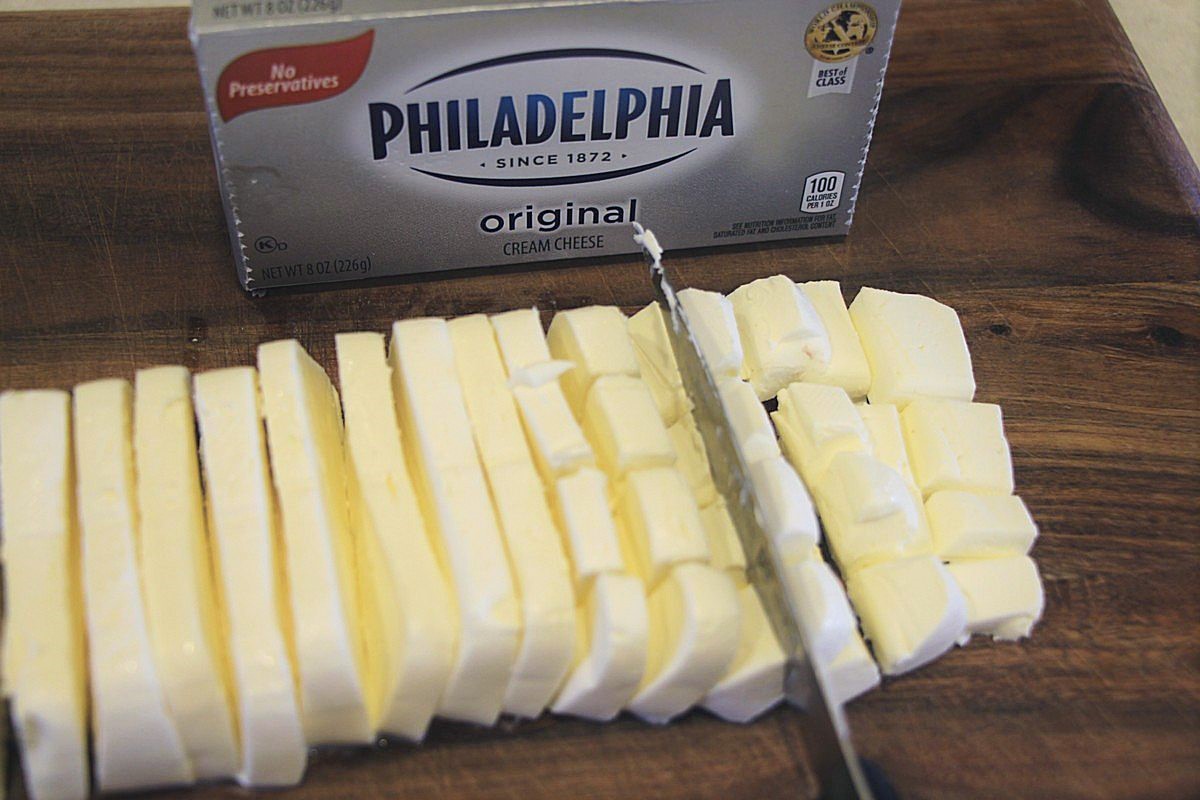 Pour the batter into the pan of melted butter: directly into the butter and without mixing. The butter will float around the edges and will make the crust taste delicious!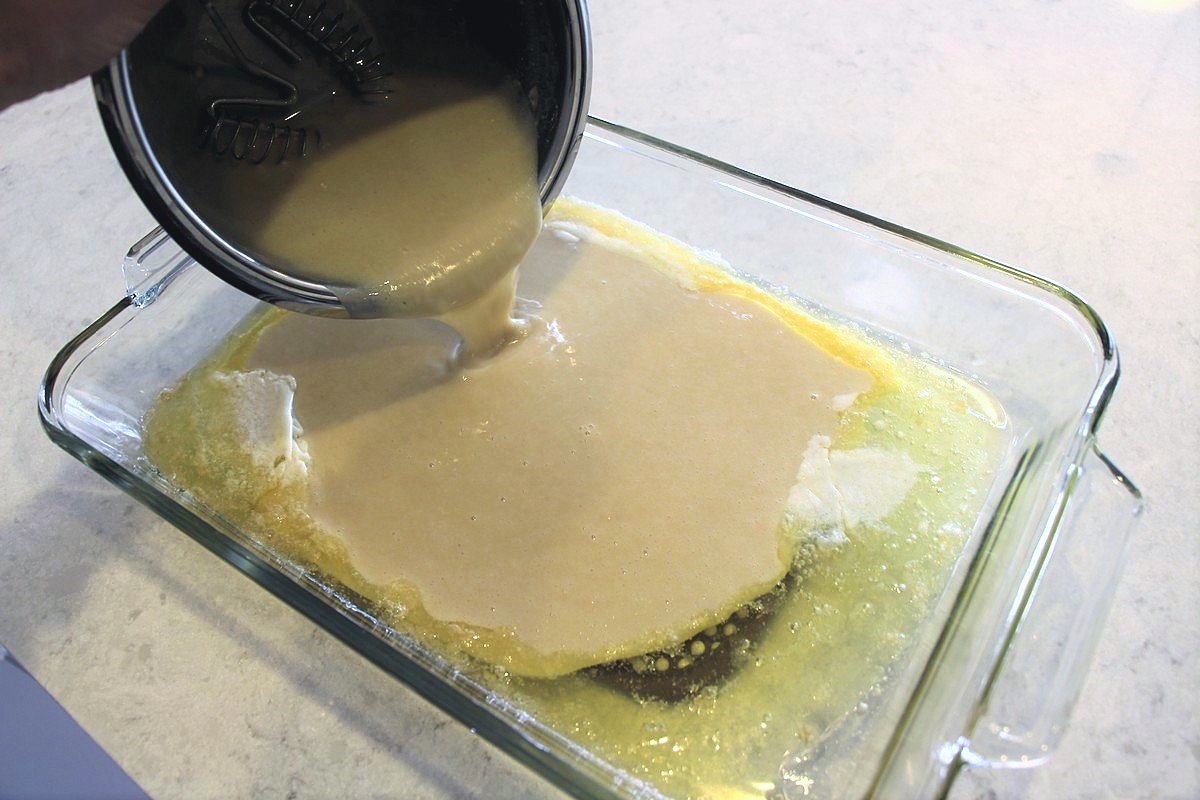 Then top evenly with strawberries first, then cream cheese pieces. Just lay them gently on top of the batter. Do not mix. The batter will rise to cover them quite a bit.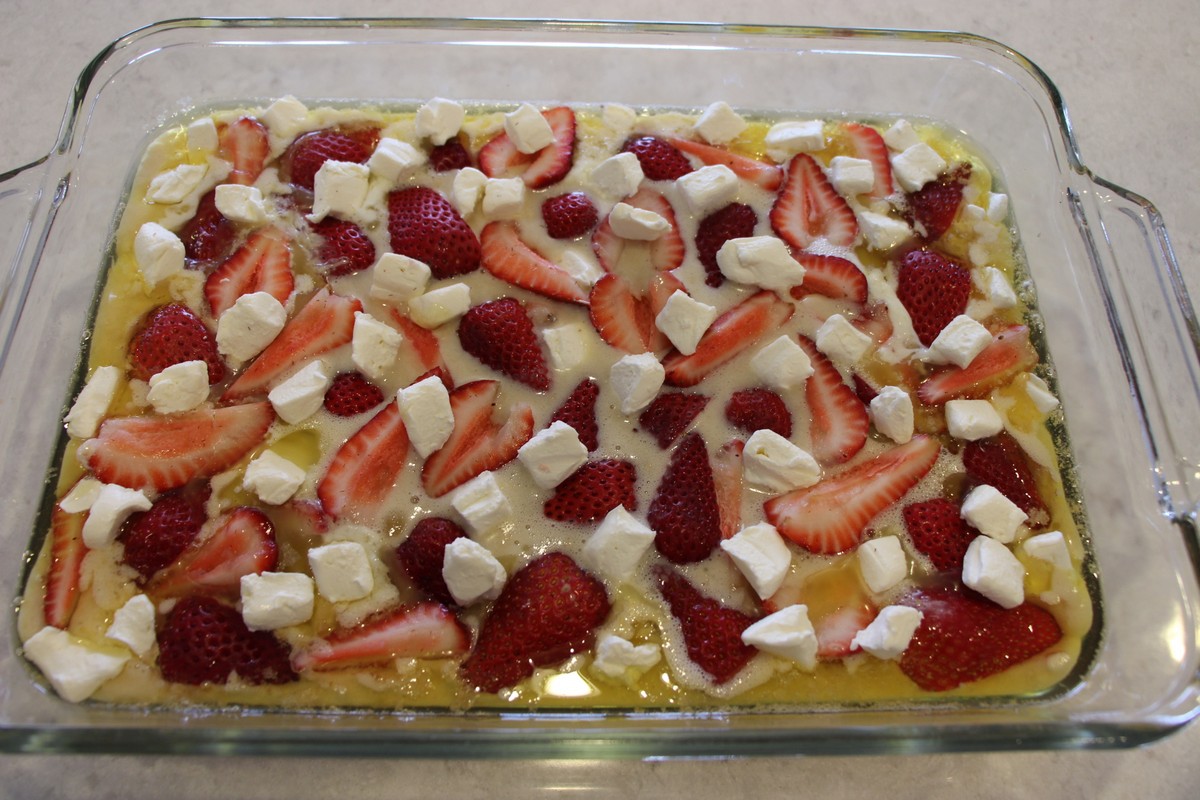 I think the strawberry cream cheese cobbler looks a lot prettier before baking than afterwards, but it will of course taste much better after baking! It just looks so pretty right now, though! The cream cheese look a little bit like mini marshmallows, don't you think? Hmmm…. Now that's an idea!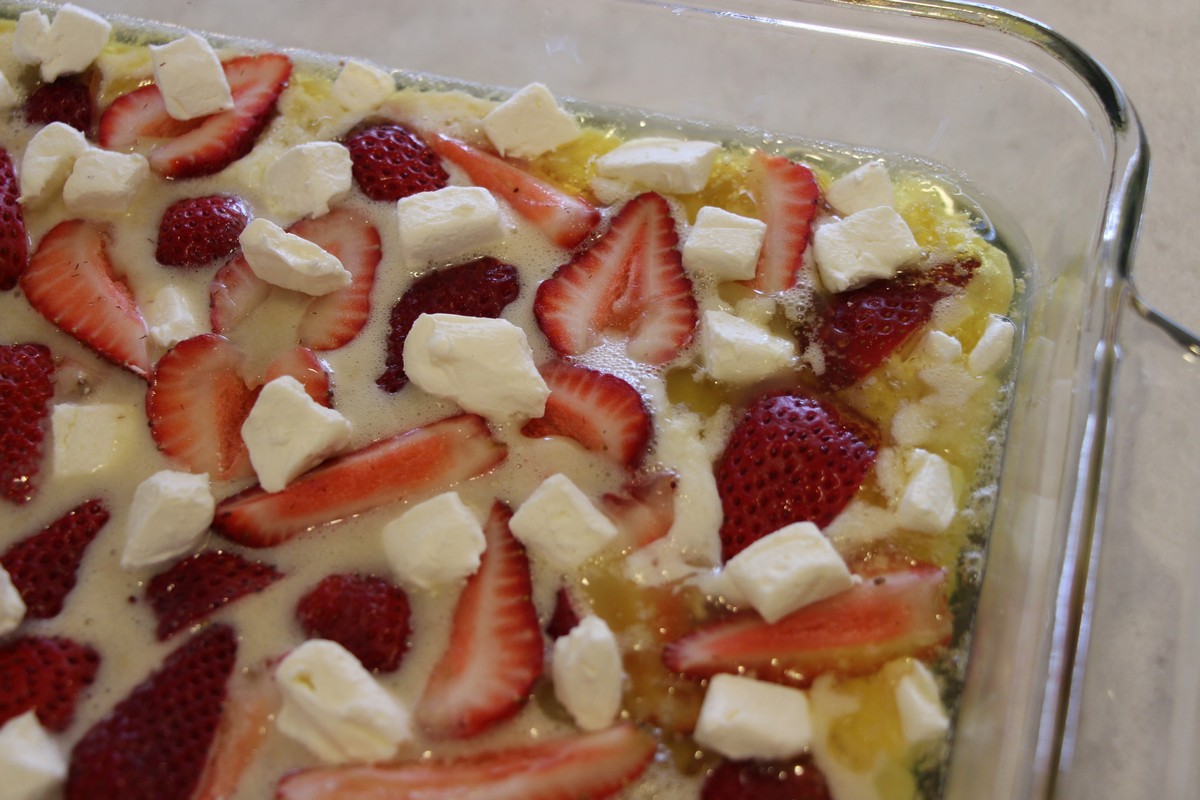 Place the pan in the 350 degree preheated oven and bake for 45 minutes or so until is nicely golden brown.
Below, the cobbler is already starting to puff up over the berries and cream cheese. Look at the butter in between! Yum!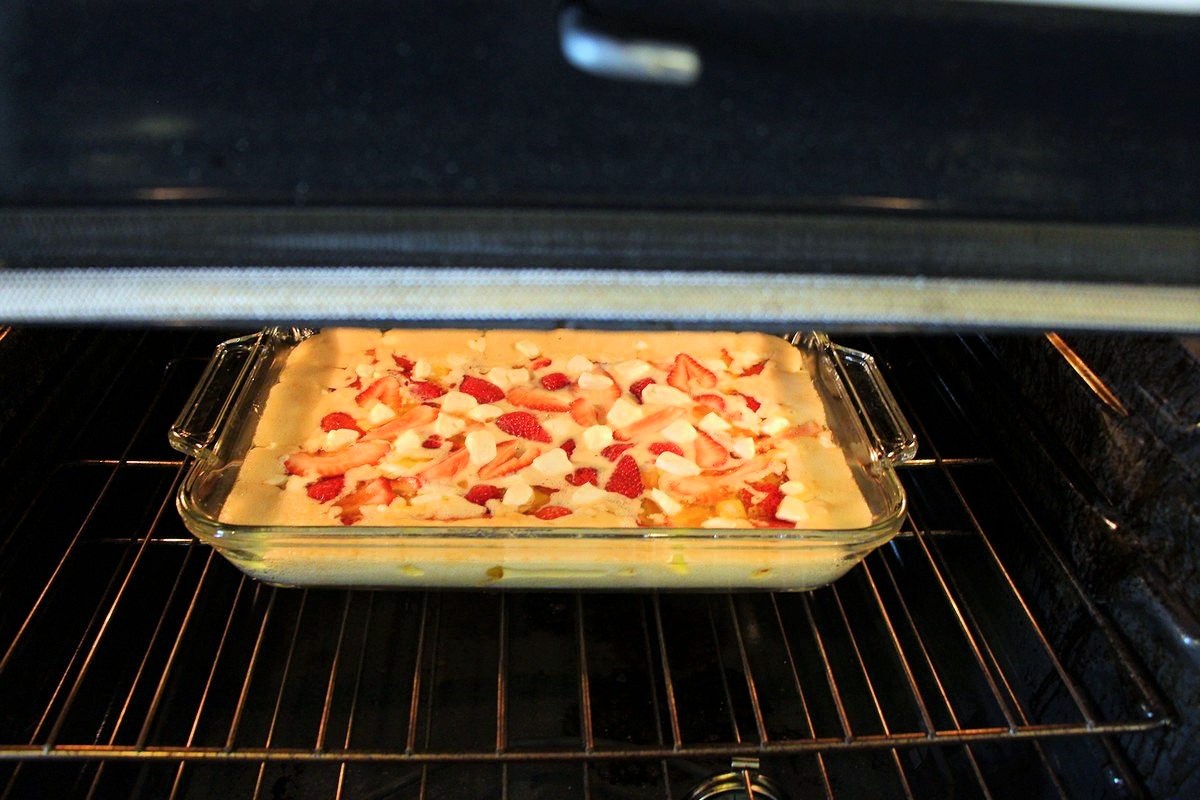 Rising more and really not looking great at the moment, but of course the cobbler isn't finished baking yet and will improve shortly. You can still see the butter floating a little bit in the center. Scrumptious! Can you tell I love real butter? Don't substitute; margarine does not give the same, flavorful result. Even the scent in the kitchen is heavenly when you use real butter!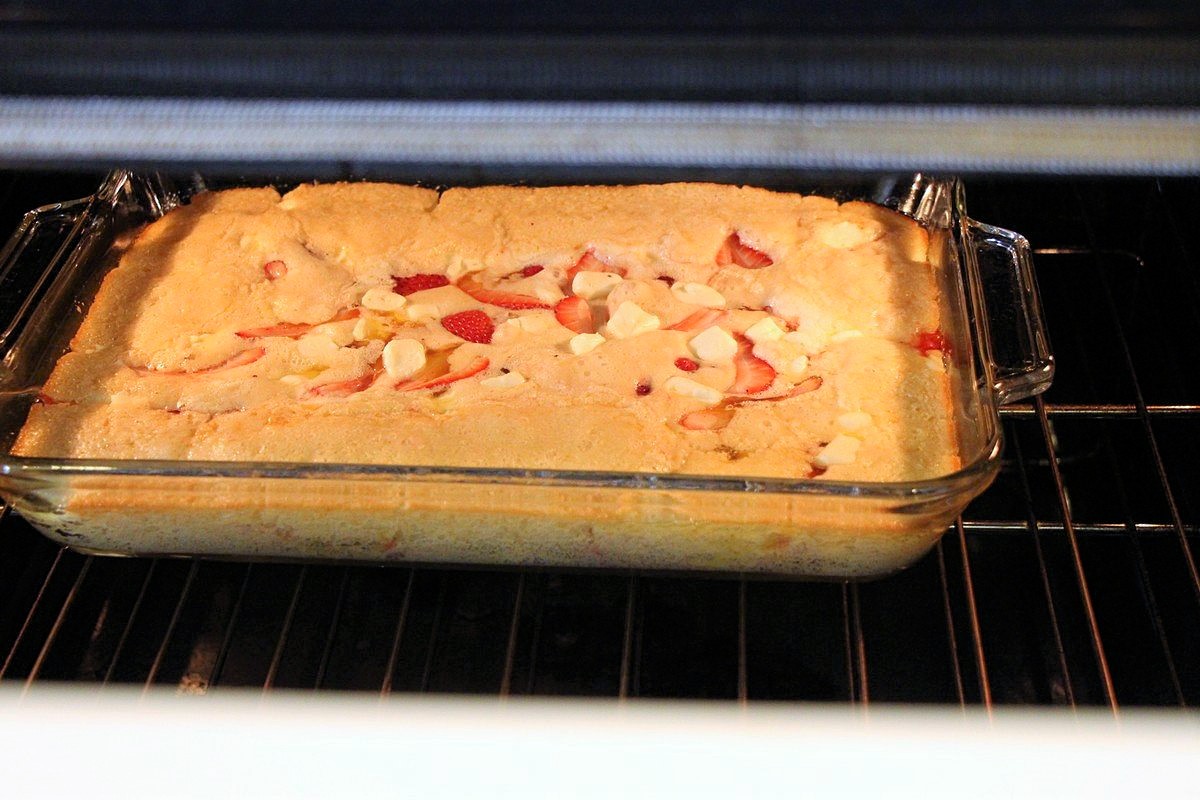 The Strawberry Cream Cheese Cobbler is nicely browned and finished baking. Serve while warm, adding some whipped cream or ice cream to go along. Delicious! I hope the photos in this picture tutorial has been helpful to you! Please consider leaving a star rating and a comment below if you try this recipe! It really is an easy dessert to make, and so yummy with bits of cream cheese and lots of fresh strawberries! Enjoy!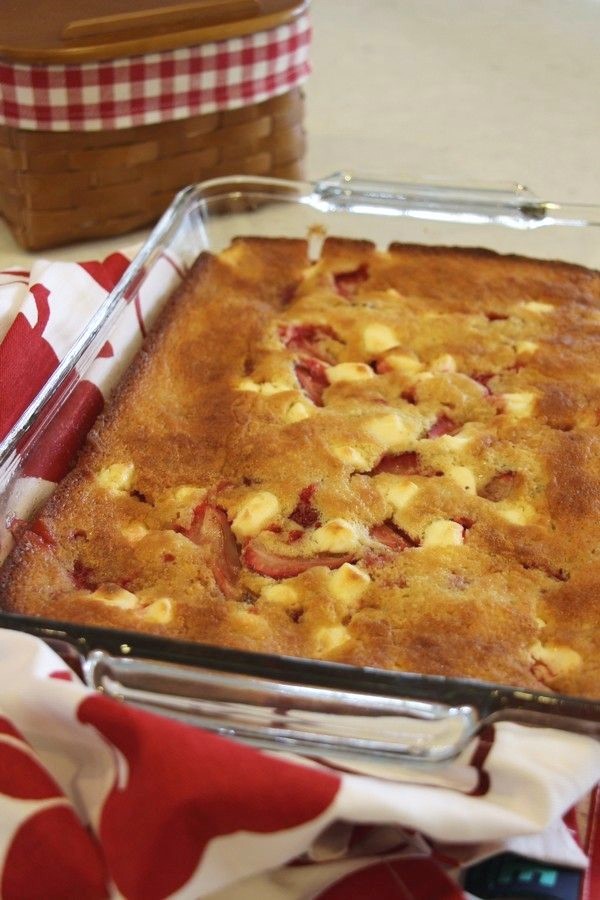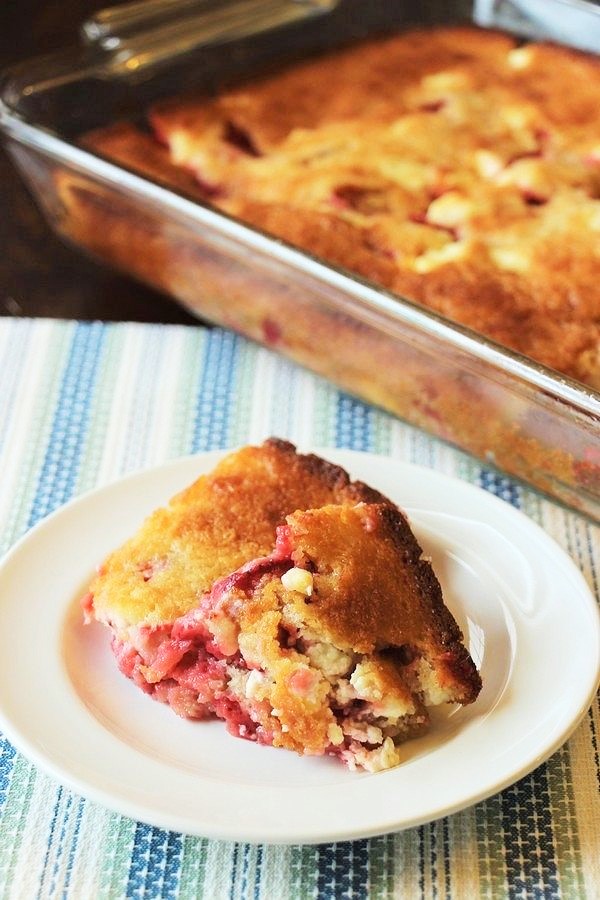 Strawberry Cream Cheese Cobbler
This recipe for Strawberry Cobbler is tasty yet easy and quick to make. Serve with whipped cream or ice cream.
Author:
Terese from The Country Basket
Ingredients
4 - 8 cups halved or quartered strawberries, cleaned
½ cup butter
1 egg, lightly beaten
1 cup sugar
1 cup flour
¾ teaspoon salt
2 teaspoons baking powder
1 cup whole milk
1 teaspoon vanilla extract
4-6 oz cold cream cheese
Instructions
Clean and hull strawberries, then cut into large pieces. Set aside.
Place butter into a 13 x 9 baking dish, transfer to oven and let the butter melt while preheating to 350 degrees F. Remove pan from the oven when the butter has melted completely and set it aside. Keep the oven on.
Lightly beat the egg, set aside.
Mix together sugar, flour, salt, and baking powder.
Add milk, vanilla, and the beaten egg. Beat with a whisk until batter is mostly smooth, although some small lumps may remain. Don't over mix. Set aside.
Cut cold cream cheese into small pieces and set aside.
Pour the batter into the center of the melted butter in the pan.
Lay strawberry pieces evenly and gently on top of the batter, then the cream cheese pieces as well. Do not stir!
Bake for 45 minutes or so until crust is golden brown.
Serve warm.