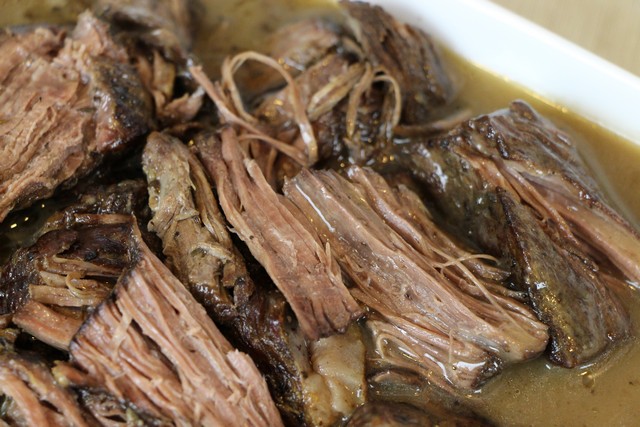 Savory & Tender Fall Apart Pot Roast
To make an excellent, fall-apart tender pot roast, choose a 2-3 pound piece of chuck roast. This particular cut of beef is marbled with a lot of fat and connective tissues and is initially quite tough, but becomes very juicy and fork tender if cooked the right way. The fat also adds a lot of flavor! Contrary to an already lean and tender piece of meat, which needs a shorter cooking time and dry, high heat, a chuck roast needs to cook for several hours in moist heat.  In other words, low & slow to break down fat and tenderize the meat for that fall-apart doneness a good pot roast is known for. The result is juicy, tender meat that melts in your mouth! Various recipes of herbs and spices can be used with this cooking method, and personally I love to use my crock pot to slow cook this wonderful, savory meat.
If you do try this recipe, I would really appreciate a quick comment with a star rating (option found immediately under each recipe). It helps me out tremendously! Thanks in advance!

Cooking the Meat
The first thing you should do as you prepare to cook a pot roast is to sear it on all sides. Fry the meat in oil on high heat until browned all over. This time I cut my roast into serving pieces, but it can also be kept whole. Searing will give the meat a flavorful, thin crust. You may need to fry only a few pieces at a time to keep the skillet hot, otherwise the meat will cook or boil in its juices instead of frying and browning. This is not the time to cook it through, you only want to brown the outer layer.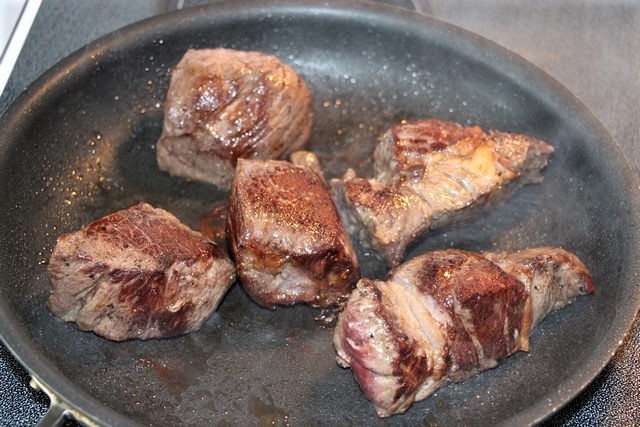 Put the seared pieces in a crock pot or Dutch oven, then brown onion slices in the same skillet. Even at this point, your kitchen will smell amazing!!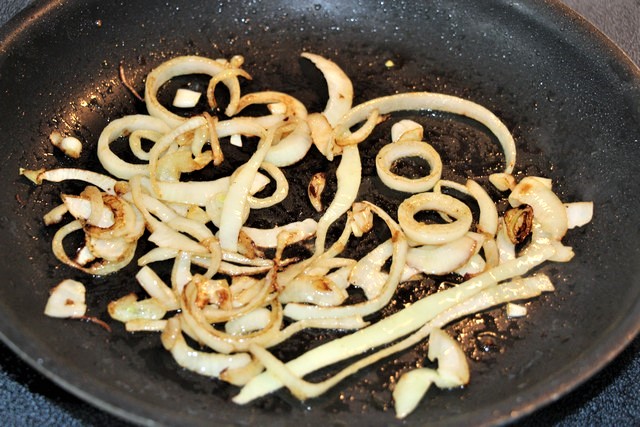 Place the browned onions in the pot together with the meat and add 2-3 cups of water or broth, or a combination. The amount depends on how large your pot roast is; it should cover the roast about half way.
TIP: Don't just add the water or broth to the pot, but first pour it into the hot frying pan! Swirl it around in the pan to loosen all the stuff that sticks to the bottom and sides, as if you're washing it out but without the soap (obviously!) Now pour it over the roast. This will add a lot of extra flavor to your roast and gravy, plus you've cut back on the time it takes the crock pot to heat the liquid since it's already hot right off the skillet. In addition, cleaning the skillet at this point will be a a breeze since you took care of so much of it already.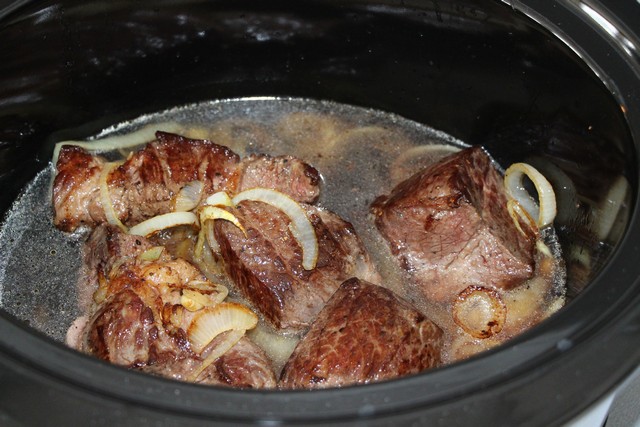 Also add some garlic to the pot or slow cooker, 3-4 cloves or so, and 1-2 tablespoons of Worcestershire sauce (click here to hear pronunciation of the name "Worcestershire!" You may be surprised!)
If you enjoy wine, you can add a couple of splashes of red cooking wine if you wish. High quality is not necessary, cheap cooking wine works great, just 2-3 tablespoons or so. My family is not used to wine, so we prefer it without. Other options, if you feel so inclined, are juice, chicken broth, tomato juice, or a little bit of cider vinegar. The pot roast will be juicy and fork tender regardless. But to me, adding these flavors really isn't necessary, this pot roast recipe is wonderful as-is!
NOTE: If using wine in cooking, please realize that the alcohol from the wine does not necessarily "burn off" as much as previously thought, even when cooking or flaming. For a recovering alcoholic, even the evaporated alcohol in the air can cause a problem. So if there are any issues at all with alcoholism, it really is best to stay clear of cooking with wine altogether.
Then add some herbs; about 2-3 tsp altogether seems about right. This time I used a combination of rosemary, thyme, and savory. Other herbs that work well with beef are marjoram, basil, sage, and oregano. I also tossed in a bay leaf. You can switch around on the herbs in this recipe to get a change in flavor, or choose just one or two. If I had to choose only one, it would be thyme, which is a great herb for pot roast. My favorites for pot roast are thyme, rosemary, marjoram, and savory in addition to bay leaves.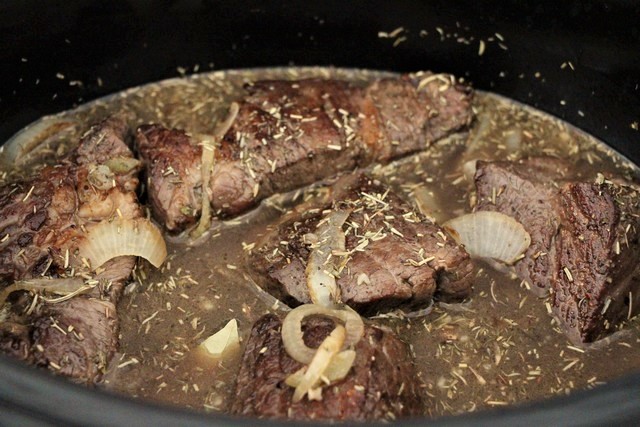 If you want to prepare ahead of time, you can now put the ceramic crock pot insert in the refrigerator overnight to start in the morning the next day.
When ready to cook:
Cook the pot roast on low, barely simmering, for several hours (usually 7-8 in mine) until the meat is fork tender and fat or connective tissues have mostly dissolved. You will still see pieces of fat here and there, but they should be soft. Connective tissues take a long time to tenderize, so low temperature over several hours is very important.
This is my Hamilton Beach crock pot, the best slow cooker I've ever had! It includes a thermometer and several very nice features. It works great for my pot roast.
Test the meat with a fork after several hours, around 7-8 on low heat.
I usually check with two forks after 6 hours, but in my crock pot it always takes closer to 7 or 8 hours. Even when I recently made a really small roast, it still wasn't done until it had been 7 hours. But every crock pot is a little bit different, so it's best to check on the early side.
If you are short on time, you can also cook on high for 3-4 hours, but I prefer to cook it on low.
The meat is done when it is fall-apart fork-tender; in other words, it's done when you can pull it apart easily with a fork. Like this: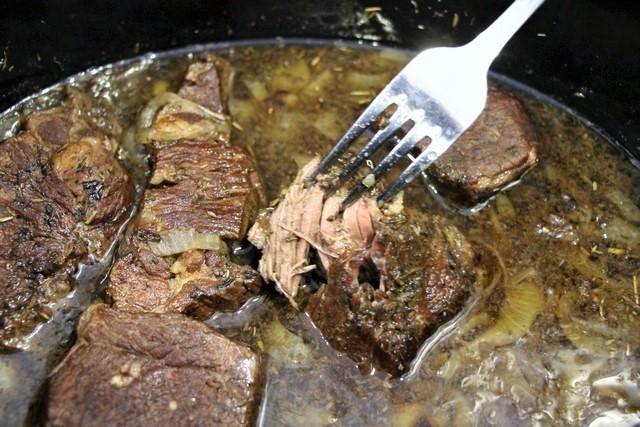 When my juicy pot roast is done, I like to make gravy from the broth. I remove the meat and set it aside while kept warm, then drain the broth through a colander into a smaller pot and bring it to a boil. While waiting for the broth to boil, I mix up some flour, or corn starch if gluten free is needed, with water until smooth. Then I add some to the boiling broth in a thin but steady stream while whisking with my favorite Norwegian-style whisk (similar to this one from Amazon,) I keep adding more, just a little at a time, until the gravy thickens to my liking. I keep the heat high enough that the gravy continues to boil so that I can see right away whether I added enough. If using flour, I allow the finished gravy to simmer for a couple of minutes to make sure the flour is fully cooked. Otherwise the gravy can end up a little gritty. I also taste the gravy and add more salt if needed.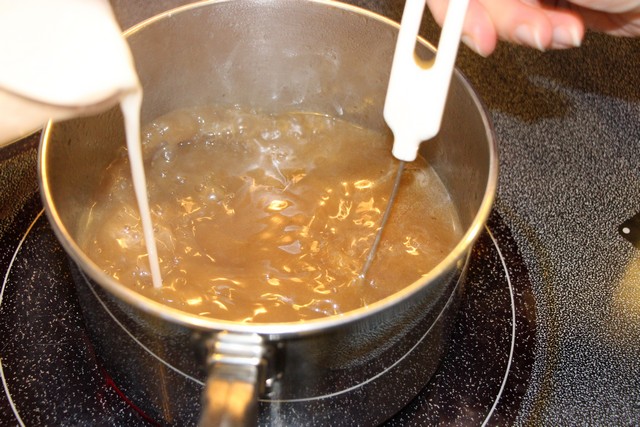 When the gravy is finished, I pour it over the meat to serve or I serve it on the side. Personally we love mashed potatoes with our pot roast, while some may prefer to serve it over noodles.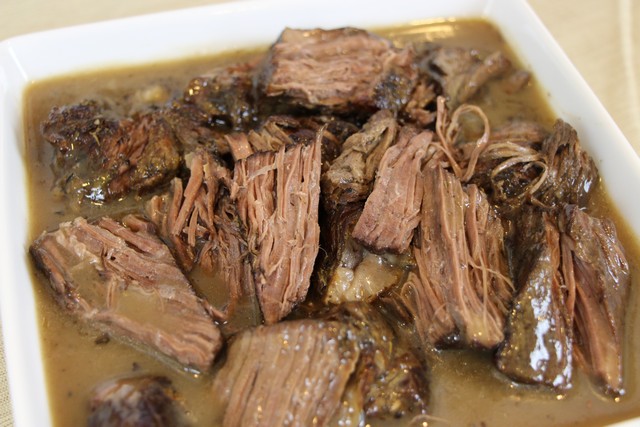 My husband is always happy when I serve pot roast as tender as this fall-apart piece of meat!
The juicy beef melts in your mouth and delivers a wonderful blend of savory flavors
from herbs, garlic, and caramelized onions! Please comment and rate this recipe if you try it; option is found immediately under the recipe. Thank you!!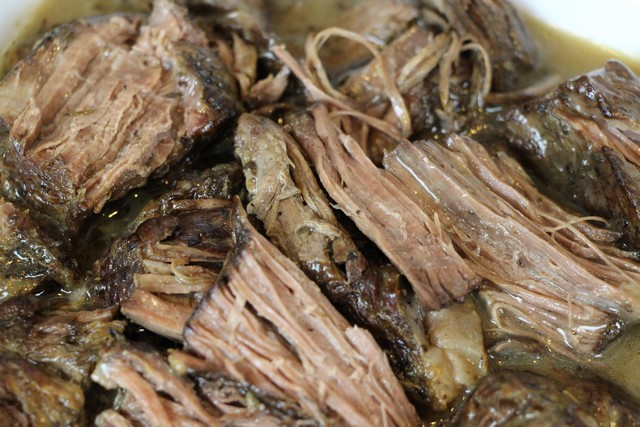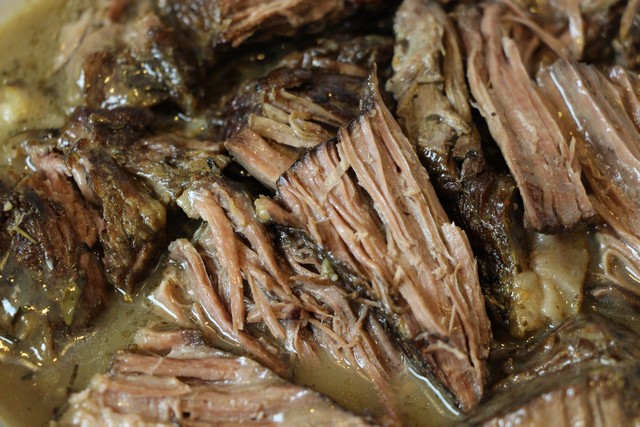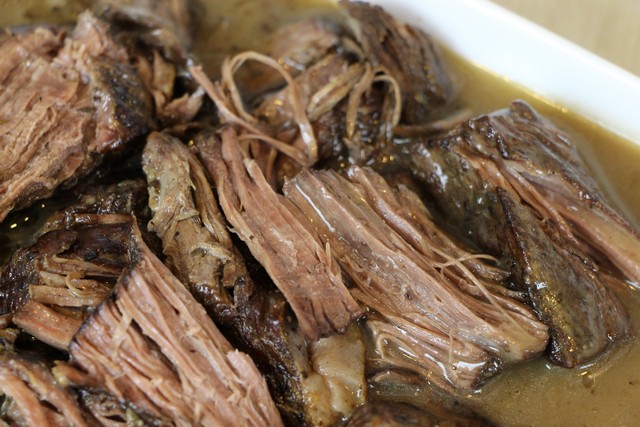 Savory, Tender, Fall Apart Pot Roast
Cooking low & slow in moist heat delivers a fork tender and juicy pot roast full of flavor.
Author:
Terese at www.thecountrybasket.com
Recipe type:
Dinner, Main Dish
Ingredients
2-3 Lbs chuck roast
Salt & pepper
Olive oil for searing
One medium onion in slices
2-3 c water or broth
2-4 Tbsp red cooking wine, can be omitted
1-2 Tbsp Worcestershire sauce
3-4 cloves garlic, minced
½ tsp rosemary
½ tsp thyme
½ tsp savory
2 bay leaves
Flour or corn starch for gravy thickener
Extra water to make gravy
Instructions
Cut meat into serving pieces.
Rub with salt and pepper.
Sear on medium heat in olive oil, a few pieces at a time until browned on all sides.
Put pieces of meat in a crock pot (a Dutch oven can be used as well, but might cook faster.)
Brown onion rings in the same skillet, then layer around meat.
Add part of the water to the empty skillet and stir to loosen leftover particles and flavors. Add this and the rest of the water or broth to the meat in the pot.
Add wine if desired, Worcestershire sauce, garlic, rosemary, thyme, savory, and bay leaf.
Let cook on low heat, simmering for 7-8 hours or until meat is fork tender.
Remove the meat and set aside, making gravy from the broth by straining it into a pot.
Bring broth to a boil. Meanwhile, whisk together some flour or cornstarch with water, until it resembles thick gravy.
Add a little at a time to the boiling broth by pouring in a steady, thin stream while whisking the gravy, until it thickens to your liking.
Taste, then add more salt and pepper if needed.
Pour over the meat, and serve with mashed potatoes or noodles.