This is a salad recipe that I adapted from a salad served at a function where the catering company Urban Mill Cafe was used. Everyone seemed to love this salad (and the rest of their food, too!), and I thought I might be able to recreate it fairly easily. So, while eating, I made a mental note of the ingredients I saw, then later wrote it down. The ingredients were: Romaine lettuce, cashews, cheese, dried cranberries, and green apple, with a poppy seed dressing on the side. Kraft's Raspberry Vinaigrette is a good substitute, though it is a different flavor from poppy seed dressing.
Until I got a hold of their website information, I wasn't sure which cheese they had used in their salad; it was a shredded, white cheese, more flavorful than mozzarella. I tried Monterey Jack, and loved it. It turns out they used Swiss cheese, but I think any of these are good. I'm sure provolone would also work well.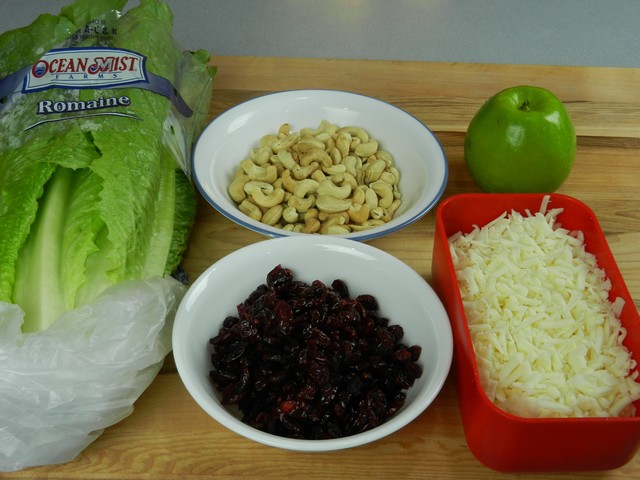 If you do try this recipe, I would really appreciate a quick comment with a star rating (option found immediately under each recipe). It helps me out tremendously! Thanks in advance!
Making the salad is really quite straight forward. Just a couple of things to point out: For cashews, choose raw, unsalted cashews, then roast them. It is very easy to do.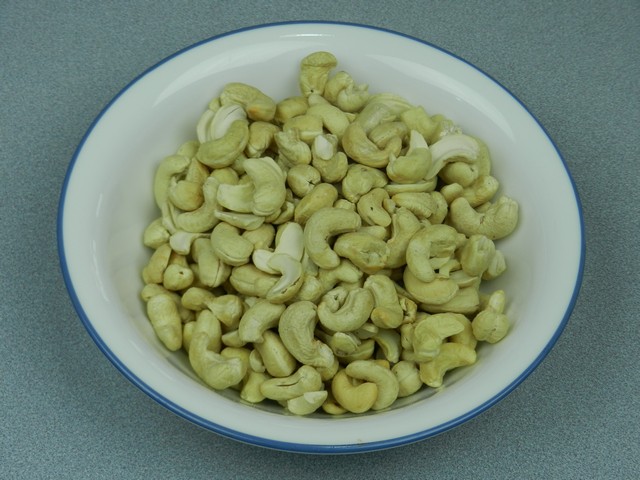 I've seen roasting recipes that say to roast at 350°, but I roasted at 250° for 30-40 min. as the nuts will burn more easily at 350°. It takes longer at 250° though, so if you're short on time and don't mind stirring more often and really keeping an eye on them, you could do 350°. At 250°, I stir every 10 -15 minutes. There is no need to grease the pan; the nuts are dry and won't stick. It is up to you how long you decide to roast and how deep of a color you want them to have.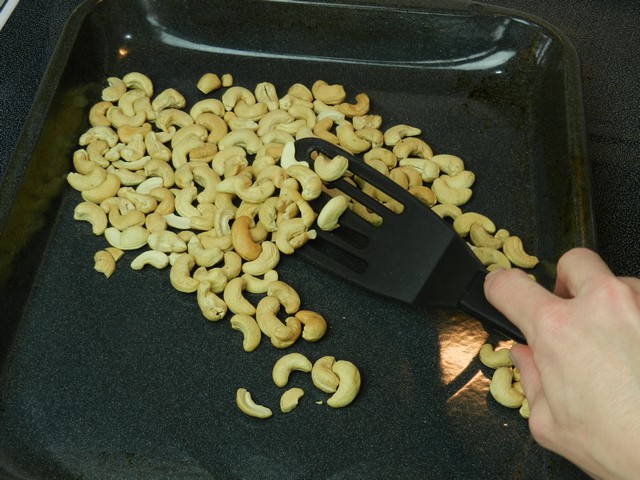 Roast until medium golden brown, or a little more if you'd like. Of course, if you prefer, you don't have to roast them at all, but I think they are more flavorful and look prettier if they are roasted. Some of these are a bit on the light side.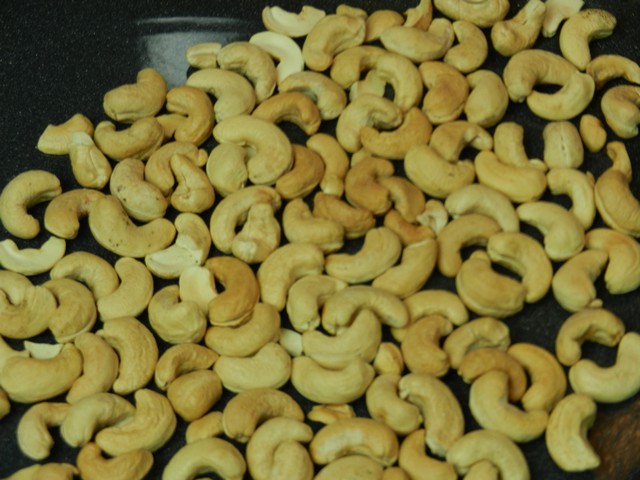 Rinse the romaine lettuce well, then cut or tear into thin strips.  If the lettuce is cut up well, it is easier to eat, plus the rest of the goodies won't fall to the bottom of the bowl as easily.
I've heard it said that the edges of the lettuce won't turn brown as quickly if it is torn instead of cut. I don't know if that's true or not, but personally I like to cut it with a knife.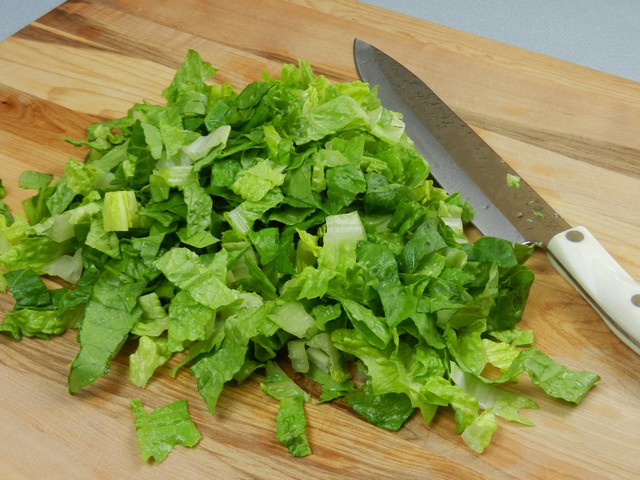 After cutting, give the lettuce a spin in the salad spinner to dry, to help keep the salad from getting soggy.
I use this salad spinner from Oxo, which can be purchased at Amazon; here's a link. Thinking and rethinking for a few years, whether I really needed one, I am glad I finally did purchase it. It works very well, and I love how the bowl can also be used for serving. In addition to using it for salads, I have also used it a lot after blanching my green beans. Drying them helps the beans stay separate in the bag when frozen (after I slap it against the counter to loosen.)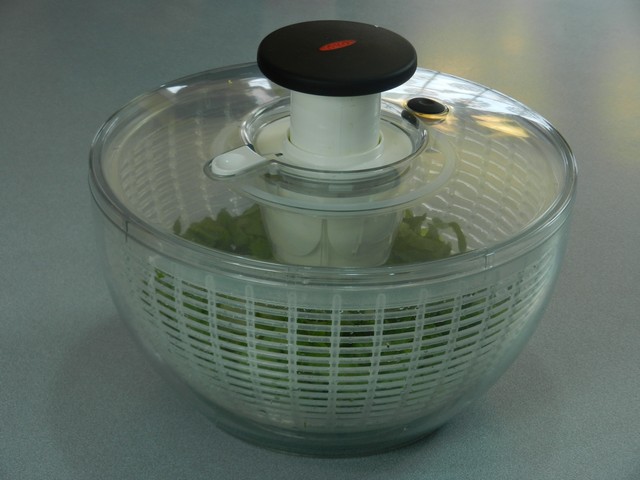 Rinse the apple, and cut into thin slices.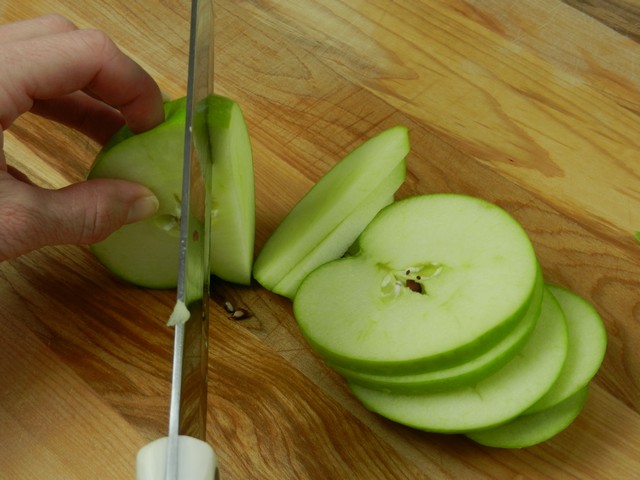 Cut the slices into skinny strips, then cubes. I like to keep the pieces long and skinny. Cut away pieces from the apple core.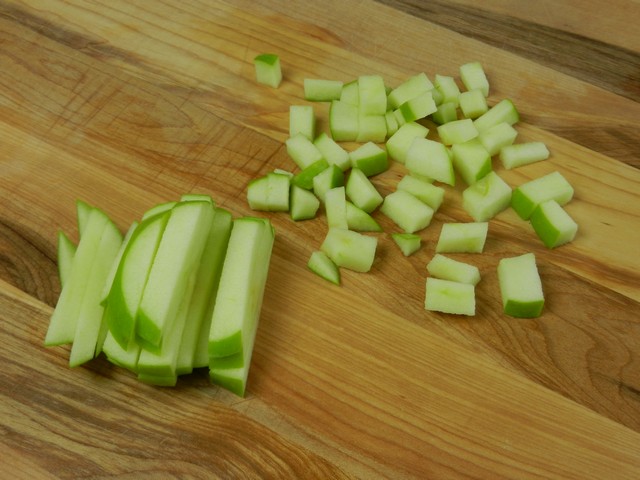 Put the apple pieces in a bowl, then sprinkle on a small tablespoon of lemon juice to prevent browning. Stir well to coat all the sides of each cube. (There are two cut apples in this bowl.)
Layer a third of the lettuce on the bottom of the serving bowl, then layer a little less than a third of the other ingredients on top. You'll want to be careful not to add too much of the other ingredients yet, as they tend to fall to the bottom of the bowl. Then add another layer of each, then the rest of everything on top.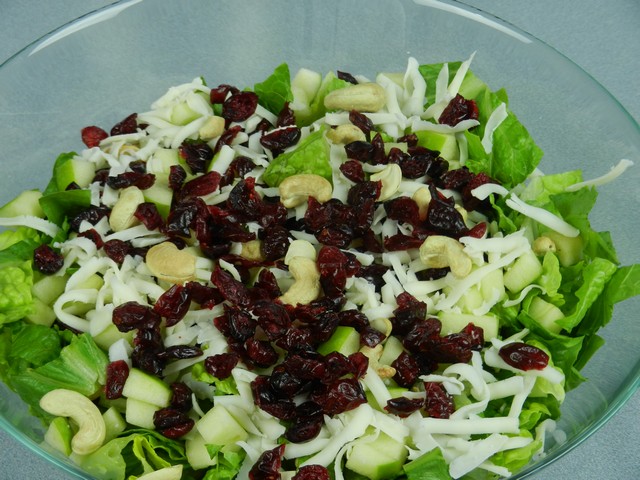 For each layer, toss just a wee bit, again to keep the "good stuff" toward the top.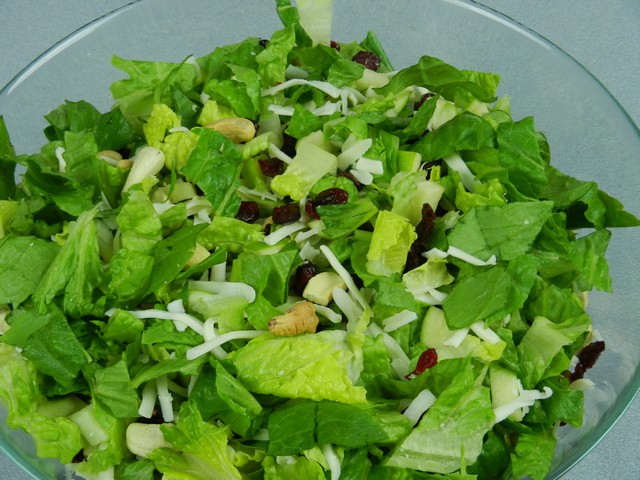 Cover, and keep refrigerated until ready to serve.
As far as dressing, though the original salad was served with a poppy seed dressing, I have used Kraft's poppy seed dressing, and also their Raspberry Vinaigrette with this salad. Both were good. I preferred the poppy seed of these two, and thought the Raspberry Vinaigrette was a little on the sweet side. My husband, on the other hand, clearly preferred the vinaigrette. There are other poppy seed dressings that you can purchase as well. I still decided to do a search for poppy seed dressing recipes, and tried three different ones, side by side; not with the salad, just as a carrot dip. I will share the links and a brief comment for two of the three:
The first one is my favorite; it is mild, but tasty, a sweet & sour flavor. I think it will fit nicely with this salad, and won't be over powering at all. Here's the link to the recipe: Poppyseed Dressing
The second one was good as well, and was a bit more bold than the first one, partly due to apple cider vinegar instead of plain white. It also had a distinct onion taste to it. I'm not sure that I care for onion flavor for this salad, but it will be a good dressing for salads that go well with onion. Of course, you could just cut way back on the onion if you otherwise like a dressing with a bit more kick. Here's the link to this recipe: Poppy Seed Salad Dressing
While reading a little bit about poppy seeds, I found this interesting little tidbit: Poppy seeds are harvested from the same type of plant that opium is harvested from. Though the seeds contain extremely small amounts of the same drug, people who eat a lot of poppy seeds can end up with a false positive test result on drug tests. In order to avoid these false positives from poppy seed eating, the drug level cut-off has been raised in most tests. But you may want to slow down a bit if you eat a lot of it, just in case, though it shouldn't pose a threat to you health wise. For more information, read Will poppy-seed bagels cause you to fail a drug test?. My family doesn't use enough poppy seeds to need to worry about false positive drug tests. Being that the seeds are highly nutritious, I will rather try to include them more in my baking and cooking, and not view them as merely decorative, as I used to. I will also be on the lookout for a pure product, even if more expensive, and not settle for brands where other, inferior, look-alike-seeds are blended in.
If you have tried commercial poppy seed dressings of other brands, please leave me a comment to let the rest of us know how you liked them. In the meantime, enjoy this wonderfully delicious, nutritious romaine cashew cranberry salad! Please comment and rate this recipe if you try it; option is found immediately under the recipe. Thank you!!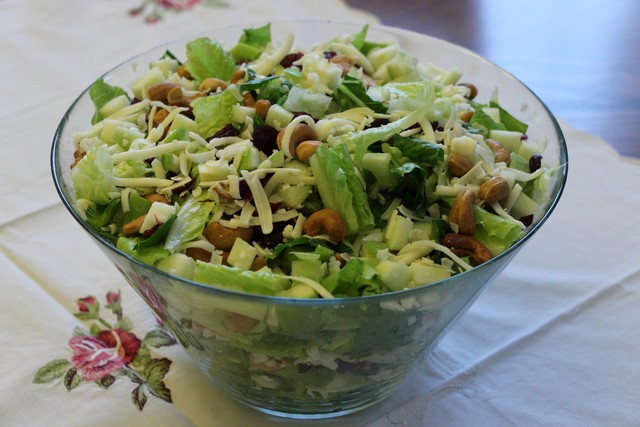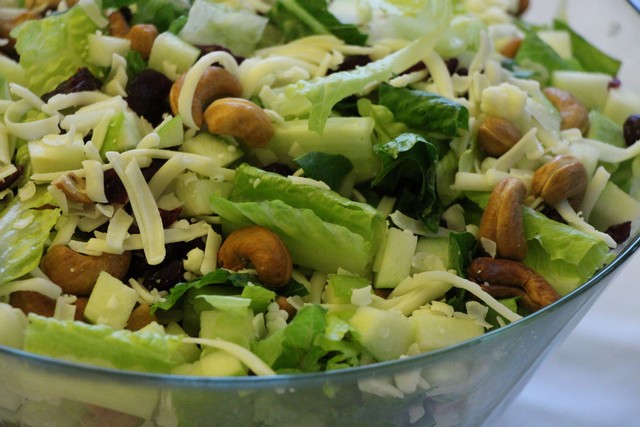 Romaine Cashew Cranberry Salad
This mild, fun salad with crispy, flavorful, sweet and tangy ingredients makes a beautiful addition to your table, and a joy to serve.
Ingredients
1 - 1½ heads romaine lettuce
½ Lb raw, unsalted cashews
5 oz dried cranberries
4 - 6 oz Monterey Jack or Swiss cheese, shredded
1 - 1½ green apple
2 tsp lemon juice
Poppy seed dressing or raspberry vinaigrette
Instructions
Spread cashews in a baking pan, and toast in oven at 250° for 30-40 minutes, stirring every 10 -15 minutes until they are medium golden brown. Set aside to cool.
Thoroughly rinse the romaine lettuce.
Thinly cut or tear lettuce into thin strips, then run through a salad spinner to dry.
Cut the apples into thin strips or small cubes, put in a bowl, and sprinkle lemon juice over the pieces, mixing well with a spoon to coat.
Layer salad, then cashews, cranberries, cheese, and apple pieces in 3 separate layers in a serving bowl, tossing each layer very lightly and gently to mix, careful to prevent the heavier pieces from falling to the bottom of the bowl.
Serve with poppy seed dressing or raspberry vinaigrette on the side.
Notes
If you use a half recipe, it is sufficient to layer all of the lettuce in the bowl first, then all the rest of the ingredients on top, then toss gently.