Winter of 2010 I started seriously thinking about the possibility of putting in a vegetable garden. It had been on my mind for several years to try my hands at gardening, but with three young children I didn't feel I had the time or energy for it. So it remained a future dream. Now, in 2010, I finally felt that the time had come. But where to start? How to plan and go about it? The task seemed overwhelming, so much to learn and do, and there was so much information out there that I didn't know where to begin!
January became February, and I still didn't have a clue what to do and where to start; it was easier to put things off and not really do anything until the soil was workable anyway. February gave way to March, and by then I had seen packets of seeds at the store, and excitingly picked up a few different ones. It all looked so fun to try! Soon thereafter I met a neighbor who had years of gardening experience. I told her about my plans, and that I thought it would be neat to plant tomatoes from seed. "Well, you've got to get started then, tomatoes take a long time!" she said. So that was a little kick to get me started. She gave me some advice on what to do, and before I knew it, I had little tomato seeds planted in styrofoam egg cartons! How exciting! I covered them with plastic wrap, poked a few holes in it, and placed them in window sills with bright day light where I would see them daily and not forget about watering. This was all that was needed to really get me excited and start learning. By the time I saw the first little seedlings sprout, I was hooked! I soon had trays everywhere, with different seeds growing!
One of the first things we needed to figure out was where to put the garden in the first place. Thinking that vegetables needed a lot of nutrition, we assumed that it should be placed in the lawn somewhere, since this part of our very sandy soil contained top soil for the sake of the lawn. Top soil was necessary, wasn't it? As we thought more about it, we came to the conclusion that as long as we water and fertilize, sandy soil should be just fine; that's how the pioneers in this country started out, after all. They didn't have expensive top soil brought in from anywhere, but made do with what they had. We also found that others in our area have been successful without top soil as well. We now could take advantage of the field area around our lawn, and not have to worry about digging into, and turning sod.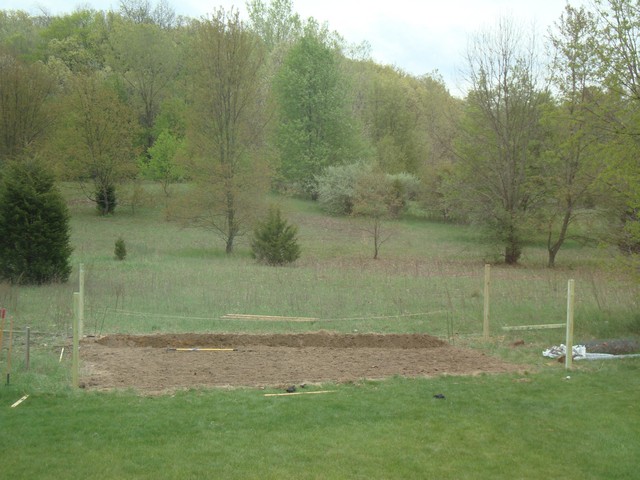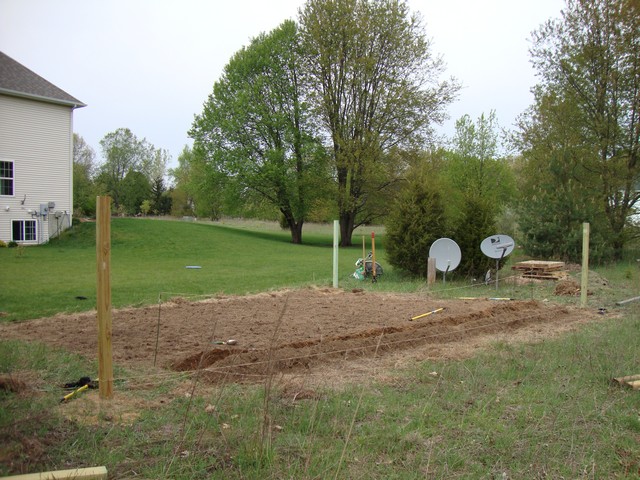 Throughout the late winter and early spring, I focused a lot of my time on learning. Having such limited experience with vegetables, other than potted tomato plants, I had been feeling so overwhelmed at where to begin my research. Secretly, I had been hoping that my husband would take an interest, figure things out and tell me what to do! That would have been so easy and pleasant! But this garden was my baby, and he didn't have any intentions of taking over this part of MY project! So I was on my own regarding the plants and what to do. I had to face my fears and dive into it, to learn what was needed in order to take off with it.
I started by making a list of the vegetable plants I wanted to focus on. After having planted my tomato seeds, it was natural to start reading and learning about tomatoes. And that's how things worked out: I read about one plant at a time, went though page after page using mainly the internet, until I felt I had a good basic knowledge about each plant. This included which plants could be started indoors, and which ones were better seeded directly outdoors, and when to plant. I did ignore a piece of advice about carrots, the information that they should be directly seeded outdoors and not transplanted, which was advice I later discovered I should have followed! I thought surely it couldn't matter that much, and besides, I was in a hurry to get them planted, and the garden area outside wasn't ready yet! More about that in a later post, but yes, it was a mistake. I also did some research that helped me plan the garden area itself; what to plant where, tall plants shading small plants, future rotation; lots of things to take into consideration. Once I knew which plants I wanted to focus on, I made a map, so that I was ready by the time the fence went up.
In May, we had finally decided on an area in the field on the side of our house. It was time to start digging, for sure! My husband got the area tilled, and put up a beautiful fence for me; click this link to see how, with picture tutorial. I would have been happy with any floppy ol' thing that kept the critters out, but he put up a fence worth showing off, or at least I think so: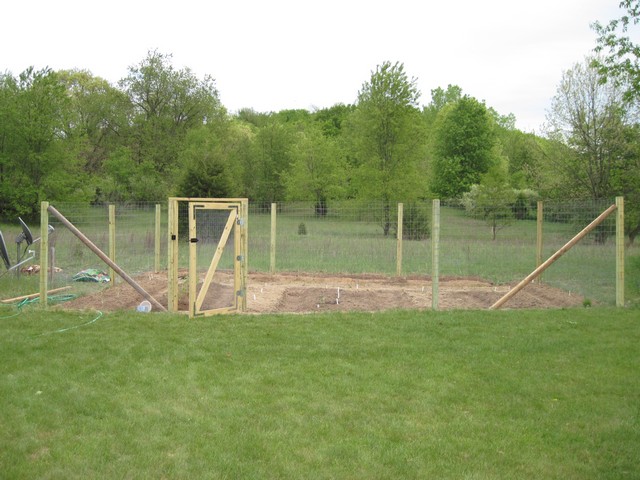 This first year I decided to plant a lot of different types of veggies, mainly so that I could get an idea of what I enjoyed working with, and what worked for me. I also had decided to plant a lot of my plants from seed, which added an extra challenge. I could have avoided a few steps by purchasing potted plants, but in addition to the learning experience, it saved us some money, gave me confidence to see it all grow and thrive, and it gave me a feeling of accomplishment that I otherwise would have missed out on. Though I made a few mistakes along the way, I have no regrets. I have since concluded that some plants are very well worth the effort of planting from seed, such as tomatoes.  Others, such as peppers, are not, at least not for me. Being such slow growers, I have come to prefer the larger, potted pepper plants I can get at the store.
Now that the fence was up, I could get the cold weather crops in ground, which included potatoes, carrots, cabbage, and lettuces. I got them planted in a jiffy. We were in business! Soon thereafter, the rest was in as well. From then on, it was just a waiting game to see what would happen next. I was out there constantly: watering, picking at weeds, checking things over, looking, wondering, and excitingly awaiting any changes in the various plants, enjoying the sight of growth!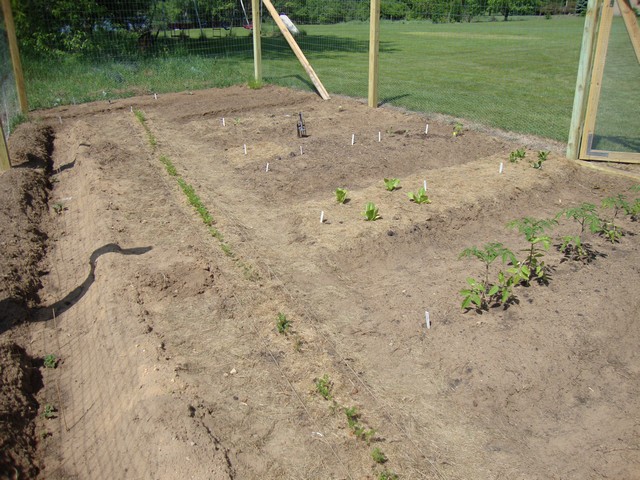 As this would be a year of trial & error and much learning, I did not expect a harvest worth mentioning. To my surprise, it went well beyond my expectations, and I had  a very good harvest by the end of the season.  Not all plants did well, but I was quite happy with the results. It can seem daunting to get started with a brand new garden, but I hope I've given you some ideas of what to do and how to plan and prepare for a garden for yourself! Here's my new garden, midsummer of 2010, with plants and vegetables growing and thriving.