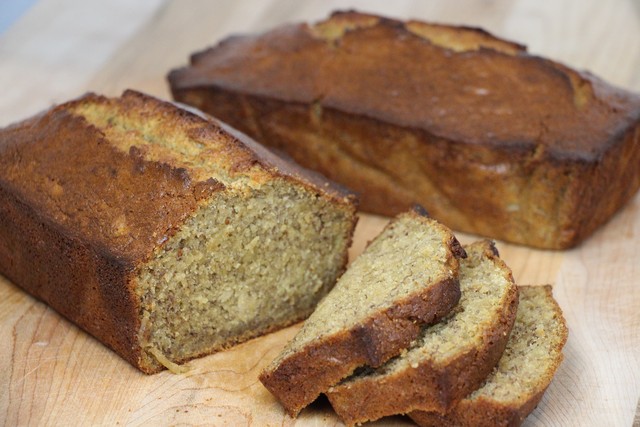 Banana bread has been a staple recipe in households across America for generations. Most recipes seem to be pretty similar to each other, and I find that they often are fairly bland. And there's really no reason for a bland result. It is so easy to make a banana bread packed with flavor and moist at the same time! After monkeying around with my original recipe, which was already a good one, I made changes to use real butter, brown sugar, more salt, extra vanilla, sour cream, and more. The result has been outstanding!
There is of course another major difference between most banana bread recipes: they come with or without nuts. Why some people choose to add nuts I will never understand. And of course, those same people cannot fathom that I would make mine without! Even so, nuts can be added easily and is optional in this recipe.
The resulting loaves are very moist and delicious with all these special ingredients to bring out the flavors. If you do try this recipe, I would really appreciate a quick comment with a star rating (option found immediately under each recipe). It helps me out tremendously! Thanks in advance!
Moist Sour Cream Banana Bread Recipe
To start out, use an electric mixer (or just a spoon) to beat together softened butter, brown and white sugar, and eggs. There's no need to beat hard, just blend together well. (Use dark brown sugar since it has a stronger molasses flavor than light brown; if you prefer to use light brown sugar, replace the white sugar to use all light brown sugar, measuring a total of 1 1/2 cups.)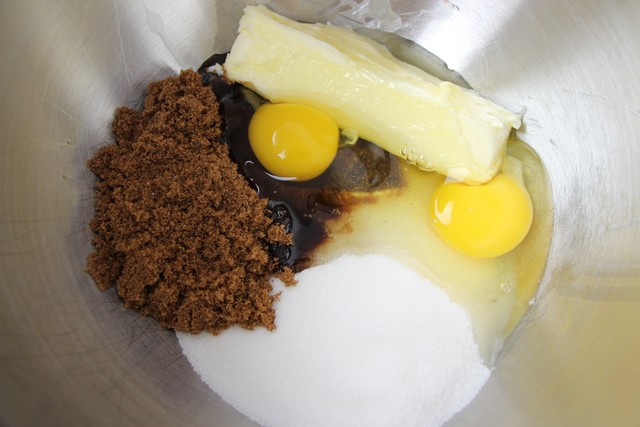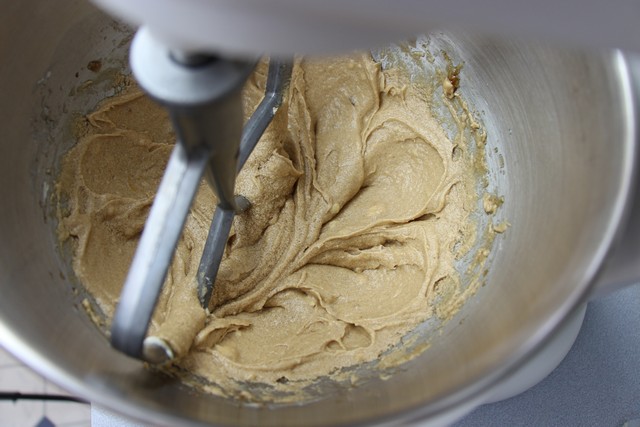 Mash up four medium, ripe bananas; they can be nearly black, that's fine.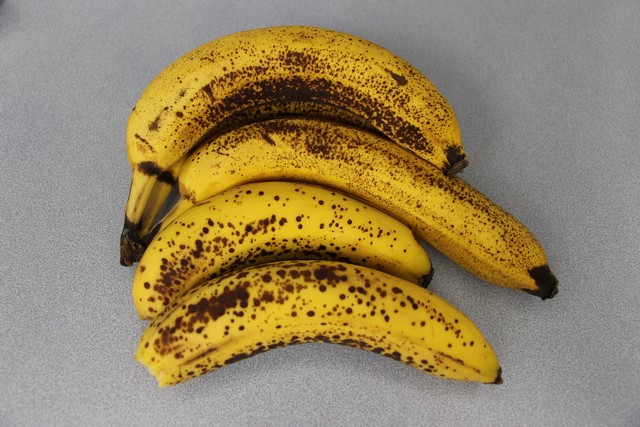 Mash up really well. A fork works great, it just takes longer.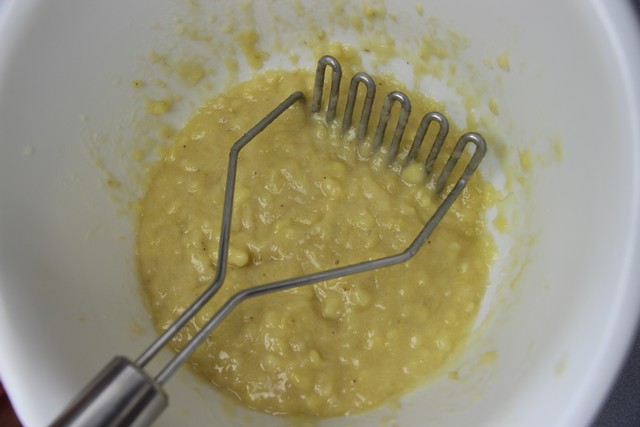 I never actually measure the mashed bananas, but I did it this time just to give you an idea of how much you'll get.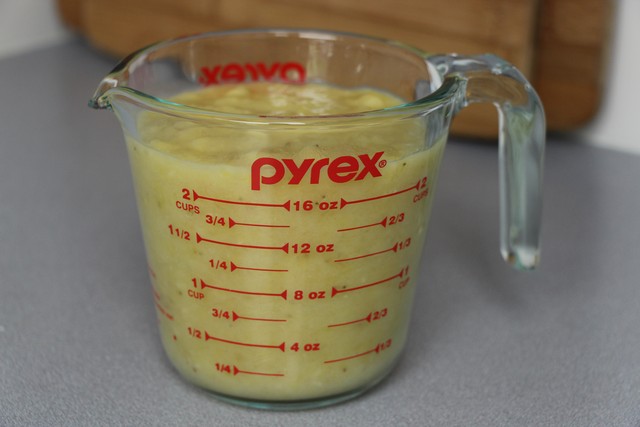 Also add vanilla at the same time, and mix very well.
If you can, use pure vanilla extract, not imitation. It's very cheap if you buy it at Costco and Sam's Club. If you don't have these stores available near you, you can also find it at Amazon (see this link) for less than at grocery stores, but Costco and Sam's Club is definitely the cheapest option, by far!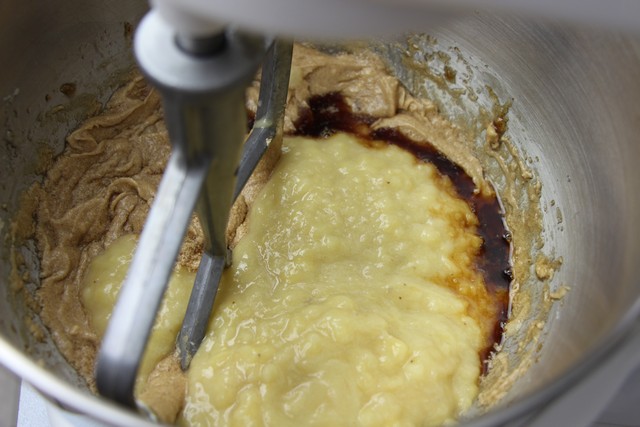 Then add flour, and again, mix very well.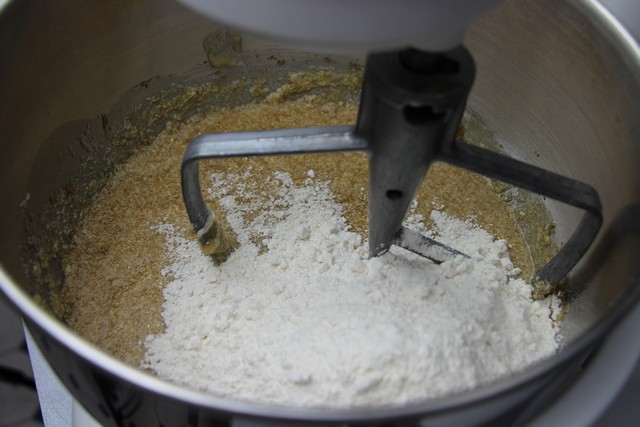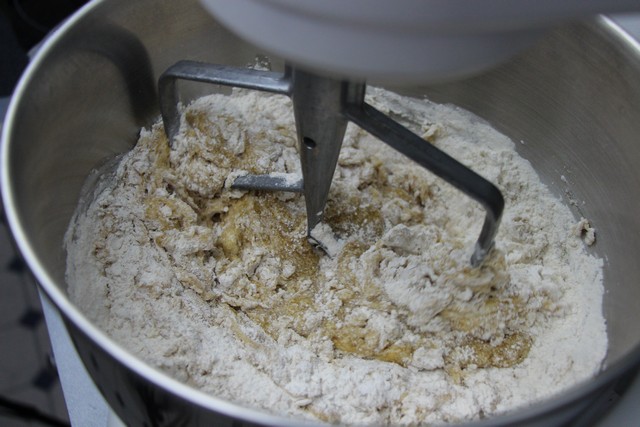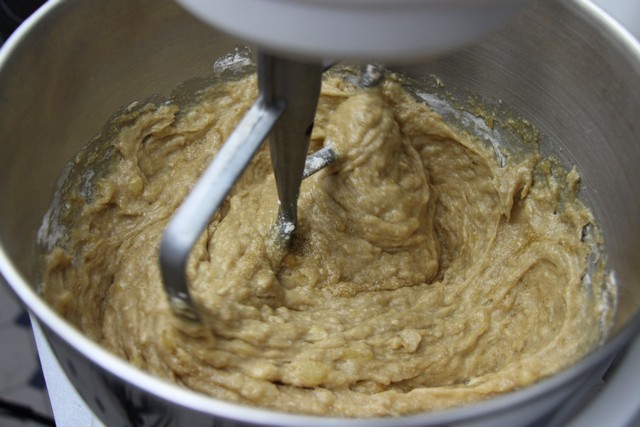 Add sour cream and mix it in.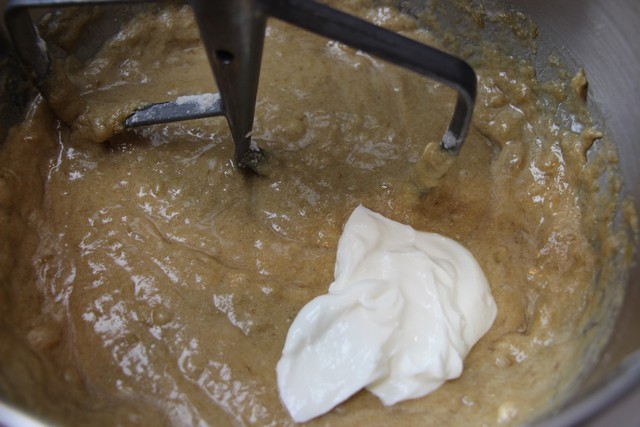 Measure up milk in a bowl; use cultured milk if you have it on hand. If not, just add a half teaspoon of white vinegar to make it sour.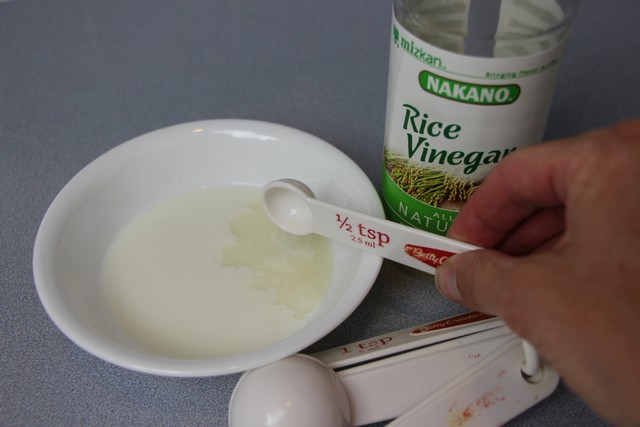 Also add a teaspoon of baking soda, and stir this solution together.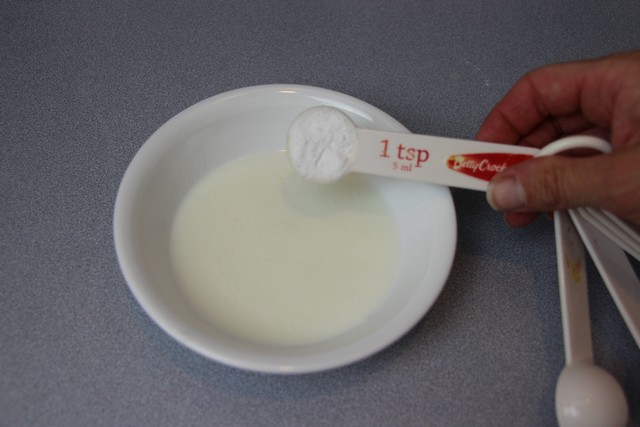 Heat the milk mixture in a microwave oven until it's warm and foamy. Pay attention and don't over heat as it will quickly boil over. 20 seconds or so should do it, depending on your oven. If you don't have a microwave oven, heating on the stove top just a little bit should also work.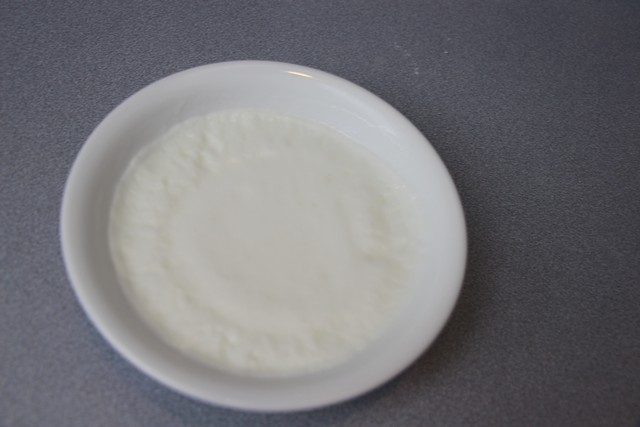 Right away add to the batter and mix well.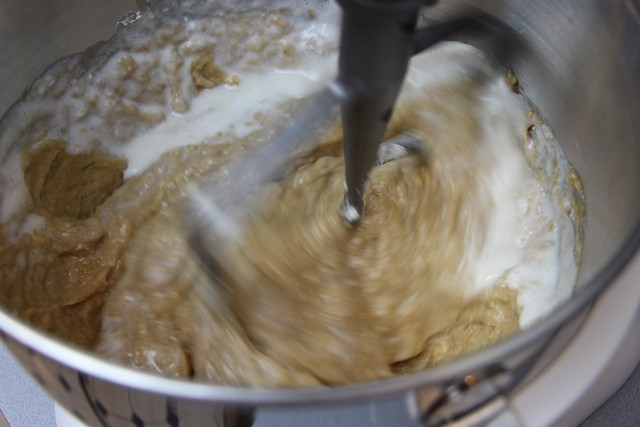 Prepare two medium sized loaf pans by lining them with aluminum foil, and grease well. Parchment paper can also be used, but this is harder to shape. Aluminum foil does need greasing as neither the shiny nor the dull side is non-stick. Bake at 375 degrees for 50-55 minutes or until a tooth pick comes out clean.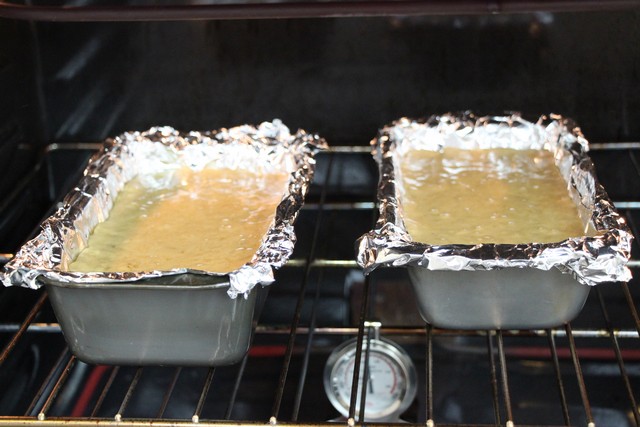 Gently invert onto a rack to cool. The aluminum foil should be easy to peel off since it's been greased.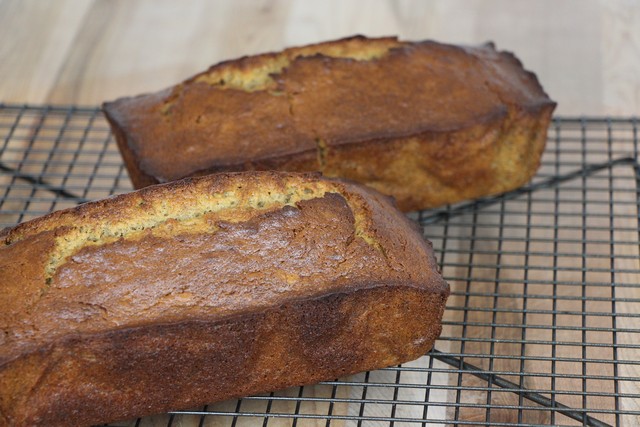 And there you go; beautifully baked banana bread, full of flavors and moist as can be! With sour cream and real butter, you can't go wrong; the added salt and extra vanilla also gives a great flavor boost! I hope you'll come to love this recipe as much as we do! Please leave me a comment and rate this recipe if you try it; option is found immediately under the recipe. Thank you!!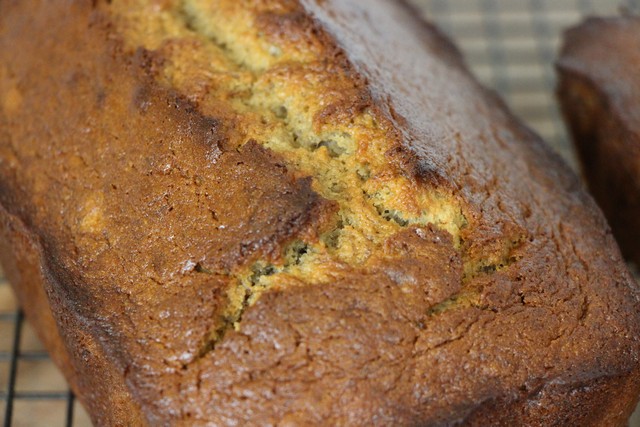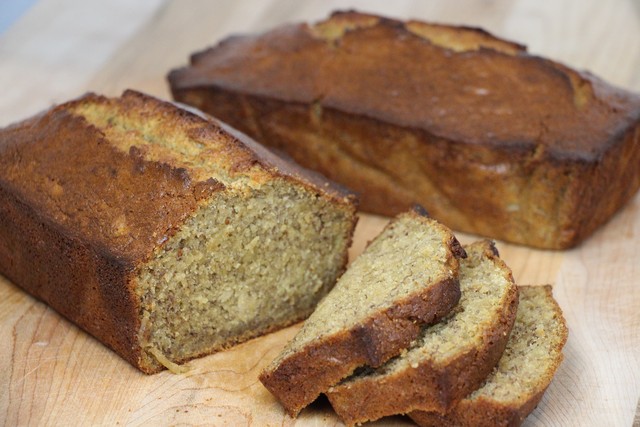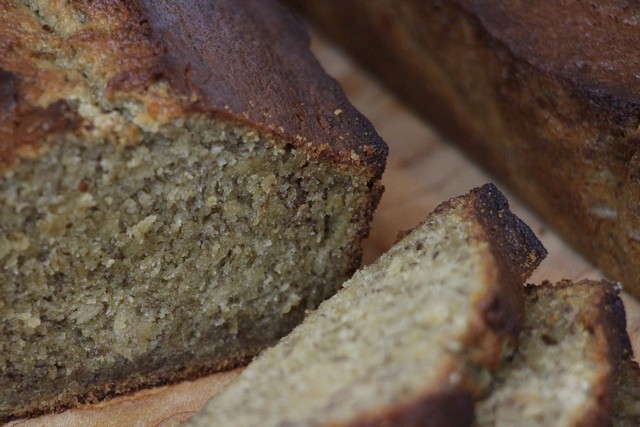 Moist Sour Cream Banana Bread Recipe
This banana bread recipe is exceptionally flavorful and moist. Made with or without nuts.
Recipe type:
Dessert, bread
Ingredients
1 c sugar
½ c dark brown sugar, packed
1 stick (1/2 c) butter, softened
2 eggs
4 medium, ripe bananas, mashed well
2 tsp vanilla
2¼ c flour
¾ tsp salt
¼ c sour cream
3 Tbsp cultured milk or butter milk, or use regular milk with ½ tsp white vinegar
1 tsp baking soda
Optional: 1 c chopped nuts, such as pecans or walnut
Instructions
Preheat oven to 375° F.
Prepare 2 medium loaf pans lined with aluminum foil, greased well.
With an electric mixer, mix together sugars, butter, and eggs until well blended.
Add mashed bananas and vanilla, mix again.
Add flour and salt to batter, mix until well incorporated.
Add sour cream.
In a small bowl, mix together milk, vinegar if needed, and baking soda. Heat in the microwave oven until warm and foamy. Add to batter and mix well.
If you prefer to add nuts, stir them in now.
Divide batter between the two medium loaf pans, until a little bit more than half way filled.
Bake at 375° F for approximately 55 minutes until a tooth pick comes out clean.