In Norway you can get a hold of delicious marzipan all year long. It is commonly rolled out into a large, flat circle to use as a covering around cakes filled with whipped cream, or you can mold it and make beautiful and fun creations. It is also sold in chocolate covered shapes during Easter and Christmas.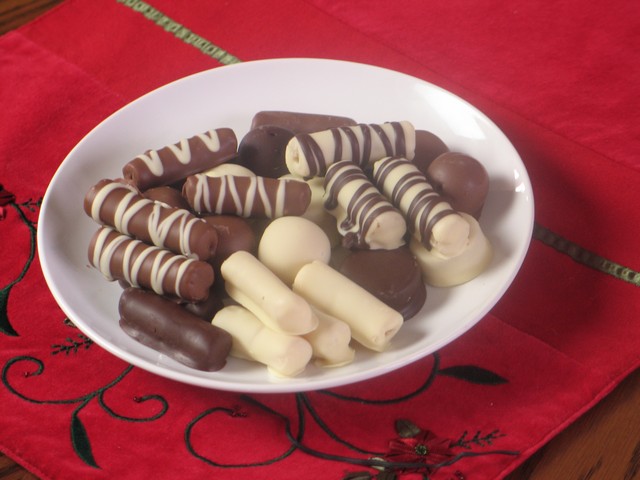 Some people, myself included, like to roll it out into simple shapes at home, to dip in melted chocolate as a holiday treat. It's a bit harder to get a hold of marzipan in the U.S., but this year I found it in one of the coolers at our local grocery store. I have also seen recipes on how to make it yourself, though so far I have not attempted it. With Christmas quickly approaching,  I decided to purchase a piece along with some delicious European chocolate sold at Aldi, a discount supermarket chain based in Germany. As they have stores all over the U.S. as well, I happen to live fairly close to one of them and was thrilled to find that they sell such high quality chocolate. It melts very well and is extremely smooth and tasty.
I used 10 ounces (just shy of 300 g) of marzipan and altogether 7 ounces (200 g) of chocolate, which resulted in some leftovers. In a pinch, I would think that 150 g of chocolate would do.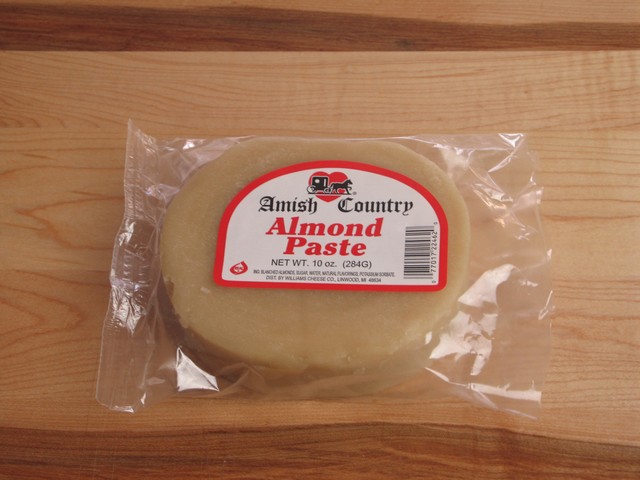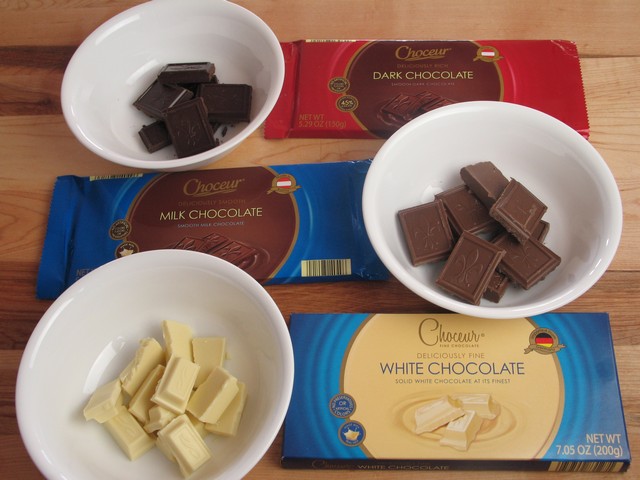 Edit: The recipe used for the white chocolate pictured above must have changed since I wrote this article. It no longer melts well and I will not be using it for recipes needing melted chocolate. I now use Baker's Premium White Chocolate Baking Squares as I've had good experiences with melting this brand of chocolate.
When I first started to roll out the marzipan, I discovered that it was quite dry and crumbly. So I moistened my hands with a bit of water and kneaded it before trying again, and this time it was a lot more smooth and easy to work with. Notice the two little "logs" I rolled out; the one to the left is very dry, while the one to the right (after adding water) is much more smooth and pliable.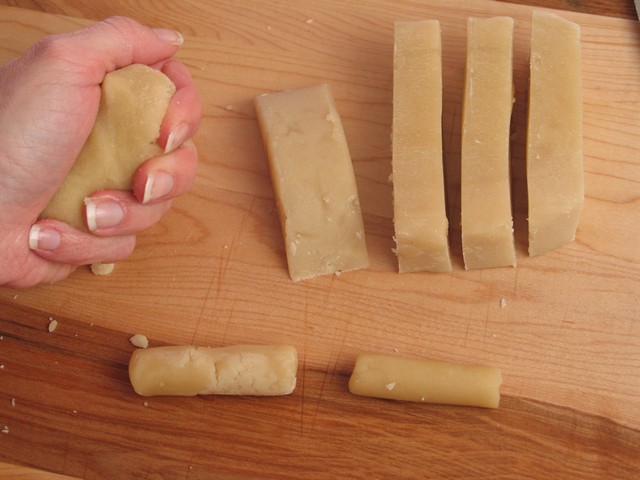 Once the marzipan was moistened and kneaded, I rolled and shaped. Little balls, logs, and some cut into disks. Quick and easy.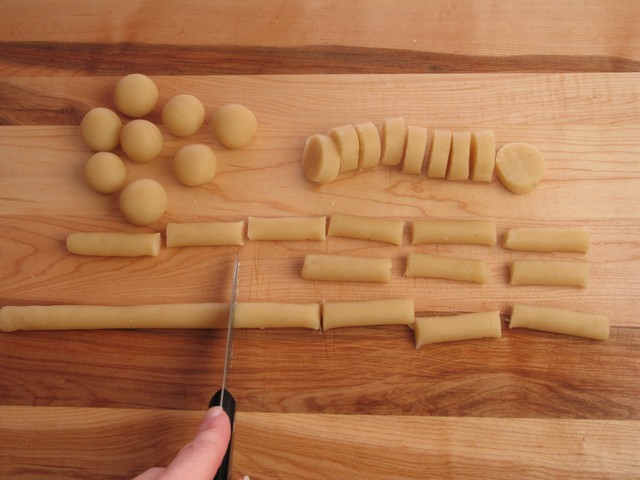 I then melted the chocolate; dark, white, and milk chocolate. For simplicity, I decided to use the microwave, but only 15 seconds at a time, stirring in between until melted. Don't overdo it, or you'll end up with a crumbly mess. Once chocolate is over heated, there's really nothing you can do to restore it. It is ruined and you'll need to start over.
When melted, I dipped each piece of marzipan in the chocolate, using a spoon to cover it.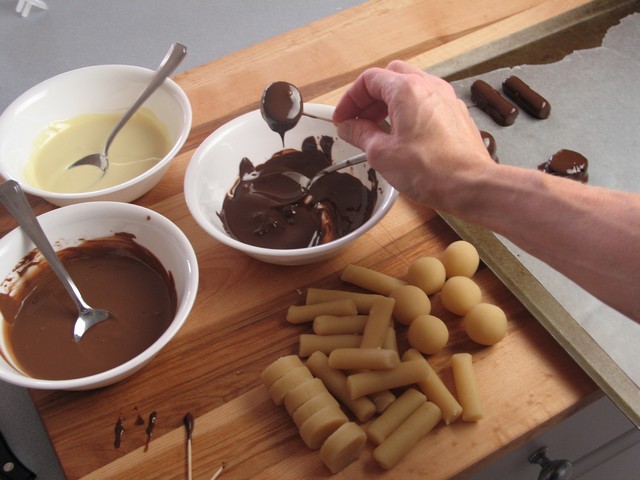 I used toothpicks to pick them up and transfer to a cookie sheet lined with wax paper (you could also use parchment paper.) I let some of the leftover chocolate drip off, and scraped the underside a little bit with a tooth pick to remove the excess.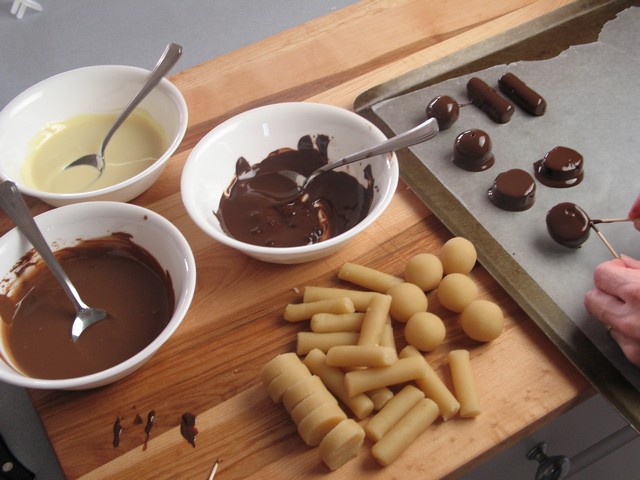 At the end, seeing I had leftover chocolate, I decided to fill a corner of a cheap, small plastic bag with a little bit of it, and use it to decorate a few of the pieces. I just cut a tiny hole in the corner of the bag and squeezed it to pipe out chocolate. (Just use your imagination, it doesn't have to be anything fancy.) I did simple little zig-zag lines for the most part; couldn't be easier, but looks impressive. And, of course, light on dark or dark on light looks nice.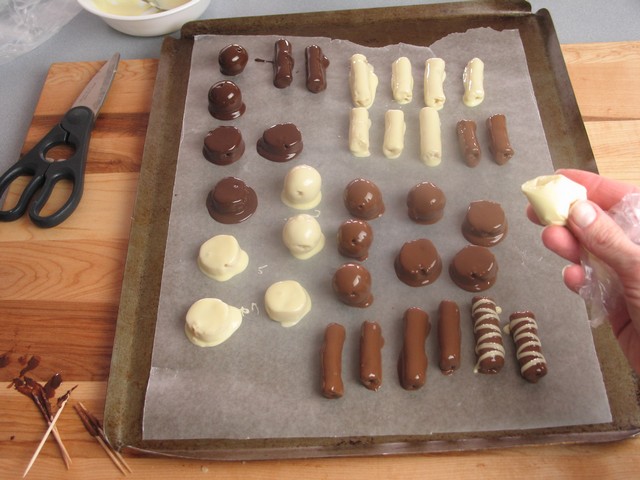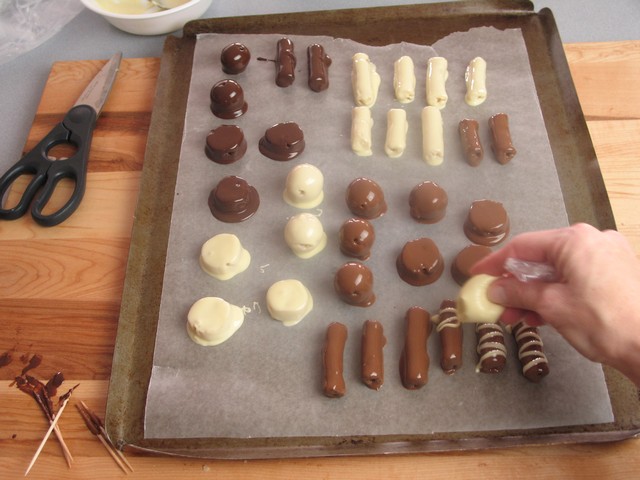 Once done, I put the tray of marzipan in the refrigerator to cool for 30 min. to firm up. At that point the chocolate could be handled enough to be transferred to a platter, but any more handling and the heat from my fingers would have melted this delicate, delicious chocolate, as it has a very low melting point. I typically make these treats during Christmas, though they can be served year-round.