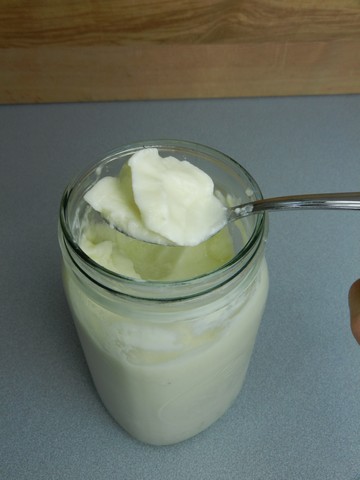 Homemade, plain yogurt is easy enough to make. But how do you make sweetened vanilla yogurt without turning it into a runny mess? In this post, I will show you how to make thick and creamy, wonderful homemade vanilla yogurt using a cooler as an incubator, and of course I will share the recipe as well. If you do try this recipe, I would really appreciate a quick comment with a star rating (option found immediately under each recipe). It helps me out tremendously! Thanks in advance!
Is yogurt good for you, I mean, really?
Yogurt is good and good for you, isn't that what we've leaned? Looking at the ingredients list at the grocery store, one can begin to wonder if this is really true after all. What had me wonder was the high sugar content, "other" ingredients, and live cultures, or rather, the lack thereof. As I've read about it and looked more closely at ingredients lists, I have found that store bought yogurt often contains loads of sugar, artificial colors and flavorings, and not all of them contain live cultures. Sure, the culture is alive when it first starts out, but not necessarily by the time the yogurt ends up at the store. According to an article by Dr. Weil, MD, yogurt is sometimes heat treated after the fact to increase shelf life, which kills the precious living bacteria that we need. "Made with" doesn't mean "still alive". Look for "active" or "living" cultures. OR: simply make it at home!! It's easy, cheap, absolutely delicious, and you decide what goes into it. Even though I do believe plain is better for you, personally I love sweetened vanilla yogurt. I have found that it doesn't take near the amount of sugar to satisfy me as what I'll find in a container from the store. I'm OK with adding a little sugar at home.
Do you need to purchase an incubator for culturing?
Absolutely not! There are many ways of culturing without the use of yet another machine (incubator)
to take up room in your kitchen. Personally I have used my cooler with great success!
The Recipe
You also need a great recipe, which I will provide for you with the help of two lovely ladies who not only gave me permission to use their recipe, but also took the time to go through a lot of details in how to make sweetened vanilla yogurt. I'll be forever grateful for all of your help and advice, thank you so much, Joyce Vogel and Martha Artyomenko!
Plain yogurt is easy to make, using a tiny bit of yogurt containing live, beneficial bacteria as a culture. Sweetened yogurt is harder to make, but this recipe helps you make sweet vanilla yogurt that keeps its shape and doesn't end up a runny mess. Adding pectin powder is one of the secrets!
The Process
I like to make a gallon at a time, because it tastes so good that we go through it pretty quickly. This recipe can easily be halved as well.
I start out by pouring a gallon of whole milk into a big pot with a heavy bottom. (You might be able to use low fat milk as well, but it is said that whole milk will produce a thicker, creamier yogurt.)
I heat the milk to 190° F, using a digital thermometer to guide me along. This is basically the point where the milk is really steaming, but definitely not boiling.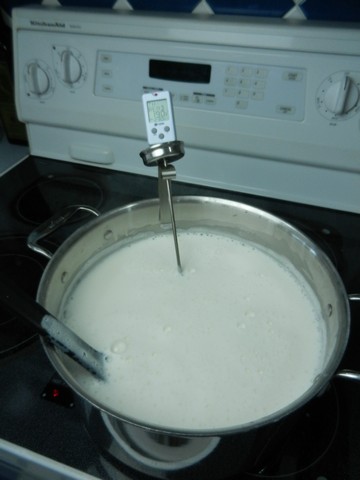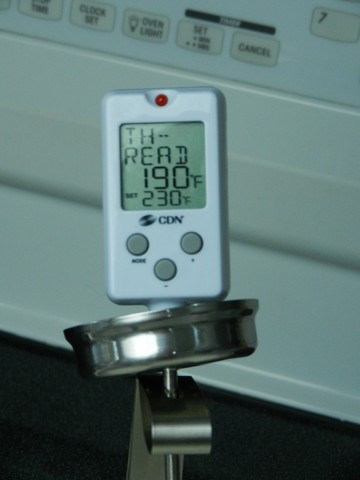 Then I let the milk cool to 130°, while I prepare other steps.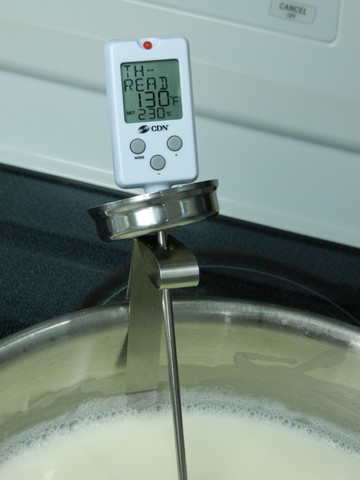 While I wait, I measure up sugar (reserving 2 Tbsp) and vanilla; I just pour the vanilla into the sugar to get rid of stuff from my counters.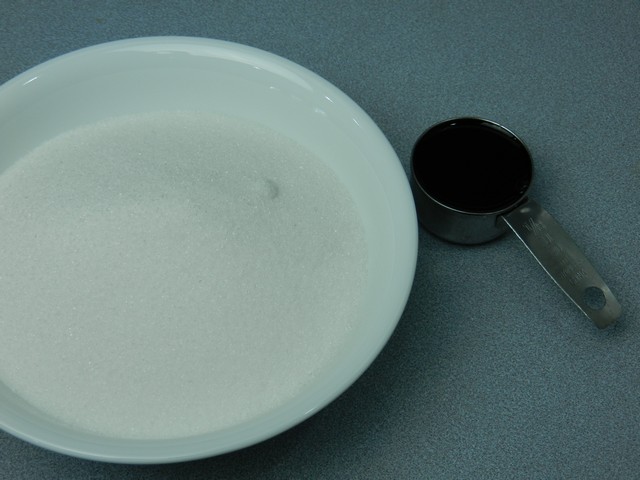 Then I whisk together the remaining 2 Tbsp of sugar along with 1 Tbsp pectin powder in a tiny pot. 2 Tbsp gelatin powder can be used in place for pectin powder, plain or flavored, though Mrs. Vogel and Mrs. Artyomenko recommends pectin as it gives the nicest texture.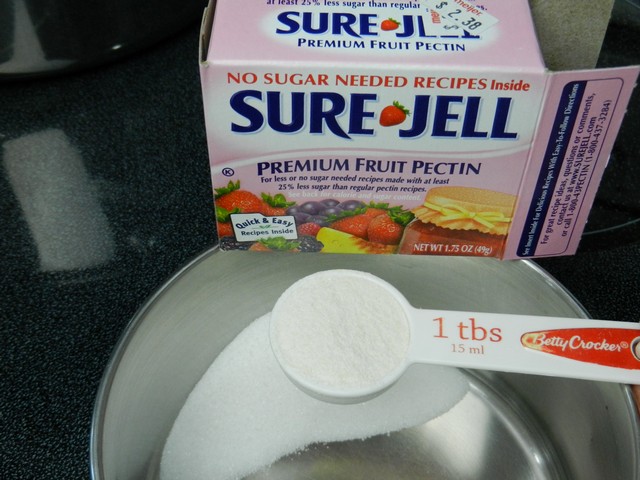 Without heating it yet, add 1/2 c cold water, whisking well until completely dissolved. I set this aside for now; I'll heat it up later.
The type of whisk below is very commonly used in Europe and works very well, and it reaches nicely to the edge of bowls and pots. They can be found at Amazon and sometimes in specialty kitchen supply stores. I own three in different sizes and I use them all the time.
Next I measure 4 Tbsp (1/4 c) yogurt from the store that I'll use for a starter. Your own yogurt can be used next time, but reading comments from people who have done this several times, it seems as if the effect only lasts a few times. Then they start having problems with their yogurt setting properly, until they use store bought yogurt again. So far I've only used starter from the store, I've never tried homemade yogurt as a starter.
This time I used plain yogurt. Flavored yogurt will work as well, as long as there are no berries or jam involved, also as long as the yogurt contains live and active cultures. I usually use a mixture of Dannon and Activa, because I like the idea of the combination of the types of bacteria used in these yogurts.
A word of caution: More starter is not better when it comes to culturing. Stick to the amounts given; if you add much more, it can cause problems with the culturing process.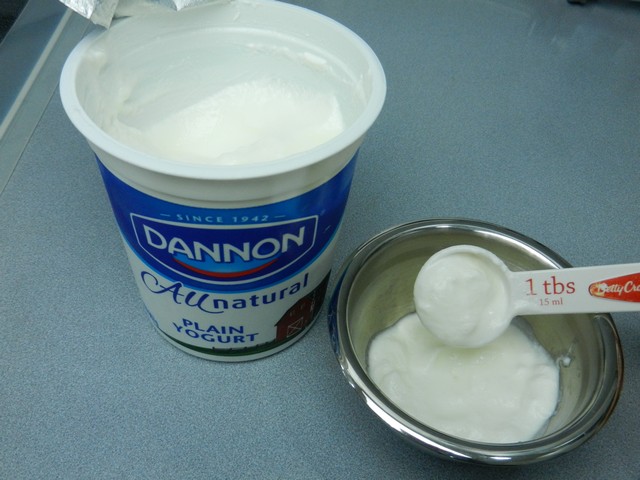 I'm still waiting for the milk to cool down, so I'll gather the jars and the rest of the equipment: Large and small measuring cups (not necessary, but helpful), strainer, pot holder. I purchased plastic lids for my glass jars because I found that the metal rings rusted when placed in water for several hours. I've been very happy with these plastic lids, they work well and look pretty. I have found, though, that they need to be screwed on very tightly if the jars are inserted under water in the cooler. These are the lids I use: Ball Plastic Storage Caps and Wide Mouth Caps.
I prepare the jars ahead of time; measuring a gallons' worth and figuring out how many jars I need. They need to be properly cleaned to avoid trouble with strange bacteria growth during the fermentation process.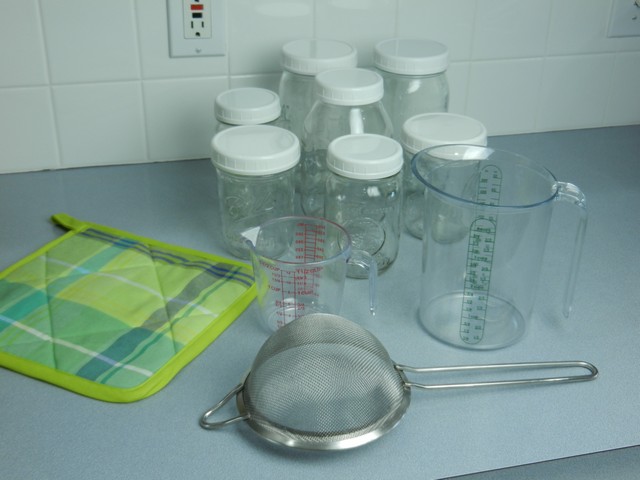 When the thermometer shows 130° F, the milk is very warm but no longer hot. According to Joyce Vogel and Martha Artyomenko, anywhere from 110-130° will do.  It's time to add some ingredients to get going on the yogurt making. This will be fun!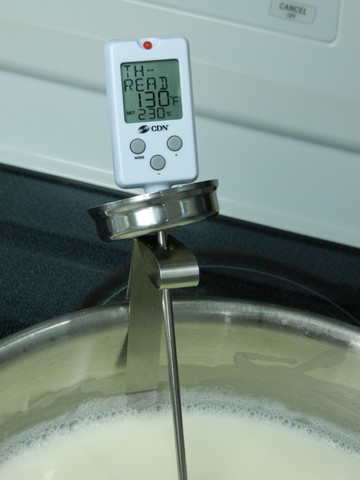 I add the sugar and vanilla…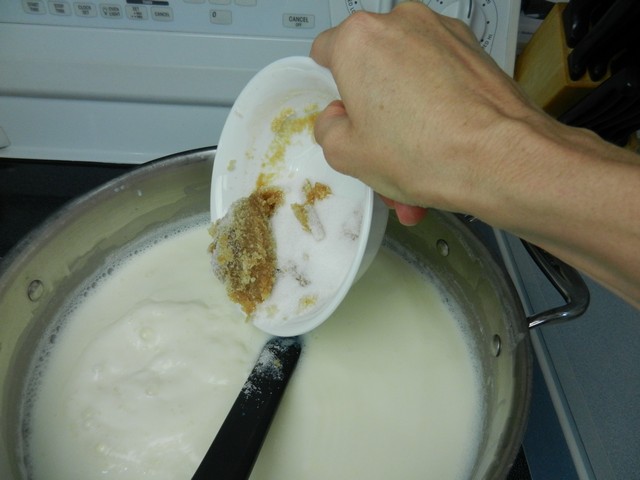 …and stir for two minutes. I have had some trouble in the past with grainy yogurt on the bottom of my jars, which is a rather unpleasant texture. I have found that stirring really well after adding various ingredients solved this problem. So, stir for two minutes.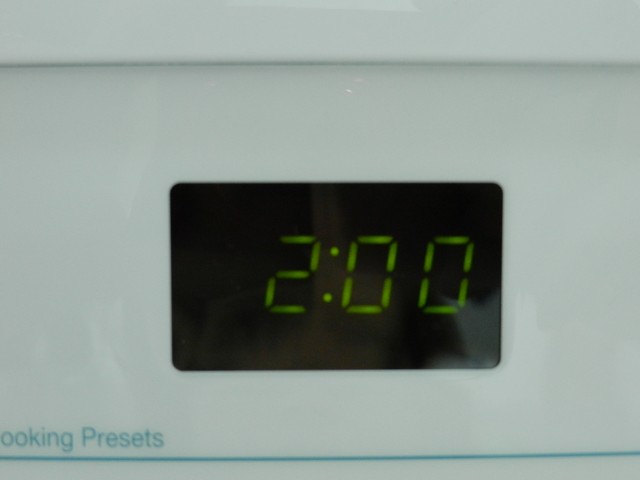 Now I heat up the little pot containing the pectin mix to a full rolling boil. Keep it boiling well for one minute.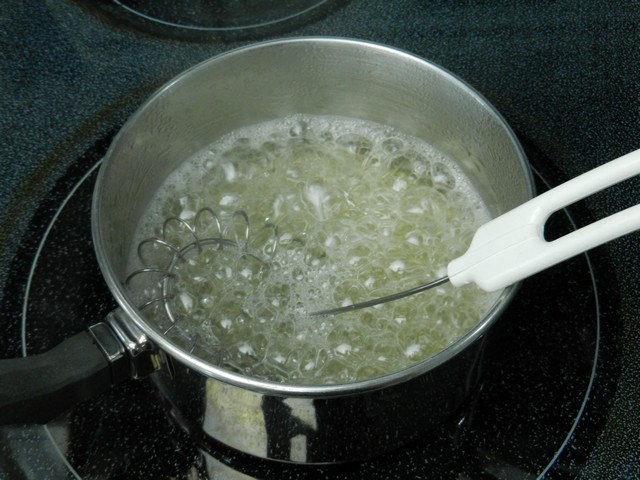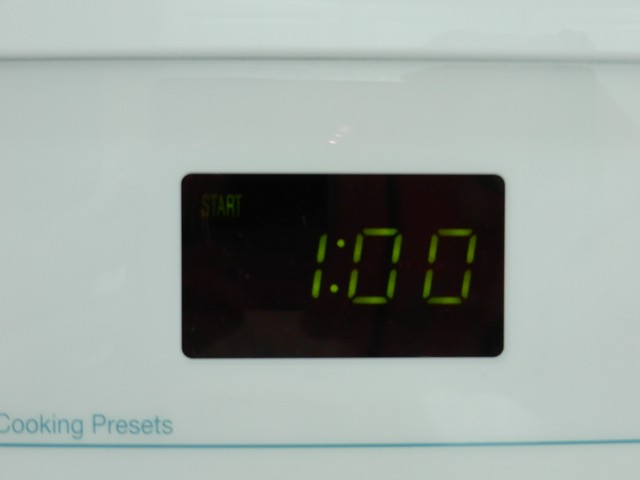 When the minute is up, I pour the pectin mixture into the milk in a thin stream while stirring the milk very well.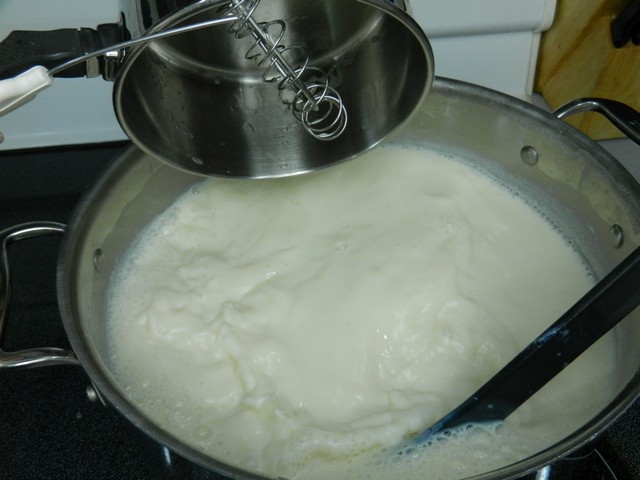 At this point I also add the yogurt starter, and stir well to blend it completely with the milk. It is very important to not add this culture before the milk has cooled down enough, otherwise the live bacteria will die and the culture will not work.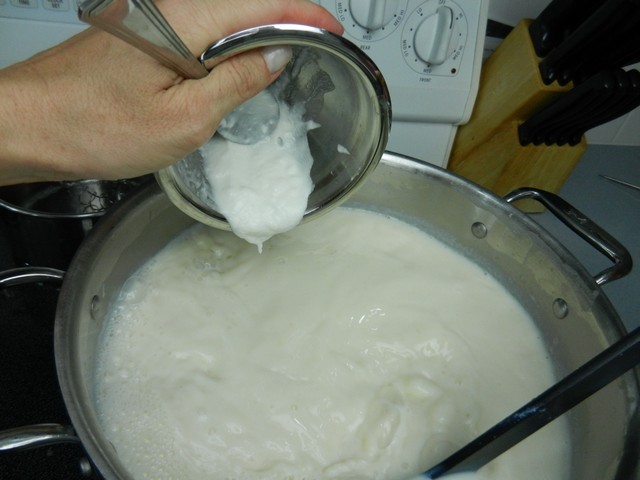 In fact, I start the timer again for two more minutes. I think this step is very important, in order to incorporate the pectin and yogurt completely.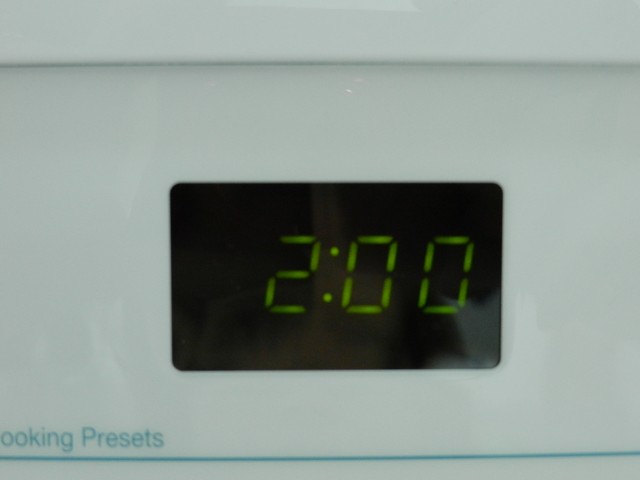 Now the milk is ready to be poured into jars. One time, but only once, did I try to pour it directly from the pot. It didn't go very well. I won't share more details than that. After that I've been using a little measuring cup to get milk from the pot. Then, and this is another very important step, I pour the milk into a large measuring cup through a strainer. Even after all this stirring, I still find little lumps and grains of stuff in the strainer afterward, which probably comes from the pectin mix and likely accounts for the grainy consistency my yogurt had in the past.
You really could strain the milk directly into the jars, but I think it's easier and faster if I use a large measuring cup.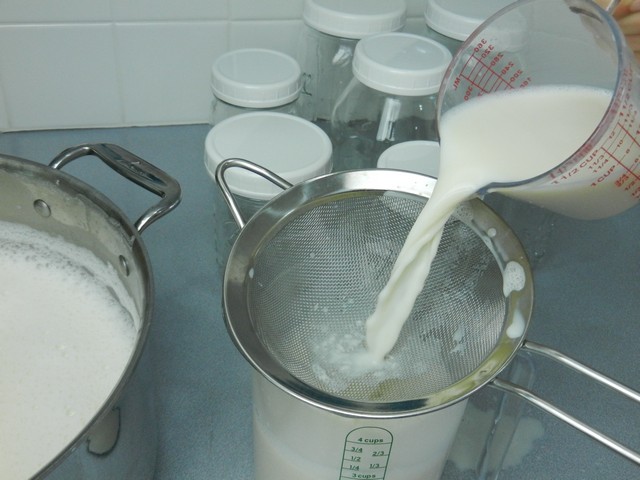 With a measuring cup, it's an easy job to pour the milk into the jars. I pour up to 1/2 inch from the top of the jar. I don't know if this is necessary or not, but it keeps my jars looking clean.
Up to here, then I stop: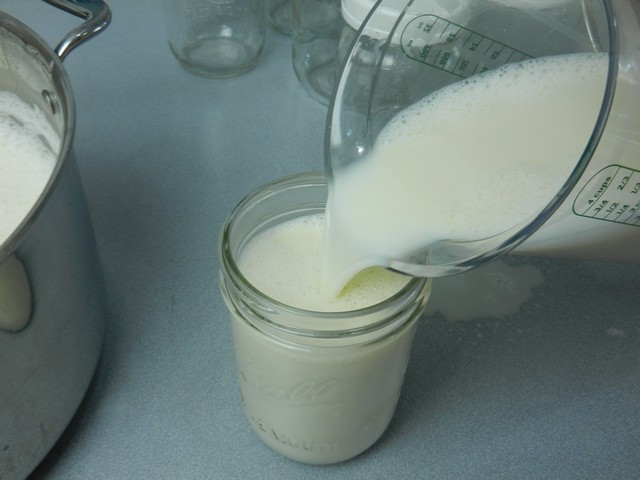 When all the jars are filled, I step back and admire my work. Wow! Look at that!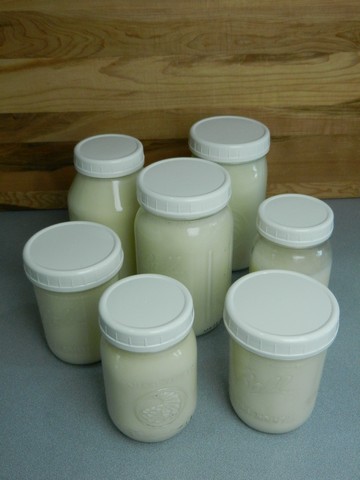 But I only take a few seconds to admire my jars, then I quickly put them into my large cooler. Because I worry about any drops of water from the cooler leaking into the jars, I try to keep the smaller ones at the same height as the larger jars. So I put other, empty containers on the bottom to give them a little shelf to sit on. This time I forgot what will happen once I add the water. The air inside the empty containers will cause my jars to tip, that's what. So I had to reach into the very warm water to straighten things out after-the-fact. It isn't hot-hot, but it feels hot enough when you stick your arms in there. Next time I'll try to remember to place the small ones inside the cooler after a bit of the water is in there, to empty out the air from the "shelf".
Just for your info, should you decide to get these nice plastic lids: When I tested them, I found that they would leak if they were not secured very tightly. After tightening more than usual, the jars wouldn't leak, but little air bubbles came out from the sides of the lids when empty jars were placed under water, looking like water was entering. The insides of the jars stayed dry, so that must mean the air came from the sides of the lids, not from inside the jars. I still worry when I see the bubbles though, so I like my lids over the water's edge.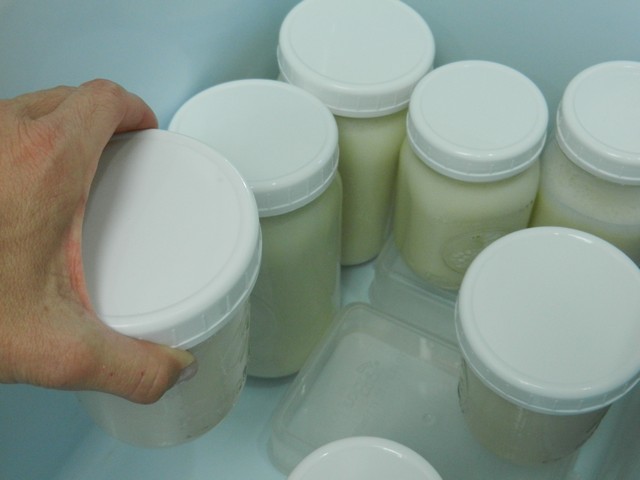 The water in the cooler should measure 130°; it can be a little bit cooler than that, but keep in mind that the water will probably cool down even more as it sits. So I like to start out with 130 degrees. The cooler will act as in insulator to keep the yogurt warm, which is necessary for the bacteria culture to multiply and grow. Just like you and I, bacteria thrive in warm temperatures; cold will make them sleepy and slow, while hot will kill them. The multiplying beneficial bacteria is what makes the yogurt, and this is why it is essential to keep the culture living. They can't multiply if they're dead, right?
I fill water up to the lids of the jars. I found that the hot water from my faucet, by the time it's in the cooler, measures a little over 130°, so that's been quite convenient for me. Even though a little bit over 130°, since the milk is in separate containers, it's been OK.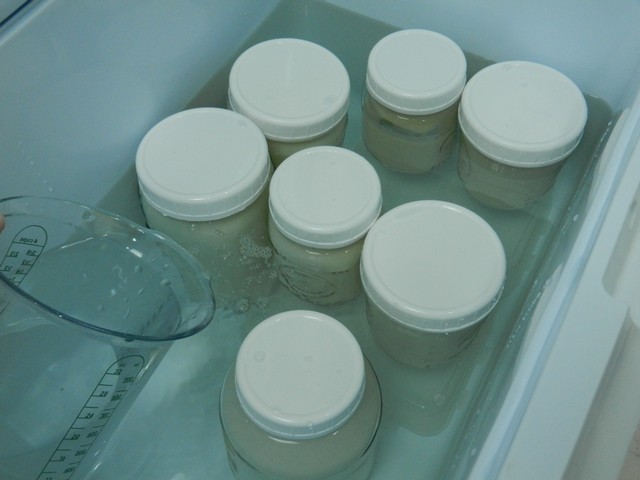 I close the lid, and let the jars sit for 6-8 hours. The longer the milk sits, the more tart the yogurt will be. The last time I made it, I actually forgot all about it; I made it early during the day and was going to take the jars out before I went to bed. Since I forgot, they were left to culture overnight, a total of 18 hours or so. I feared the worst, but it ended up just fine. The yogurt was a bit more tart than usual, but still very good.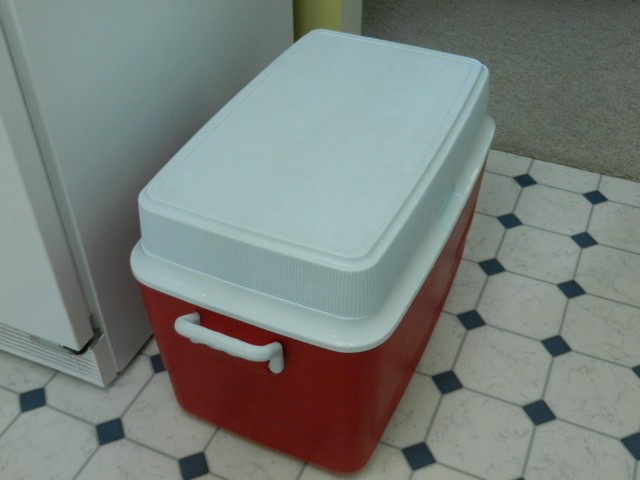 This yogurt is now done. Very nice and warm straight from the cooler. Since we use raw milk (very clean and from free range, well cared for, tested, and vaccinated cows), the top layer of the yogurt is milk fat that rises to the top. It looks a little funny, but it tastes nice and super creamy!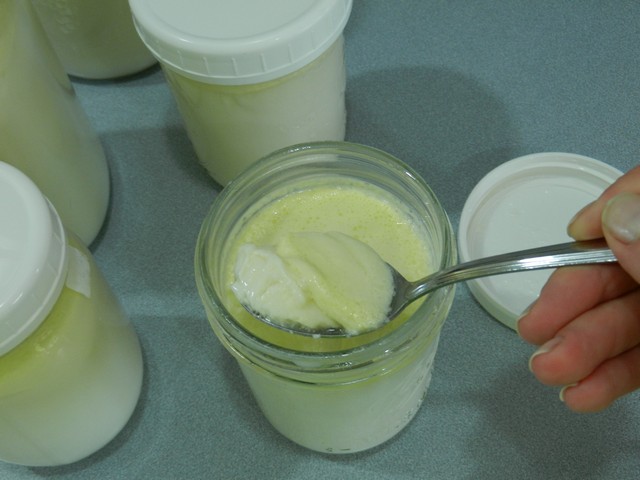 While still warm from the cooler, the yogurt is a bit soft and fragile, but will firm up more as it cools down. All jars are now placed in the refrigerator and used little by little.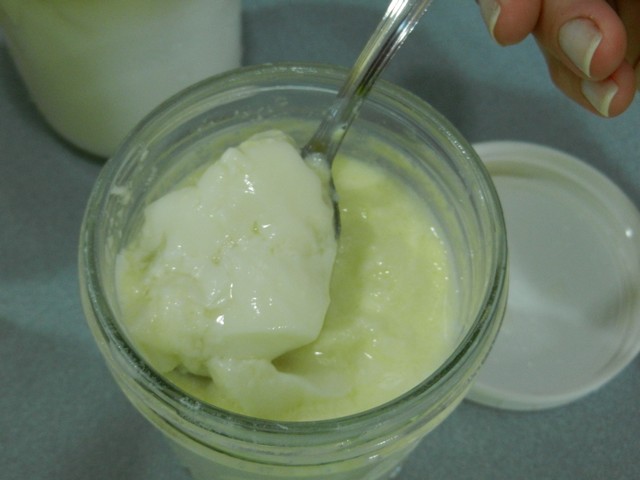 This yogurt has had the time to firm up in the refrigerator: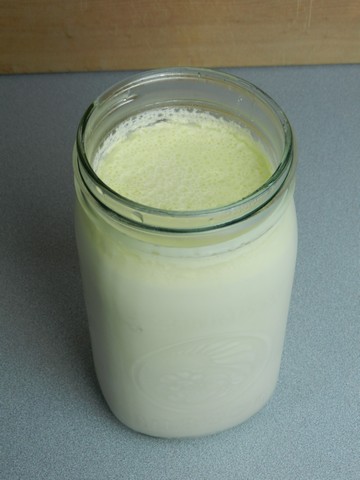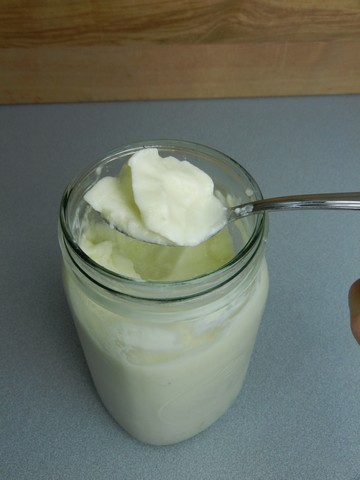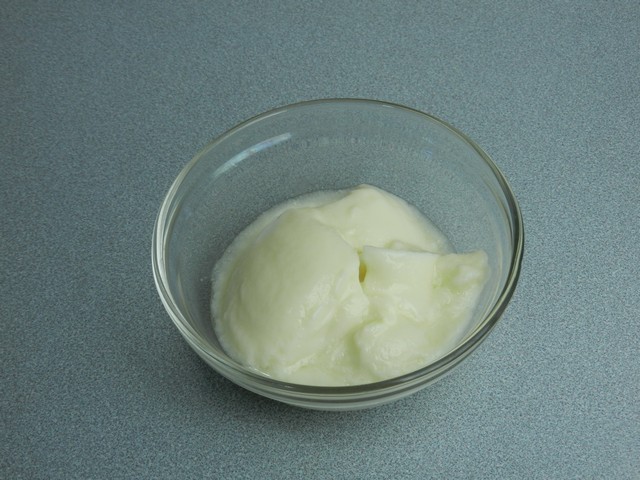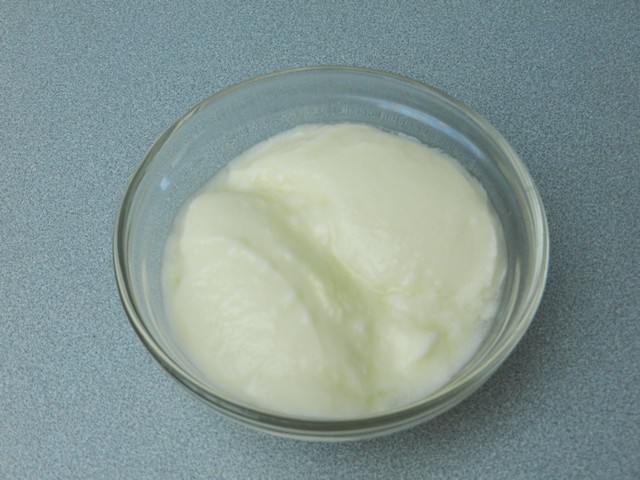 Ways to keep your yogurt culture warm
Other alternatives to keep yogurt warm for incubation:
*The oven, keeping the oven light on for warmth. My oven light doesn't produce enough heat, so it wouldn't work for me.
*Some people will pour the milk into a crock pot and keep it warm (unplugged) by covering with towels. The downside is that since with any yogurt, but especially homemade, whey will leak out whenever you stir or cut into it with a spoon, which is unavoidable when removing it from a crock pot into jars. So I prefer to keep it in jars from the beginning, to keep it nice and together and minimize leaking of whey. The whey is the watery stuff you'll often see in yogurt. It is edible and you can stir it back in, but stirring does ruin the consistency somewhat.
*You can also purchase a yogurt maker
, but I really don't see the point if you already own a cooler. More money to spend, and more stuff to store. I will stick to my cooler.
It is wonderful to be able to easily make vanilla yogurt right at home, where I can control what goes into it. The following recipe helps me achieve that thick, smooth, creamy consistency that I love, adding some sweetness without an overload of sugar. And I love that I don't have to purchase an incubator since I technically already have one: My good, faithful ol' cooler! Please comment and rate this recipe if you try it; option is found immediately under the recipe. Thank you!!
Yogurt is fun to make, and requires no extra machine for culturing. A cooler works well for incubation.
Ingredients
1 gallon whole milk
1½ c sugar, divided
2 Tbsp vanilla extract
1 Tbsp pectin powder
½ c cold water
¼ c fresh Dannon yogurt, plain or vanilla (no jam)
Instructions
Heat milk in a heavy pot, to 190° F.
Cool to 130° F (110-130° is OK)
While milk is cooling, measure up sugar (reserving 2 Tbsp for later) and vanilla. Set aside.
Mix together the remaining sugar, and pectin power in a small pot; whisk in cold water and mix well until dissolved. Set aside.
In a small bowl, set aside the yogurt culture needed.
When milk has reached 130° F, add sugar and vanilla, and stir for 2 minutes until dissolved.
Bring the pot of pectin mixture to a full rolling boil. Keep boiling for 1 minute.
In a thin stream, pour the pectin mixture into the milk, stirring well while pouring.
Add yogurt. Keep stirring well for 2 more minutes.
Pour into clean jars through a strainer.
Place jars in a cooler, then pour very warm water into cooler (130°F) until it reaches the lids of the jars.
Close the lid of the cooler, and keep the temperature at 110-130° for 6-8 hours, or until your preferred tartness has been reached.
Place jars in refrigerator to cool down.