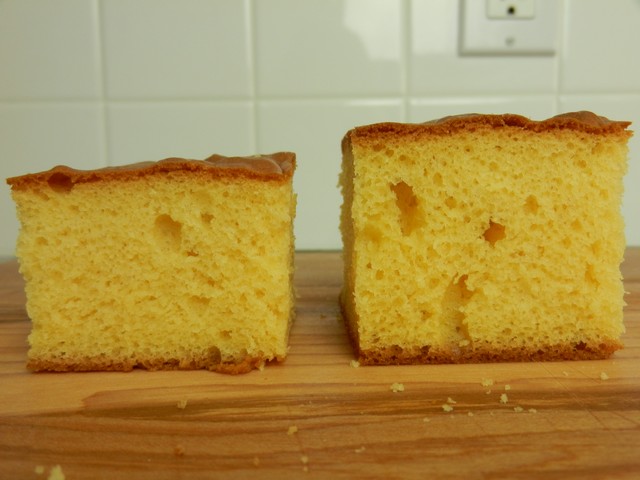 Using a box cake mix is a very convenient and easy way to quickly whip up a delicious cake. I want to share with you some simple tips that I hope you will find helpful in order to make these cakes even better.
Tip number 1: How to fluff it up and make it taller:
If the box calls for more than 1 cup of water, I have found that it is best to use a little less than called for, sometimes down to 3/4 cup. In general, I just make sure the cake batter is a little on the thick side, because I find that the cake will rise better to be taller and fluffier. I baked two cakes side by side to show the difference. In the first picture, I added the amount of water that the box called for: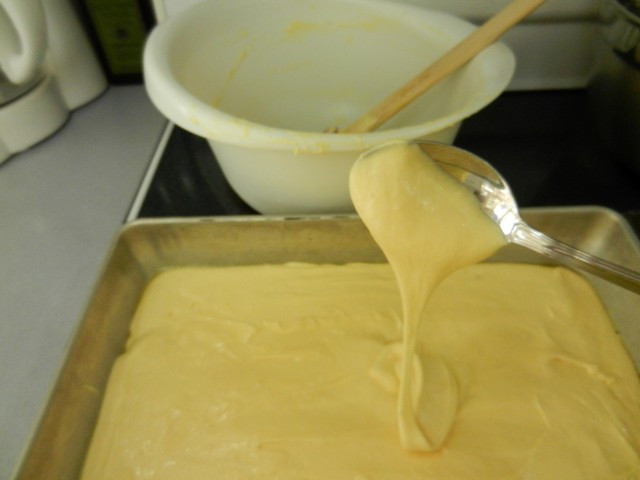 In the second picture, I put in a bit less to make the batter thicker.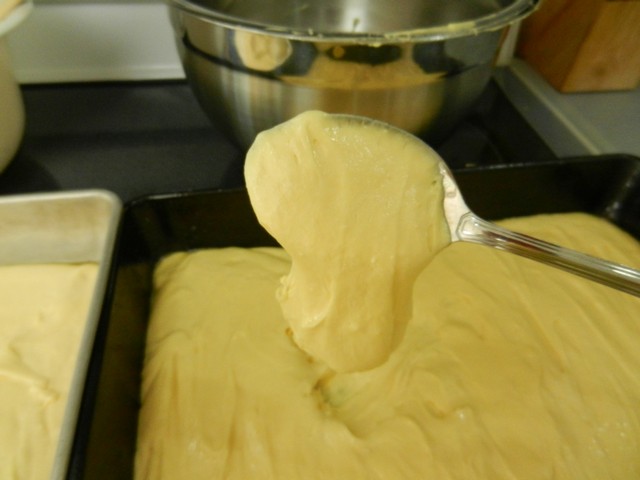 As also seen at the top of the post, here's the result; the piece of cake to the left was from the first recipe, using a normal amount of water, and the piece to the right was from the thicker batter.
Tip number 2: How to make the cake taste "from scratch" while also making it healthier:
Use apple sauce instead of oil. Yes, apple sauce, no kidding! It is healthier by far, with more fiber and other nutrients, and has far fewer calories. 1/2 cup unsweetened apple sauce gives 50 calories, compared to 1,000 calories for a 1/2 cup of oil. It also works great in cakes. It doesn't make the cake taste like apple, but gives it a bit of that "made from scratch" texture and flavor. In fact, I've had people tell me "You can just tell it's made from scratch!" Nope, not really. Ha!
In addition, you can also use milk instead of water or add flavorings such as 1/4 tsp almond extract, coconut extract, etc., or an extra teaspoon of vanilla. This is especially nice to do if making a truly white cake where you omit egg yolks. These cakes often lack flavor, so adding some extracts is helpful, although for white cakes you should use clear vanilla (found in the cake decorating isle) and not the regular brown.
My daughter received the book "The Cake Doctor" (see reviews on Amazon) as a gift for her birthday a few years back. This book contains add-on recipes for cake mixes and shows you more on what you can do to make awesome cakes starting with a simple boxed mix. The recipes were easy enough for her to follow, even though she was only around 10 at the time, so she had a lot of fun with it.
Tip number 3: How to keep it moist:
After baking, when testing with a toothpick, I find that the perfect time to take it out of the oven for a moist result is when there is still a crumb or two left on the tooth pick. If there's goo or sticky batter on it, it's not done yet, but if the tooth pick comes out completely clean, the cake will often already be a bit on the dry side. A crumb or two left on the toothpick means the cake is done but still very moist.
These are some of the ways to improve your results when baking a cake from a boxed mix, yielding a moister, taller, and fluffier cake that will have a bit of that special from-scratch flavor. If you have any other tips that you have found helpful, I always welcome comments!