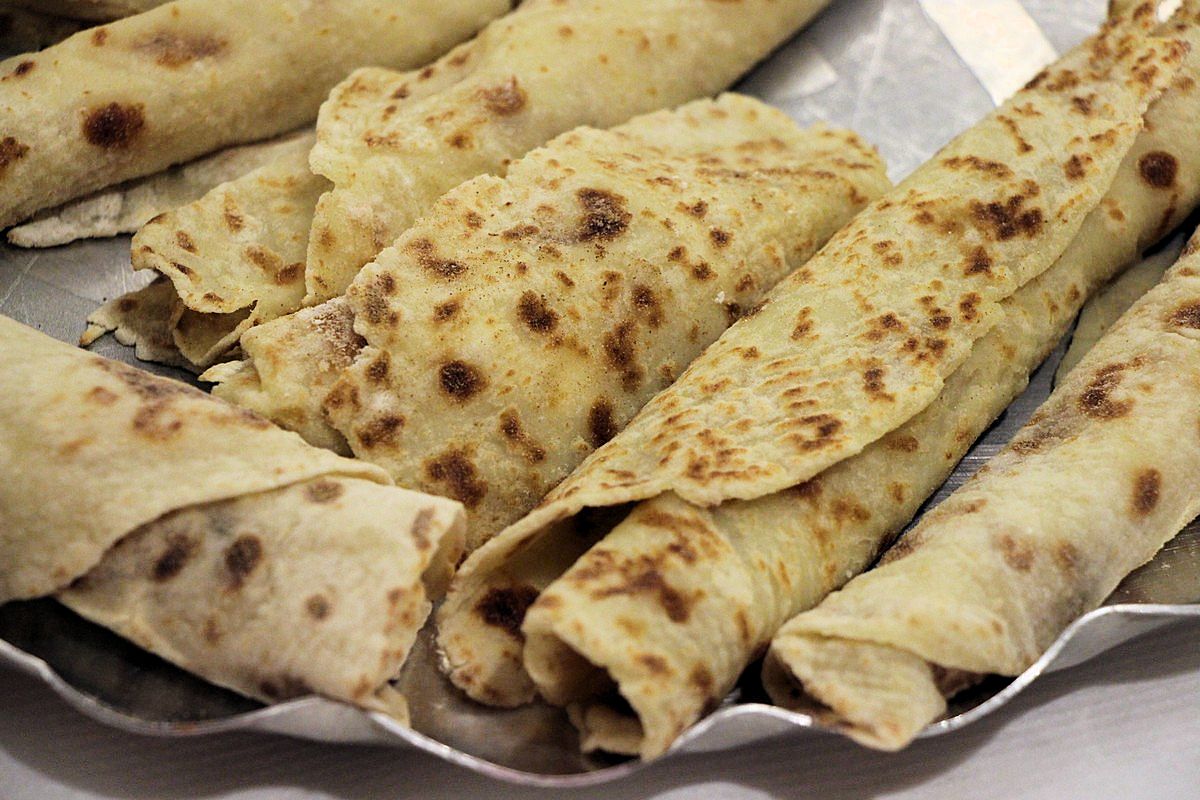 Lefse is a food very much associated with Norway. With fond memories of their old traditions and culture, people with Norwegian heritage often love to bake lefse and feel the nostalgia of years past, especially during Christmas. In Norway, this dish is also served during other holidays, or any special occasion. In this post I will share details on how lefse baking is done, along with lots of pictures of the process and two different recipes on the very bottom of this page.
The Askeladden Lodge of the Norwegain-American organization Sons of Norway, holds a popular, annual event called "The Lefse Party". In Kalamazoo, Michigan, winters can get mighty cold and snowy, so this is a perfect time to get together to bake lefse! Members who have lefse griddles and other equipment bring it along, and everyone enjoys this fun time of teaching and learning while lefse dough is rolled, flipped, and baked. Then, finally comes the time to add toppings and enjoy a splendid meal together! Visitors and new members are always very welcomed at Askeladden Lodge, and to any of the many lodges across the country. Locations and more information can be found by clicking the Link to Sons of Norway, and the Link to Askeladden Lodge of Kalamazoo, Michigan. Askeladden Lodge can also be found on facebook.
The generous members of Askeladden Lodge were so kind to let me shoot photos and learn from them during one of these Lefse Party events, all the while receiving the useful information and tips that I'm about to share with you.
The first picture shows members from Askeladden Lodge in full swing of things. The fun has begun!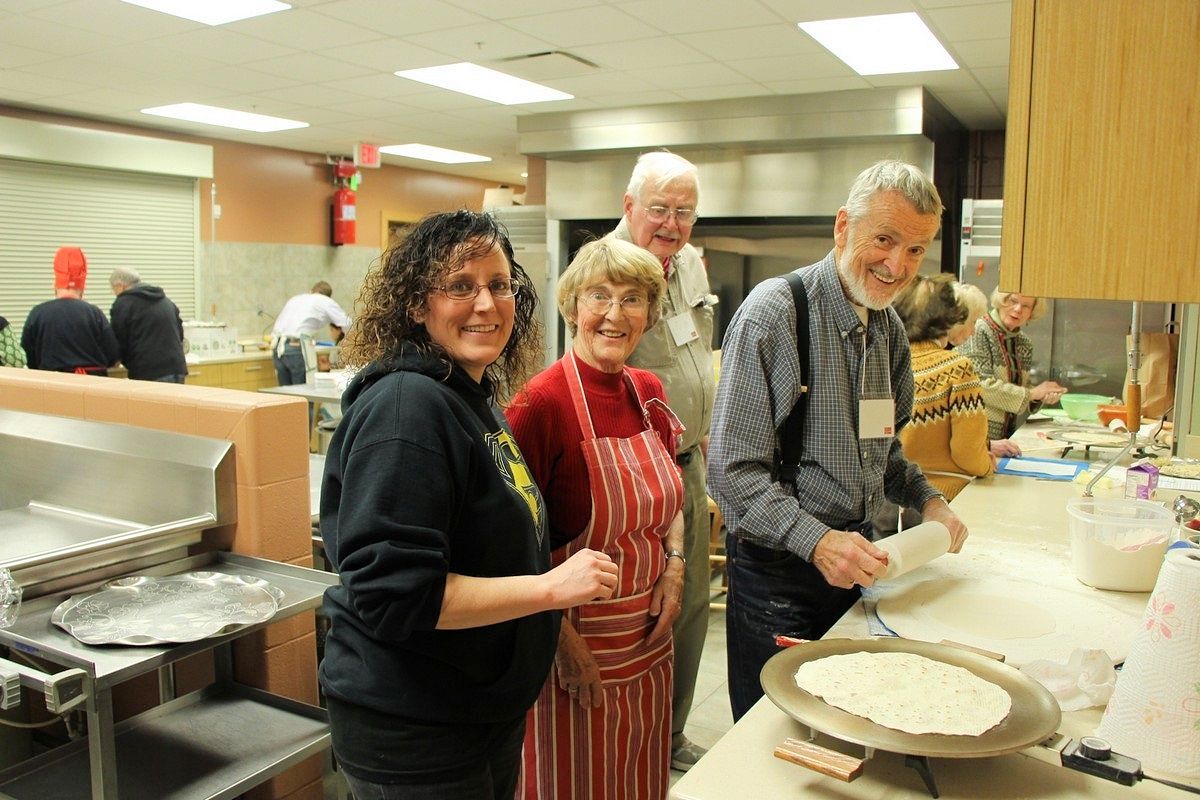 Lefse is an old, traditional food in Norway, and recipes vary from one area to the next. In fact, one type of potato lefse, also called "lompe", is as commonly found at the grocery store as hot dog buns, which they also frequently replace. If you purchase a hot dog from a stand, for example, you'll be asked "Brød eller lompe?", meaning "bun or lefse" (for your hot dog)! Not always a dessert, in other words.
In Stavanger, where I grew up along the coast of south-western Norway, the type of lefse used for special occasions is often made without potatoes. These lefse look a bit like flour tortillas, but are thinner and softer, and usually spread with a sweet butter filling. I will share some potato free recipes in a separate post, and link to it when finished.
It often surprises Norwegian-Americans to hear that most people in Norway do not make their own lefse; with the equipment needed, and the work involved, they prefer to purchase from friends or stores rather than making them at home. I really do believe that far more Norwegian-Americans make lefse than Norwegians in Norway! Personally, as domestically inclined as I am, I had, up until now, never made a lefse in my life, even though I grew up in Norway!
But now that I have attended "The Lefse Party", much has changed and I am now prepared to write this tutorial on how to bake lefse!
See how thin and beautiful these are?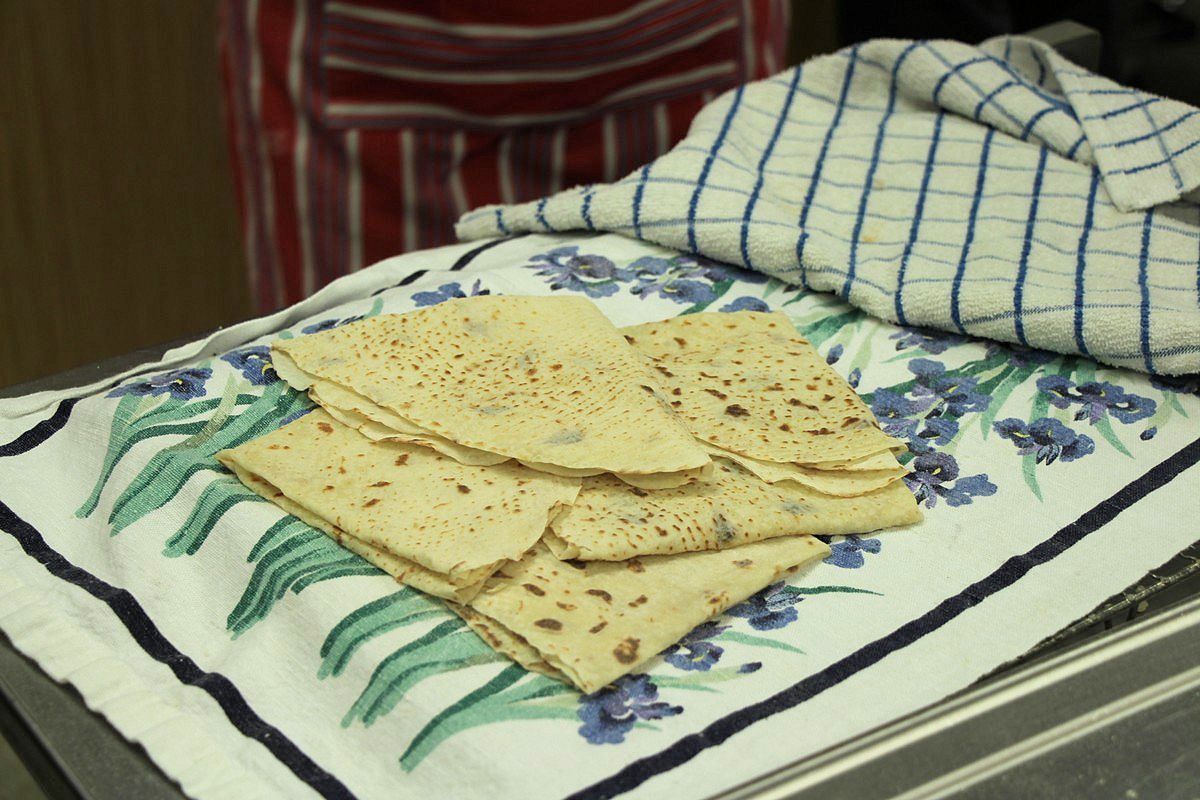 The potato lefse dough, preferably made a day in advance, is easiest to roll and bake if kept in the refrigerator until ready to use.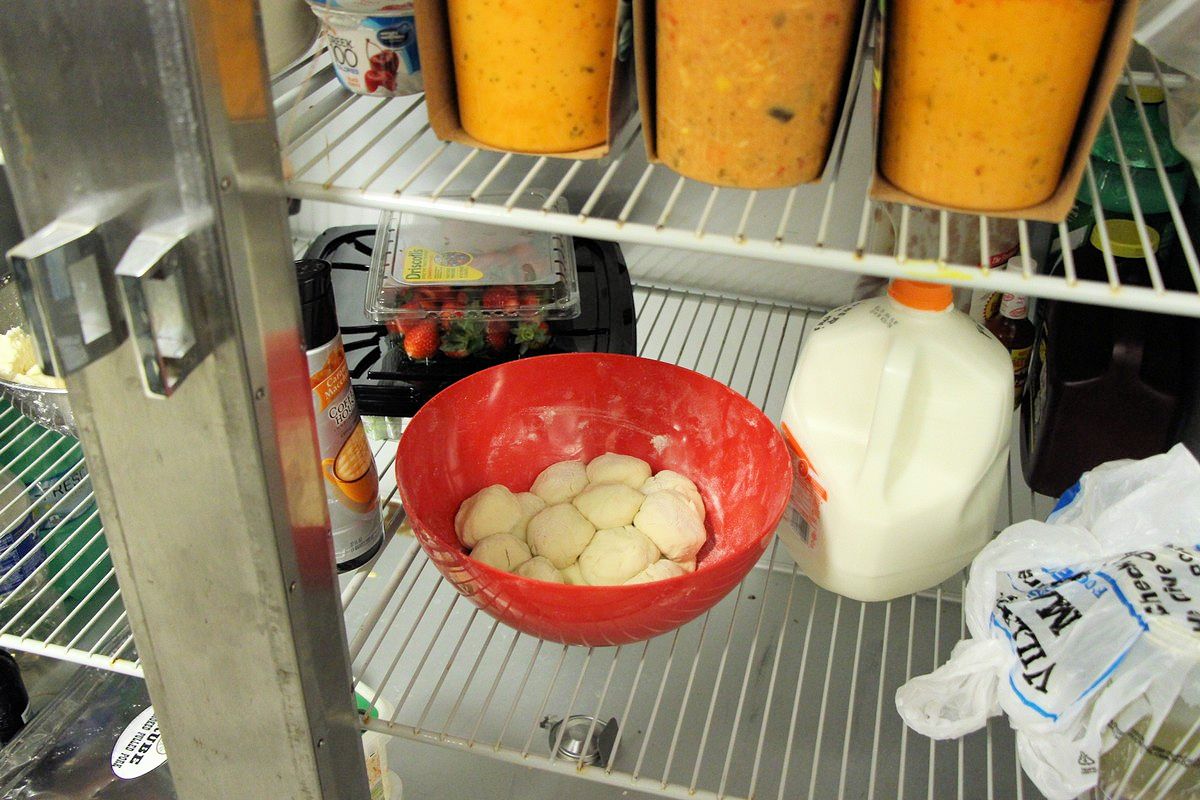 It is very important to sprinkle plenty of flour onto all surfaces: the lefse board, rolling pin, and also on each ball of lefse dough. If you can prevent the dough from sticking even once in the first place, you will have saved yourself a lot of trouble! A cloth-covered board and rolling pin is preferable as it makes rolling much easier, but if the dough sticks, the spot will cause the next piece of dough to want to stick as well.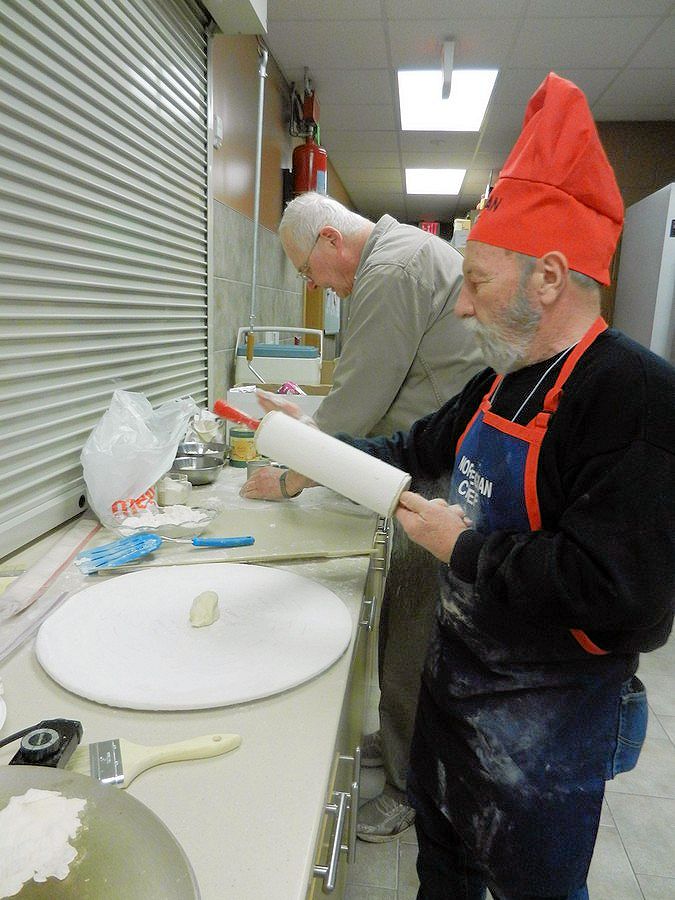 In the next photo, two Norwegian Chefs are showing a lefse board underneath; it was interesting to me to see the clever way they fitted the cloth to the board! It can be taken off to be washed, then it is placed back onto the board while still a little bit damp, and tightened with the strings. It works really well to keep the dough from sticking. I'm thinking this board must be perfect for rolling cookie dough as well. Rubber feet keep the board stable on the counter top. See purchasing information for lefse equipment toward the bottom of this post.
After reaching for a ball of lefse-dough from the refrigerator, flatten it to a disk to get a little head start before rolling. Just make sure there is plenty of flour on all surfaces that will be touching the dough.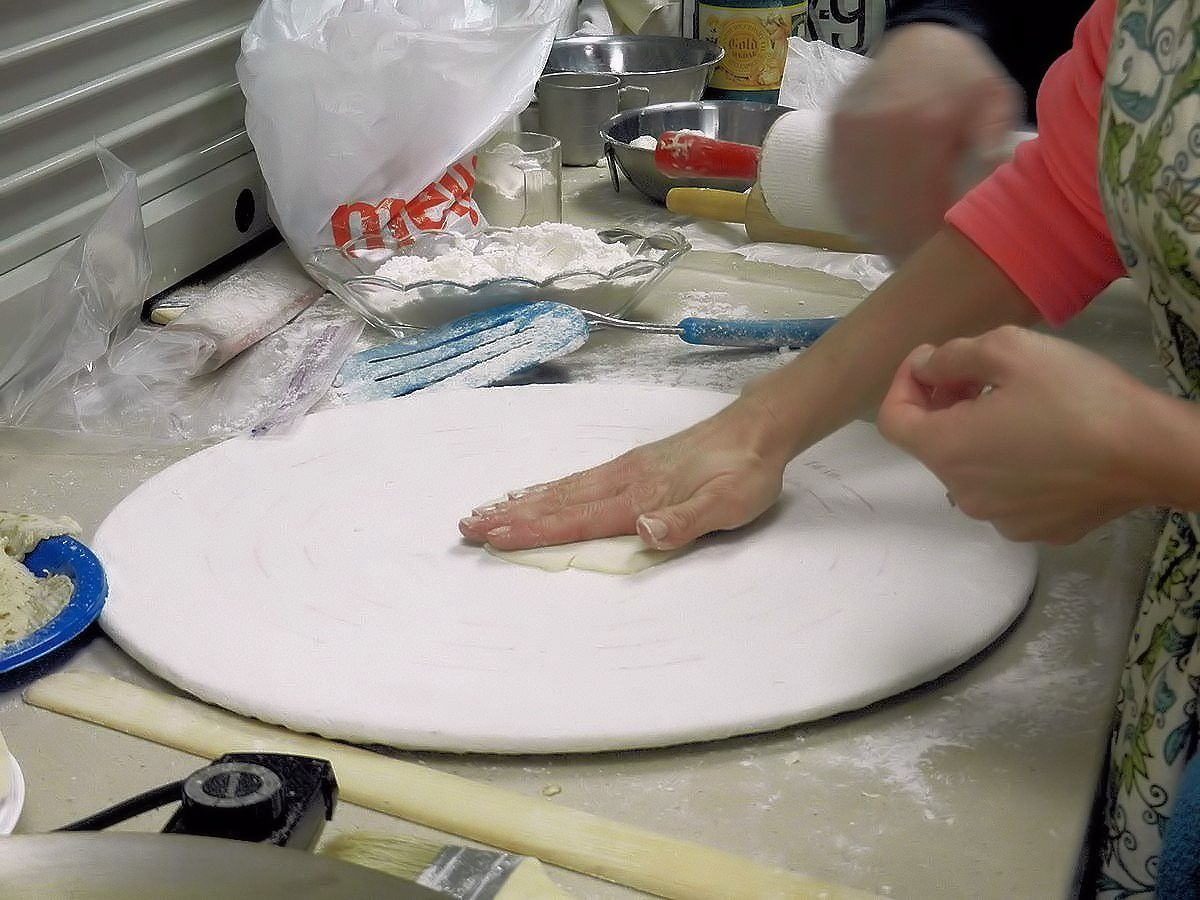 Then the rolling begins. The goal is to make them nice and round and very thin, so you generally roll from the middle and out in all directions.  It takes a bit of practice, and if they're not quite round, that's perfectly fine. They taste just as good!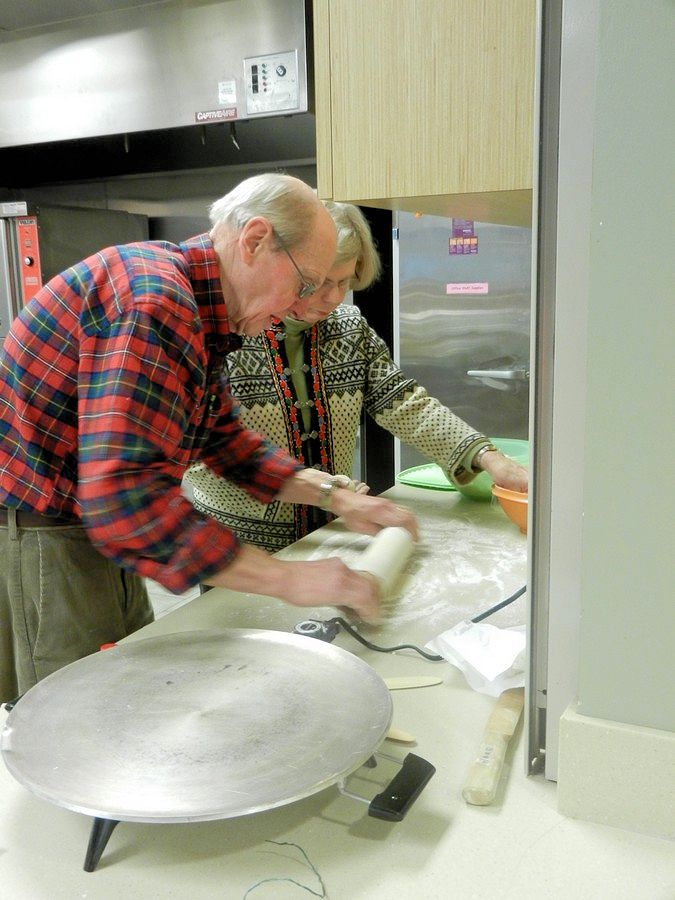 The handles on these rolling pins makes rolling easy and quick.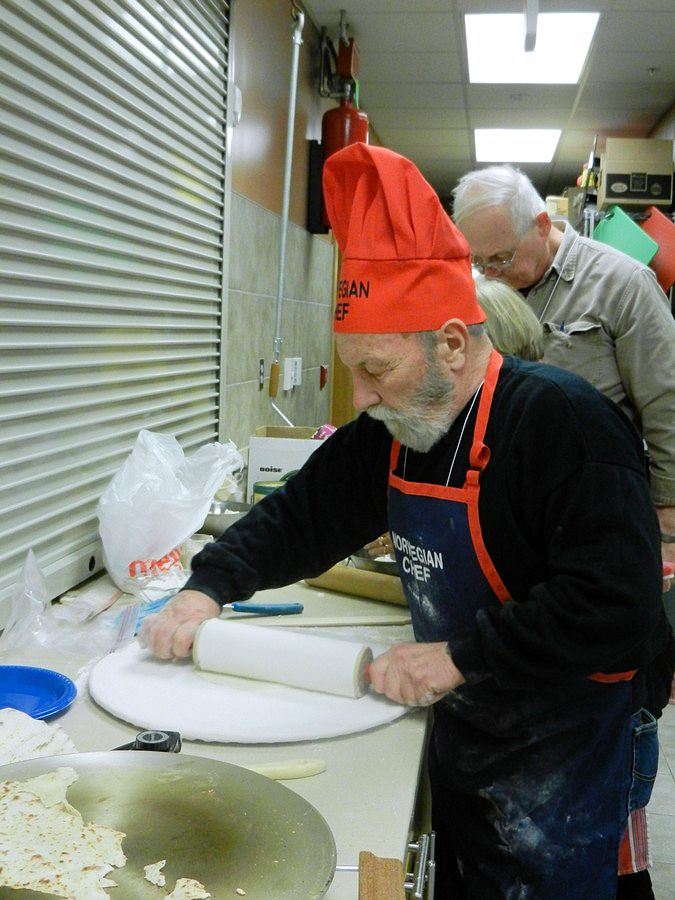 When done rolling, there is a great method for how to lift the lefse off from the surface without breaking it. Using a lefse stick, a flat wooden tool, loosen the dough from the board by inserting the stick underneath and toward the middle, then gently slide it to one side at a time until the lefse no longer sticks to the board.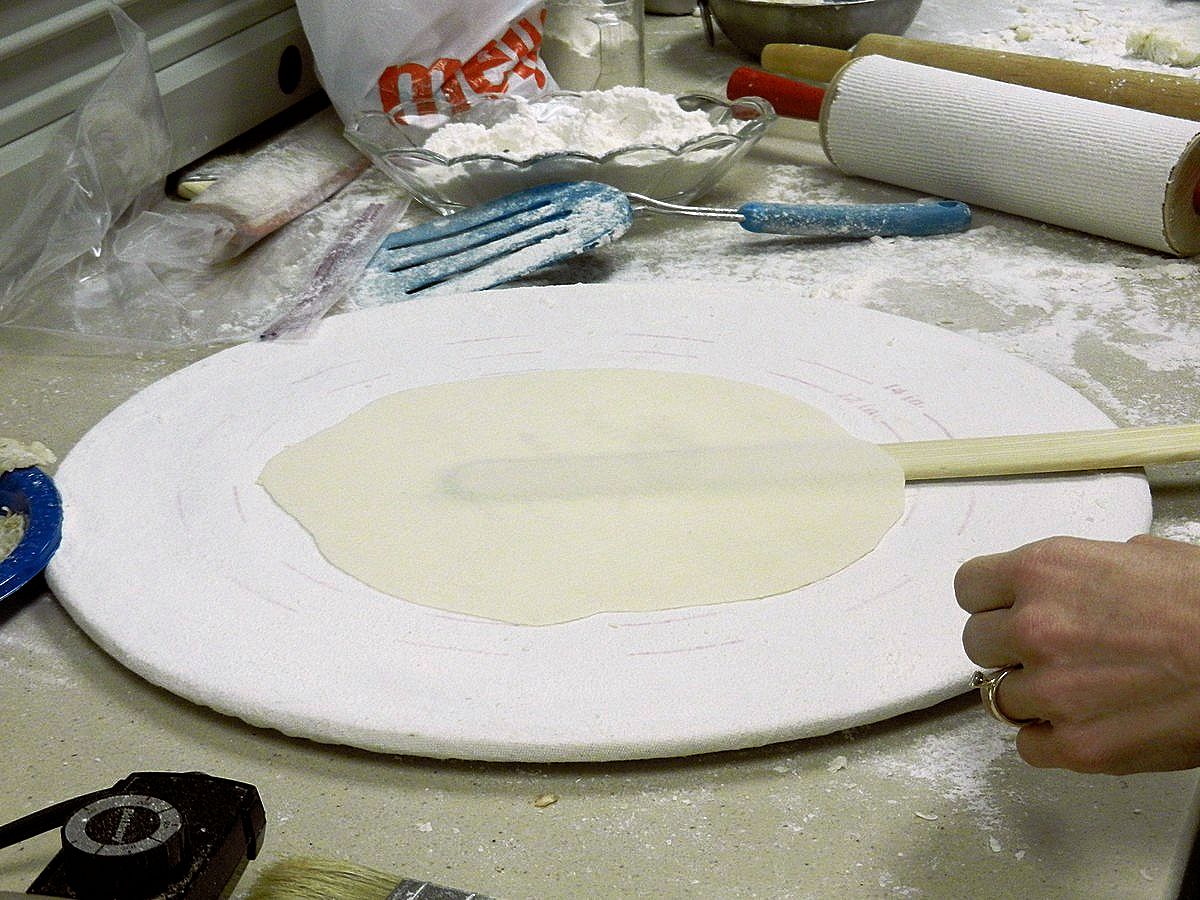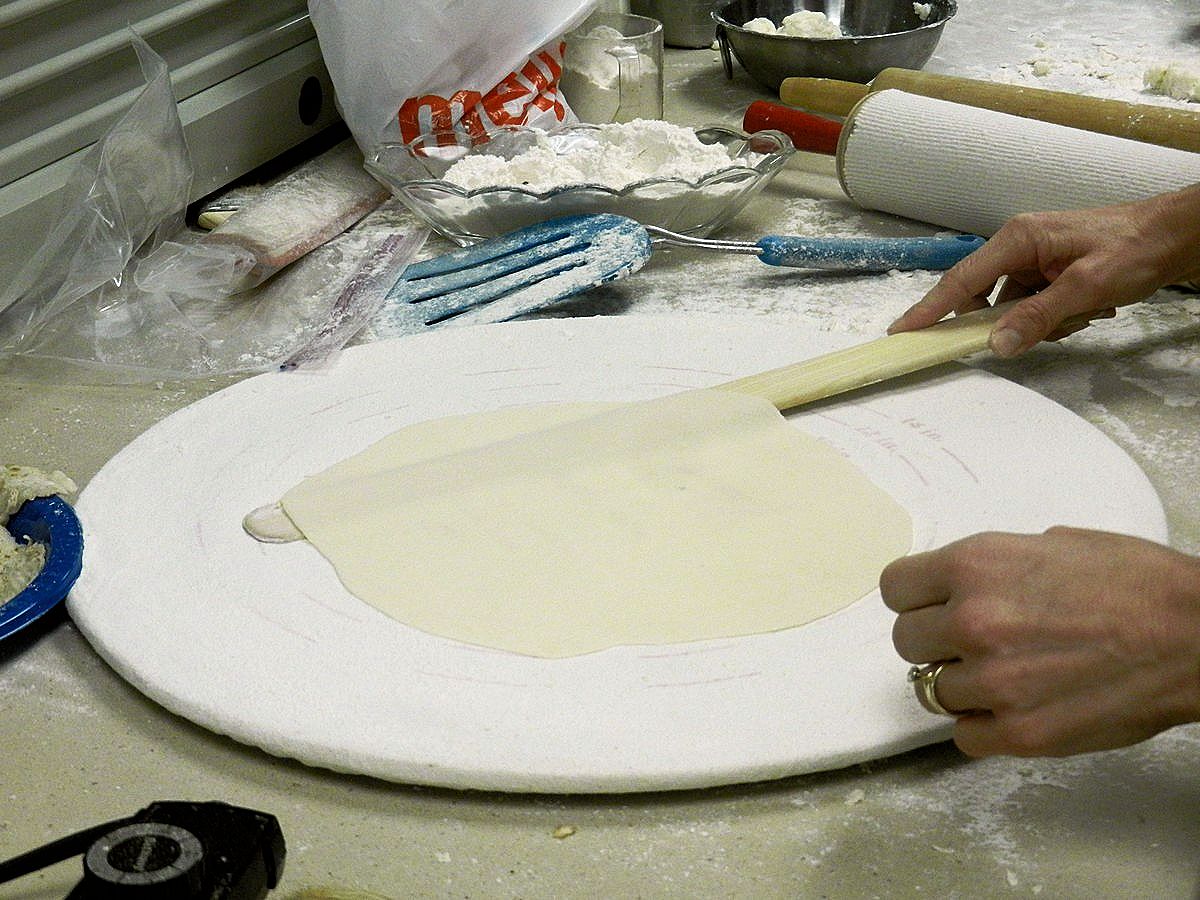 The flour on the board will help keep it loose. Still using the stick, it should now be easy to pick it up and place on the griddle.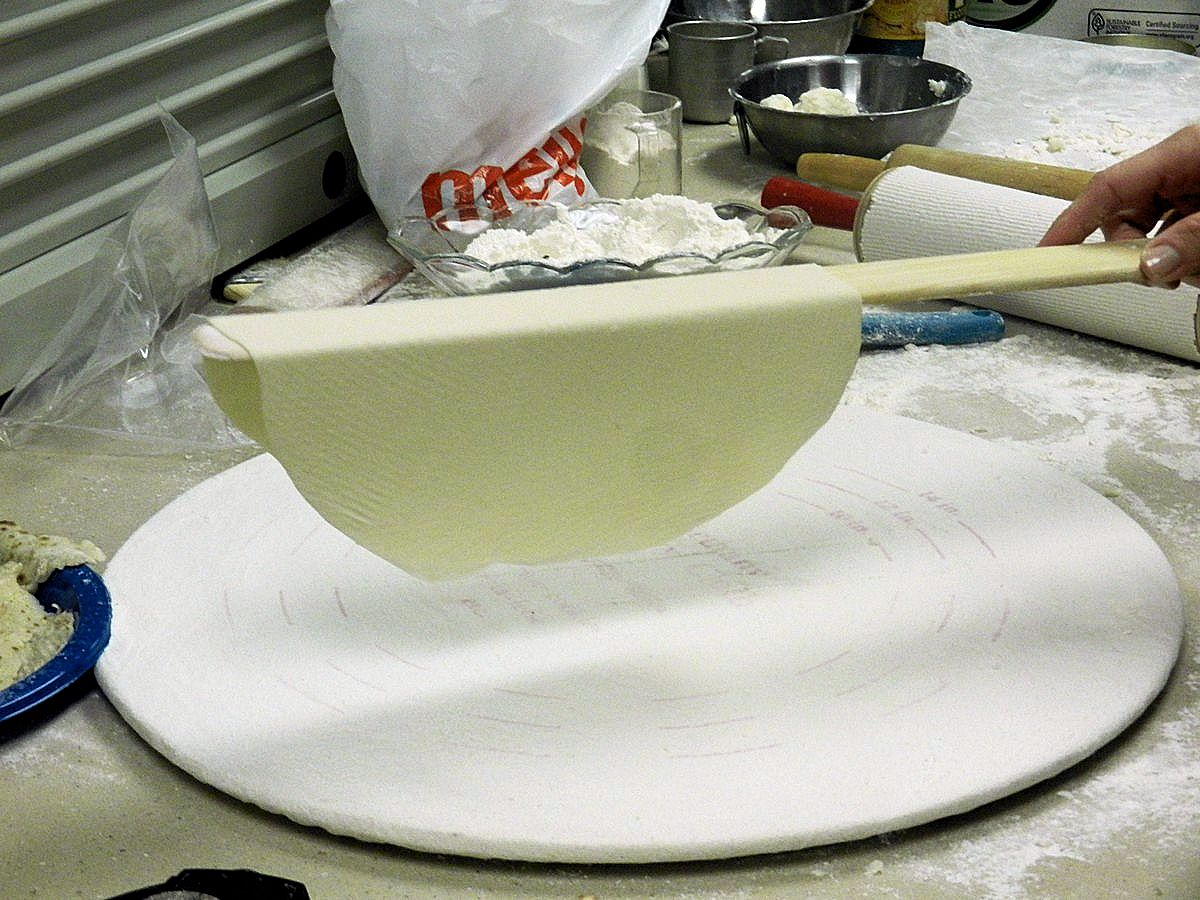 Do not grease the griddle, just let it remain dry. The lefse will not stick. Transfer the lefse onto the griddle by placing one edge of the dough onto the outer edge of the griddle. You can start with the side that feels more natural to you.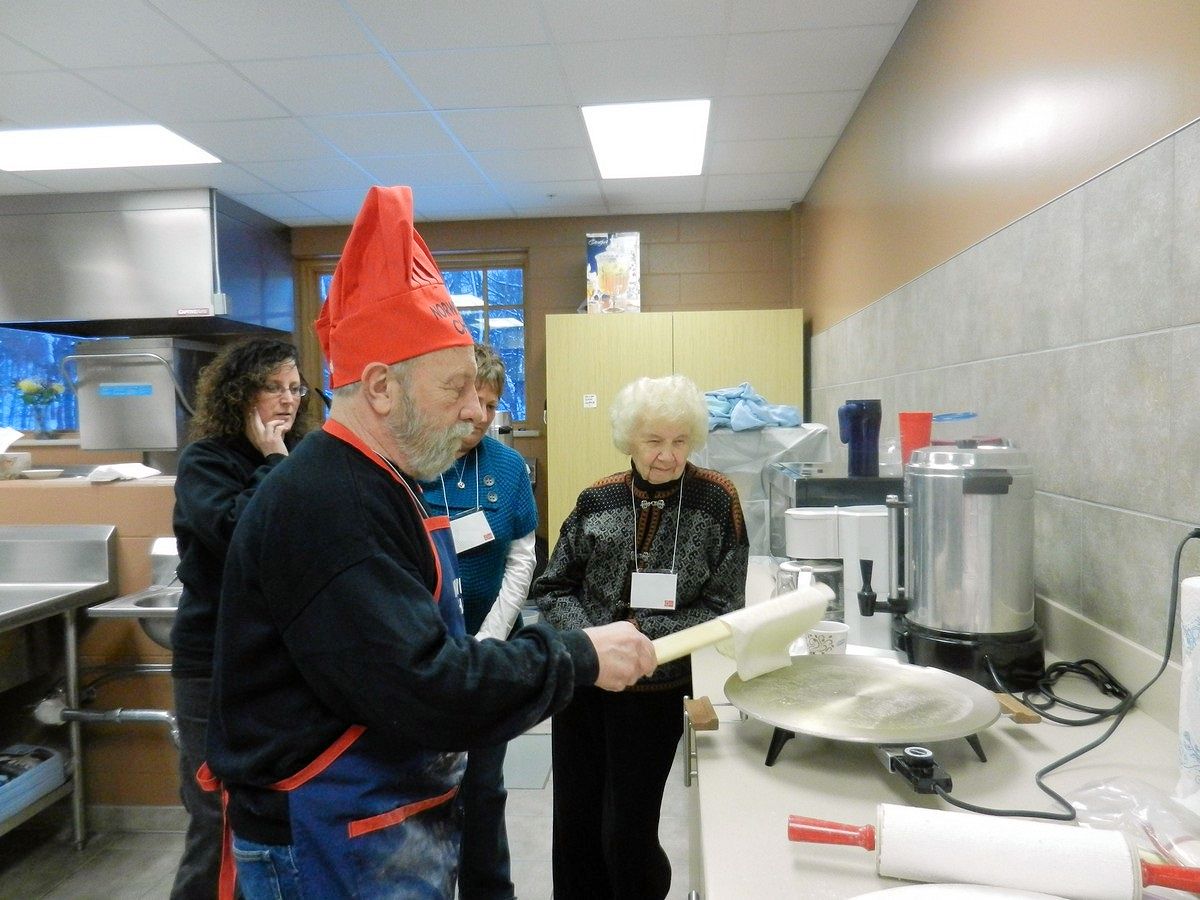 Then you move the flat stick while flipping it around and around toward the opposite side, while allowing the lefse to gently slide down onto the griddle. It isn't as hard as it may sound, and it helps to start out with smaller circles before moving on to making larger ones.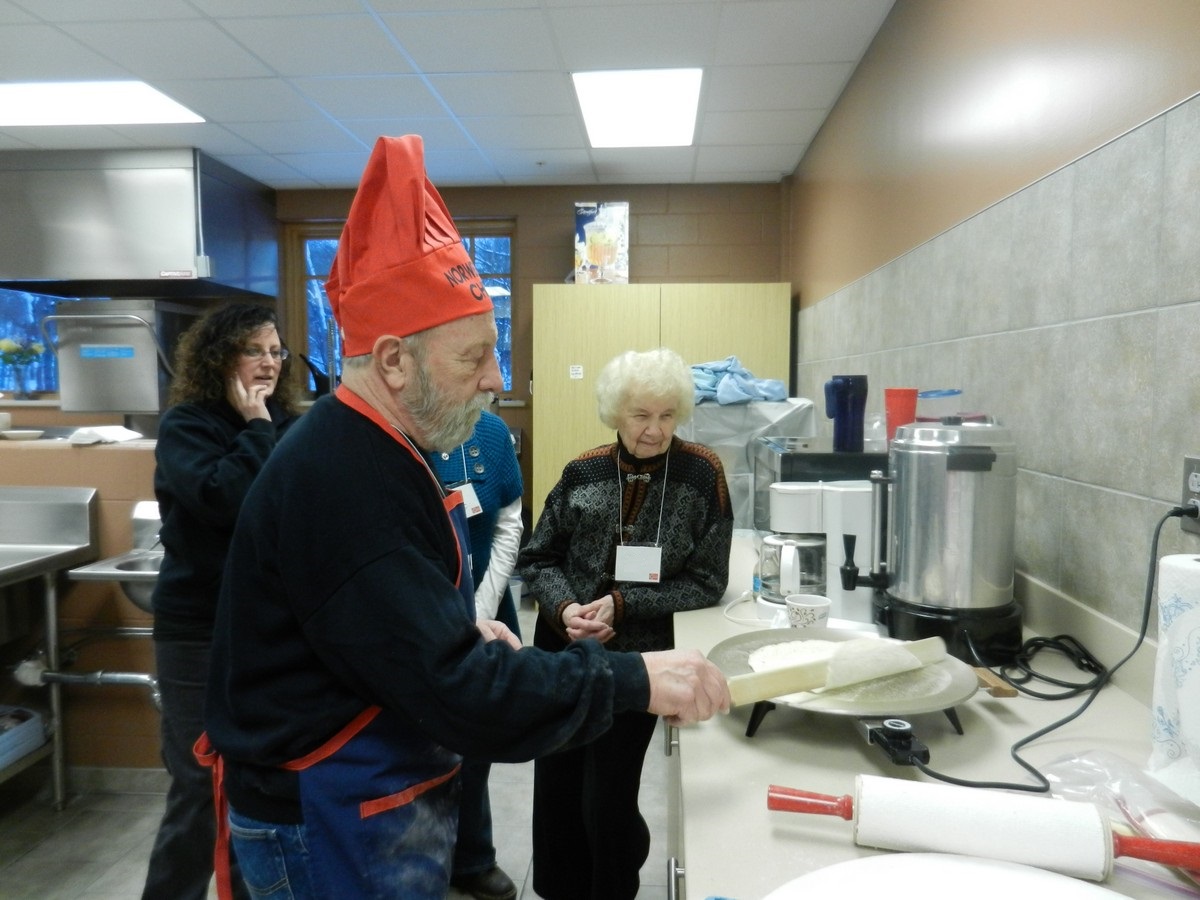 Here's another lefse placed on the griddle, shown from a different angle. Just flip the stick while moving it to the side, and the lefse will slide right down.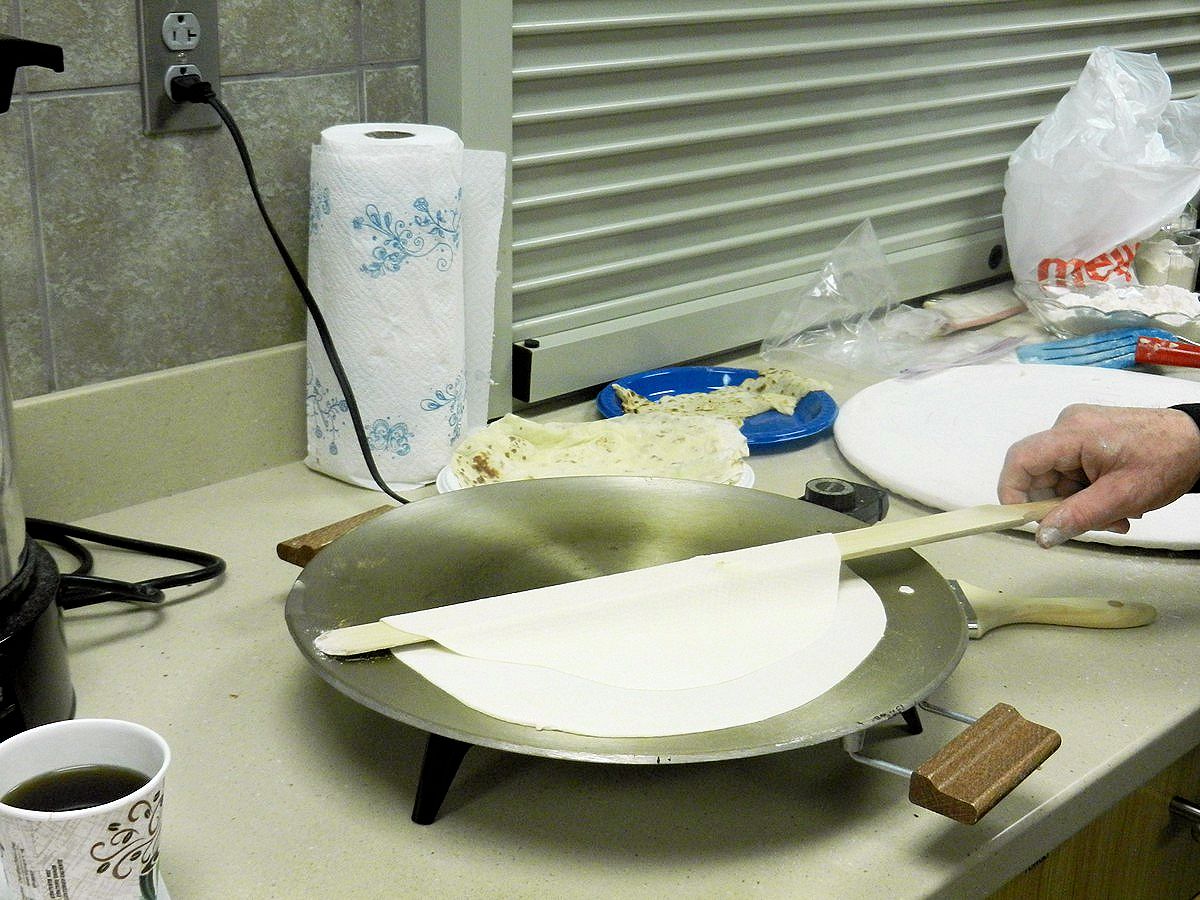 Baking each side takes only a minute or so on a 450-500°F griddle; when baking the first side, you'll see little bubbles forming on top when it's about ready to be flipped. You can check underneath if you're not sure; there should be some brown spots here and there.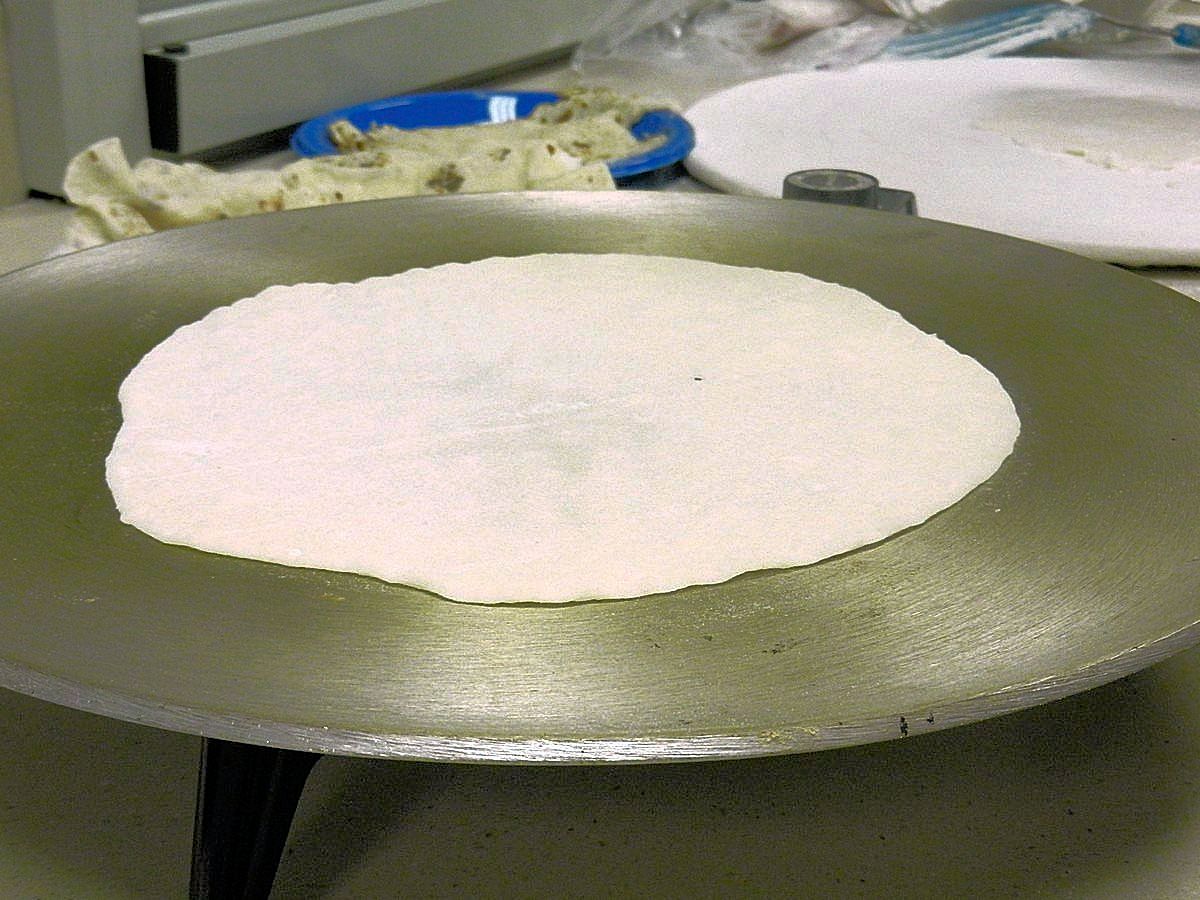 Then you lift it up and flip it over, using the same technique, and bake for another 30 seconds to a minute or until some brown spots have formed on the other side as well. The lefse will be easier to handle now that it's a little bit stiffer from baking.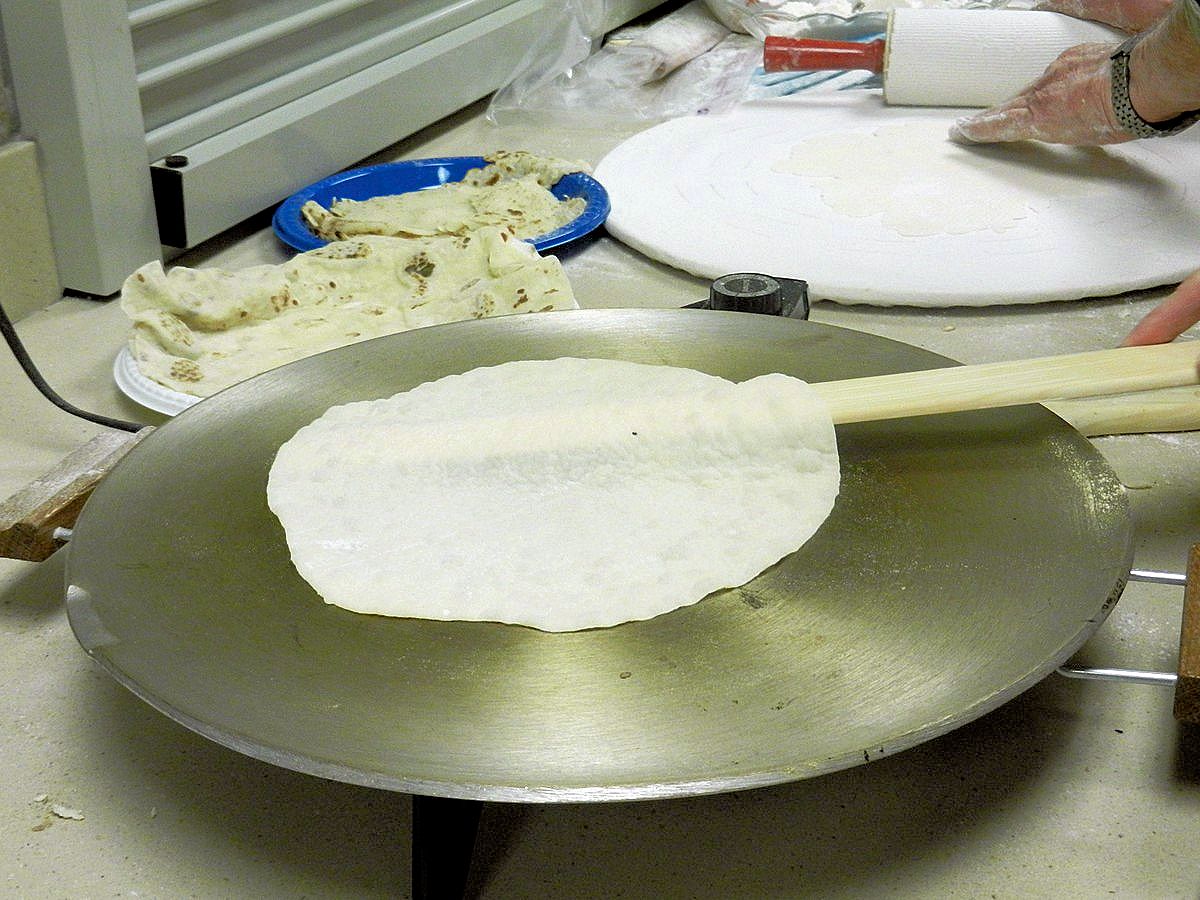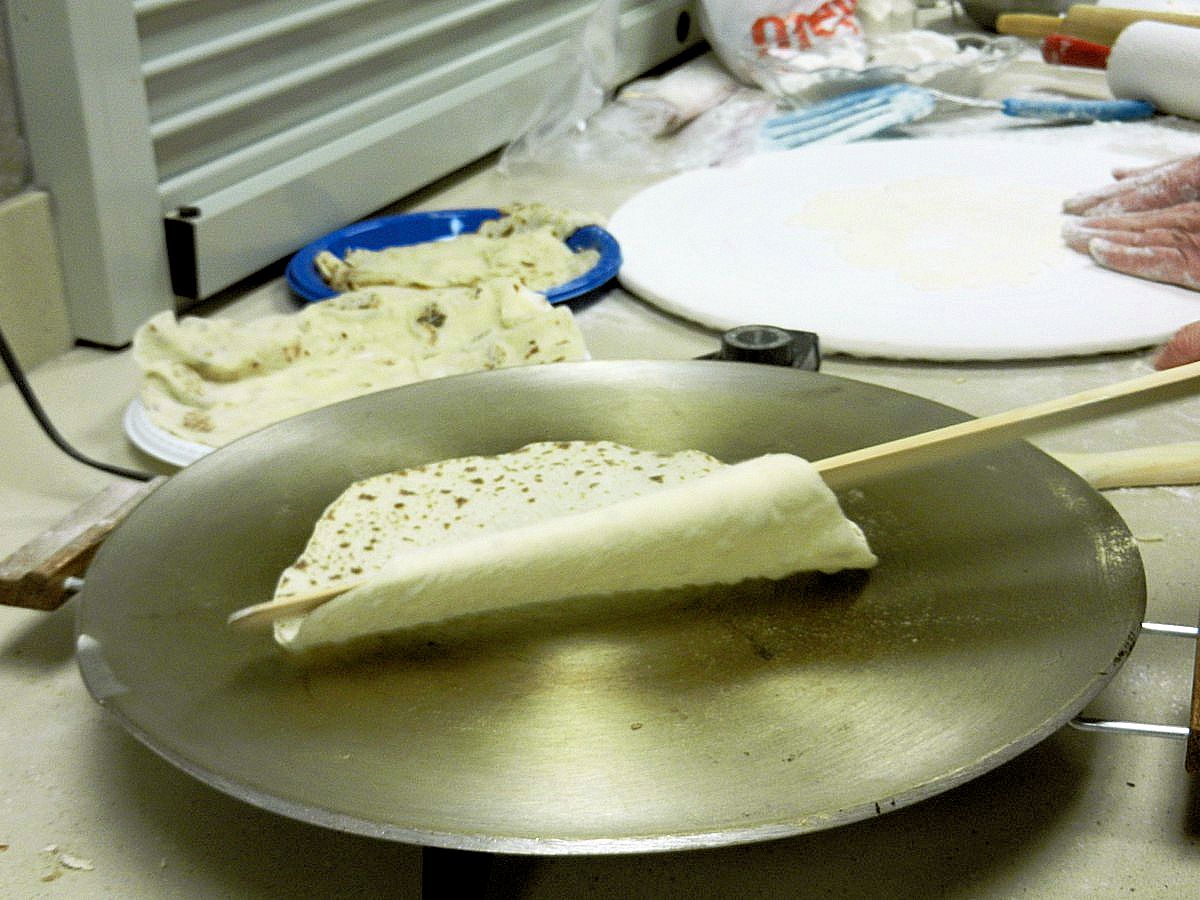 As you can see, bubbles will form while baking. Don't pop them. They quickly go back down as soon as the lefse is removed from the heat.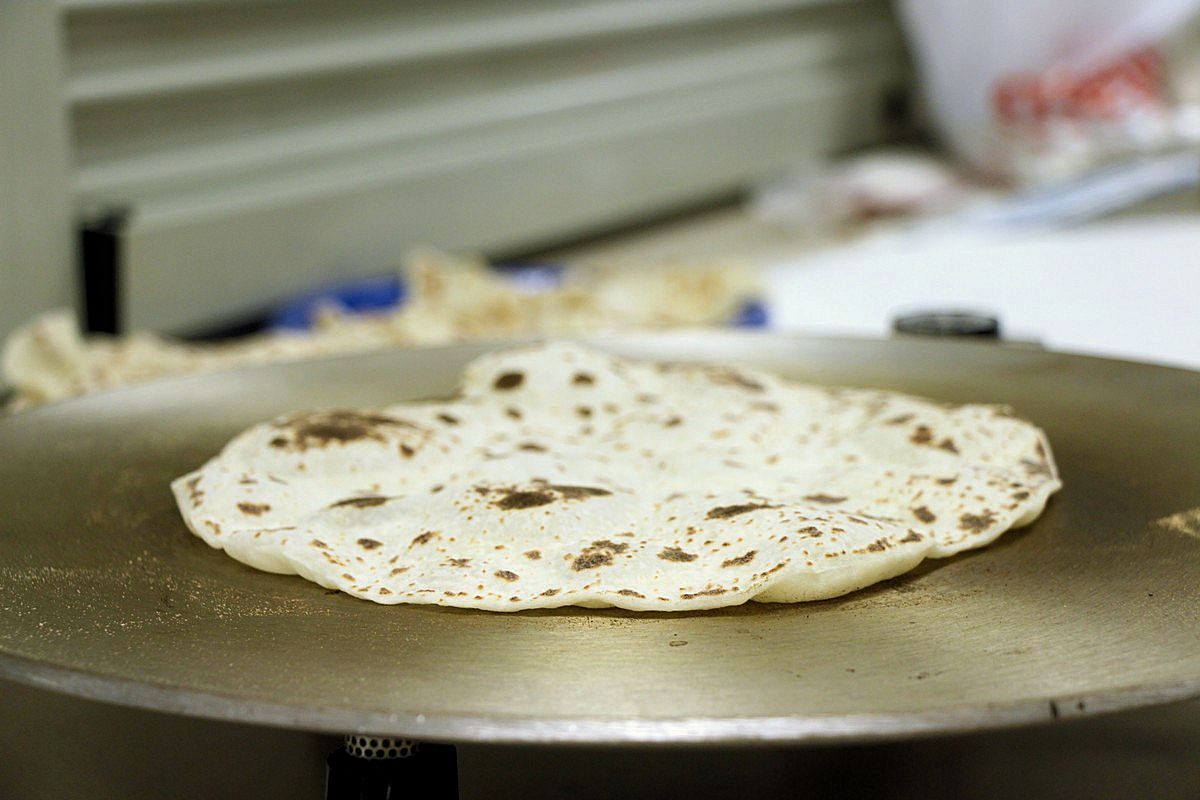 When finished baking on both sides, remove and put the lefse on a plate, or onto a rack between kitchen towels. This will help keep them soft.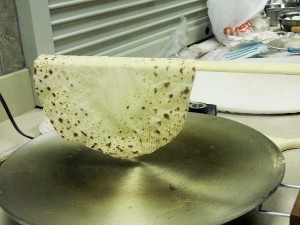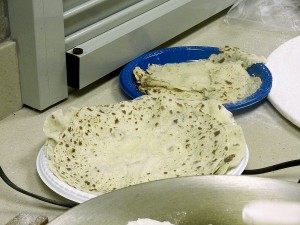 While baking the other side, it is a good idea to brush off excess flour from the top side.  (Who likes the taste of flour!?)
Also brush off flour from the other side of the finished lefse, and from the griddle so leftover flour doesn't stay there and burn. A dry cloth can be used if you don't have a brush.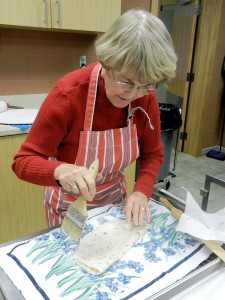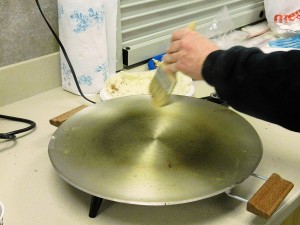 As soon as you're finished baking one lefse, you start on the next. And if it should happen that some dough sticks to the working surface during rolling, try to scrape off as much as possible before working on the next one.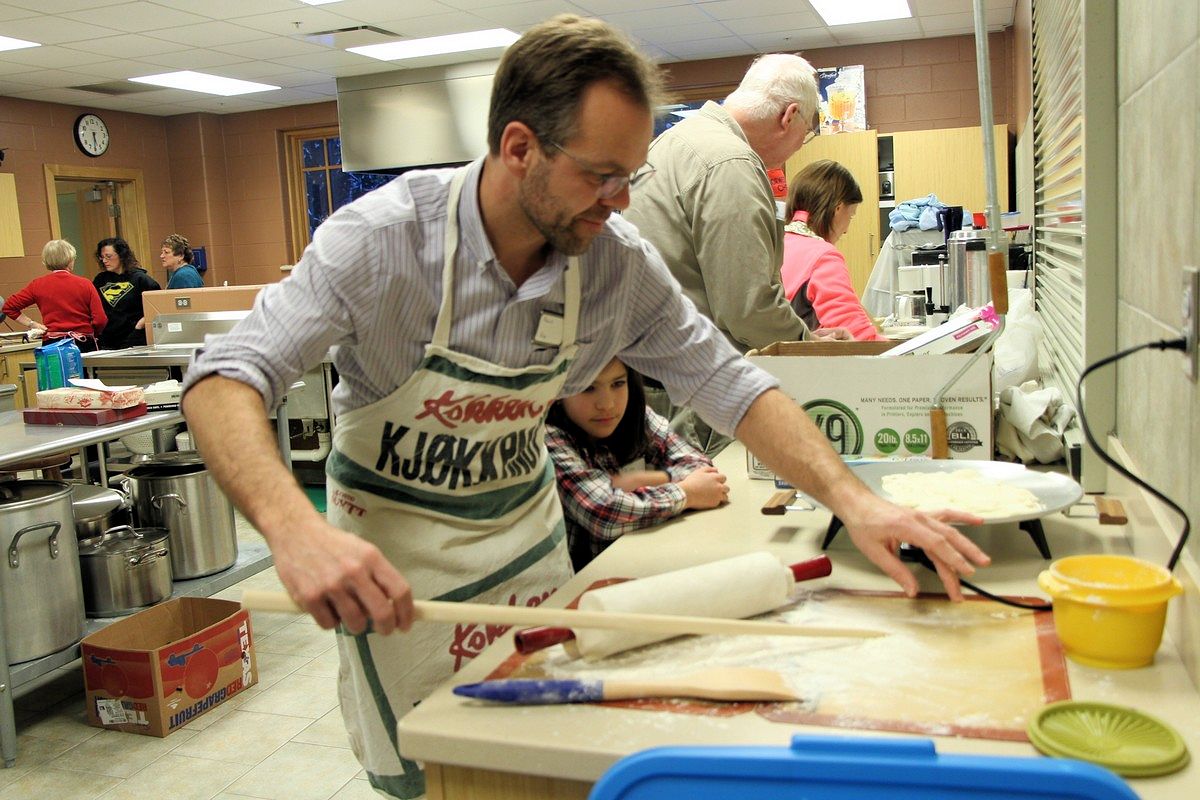 Before I continue, and although there are more recipes to follow, here's my absolute favorite one! (As found on LefseTime.)
An Ole Scandinavian Lefse Recipe:
Yew tak yust ten big potatoes
Den yew boil dem til dar don,
Yew add to dis some sveet cream
And by cups it measures vun.
Den yew steal 'tree ounces of butter
And vit two fingers pench some salt,
Yew beat dis wery lightly
If it ain't gude it is your fault.
Den yew roll dis tin vit flour
An' light brown on stove yew bake,
Now call in all Scandihuvians
Tew try da fine lefse yew make!
Here are some wonderful, finished lefse, folded and kept inside kitchen towels.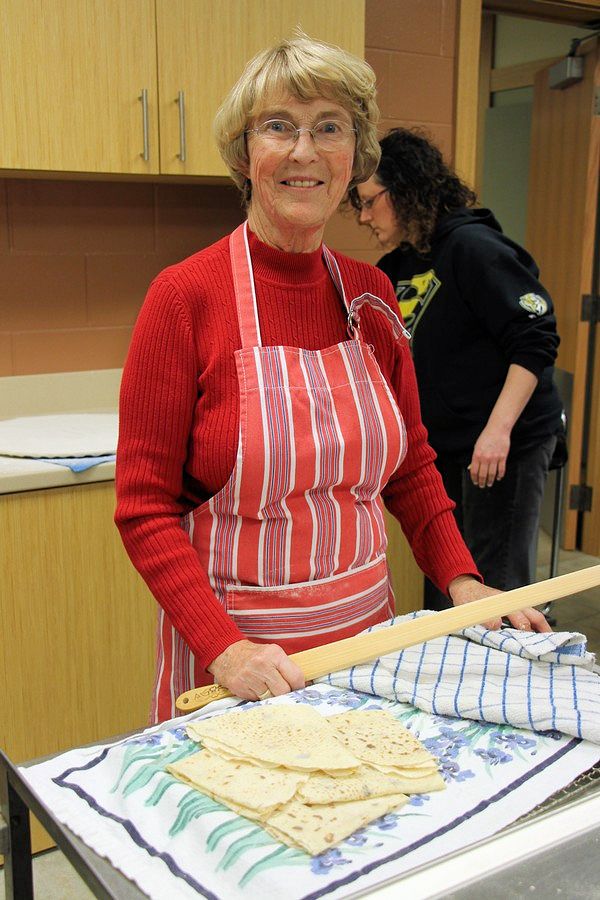 Sometimes rolling and removing from the board doesn't go quite like planned, and it can be especially hard if using dough that was made the same day as baking.  But, round or not, they still taste wonderful! If you do have trouble, Lefse Lars has a website that will take you through some troubleshooting.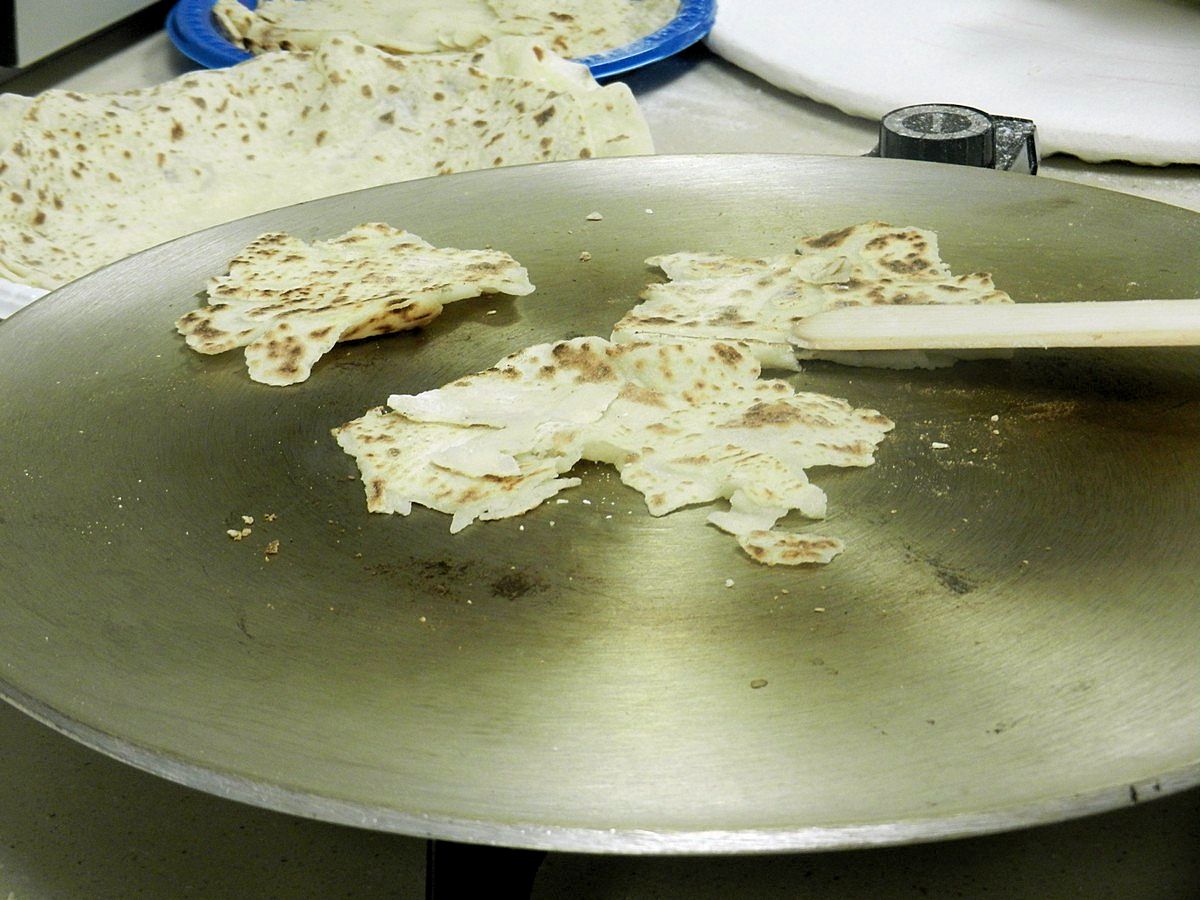 Sprinkling more flour to keep 'em from sticking.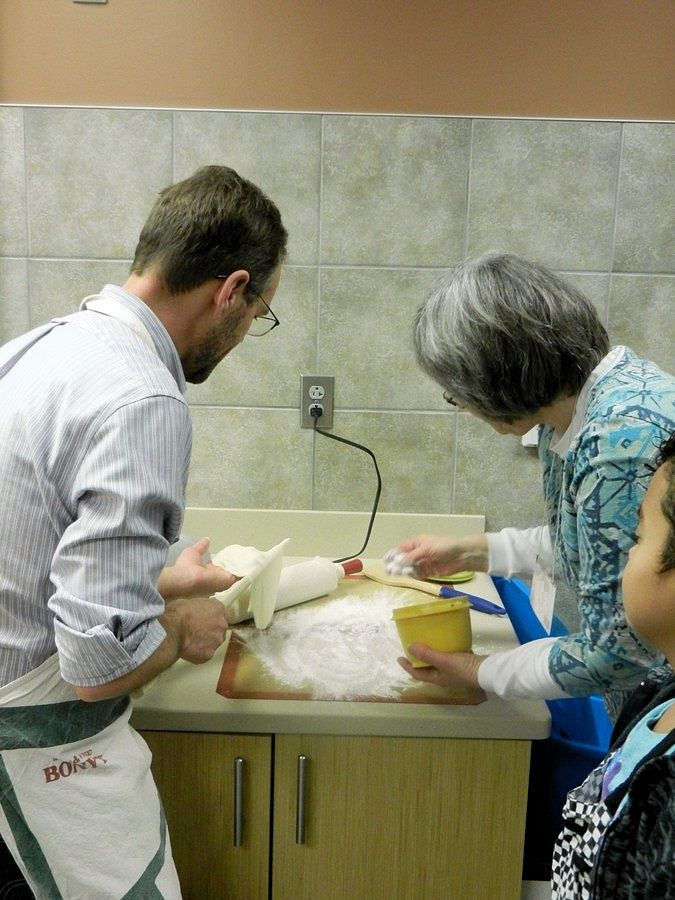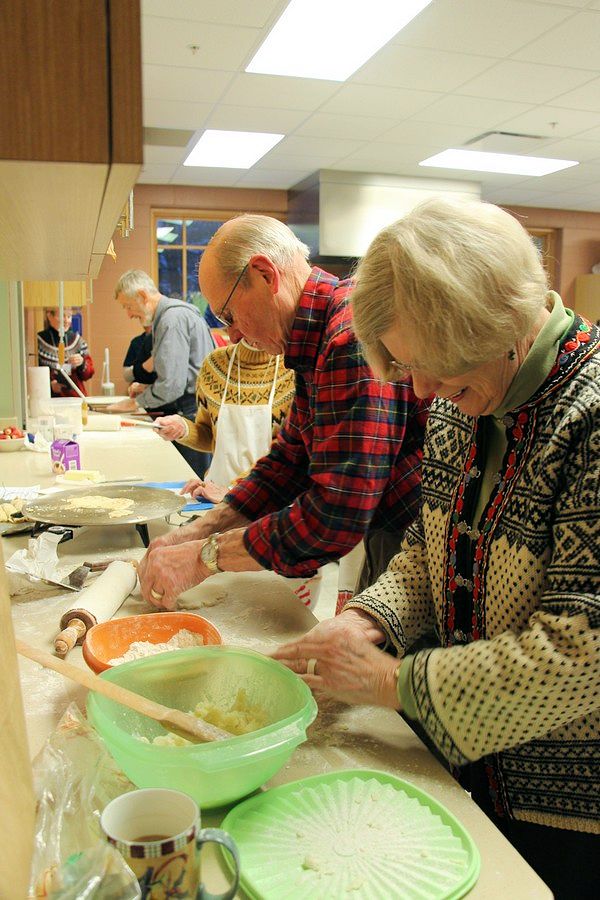 Working side by side and socializing, just enjoying our time together!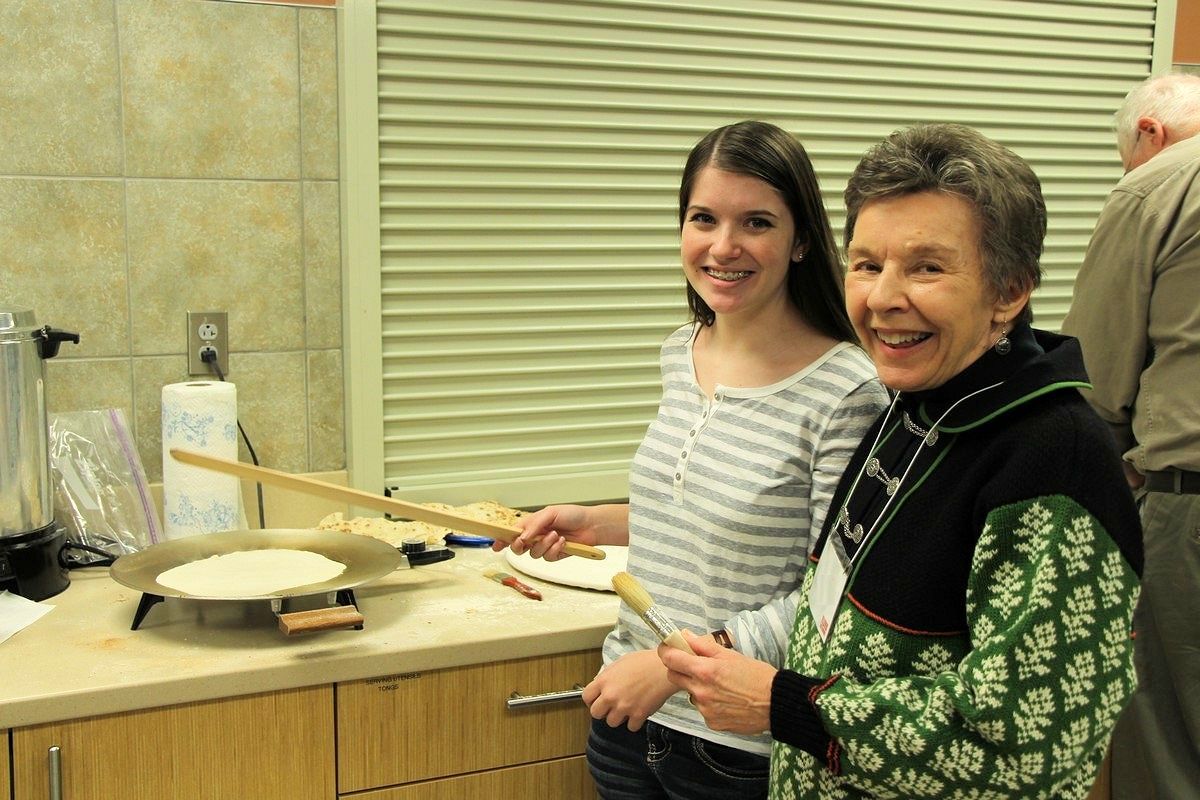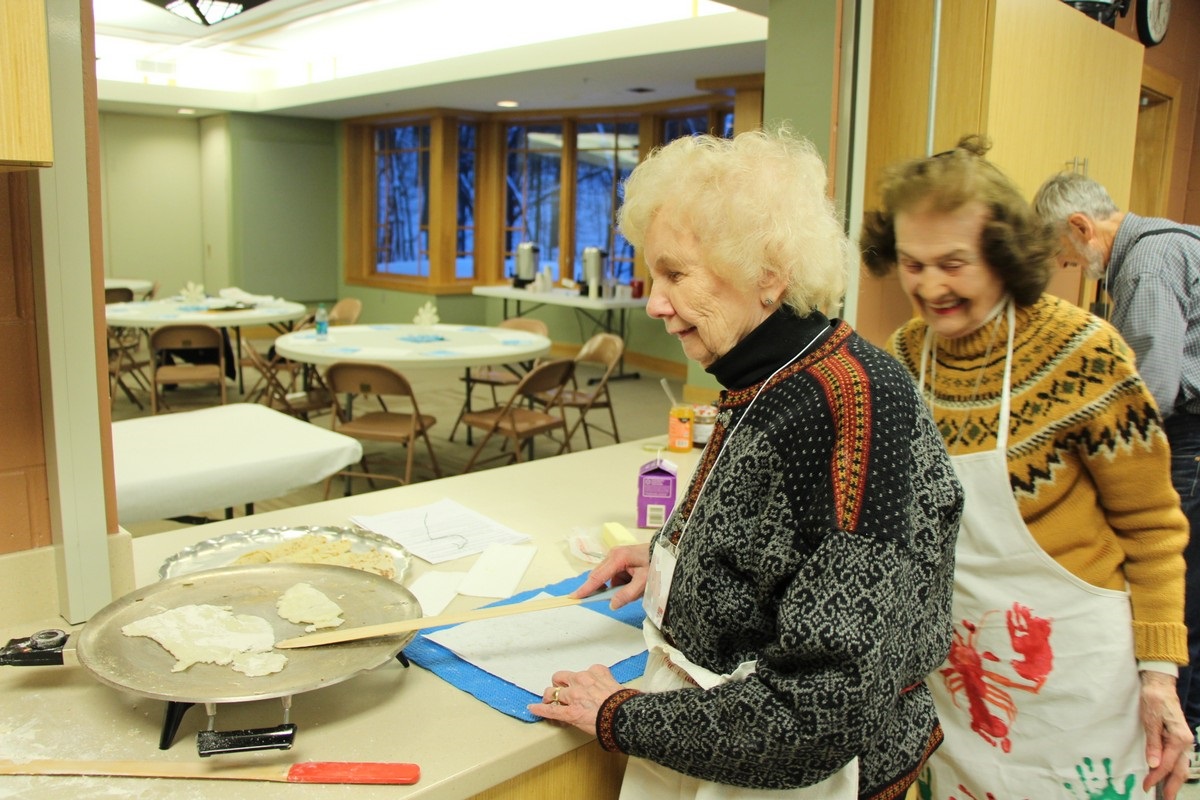 Below, a beautiful, young, Norwegian princess in training! Passing on old traditions to the next generation.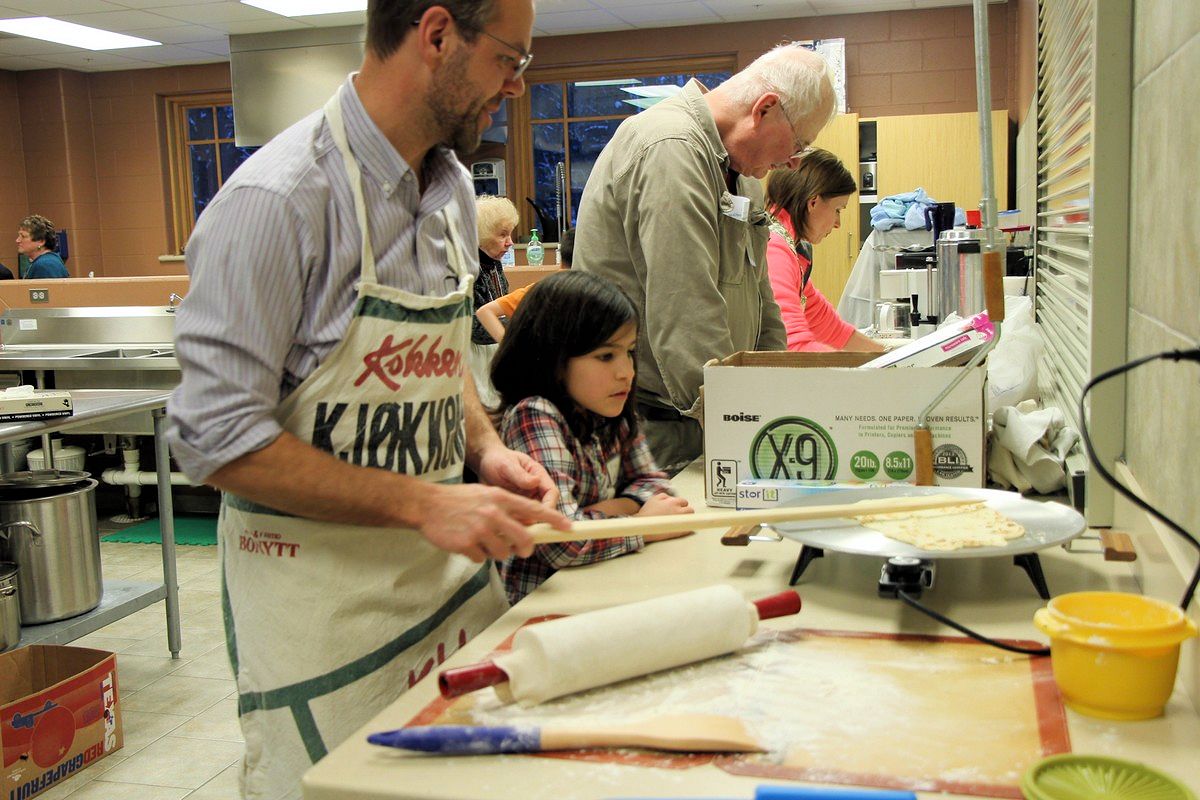 Some fold their lefse, others roll them. There are countless ways to serve lefse!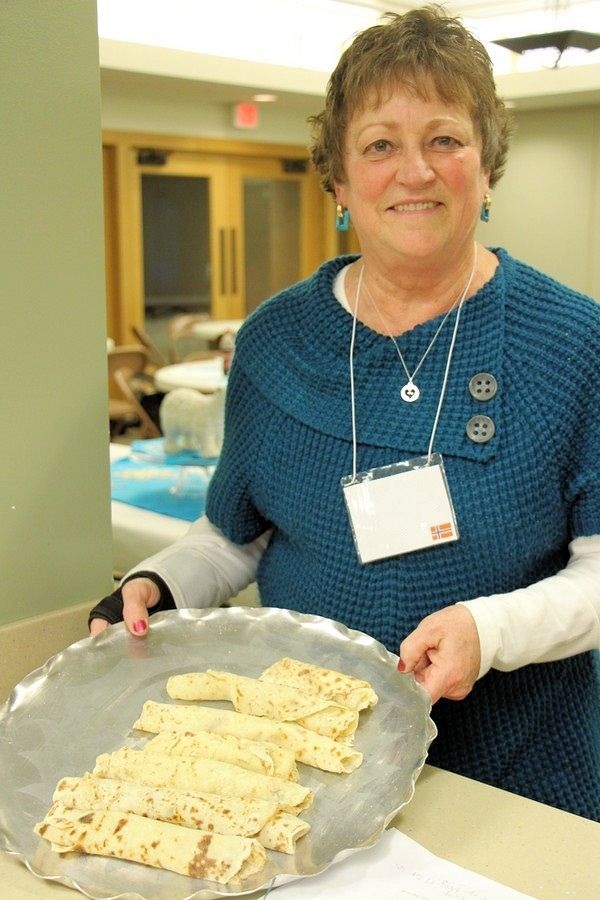 Now to get some fixin's to go with the lefse! A common lefse topping in Norway is butter creamed with sugar, and sometimes cinnamon as well. You could top with just about anything! On the picture below, brunost is being sliced up.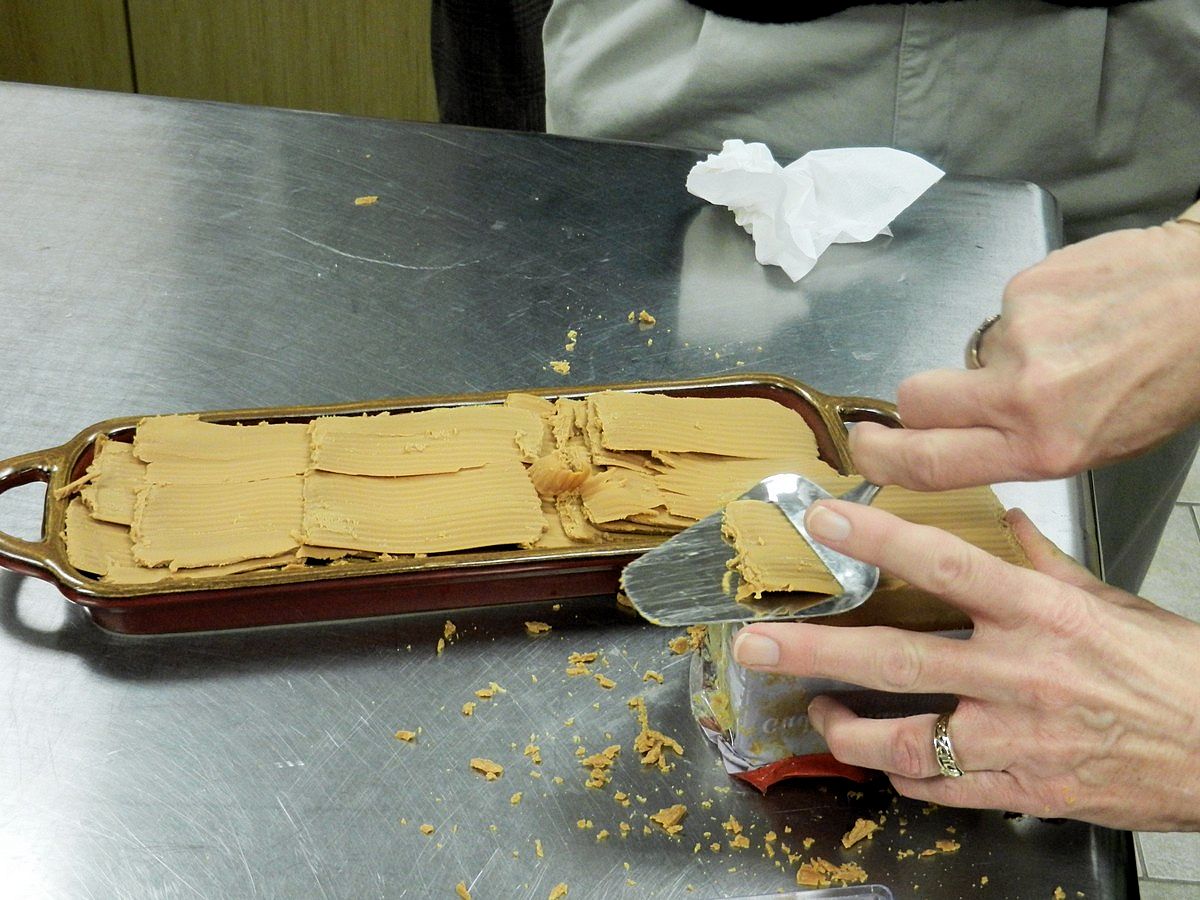 One variation of this cheese is called "gjetost," or goat's cheese, because of the goat's milk used. But all variations are made from whey and not cheese curdles and therefore not even considered a true cheese! "Guldbrandsdalsost" and "mysost" are another variations of this same "cheese." Or "cheese free substance". Yeah… But it's good stuff!
The type of cheese slicer you just saw in the picture above is an excellent tool for cutting hard cheese, and is found in practically all Norwegian homes. It is small and easy to use and store. The one in this link was made in Norway and has very good reviews.
  The lefse baking is done, and we're ready to eat!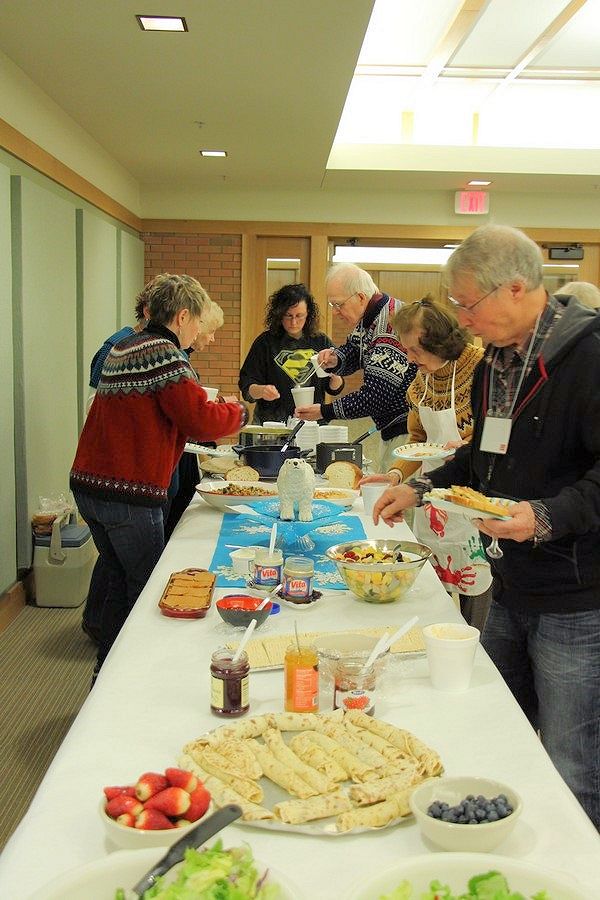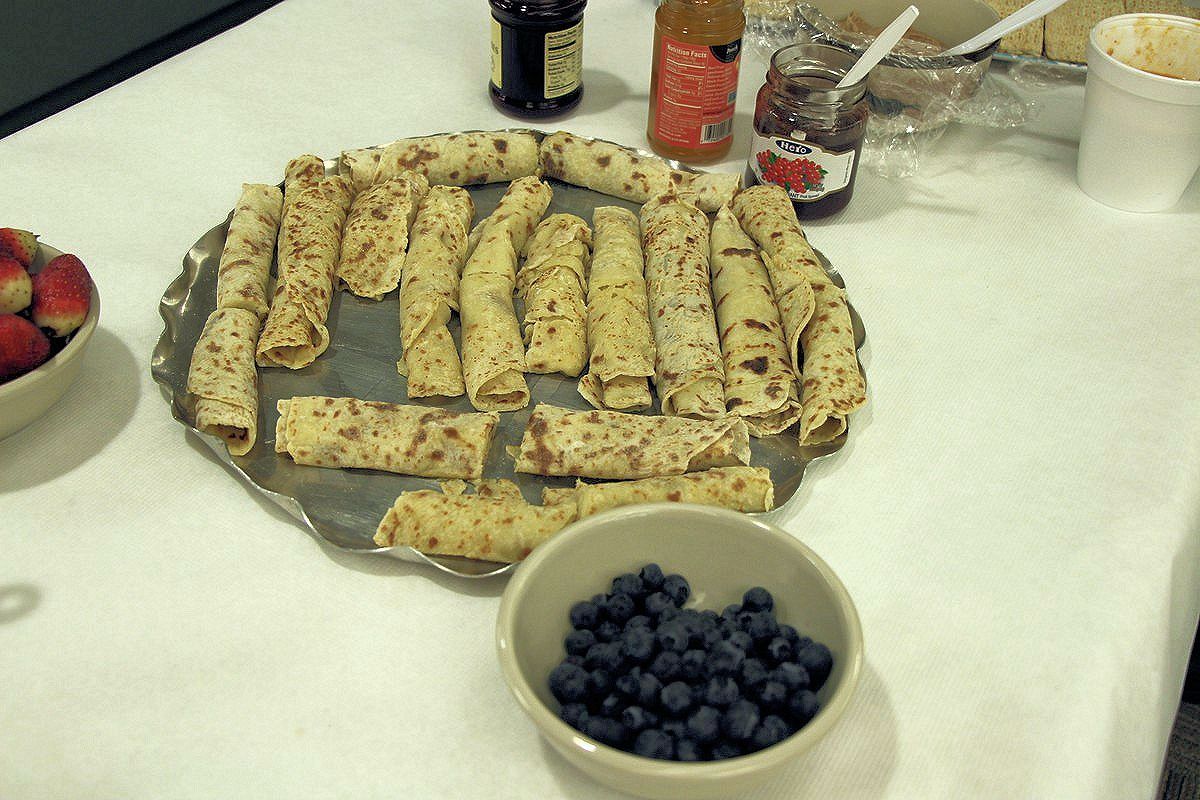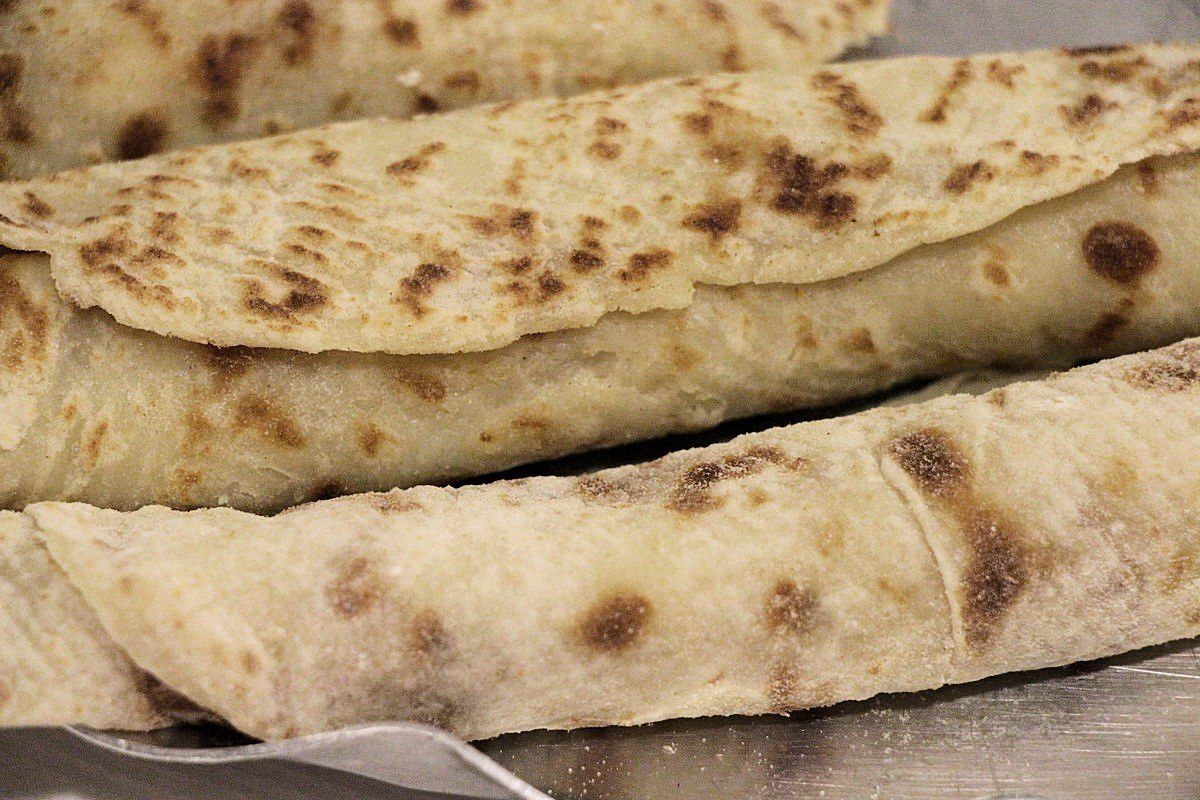 Standard lefse grills are made in the USA by Bethany Housewares, and though non-stick is available, it should not be necessary for lefse. In some areas lefse equipment can be purchased at local stores, but it can also be found several places online; here are some sites to check out:
Ingebretsen's
LefseTime
ScandinavianGifts
Lefse equipment can also be found on Amazon.com.
There's nothing like tasting a bit of culture and tradition from the country of your heritage! Lefse is a dish cherished by Norwegians all over the world. Visit Askeladden Lodge, Sons of Norway, and you'll be sure to learn how to bake lefse of your own!
Recipes
In this post, I will list two different potato lefse recipes after a very brief description of each. Coming soon, I will share recipes in a different post that do not contain potatoes, and have a more refined texture.
Recipe 1: Norwegian Lefse Recipe with Instant Potatoes, by Inger & Svein. This recipe uses instant mashed potatoes, and is an easy and reliable way to make lefse dough.
Recipe 2: Aunt Charlotte's Lefse Recipe with Potatoes, found on LefseTime. This recipe uses boiled and riced potatoes and is an old style and traditionally used recipe.
Norwegian Lefse Recipe with Instant Potatoes
This recipe uses instant mashed potatoes from a box, and is an easy and reliable way to make lefse dough. Make a day in advance for best results.
Ingredients
9 cups water
1 Tbsp salt
1 Tbsp sugar
3 sticks margarine
3 cups Carnation powdered milk
1 box (15.3 oz) instant Hungry Jack potatoes
4½ cups flour, divided
Instructions
Day 1:
Bring to a boil water, salt, sugar, and margarine.
Remove from heat, then add powdered milk.
Stir well to remove lumps.
Add instant potatoes. Mix well with a wire whisk until smooth and no lumps remain.
Cool in refrigerator overnight.
Day 2:
Divide dough into three parts. Remove one part at a time, leaving the rest in the refrigerator. For each part, add 1½ cups flour and knead well.
Divide each of the three parts into small balls, approximately the size of golf balls.
Refrigerate again, until ready to use.
Preheat a lefse griddle to 450°F. Do not grease the griddle!
Sprinkle lefse board and rolling pin generously with flour.
Take out one ball of dough from the refrigerator at a time, flatten it to a disk, then sprinkle with flour.
Roll to a thin circle.
Loosen from board by running a lefse stick underneath dough, then lift and fold out onto the dry lefse griddle.
Bake for about 1 minute until bubbles appear on the top side and and golden brown spots underneath.
Flip and bake the other side for 30 seconds to a minute or so until brown spots appear underneath at well.
Remove and place on a cookie rack between two towels. When cool, store in ziplock bags. Can be frozen.
Aunt Charlotte's Lefse Recipe with Potatoes
This "old fashioned", traditional lefse recipe from LefseTime contains boiled, riced potatoes.
Ingredients
4 cups riced potatoes
¼ cup butter
½ cup heavy whipping cream
2 tsp sugar
1 tsp salt
1½ cups flour
Instructions
Peel 2 - 2½ Lbs russet baking potatoes and cut to equal sizes for even cooking.
Boil in salted water until fork tender. Drain well.
Rice to measure 4 cups tightly packed potatoes; keep hot.
Cut butter into pats, add to hot potatoes to melt, and mix well.
Keep uncovered until potatoes are no longer steaming, then cover and cool overnight in the refrigerator.
Break riced potatoes into small lumps, then add cream, sugar, salt, and flour.
Stir well to incorporate, then knead until dough is smooth.
Divide into balls using ¼ or ⅓ measuring cup. Flatten them a little bit into small disks, making sure edges are smooth and not cracked on the sides.
Refrigerate again until ready to use.
Preheat a lefse griddle to 450°F. Do not grease the griddle!
Sprinkle flour generously onto board and rolling pin.
To roll, take out one ball from the refrigerator at a time.
With flour sprinkled on the dough as well, roll to a thin circle.
Go under the rolled circle with a lefse stick, loosen from the board, then fold out onto the dry lefse griddle.
Bake for about 1 minute until bubbles appear on the top side and brown spots underneath.
Flip, using the lefse stick, and bake for another 30 seconds to 1 minute or so until brown spots appear underneath at well.
Remove and place on a cookie rack between two towels. When cool, store in ziplock bags. Can be frozen.