I have tried several brands of eye make-up removers. Some brands were cheap, and some expensive. They all had one thing in common: if I got some of it in my eye, which is inevitable when removing make-up from eyes, it wasn't pleasant. Some of them down-right stung, which seems odd when you consider what they were made for; the eyes! Using plain water doesn't work, of course, and soap stings as well.
There is a solution to the problem, however, and the solution is not to go to the department store to purchase the most expensive bottle you can find. It is simply to make it yourself, using a product readily available at any grocery store, or may already be in your bathroom if you have a young child: Baby shampoo, or baby wash! (Amazon carries them as well, such as the one in this link.) Baby shampoo is made to be tear-free, and though not 100% neutral when in the eyes, at least it's more gentle on eyes than anything else I've ever tried. It also works great for removing sticky mascara or other eye make-up. I have made my own for years now, and saved a lot of money. When I first heard about it, I jumped to the idea! It was brilliant! And I simply re-use my old Mary Kay eye make-up remover bottle, though any bottle will be fine. Air plane cosmetic bottles can often be found in sample sections of the store, and will probably work well for this use.
If you do try this recipe, I would really appreciate a quick comment with a star rating (option found immediately under each recipe). It helps me out tremendously! Thanks in advance!
This is what you need, plus water: (My bottle is not looking great anymore as I have used it so much, but it still works just fine.)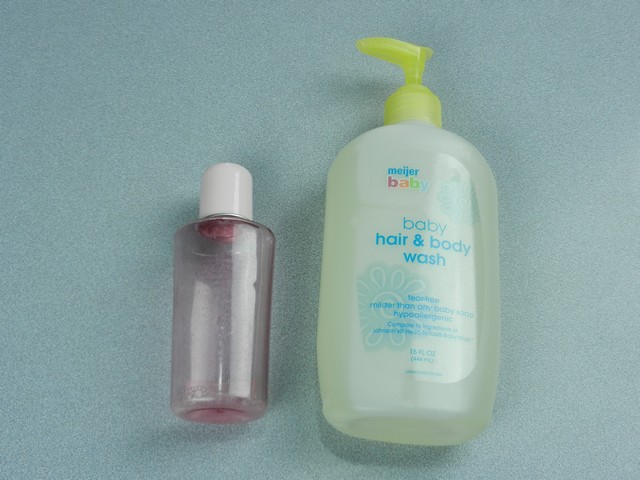 There is a squirt cap on my bottle that I remove, then put back on when the bottle is filled.
In this 4 oz (or so) bottle, I use two pump fulls, which for the pump on this bottle adds up to be just shy of 2 tsp worth. I fill the rest of the bottle with cold water, then tip the bottle upside down a few times to gently shake it up to mix.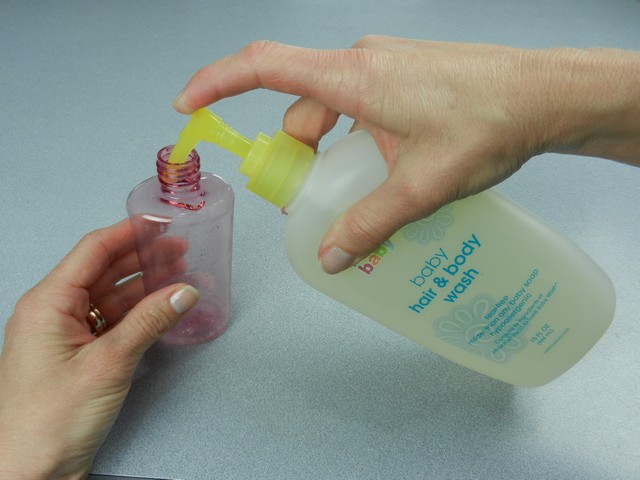 Then you'll want to test it (I used a little piece of paper towel). You don't want to use so much soap that it suds up much on your cotton ball, because it gets in the eyes more easily that way. You just want it to be slippery enough to remove the make-up.
I put some mascara on my hand to check, or mostly just to show you: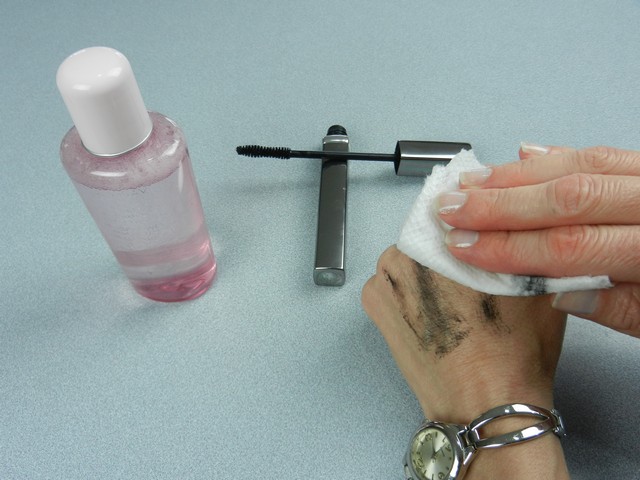 Yup, it works!
And I have a bottle full of tear-free solution that works great, and cost me almost nothing! The pump bottle of baby wash cost me $2.50, (on sale from $2.63), from which you only need 2 tsp to make up an entire bottle. That'll give me…ooo…   about 90 bottles? At around 3 cents per bottle?  I think that will last me a while… Yeah…
In comparison, one bottle, yes, ONE, of Mary Kay's eye make-up remover, though this is a great product and looks very pretty, currently cost $15. I am VERY happy with baby wash for my eyes!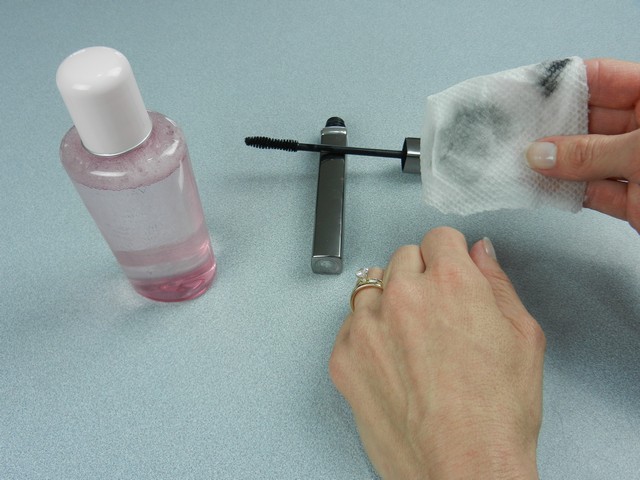 Editing to add: Some people have been wondering whether this solution works for waterproof mascara as well. Having no previous experience with waterproof mascara, I went to the store and purchased one to test. After putting it on my hand, and also wearing it on my eye lashes a couple of times, washing it off  with my homemade remover, I came to a conclusion: It does not work very well in this diluted form. However, when I put straight baby shampoo on a wet cotton round, I was able to remove it without a problem. On my hand, I also tried regular liquid hand soap to have something to compare to, and found that this worked only slightly better than straight baby shampoo. And who wants to put regular hand soap on their eyes? In other words, for waterproof mascara, baby shampoo worked well in its concentrated form, but not as the diluted remover that works great for regular mascara.I hope that helps!
Homemade eye makeup remover is super easy and cheap when you use baby shampoo, and tear free! Please comment and rate this recipe if you try it; option is found immediately under the recipe. Thank you!!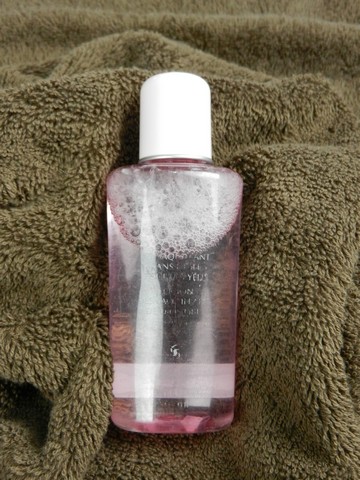 Tear-Free Eye Make-up remover
This tear free eye make-up remover works well for regular mascara and eye make-up, and is very inexpensive and easy to make.
Ingredients
4 fl.oz water (1/2 c or 8 Tbsp)
2 tsp baby shampoo (tear free)
Instructions
Mix together water and shampoo until well blended.
Pour into small bottle.
Use on cotton to remove eye make-up.