Last weekend, we, like so many others in the US, decorated for Christmas. Christmas decorating is not really my favorite thing to be doing, though once it is all up, it does look so beautiful and gets me in the spirit of the season. Growing up in Norway, tradition was to decorate on the day we called "Little Christmas Eve", December 23. Christmas Eve was the major celebration when we'd officially start Christmas, eat a special Christmas dinner, open gifts etc. In December, we'd decorate in purple for Advent, the time in awaiting the birth of Jesus Christ. Then, on the 23rd, we'd change the colors and decorate for Christmas. In the US, in my experience people generally seem to be celebrating Christmas throughout December up until the 25th, then everything comes to an abrupt end. In Norway, however, the week between the 24th and New Years, "Romjula", is all about Christmas. In fact, the 25th, 26th and 27th are called 1st, 2nd, and 3rd Christmas Day, which are Holidays, and all stores are closed. Families get together, visiting and celebrating. It is a peaceful time with no errands or shopping to be done.
Regarding decorating, last year was the year of a new tradition: Let the kids go excitingly at it while I watch in awe and see it all come together! My decorating style is fairly simple, and once I figure out what looks good, I want it to stay that way unless I can see a change is needed. I just don't like to spend mental energy on it; the act of decorating is not what excites me. Therefore, Christmas season of 2009, I took pictures of everything after it was decorated; then, Christmas of 2010, my kids could look at my pictures and know exactly where to place the different items. I sat on the couch, watching them run around, all excited and happy.
The Christmas tree is also great fun for my kids to decorate. I'm not so picky about getting it "just so", with everything matching. I have a variety of ornaments; all kinds of shapes and colors, and several items that my kids have made. It all is very charming to me, and a good part of that charm is that my kids participated and got some of their special ornaments up on the tree. They love digging into the box, pulling out one thing after another, oo'ing and ah'ing, "remember this one?!" Lots of different ones, and many of them holding fond memories. I know lots of families will do both; a fancy, matching tree for their main room, and in a different part of the house, a tree especially for their kids to decorate. And why not; the best of two worlds. Personally, we like to stick to just one tree, and we have fun with it, not worrying so much whether it looks all perfect in the end or not.
Our tree this year, as decorated by my kids: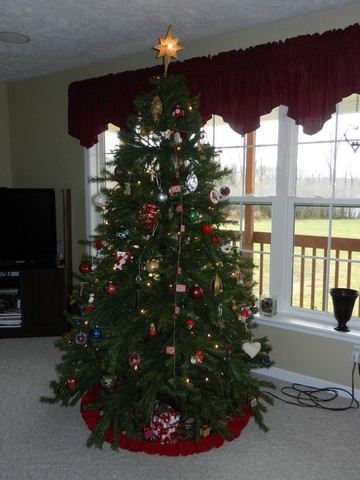 I'm coming to realize, now that I started really looking at it, that we can stand to switch out some of our decor. There are pieces here and there that are truly old and outdated, and a few new ones would surely make it look better. I'll have to go peak at some sales. Hobby Lobby often have 50% off their Christmas decor, throughout the season. Guess I'll be heading that way soon!
This next one is a treasured one that my daughter made in Kindergarten. Santa's beard gives him a smile, though in reality she says she hadn't been given enough time to fill in the beard properly, so it ended up like this. I think it's adorable!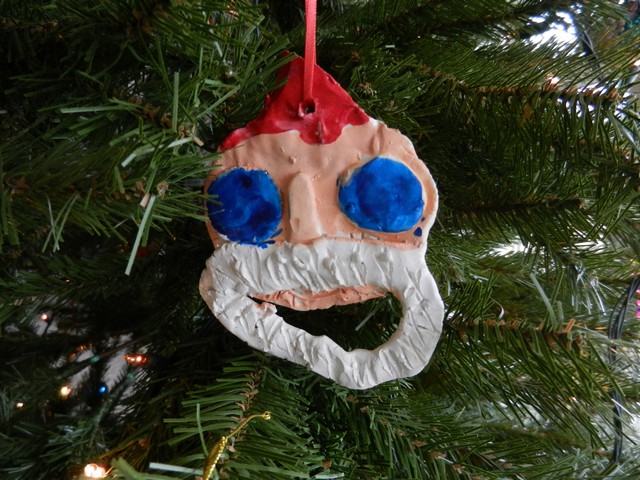 This is another one I like to put on, remembering that Jesus is the reason for the season!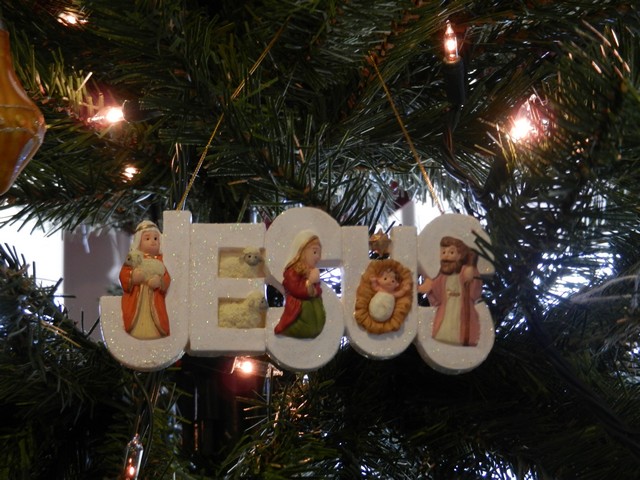 And, of course, being a native Norwegian, I have to stick to the tradition of adding a string of Norwegian flags: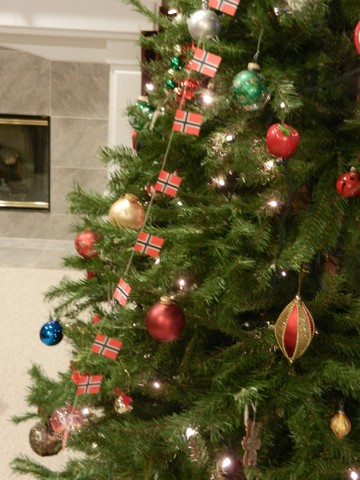 This year we're starting a new tradition: Cut-out paper stars and snowflakes to hang in our large kitchen window. I mostly sat and cut them out myself, but my kids did some as well. I was going to try just a couple, then went all nuts, and before I knew it I had a whole pile of them. Since I lent out my sewing machine recently, and all of my thread to go with it, I had to run on over to my faithful sister-in-law to borrow some thread from her to hang them up.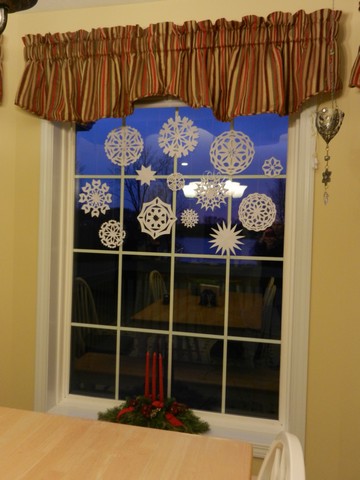 So that's how I do things as far as decorating goes during the Christmas season. Some day I might find the time and energy to get a little fancier with things, but for now, it works and brings the charm to the season for our family. (Click the following link to see how I decorated the following year, 2012: Decorating for Christmas, Family Fun)