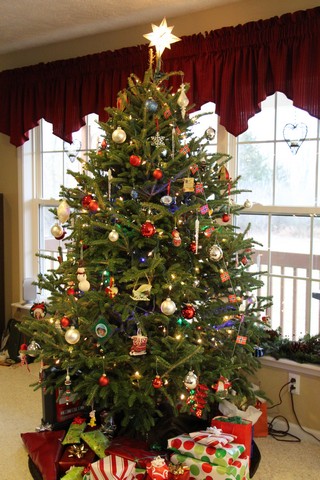 This year for Christmas, I had decided to do something new regarding our tree. I thought our tree, the way we used to decorate, looked too random and not stylish enough. (See my older post, Simple, Fun Christmas Decorating.) So I decided to get rid of a lot of the old ornaments and replace with new ones. I went to Hobby Lobby and picked out a bunch of red, white, and silver ornaments, some frosted and some shiny. In addition, I thought I'd add snowflakes and icicles. Then, much to my surprise, and dismay at the time, my husband came home with a string of colored lights, which clearly wouldn't work with my new theme. At the same time, I had also struggled with the fact that a theme like this would restrict us to certain colors and shapes, and make us feel like we couldn't add other decorations that may be fun, adorable, or much loved, because it wouldn't fit with the theme. Even though colored lights are not that high up on my list, I decided to ditch my bright idea of a new theme, and let this be the family tree that it's always been, which allows everyone to put something on it that they feel is special.
So, with renewed excitement in my heart, I took my kids to the store and purchased some new Christmas ornaments that we found cute and special, to replace some of the older ones. We then decorated the tree as a family, using lots of fun, pretty ornaments in addition to a ton of the new red, white, and silver bulbs. And my husband added his string of colored lights, and made sure to hide them deep inside the tree where they were hardly noticeable, to please his wify. So I pulled them further out so they could be seen better. My man should be able to see his little splashes of colored gleam! We're both very happy with the result! It may not be much on the list of gorgeous designer trees in America today, but it's the prettiest tree we've ever had.  And everyone can find something on it that makes it extra special to them, and to us all!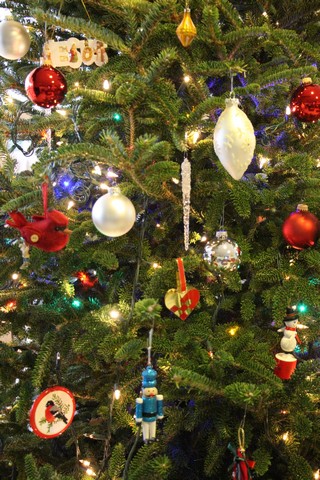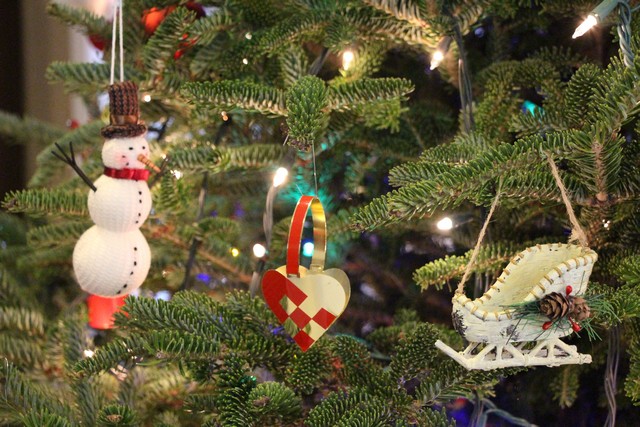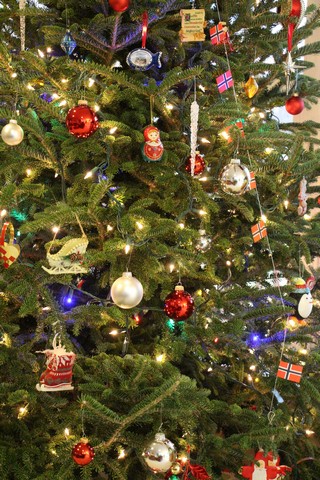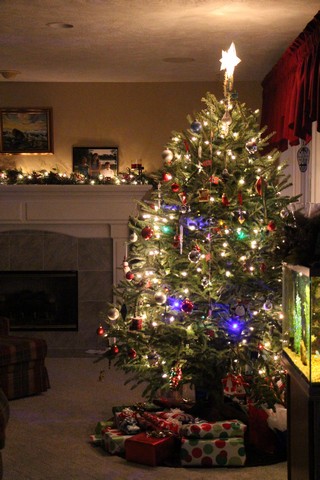 In addition to our tree, we also decided to use a Pinterest idea that we found really fun and cute: See My Snowman Fridge. We are very happy with the result, and it was easy to do. We used wrapping paper to make the scarf, instead of purchasing the scrapbook paper that was suggested, and the other pieces were cut from regular construction paper, free hand. If the pieces are not perfectly shaped, that only adds to the charm, I think. This is one way to decorate for Christmas that can also go for general winter decor. We'll be leaving the snowman up all winter, if possible. This year has been especially enjoyable; decorating for Christmas can truly be fun and special for the whole family!