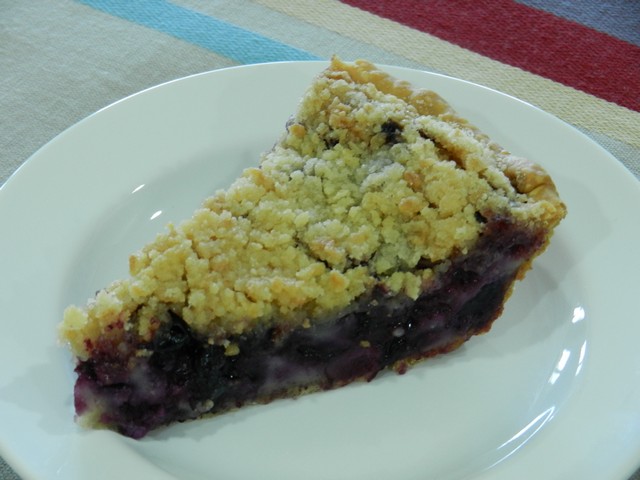 One of my favorite pies, and an easy one to make, is the Creamy Blueberry Pie that I found on AllRecipes years ago. With a few changes that I have made to this recipe since then, the result has been excellent; a pie that quickly becomes a favorite whenever served at gatherings. The changes include using less sugar, as the original recipe was a bit too sweet for my taste. I also added more salt to the filling for extra flavor, as well as a pinch of salt to the streusel topping, and adjusting the oven temperature to allow for shorter baking time.
Most fruit pies seem to contain a filling based on berries in a heavy syrup. This pie, however, has a creamy, custard-like filling, adding flavor and a smooth texture by using eggs and sour cream in addition to other ingredients. Filled into a pie shell and topped with a crumbly streusel mix, the layers add variety in flavors and texture.
If you do try this recipe, I would really appreciate a quick comment with a star rating (option found immediately under each recipe). It helps me out tremendously! Thanks in advance!
This pie should be baked on a cookie sheet, preheated in the oven to 375° F.
To prepare the pie, I start by spraying a 9-inch pie dish quite heavily with cooking spray, making sure to spray all the way to the top along the edge, to prevent the dough from sticking to the dish when I'm ready to cut and serve the pie. I then line the pie dish with an uncooked, single pie shell. I sometimes use homemade pie crusts, which I typically make and freeze several at a time. Other times I purchase a ready-made, raw crust, like I did this time, for simplicity since I didn't have any homemade crusts left in the freezer.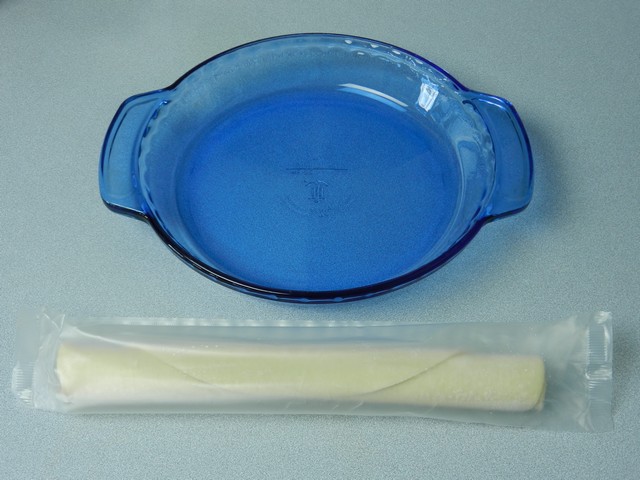 Instead of cutting off leftover dough that hangs outside the pan, I fold it down along the edge and press it together.  I set the crust aside, and start to prepar the filling.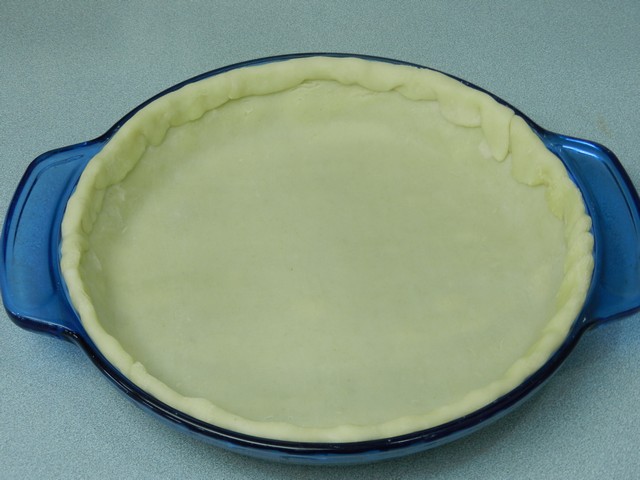 I mix together sugar, flour, and salt in a medium bowl, and set it aside.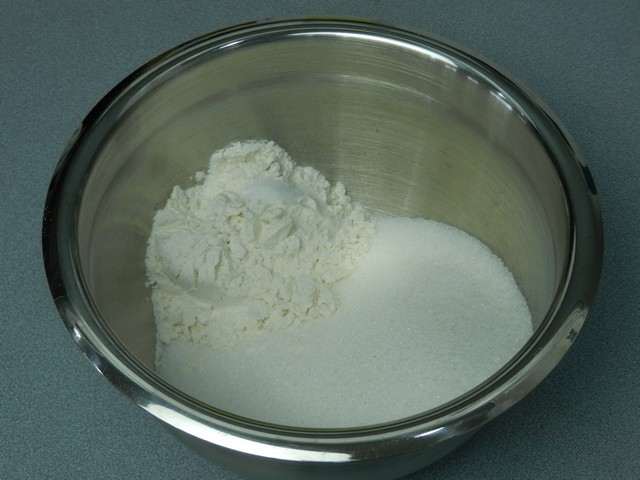 Then I mix together eggs and sour cream…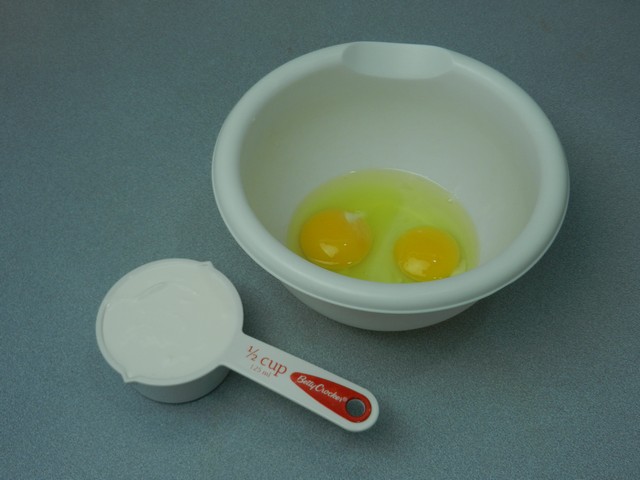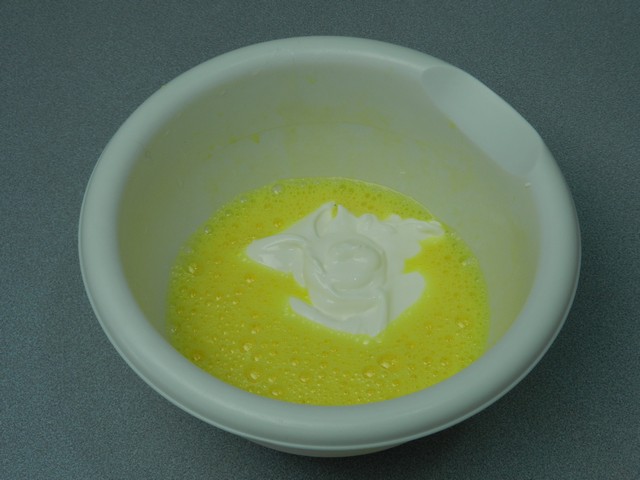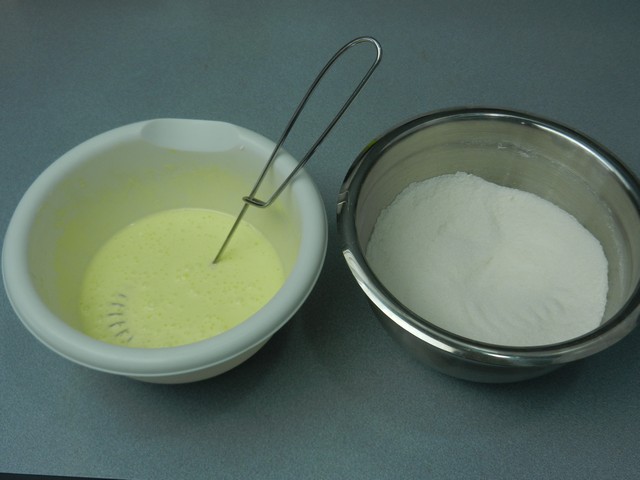 …and combine the two mixes together, mixing well with a whisk.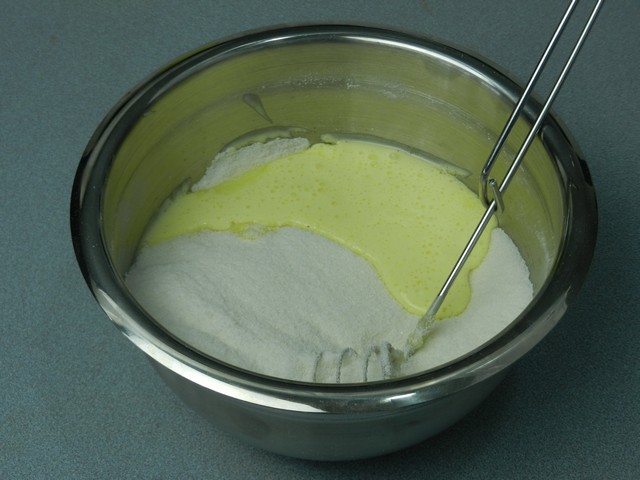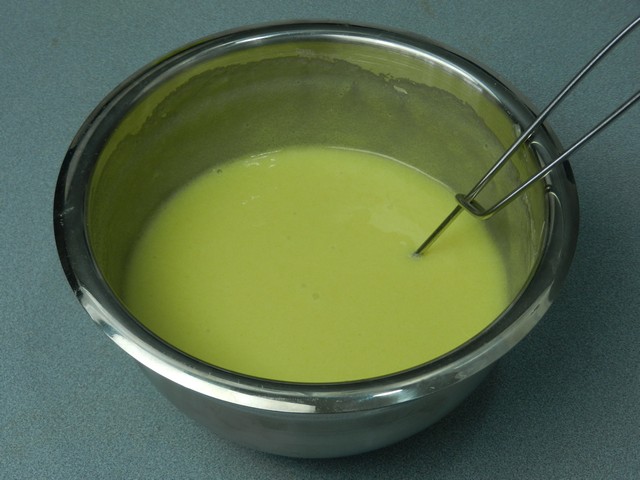 Setting the custard mixture aside temporarily, I fill frozen blueberries into the pie shell. Fresh berries can be used as well.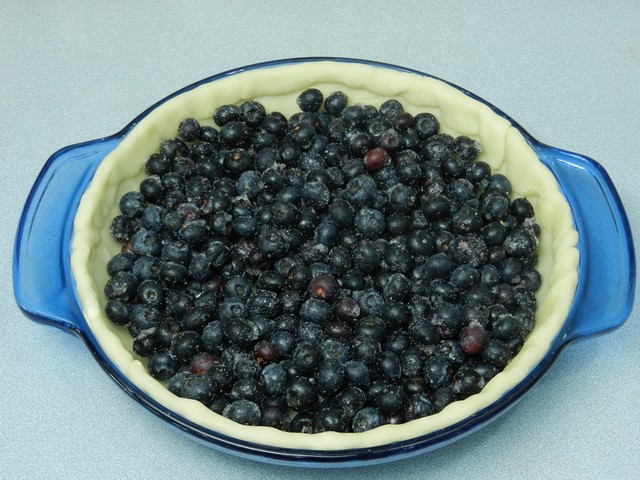 I now pour the custard mix evenly over the blueberries.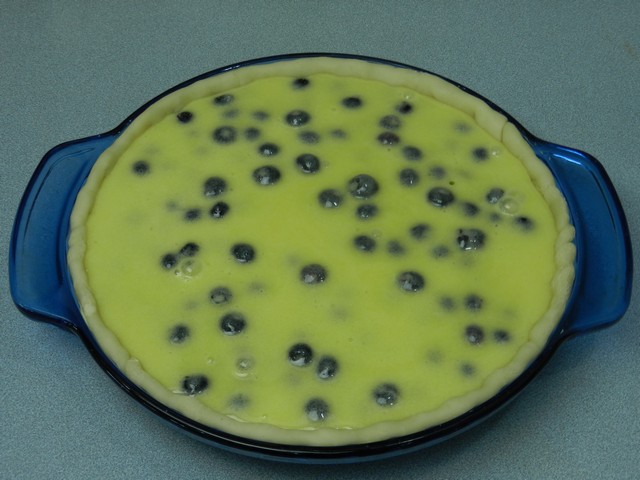 For the topping, I use  cold, real butter, flour, and white granulated sugar. In addition, I like to add a small amount of salt to give the streusel mix an extra kick. This comes in addition to whatever salt is already in the butter, if any. You may omit the extra salt if you wish.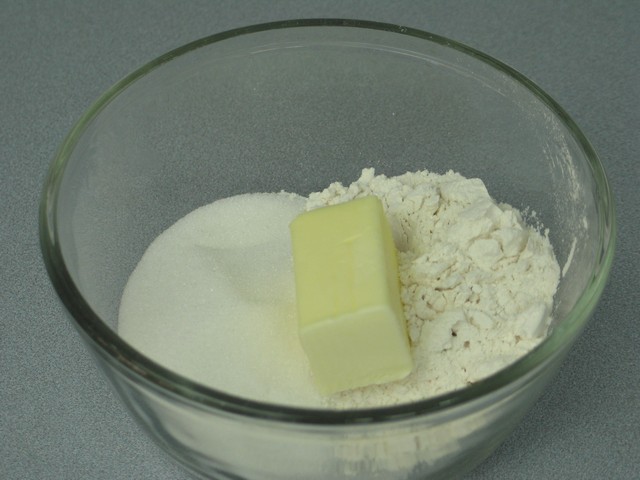 I cut the butter into the flour, sugar, and salt, using a pastry cutter, mixing everything together as I go. I prefer the style shown in this link, with wider blades, rather than the wire style in this link. I personally find the wider blades easier to use, and it works better for me.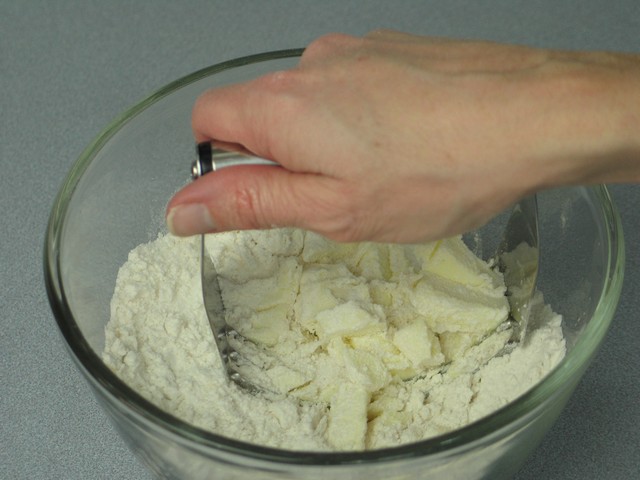 I cut in the butter until the mixture is coarse, leaving pie sized lumps of butter here and there.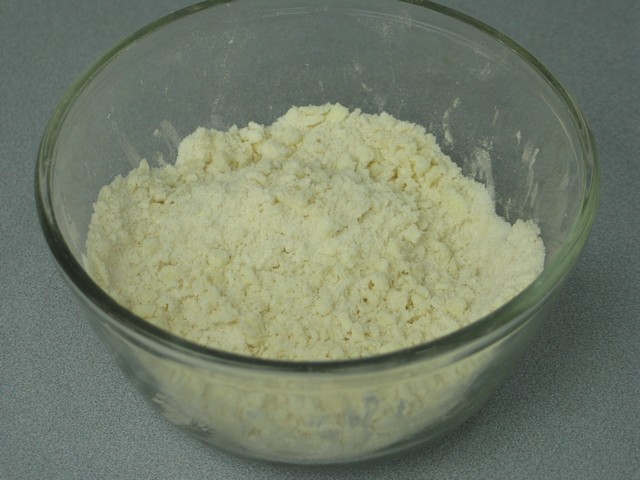 Then I spread the topping over the blueberry filling.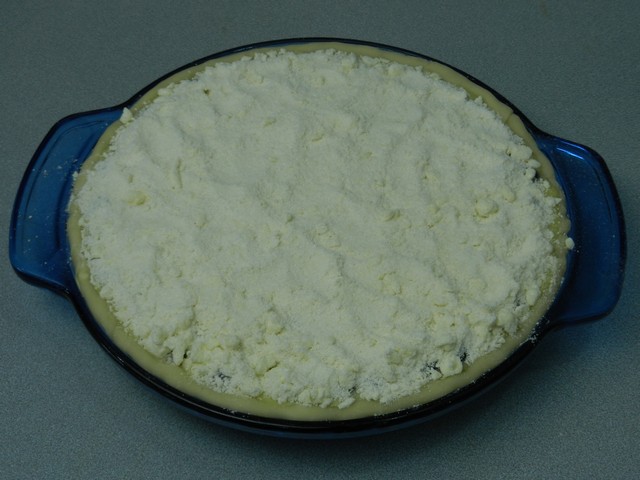 It is important to bake this pie on top of a cookie sheet, to catch any filling that drips over the edge. I preheat the oven to 375° F instead of 350°, to cut down on baking time. I leave the cookie sheet in the oven to preheat together with the oven. This step helps to ensure a properly baked pie dough.  This pie takes takes 1 hour and 20 minutes altogether to bake at 375° F, but the time will vary from one oven to the next. I might try to raise the temperature to 400° F next time, to see how that goes. If you try it, please do leave a comment to let the rest of us know how it went.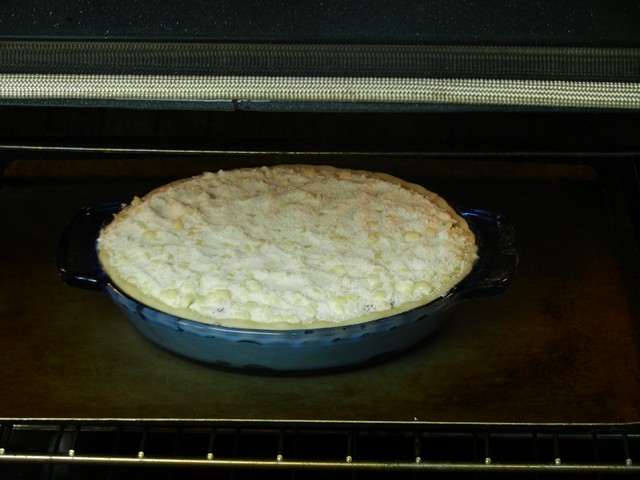 Once I put the pie in the oven, on top of the cookie sheet, I put the timer on 45 minutes, at which point I add a pie shield. While the pie is in the oven, I prepare a pie shield, a simple pie crust edge protector which can also be purchased at the store (such as this one, on Amazon), but I prefer to make it myself. It is so easy and inexpensive to make, and it can be discarded afterward if messy, cutting back on cleaning and storing. I pull out a piece of aluminum foil large enough to cover the pie, and fold it like I would a wash cloth: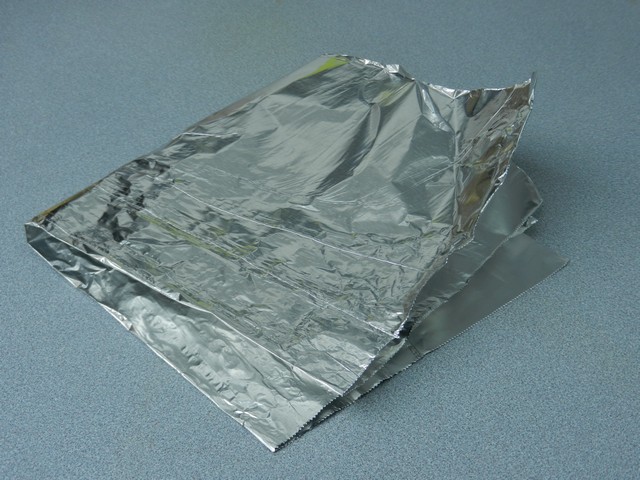 Then I tear out a quarter circle from the corner without openings, about 3-3 1/2 inches deep, so that when you open the foil back up, there will be a hole in the middle of it of 6-7 inches in diameter or so.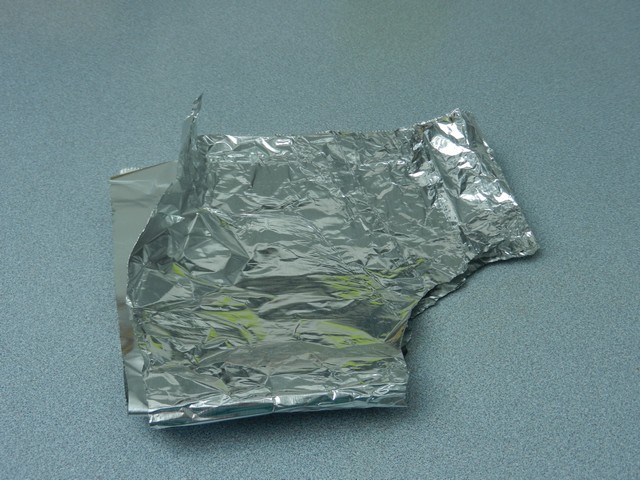 Like this: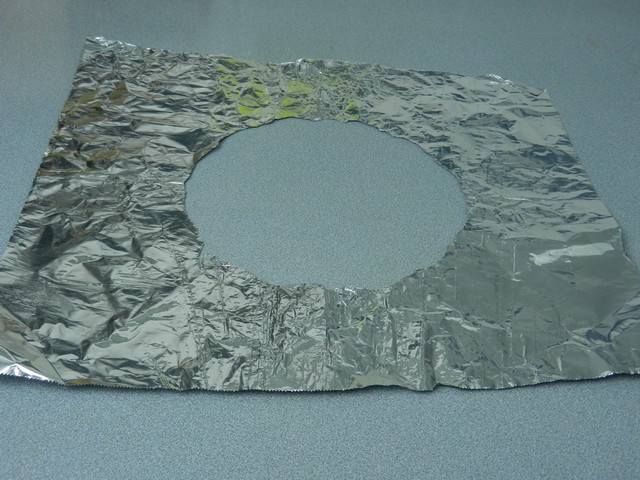 After 45 minutes or so, cover the edges of the pie with the shield, to prevent over browning. As you can see, the filling tends to bubble out here and there, so a cookie sheet to catch the drippings is very helpful.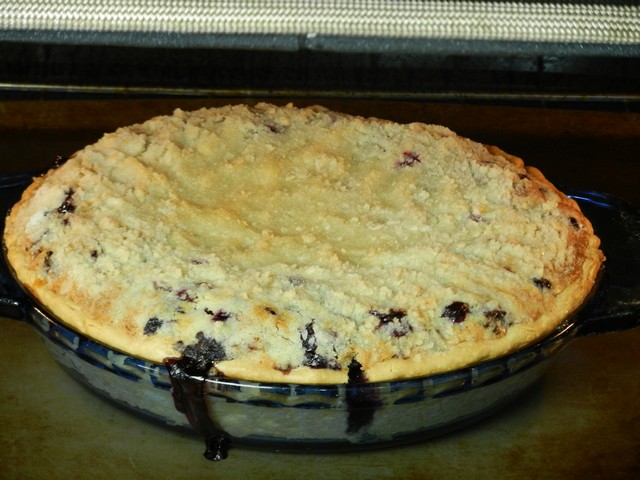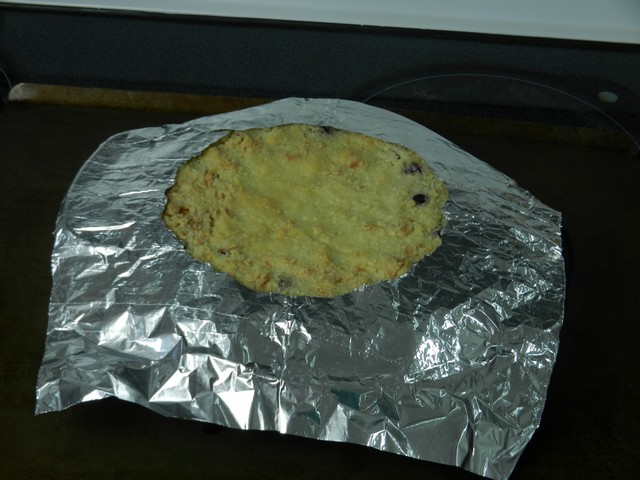 Bake the pie for an additional 35 minutes or so, until the middle has puffed up and the pie is golden brown, for a total of approximately 1 hour and 20 minutes. If the middle has not yet risen, the pie is probably not done. So I look for the middle to rise before I consider it properly baked.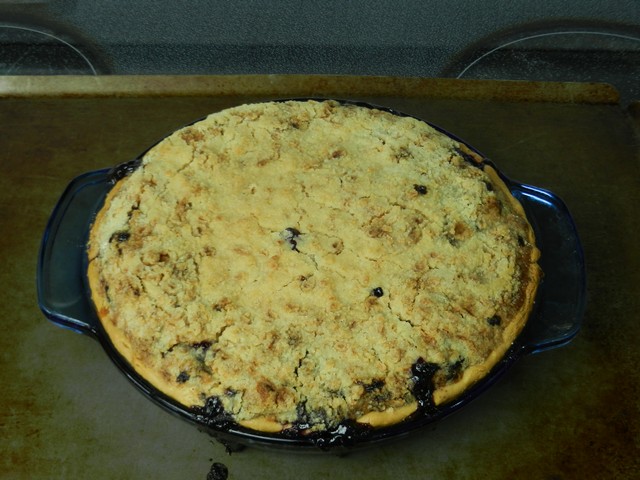 After the pie is taken out of the oven and starts to cool off, the middle will sink together again, which is fine and to be expected.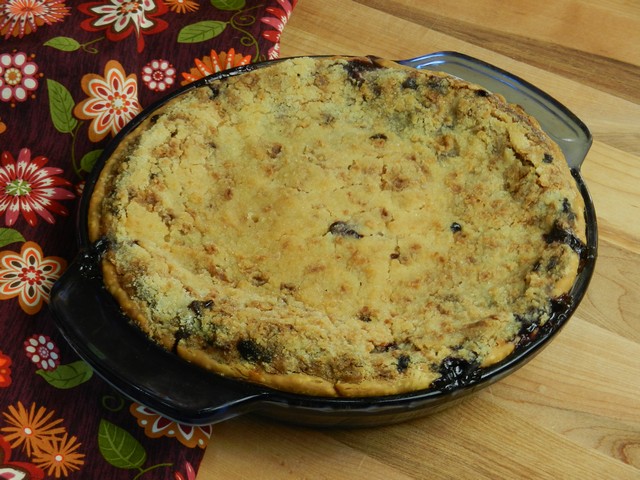 The pie can be served warm or cold. Leave leftovers in the refrigerator.
I recently purchased a new pie dish, which ended up being slightly larger than my blue glass dish, even though both are considered 9 inches. This new dish allowed for better space for the filling, and prevented spills almost entirely.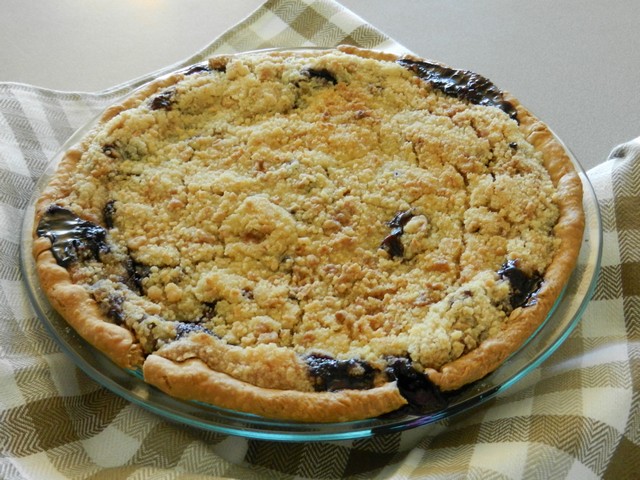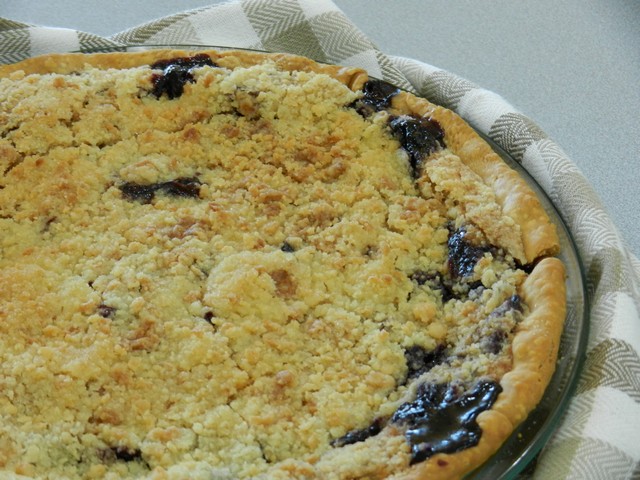 The Creamy Blueberry Pie may be served with or without ice cream or whipped cream; it is delicious either way with sour cream mixed into the eggy custard  filling! Please comment and rate this recipe if you try it; option is found immediately under the recipe. Thank you!!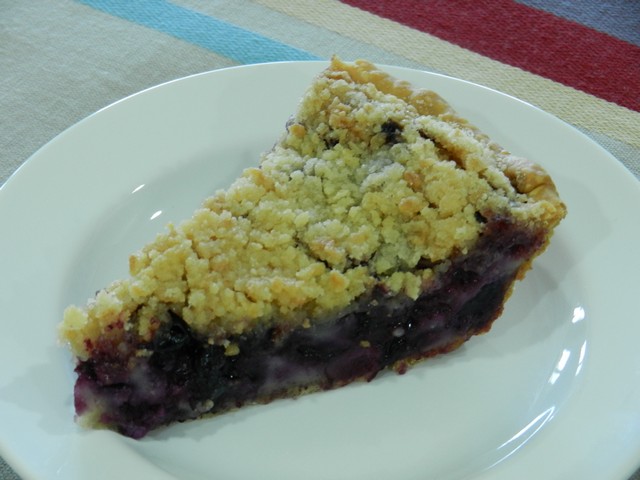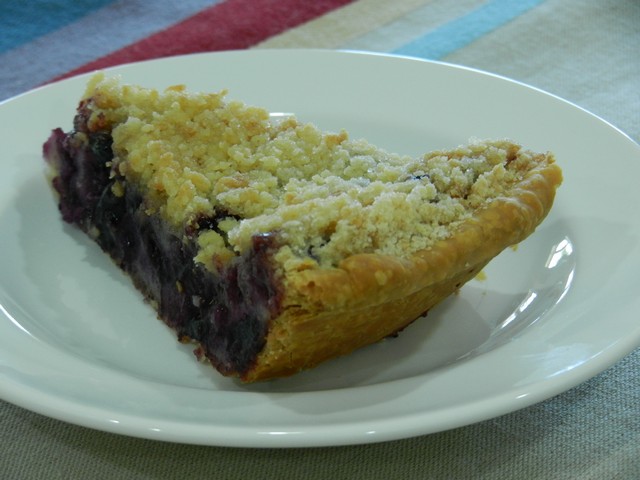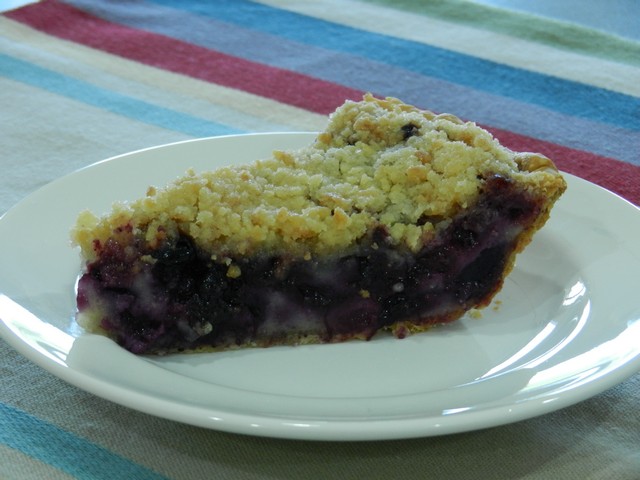 Sour cream and eggs make this delicious blueberry pie creamy and custard like.
Ingredients
1- 9 inch deep dish pie crust
½ c granulated sugar
⅓ c flour
¼ tsp salt
2 eggs, beaten
½ c sour cream
3 c blueberries, fresh or frozen
Topping:
¼ c cold butter
½ c flour
½ c granulated sugar
¼ tsp salt (may be omitted)
Instructions
Preheat oven to 375° F, with a cookie sheet placed in the middle of the oven.
Spray a 9-inch pie dish heavily with cooking spray, all the way up to the top of the edge.
Line pie dish with a single, raw pie crust.
Combine sugar, flour, and salt in a small bowl. Set aside.
Beat together the eggs and sour cream in a medium bowl.
Add the flour mixture to the eggs, whisking together until well blended.
Pour blueberries into pie crust.
Pour egg and flour mixture over blueberries.
Prepare topping by combining topping ingredients, cutting the cold butter into the flour, sugar, and salt. Blend as you go, until coarse and butter has been cut into lumps the size of peas.
Add the crumble mix on top of blueberries and custard.
Place pie on a preheated cookie sheet, and bake for 45 minutes.
Cover pie crust edges with foil or a pie shield, and bake for an additional 35 min. or so, until the middle has puffed up and the pie is golden brown.