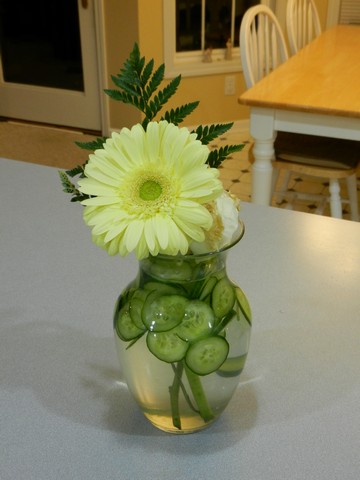 This past summer we had a surplus of cucumbers growing in our garden, and we found ourselves with more than we could use. Sometimes I like to slice them up to use for cucumber water, or we eat them raw with dinner. Since even the scent of cucumbers is so refreshing, I one day decided to add some slices to a pitcher of water for my counter top, just to look pretty and for the pleasant scent. Then I changed my mind and put them in a vase instead. That would look even prettier, I decided.
That same weekend we went to a wedding, and one of my daughters was given a flower to bring home. Instead of putting the flower in a separate vase, I decided to stick it in with the cucumber slices, and it was a perfect match! I thought it made for a beautiful center piece for my kitchen counter top. The following morning the water was looking a bit cloudy, so I emptied the water and threw the old cucumber slices in the compost, while adding fresh ones to new water in that same vase. I repeated it day after day until the flower started wilting. I thought it was a perfect combination!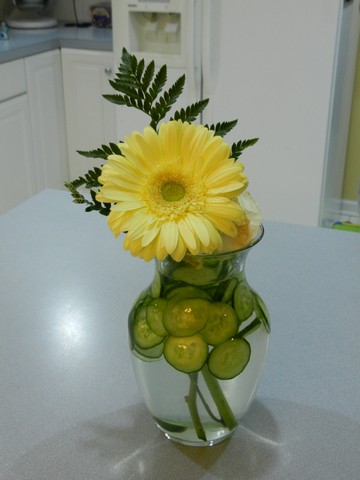 Today I decided to take it a step further, purchased a simple bouquet of flowers, and sliced up a lemon and a lime to see how other combinations might work out. Below are a couple of pictures of the results. I don't know how the flowers will thrive in citrus water, and if they don't seem to thrive I will update in a few days to let you know.
Roses with lemon slices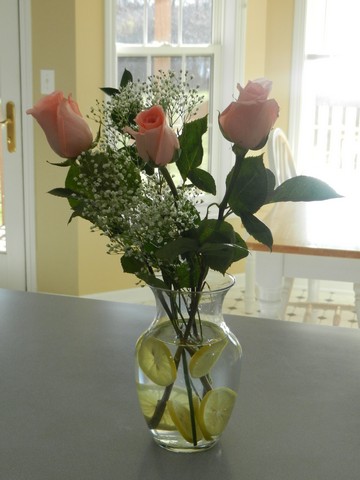 Roses with lemon and lime slices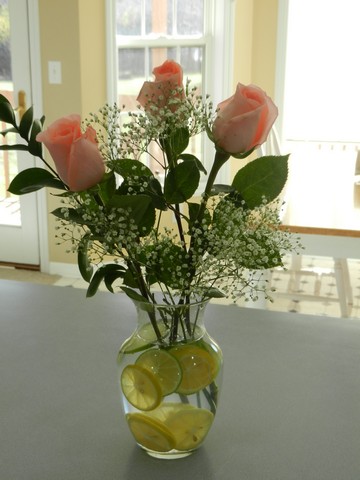 Roses with stems cut short, in tiny vase with pieces of lemon and lime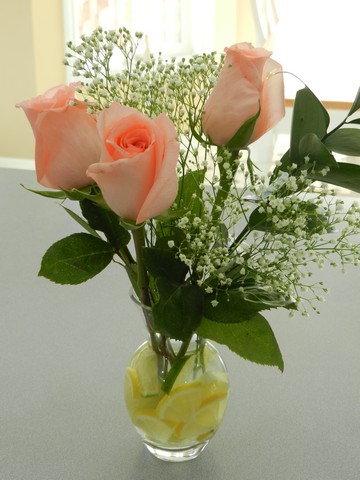 Close-up of vase with pieces of lemon and lime