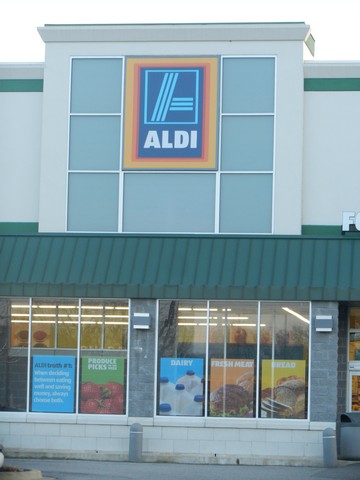 Do you have an Aldi store in your area? If so, you may be surprised to find that they carry a variety of wonderfully delicious, high quality European chocolate! Growing up in Norway, I was spoiled on great chocolate, and for me, the regular ol' Hershey's bar will never measure up. It doesn't melt well, and I find the flavor to be harsh.
And before I go on: No, I do not work for Aldi's and I do not get paid for advertisement. I simply want to share my find with others.
Aldi is a discount supermarket based in Germany and their stores have a bit of that European feel to them. When an Aldi store opened up close to where we live, I was excited because many of their groceries are sold at lower prices, and for the most part we've been happy with the quality of their products. I recently wrote a post on what I like to buy at Aldi, 20 Favorite Aldi Products List, and of course chocolate did make the list! When I first discovered Aldi, I didn't even realize their chocolates were anything special until I took a closer look and noticed that they are made in Europe, which instantly intrigued me. I decided to purchase a bar to try, and found the quality to be excellent! I really couldn't believe it; outstanding quality chocolate at lower prices than other comparable brands. It is still more expensive than a regular Hershey's bar, but flavor-wise there is no comparison. The chocolates from Aldi are smooth, creamy, rich, flavorful, and melt at low temperatures, giving you the feel of eating a high quality product. Some of their chocolates are produced in Germany, and some in Austria or even Belgium. European chocolate is known to be of high quality, and these bars are no exception. It's the real deal! And found right at Aldi! Wow! I can't get over that fact!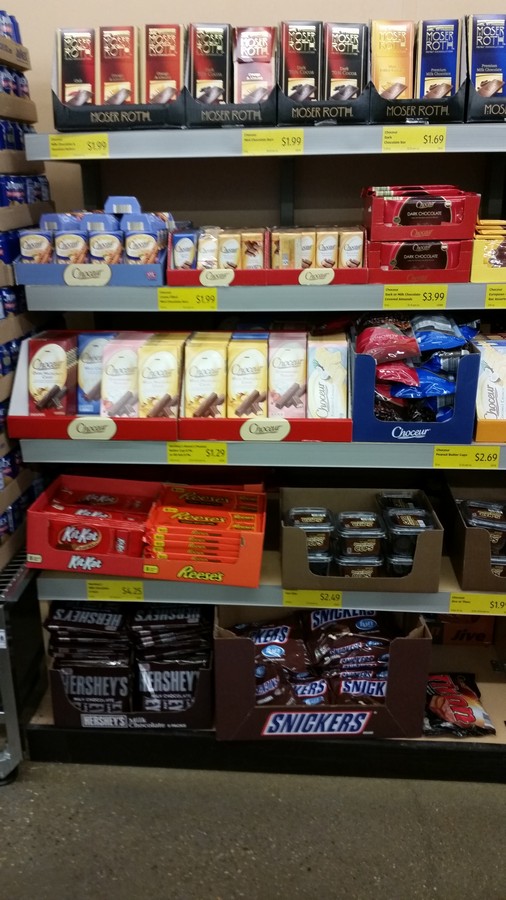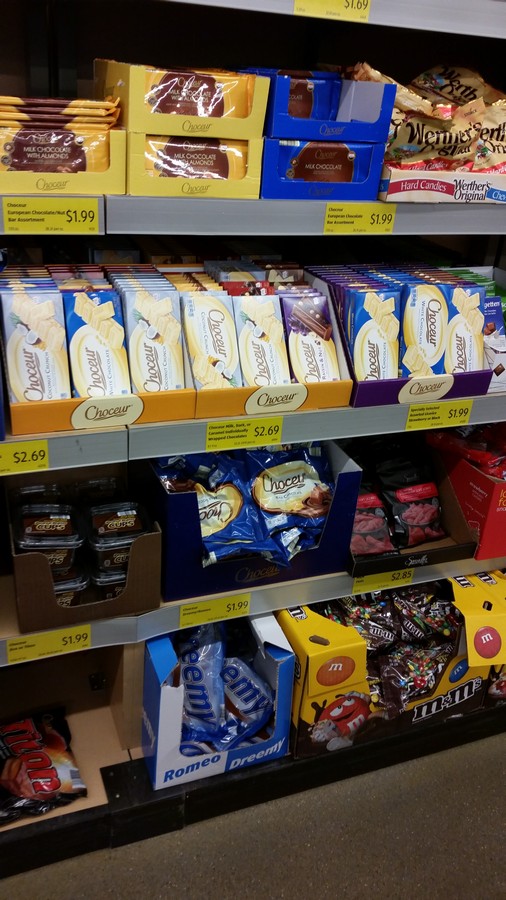 Price wise, the chocolate bars at Aldi range from $1.49 – $1.99. To compare, European bars at World Market range from $2.49 (only one kind) – $2.99 (all other comparable bars). I've seen the same or similar bars for approximately the same prices at other stores as well.  I will describe a few of Aldi's chocolate bars, though they carry several other ones as well.
The two bars on this first picture are made in Austria; milk and dark chocolate. Though I didn't care too much for the flavor of the dark chocolate of this particular brand, the milk chocolate bar was wonderful! Smooth, creamy, and great flavor. I believe flavor combined with texture and temperature melting point are some of the main factors responsible for how people experience different types of chocolate. The producers of Aldi chocolates seem to have managed to create the blend necessary to achieve a high quality product.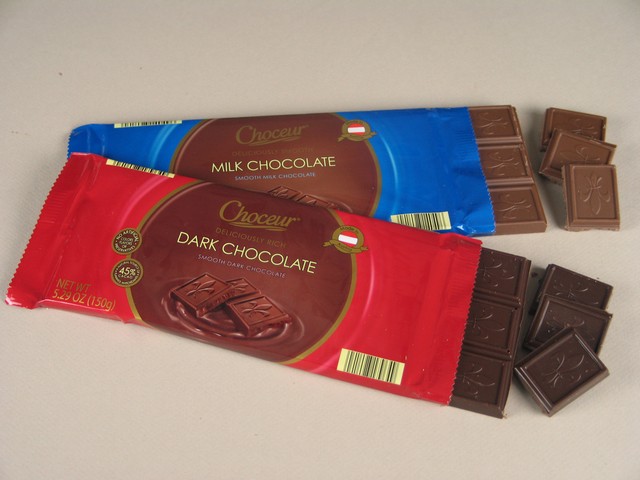 These next two German bars are both awesome! The Coffee & Cream has white chocolate on top and dark coffee-flavored chocolate on the bottom. It does contain real coffee, and quite noticeably so, though nothing overpowering. People who don't care for coffee may not care for this chocolate, though if you enjoy both coffee and chocolate, this bar is for you! Not being overly sweet, it's just a perfect blend in my opinion.
The Creme Filled Mini Chocolate Bars are filled with a white chocolate cream containing a mixture of finely chopped nuts and crispy cereals. The chocolate flavor is quite mild, and being that they are fairly sweet, these bars go very well with a cup of black coffee.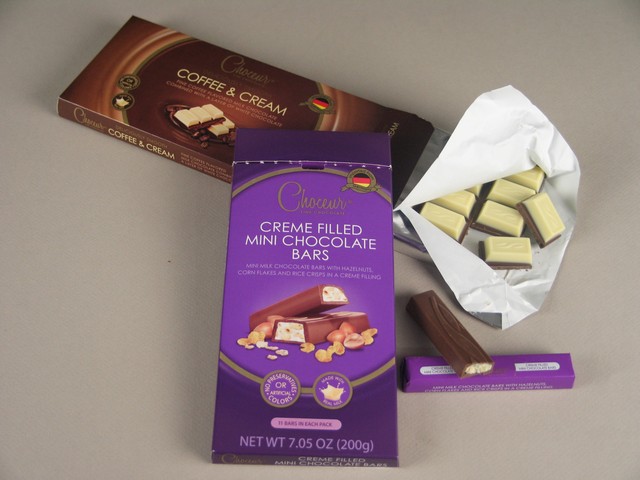 Then there's the white European chocolate from Aldi. Some people don't even consider white as chocolate at all, as it does not contain cocoa solids or cocoa liquor. It does, however, contain cocoa butter, which is also a component of cocoa beans. So in my opinion it still qualifies as chocolate. Regardless, either you care for it or you don't, and this is great-tasting high quality white chocolate for those who do enjoy it.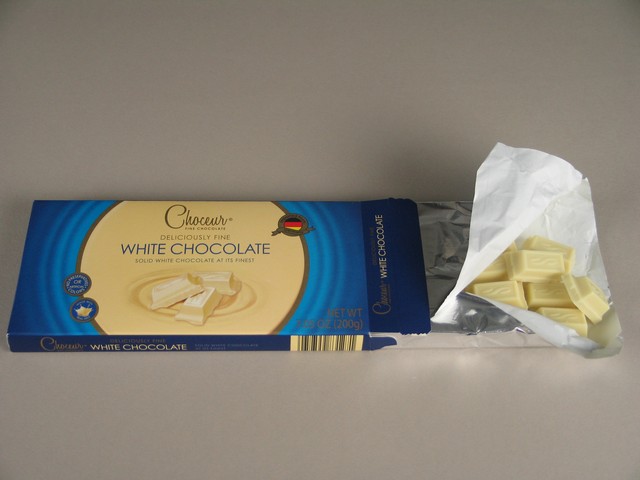 I found a recipe online a while back that called for melted white chocolate. In the recipe reviews, people were complaining that the white chocolate chips they used wouldn't melt properly. That problem would have been solved had they purchased Aldi's white chocolate. It melts exceptionally well, making it my personal top choice for recipes (and eating!). See picture and link on the bottom of this post.
Edited to add: Aldi must have made changes to their white chocolate, as it no longer (as of 2014) melts nicely like it used to. In fact, it is extremely difficult to get it to melt at this point. This means that I will no longer use their white chocolate if I need it for a recipe that requires melting. I will be using Baker's premium white chocolate baking squares since I have good experience melting this type of chocolate. Ghiradelli also carries white baking chocolate that looks promising for melting. I haven't tried this brand yet though.

At last, my two top favorites of Aldi chocolates: Moser Roth Toffee Crunch and Chocolate Crisp Bars.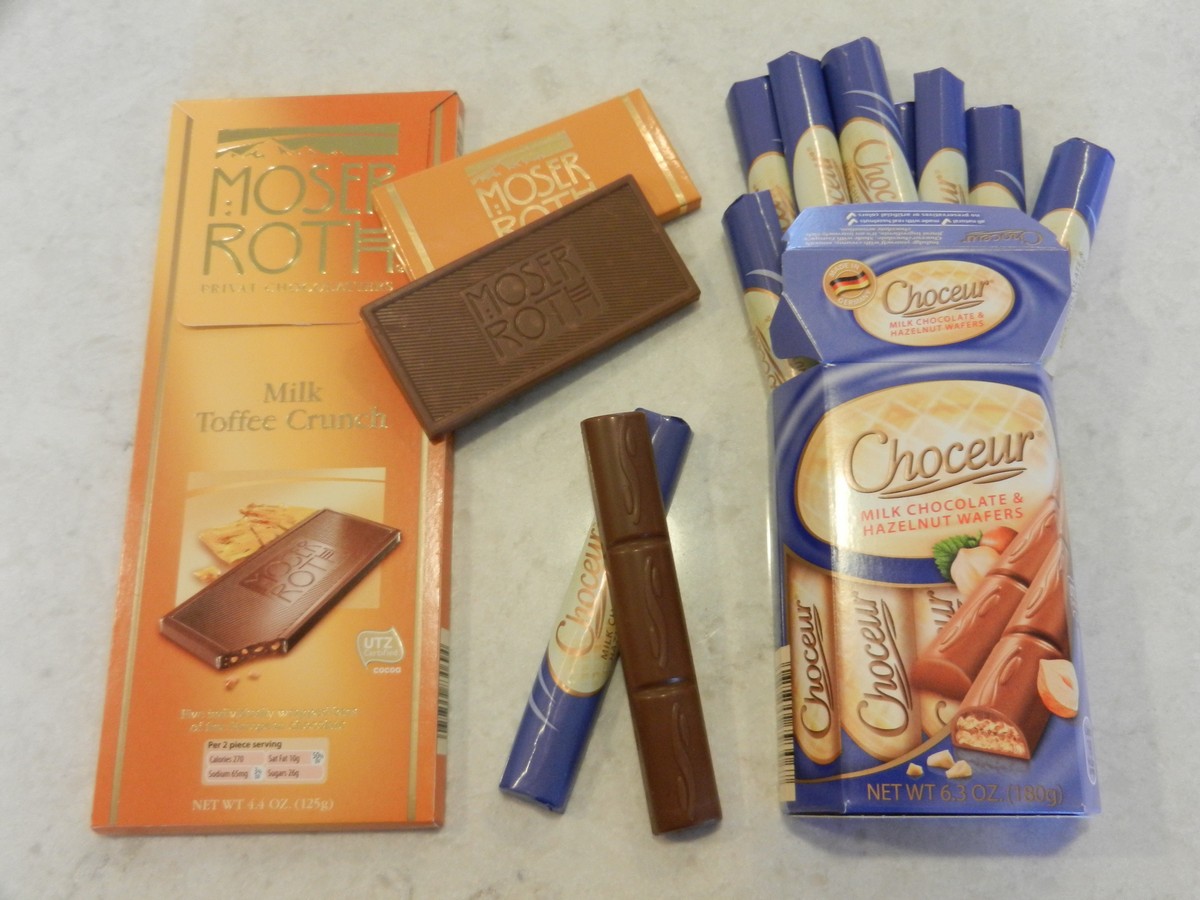 The Crisp Bars may seem similar to KitKats in how they contain chocolate and crisp wafers. However, the chocolate part of Aldi's Chocolate Crisp Bars is so much better, truly excellent! And again, it melts in your mouth!! Imagine that! Chocolate that melts! Seems like all chocolate should, right? The melting factor, the smoothness and the flavors, like I've mentioned already in regards to the other chocolates, is what makes such a big difference in the overall experience of eating it. KitKats are OK, I guess… but not really, not if you can compare to truly great-tasting chocolate. Eating these bars gives a completely different feel and true enjoyment. Mix in the crispness of the wafers and the thin layer of a soft hazelnut cream similar to nougat found on top of the wafers, and you've got a product I have a hard time staying away from!
The Moser Roth Toffee Crunch bar, OH MY!!! This chocolate is so unbelievably creamy and delicious, I don't think I've ever tasted anything like it! I think it tastes like something that would be sold only at the finest chocolate boutiques (not that I've had the pleasure of sampling such chocolate); it's truly a gourmet candy as I would imagine it to be. In addition to the very easy melt and extremely creamy and smooth textured chocolate, it has pieces of crunchy toffee mixed into it, giving it a bit of a caramel flavor. The Aldi store by us is usually sold out of this particular variety, so it appears others have come to the same conclusion.
One of Aldi's chocolates (made exclusively for Aldi) was actually "named 'product of the year' by an influential panel of consumers." Source
Here's another link, this one to a blogger who tells about her experiences with Aldi, her tour and taste testing/comparison experience; also how they keep their products at such low prices, quality etc.: momadvice
As I've already described, Aldi's high quality European chocolates melt very well, making them suitable for recipes requiring melted chocolate. I recently made the marzipan candies on the next picture, using dark, white, and milk chocolate from Aldi, melting a few seconds at a time in the microwave oven while stirring often. Edit: See comment above regarding melting white chocolate.